bobspirko.ca | Home | Canada Trips | US Trips | Hiking | Snowshoeing | MAP | About

Granite Mountain
Mojave Desert, California
April 9, 2012
Distance: 12.5 km (7.8 mi)
Cumulative Elevation Gain: 860 m (2822 ft)
When Dinah and I plodded up Kelso Dunes in the Mojave Desert a year and a half ago with our friend Shin, he was curious about the peak to the south: Granite Mountain. I proposed that we climb it and after some research, we were set to go.
In Desert Summits Zdon suggests ascending the mountain via the northeast wash, but the northeast ridge appeared to be a better option. It's less bushy than the wash, although travel is compounded by numerous boulders. But rather than deterring us, navigating along a boulder-strewn ridge stirred our interest.
From the trailhead, we hiked up a rough road and reached the ridge about an hour later. Forget following the ridgeline; house-size boulders didn't permit it. Instead, we kept low, below the crest on the left side of the ridge. Shin did the routefinding which left me to concentrate on taking photos and videos, as well as study the fascinating boulders. After pushing through a particularly dense section of boulders, the rocks began to disappear, and a bushy slope rose ahead. Higher still, the brush gave way to pinyon and juniper trees as well as the odd cluster of boulders, all of which conspired to hamper routefinding and hide much of the far-ranging views. But we reached the summit without incident where a cold wind greeted us.
We spent nearly an hour on the summit, mostly in the lee of trees where we had lunch, before heading back the same way. And we got to see those amazing boulders again.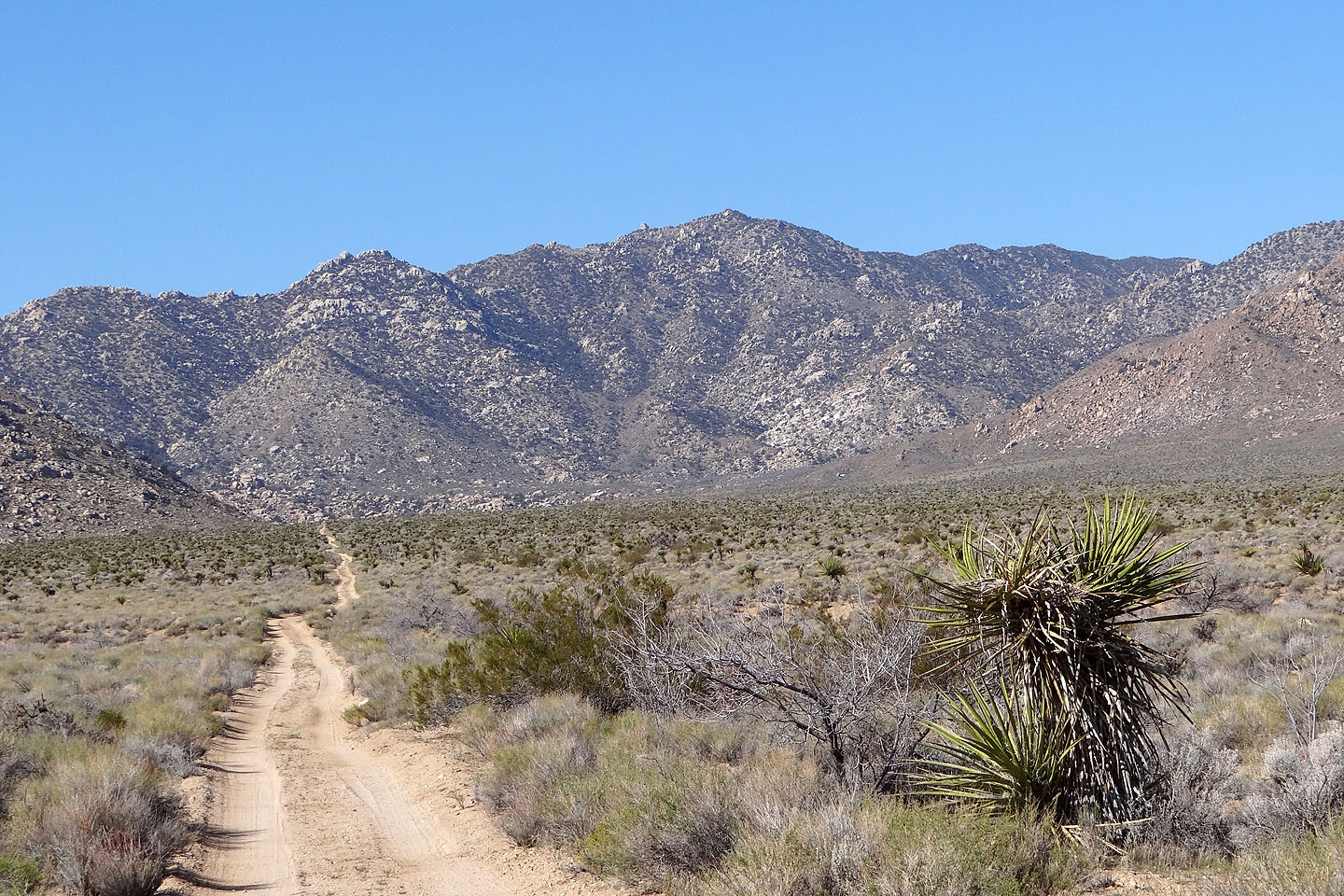 Driving to the trailhead, Granite Mountain ahead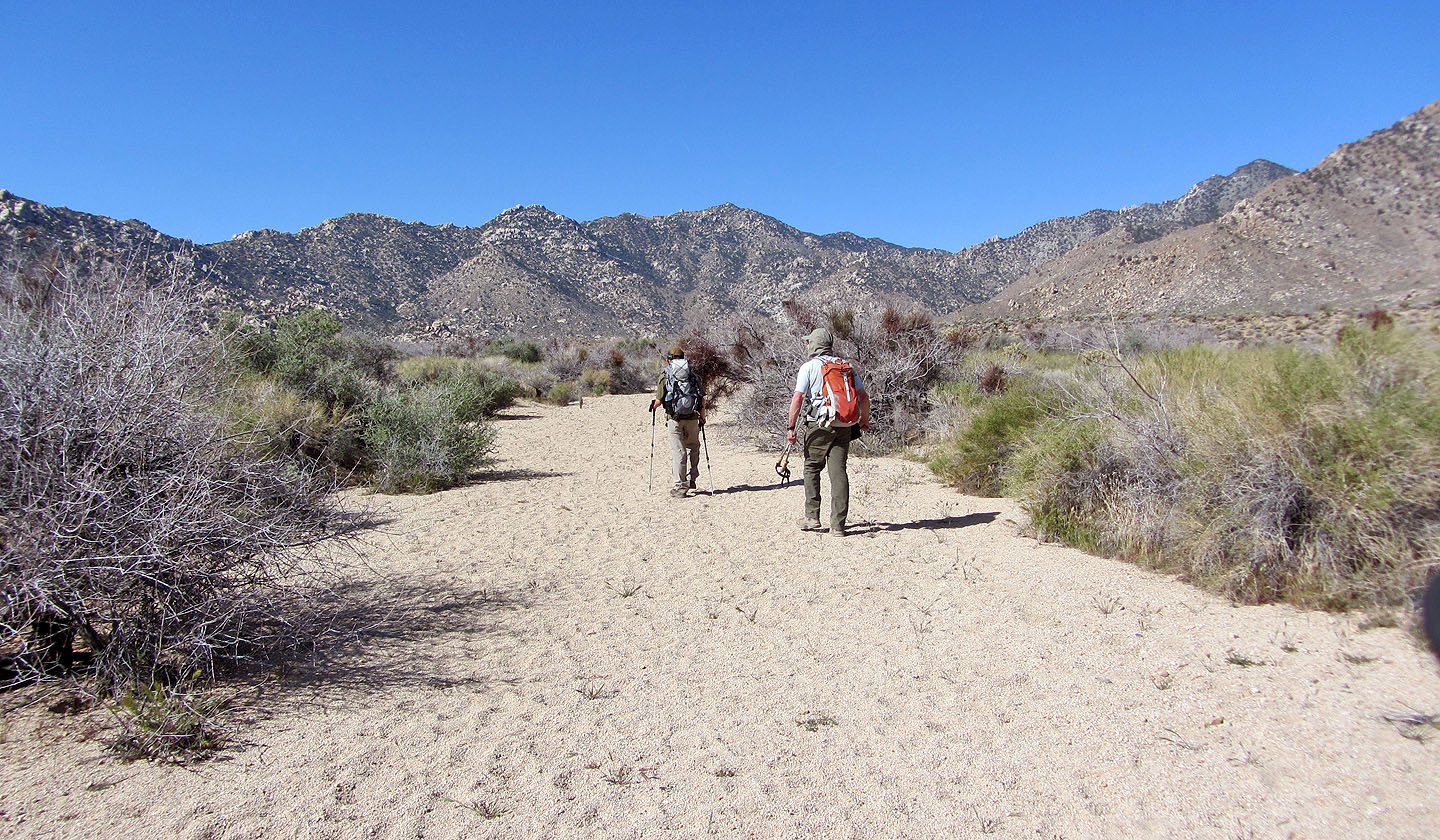 Starting up the road, although here it looks more like a sandy wash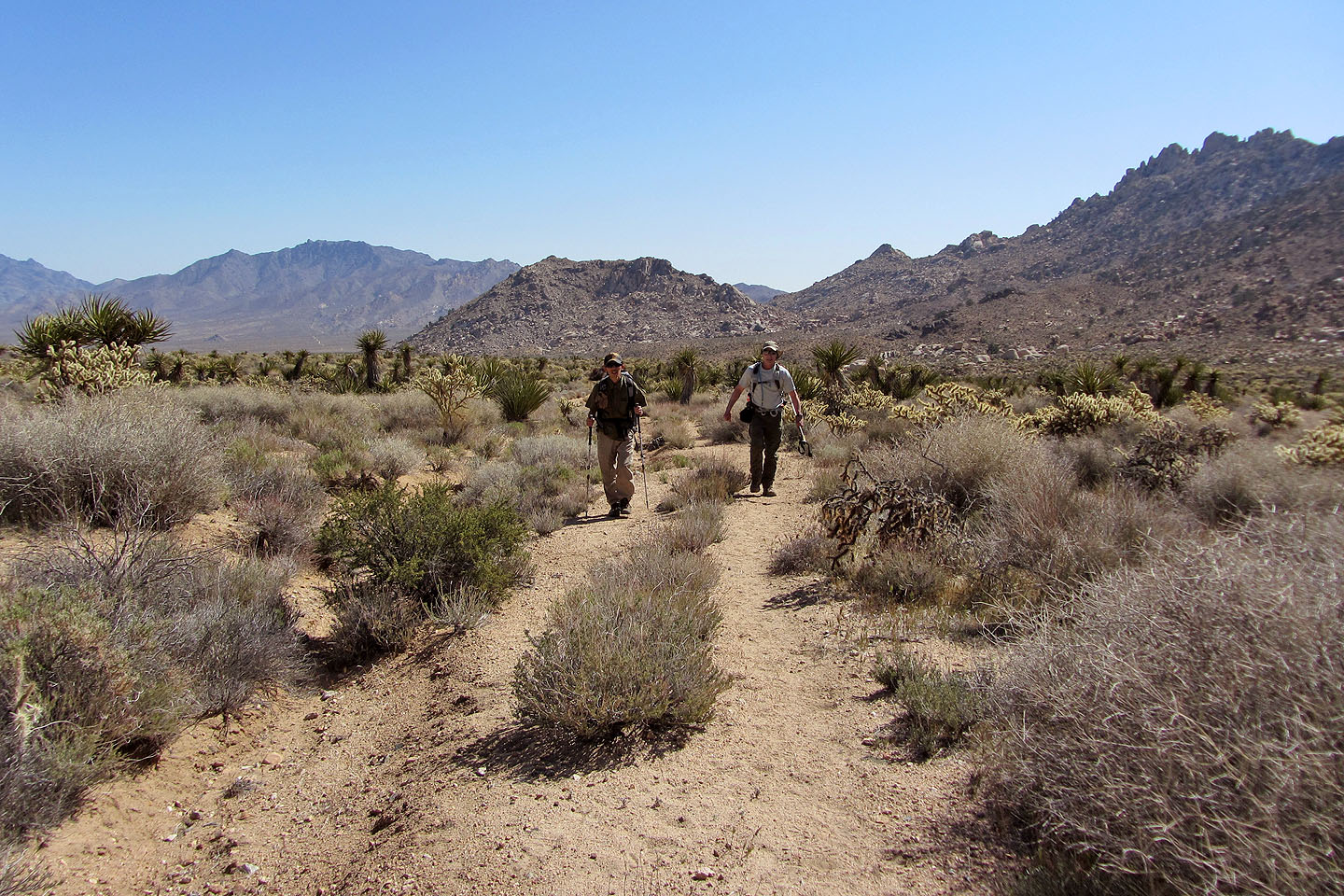 We're parked left of the little hill behind us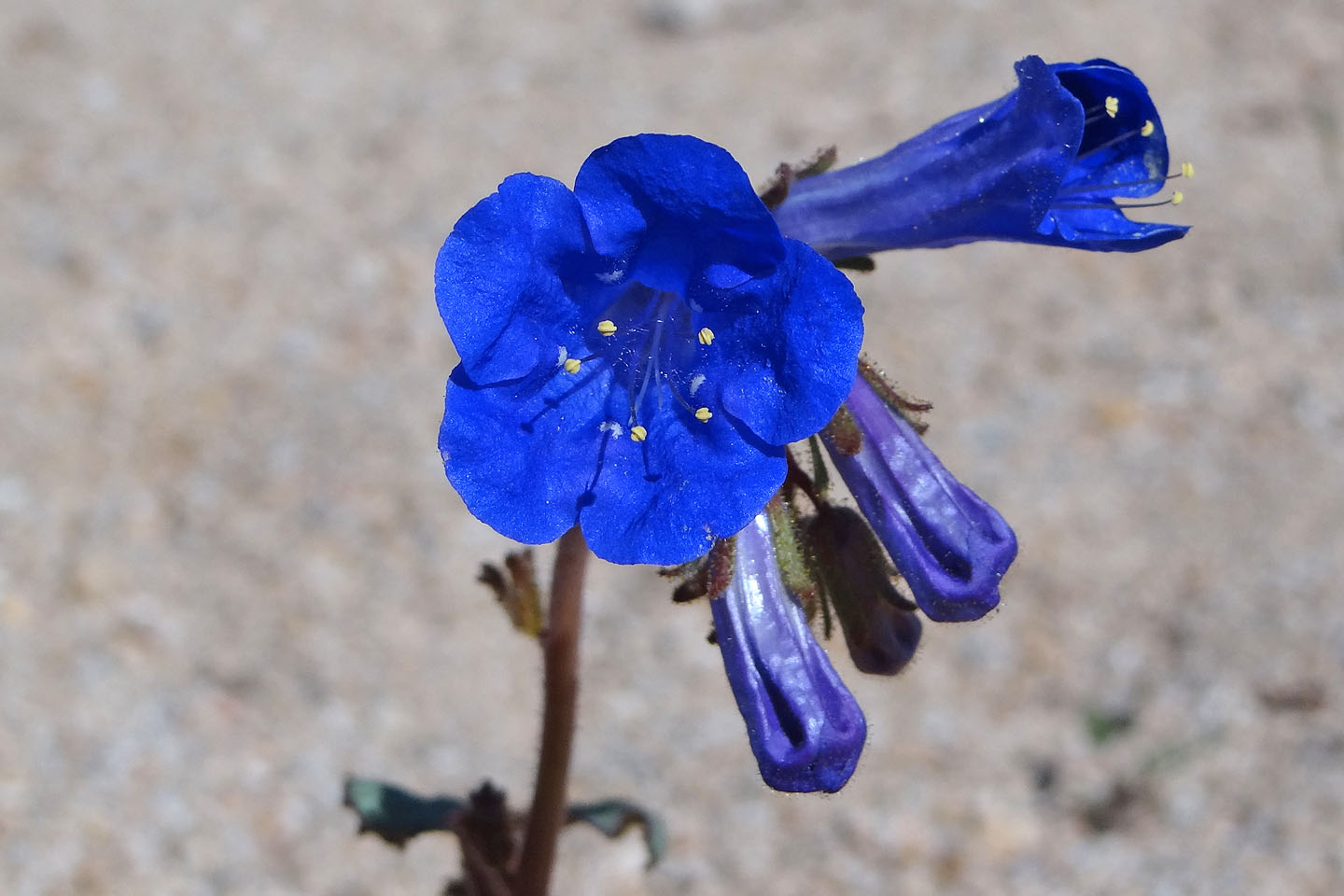 Desertbell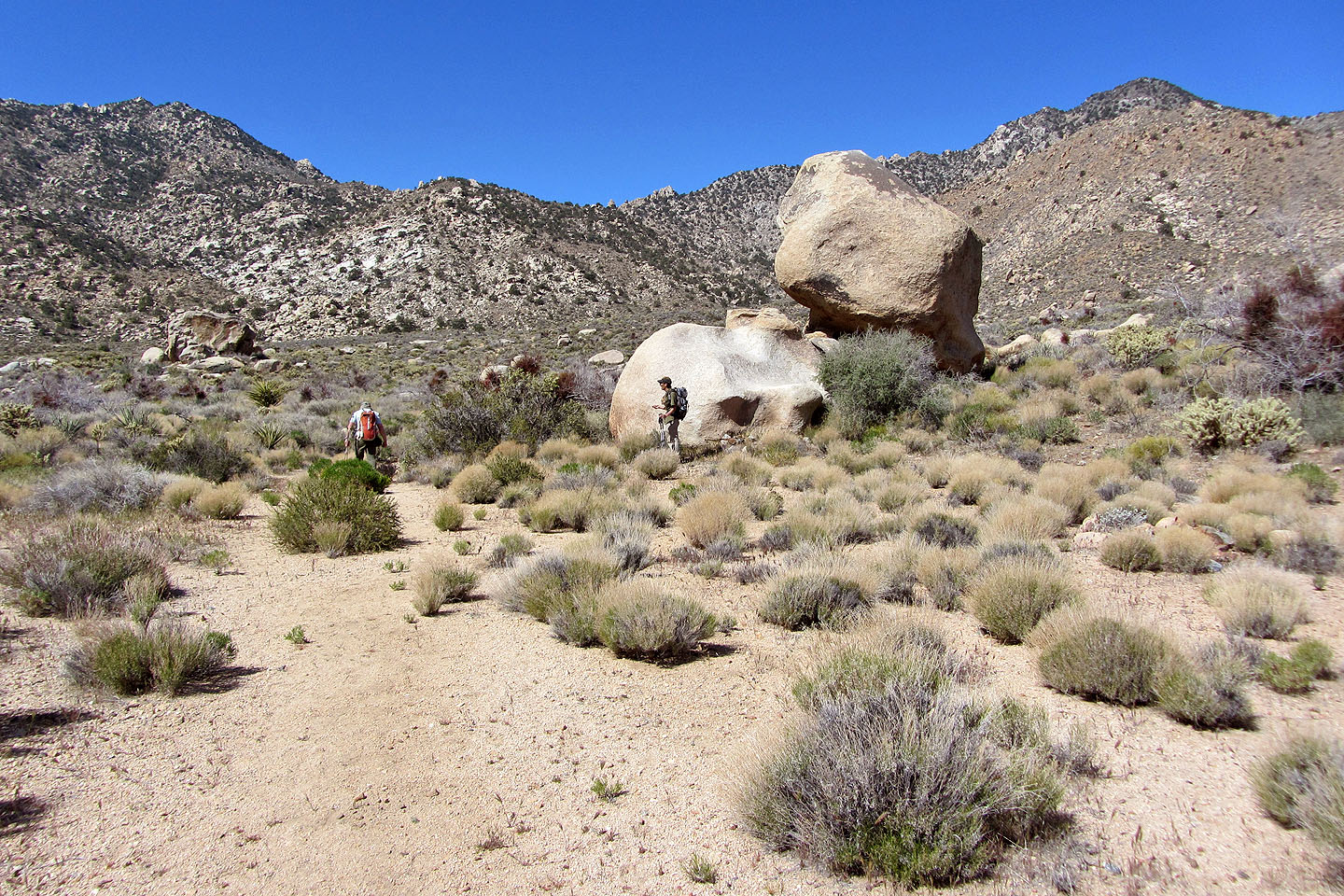 We passed some boulders, but we'll see hundreds more on the mountain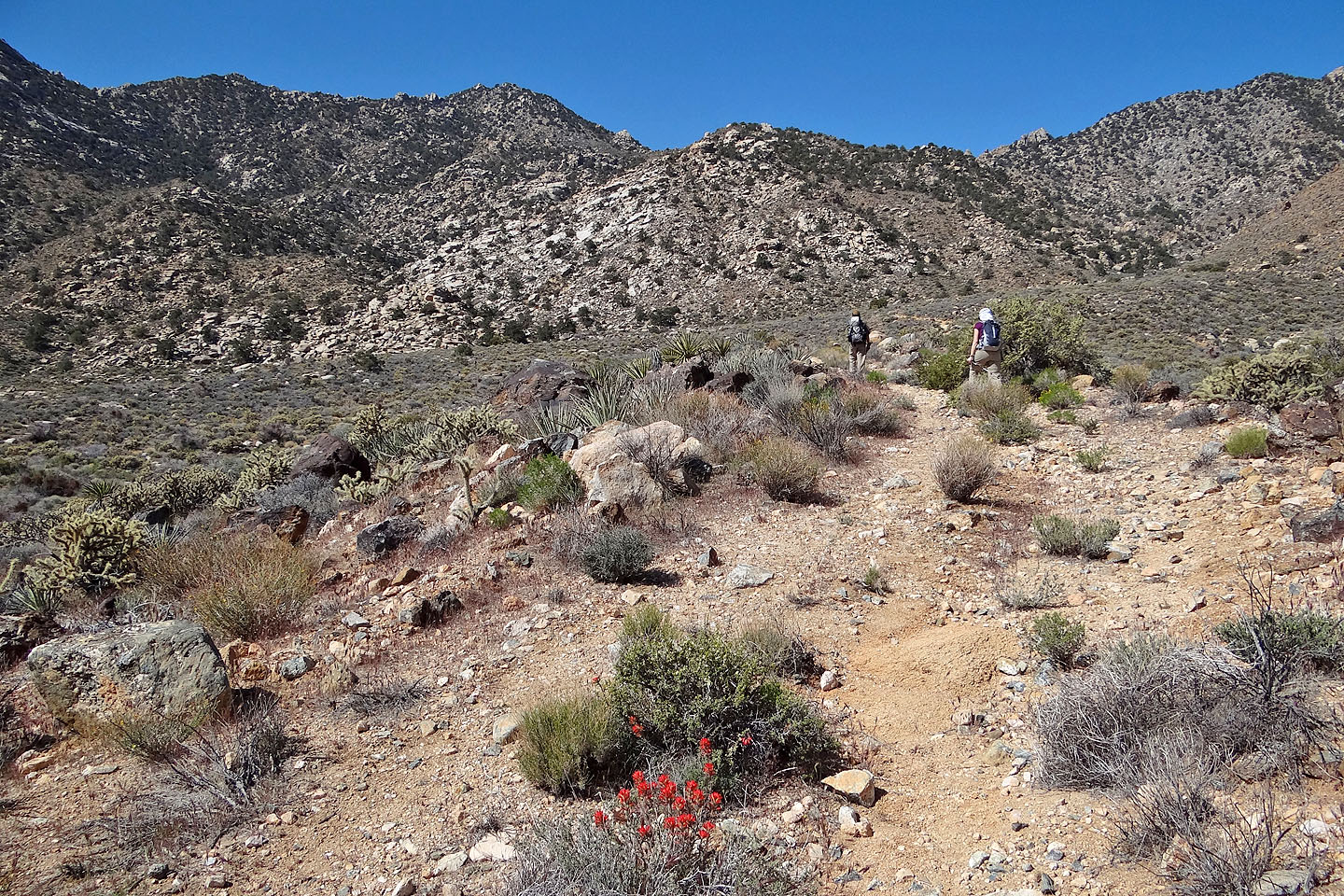 The road leads to our ascent ridge ahead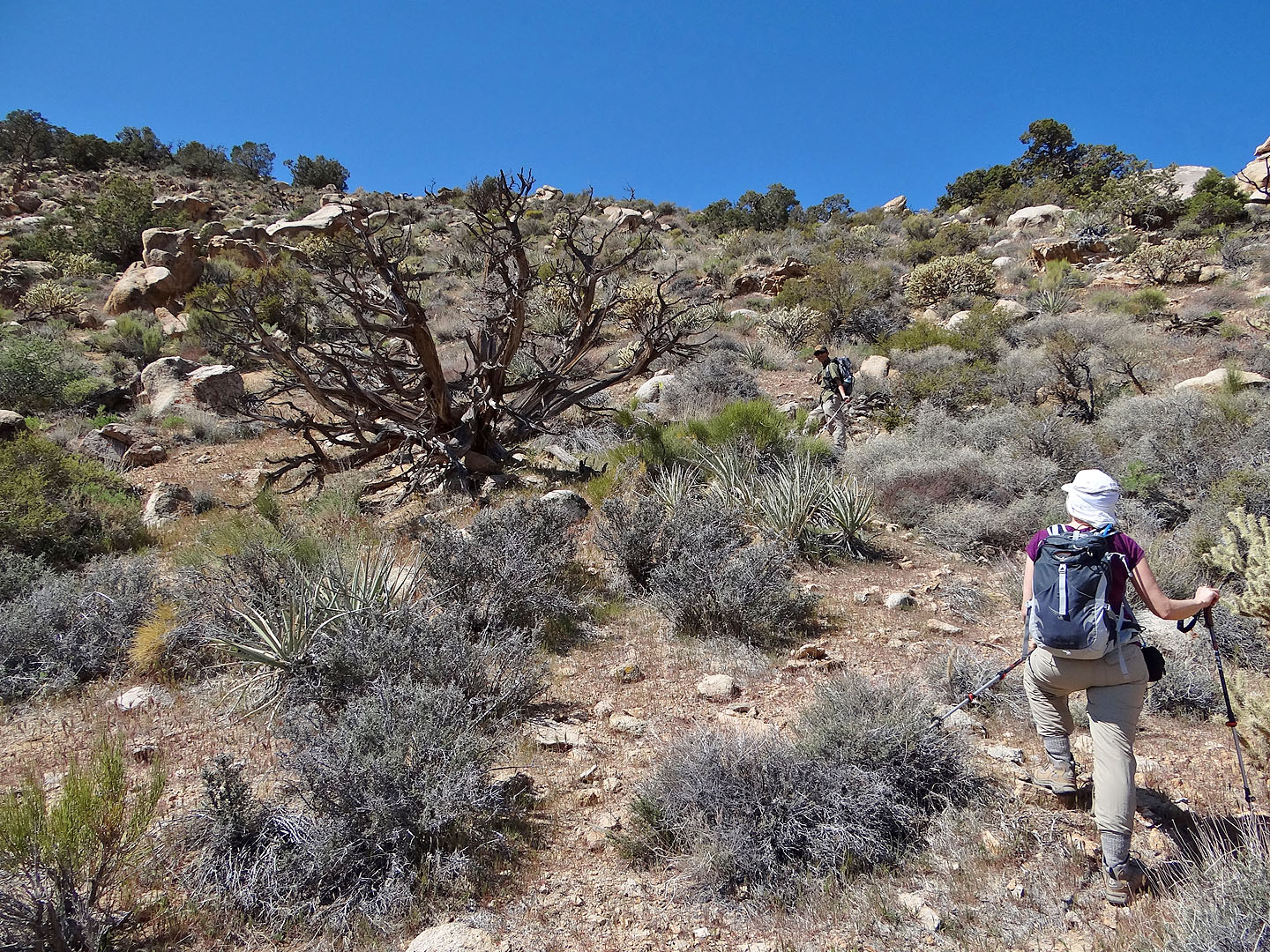 Starting up the slope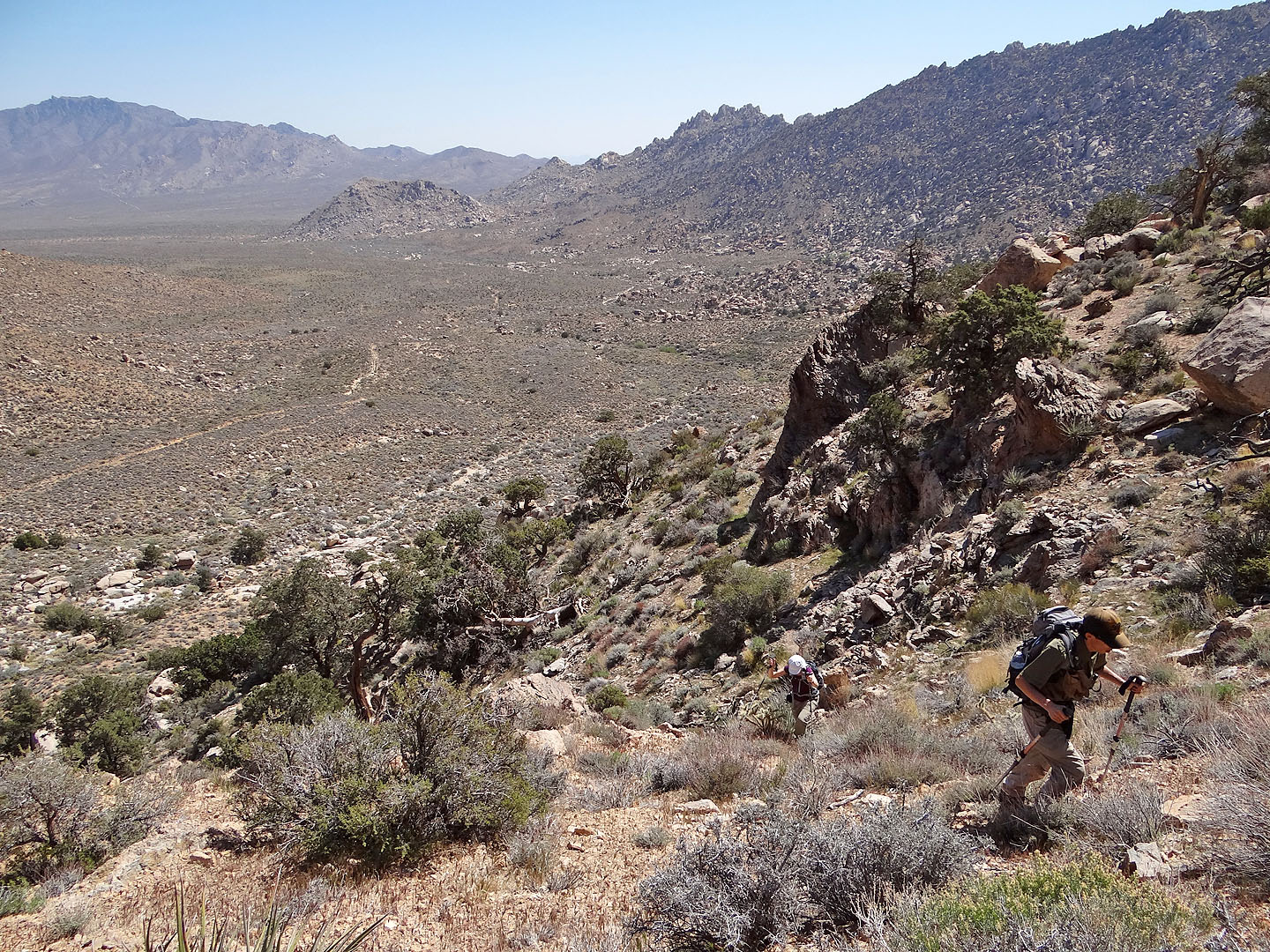 Climbing above the desert flats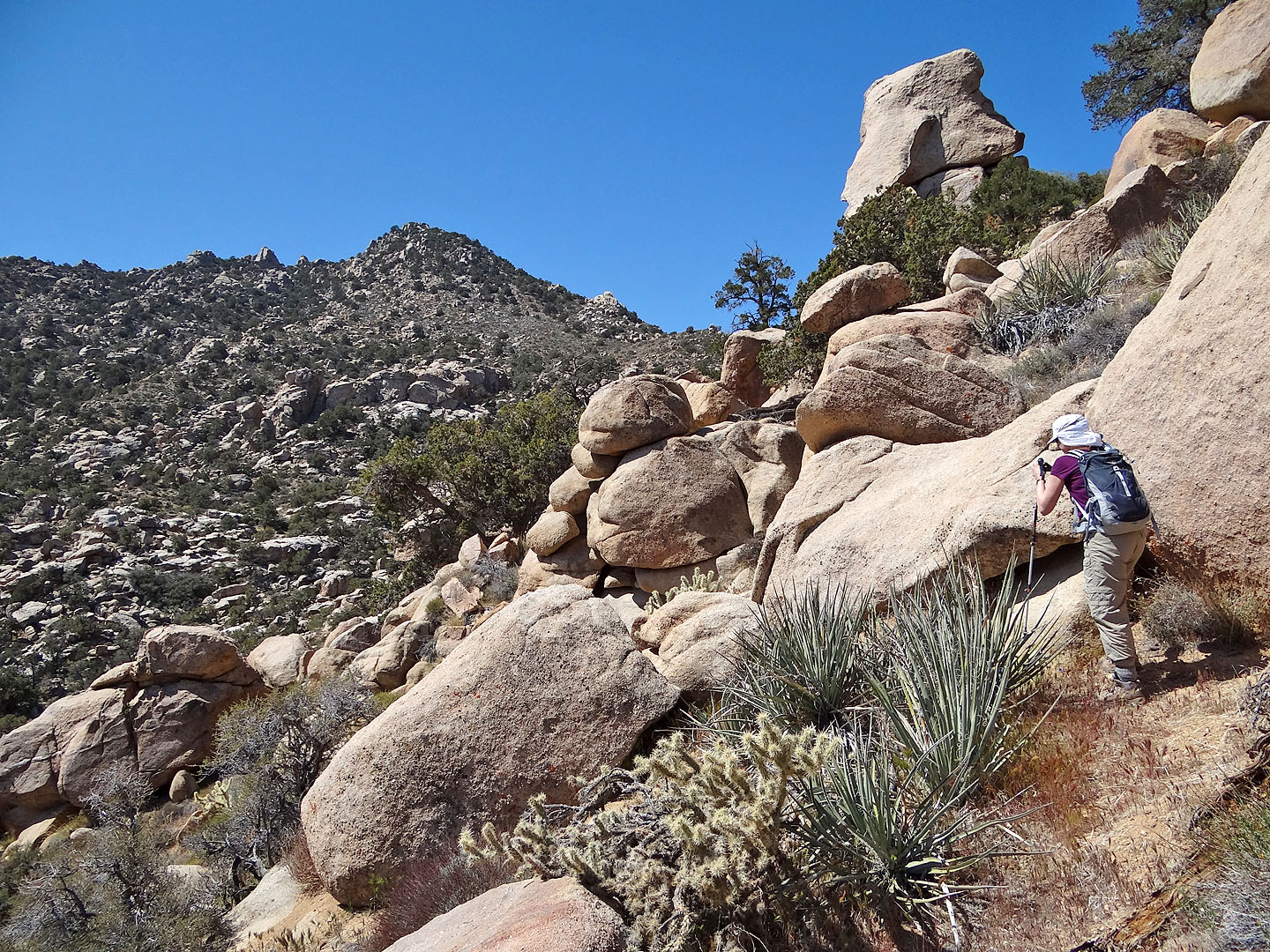 The false summit appears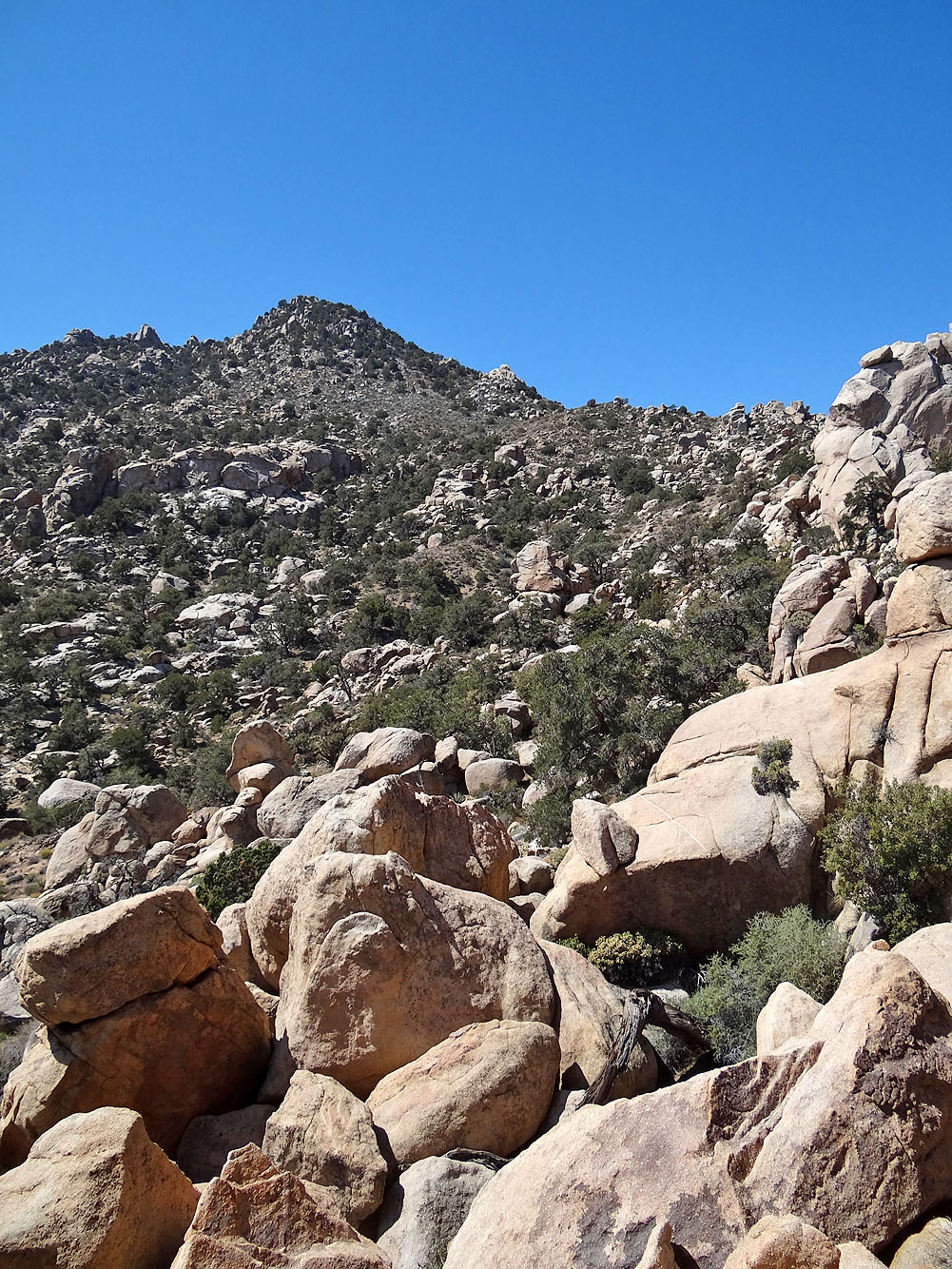 It's a boulder-strewn obstacle course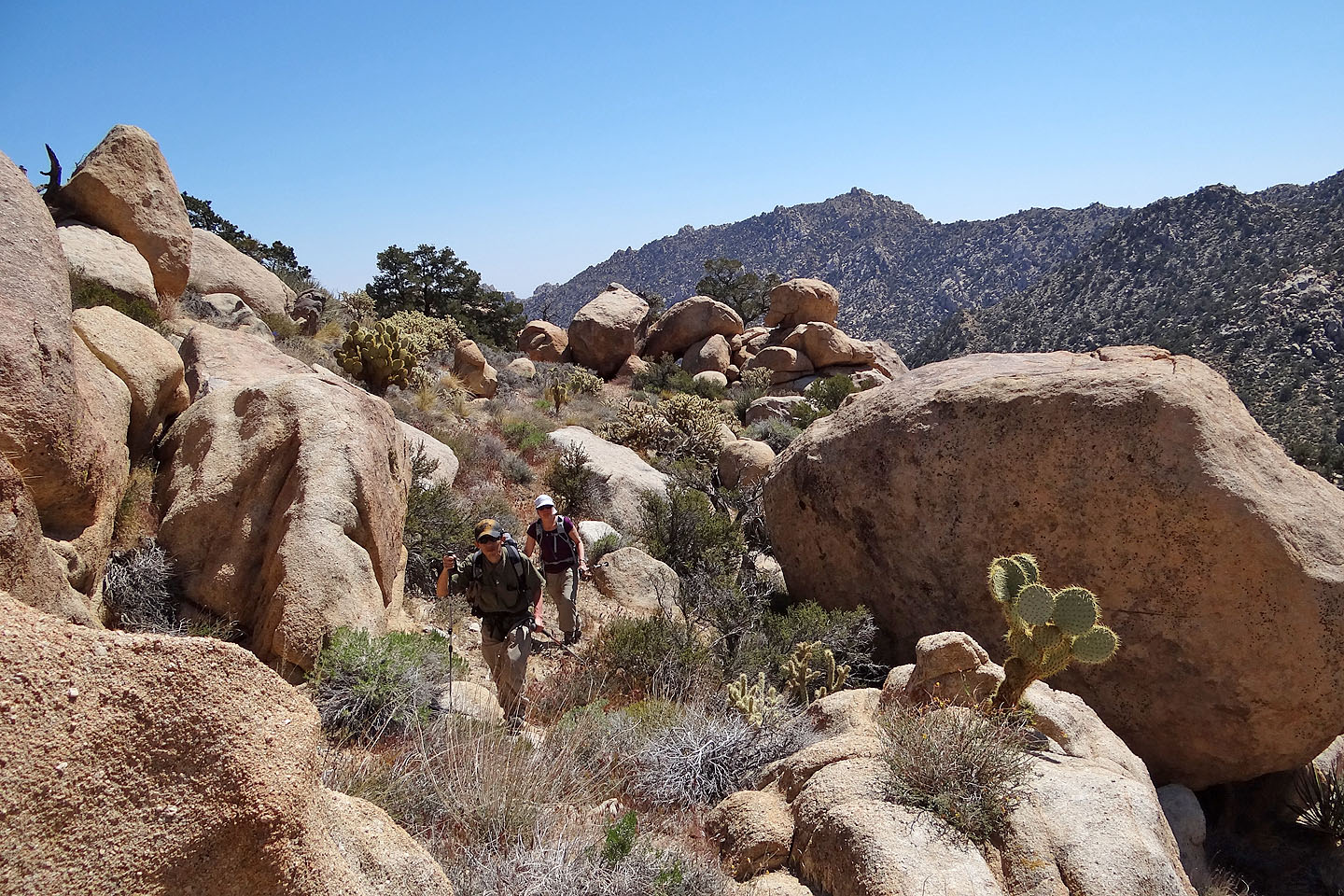 Nothing but boulders, bushes, and cactus. But mostly boulders!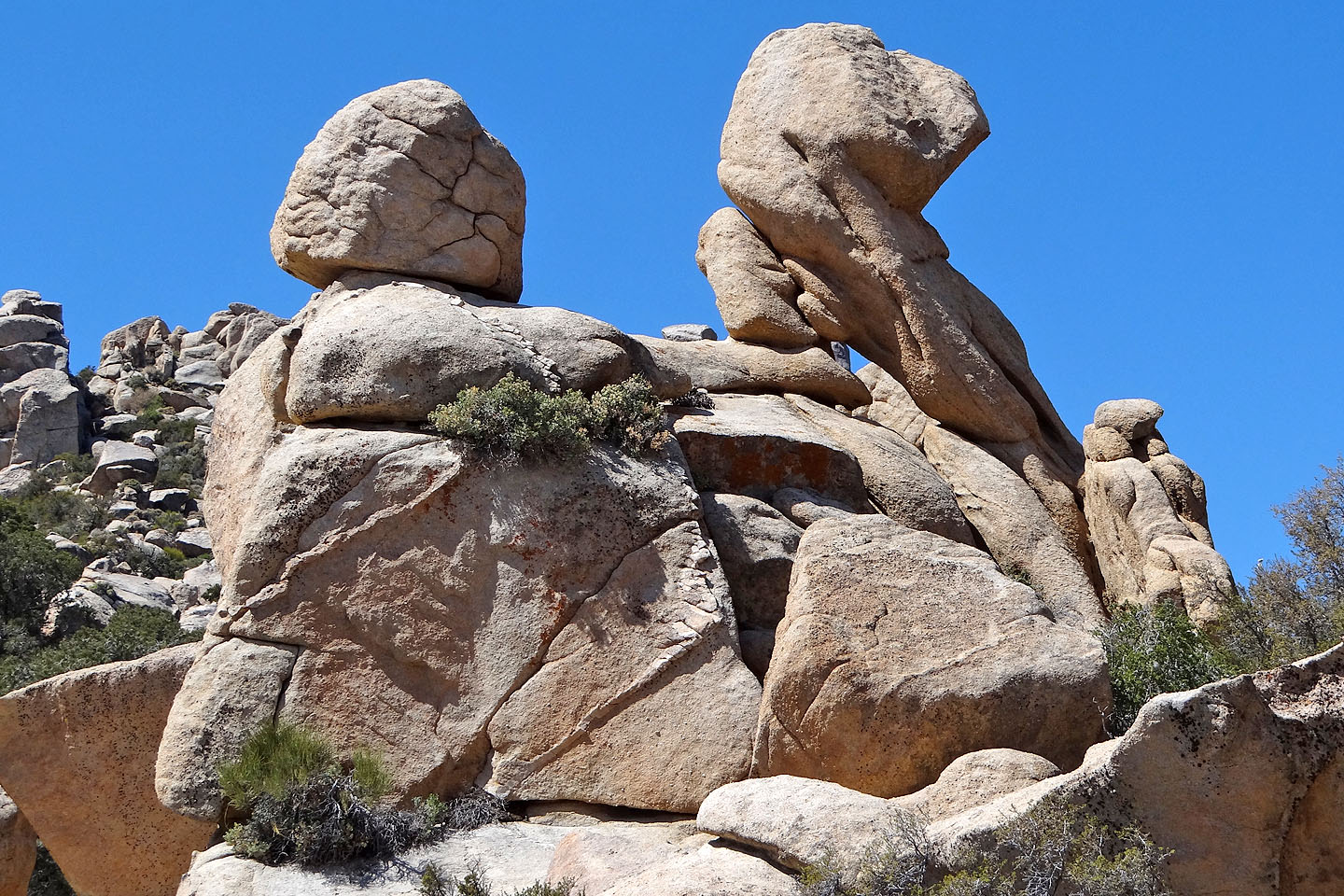 Some boulders, like this one, appeared to be precariously perched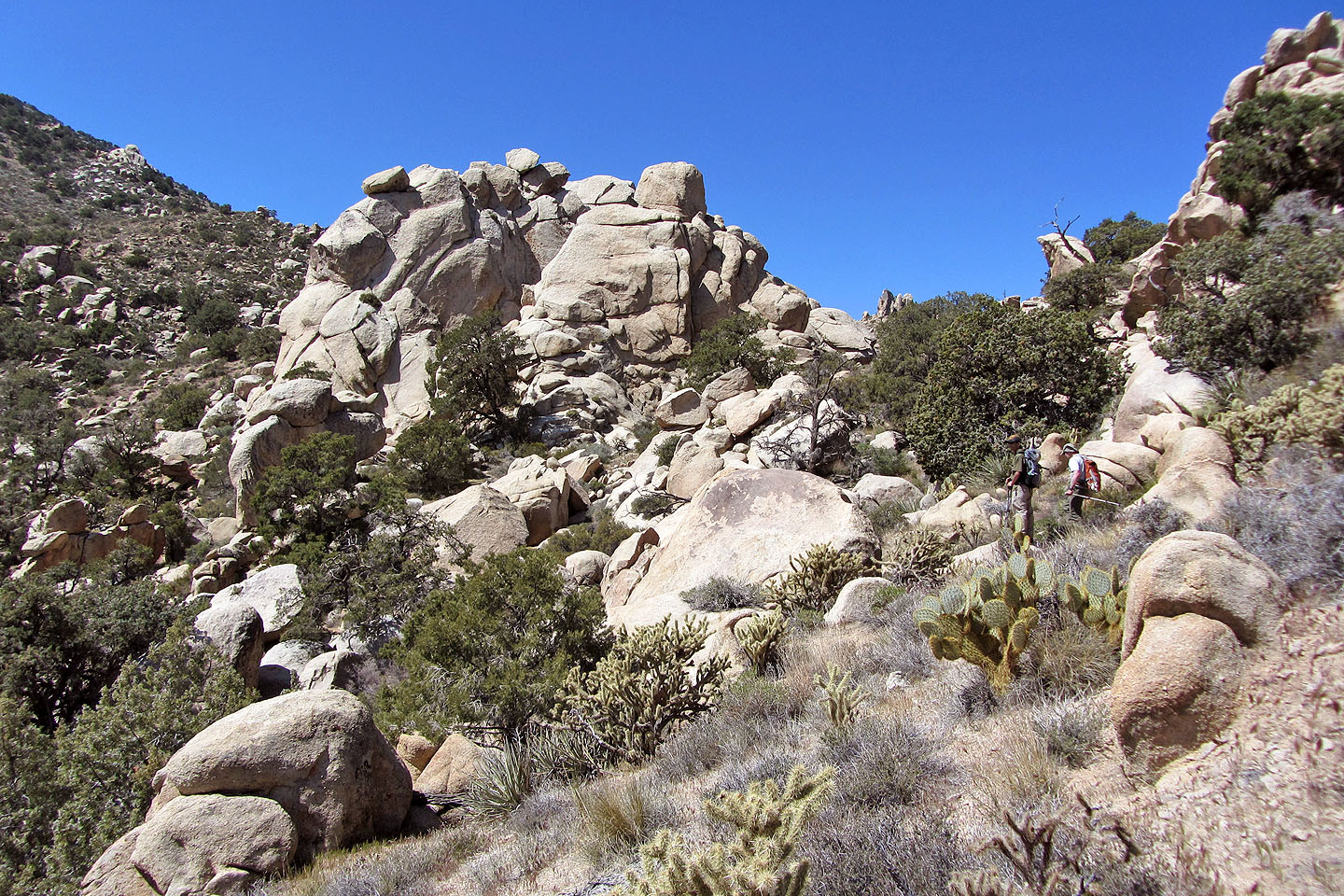 We were forced to climb down and left of the rock pile ahead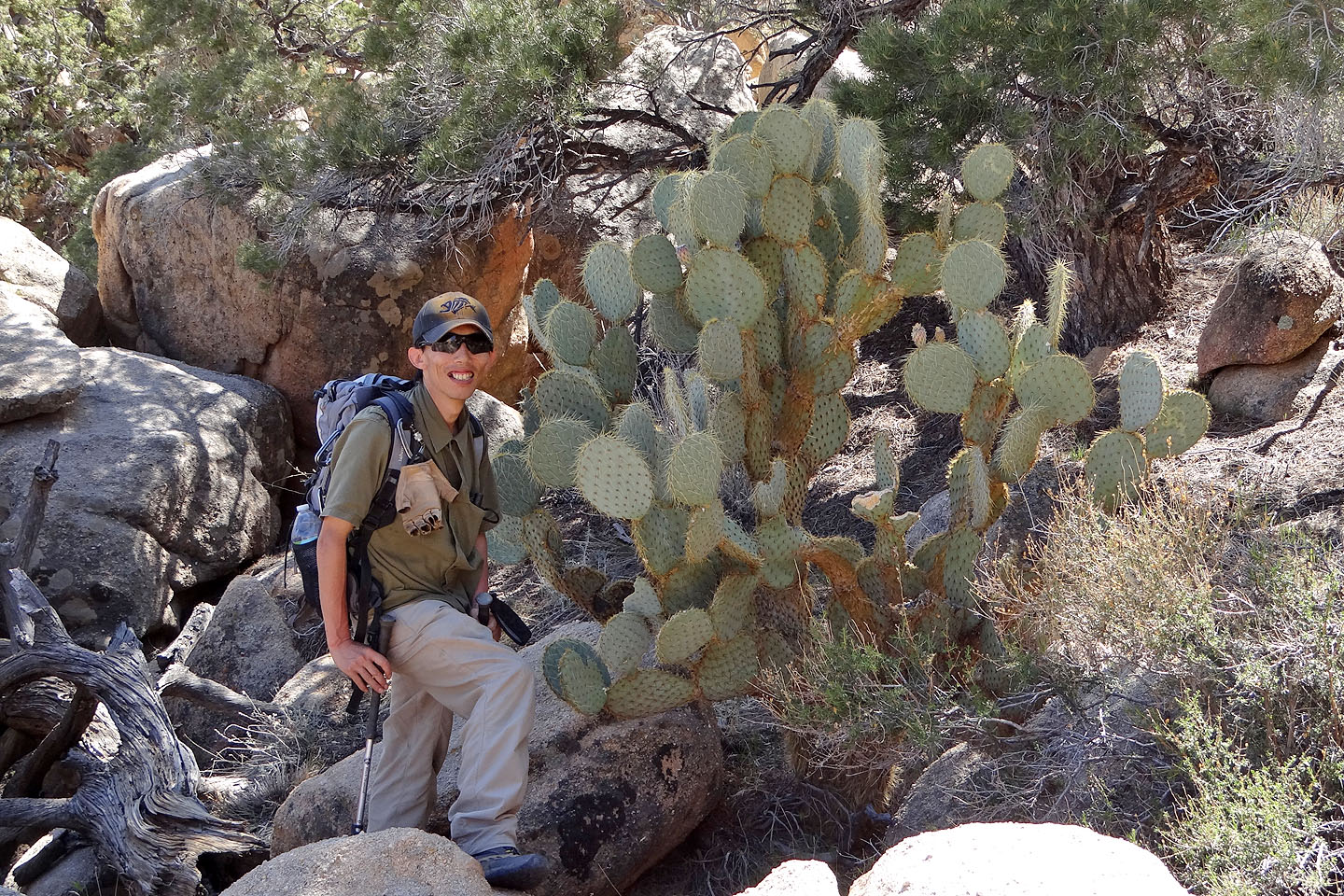 Shin passes a huge pancake pricklypear cactus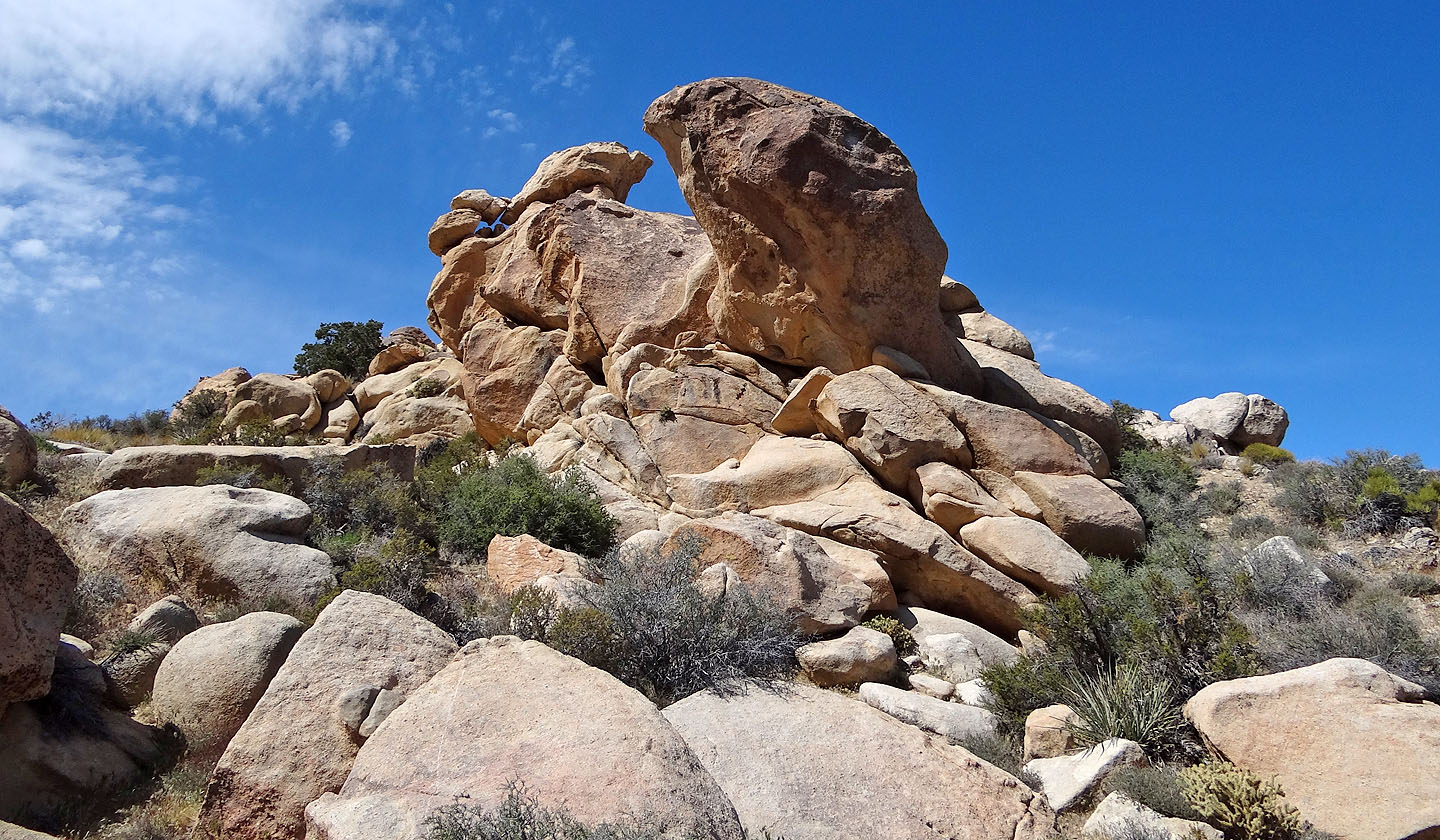 These rocks remind me of crab claws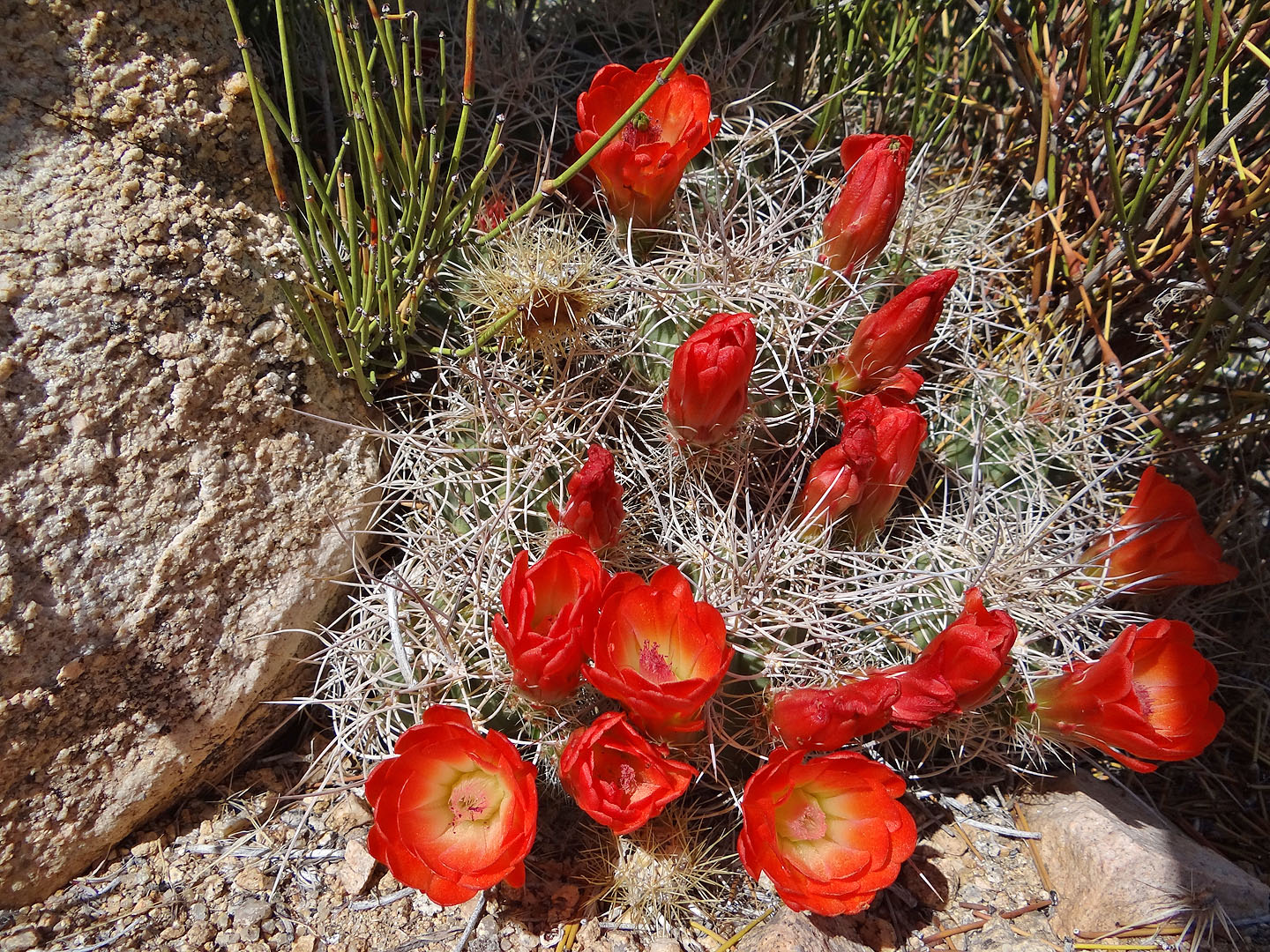 Mohave claret cup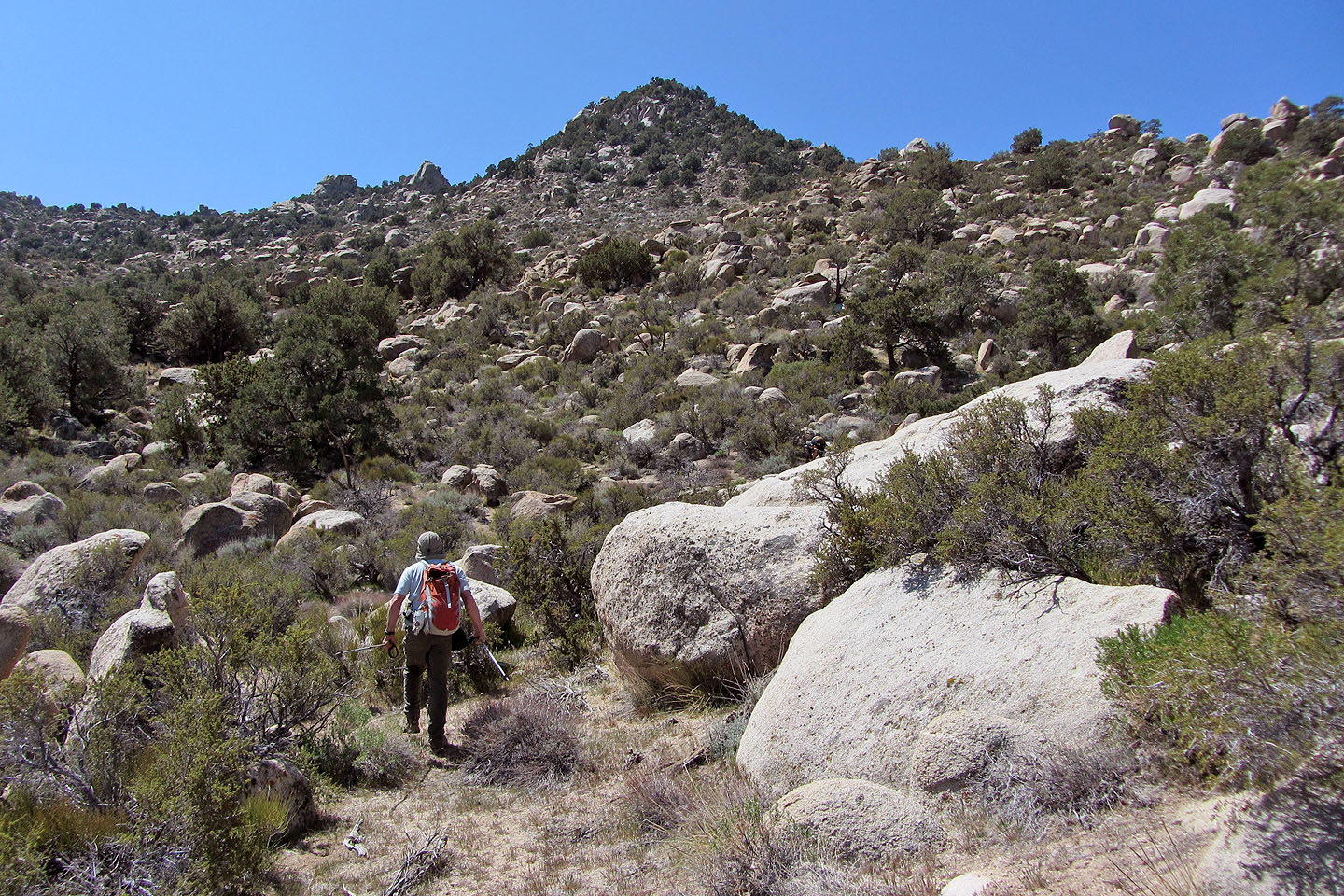 Travel eases after we got through the worst of the boulders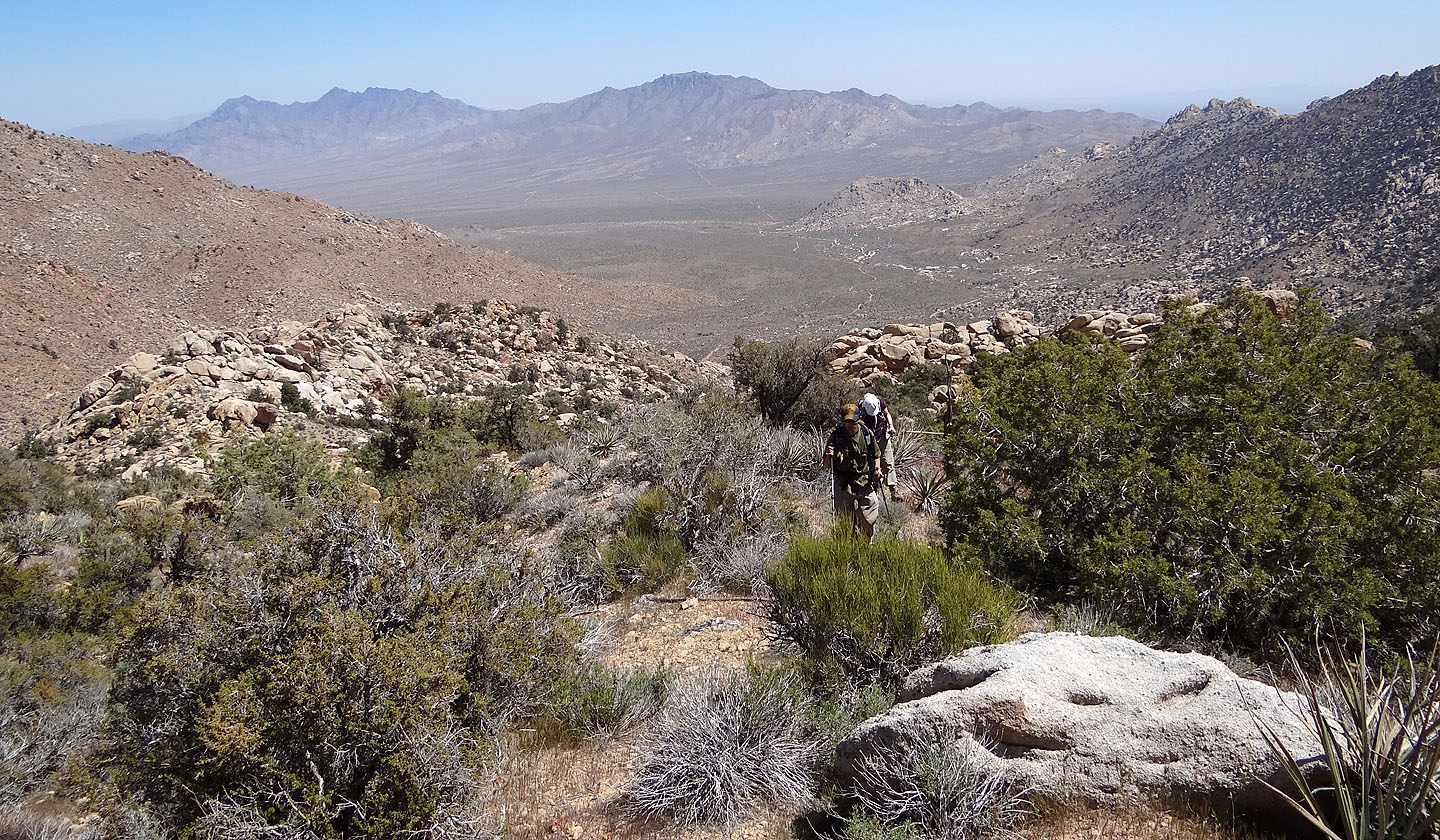 Behind: Mitchell, Edgar and Foundation Peaks in the Providence Range (mouse over for a close-up)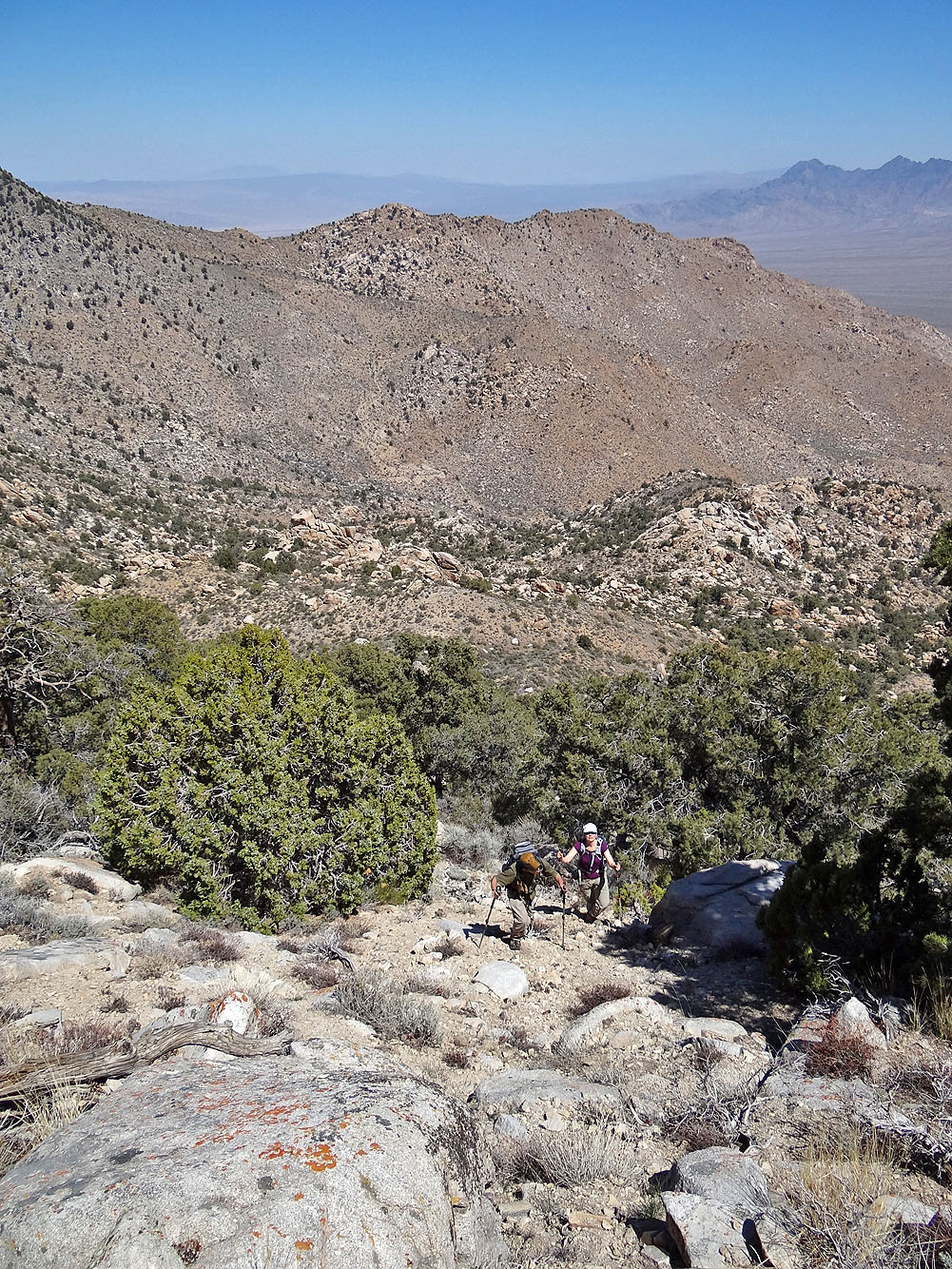 The grade steepens on the way to the false summit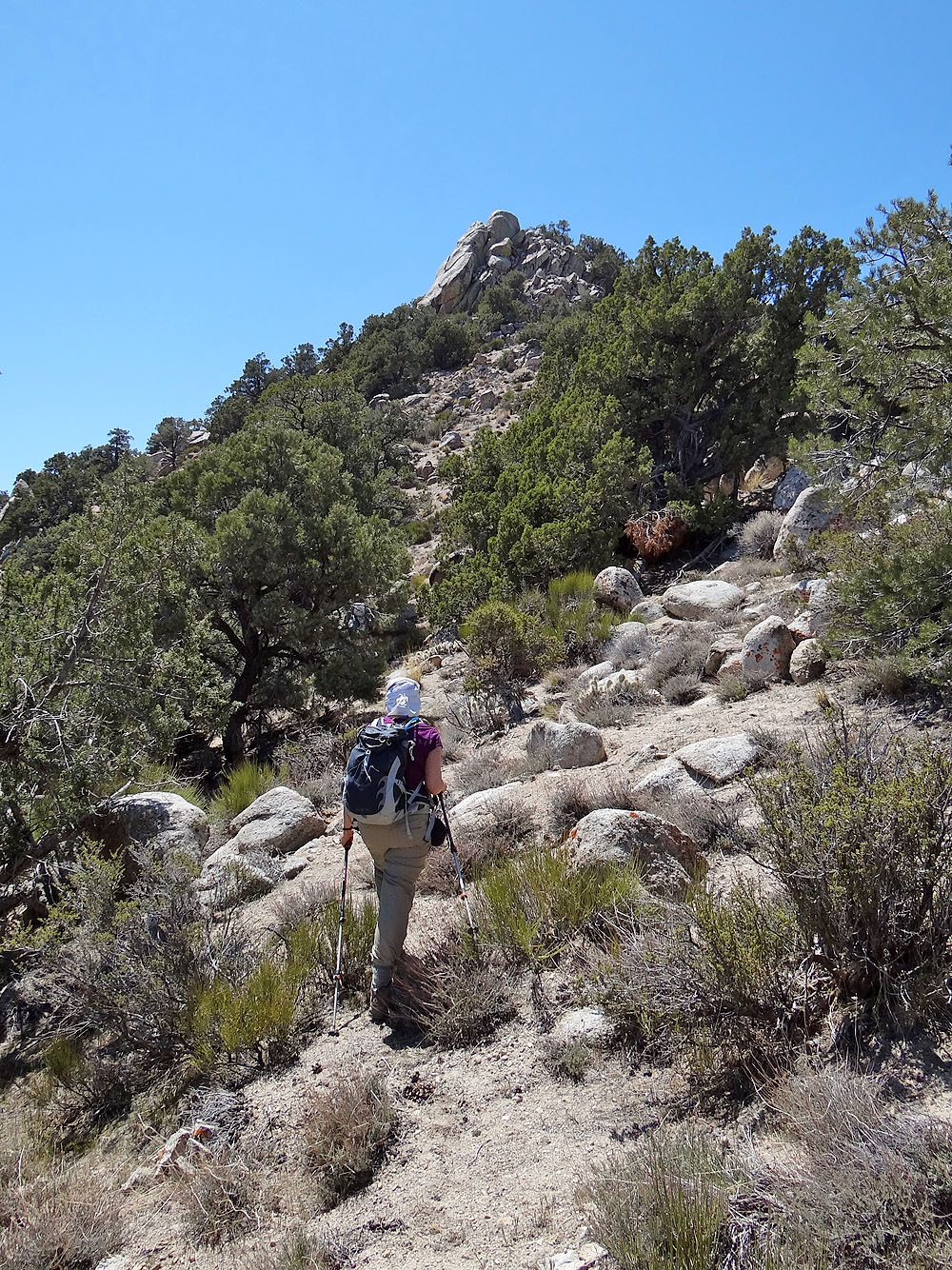 False summit ahead

More boulders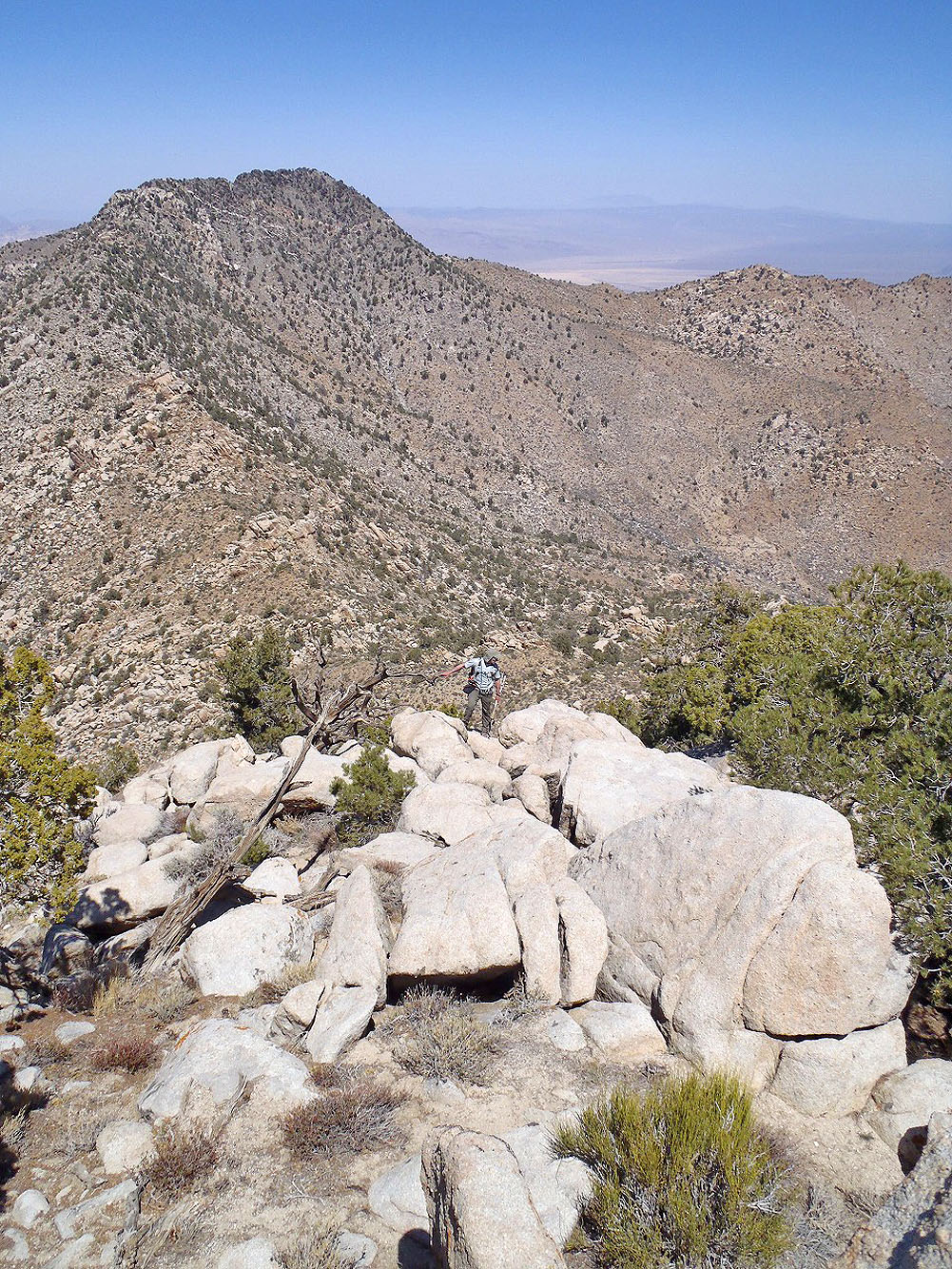 The ridge higher up was mostly treed, but here we hit a stretch of boulders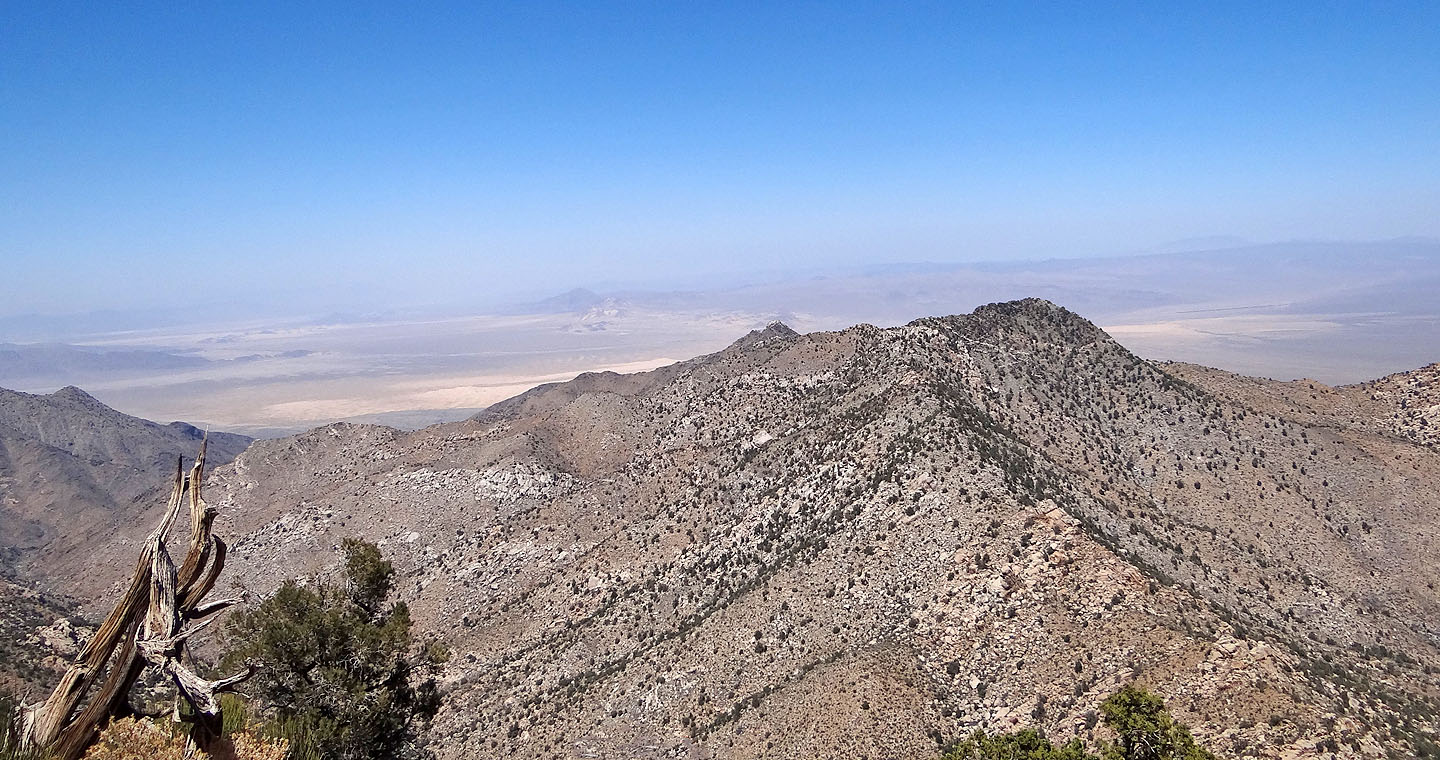 North of Silver Peak (foreground) we can make out Cowhole Mountain rising behind sand dunes (mouse over)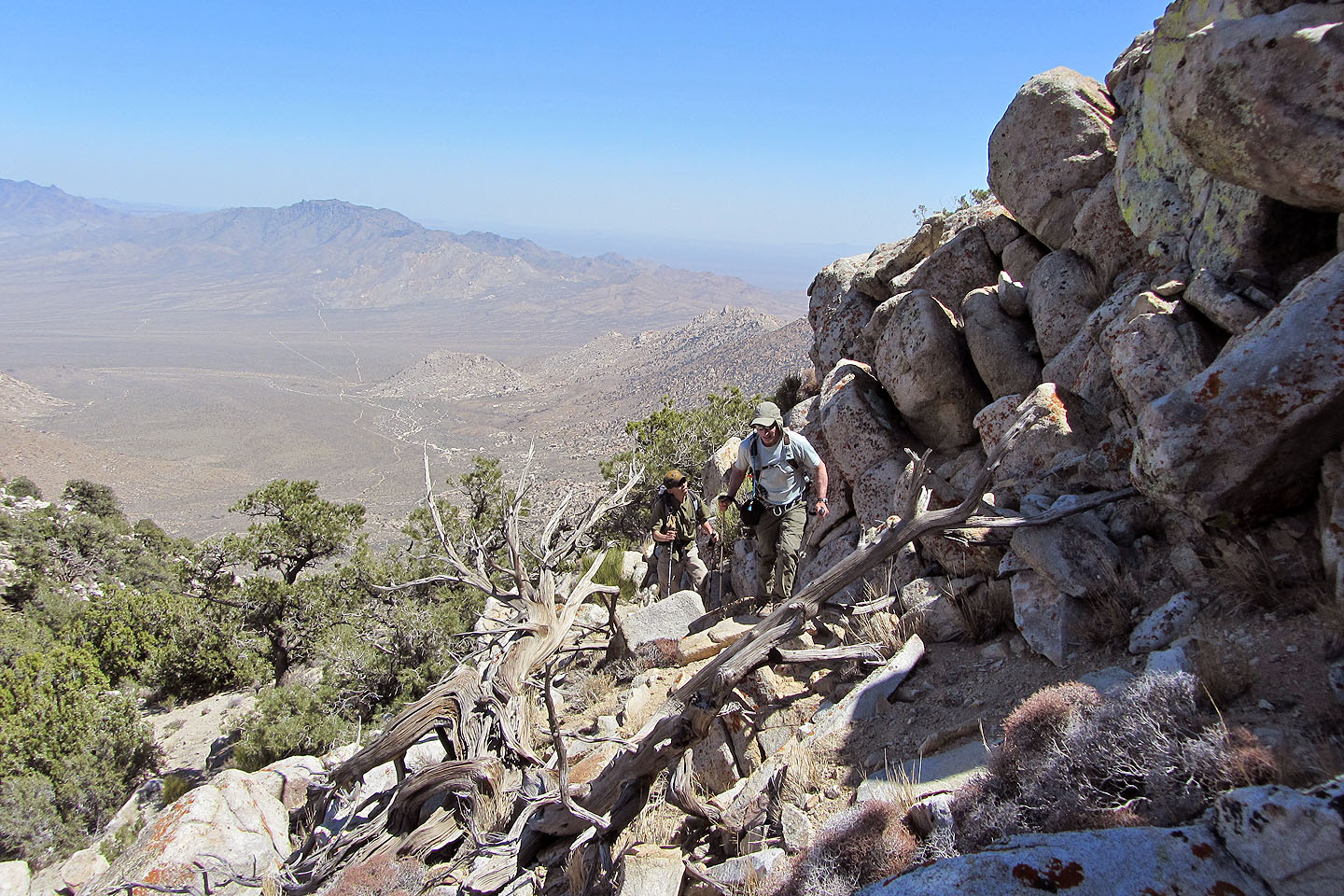 Traversing the slope under the summit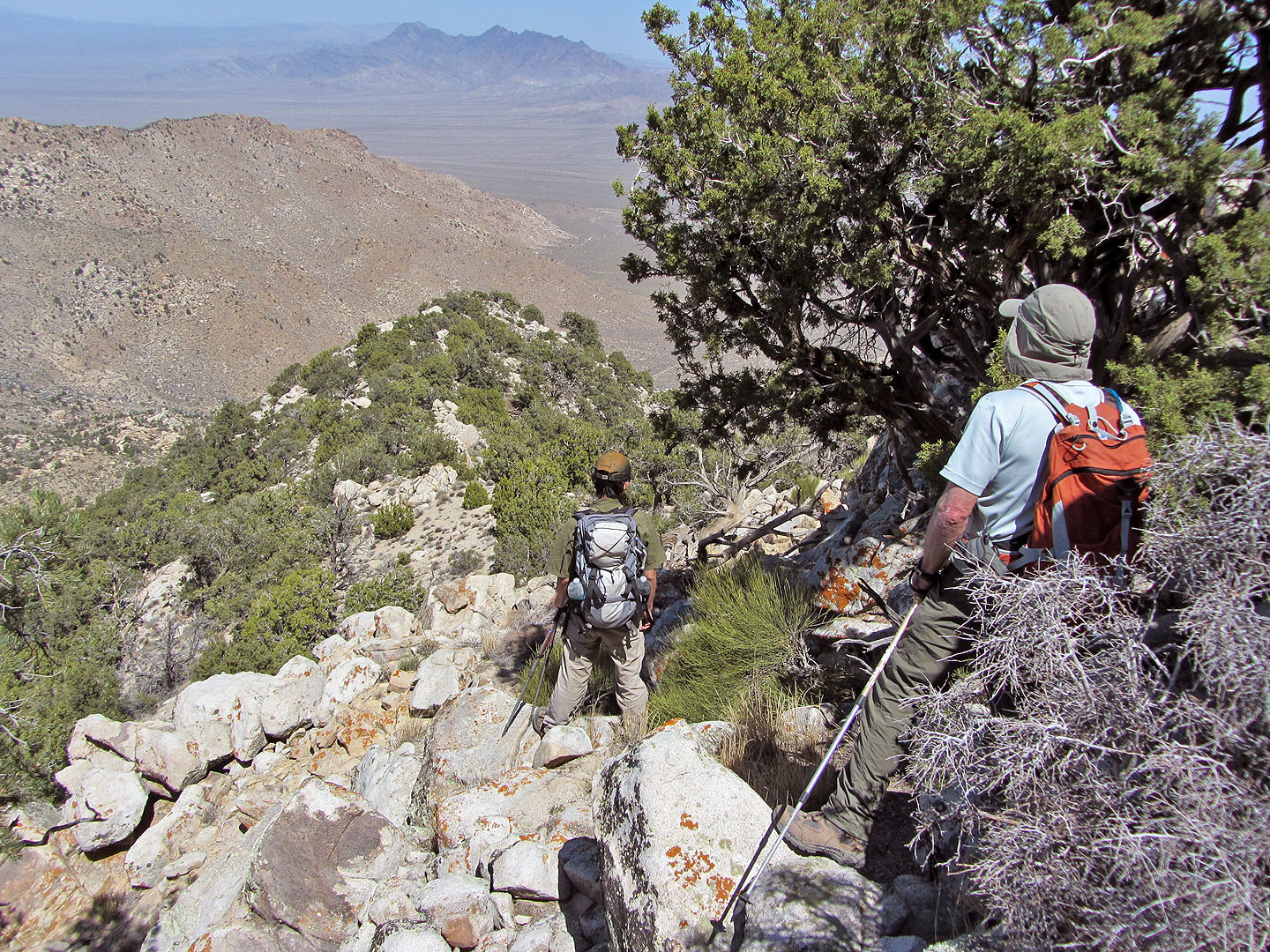 Looking back from the summit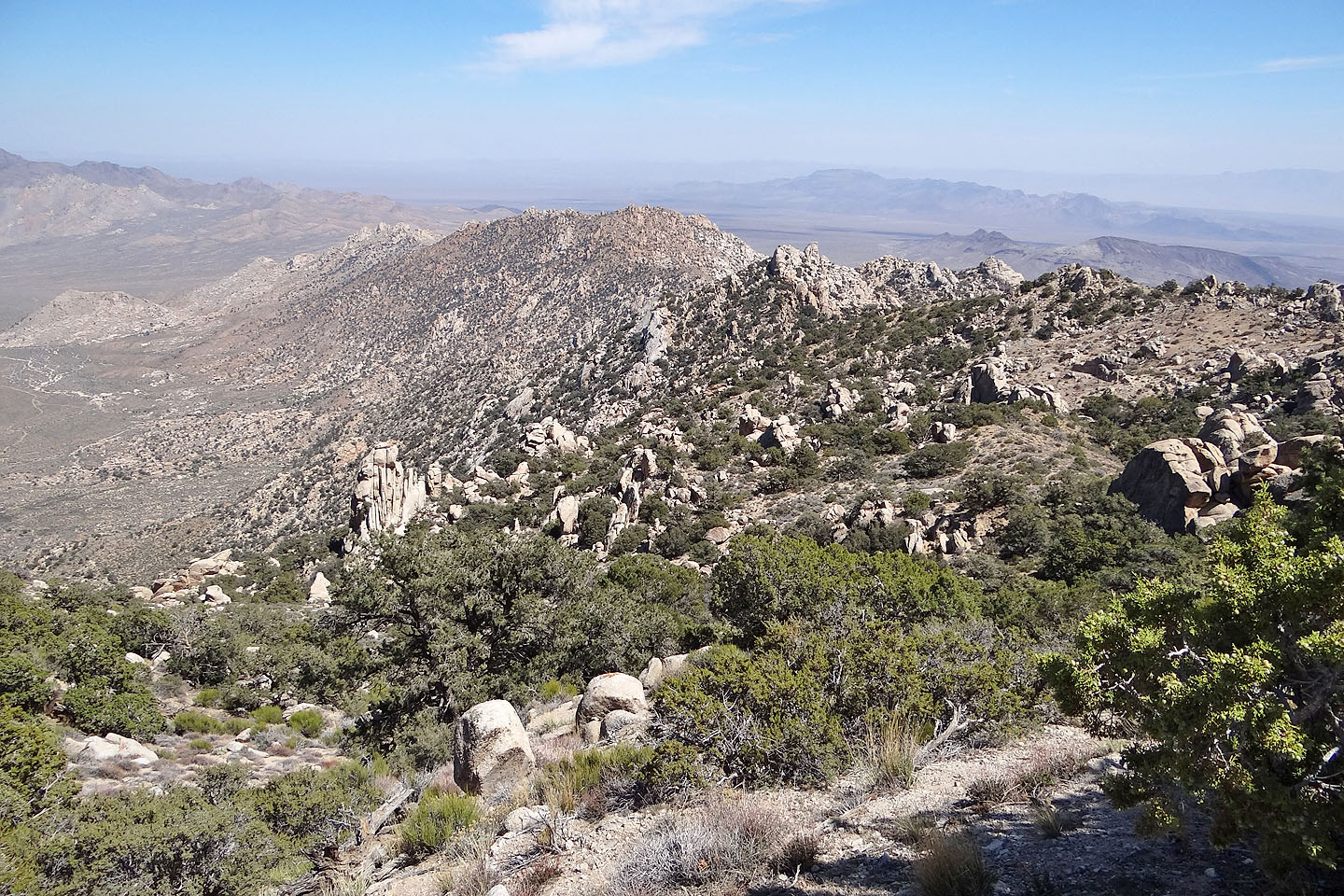 Looking at the alternate ascent route that drops down a wash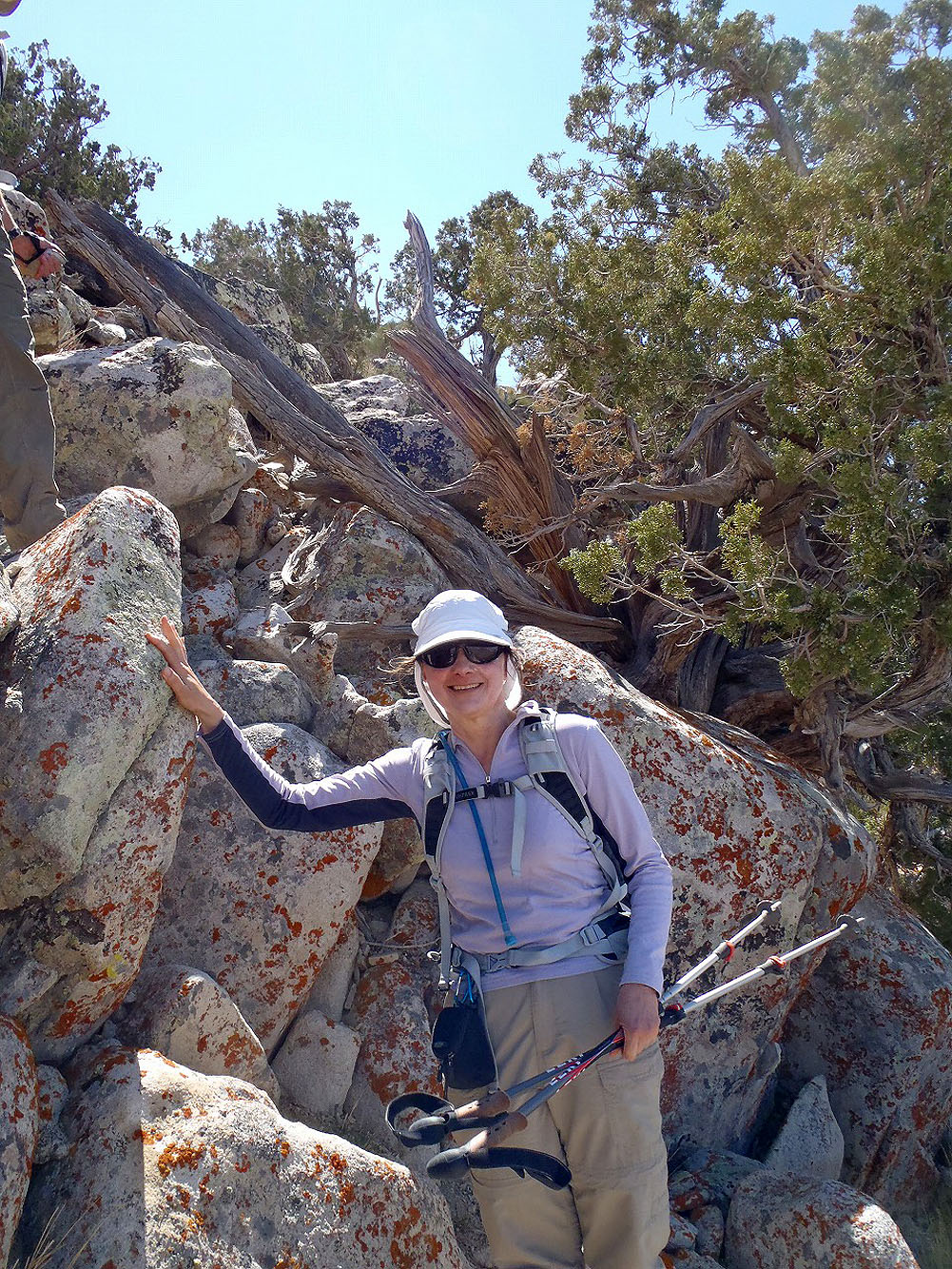 Dinah smiles as she comes down from the summit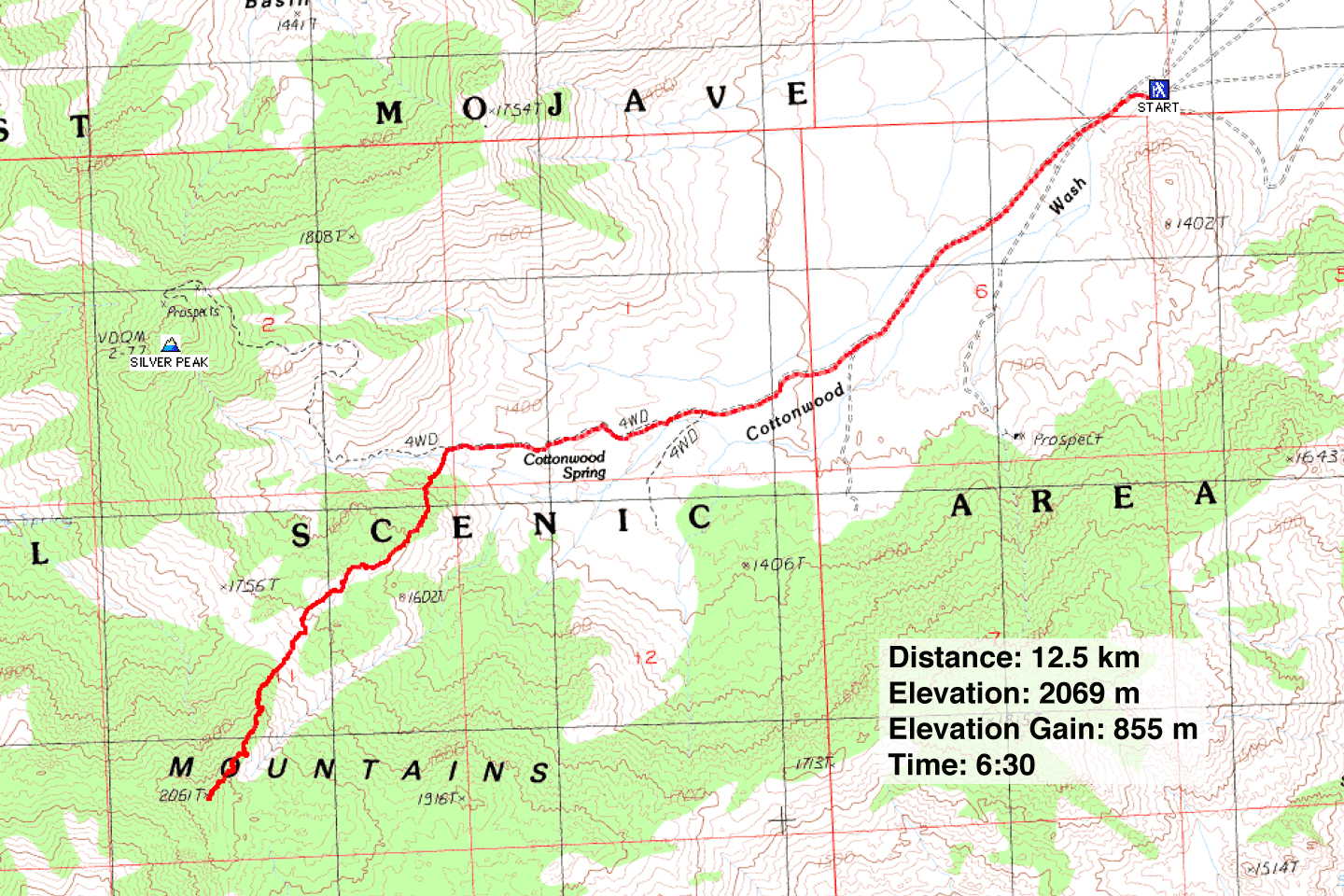 Bighorn Basin (7.8 mi, 6788 ft, 2805 ft)