bobspirko.ca | Home | Canada Trips | US Trips | Hiking | Snowshoeing | MAP | About

Turks Cap
Superstition Mountains, Arizona
January 23, 2023
Distance: 8.7 km (5.4 mi)
Cumulative Elevation Gain: 313 m (1027 ft)
After flying into Phoenix the night before, Dinah and I drove to the Superstition Mountains to hike Turks Cap in the afternoon. We had planned a morning start, but our rental car warned us to replace the key battery, so we stopped at the car rental to switch vehicles.
Superstition Mountains are popular, and the large parking lot was nearly full when we arrived. We grabbed our packs and under cloudy skies, started up the trail. Almost immediately, we took the right fork to Lost Goldmine Trail. Everyone else had apparently turned left, and we gratefully hiked in solitude.
After climbing a rise, we viewed Turks Cap in the distance before the trail switchbacks down. We followed the trail which remains low but gently rises and falls as it navigates the terrain. As we hiked, we took in the splendour of the desert, awed by saguaros towering over teddy bear cholla and barrel cactus.
Before reaching the mountain, however, we left Lost Goldmine Trail and briefly followed a road to reach the end of the east ridge of Turks Cap. Here a rough trail ascends the broad ridge.
There are a few vague trails marked with cairns, and we mistakenly got on the wrong path, one that stayed too low. We corrected our course, got back on track, and were soon approaching the narrow summit block. The entire trip was class 2. We took a break on top and viewed Superstition Peak which rises above our little peak. We snapped some photos before heading back down.
The return trip was uneventful except for our encounter with a chatty, cheerful mountain biker. Like us, he was far from home – Portland, Oregon – and came to enjoy the desert landscape in the middle of winter.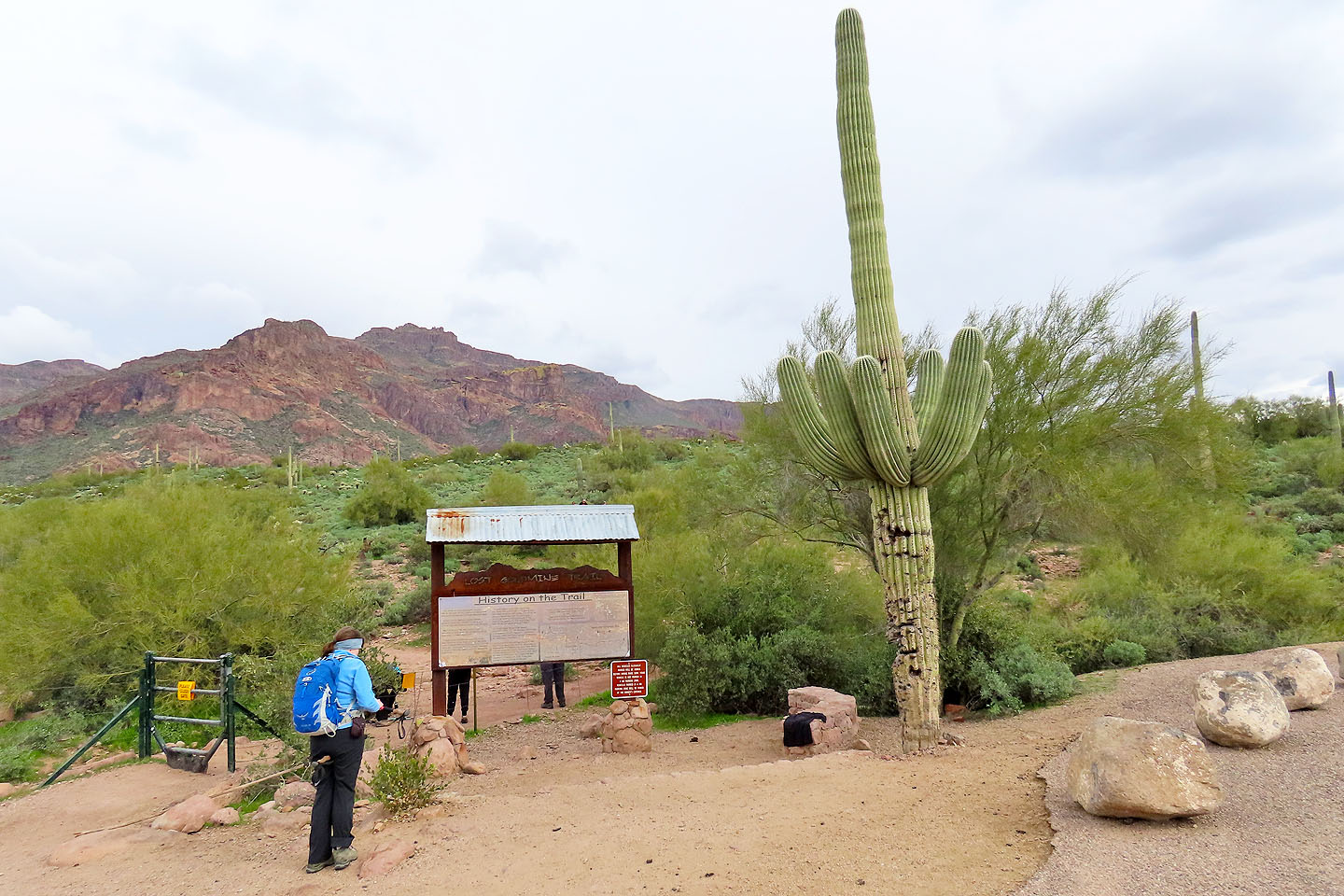 The trailhead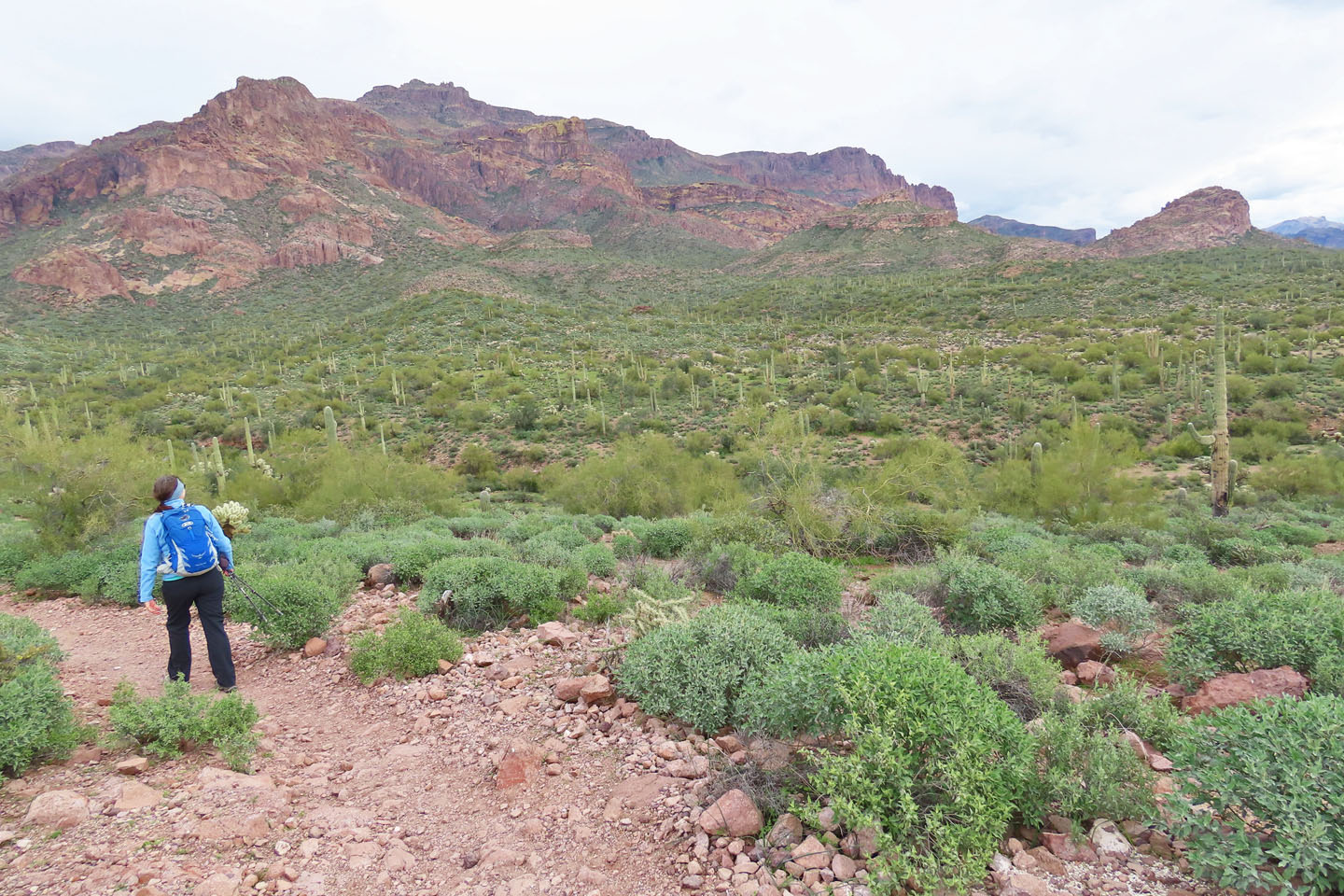 Minutes after starting, the trail ascends a rise where we saw Turks Cap on our right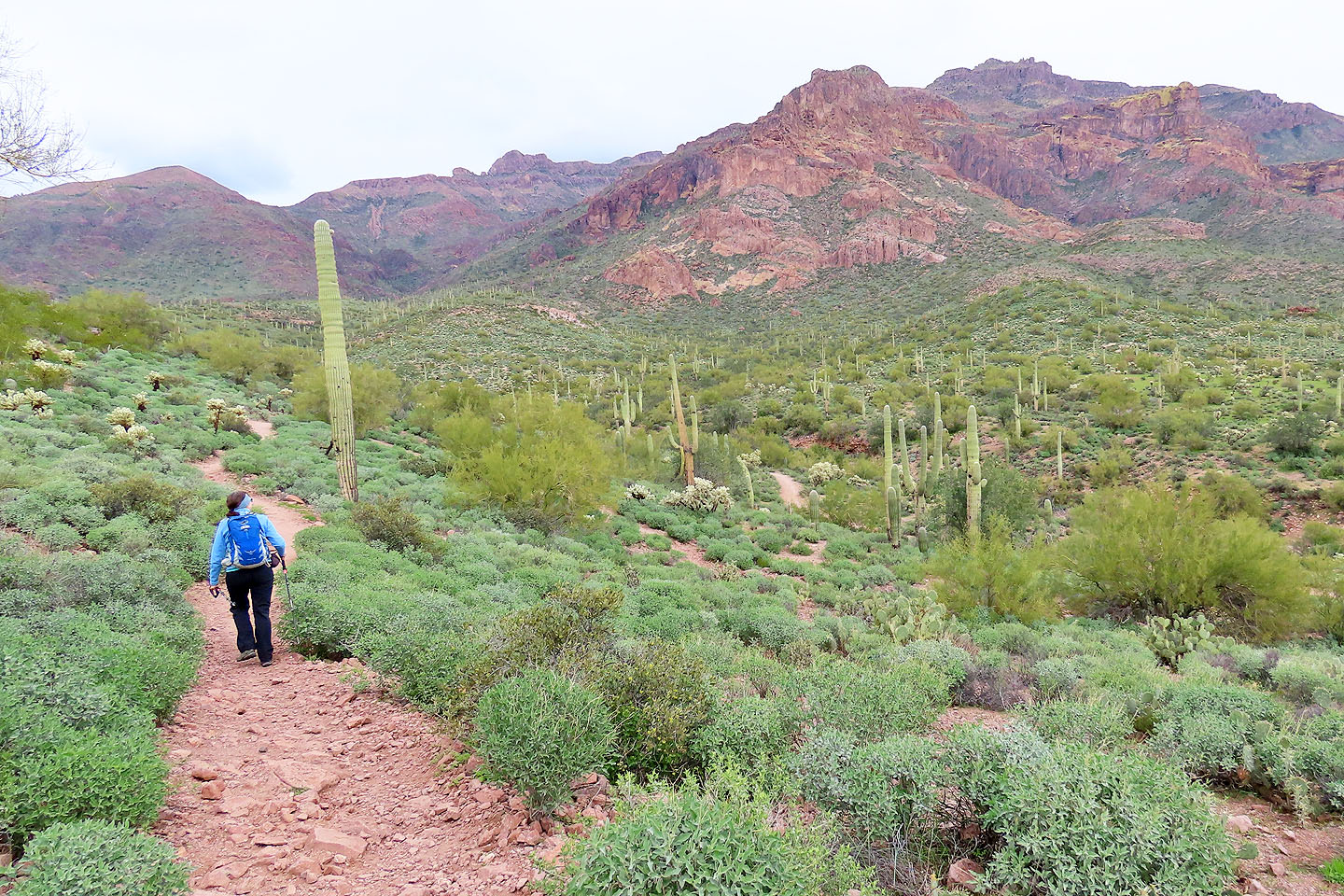 Superstition Peak appears in the distance on the right

After the trails drops down and turns, Turks Cap appears ahead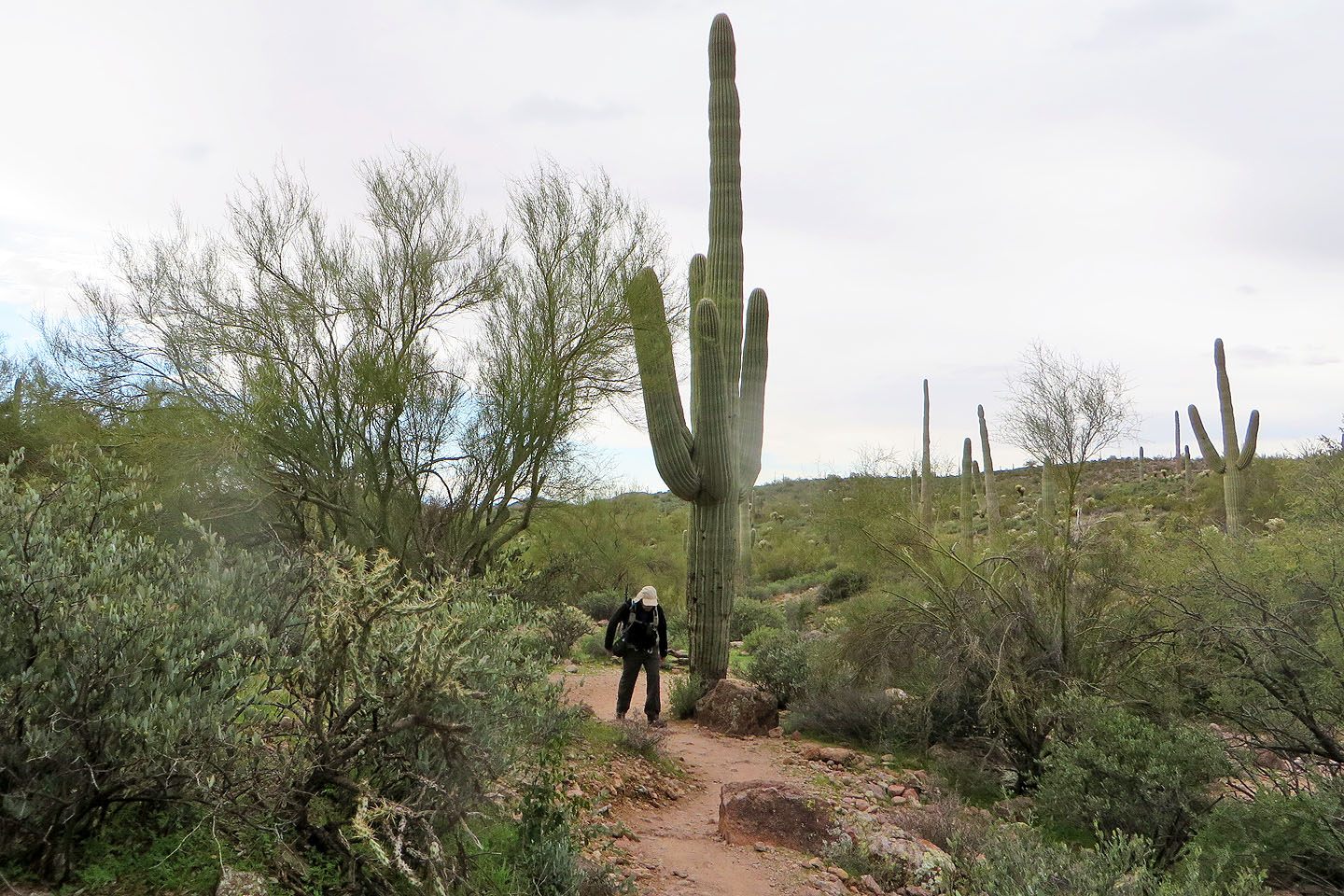 Passing a towering saguaro (mouse over for a close-up)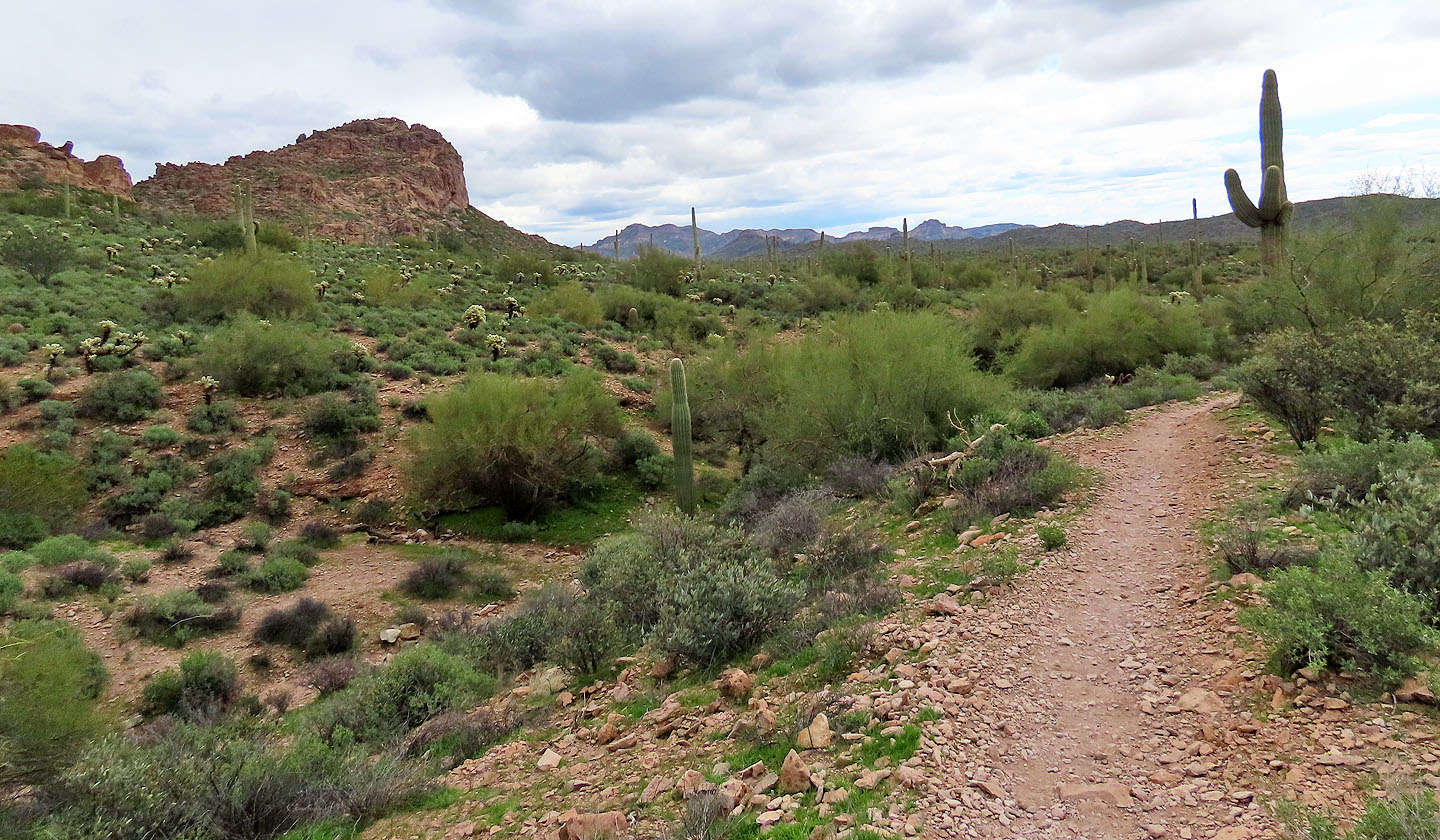 We got close enough to see the complex ridge and a window (mouse over)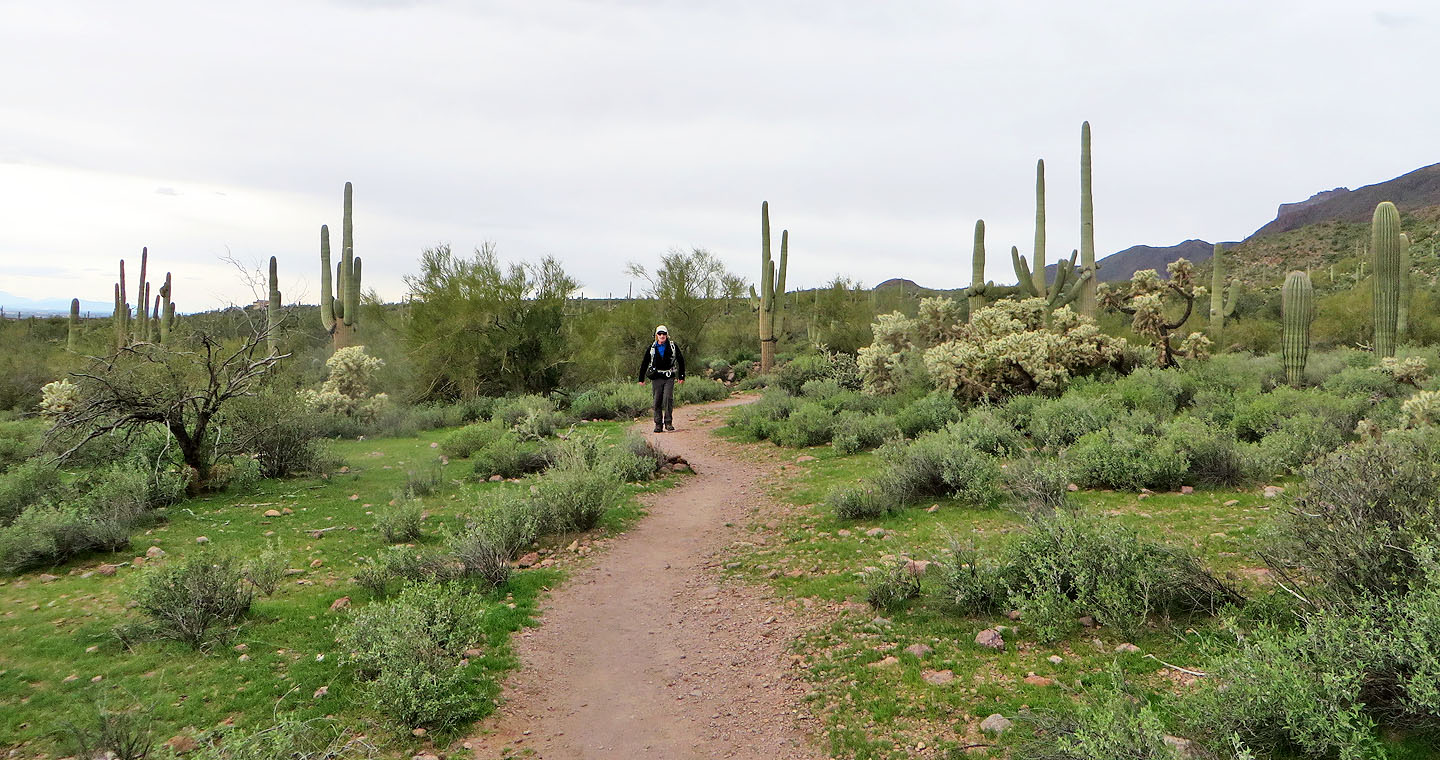 We passed through a beautiful flat section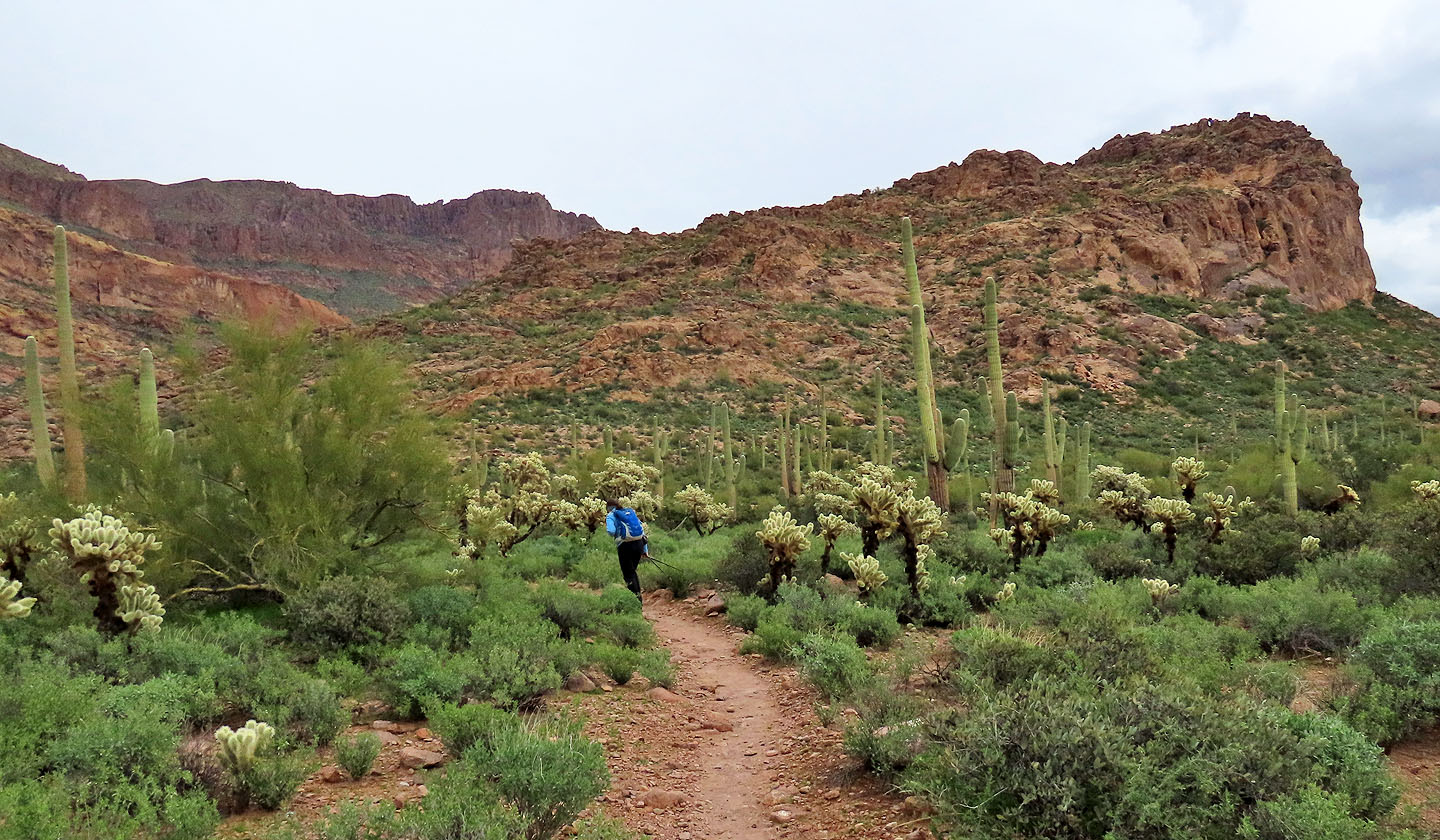 Lost Goldmine Trail veers right, but our route goes left to the east end of the ridge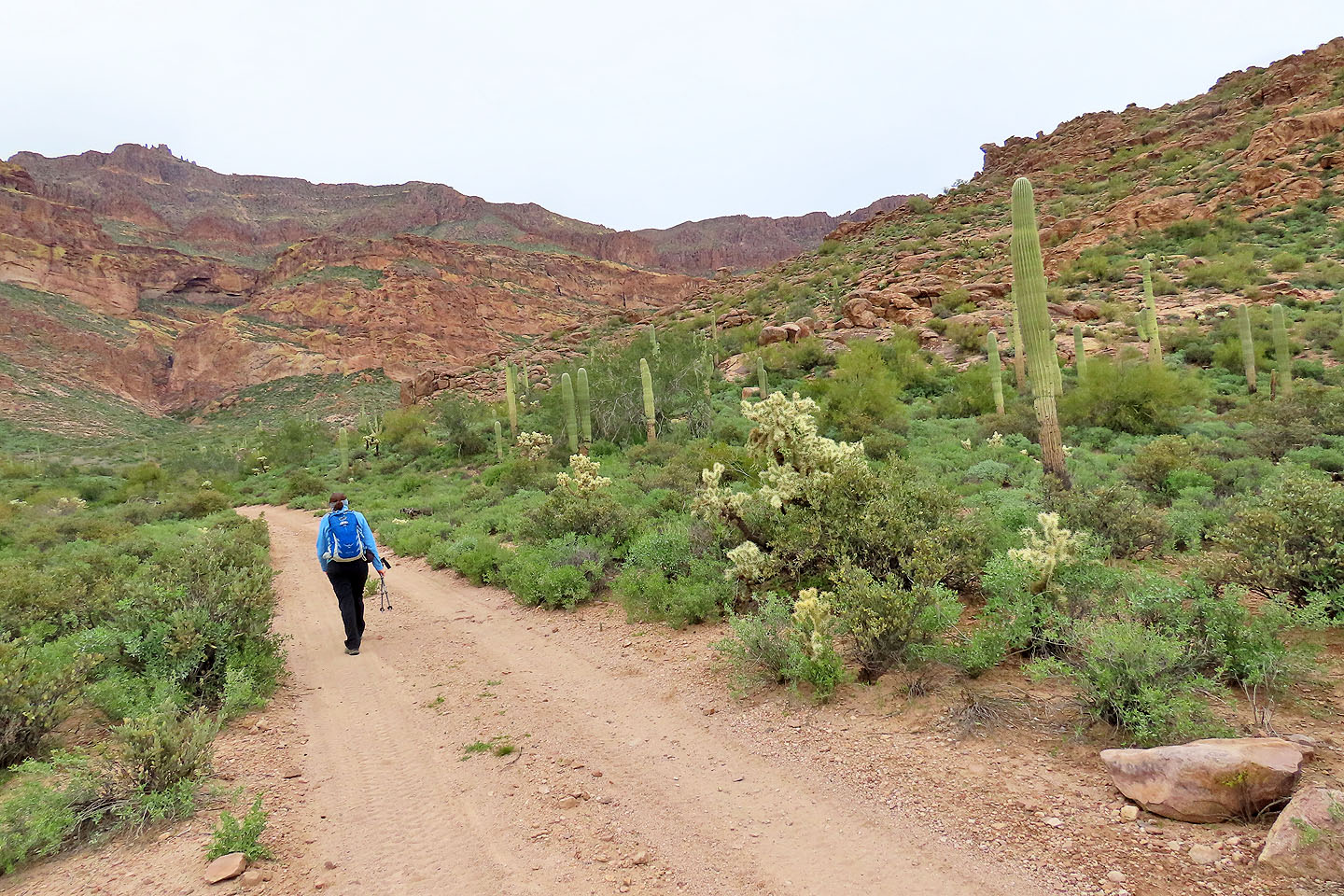 The route briefly follows a road

Starting up the trail from the road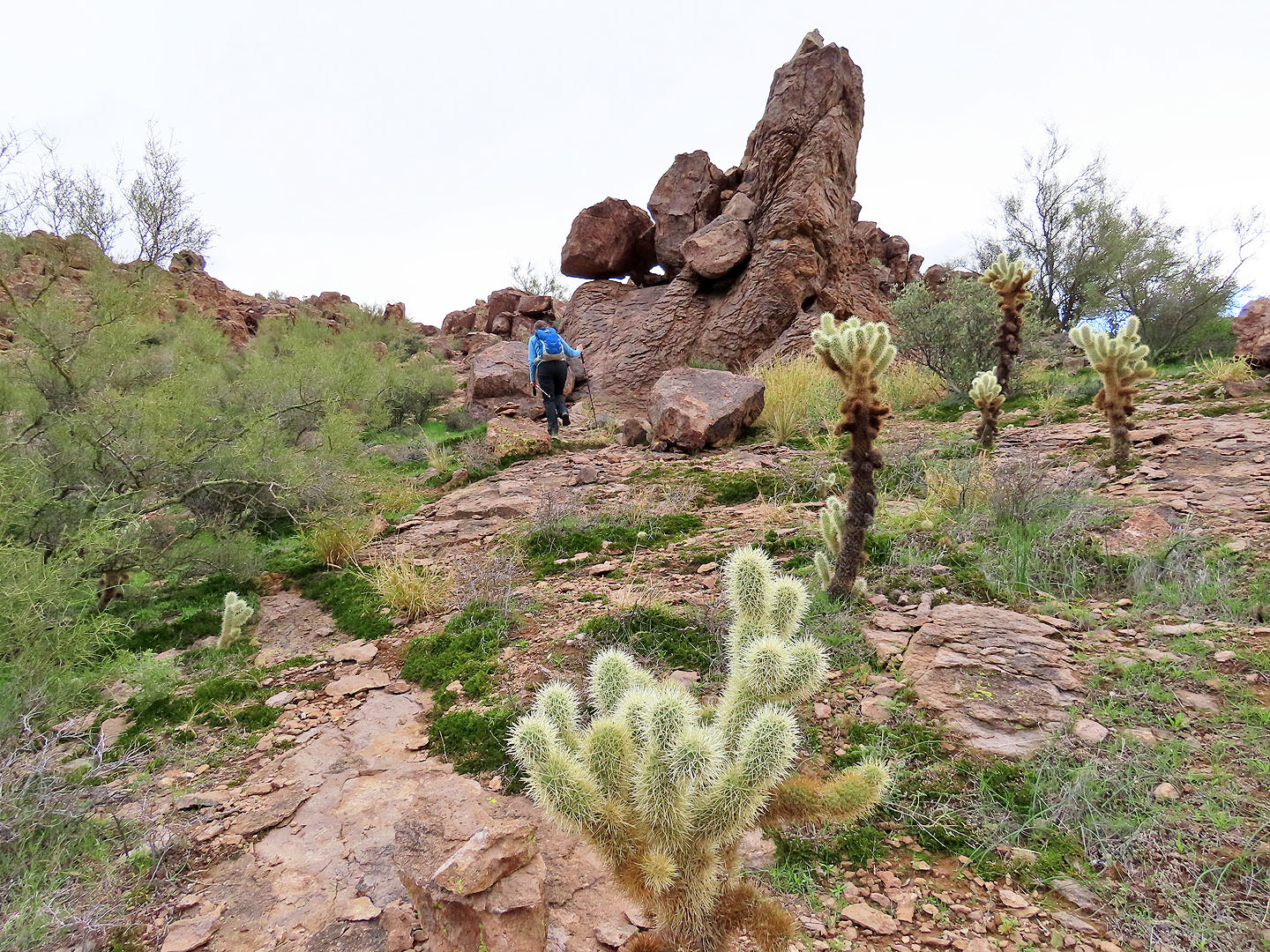 We passed a pile of boulders on the ridge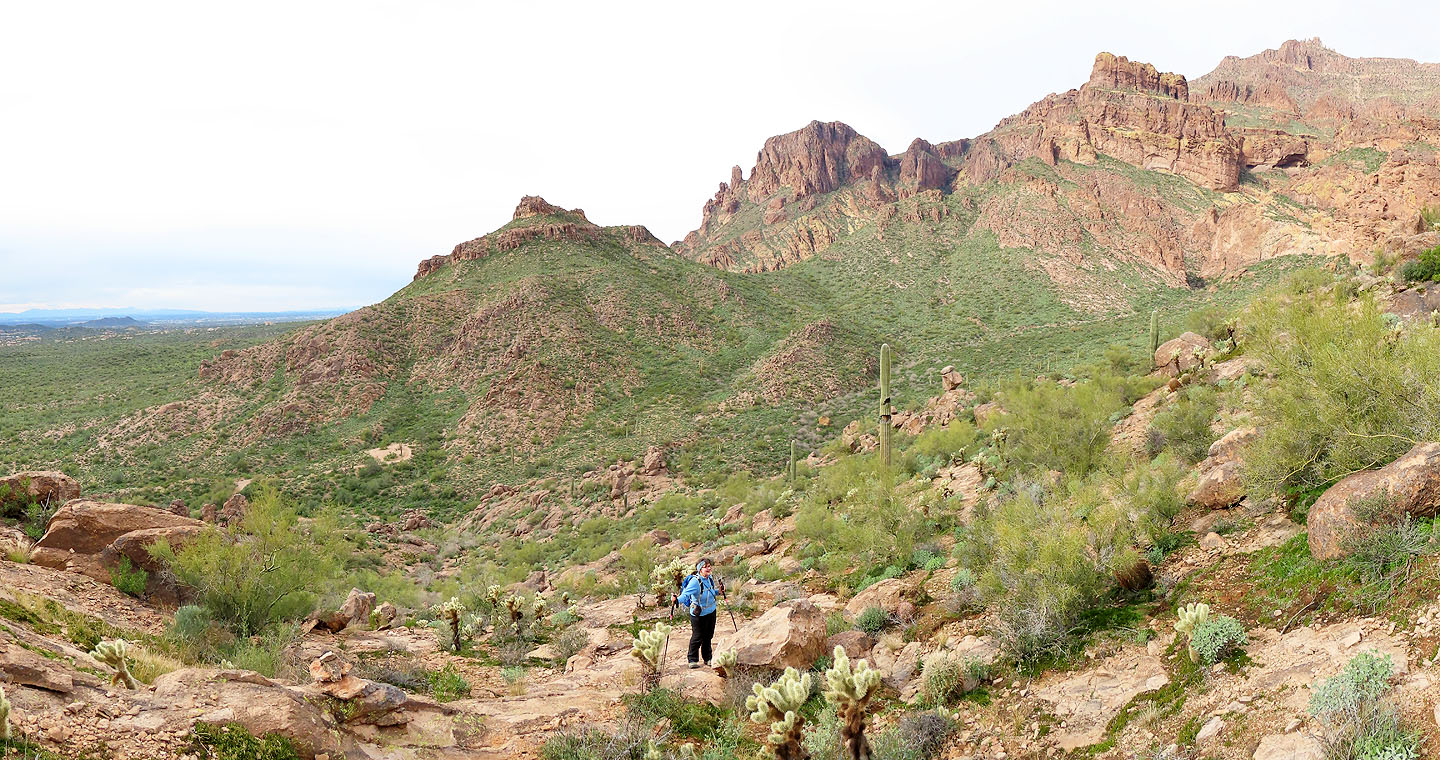 Looking back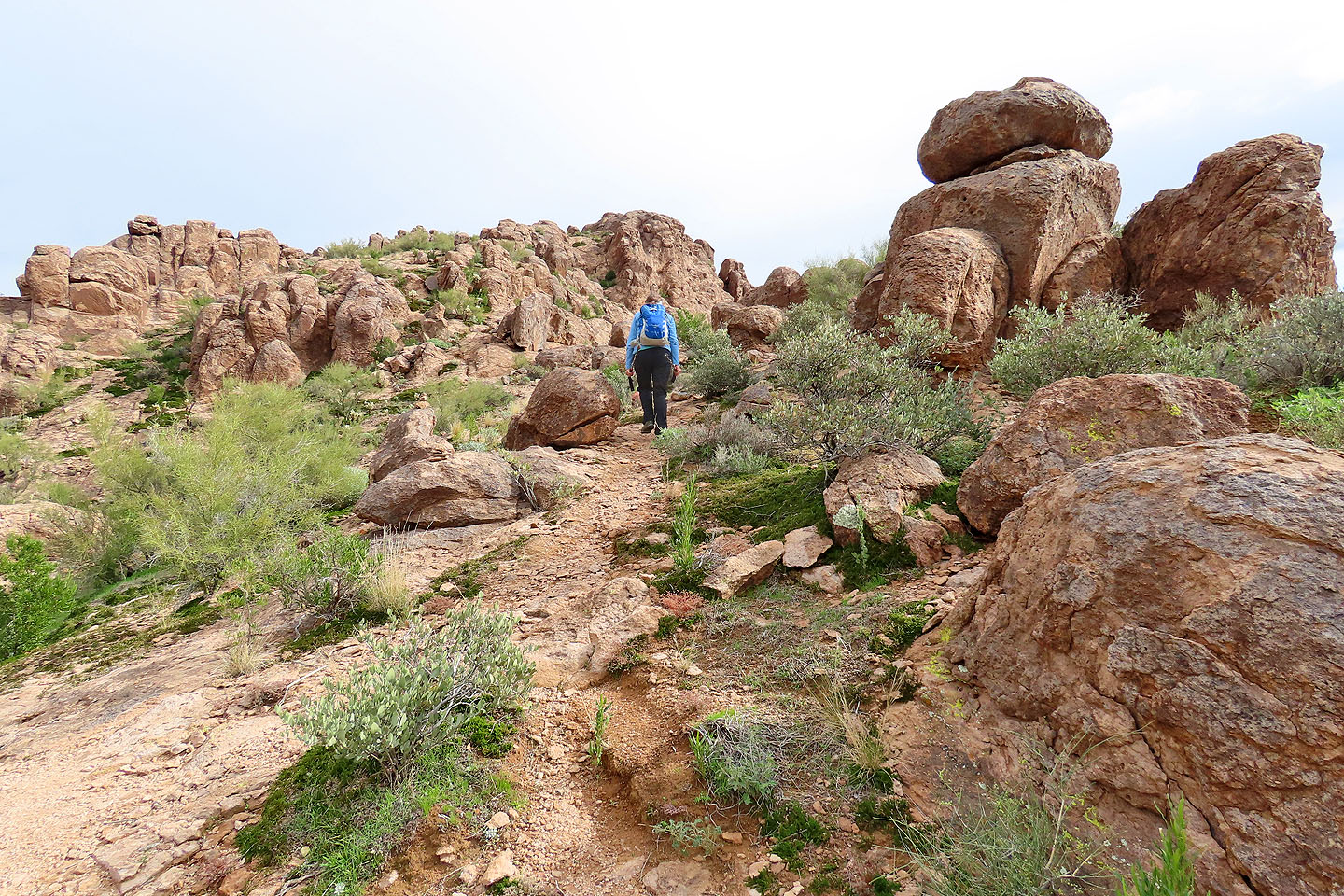 Following the vague trail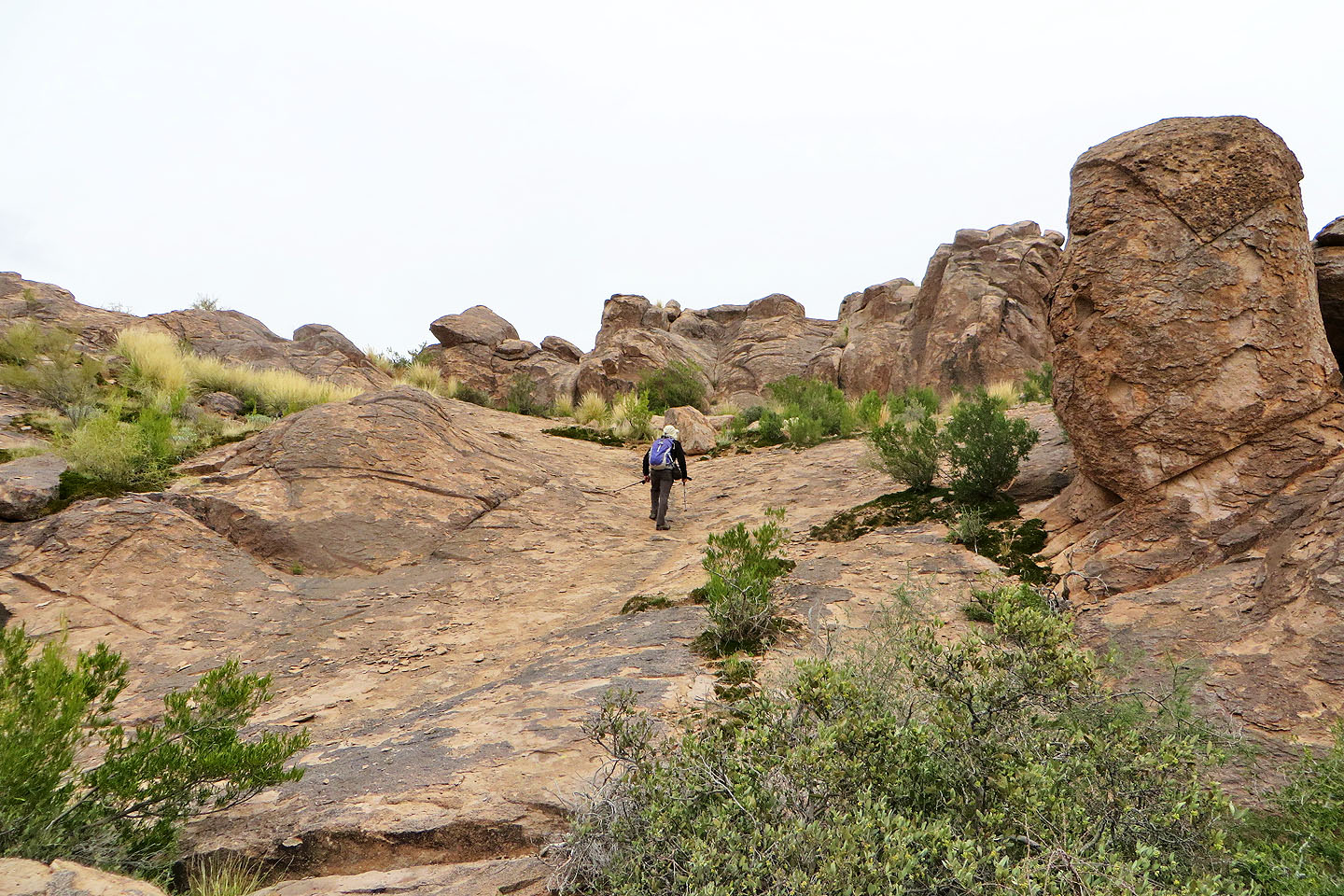 Continuing up the broad ridge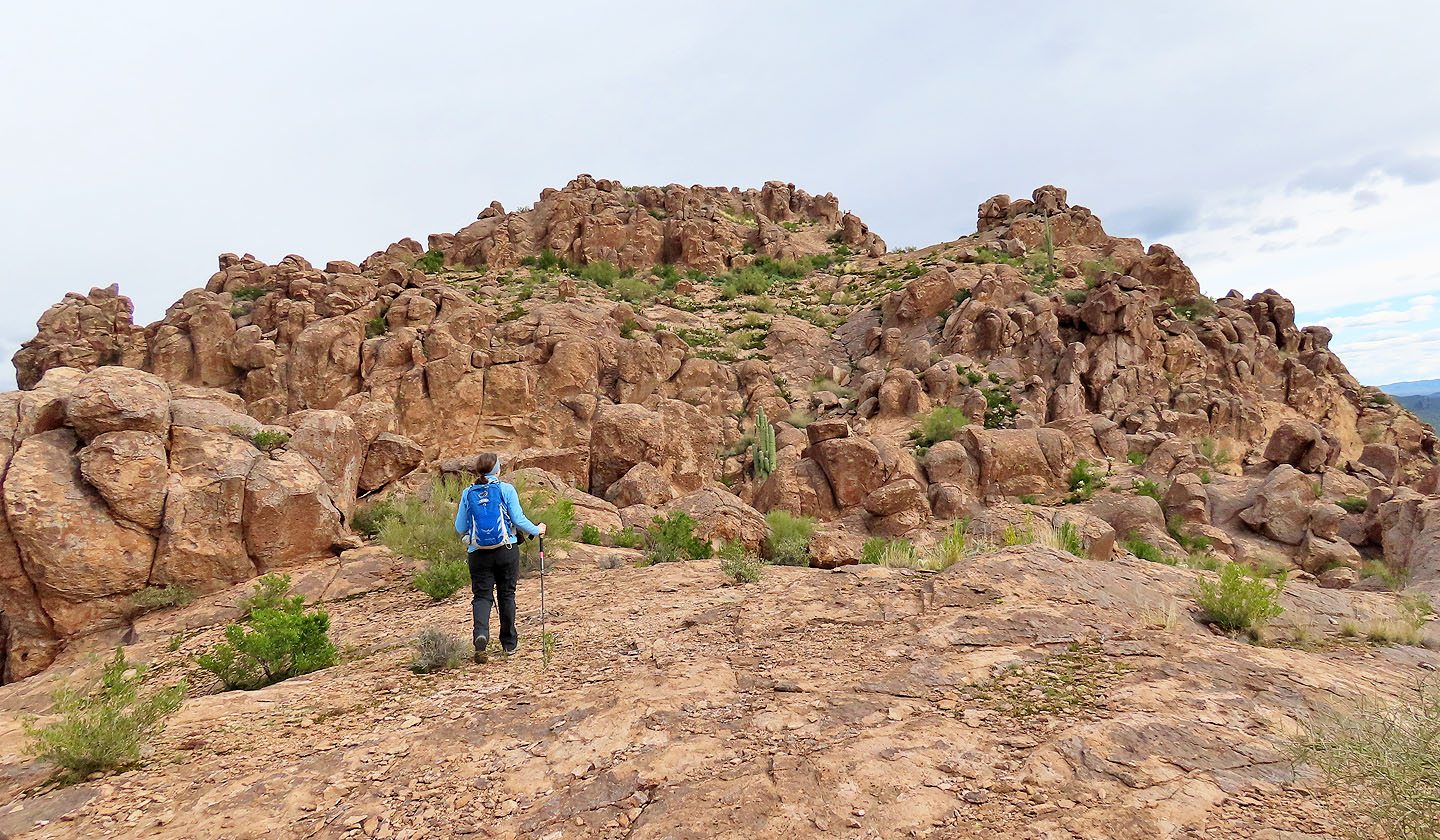 The summit came into view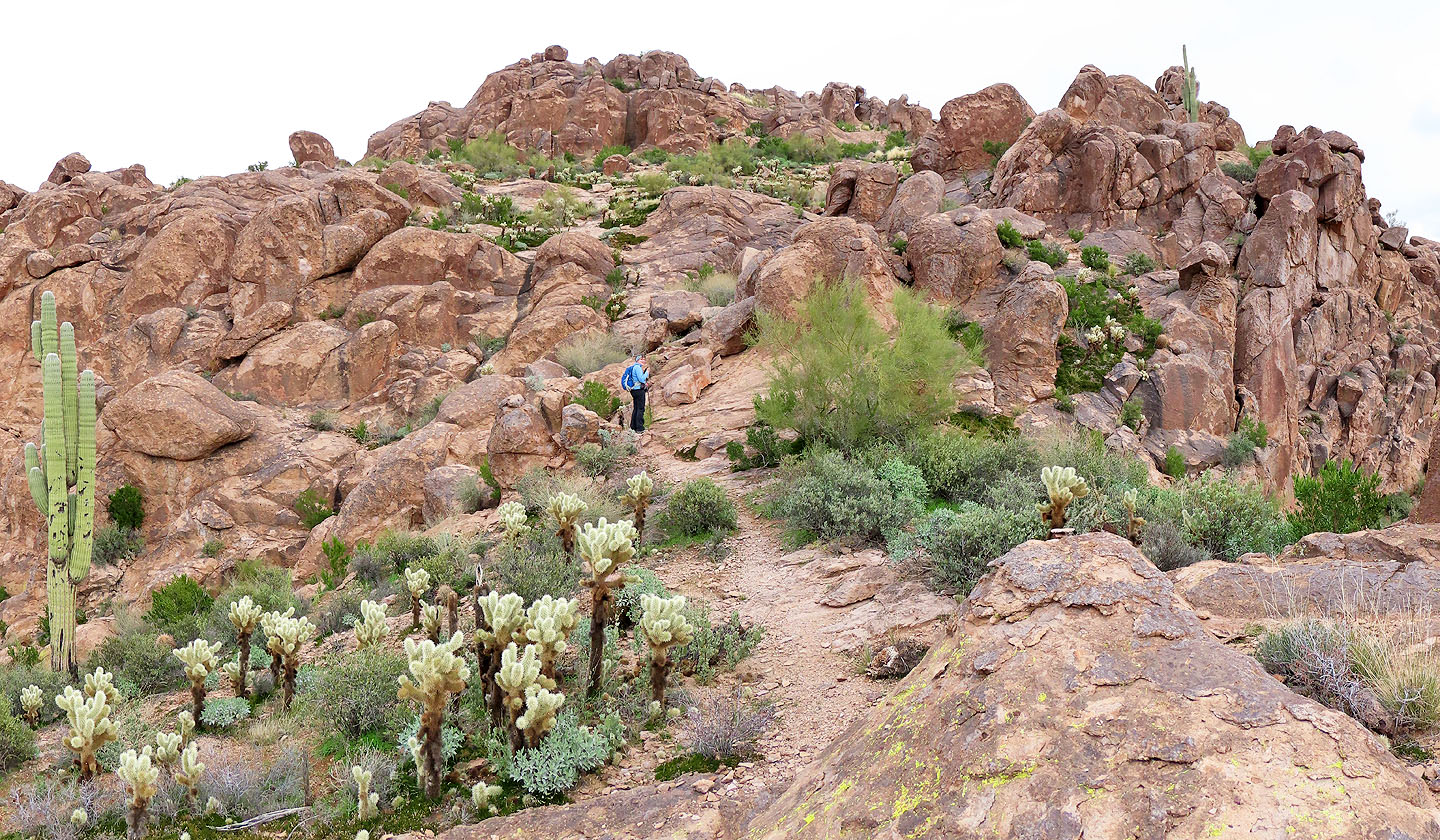 The scenery only got better as we climbed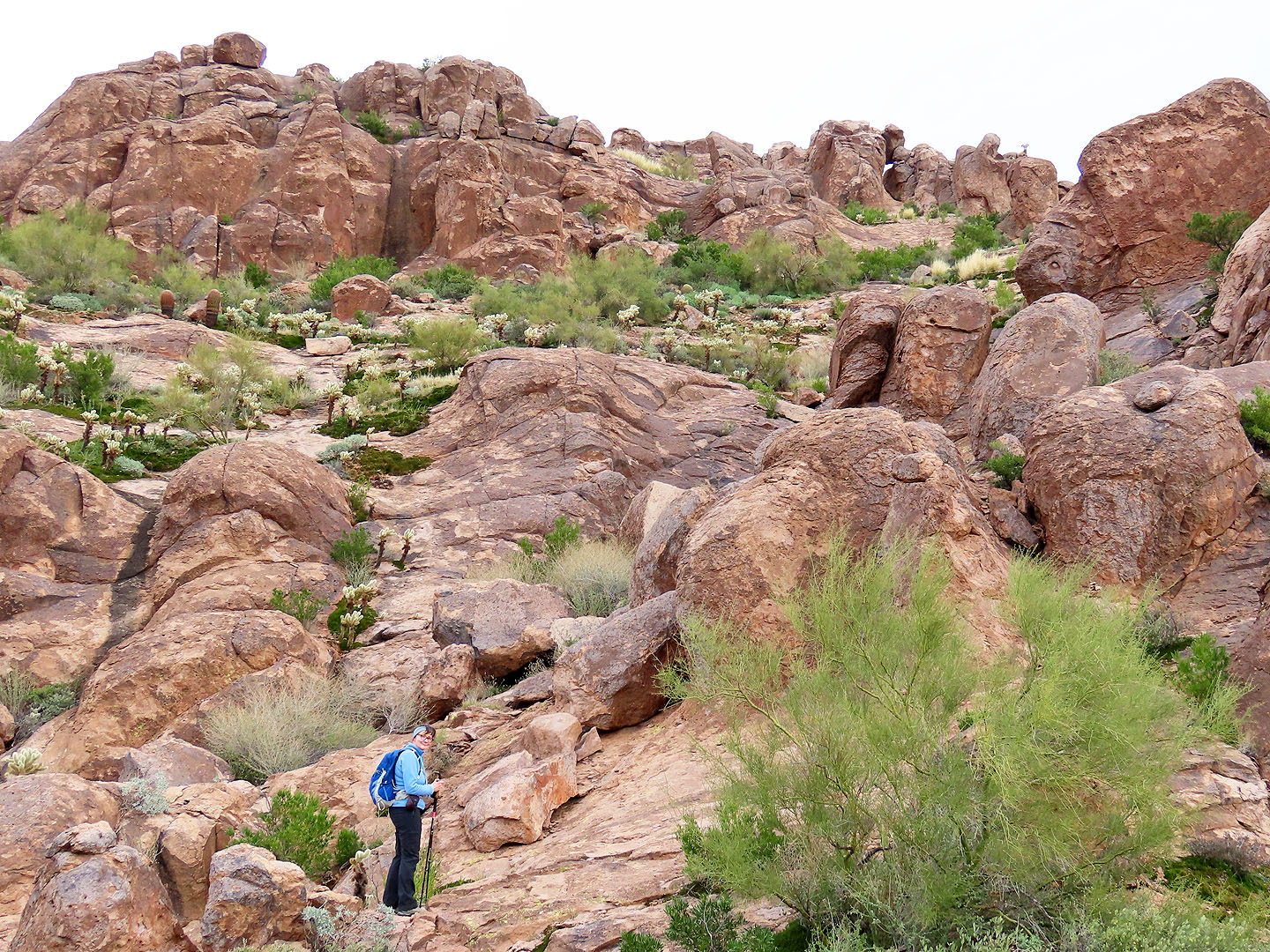 The window is barely visible centre right. Also barely seen on the skyline are desert sheep.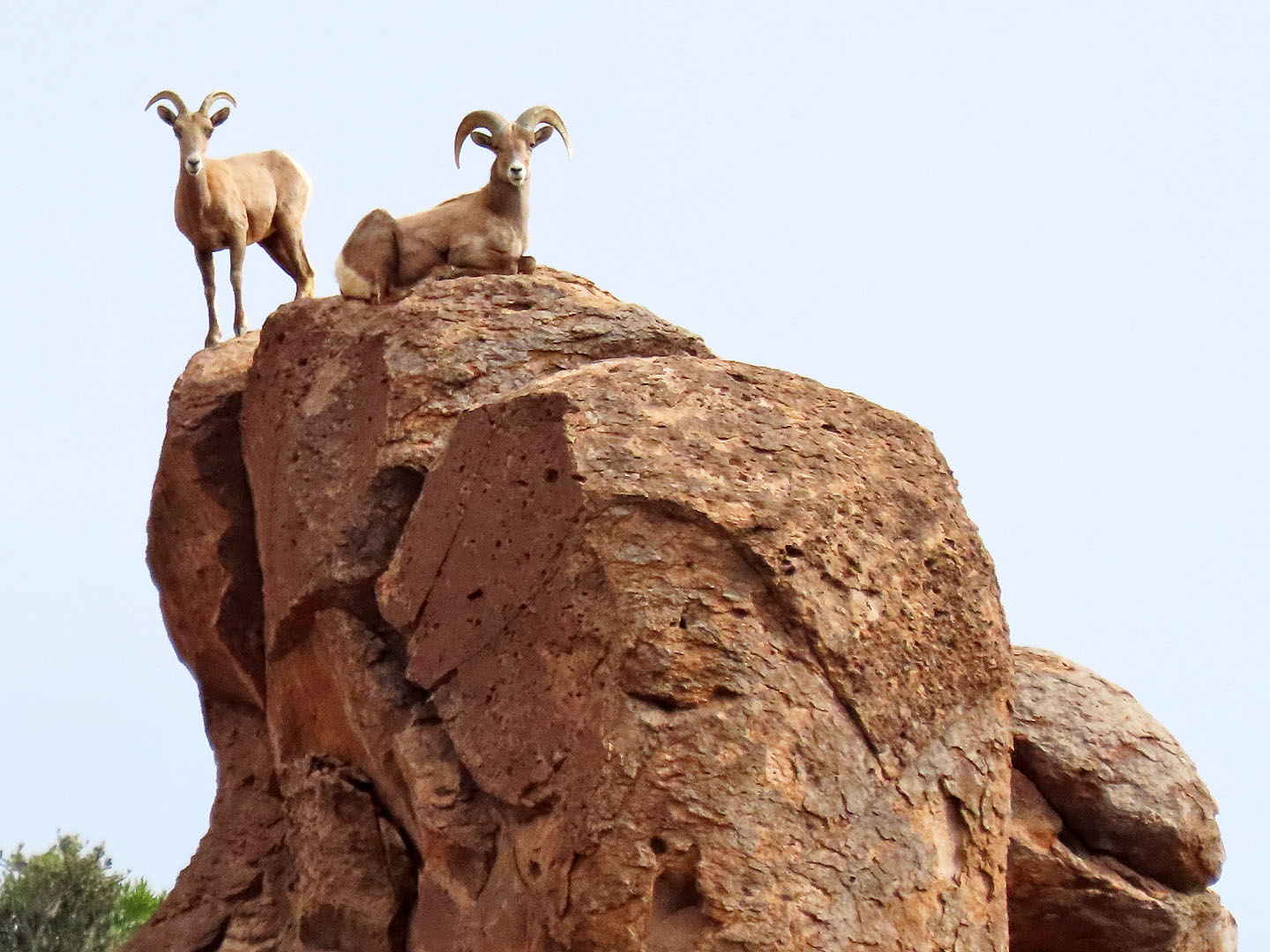 A closer look at the sheep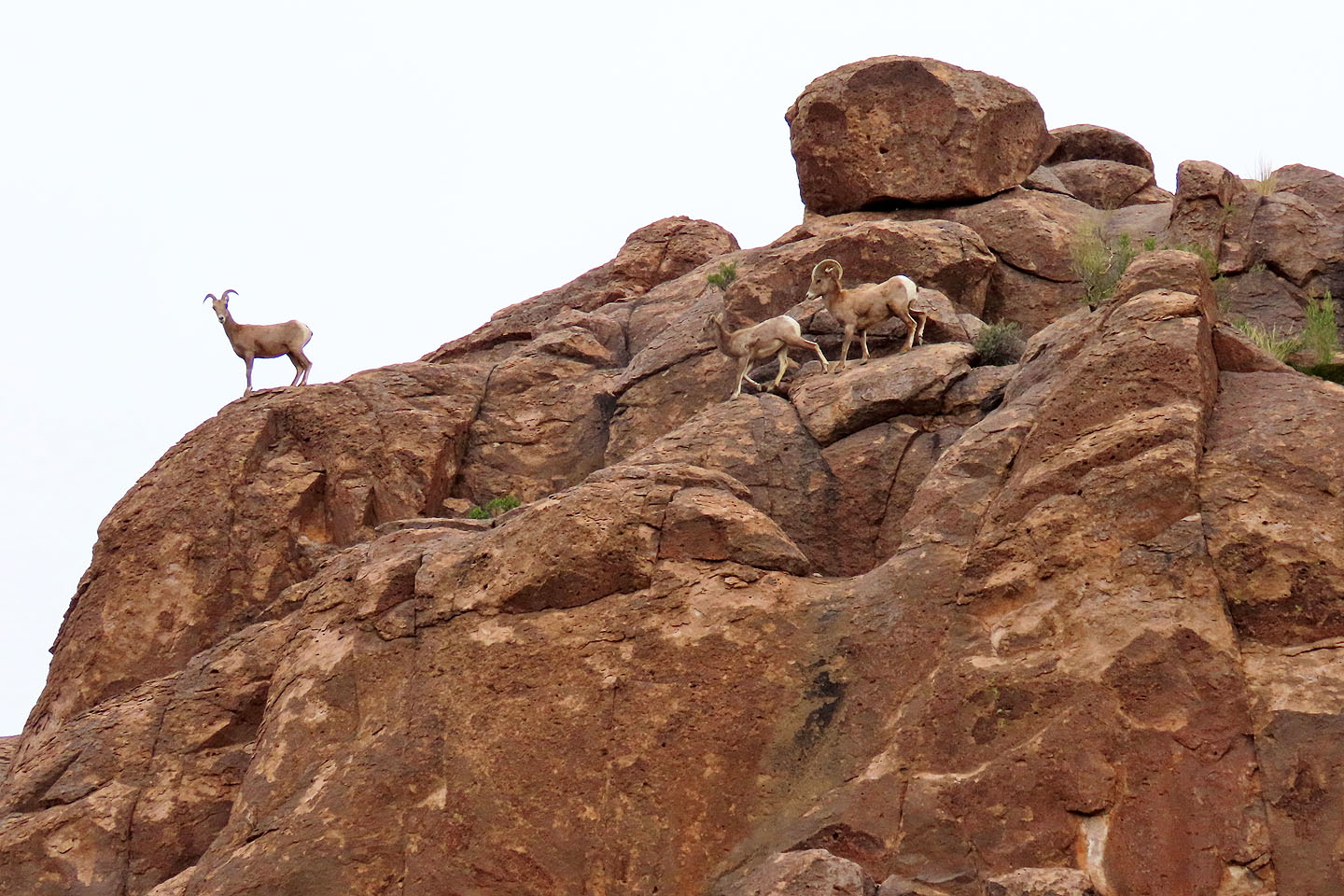 The sheep moved away as we approached the summit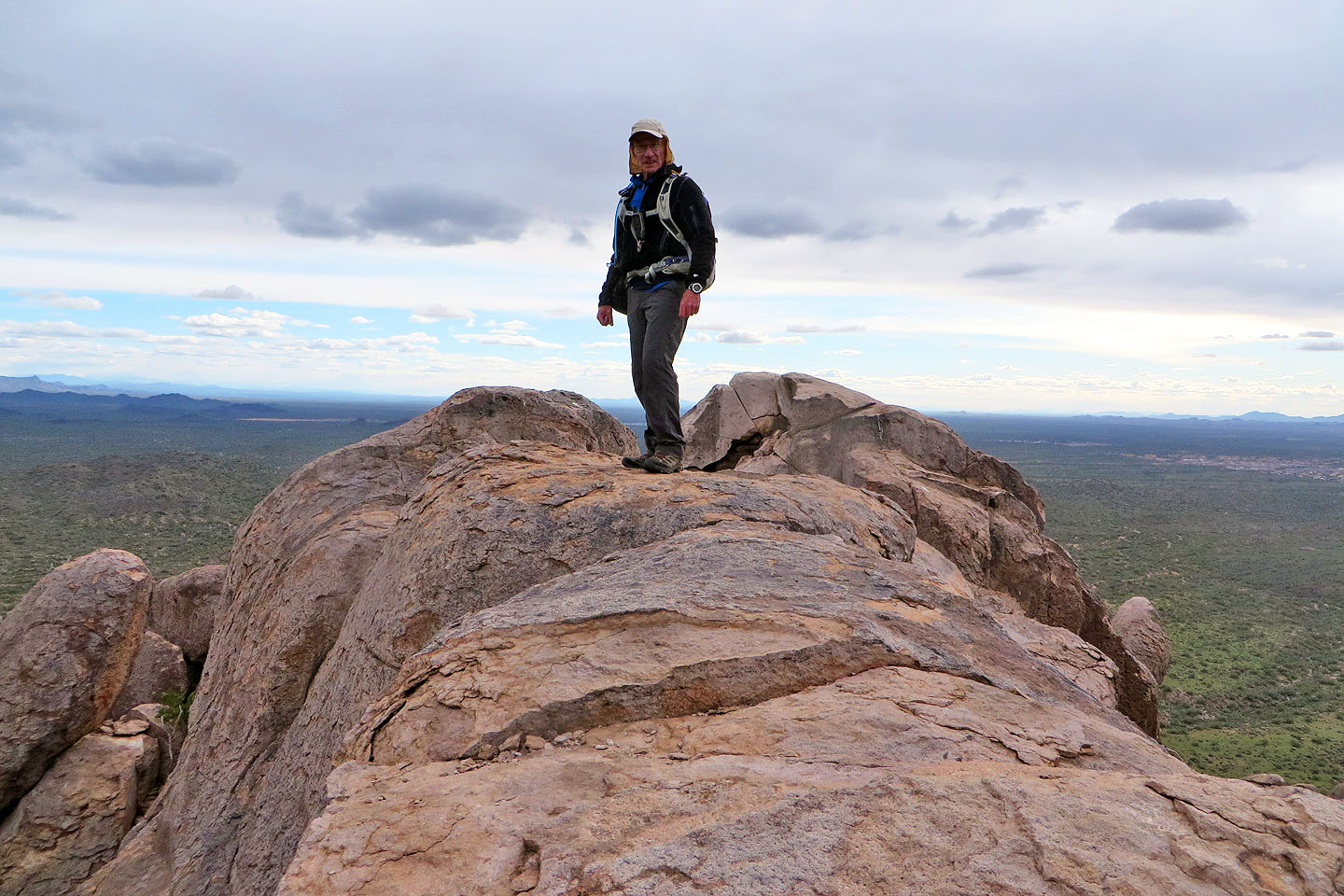 Standing on the summit block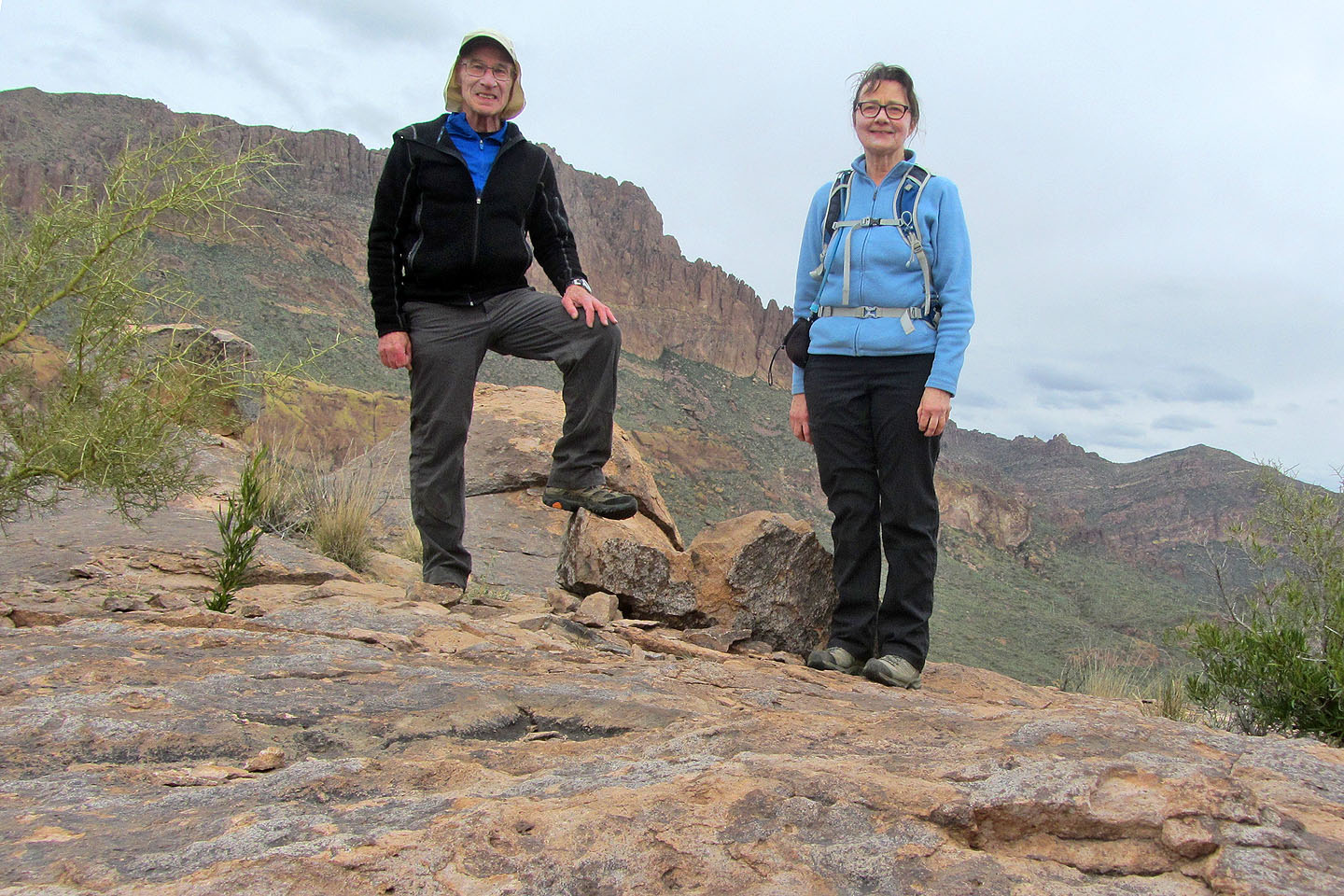 Posing on the plateau below the summit block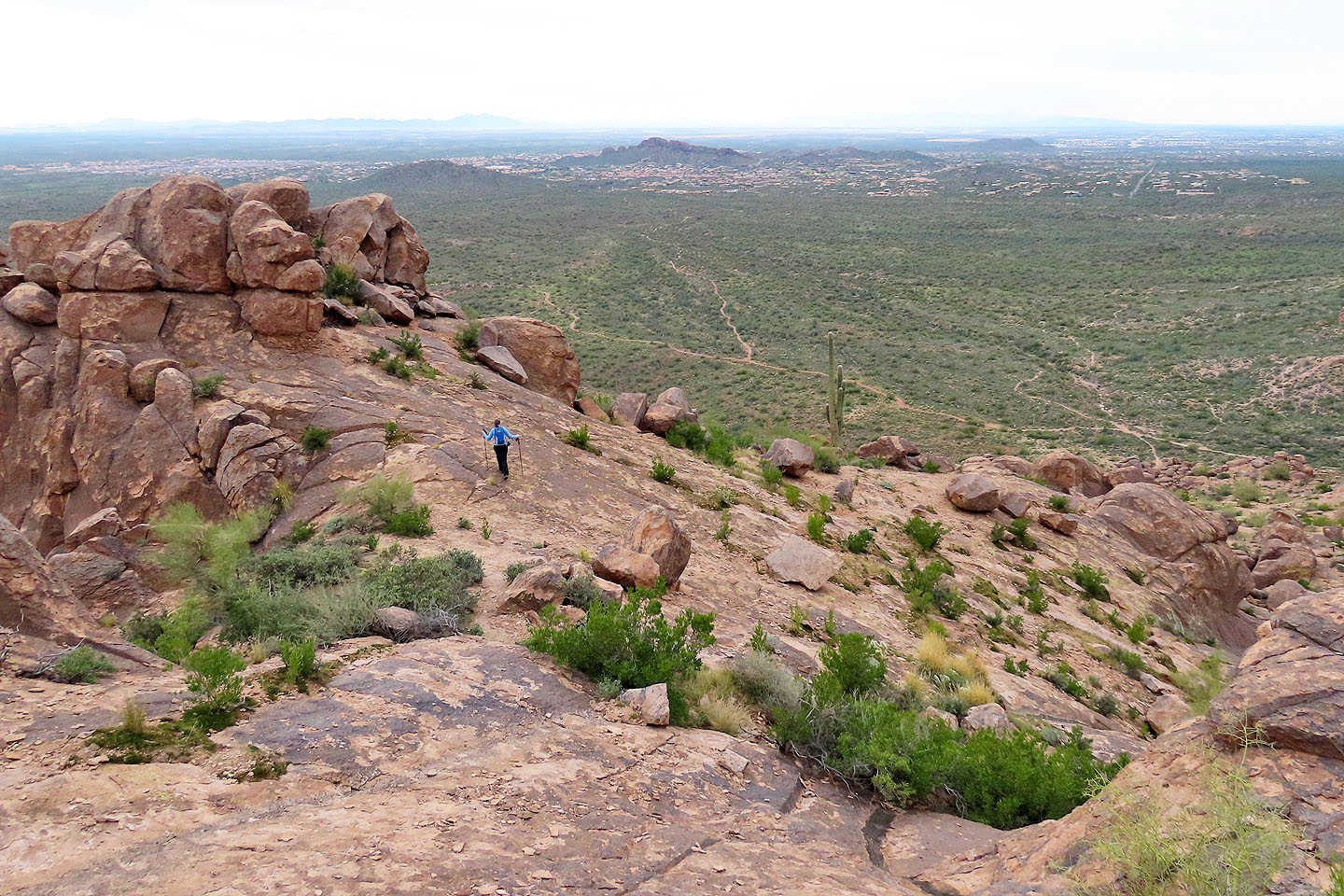 Dinah started down while I took a summit panorama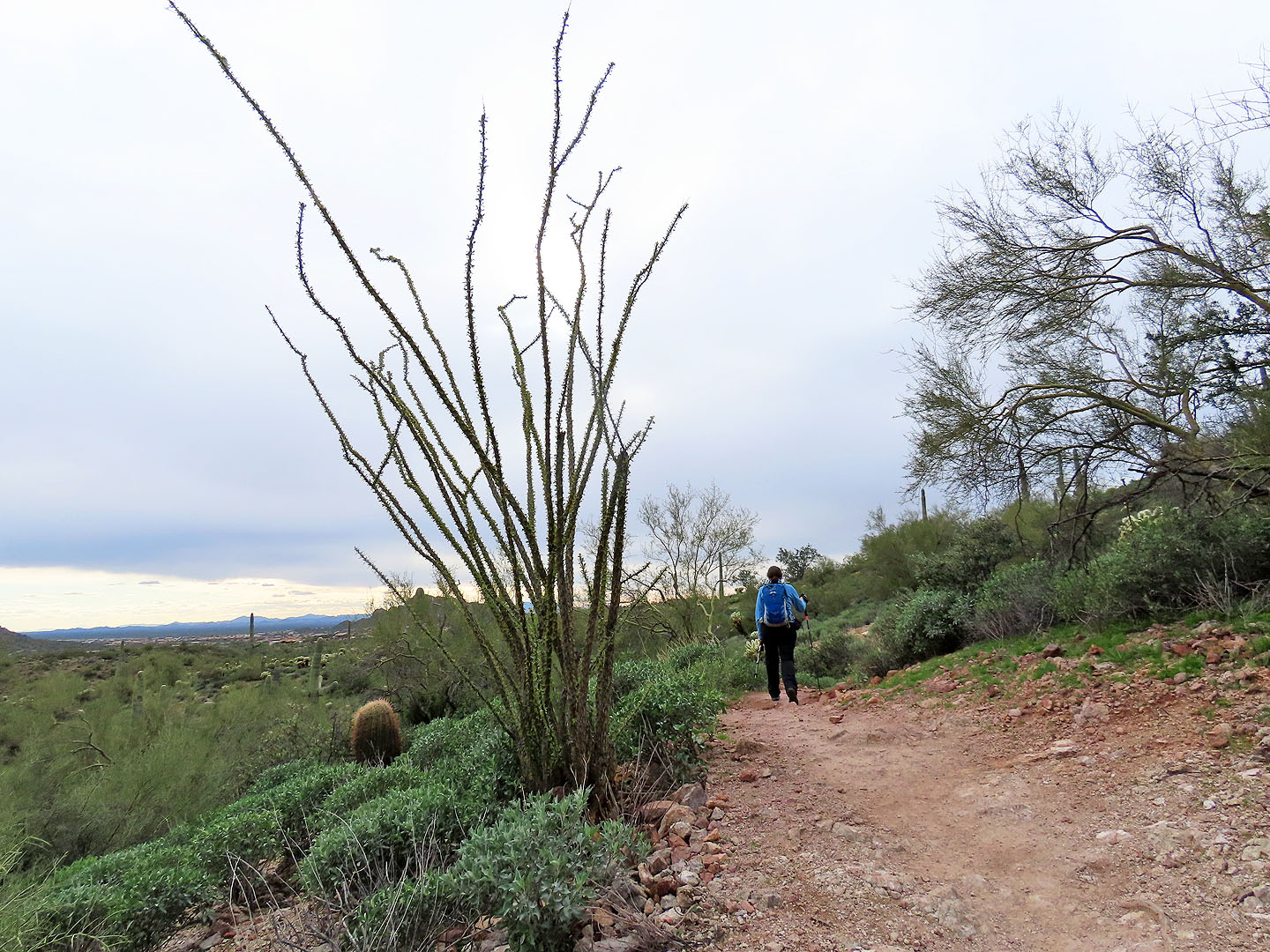 Hiking back, we passed an ocotillo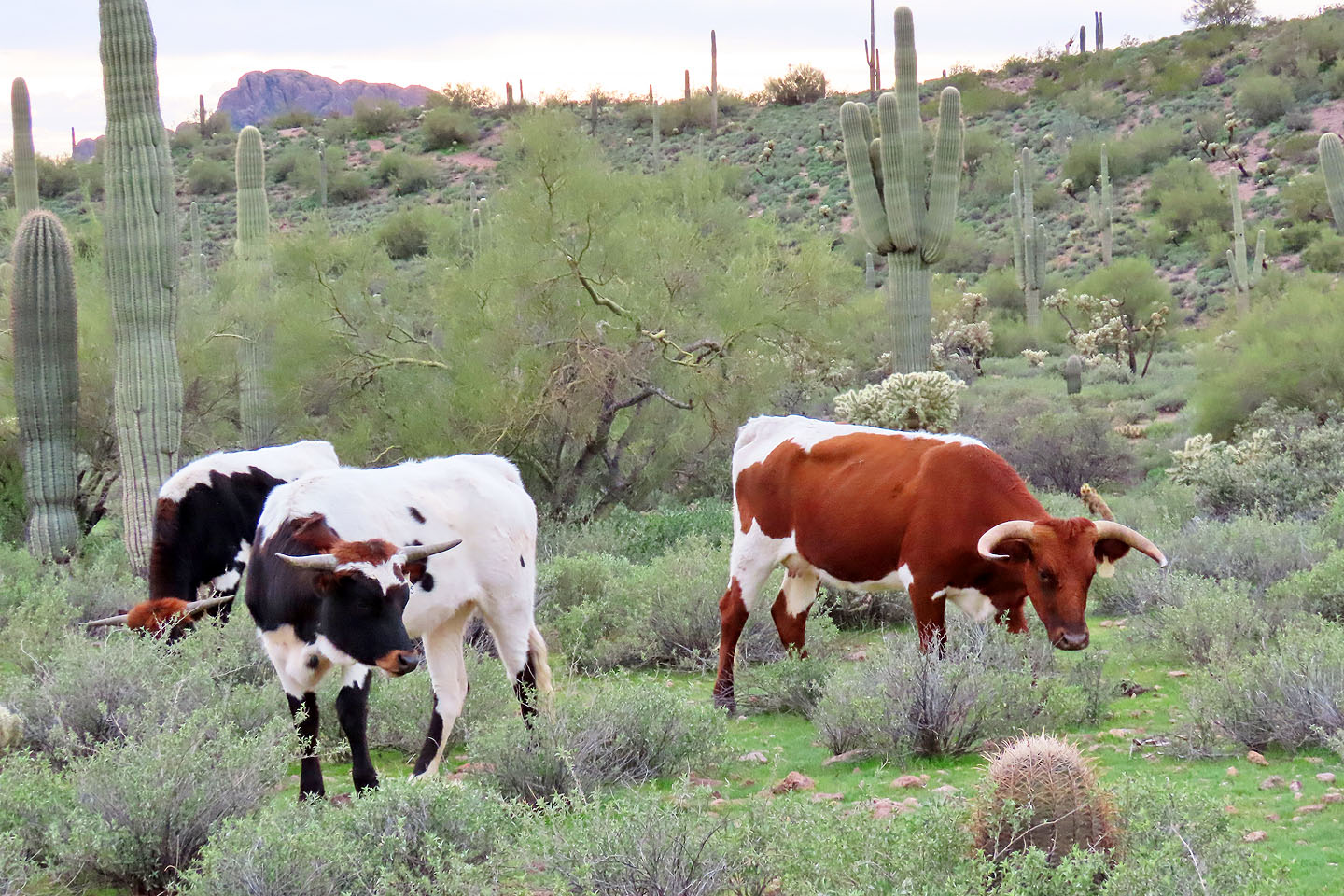 Cattle grazed by the trail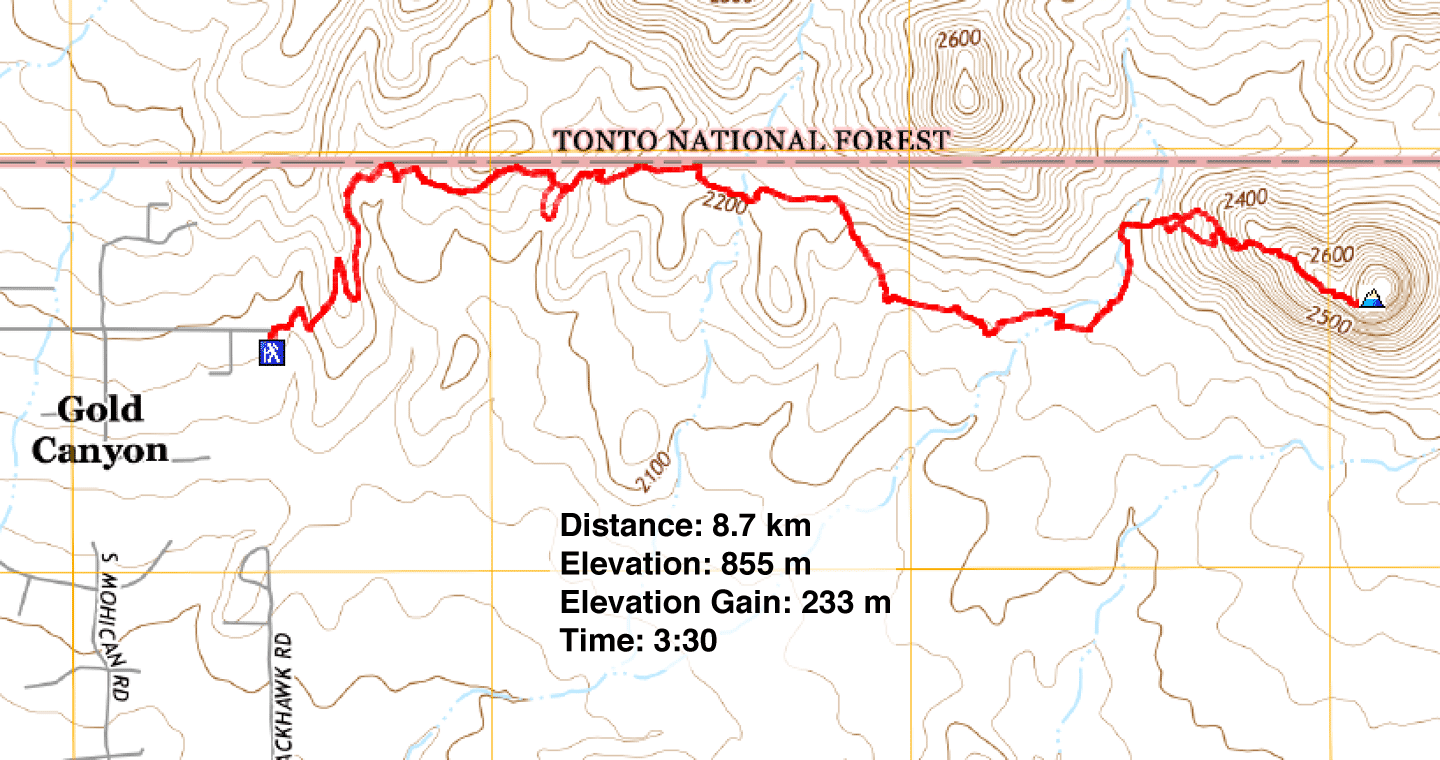 Goldfield (5.4 mi, 2805 ft, 764 ft)