bobspirko.ca | Home | Canada Trips | US Trips | Hiking | Snowshoeing | MAP | About

Arizona Hot Springs
Lake Mead National Recreation Area, Arizona
April 14, 2015
Distance: 11.0 km (6.78 mi)
Cumulative Elevation Gain: 334 m (1096 ft)
It was a terrible day to climb a peak. A wind warning was in effect throughout southern Nevada; it would be miserable if not risky to attempt a peak with winds gusting to 100 kph. So Shin, Dinah and I decided on a canyon hike, down White Rock Canyon to Arizona Hot Springs, a popular bathing spot.
We parked at the trailhead for White Rock Canyon on the east side of Hwy. 93 and followed the trail down a wash. We soon dropped into a canyon. Steep rock rose on either side while our boots sank into the soft gravel and sand that covered the canyon floor. Slowly we made our way down the sinuous canyon leading to the Colorado River.
After reaching the Colorado River, the trail wends left and hugs the bank for 300 metres before climbing over a rise. On the other side of the rise, we dropped into another canyon, one with running water except where it disappeared into the gravel floor. Following the second canyon, we reached the first pool in less than ten minutes.
There are four pools of clear water, each created with sandbag dams and each hotter than the preceding one. After wading through the first pool, we came to a spacious gravel flat that ends in a 20-foot wall. Water tumbled down a waterfall, but our focus was on the steel ladder next to it. We climbed the ladder to reach the three upper pools. Like Goldilocks, Dinah and I found the lower pool too cool and the upper pool too hot, but the middle pool was just right. Shin, on the other hand, preferred the hottest pool.
We were probably lucky to have the Arizona Hot Springs to ourselves and frolicked undisturbed in the water for an hour before leaving. Back at the ladder, however, we ran into three guys ready to climb up. We left them behind and made our way back to the parking lot, again enjoying the grandeur of White Rock Canyon.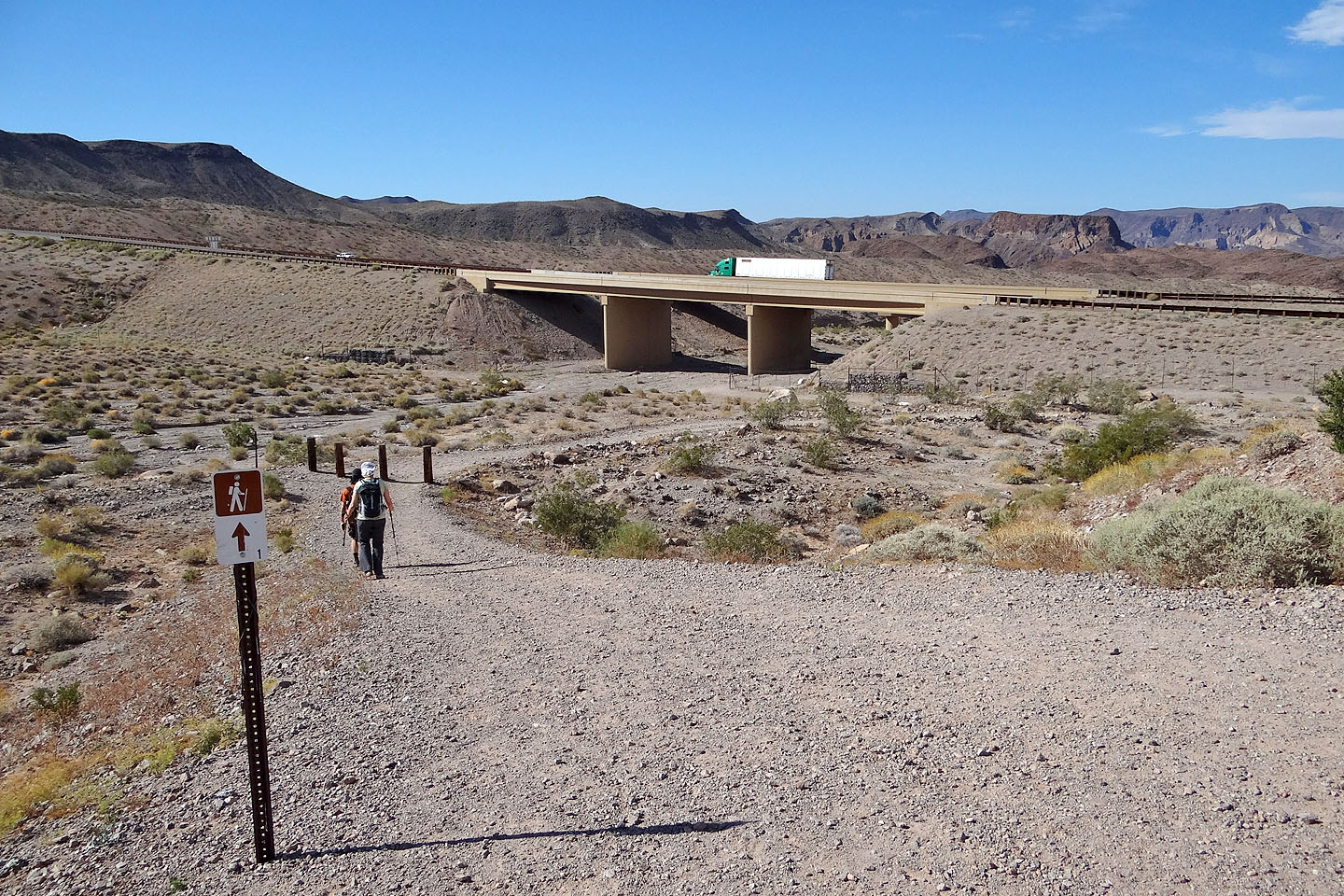 At the start, the trail runs under Hwy. 93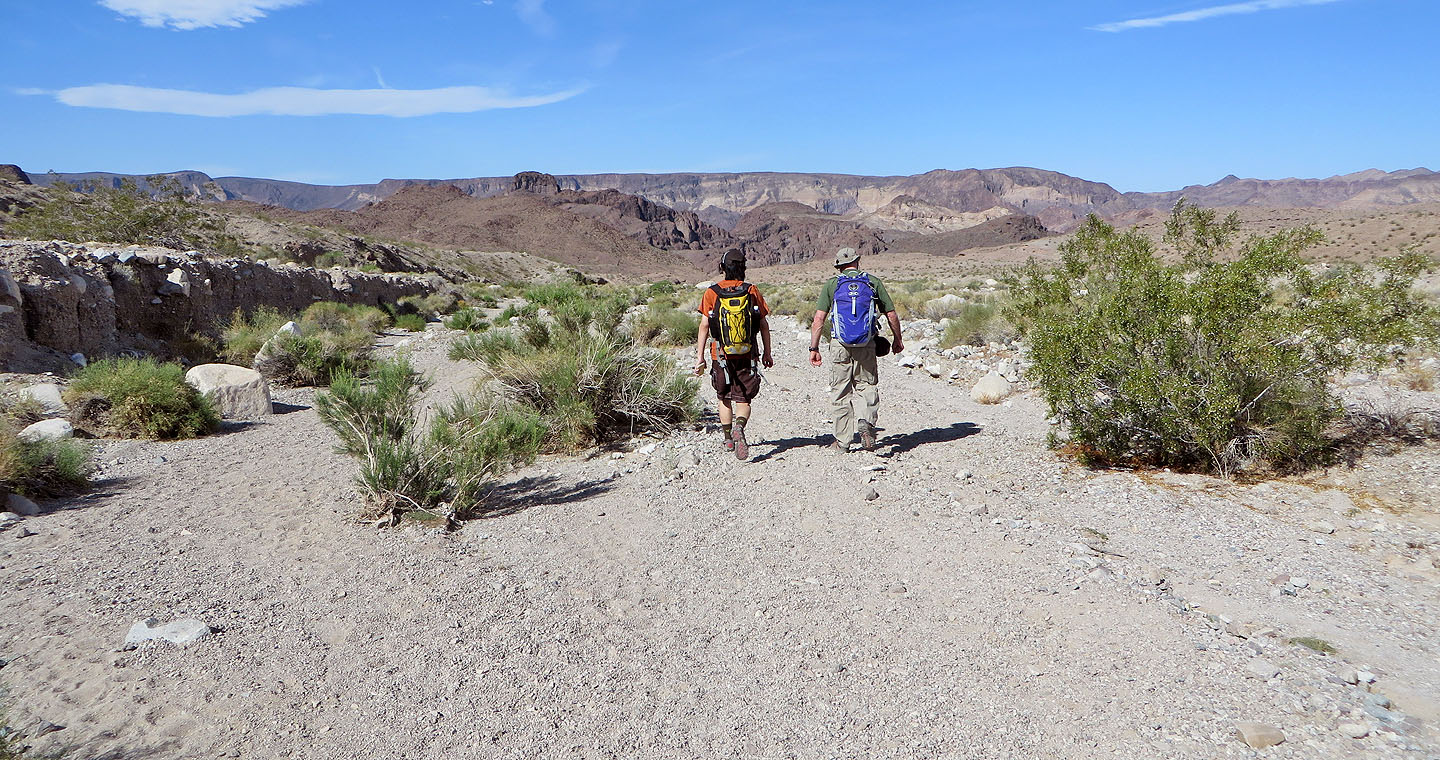 Following the wash to White Rock Canyon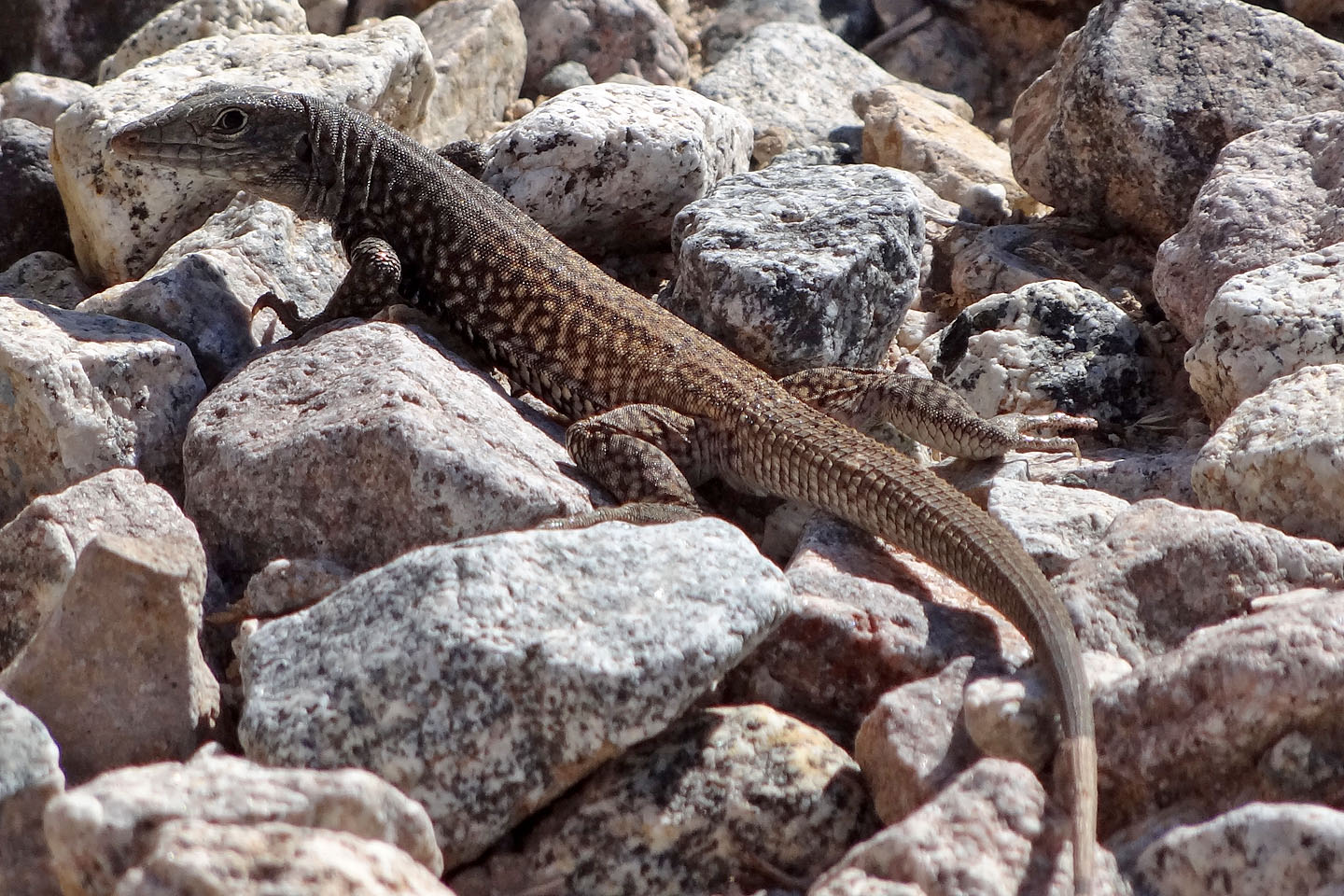 Great basin whiptail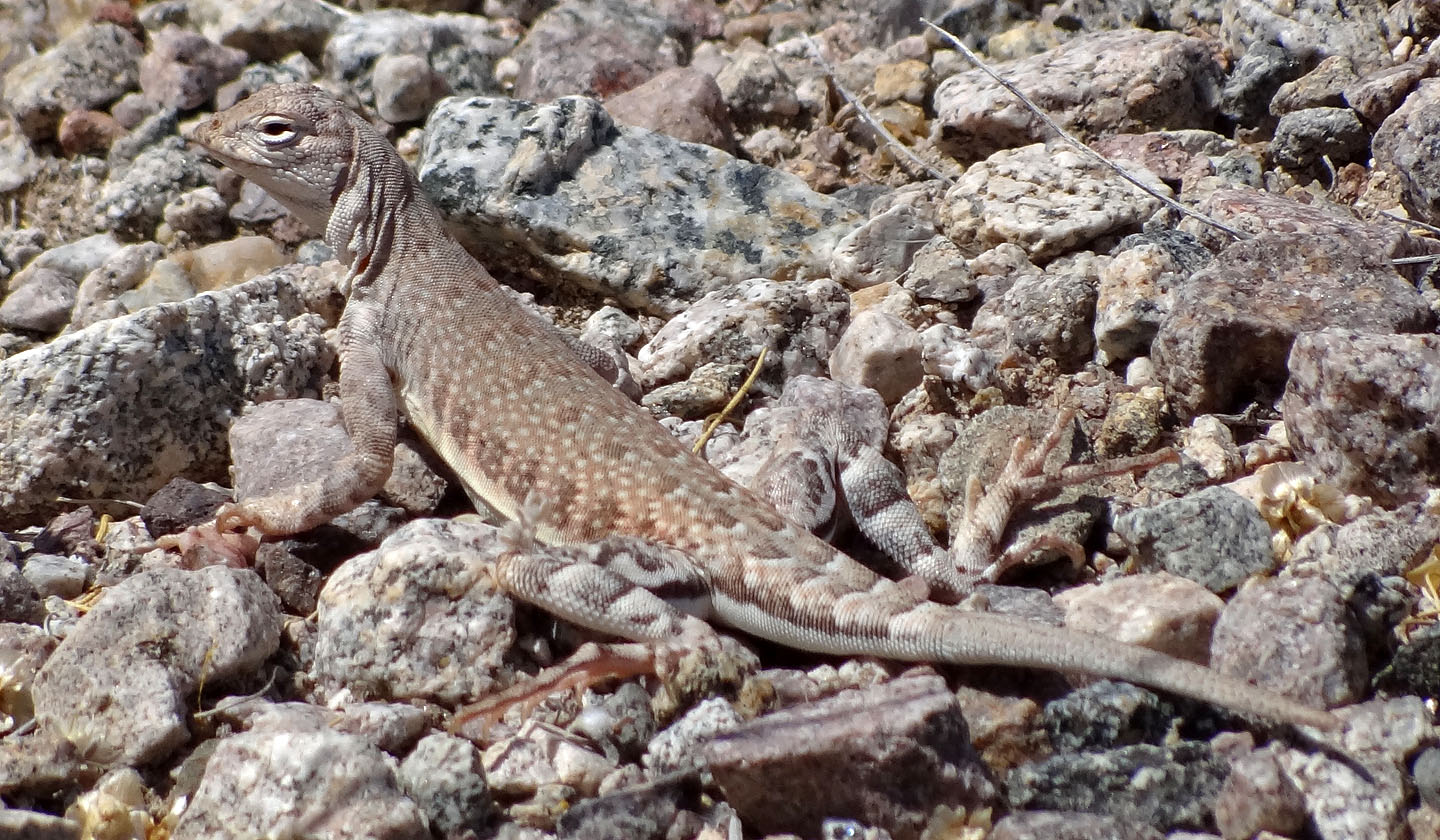 Zebra-tailed lizard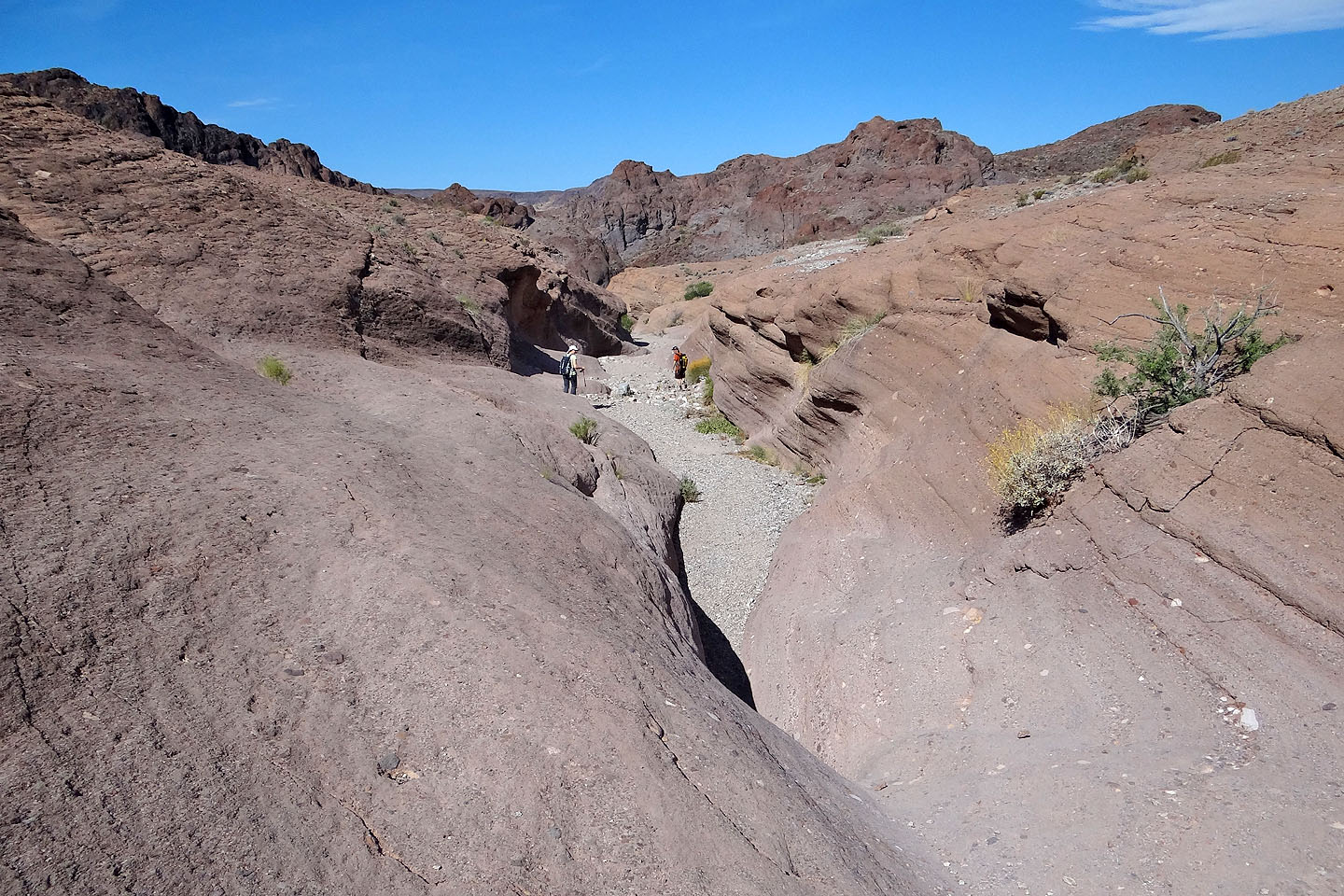 Entering the canyon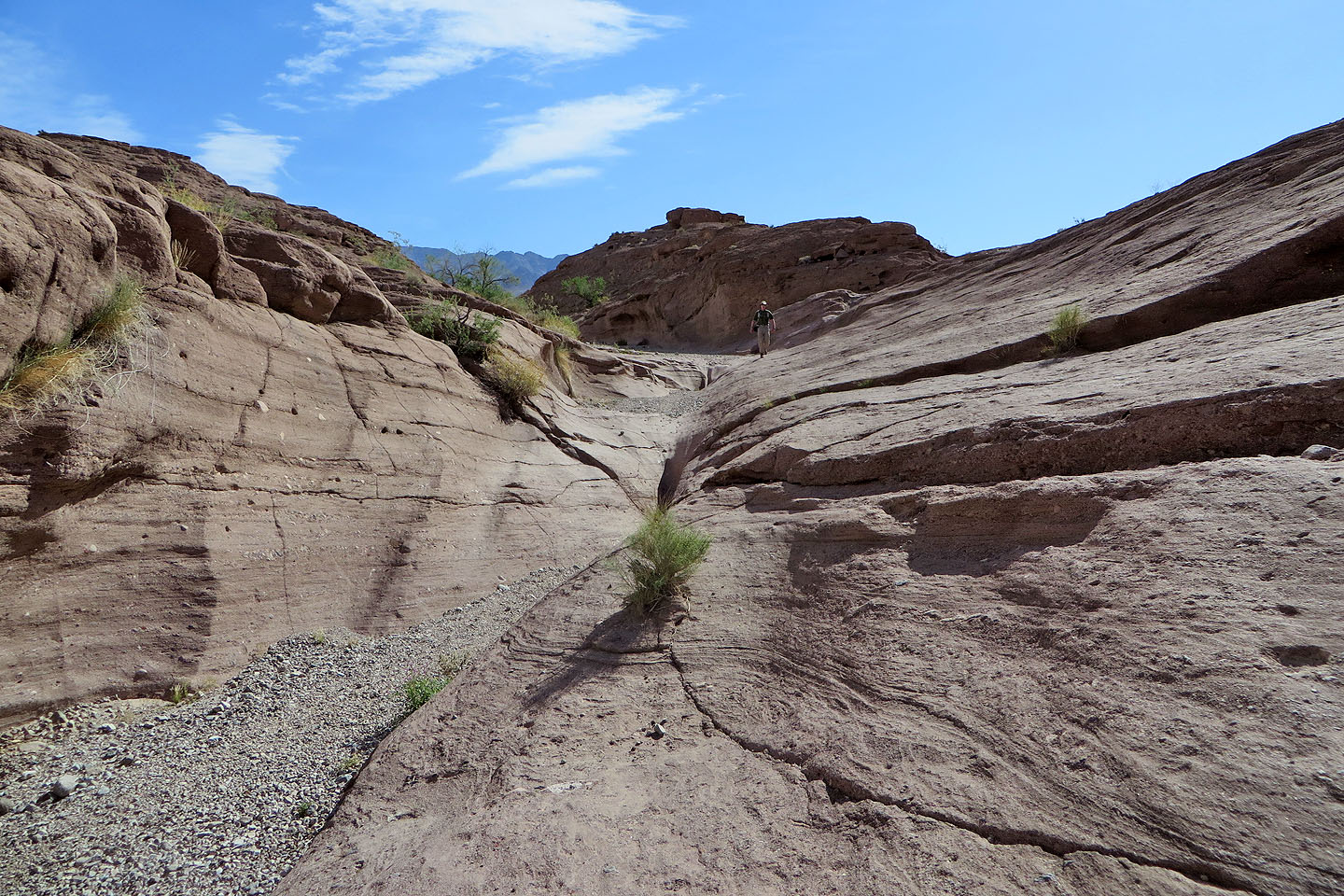 Looking back at the canyon entrance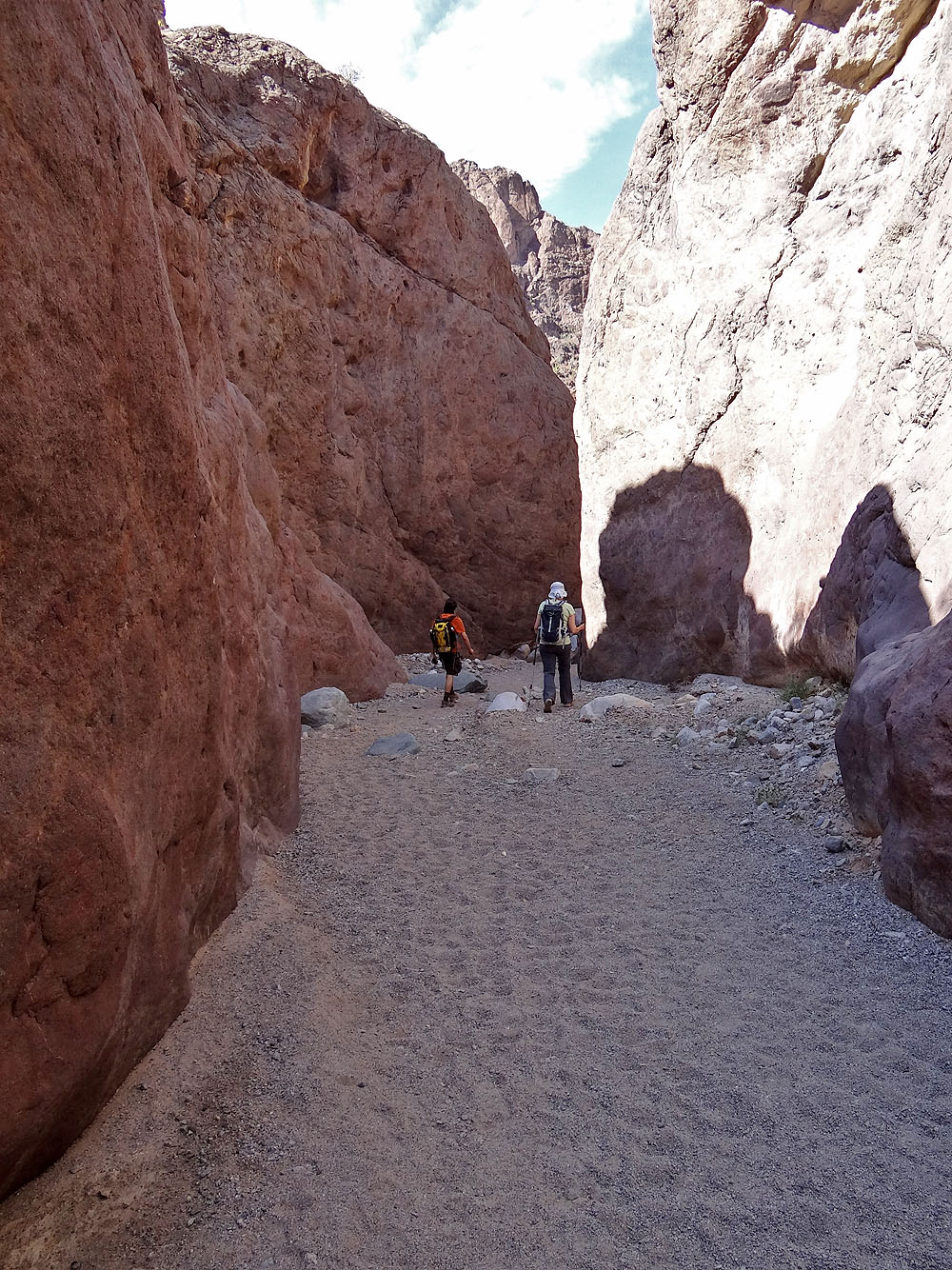 The canyon walls soon towered above us

The walls rose even higher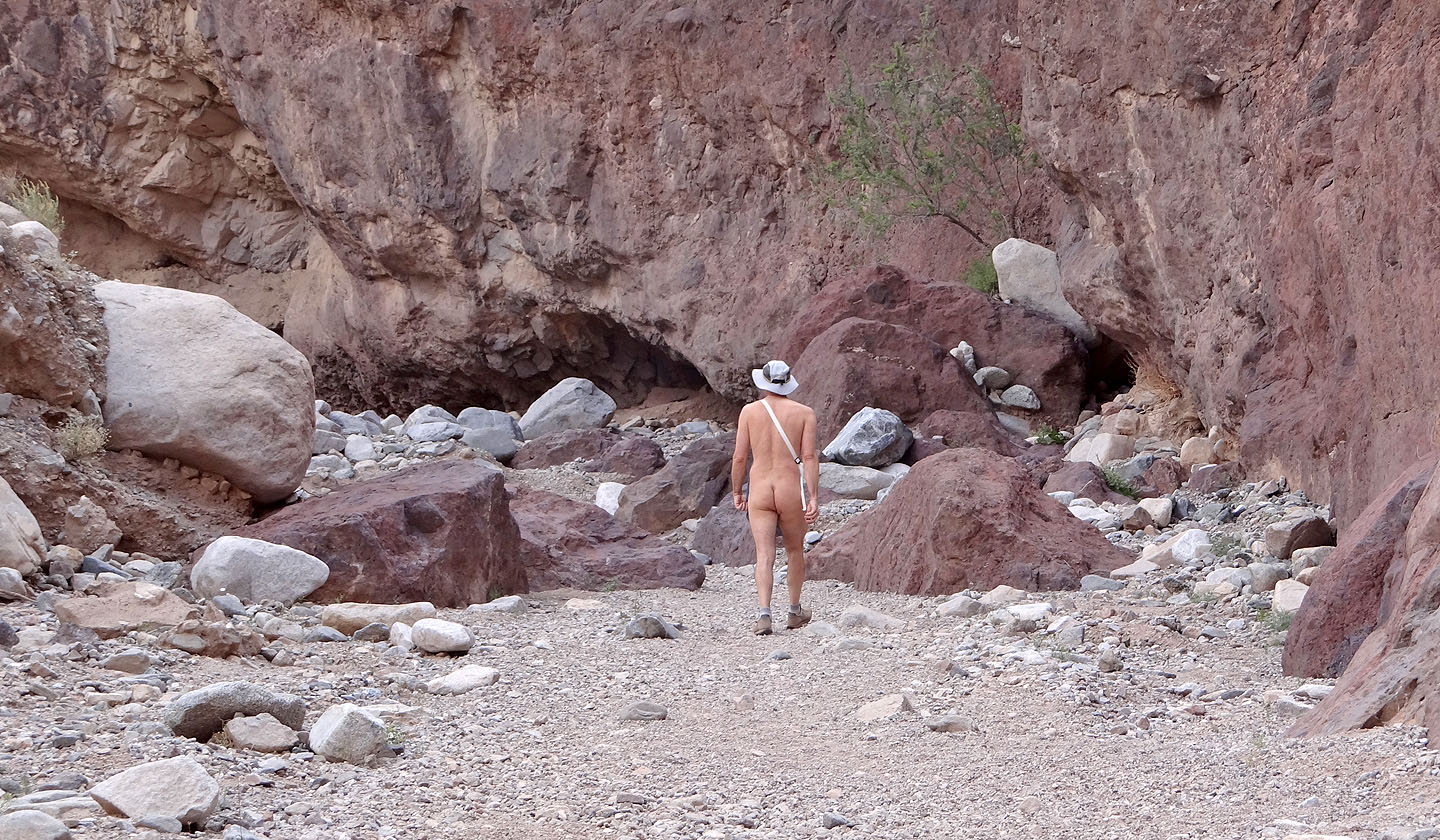 We passed a lightly dressed hiker on his way out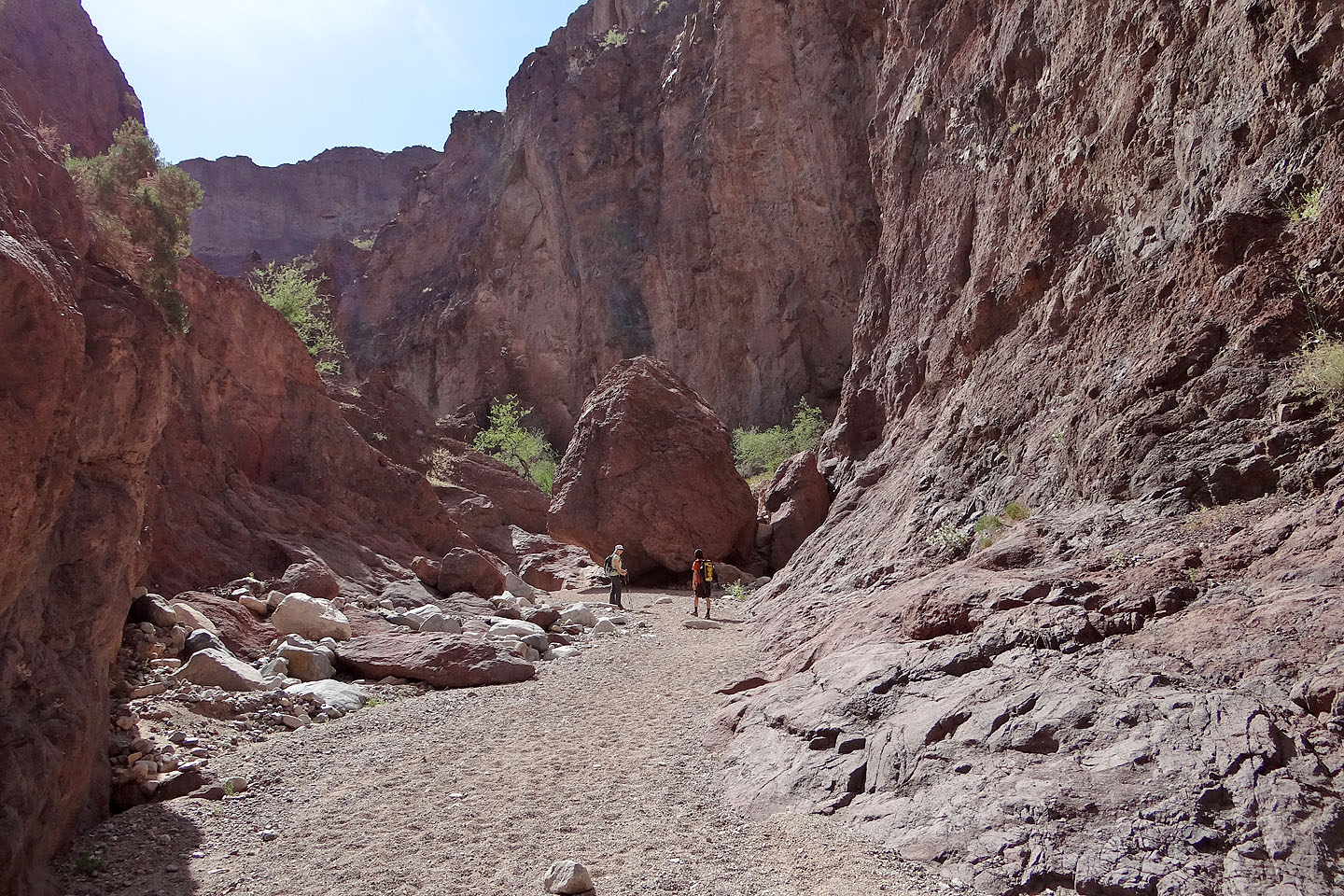 An enormous boulder sits on the canyon floor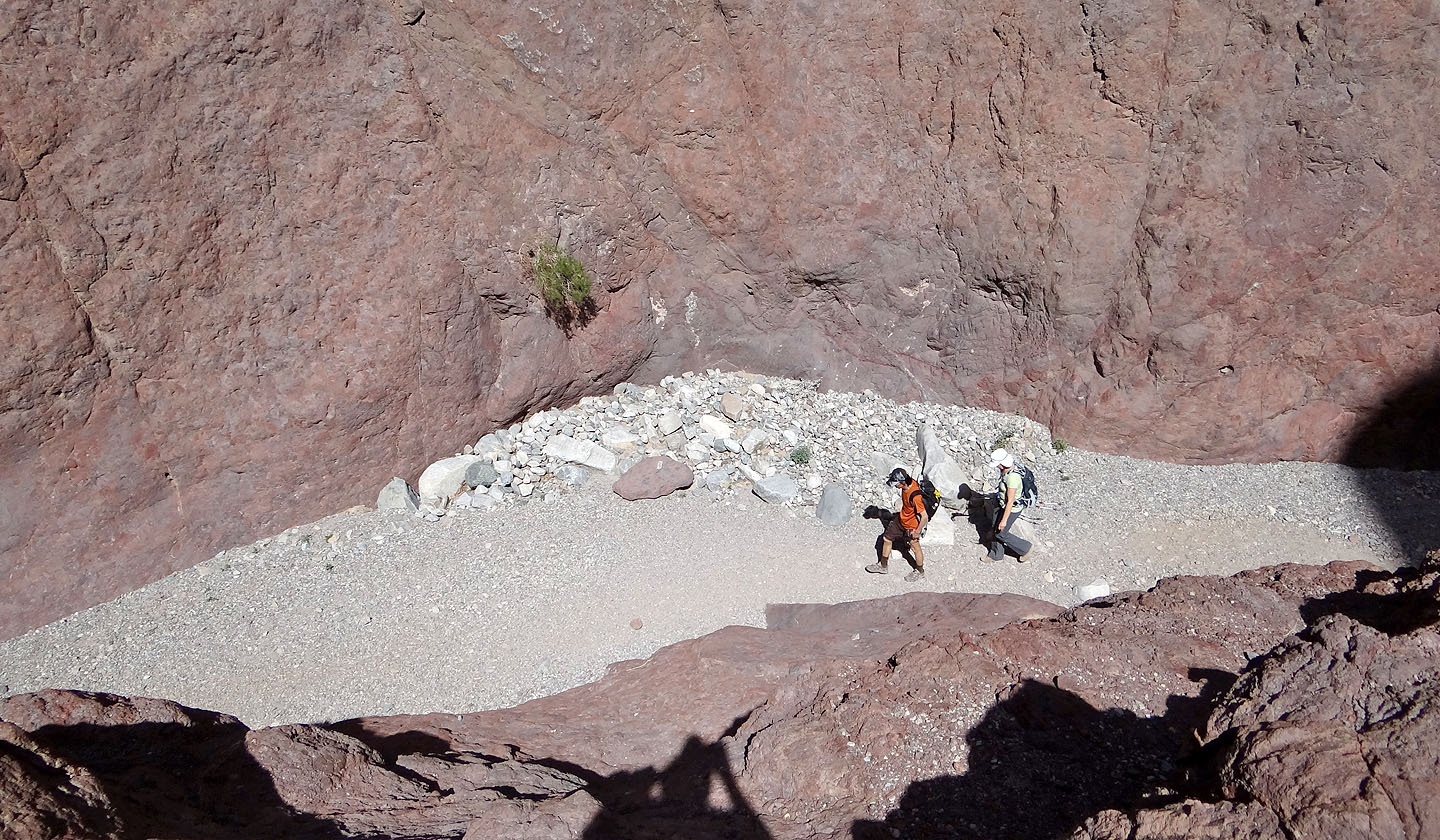 I scrambled up a low rise to peer down at Shin and Dinah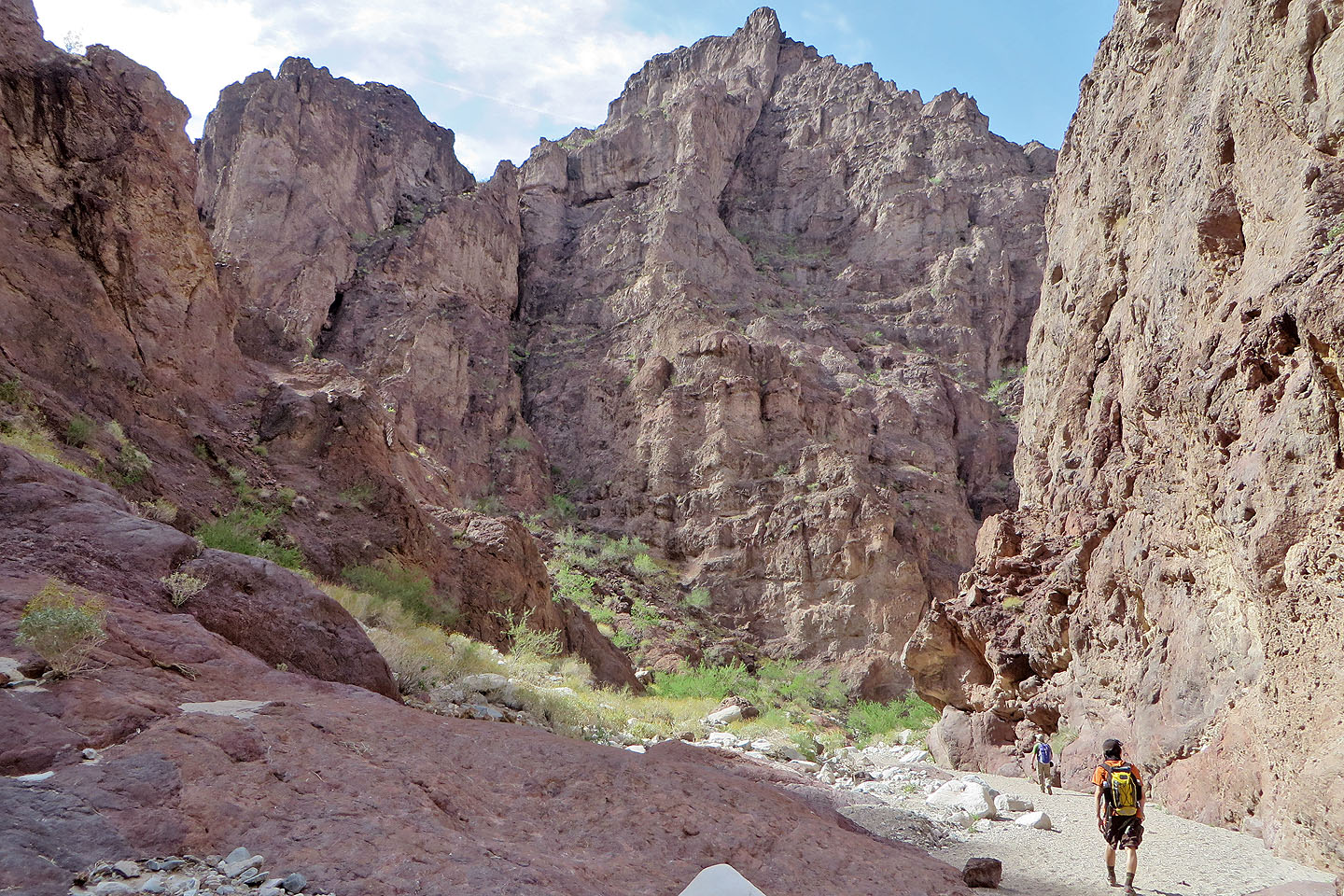 After passing through the first narrows, the canyon opens up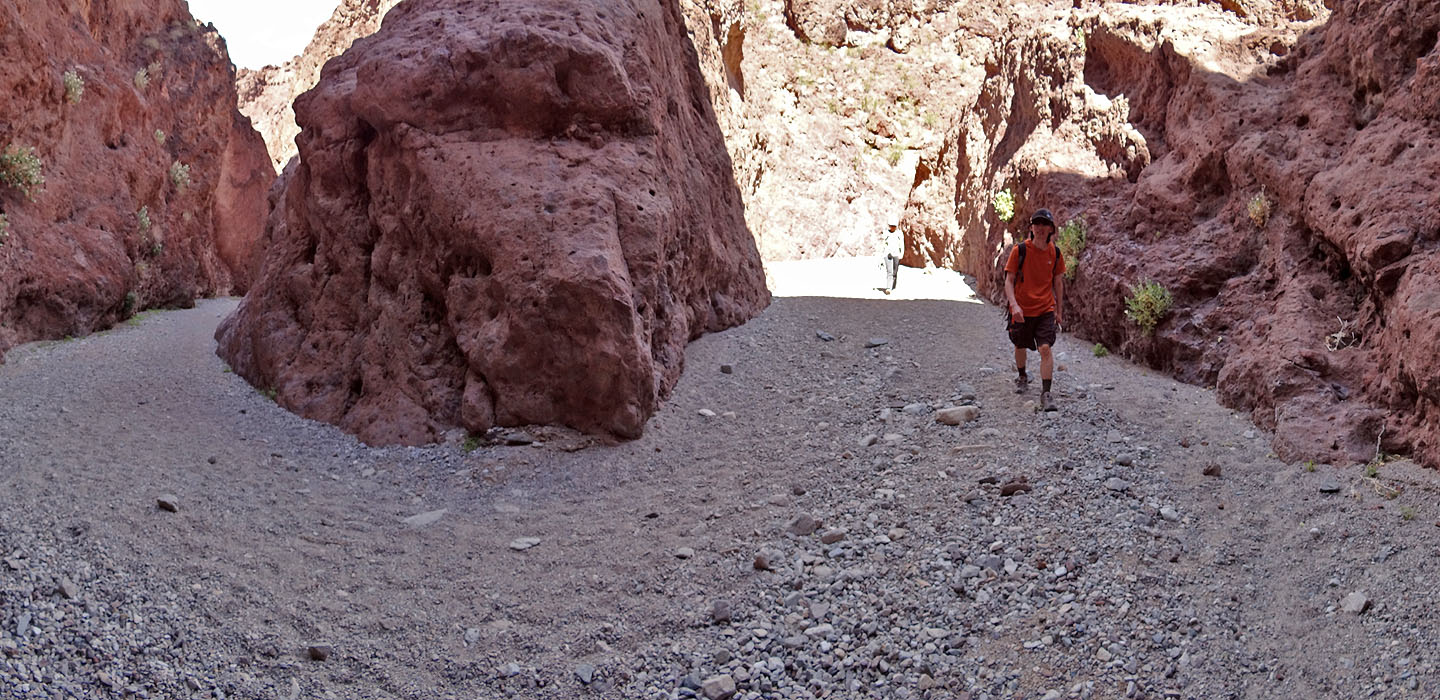 The canyon narrows a second time and takes a hairpin turn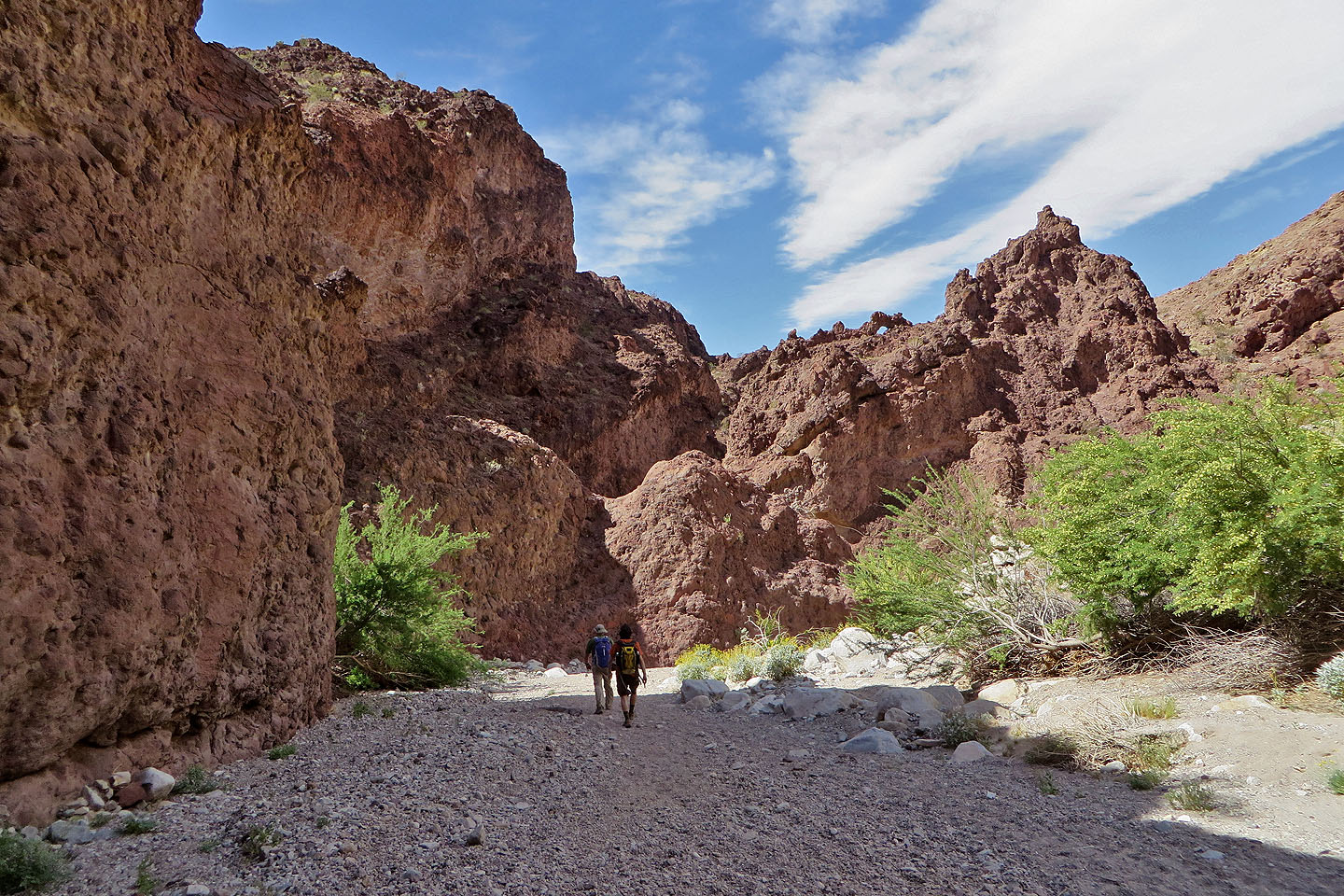 As we neared the Colorado River, we encountered lush vegetation

The Colorado River lies ahead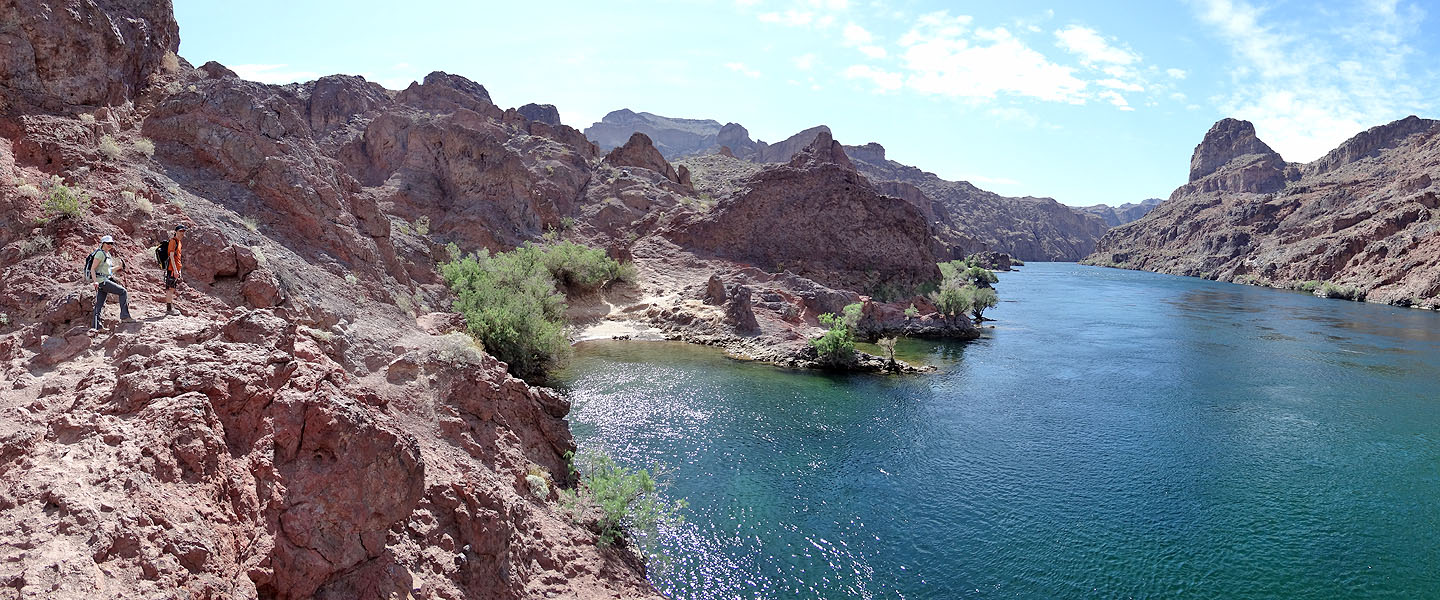 The trail follows the bank and runs over the saddle in the centre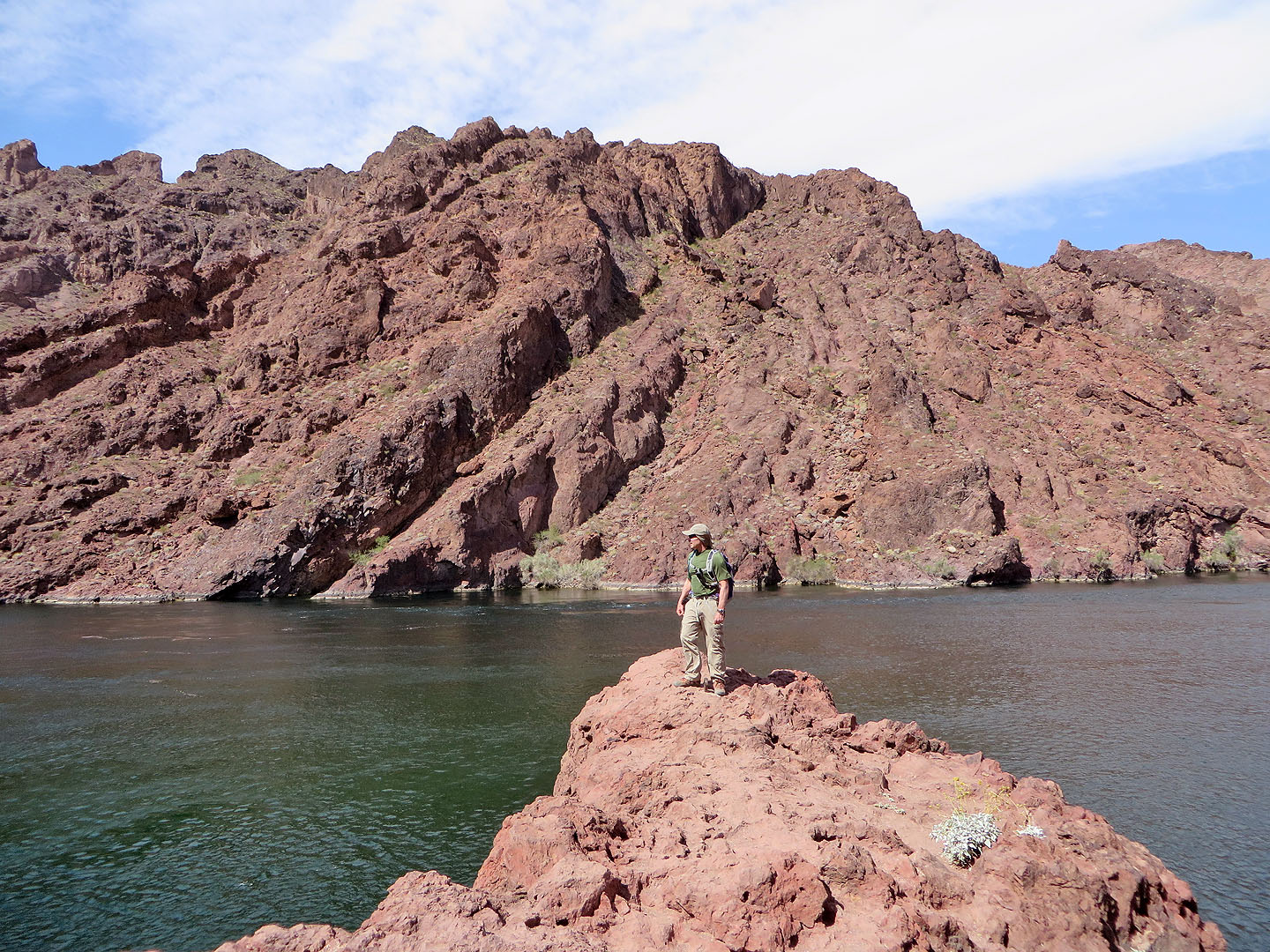 Stopping to take in the river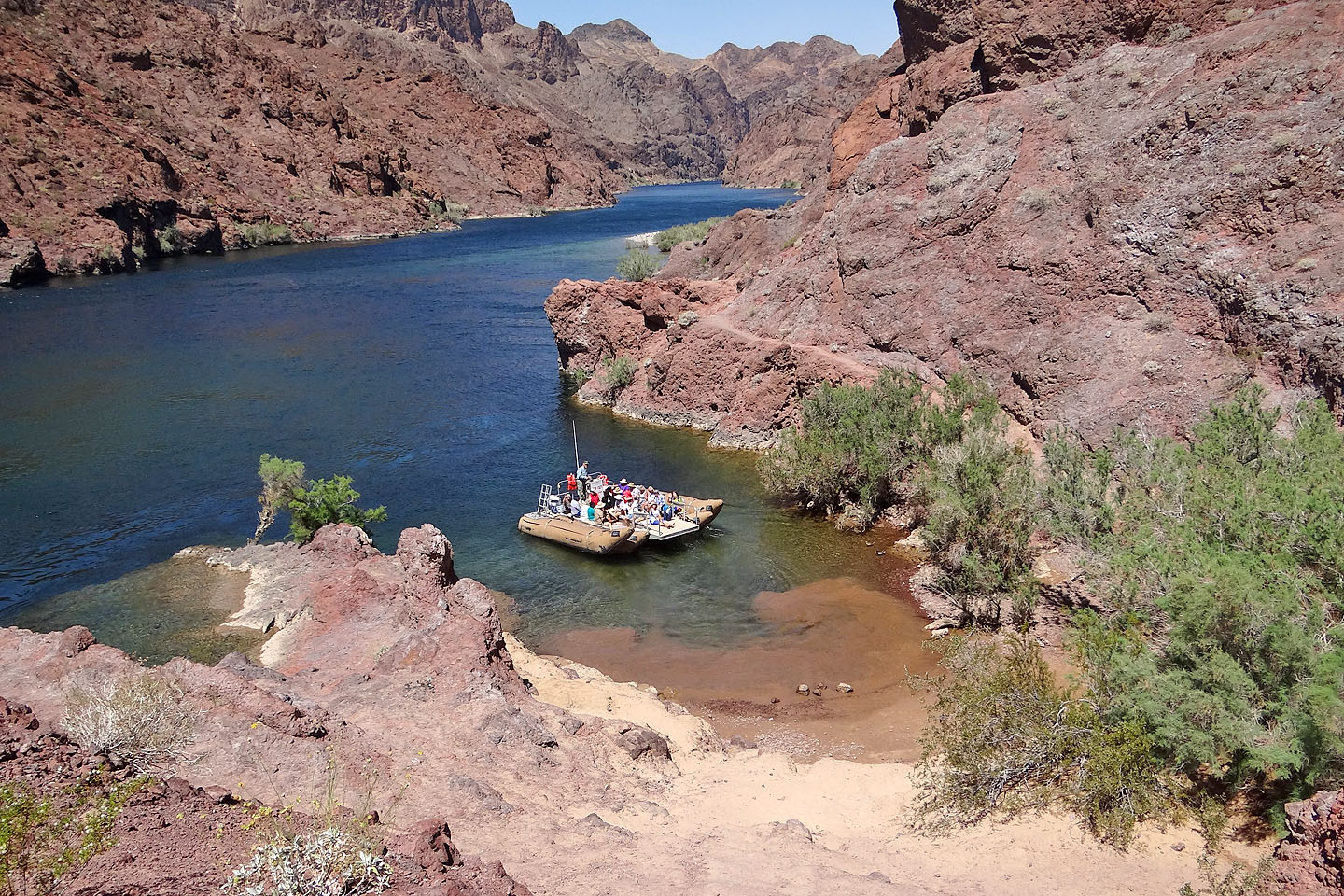 A boat full of tourists stopped at a cove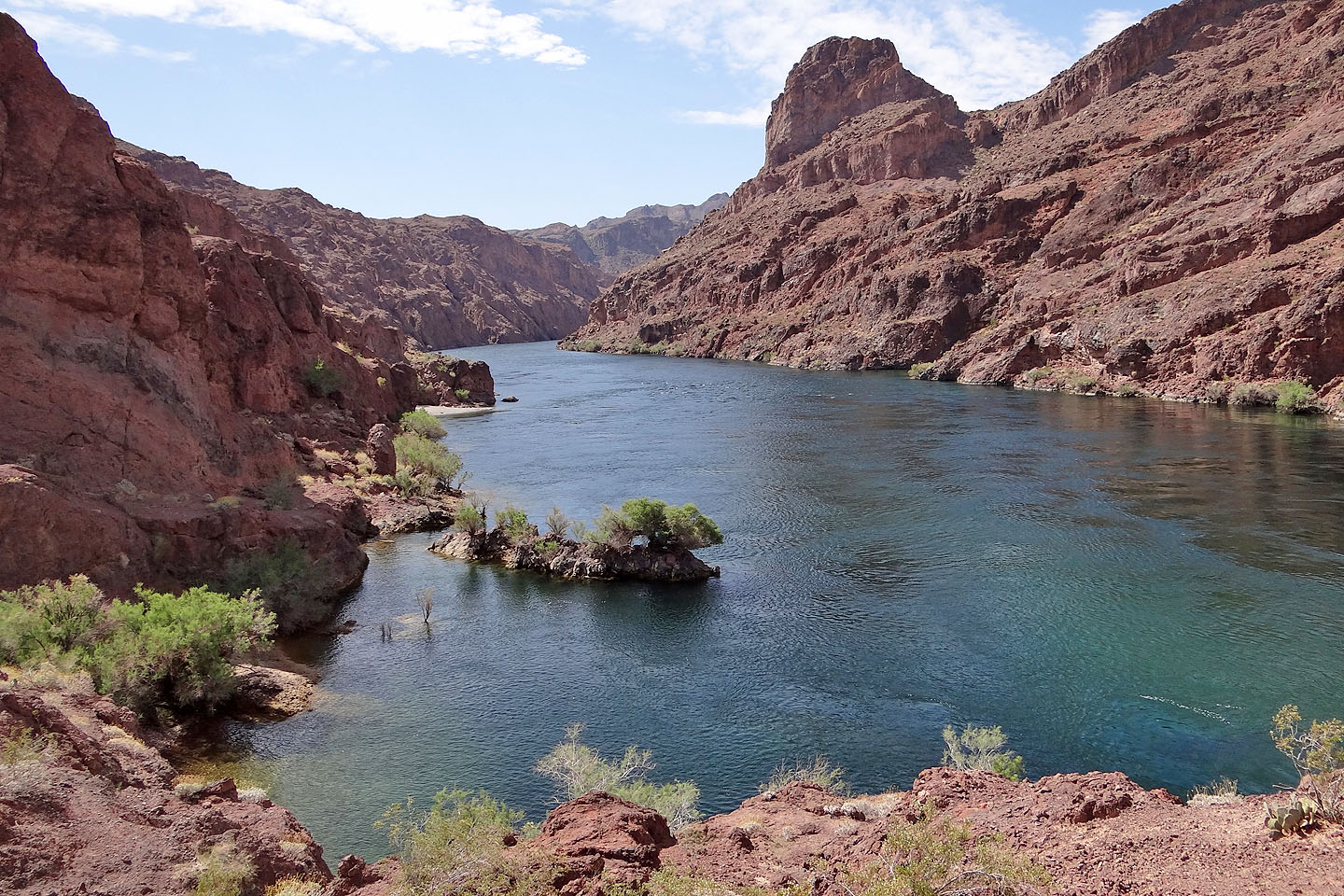 Looking up the river before we start climbing the saddle

Hiking to the saddle

Almost at the top of the saddle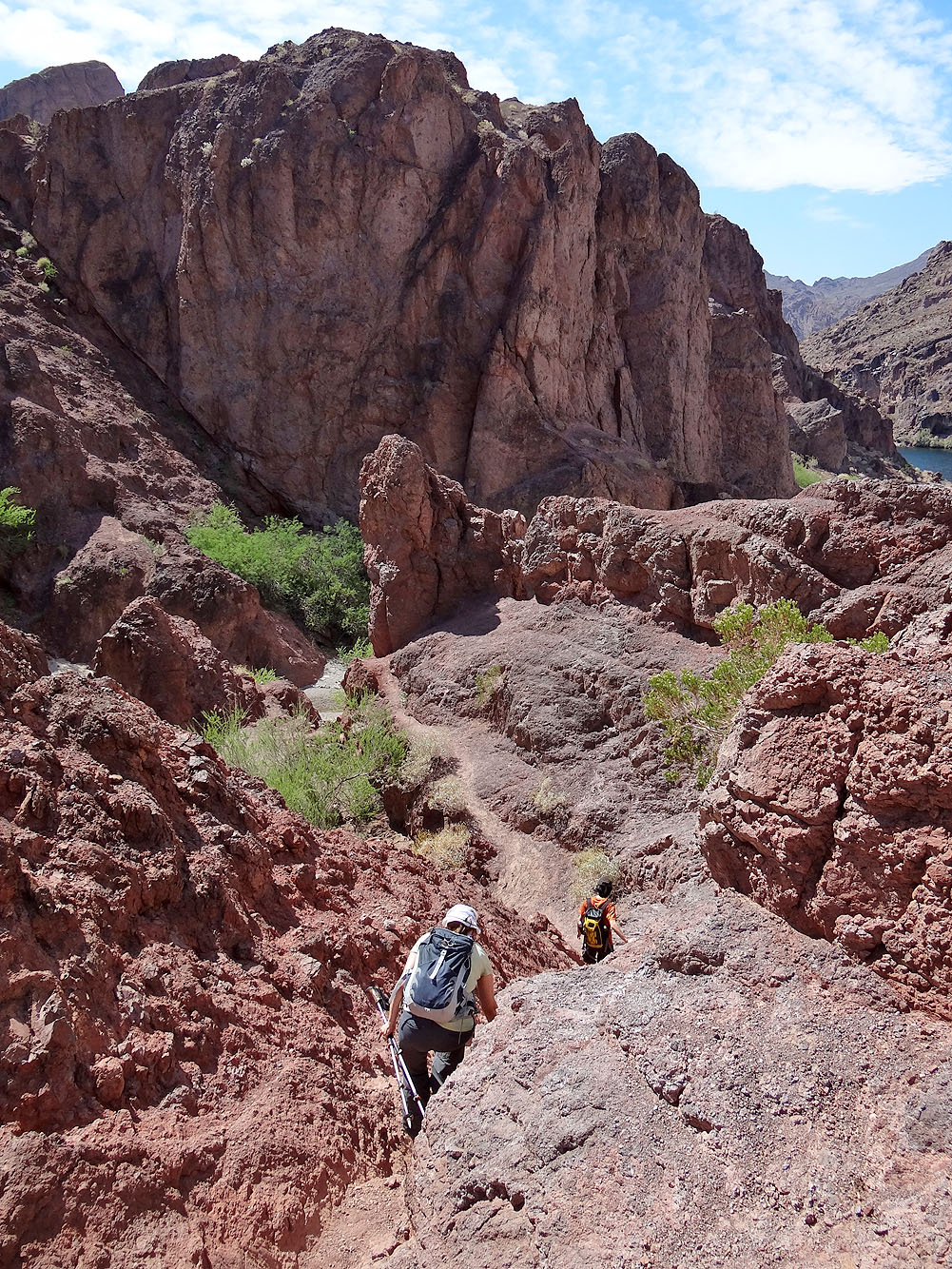 After hiking down the other side we found a rivulet at the bottom and followed it upstream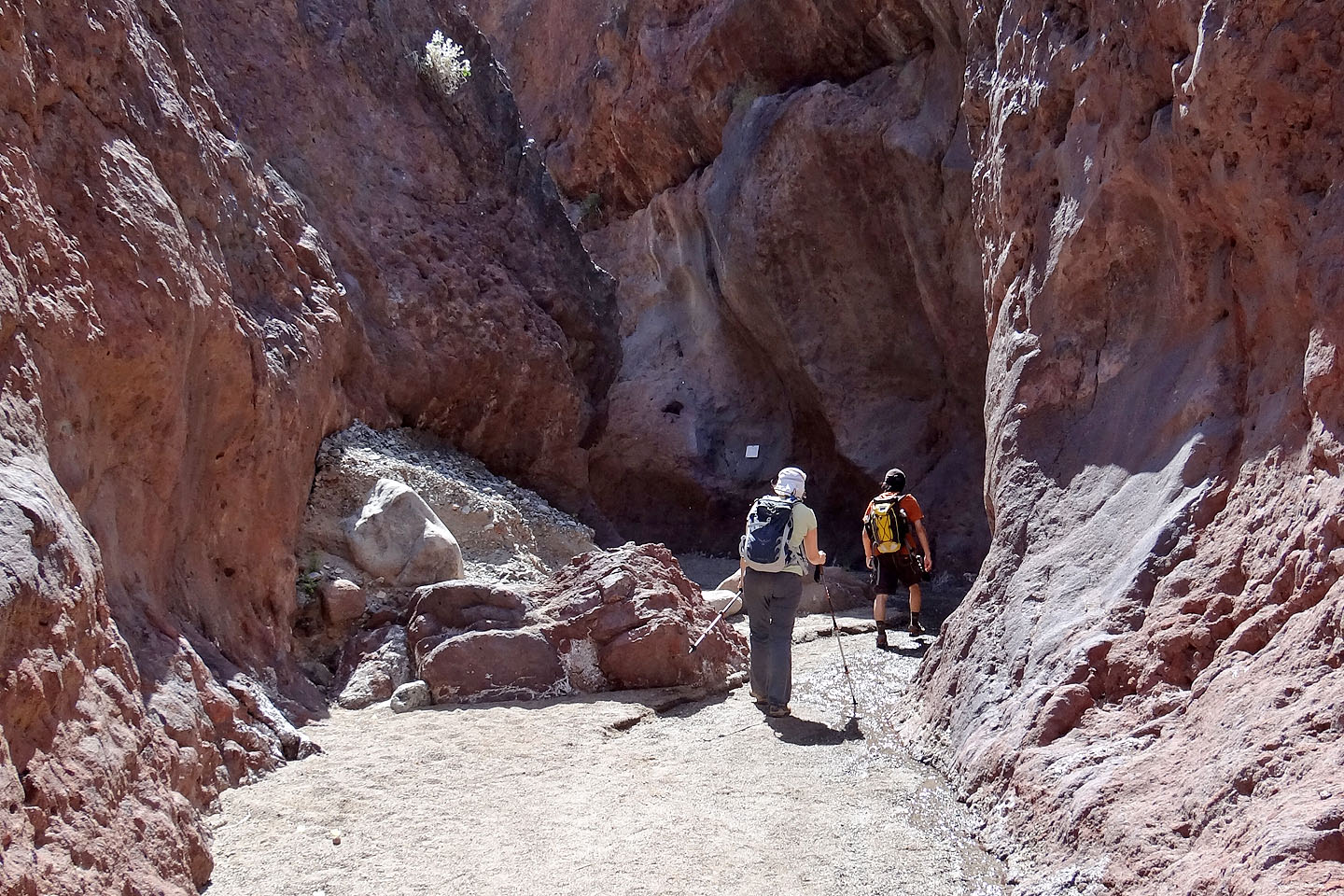 A warning sign is posted on the canyon wall (mouse over to read)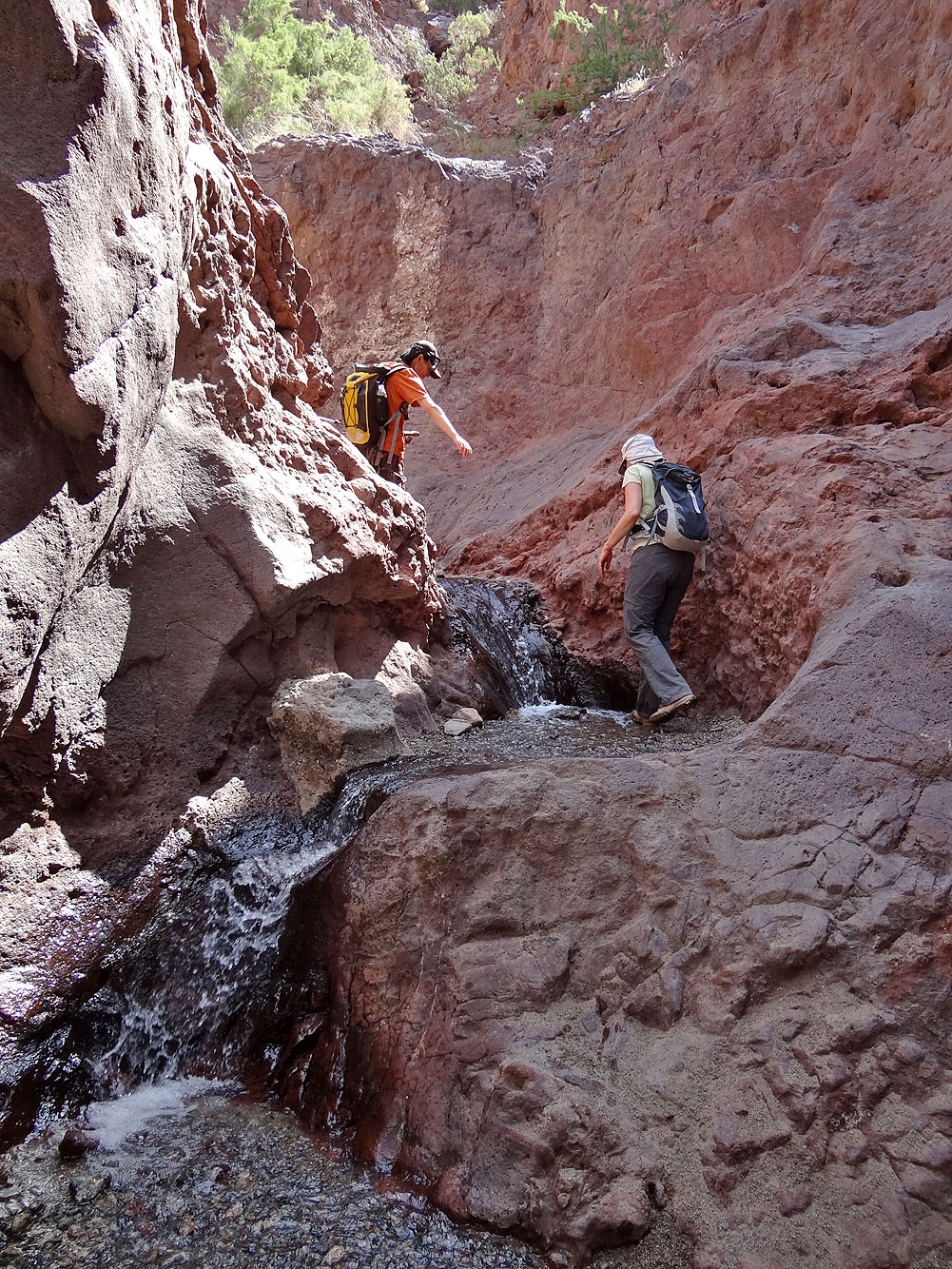 As we ascended the canyon the flow of water increased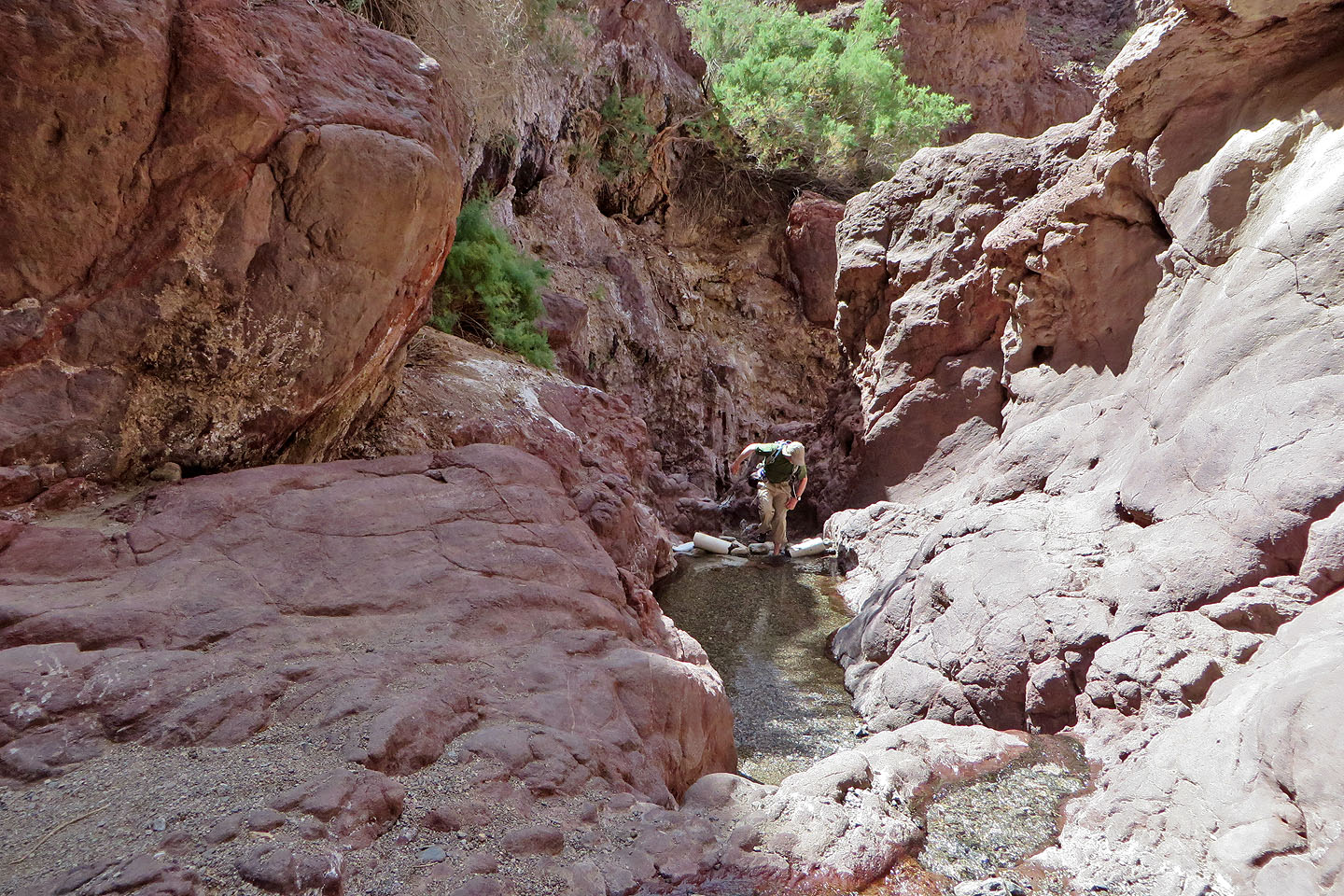 The pool below the ladder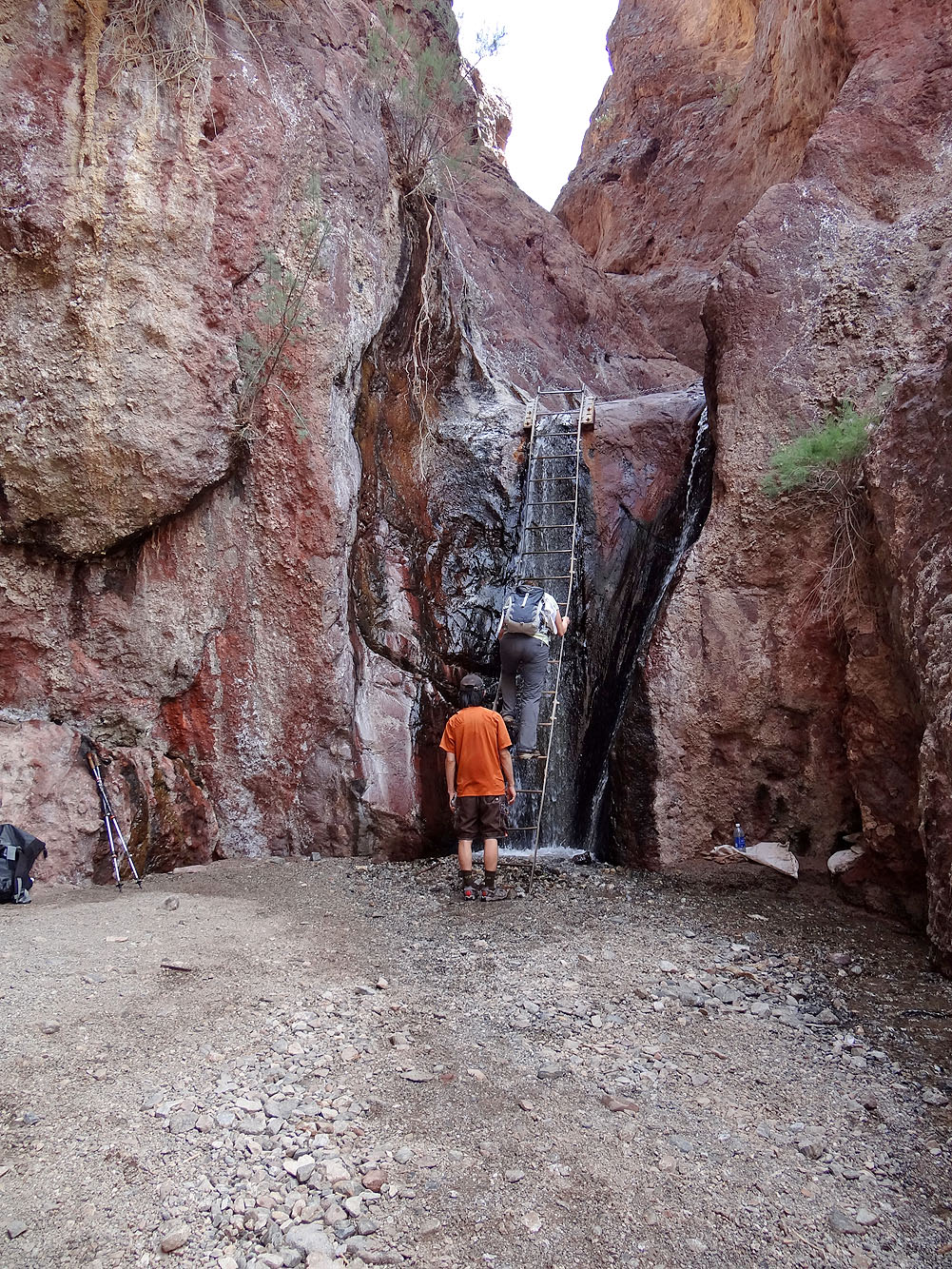 Ascending the ladder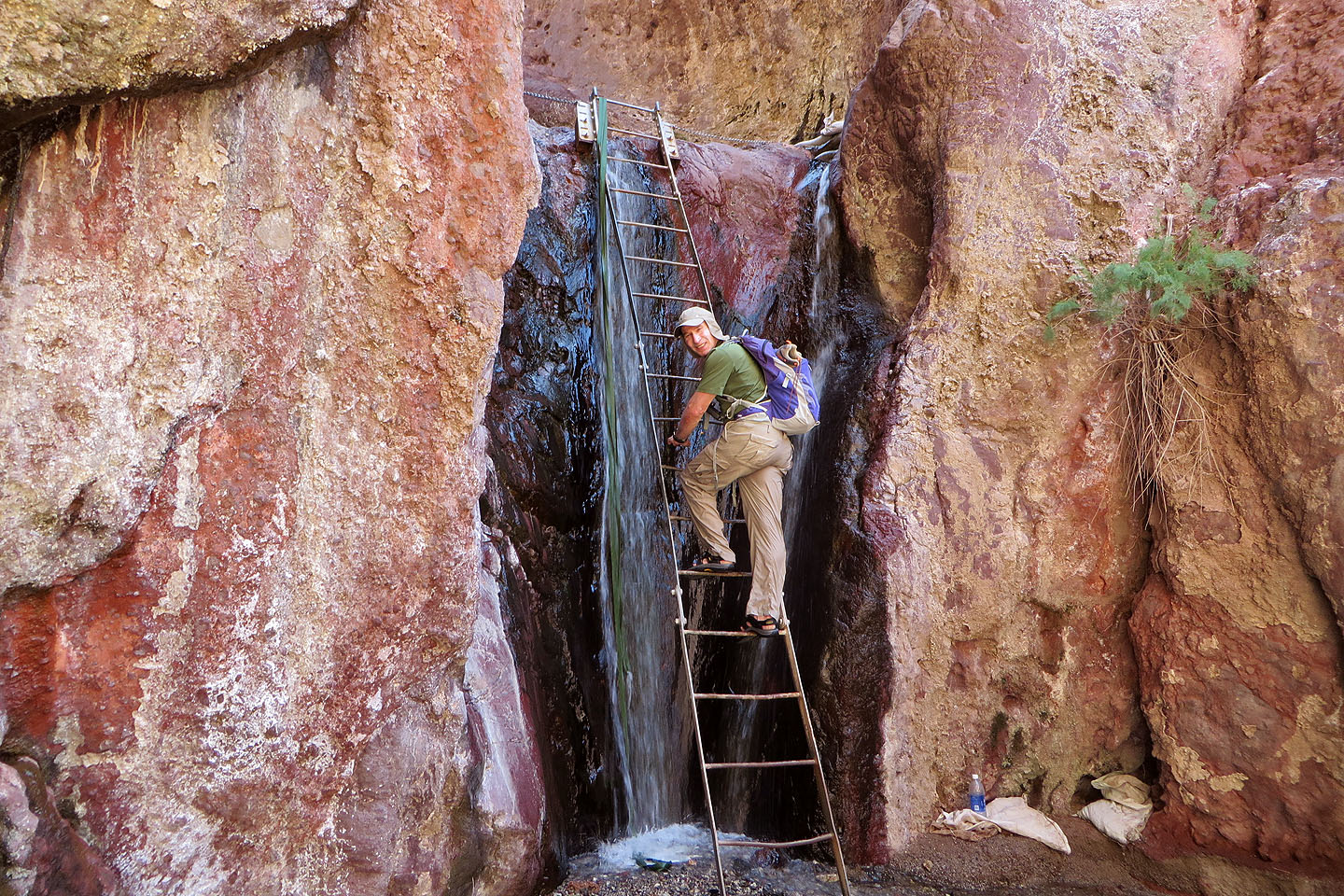 A closer look at the ladder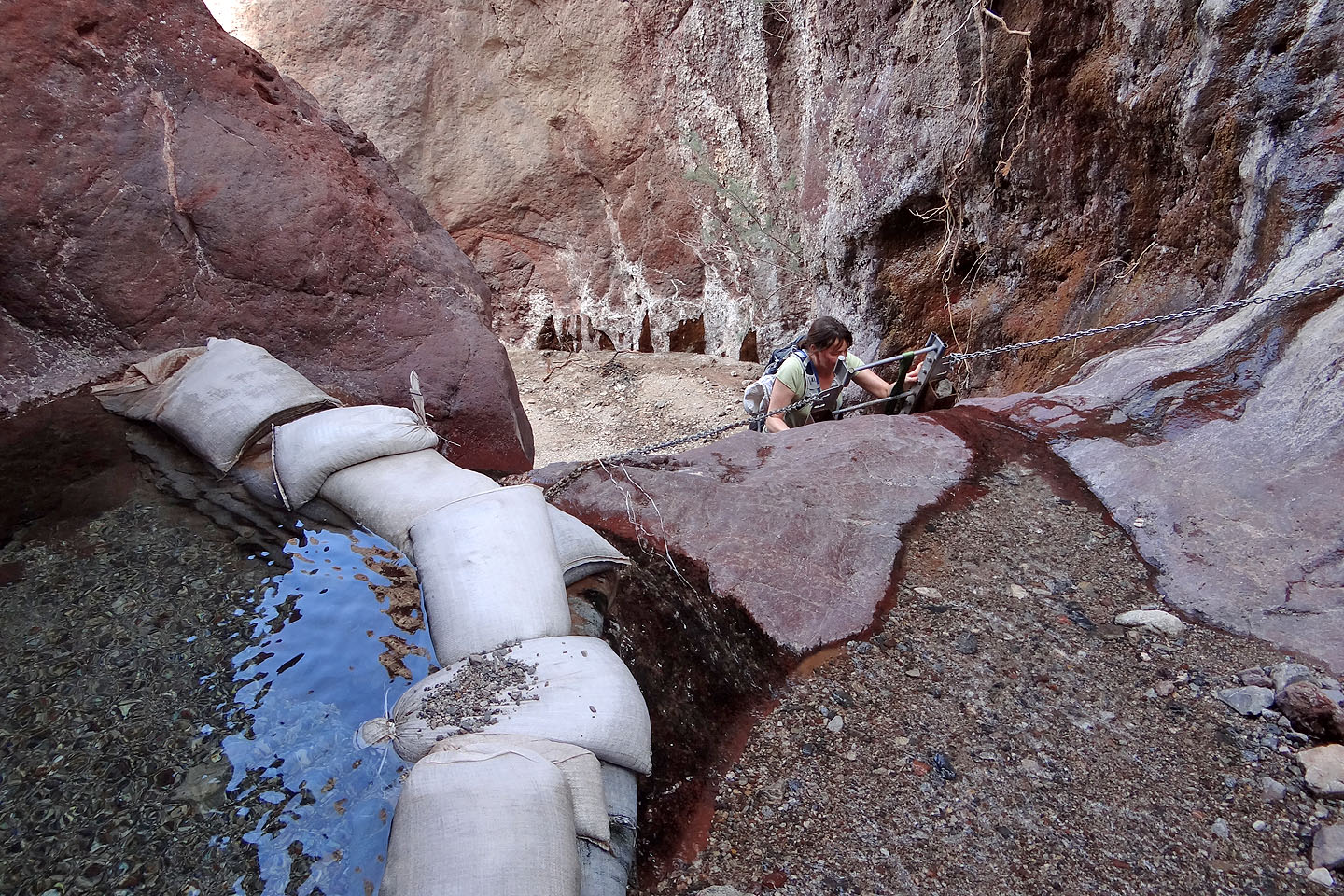 Dinah reaches the top of the ladder by the first upper pool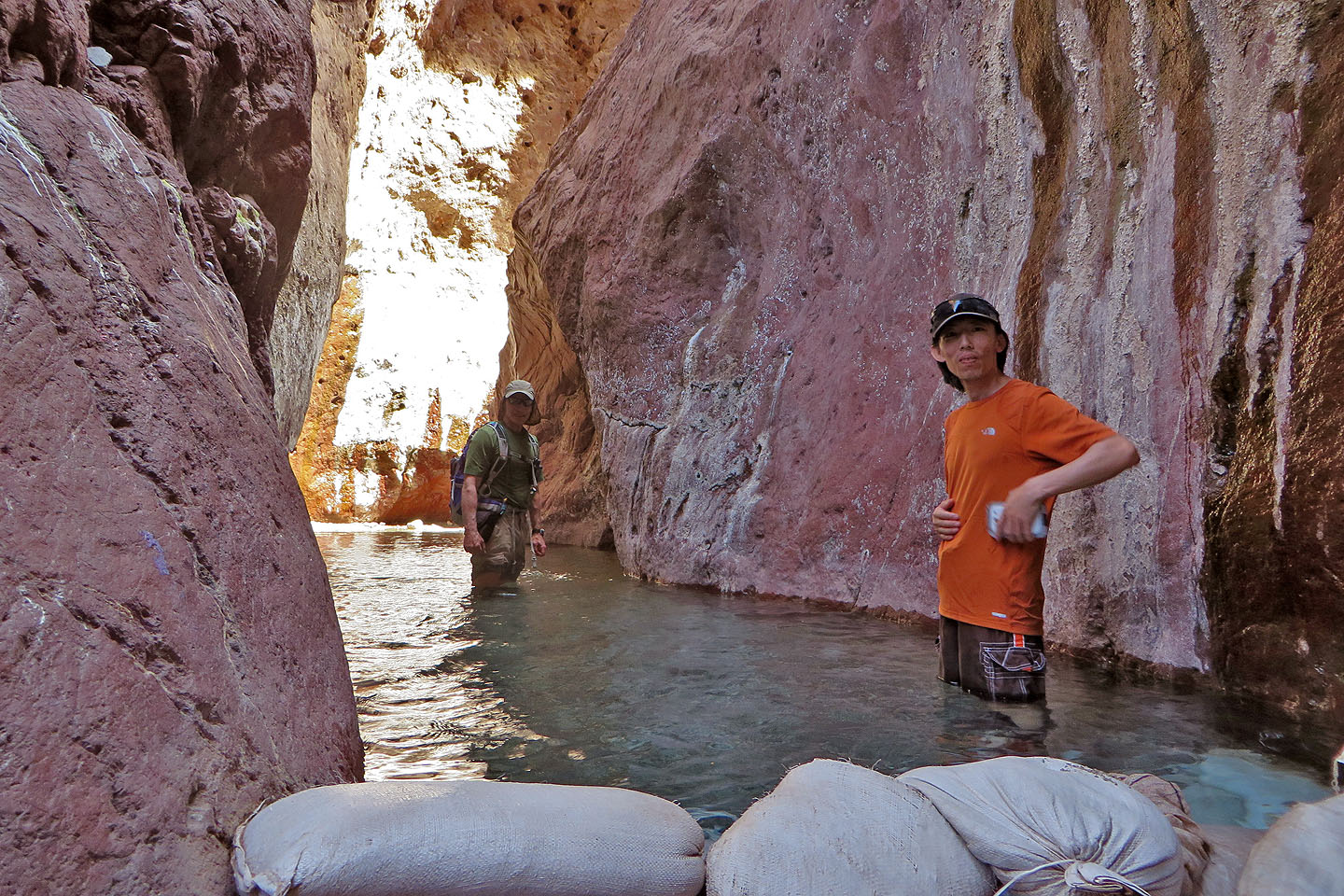 Standing in the middle pool

Looking down at the middle pool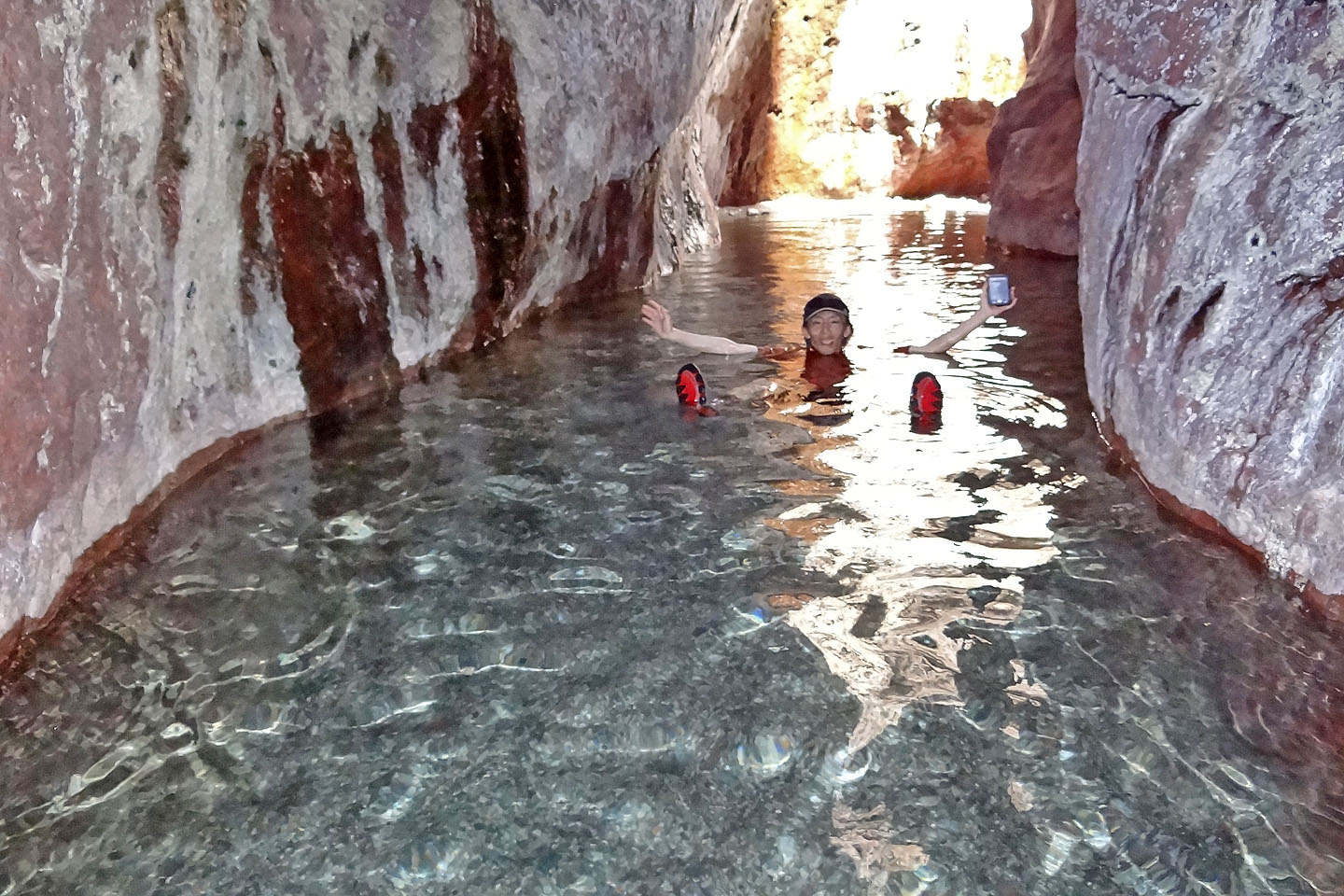 Shin relaxes in the middle pool

The three pools above the ladder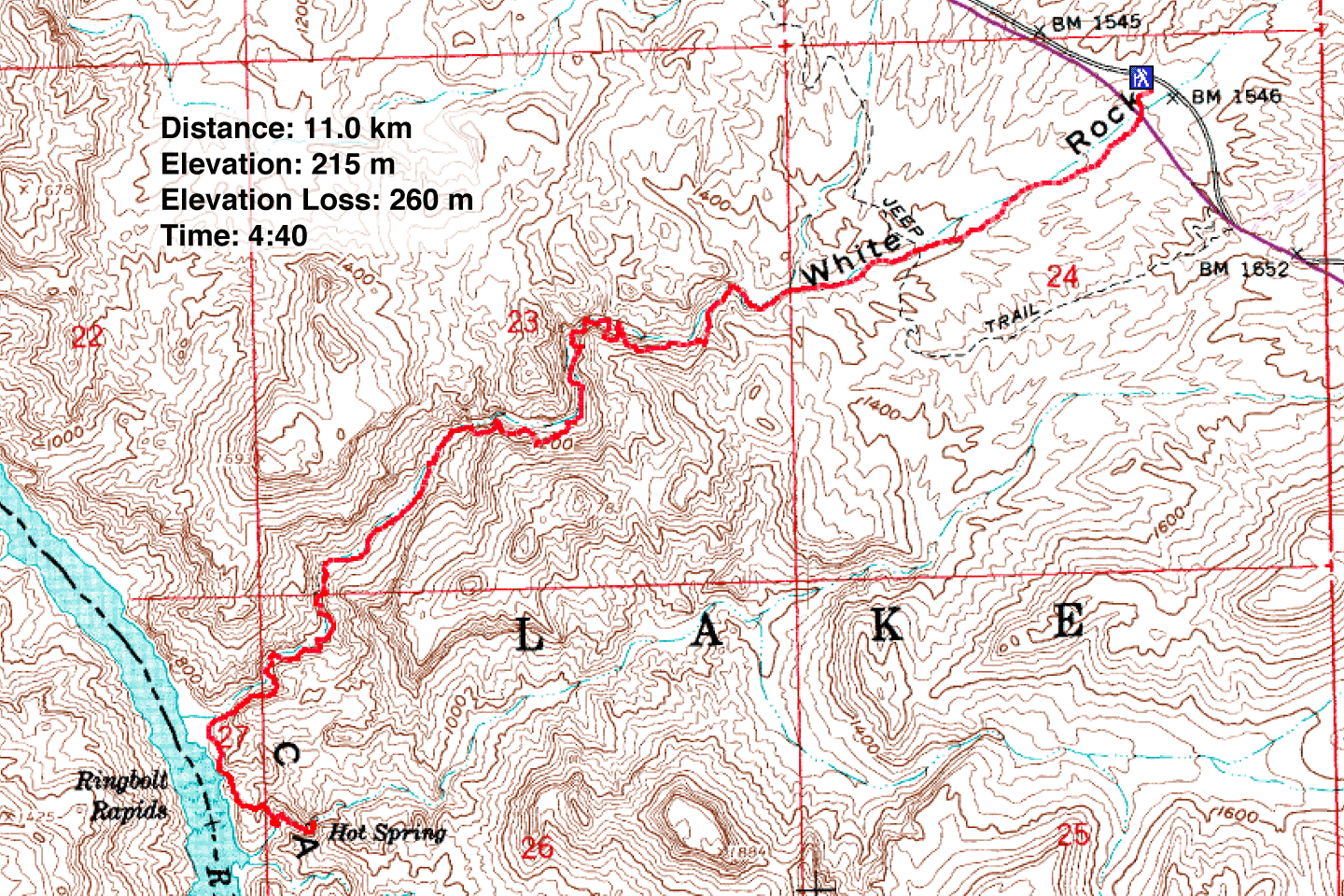 Ringbolt Rapids (6.8 mi, 705 ft, 853 ft)