bobspirko.ca | Home | Canada Trips | US Trips | Hiking | Snowshoeing | MAP | About

Ross Lake
Lake Louise, Alberta
January 21, 2017
Distance: 5.0 km
Cumulative Elevation Gain: 190 m
If it weren't for the surprising events right after our trip, after Dinah and I got into our car, this would have been a brief trip report. As a snowshoe destination, there is little to say about Ross Lake, but it looked like a good, short winter workout for us.
We parked on Kicking Horse Pass at a ski trail parking lot 12 km west of Lake Louise. We followed the trail for a couple of hundred metres before ducking into a wintry forest. Unlike cross-country skiers, we weren't confined to a trail and we made our way southeast, directly to Ross Lake.
As soon as we stepped off the groomed trail, we sank into soft snow. Even my 36" snowshoes couldn't stop me from frequently plunging knee-deep into snow. Hampered by crappy snow, and later, as we neared the lake, by dense forest, we progressed at a snail's pace. But eventually, we broke through the trees onto the white expanse of Ross Lake and tramped to the south end. We talked briefly to some skiers who had started from the Lake O'Hara parking lot, and then we took some photos and followed our tracks back to our car.
This would have been the end of our story except that when we pulled out of the parking lot, our car gave an awful screech that didn't let up as we drove. We soon realized there was a serious problem with the left, front disc brake. But what happened next was unbelievable.
We drove to Lake Louise and pulled into a gas bar. Our squealing brake caught the attention of a few people. The nearest one was a good-looking, twentyish guy filling his compact car. Dinah rolled down her window and asked him if the gas station had service. He said no, but knew what the problem was and could fix it.
After gassing up, he came over and went right to task. While Dinah chatted with his girlfriend, I helped him jack up Dinah's 2016 Subaru Forester and remove the wheel. He said he could adjust the brake calliper, so we could drive to a service station in Banff. But after some fiddling using a screwdriver, he pronounced it fixed. No need to take it to a service station.
While he worked on the car, we learned about him. Soumick Dey is a certified mechanic and had repaired this very problem many times. Subarus are especially prone, he added. When I asked why he was in Lake Louise, he said he was visiting one of his jewelry stores. How many jewelry stores does he own? Seven. He went on to say he recently bought an Audi dealership. Then as if to explain, he mumbled something about being the youngest member of the "Arora Family" (back home, a Google search turned up a few extremely wealthy Arora families).
Soumick has a few outdoor interests including hiking, skating, and skateboarding, and said he had been an avalanche instructor. His girlfriend piped up to say he was a "jack of all trades." I have no way of knowing if all this is true, but he appeared modest, no trace of affectation, a genuinely nice guy. Dinah and I took an instant liking to him. We got the wheel back on and Dinah drove her car in the parking lot to make sure the brake was silent.
Our chance meeting saved us from having our car towed to a service station in Banff to get fixed; who knows when we would have gotten home. We tried to thank him, but Soumick shrugged it off, no big deal. "He loves to do this sort of thing," said his girlfriend.
Wanting to do something for him, I said I would mention him on my website. He liked the idea and I gave him my URL. Thanks again, Soumick, for your help. We had a nice, quiet drive back to Calgary.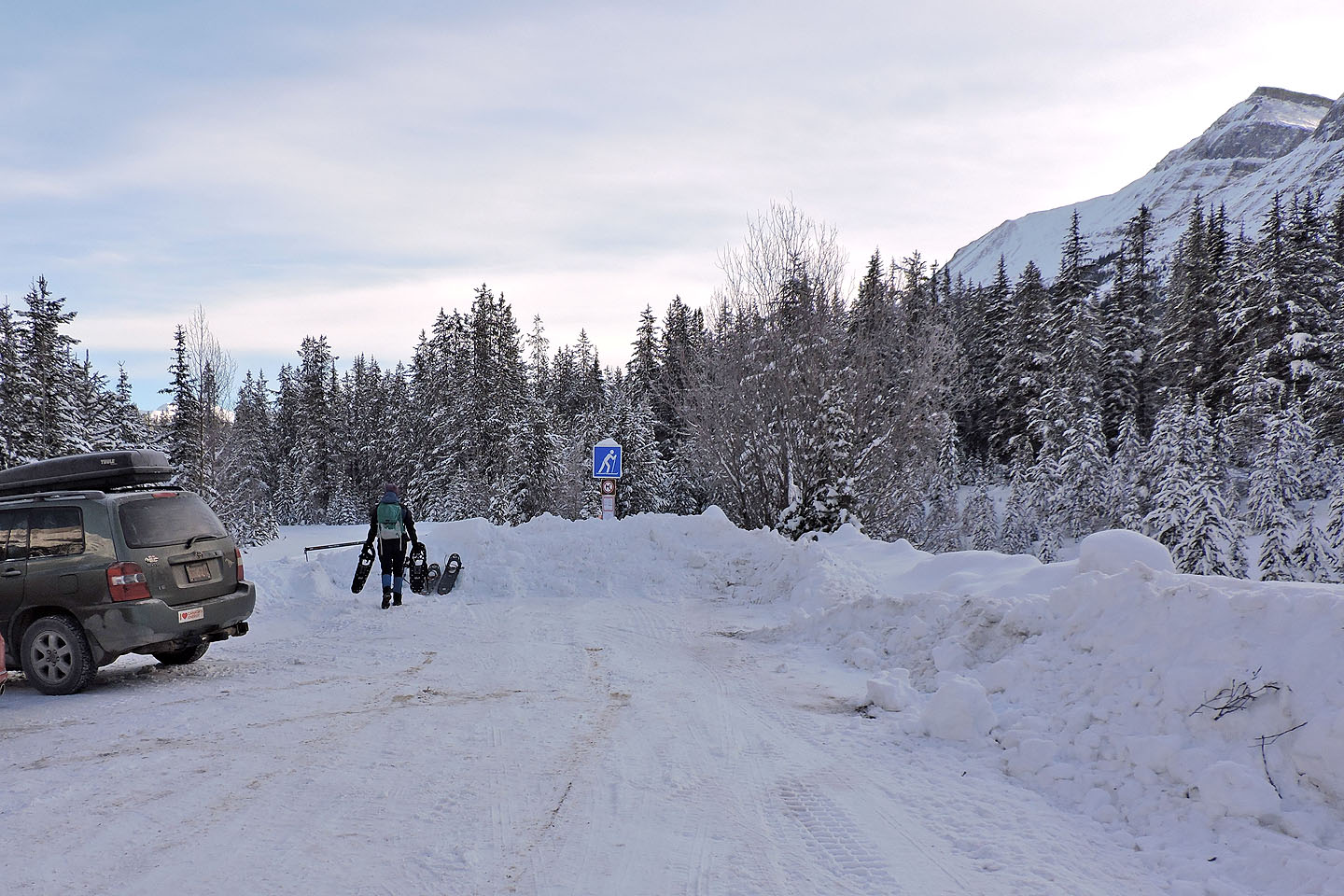 The trailhead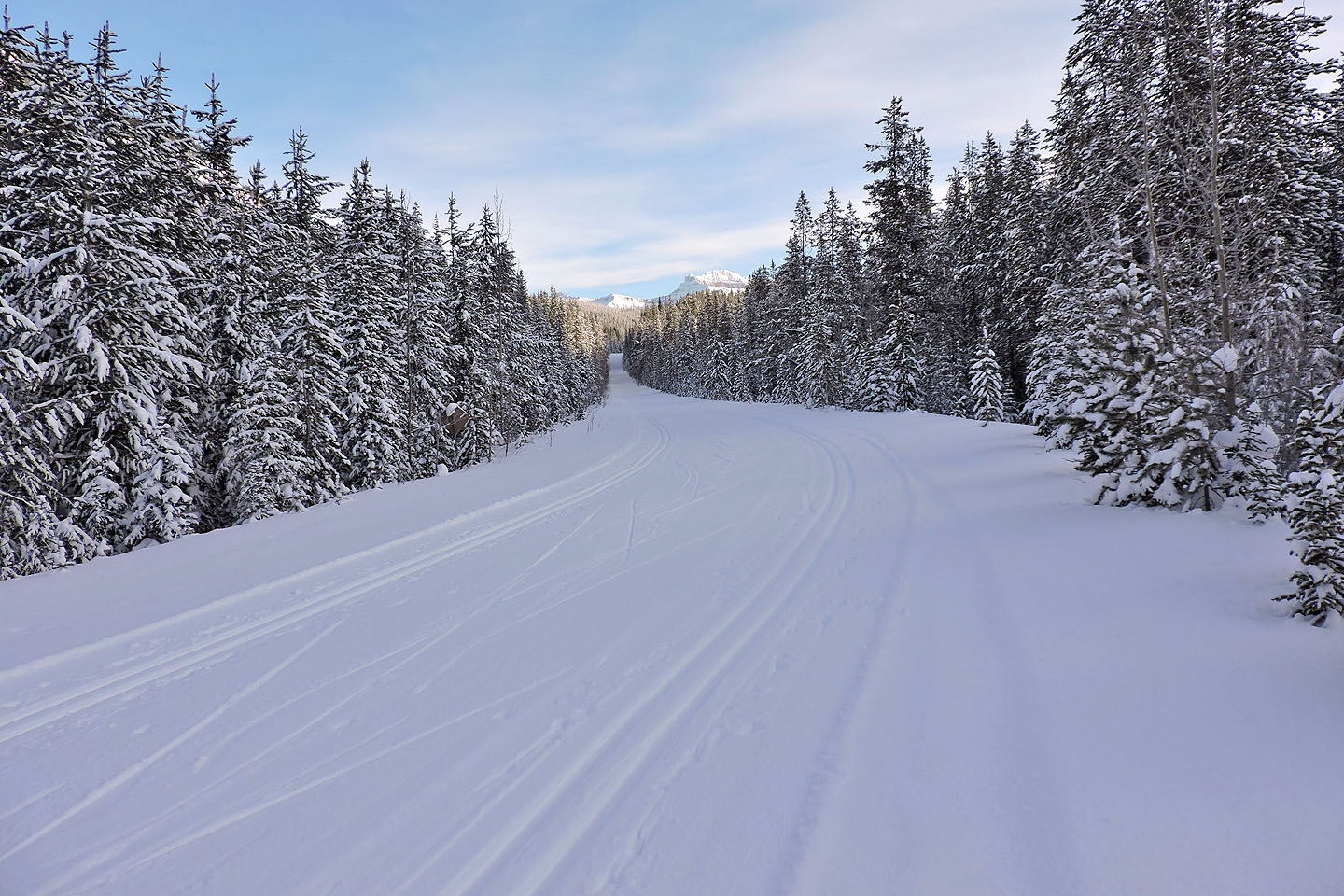 We followed the edge of the ski trail for a couple of hundred metres before turning into the trees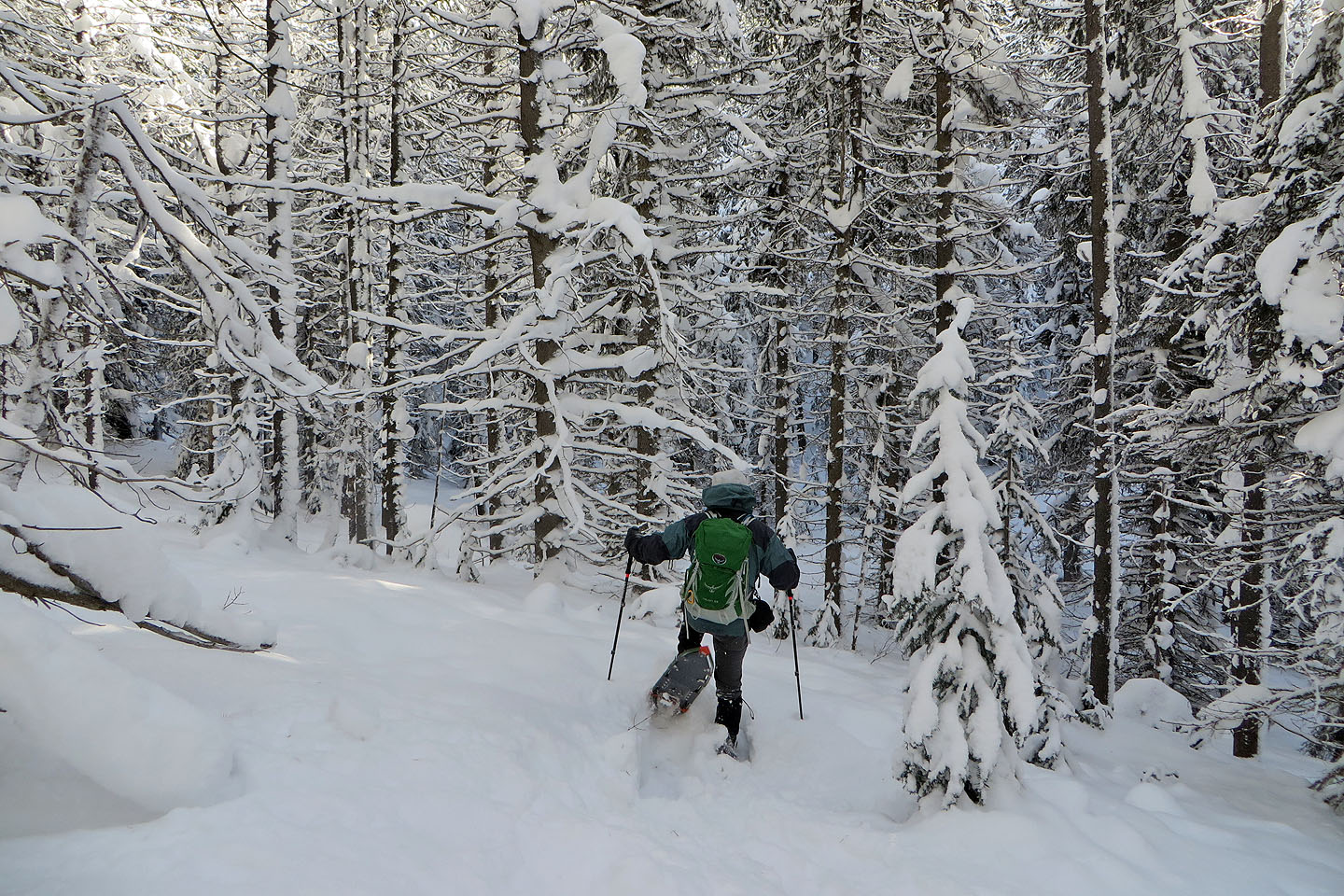 We left the trail and entered the forest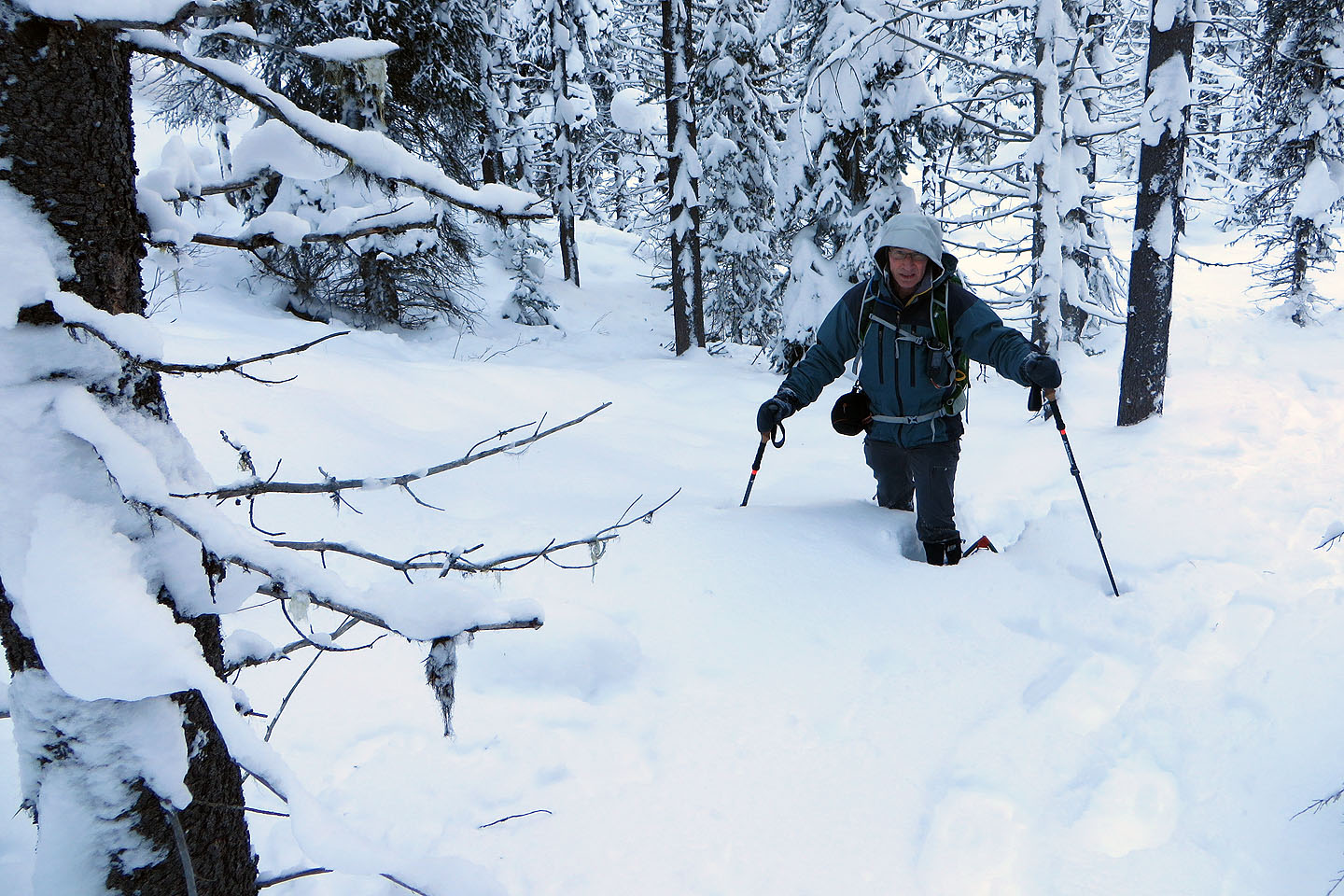 We often sank knee-deep in snow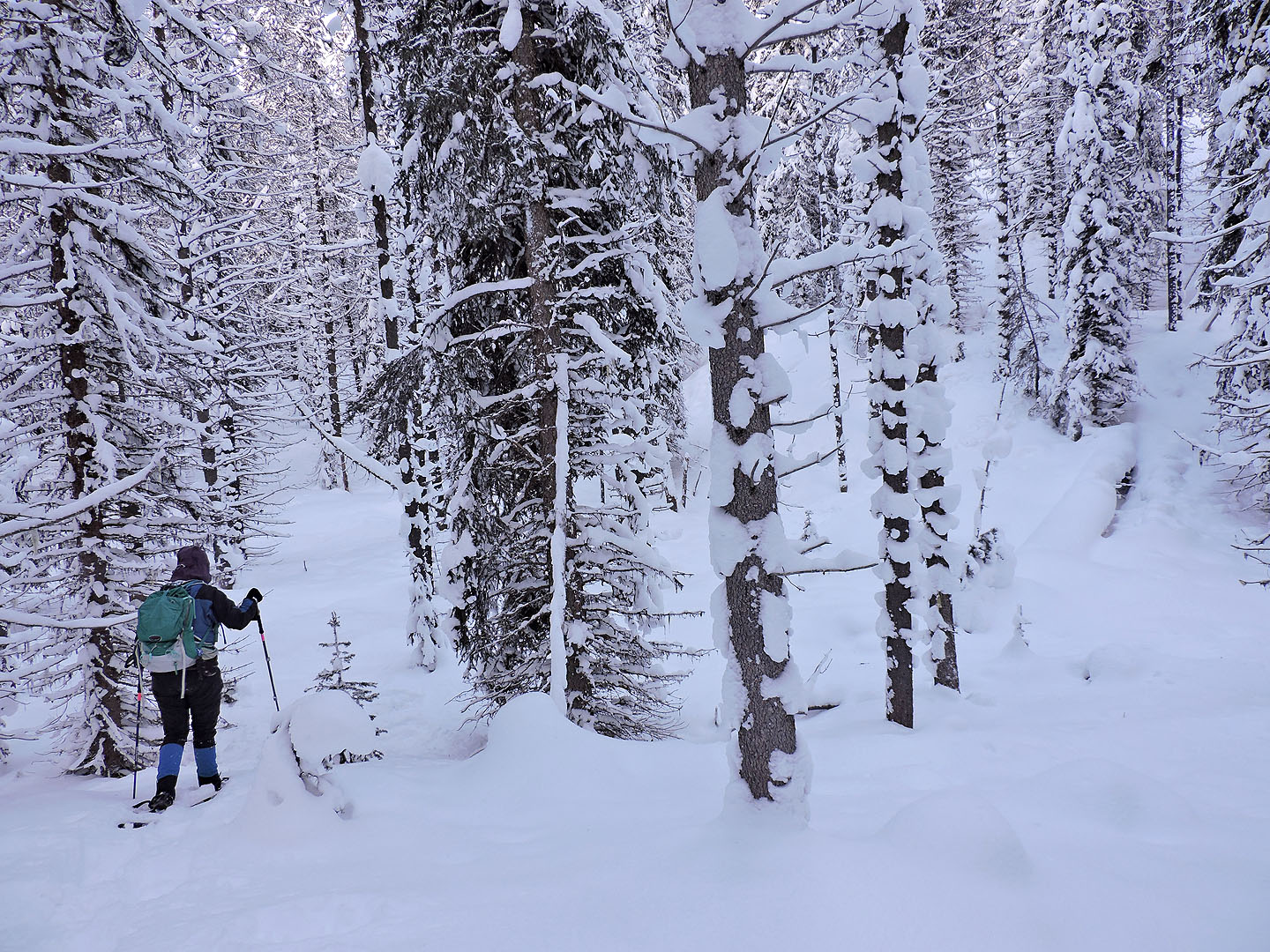 Everything was covered in snow, even the tree trunks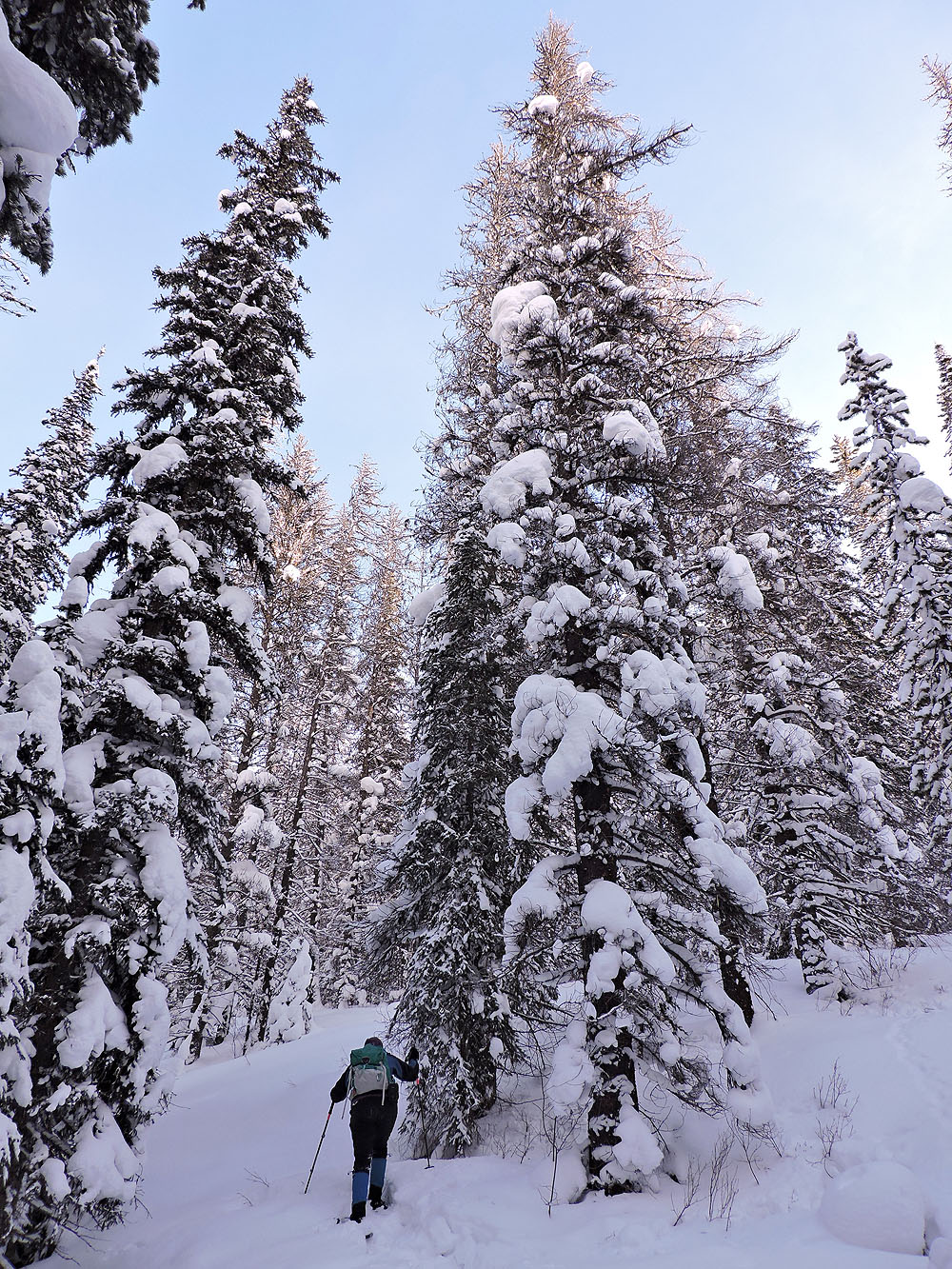 We passed some towering larch trees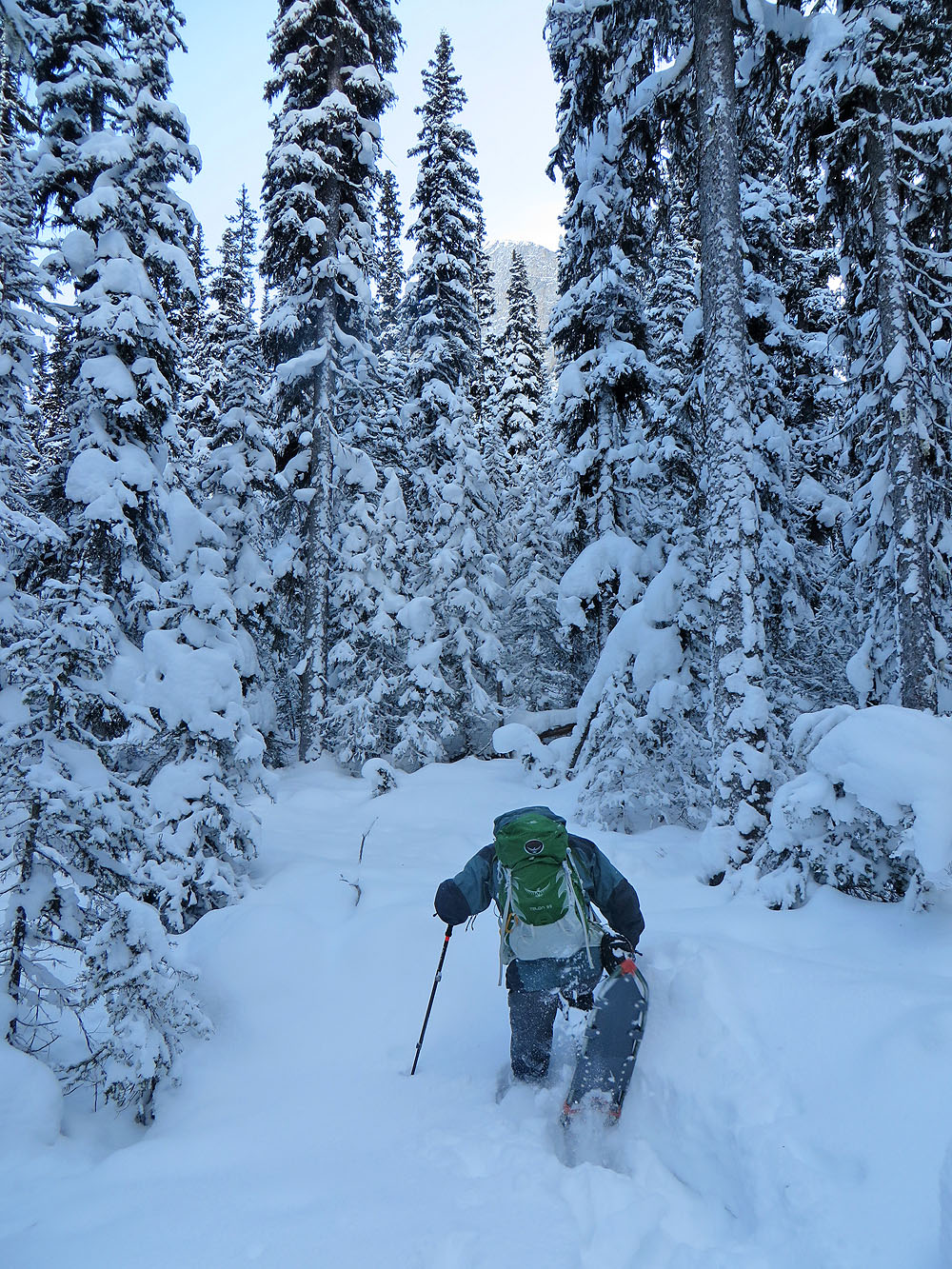 When we could see it through the trees, we took a bearing on the peak ahead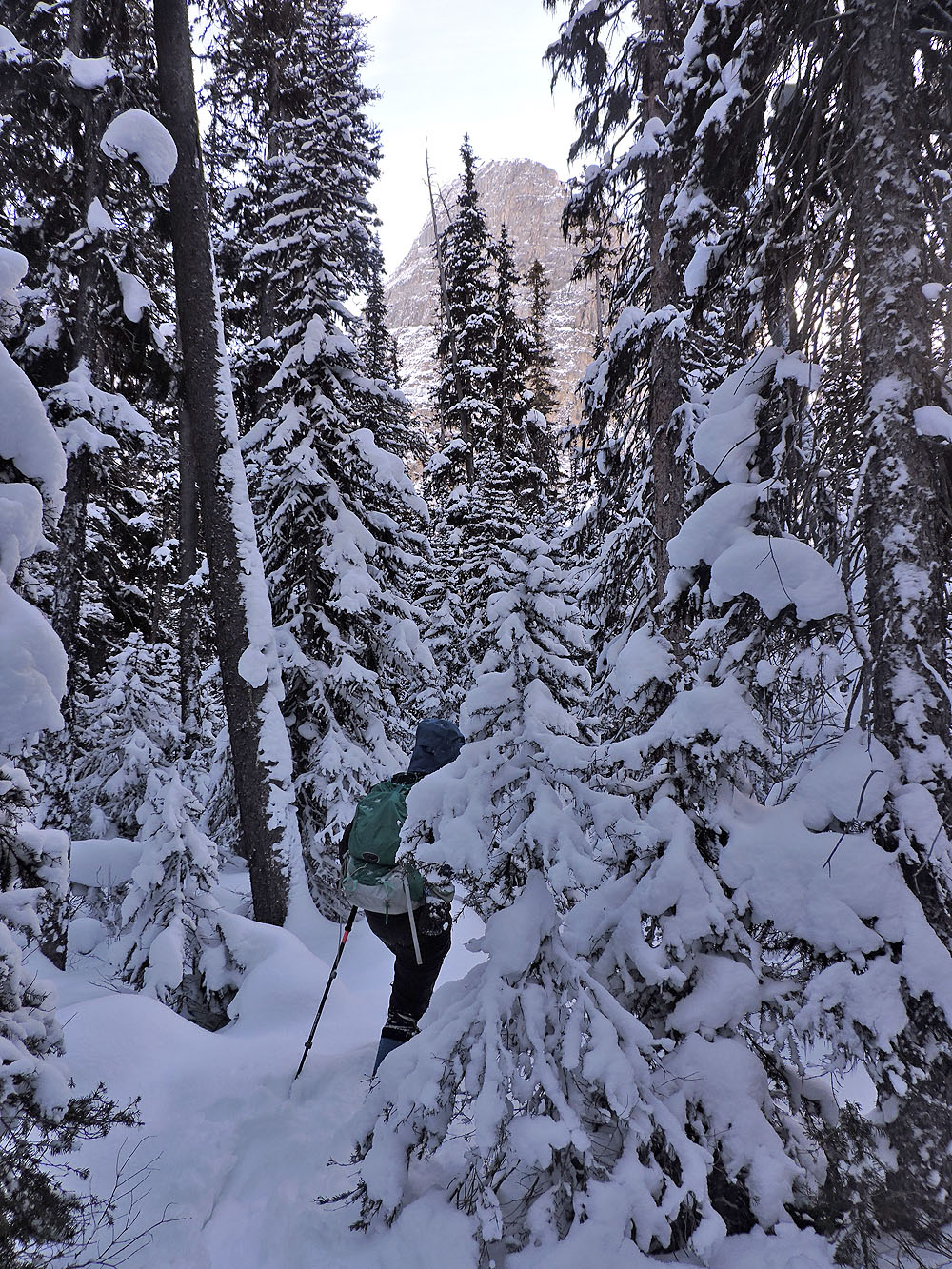 Drawing closer to the lake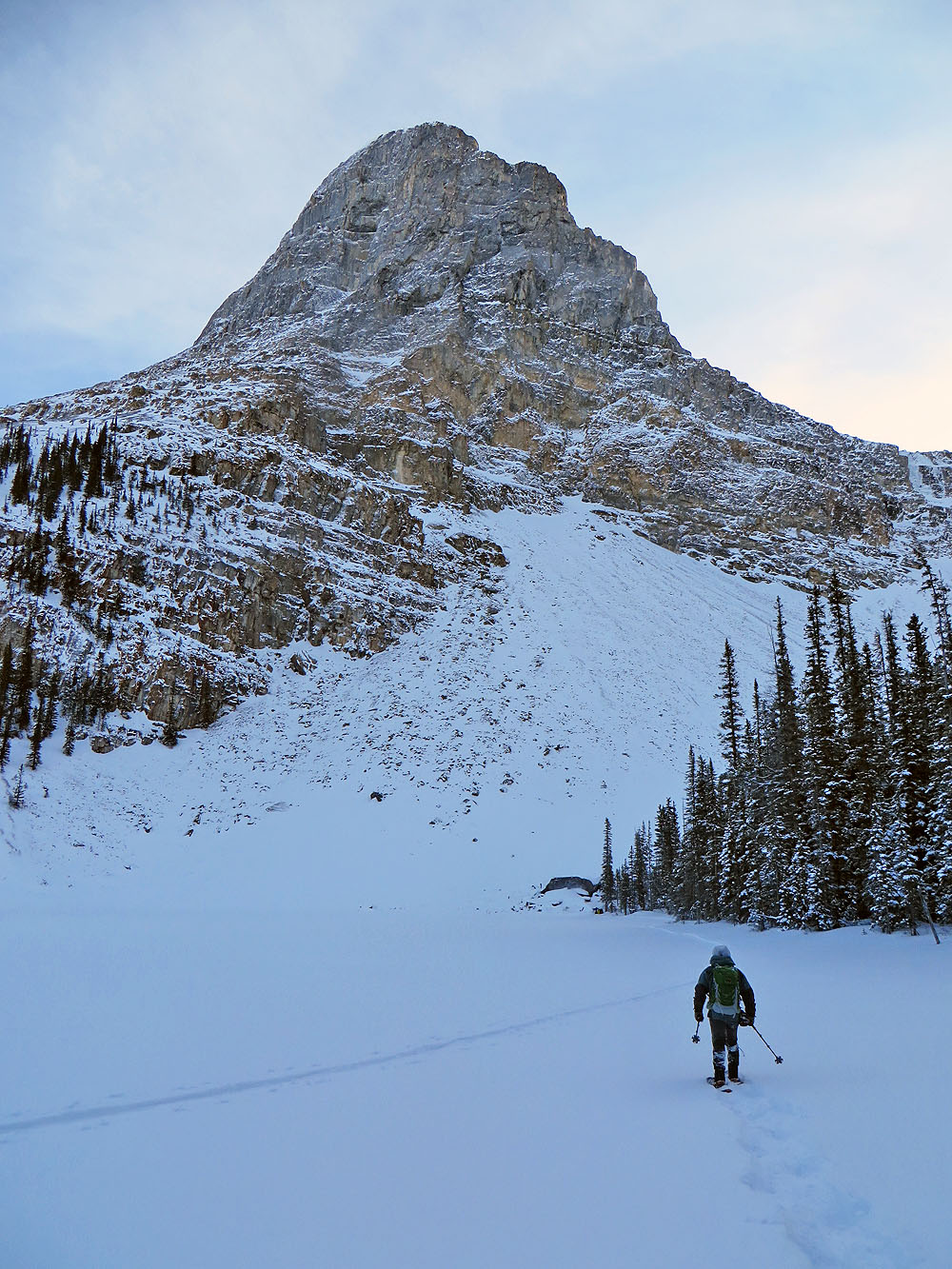 After reaching the lake we headed to the south end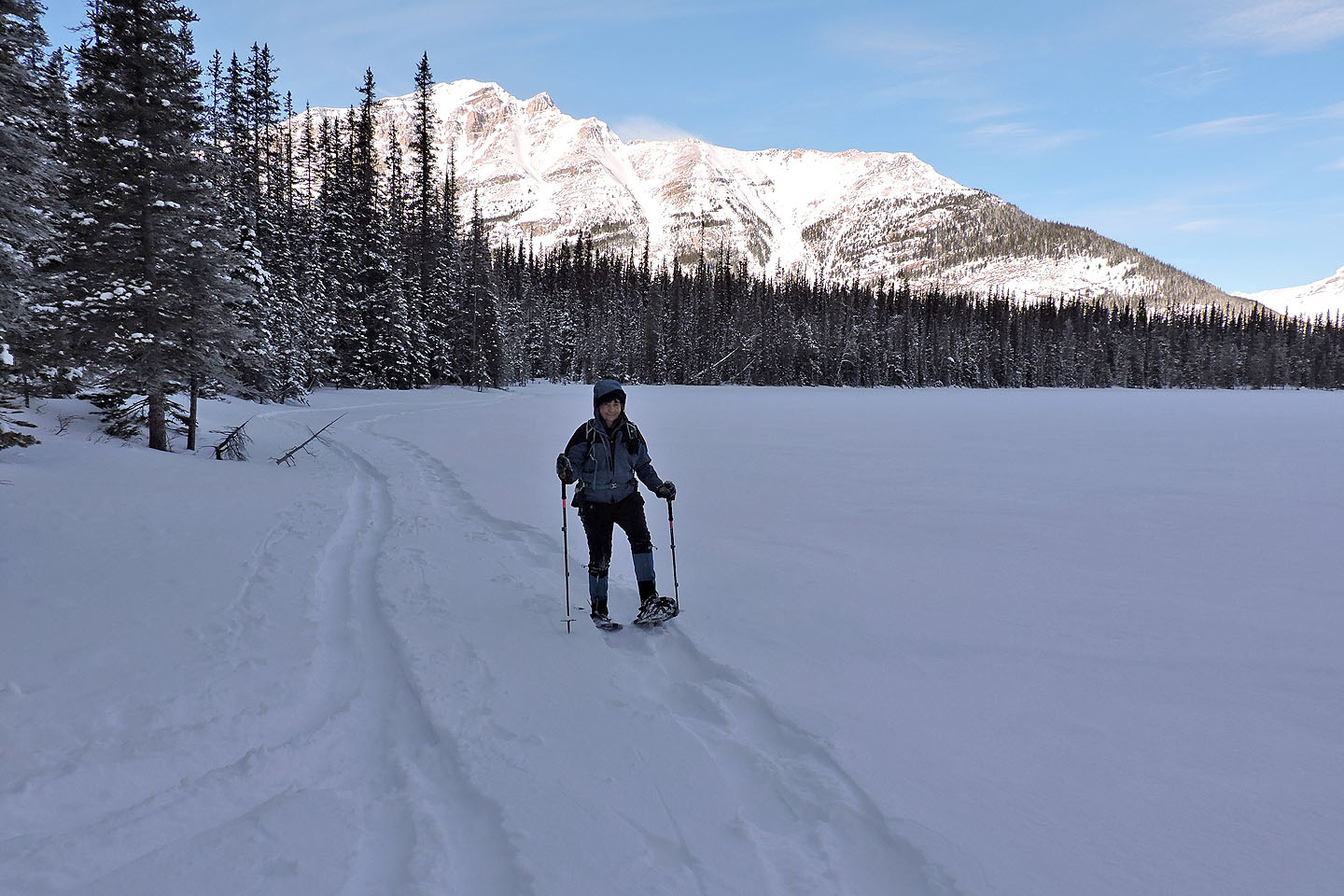 Looking back at Mount Bosworth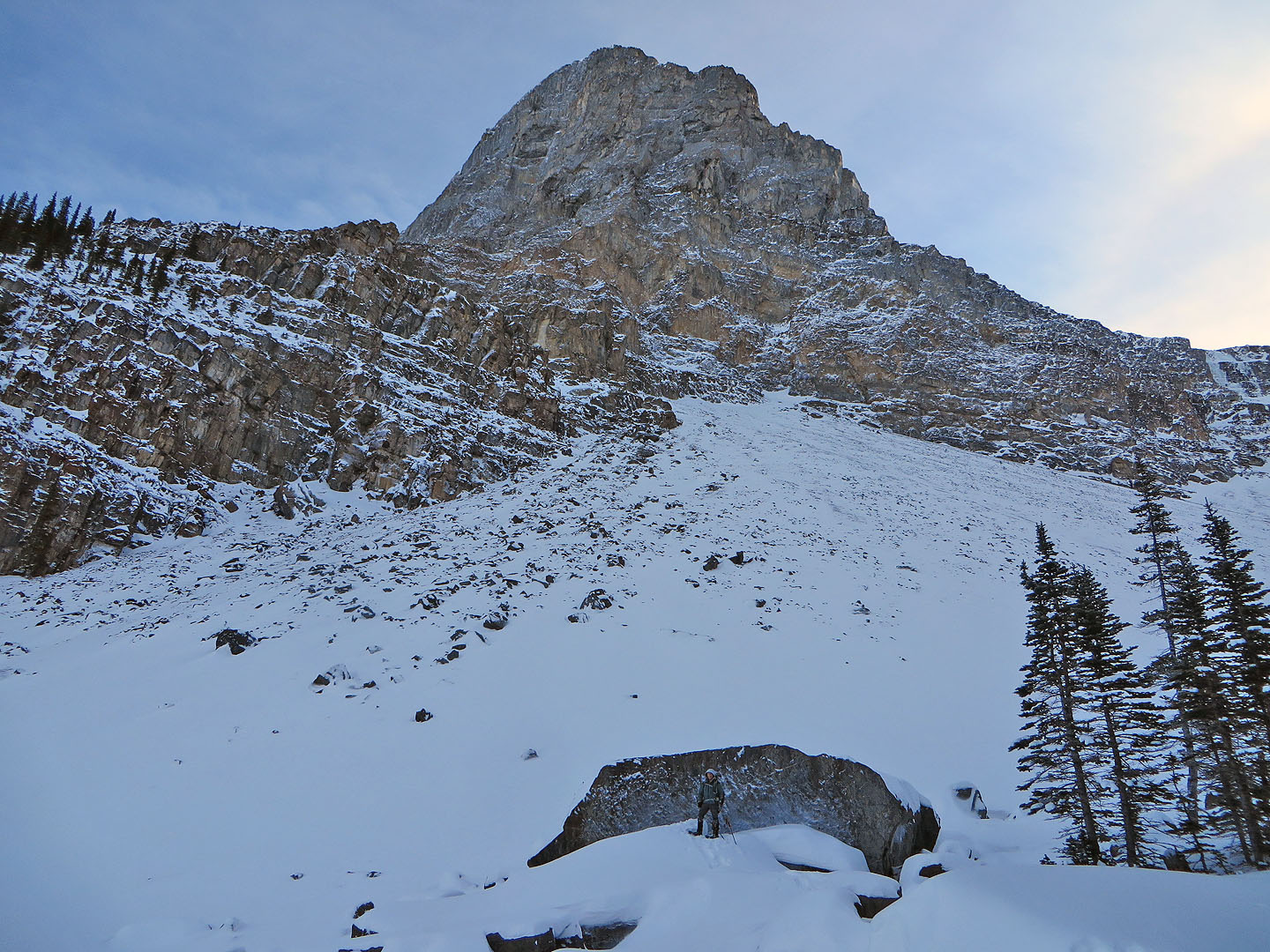 At the end of the lake I climbed some boulders to take a panorama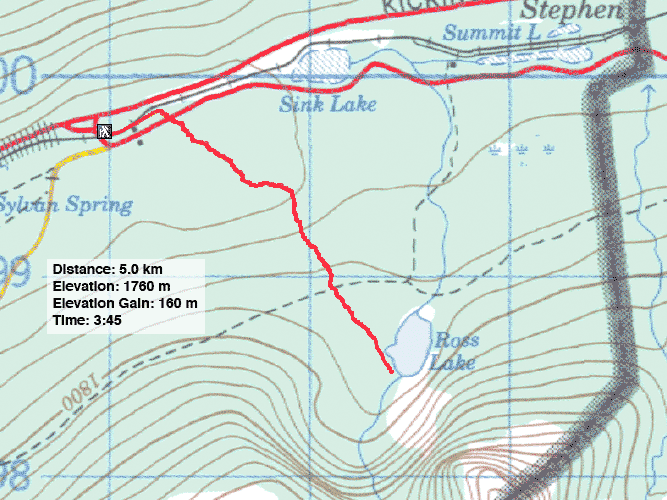 82 N/8 Lake Louise
Snowshoeing | Canada | Home