bobspirko.ca | Home | Canada Trips | US Trips | Hiking | Snowshoeing | MAP | About

Goat Mountain, NE Ridge
Kananaskis, Alberta
January 28, 2006
We had no illusions about attempting Goat Mountain in winter, but we thought it would be interesting to scope out the northeast ridge. After following the trail up the south side of Mount Yamnuska, we reached the Goat-Yam col. The view from a clearing on the col allowed us to plan a route. From the col, the northeast ridge appears to be rife with cliffs. At the north end, though, the cliffs seem to end so that's where we headed.
We dropped down the right side of the col. There were few trees so bushwhacking wasn't a problem. Emerging onto the lower slopes, we hiked to the end of the cliffs.
We soon found out the cliffs didn't end here after all. I searched for a weakness but found nothing suitable. In dry weather, there might be some good scrambling here, but the snow patches were a deterrent now.
We could see that the cliffs diminished farther down the ridge, so we hiked a short way down until we could easily surmount them. I was pleasantly surprised to find a talus slope on the other side that led to an outcrop.
Although we topped out on an insignificant point on the ridge, we had a grand view. We could see the jagged northeast ridge extending to Goat Mountain. And having been up Yam a few times, it was interesting to observe it from afar.
The outcrop we stood on was exposed on the other side. I noticed one place where it might be possible to downclimb, although overhanging rock near the bottom raised some doubts. But it wasn't something I wanted to try with mitts on. It may also be possible to circumvent the outcrop to avoid the downclimb, but we were put off by the deteriorating weather conditions. We turned back with intentions of returning on a nicer day in a better season. But the trip left us with one great idea: a route for the East Peak of Wendell.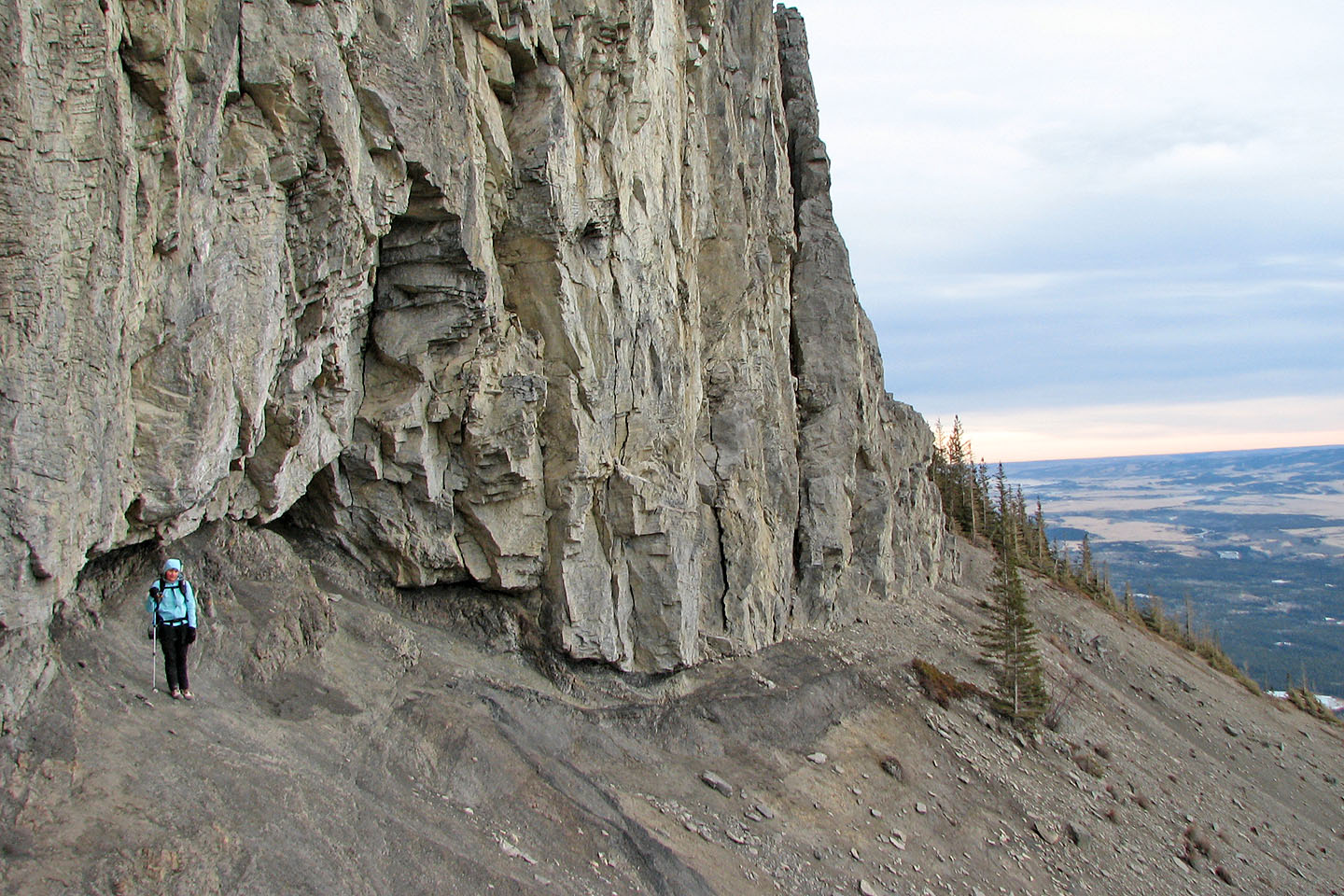 We followed the base of the cliff on Yamnuska on the way up but went down the scree on the way back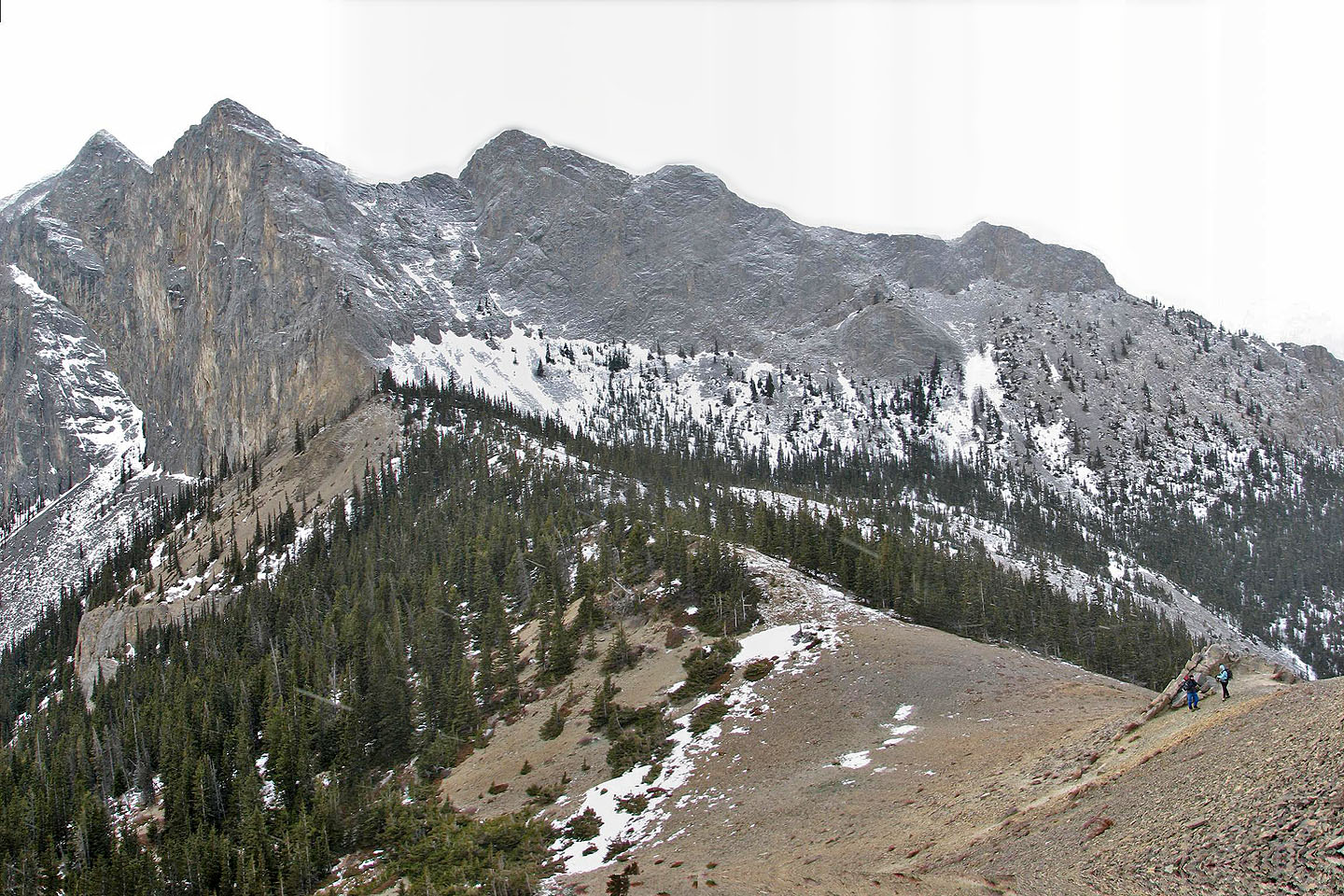 View from the col on the return. Goat Mountain is on the far left. Mouse over to see our route.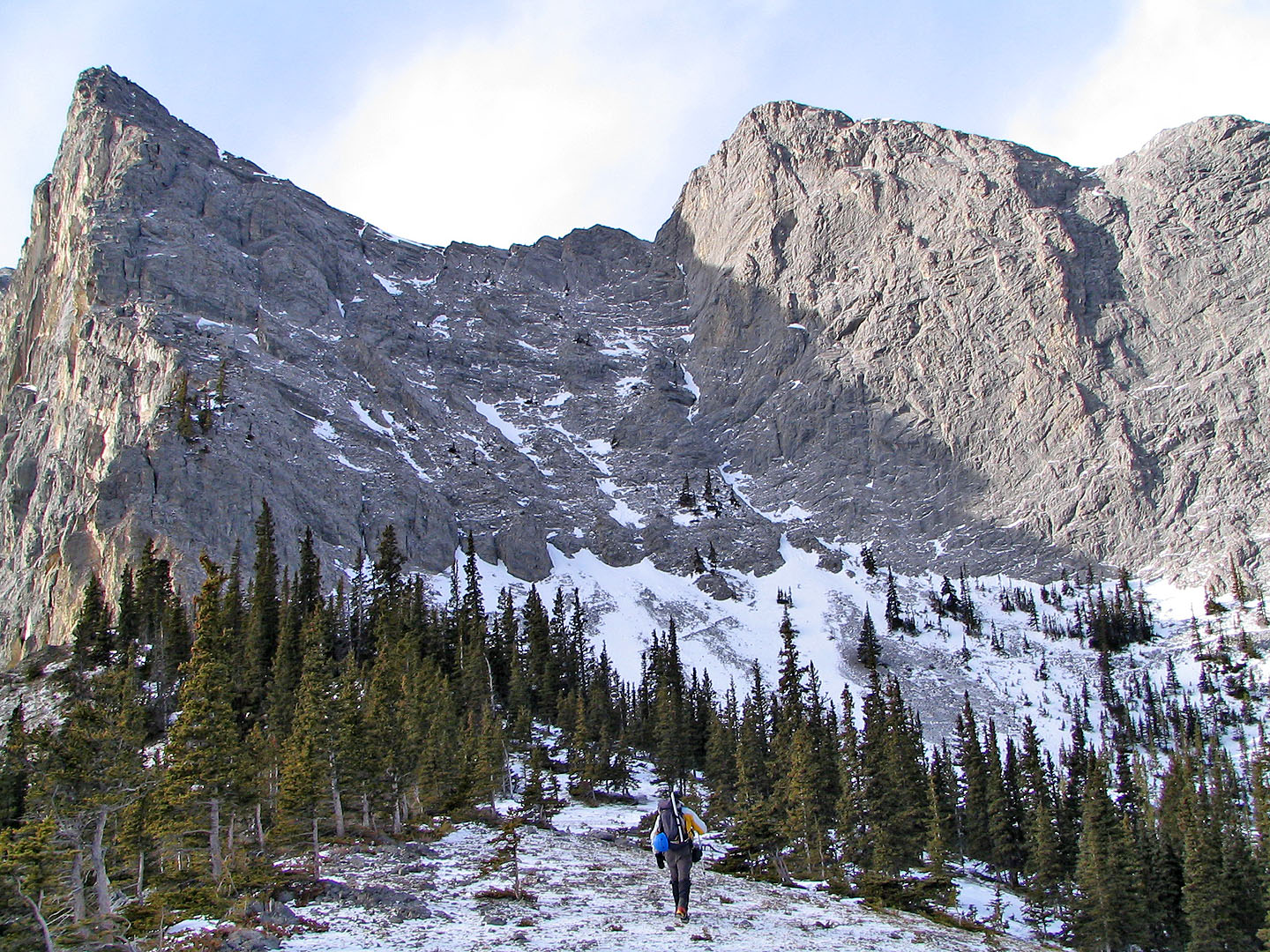 Clearing on the col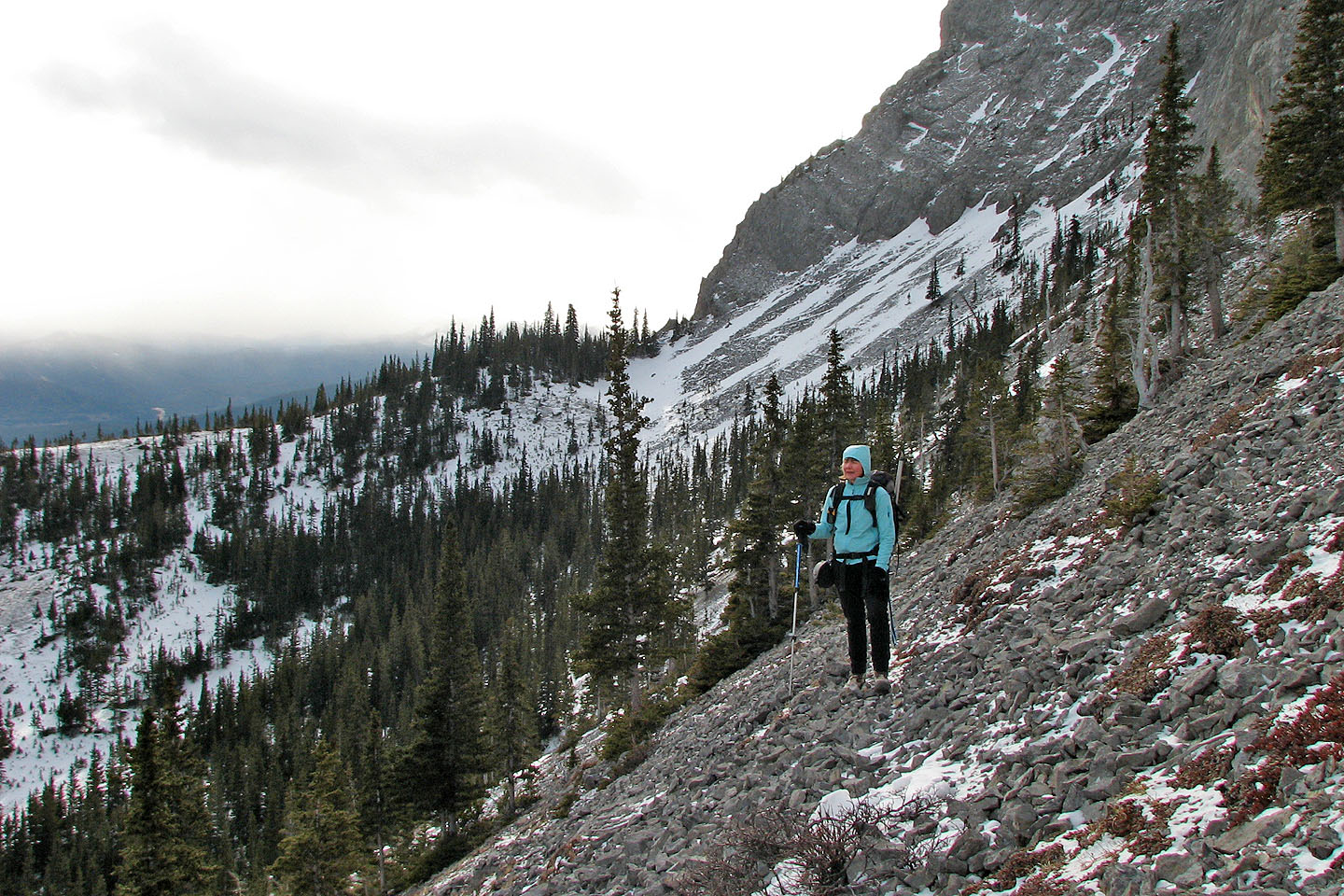 Traversing the slope after the col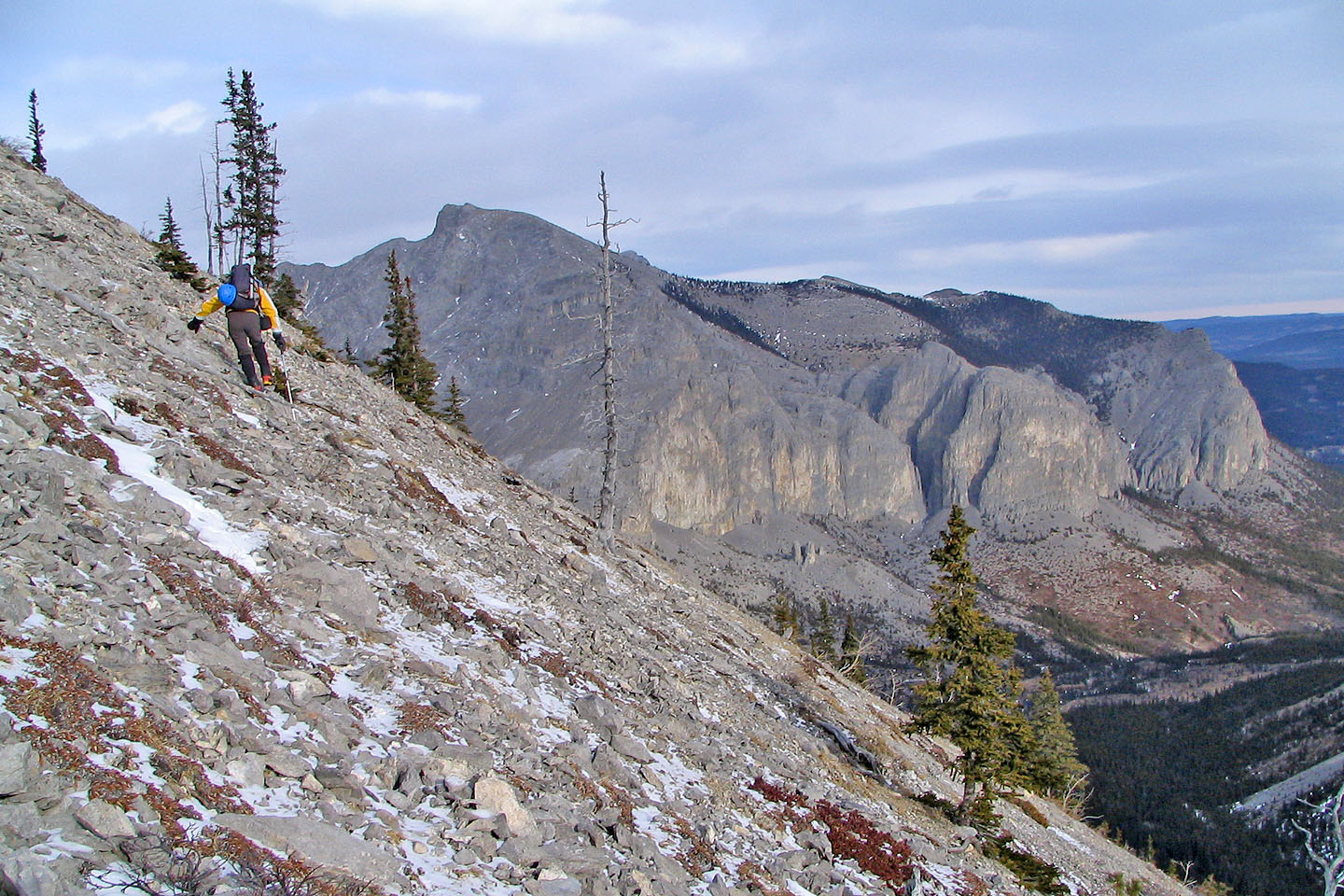 East Peak of Wendell in the background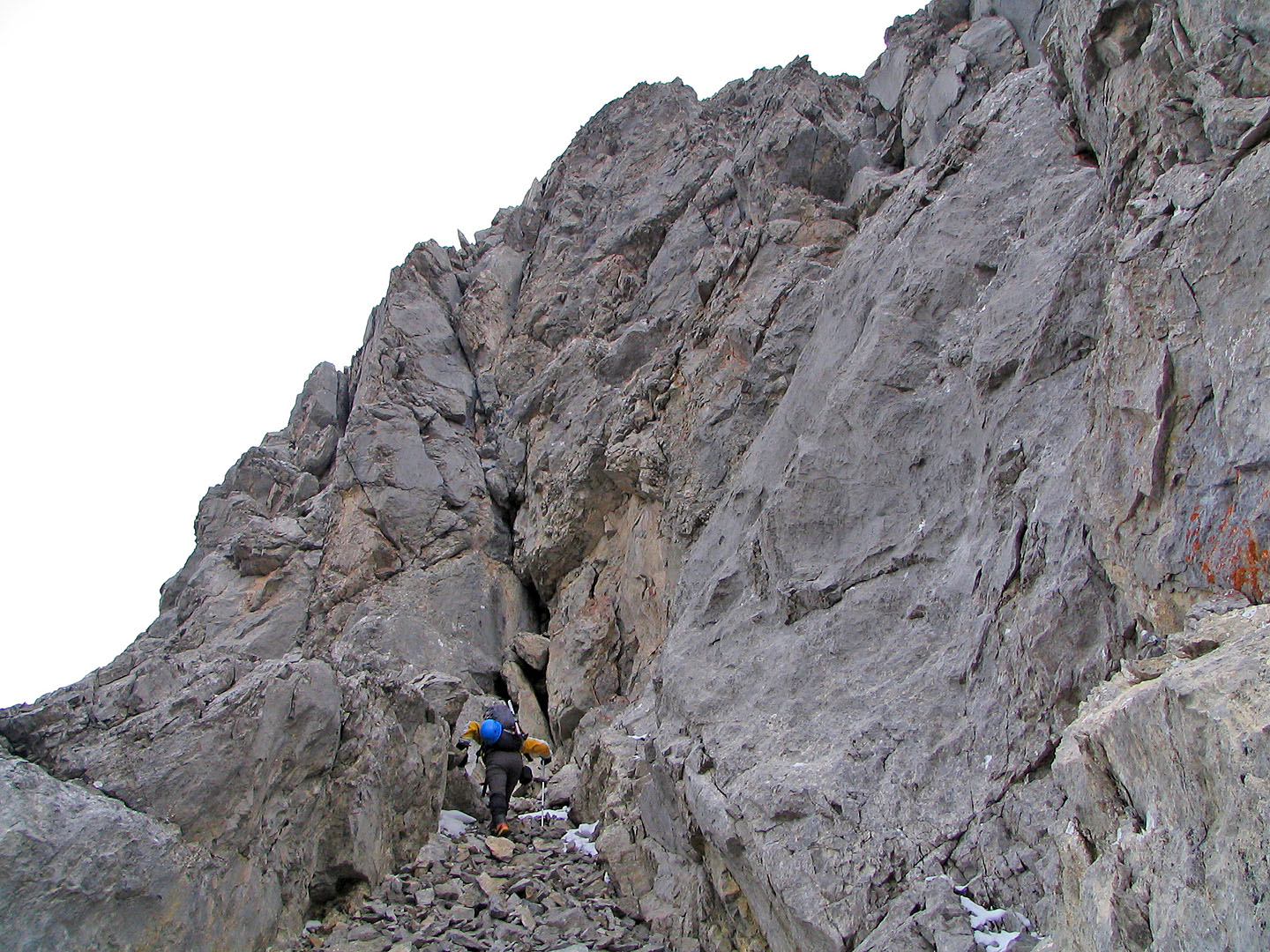 Searching for a way through the cliffs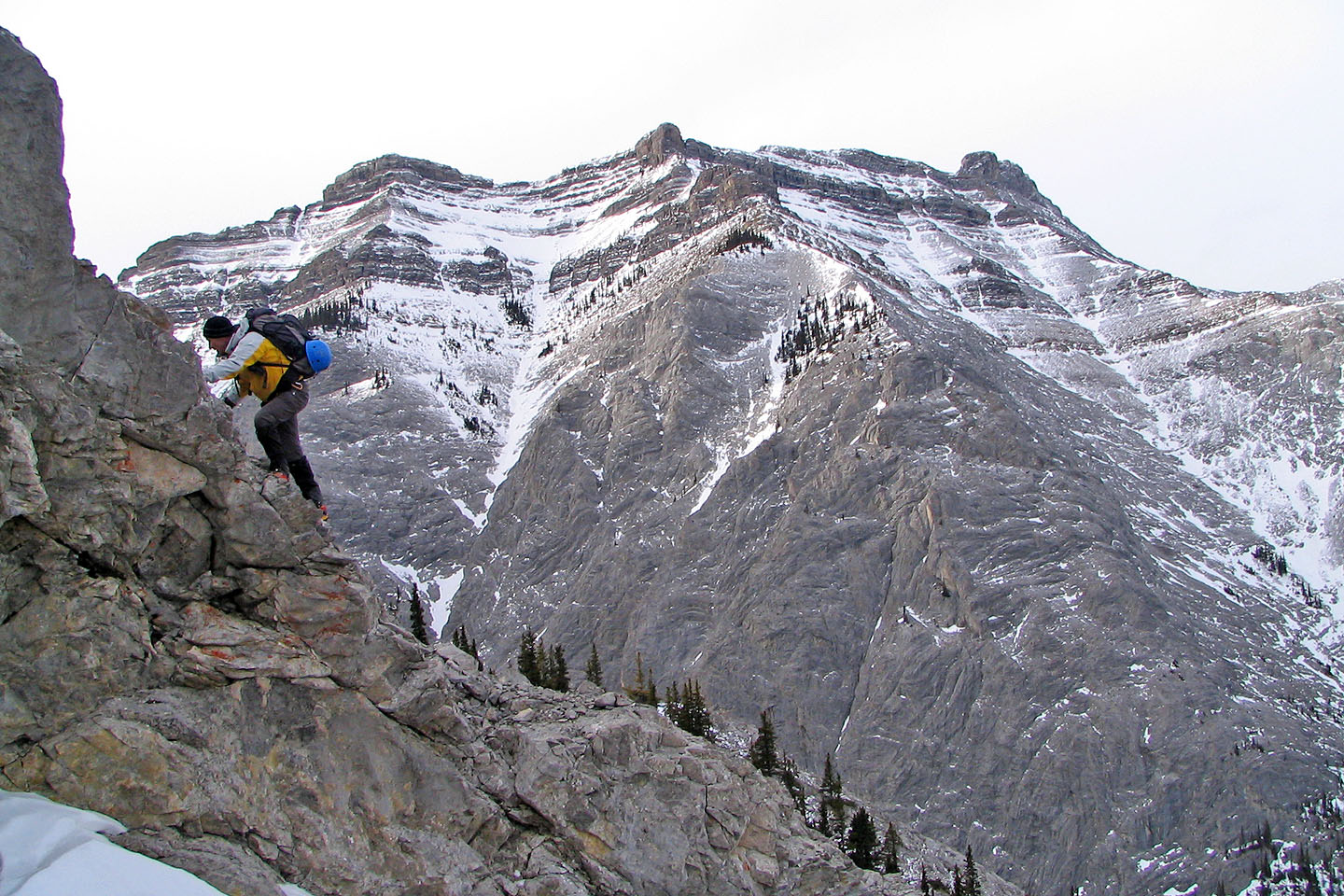 Gaining the ridge. Hassel Castle on the right.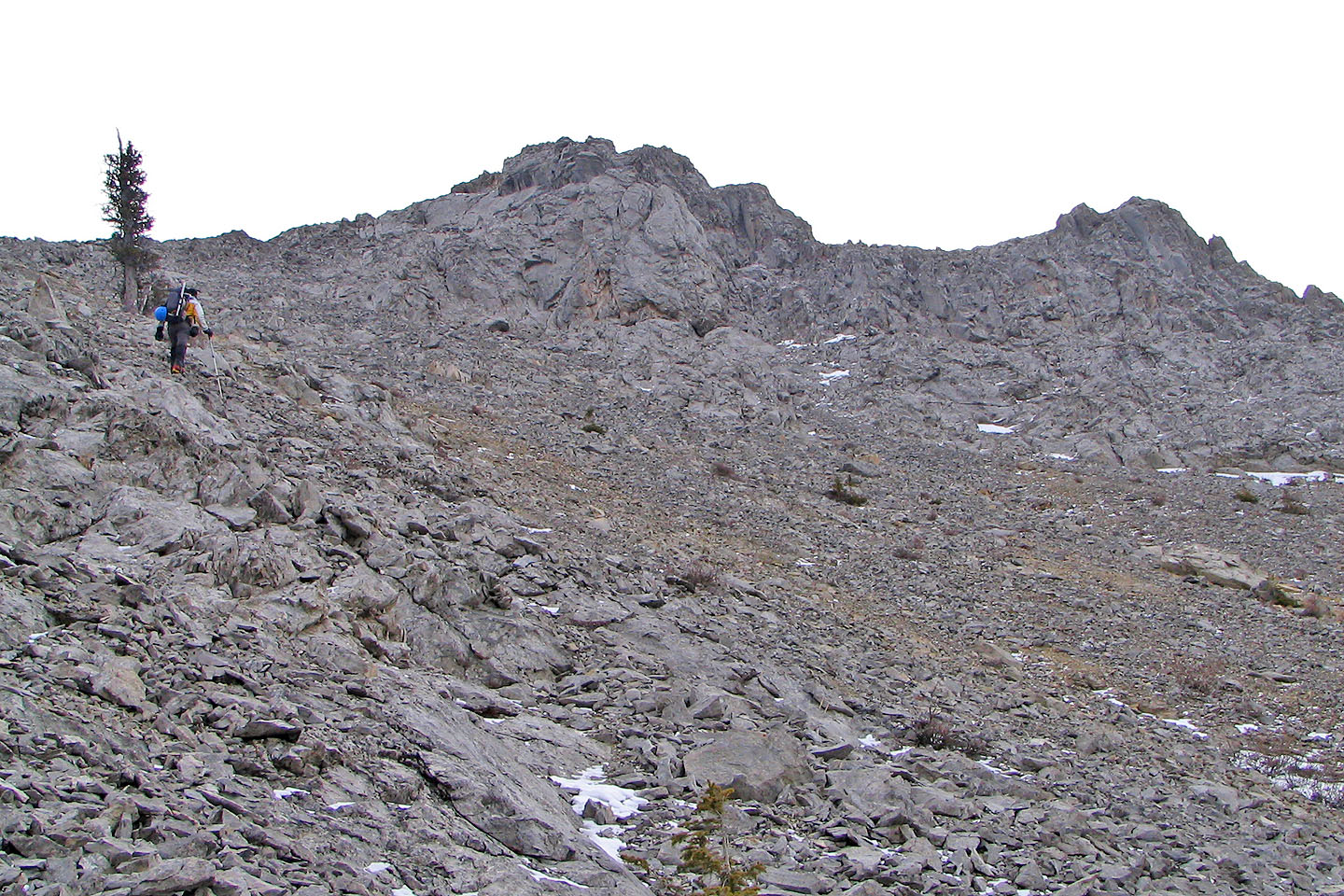 View on the other side of the ridge. We headed for the outcrop in the middle.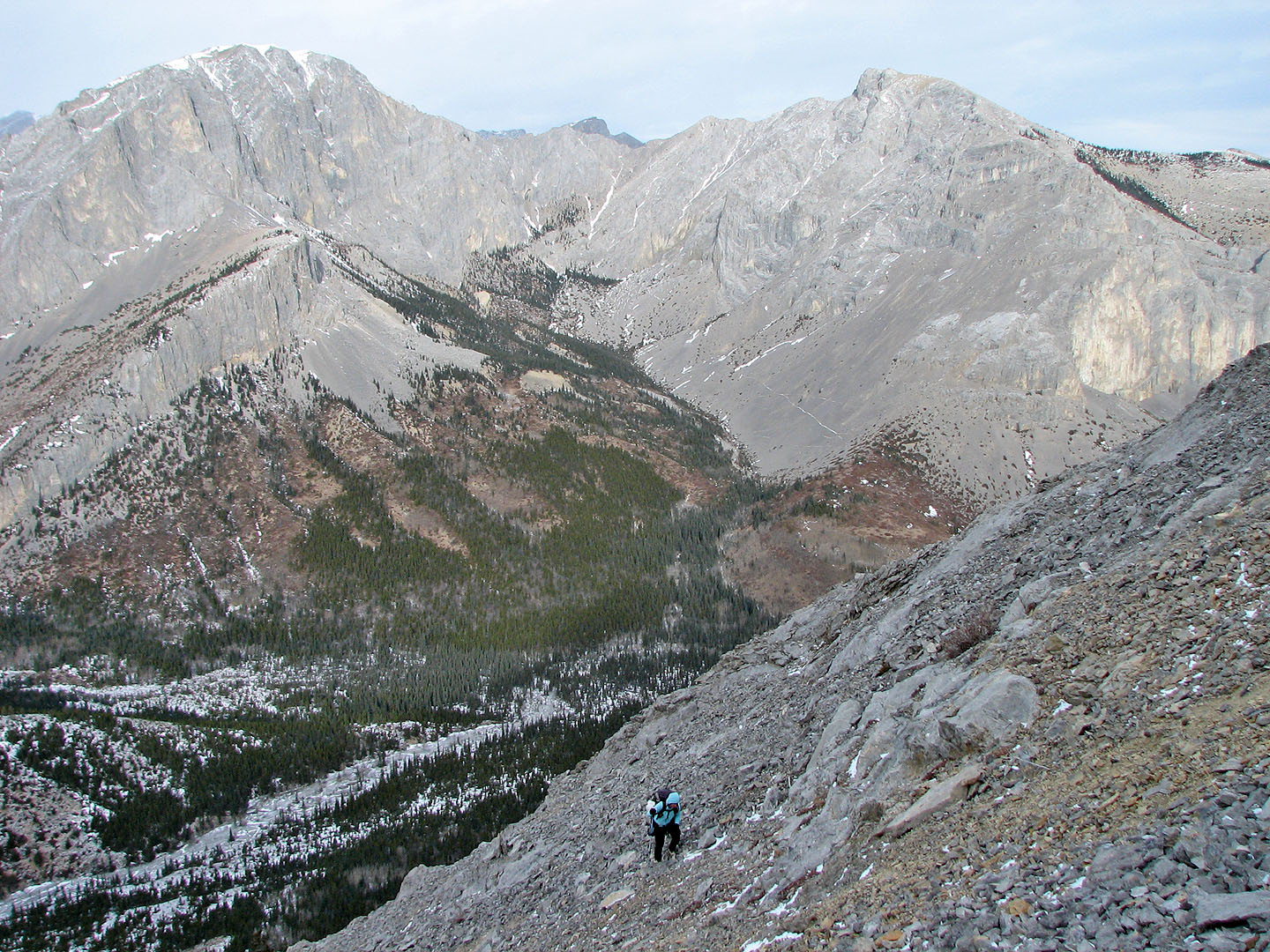 Looking back. Mount Wendell on the left.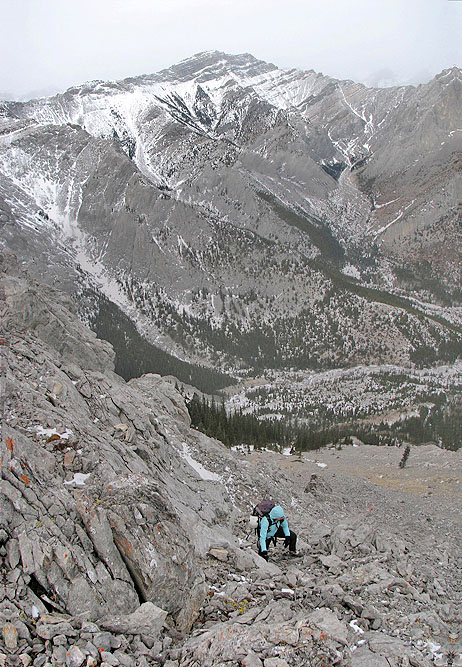 Below the high point, Morrowmount in the background

Looking at Goat Mountain from the outcrop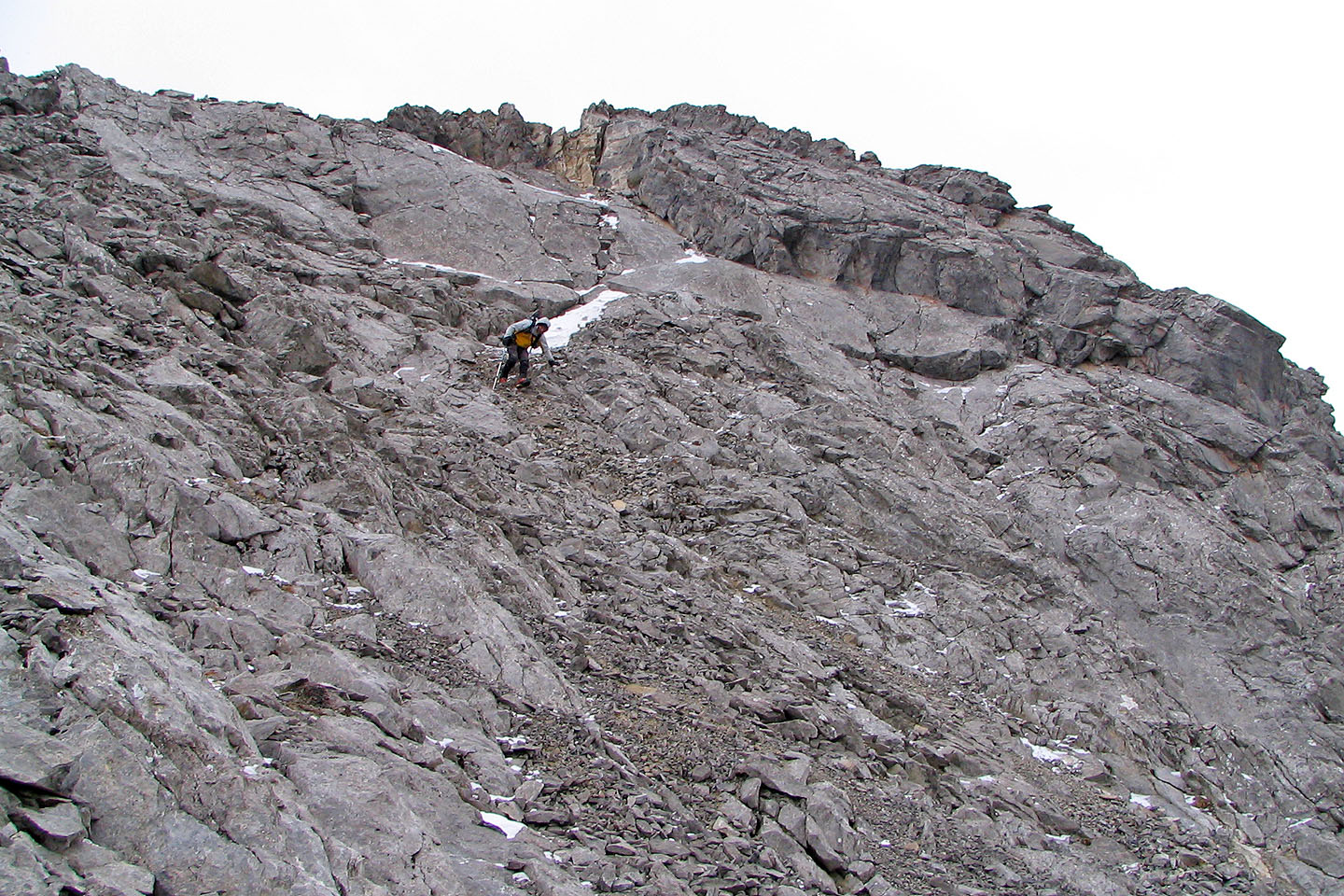 Coming down from the outcrop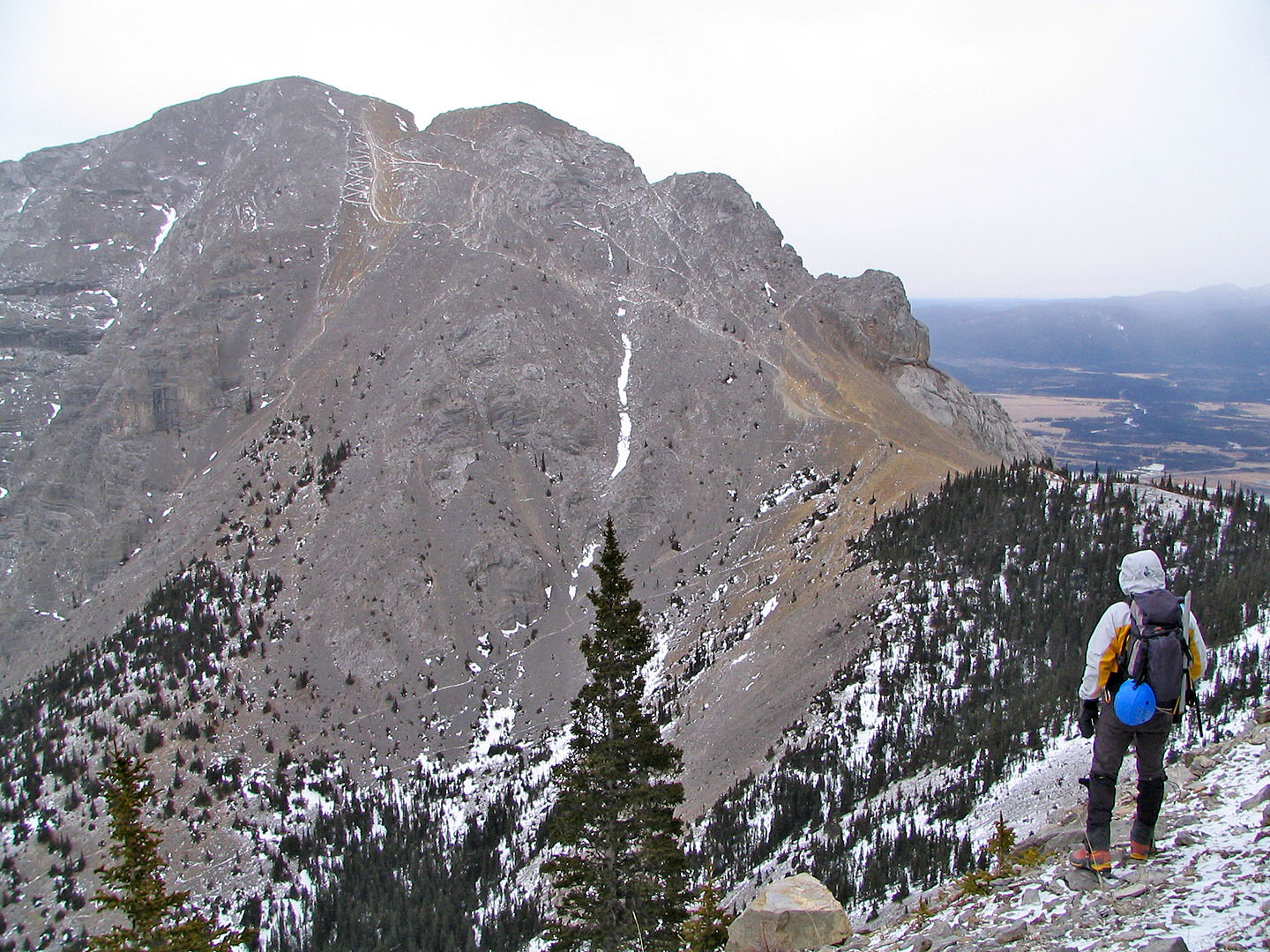 Mount Yamnuska (mouse over for a close-up)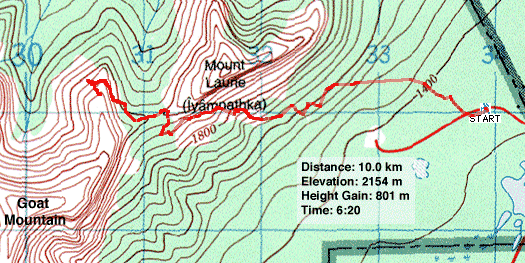 82 O/3 Canmore