bobspirko.ca | Home | Canada Trips | US Trips | Hiking | Snowshoeing | MAP | About

Coliseum Mountain
David Thompson Highway, Alberta
September 2, 2017
Distance: 13.6 km
Cumulative Elevation Gain: 740 m
When I first read about Coliseum Mountain in David Thompson Highway: A Hiking Guide, I was shocked to learn that hikers had to share the trail with quads and dirt bikes. But I have since learned motorized vehicles are no longer permitted; the mountain now provides a pure hiking experience – almost. Dinah and I did encounter a couple of guys on mountain bikes, but they spent much of their time walking their bikes.
Two trails go to Coliseum. No one seems to take the older, south trail, so Dinah and I used the longer east approach. After heading east for 1.4 km, the trail climbs up a wooded slope in lazy switchbacks. After knocking off most of the trip's elevation, the trail breaks out onto a rocky slope. Here visitors are treated with an iconic view of the summit: a rocky cap poised at the end of a long, elegantly curved ridge. It's a good place to pause, and many hikers do. From there the trail cuts into a scree slope before swinging around to follow the ridge. A short hike up a break in the cliffs brings you to the top of a spacious, grassy mountaintop. On a clear day, one would undoubtedly have sweeping views, but we faced a wall of smoke in all directions. Saskatchewan River snaked below, yet we could see nothing of the river valley let alone the river.
For a brief time, we had the summit to ourselves, but soon other hikers began to trickle up, discouraging us from lingering. As we walked back along the trail, we lamented at the views we missed because of the smoke. We considered a quick hike up the east end of the mountain – it's nearly as high as the summit – but the modest effort would've only provided more smoke-veiled scenery.
Despite the three-hour drive from Calgary, it would be worth returning on a clear day. Coliseum isn't a colossal mountain, but the views may very well be.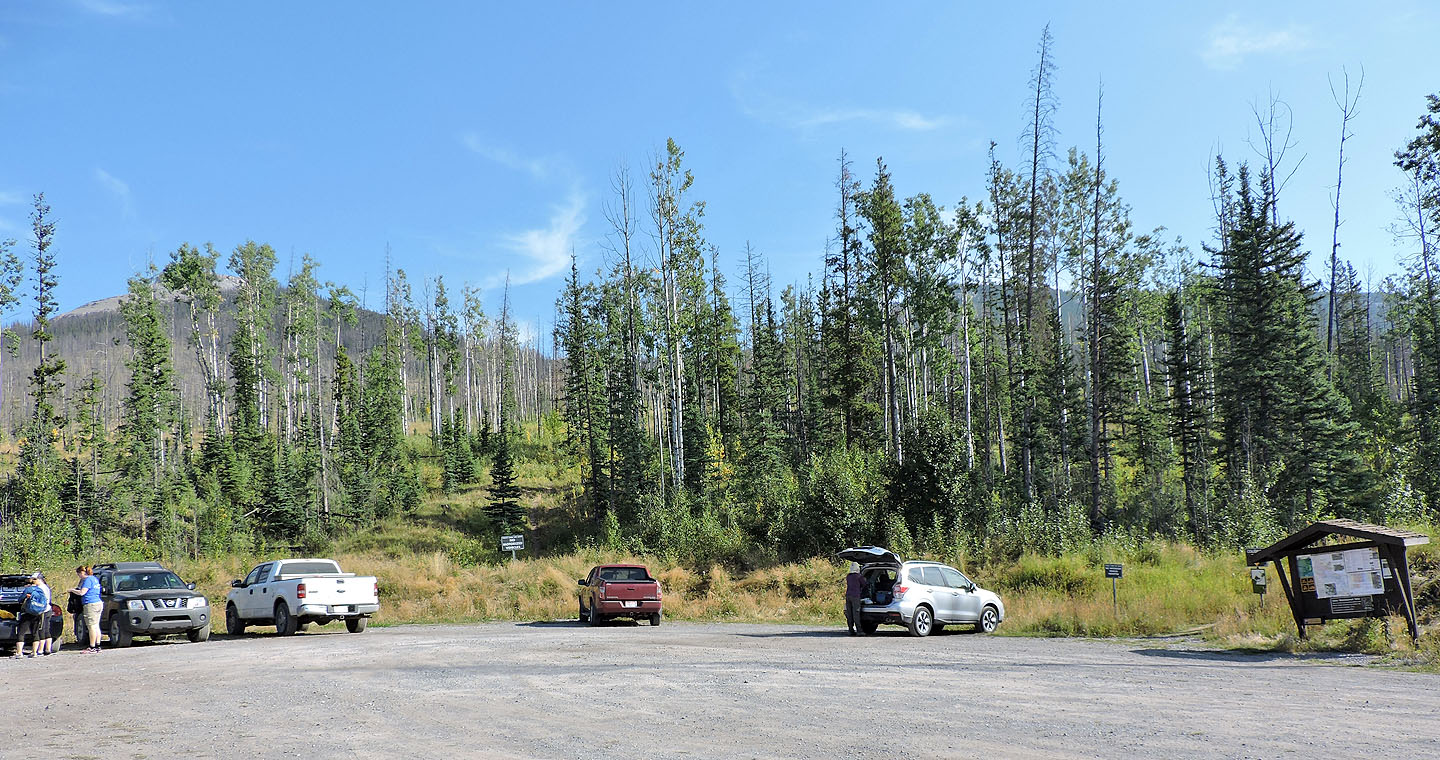 Coliseum Mountain trailhead: the main trail is on the right but the summit is left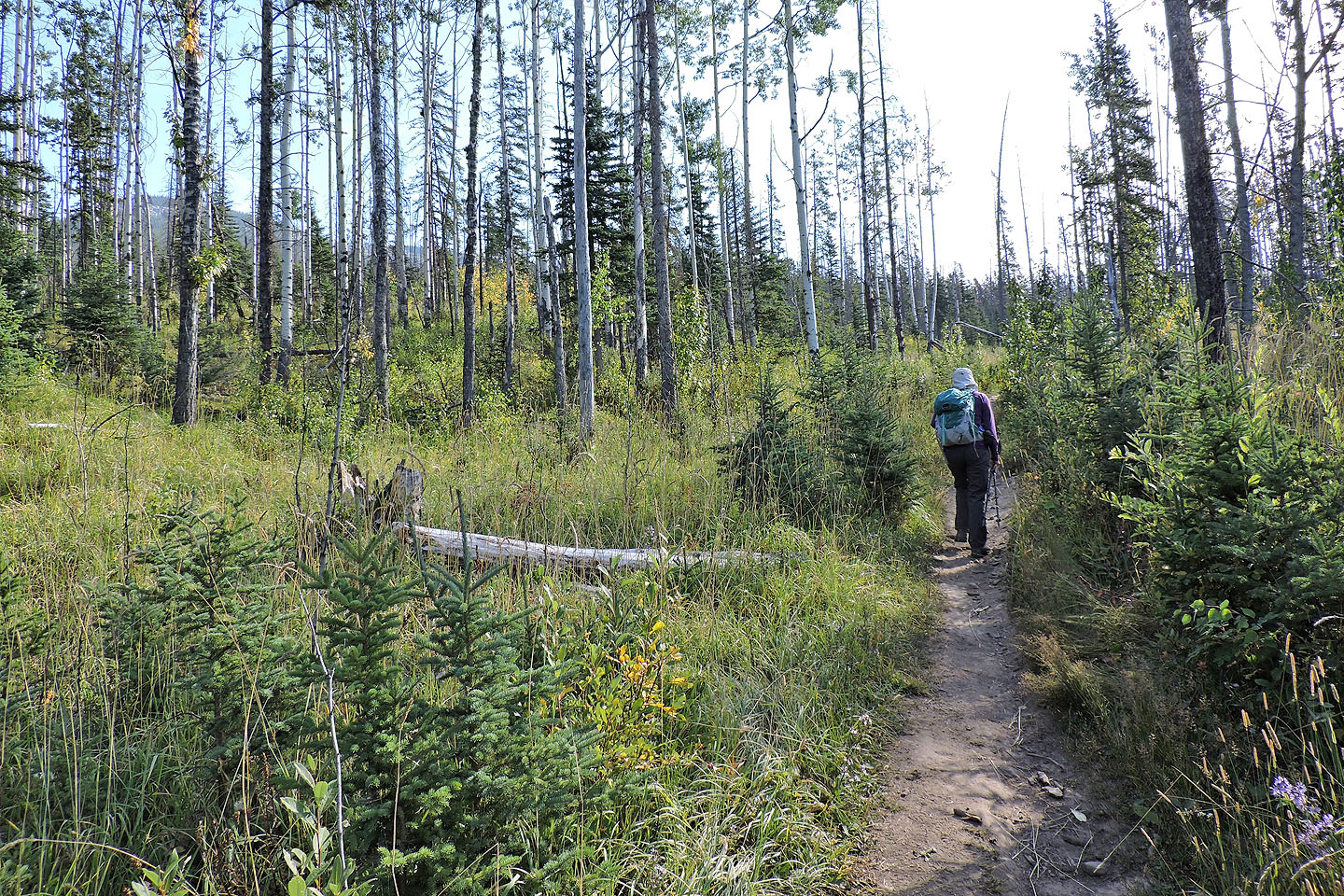 Starting up the trail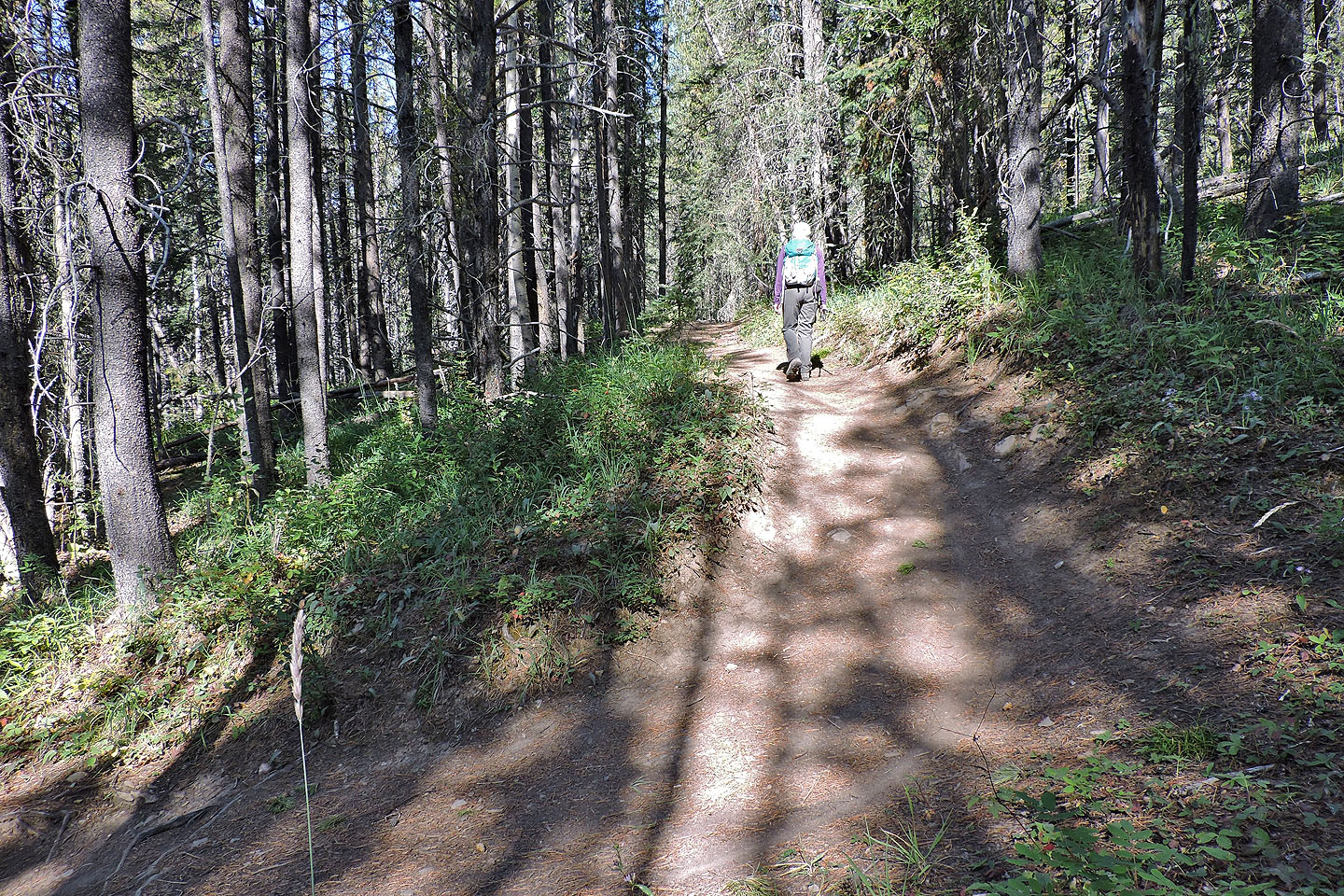 First of many switchbacks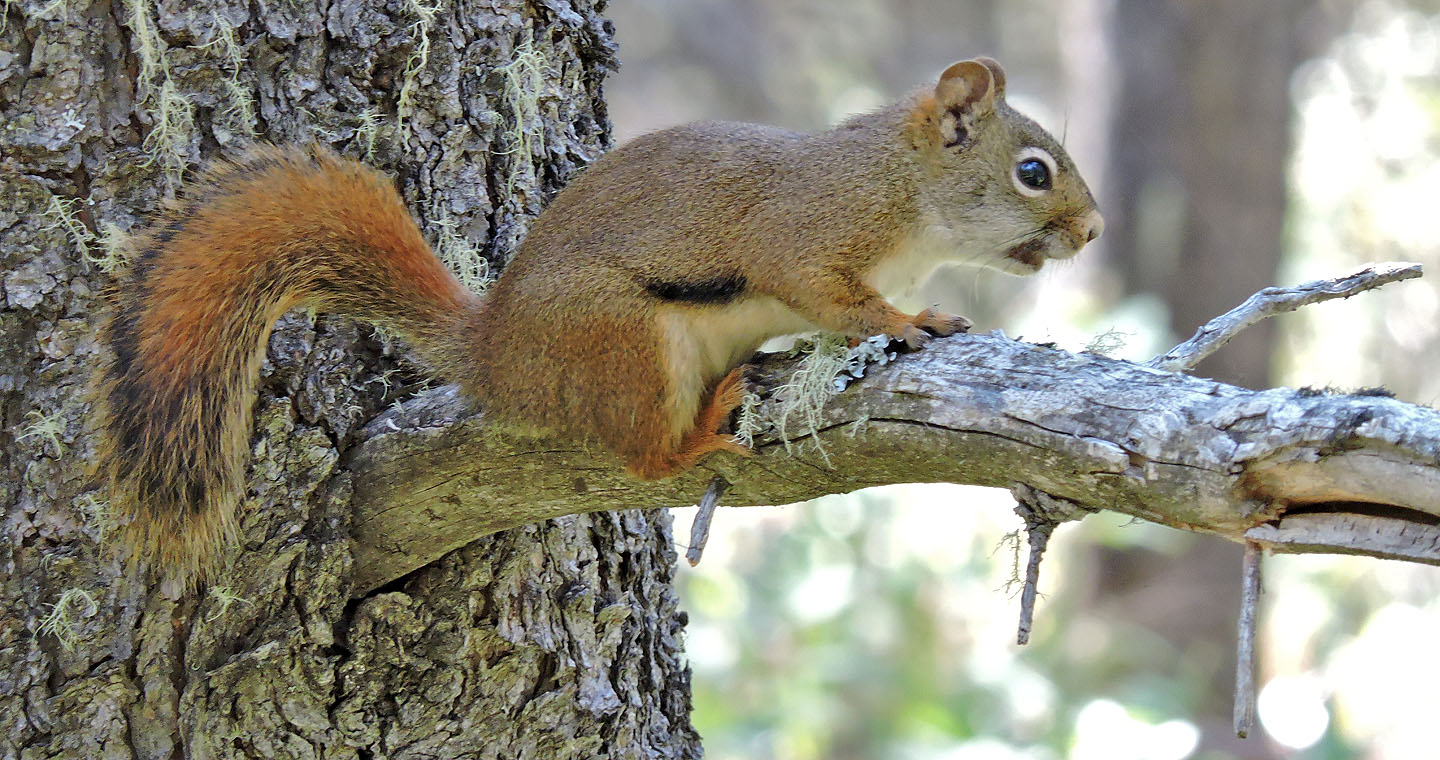 North American red squirrel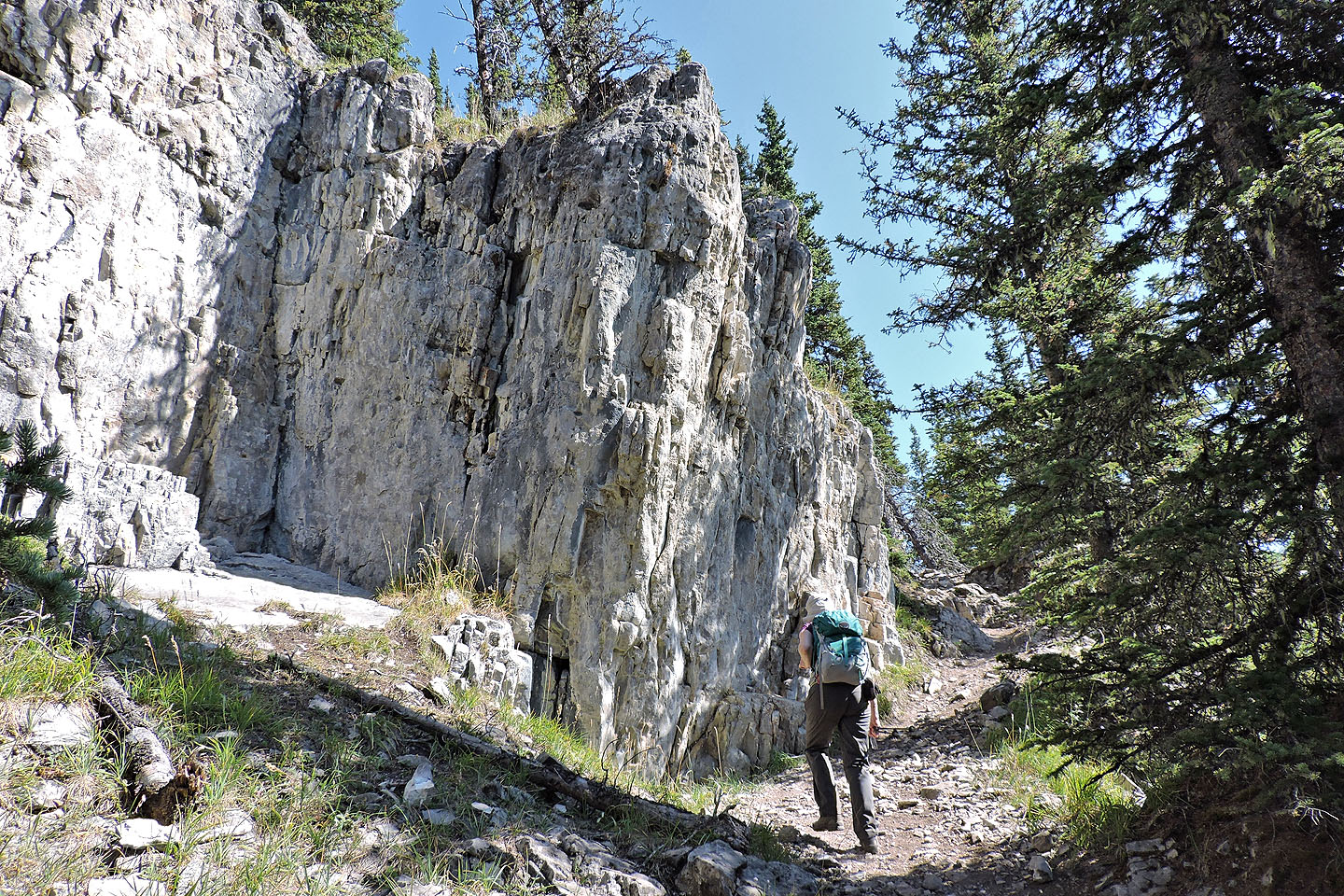 An outcrop signals we're near the end of the switchbacks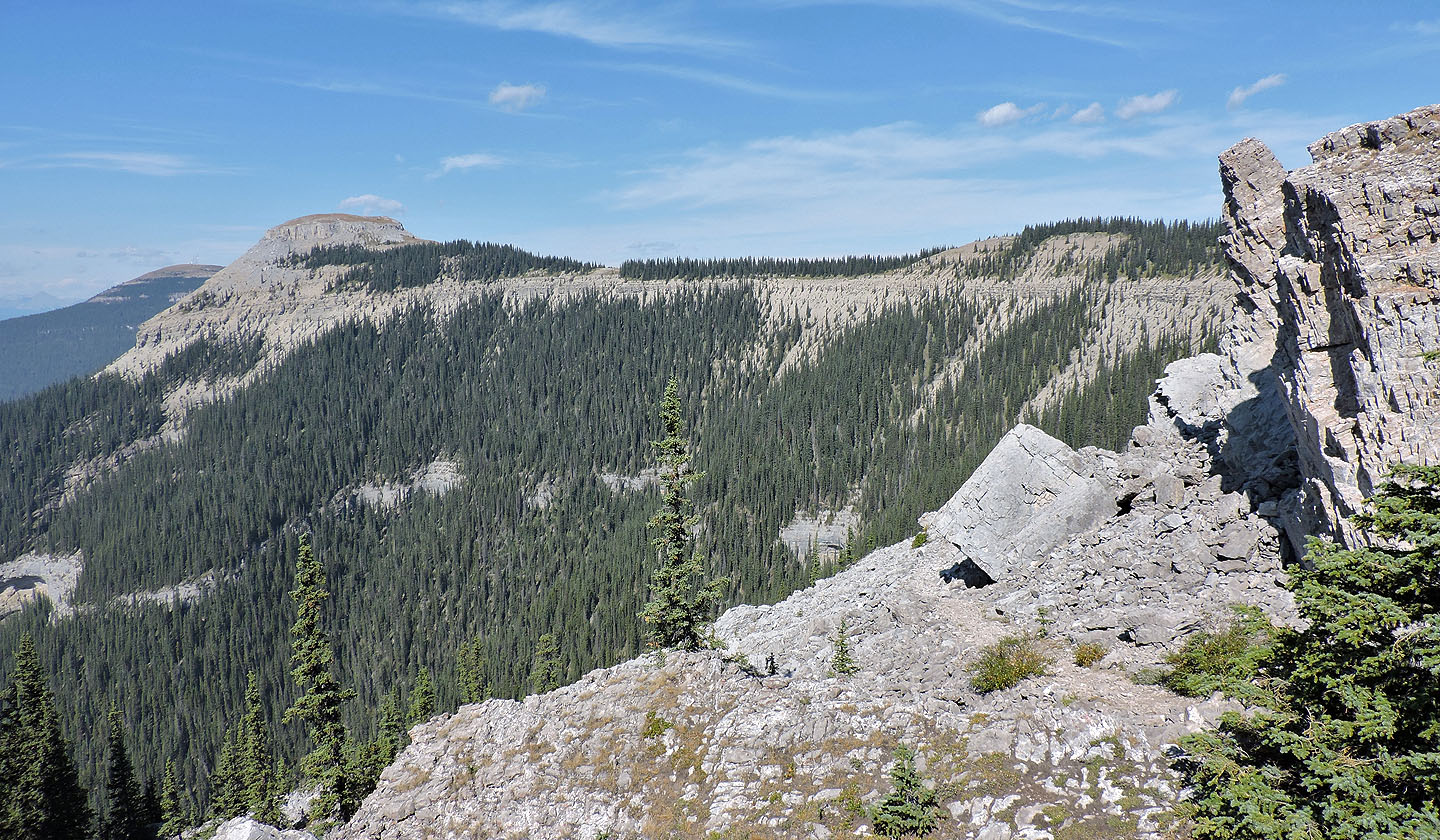 Our first good look at the summit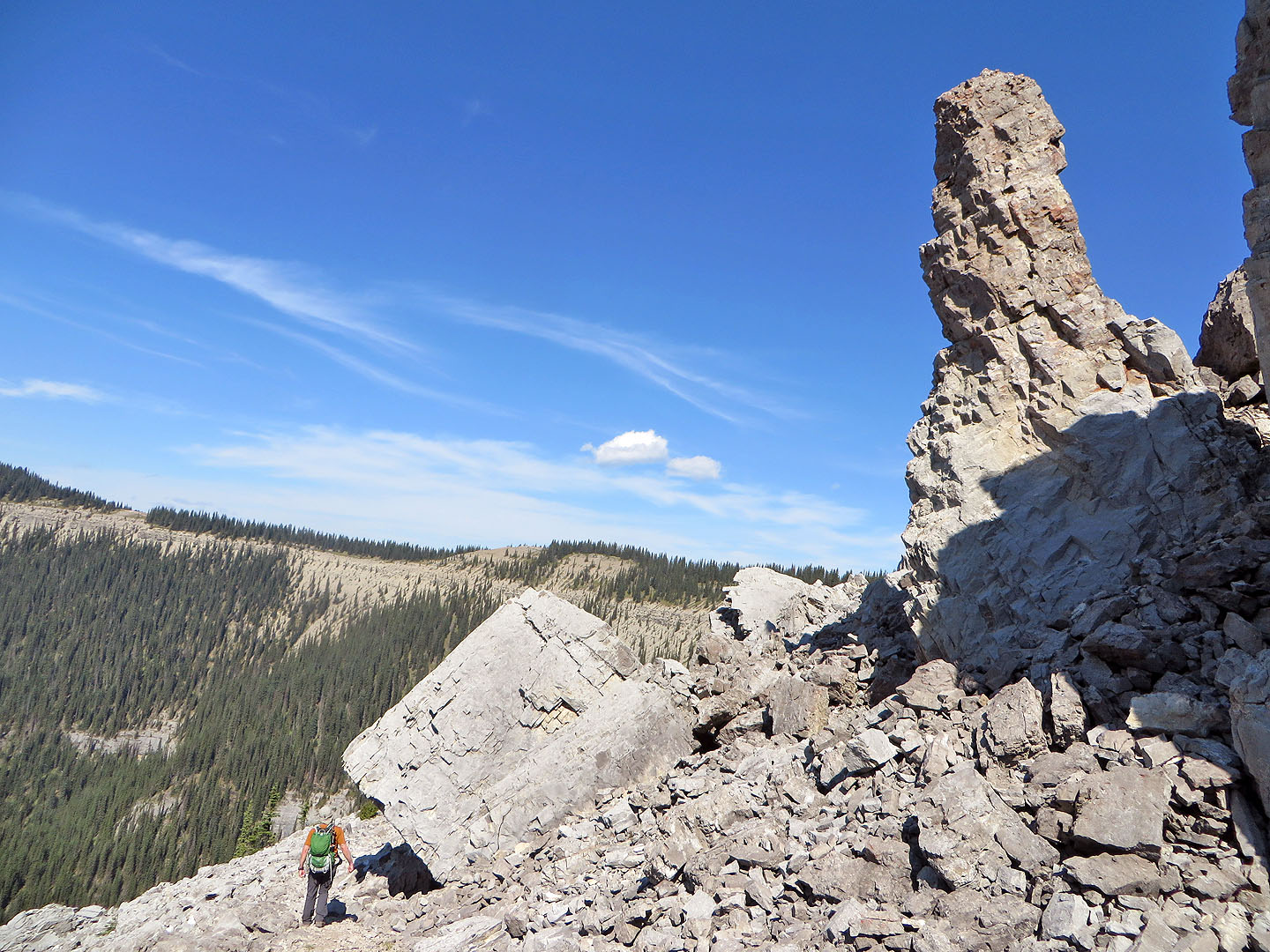 The trail runs below a towering pinnacle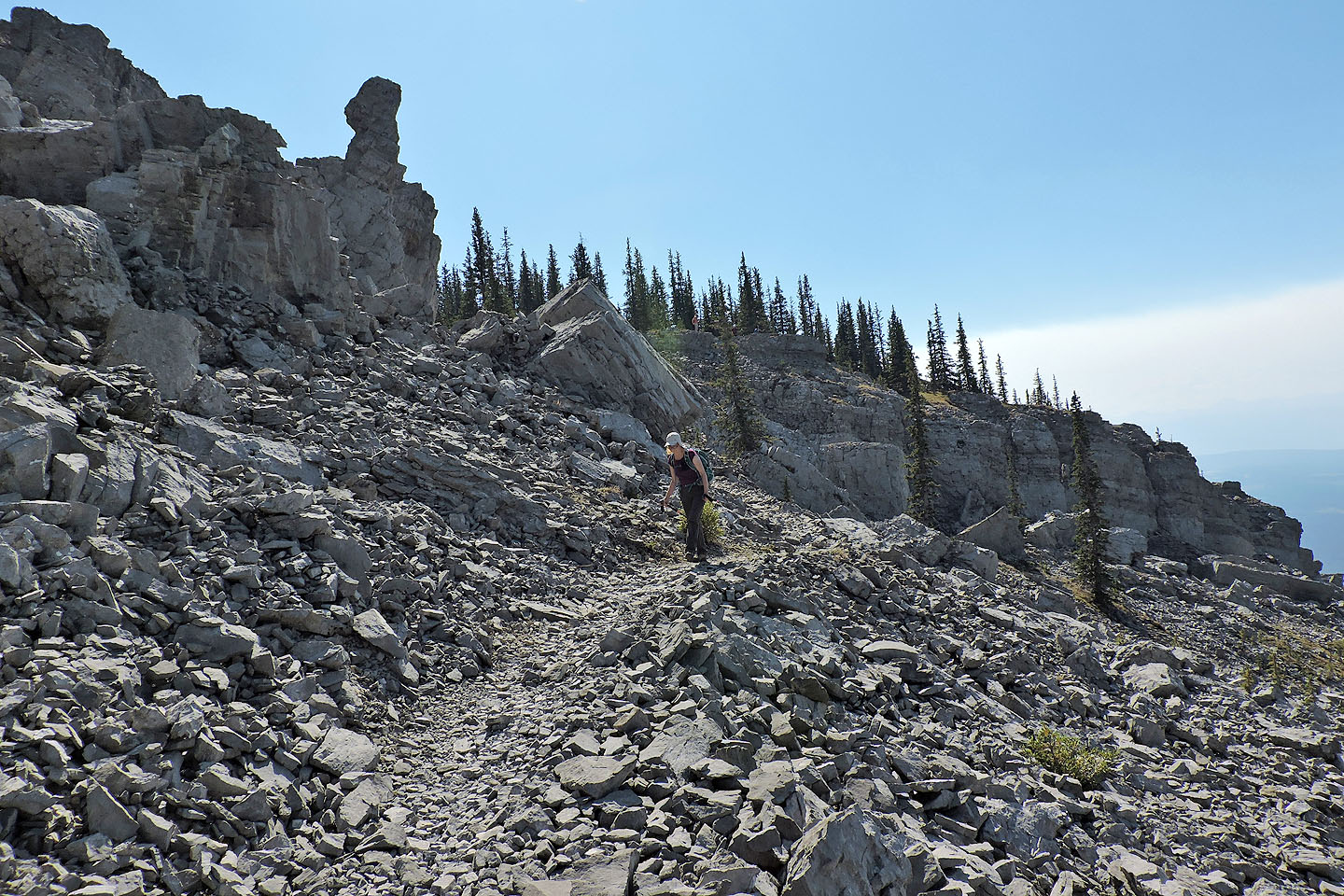 Looking back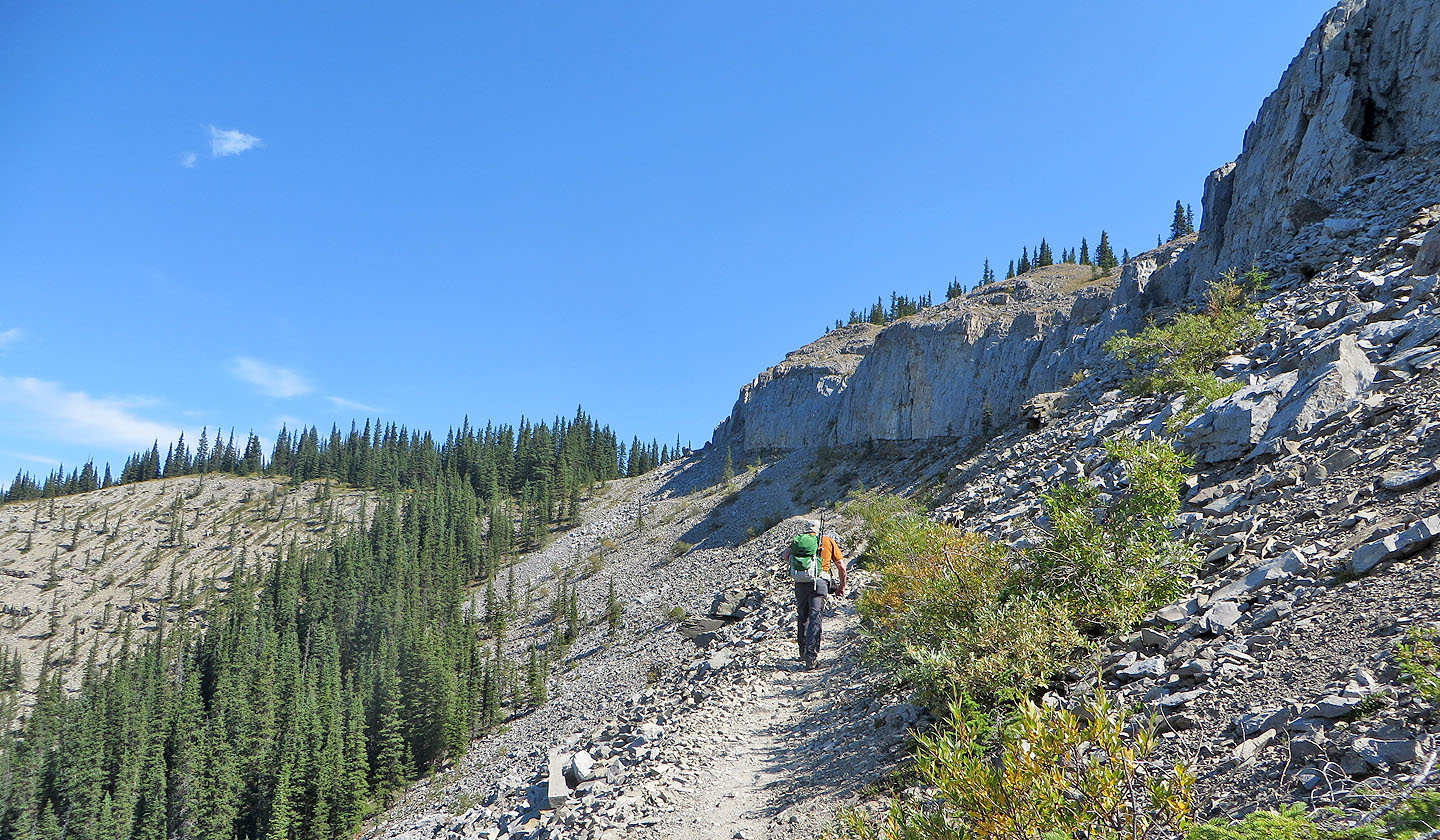 The trail runs below a cliff band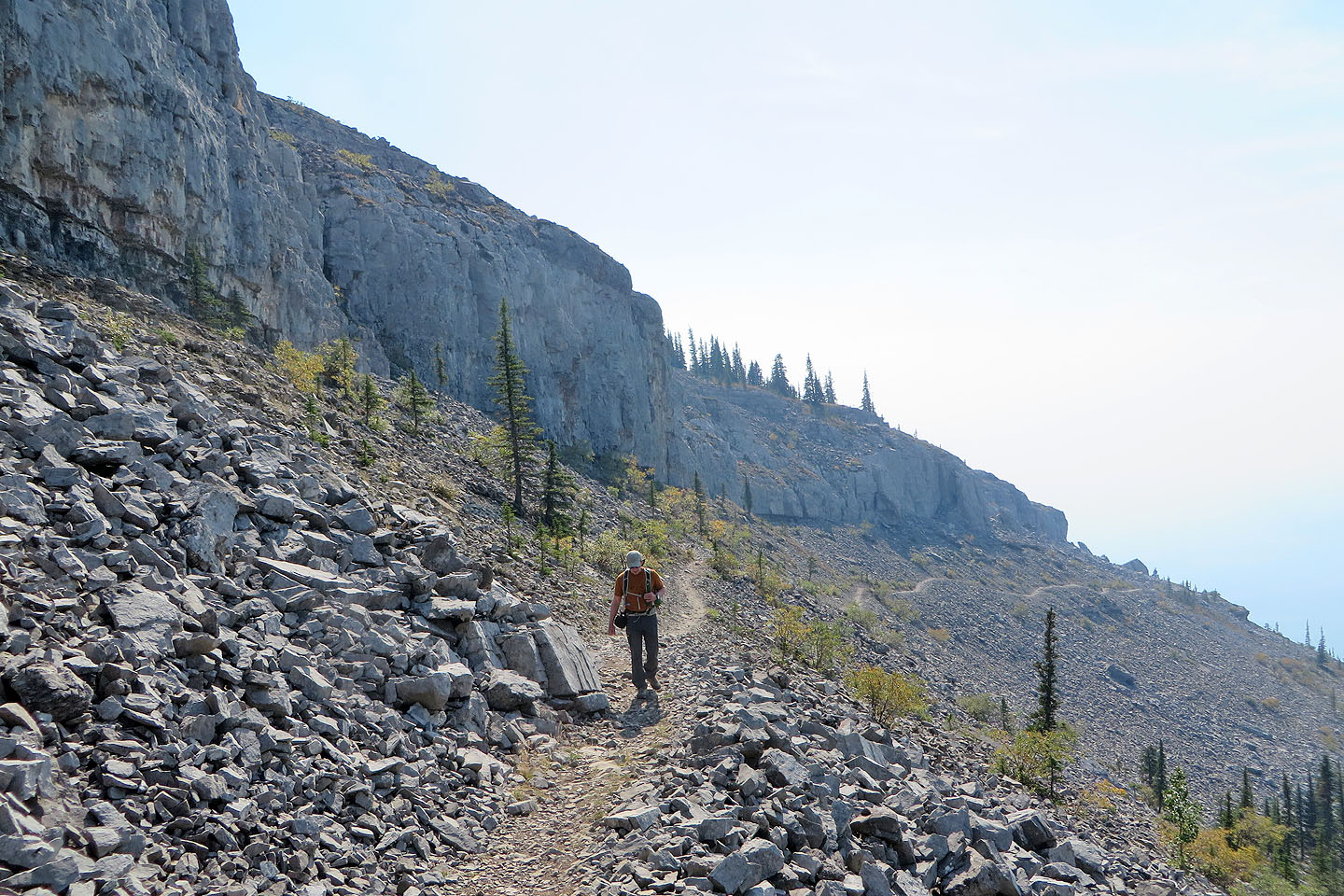 Looking back along the trail in the scree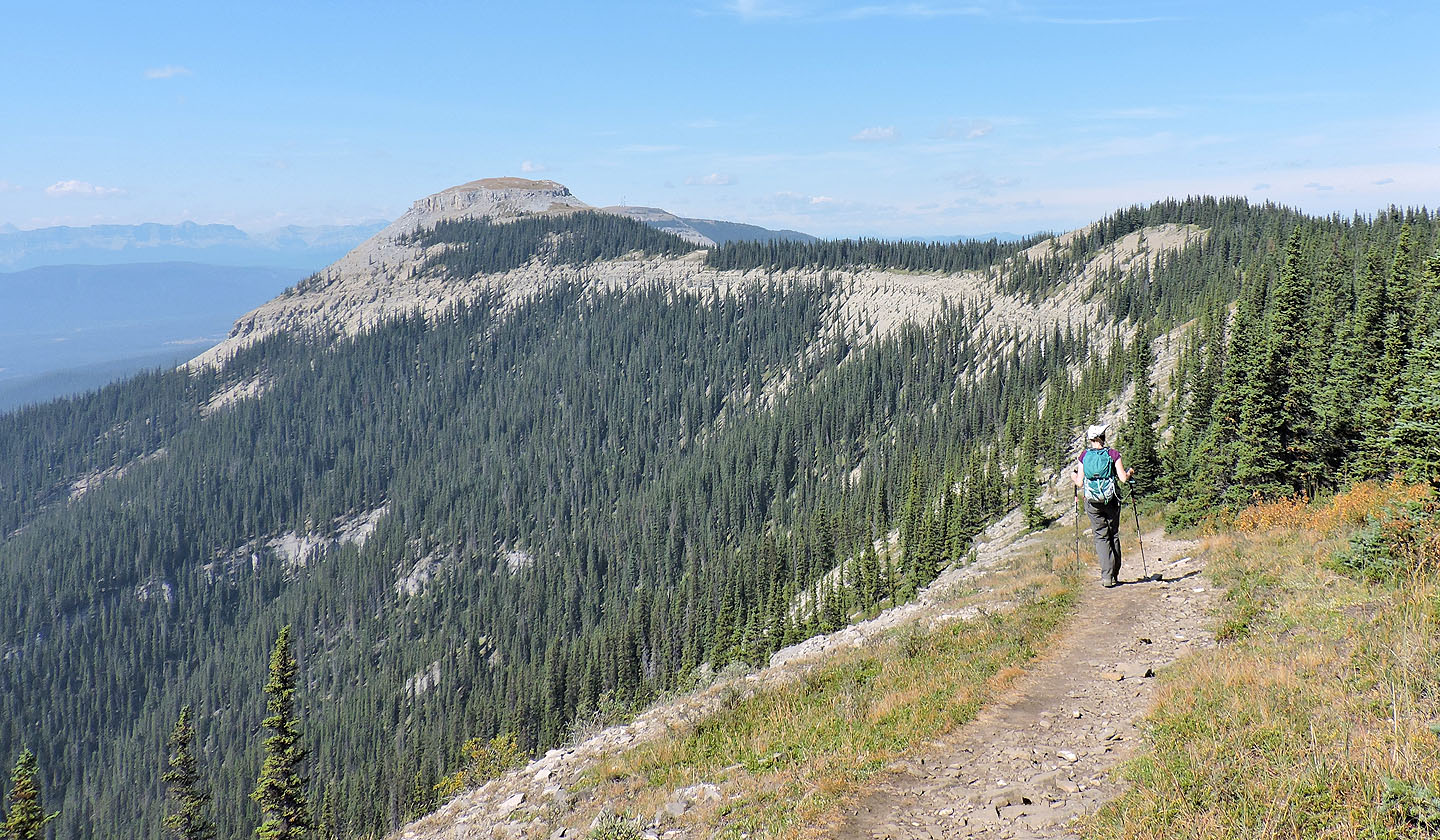 Looking like tiers of a coliseum, the curved, rocky rim gives the mountain its name. By the time we reached the summit, the mountains in the background had disappeared behind a veil of smoke.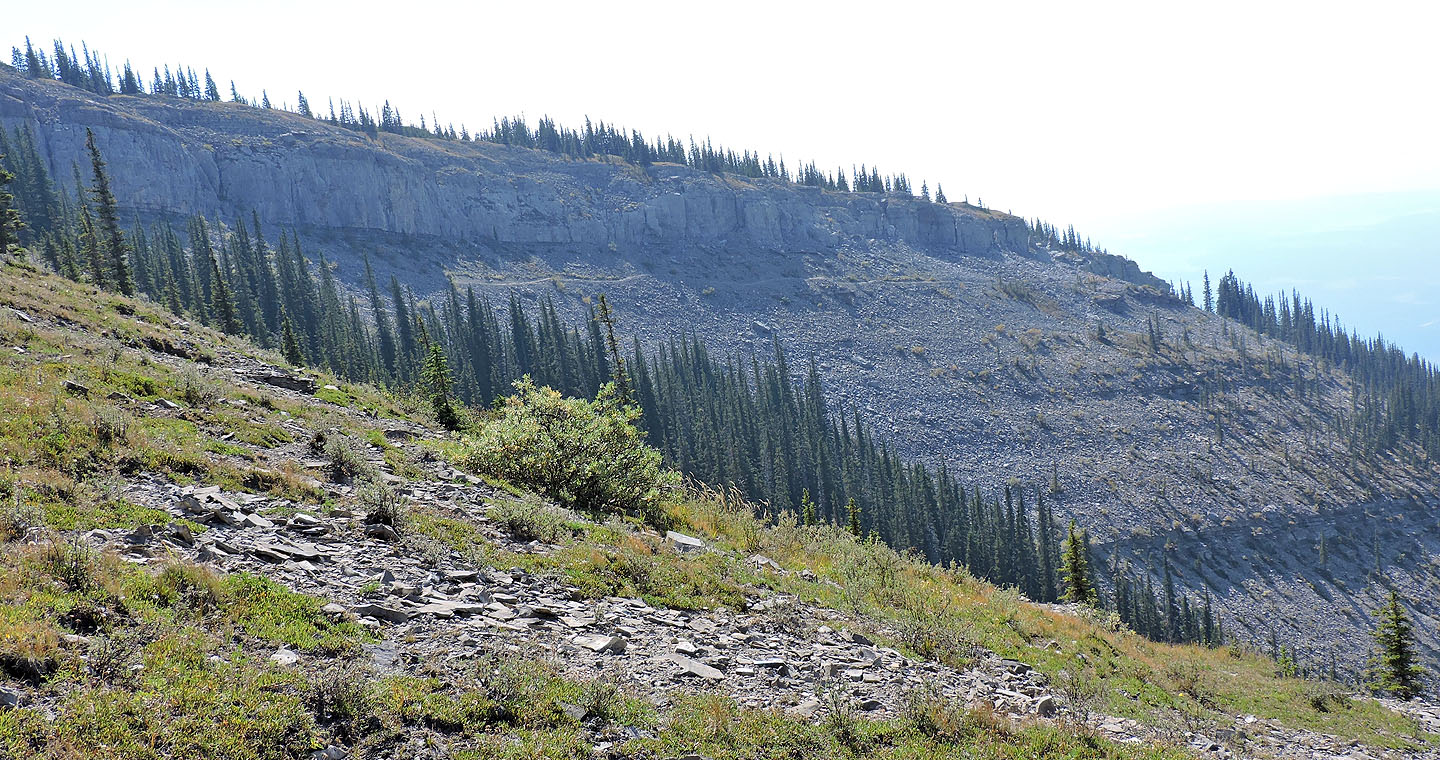 Another look at the trail in the scree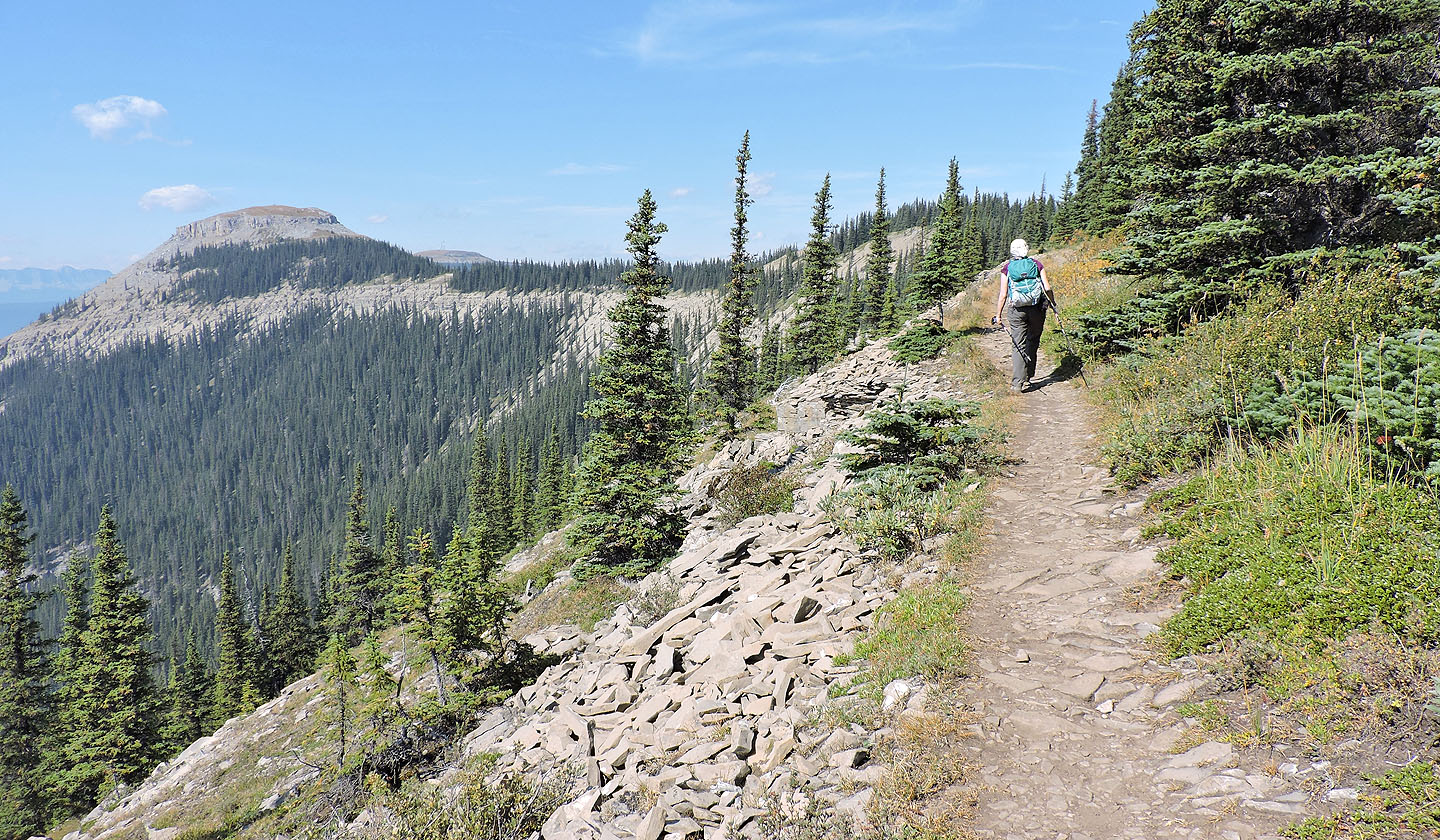 The continues to follow the curve of the ridge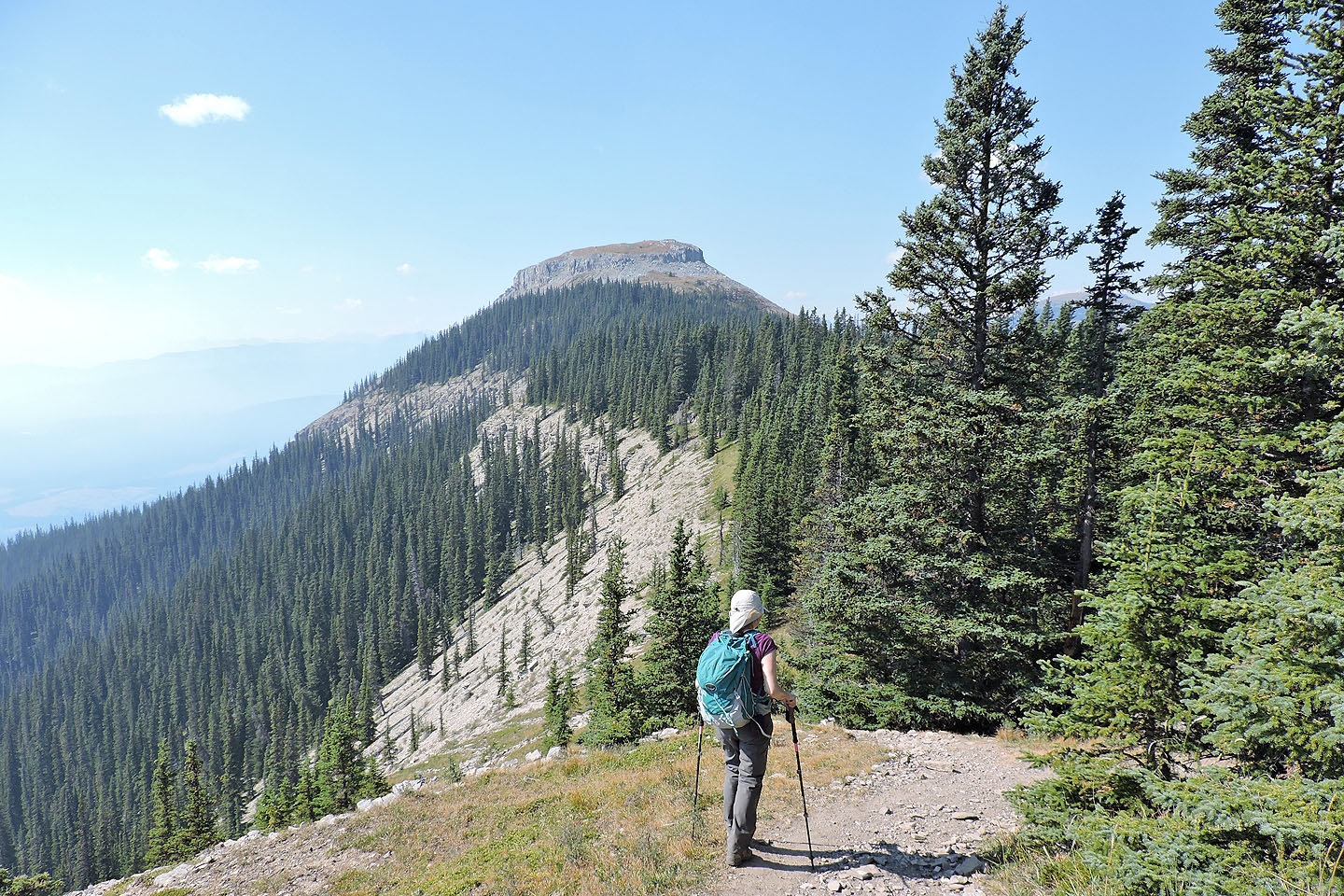 The trail drops into the trees for a time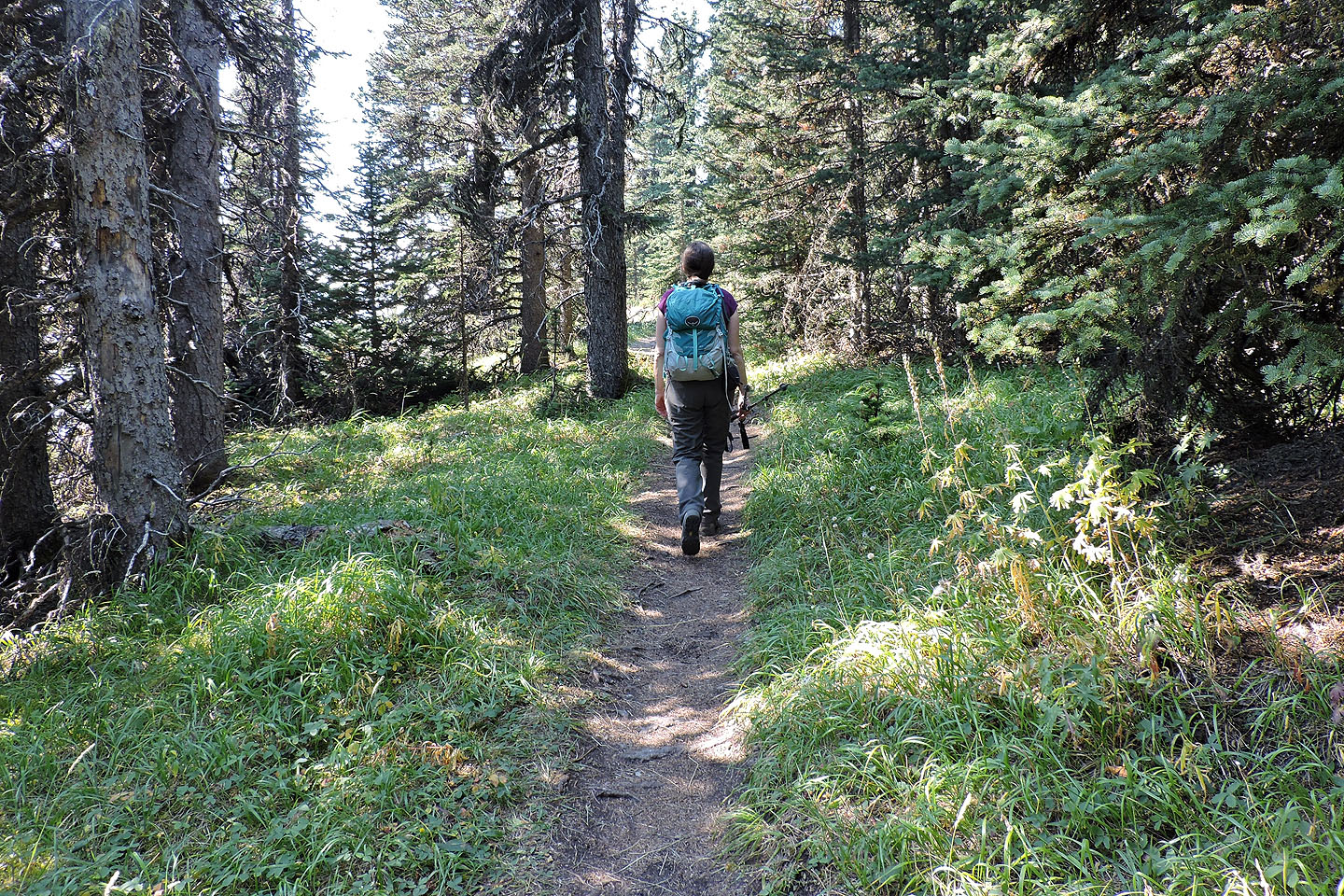 It was a hot day so we welcomed the shade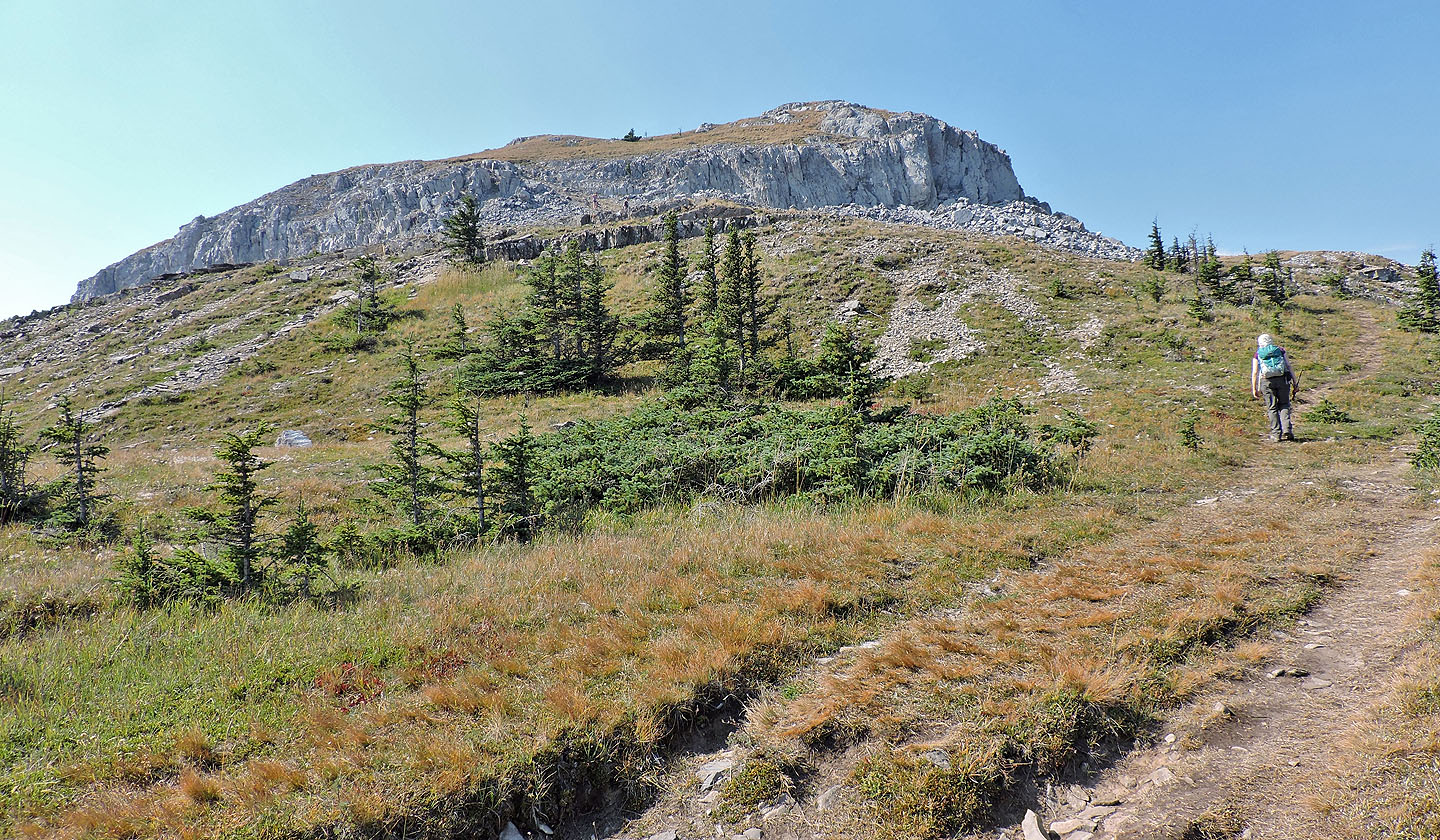 After breaking out of the trees, the summit cap appeared ahead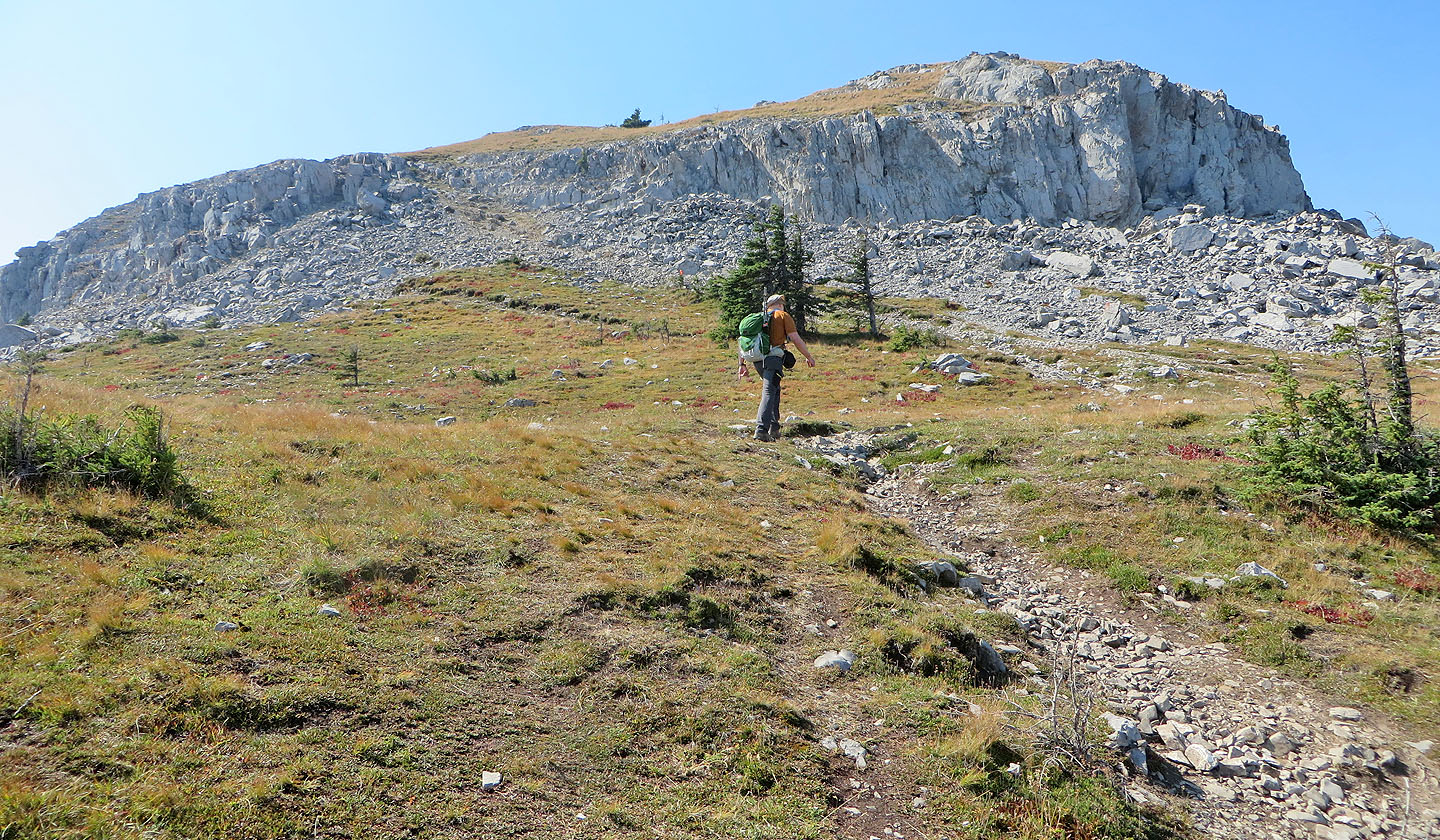 The trail easily ascends a gap in the cliffs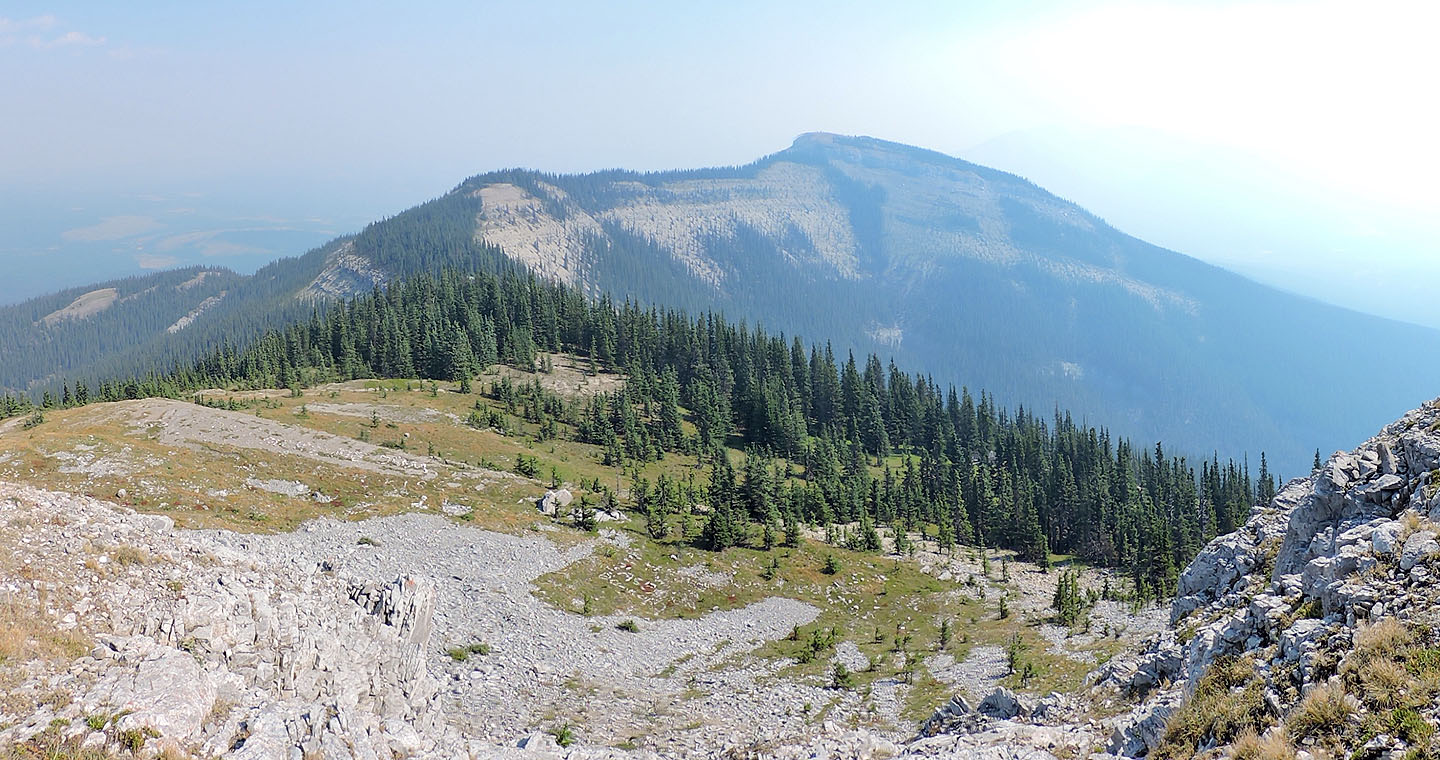 Looking back at the east end of Coliseum from the gap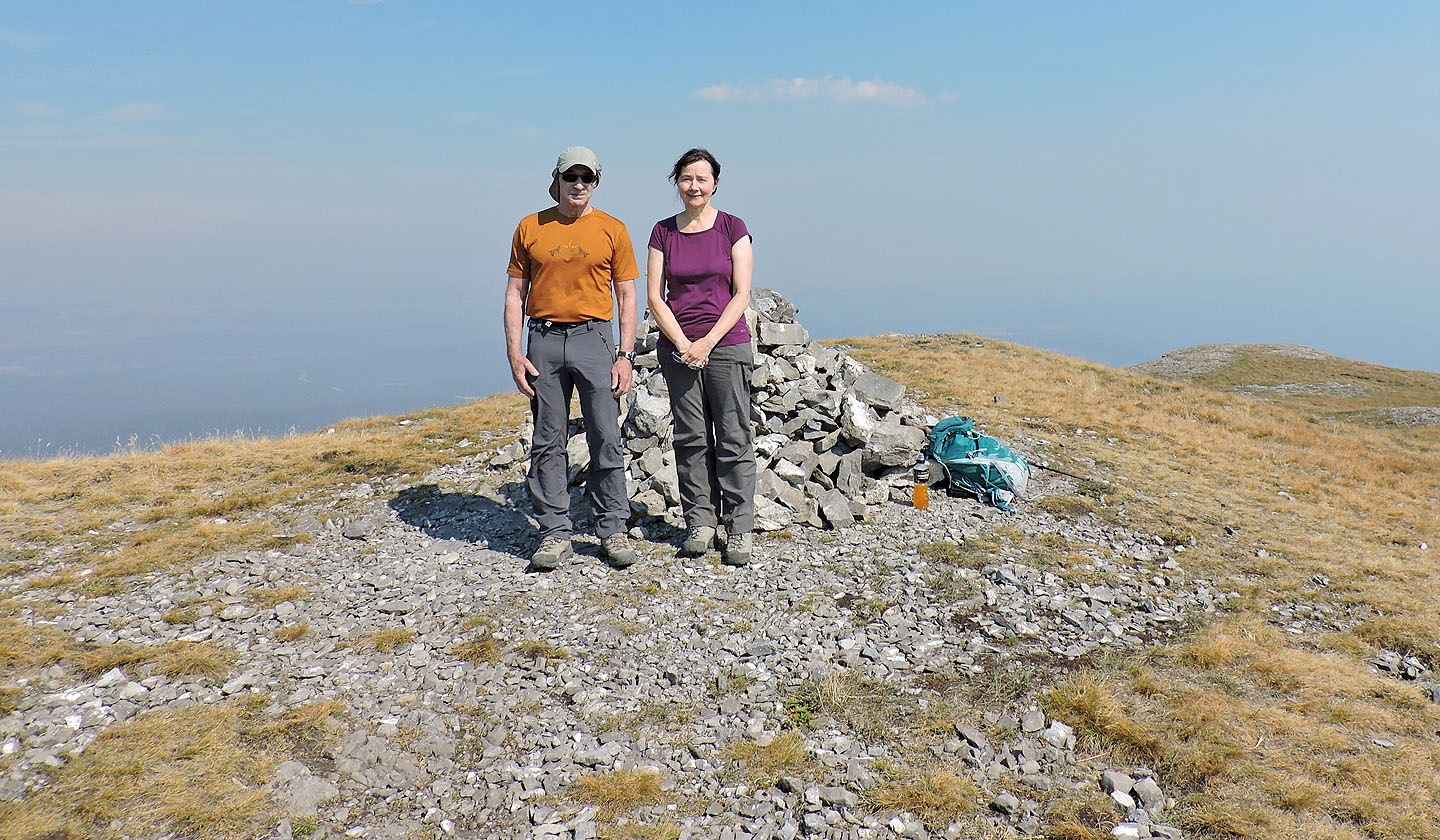 Standing in front of the huge summit cairn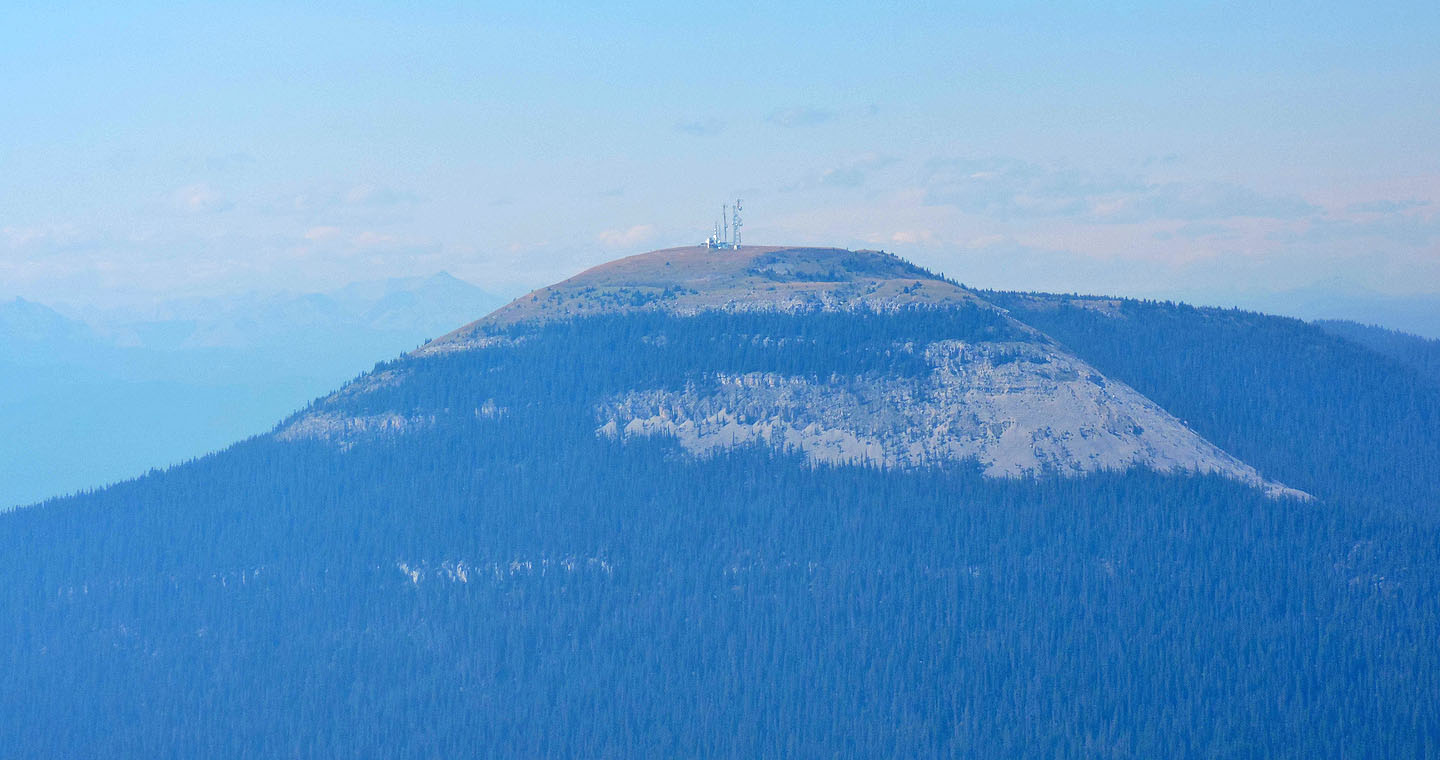 The only peak we could see was nearby Shunda Mountain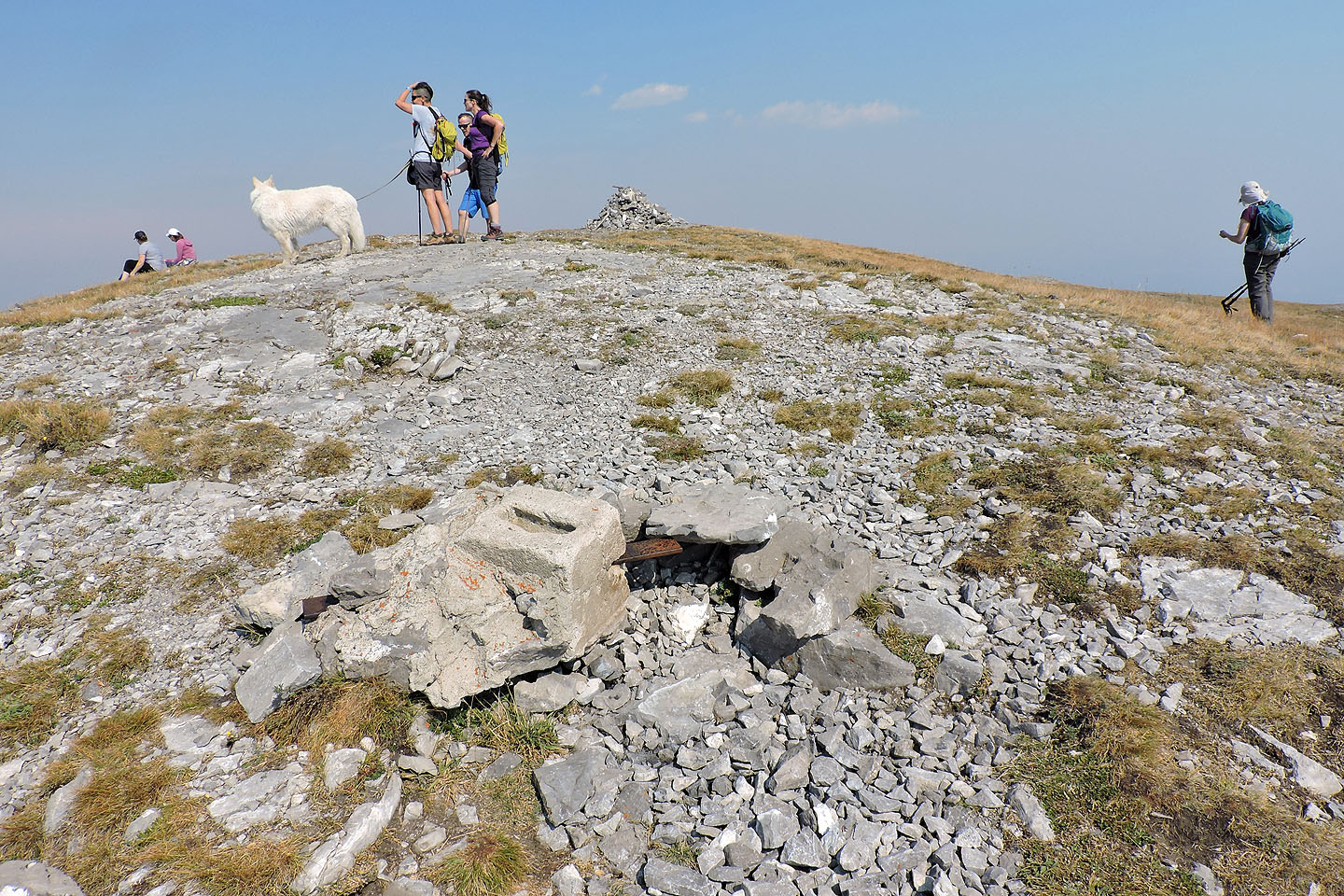 The remains of the foundation of a fire lookout on the summit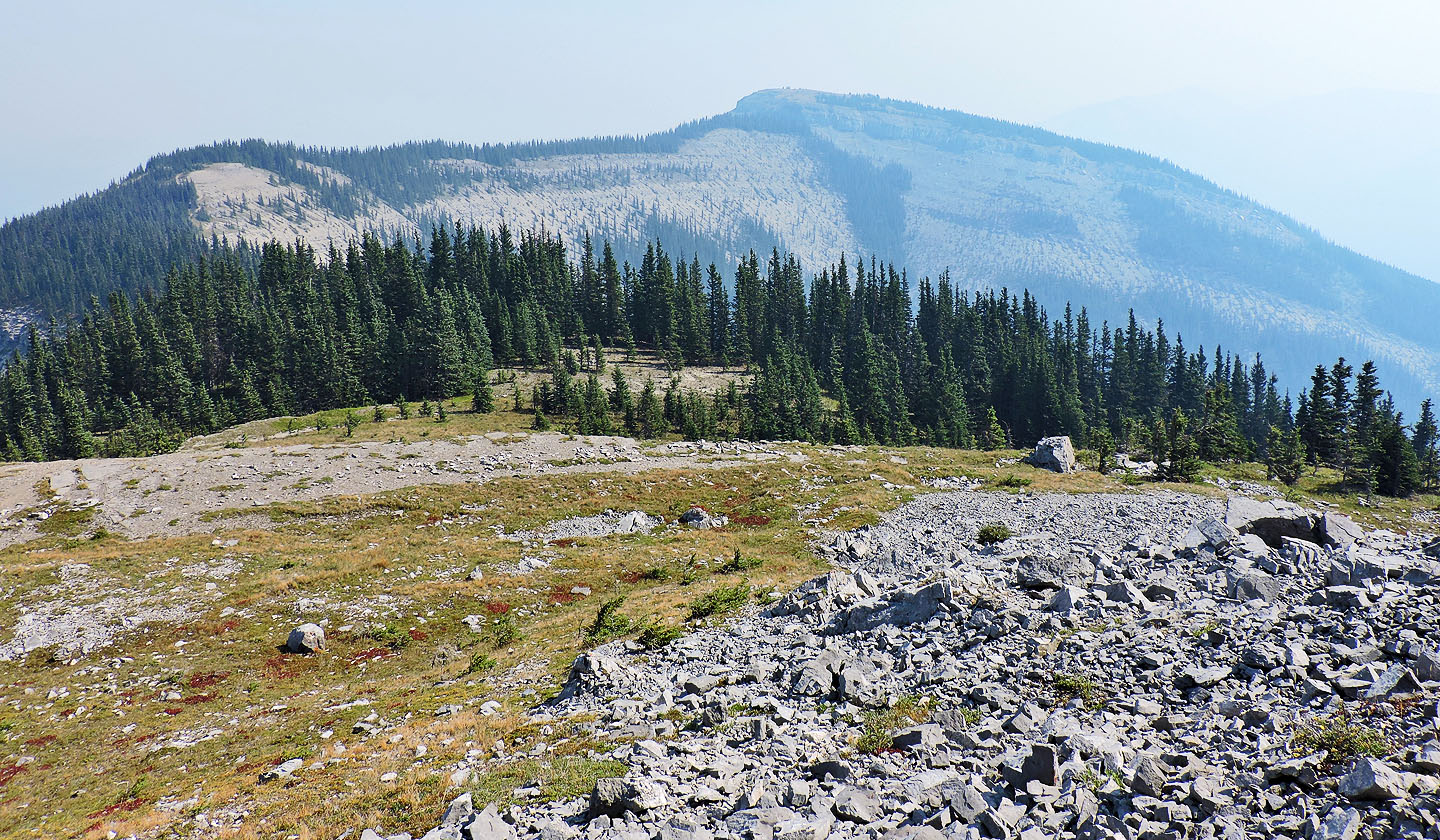 The view ahead as we started back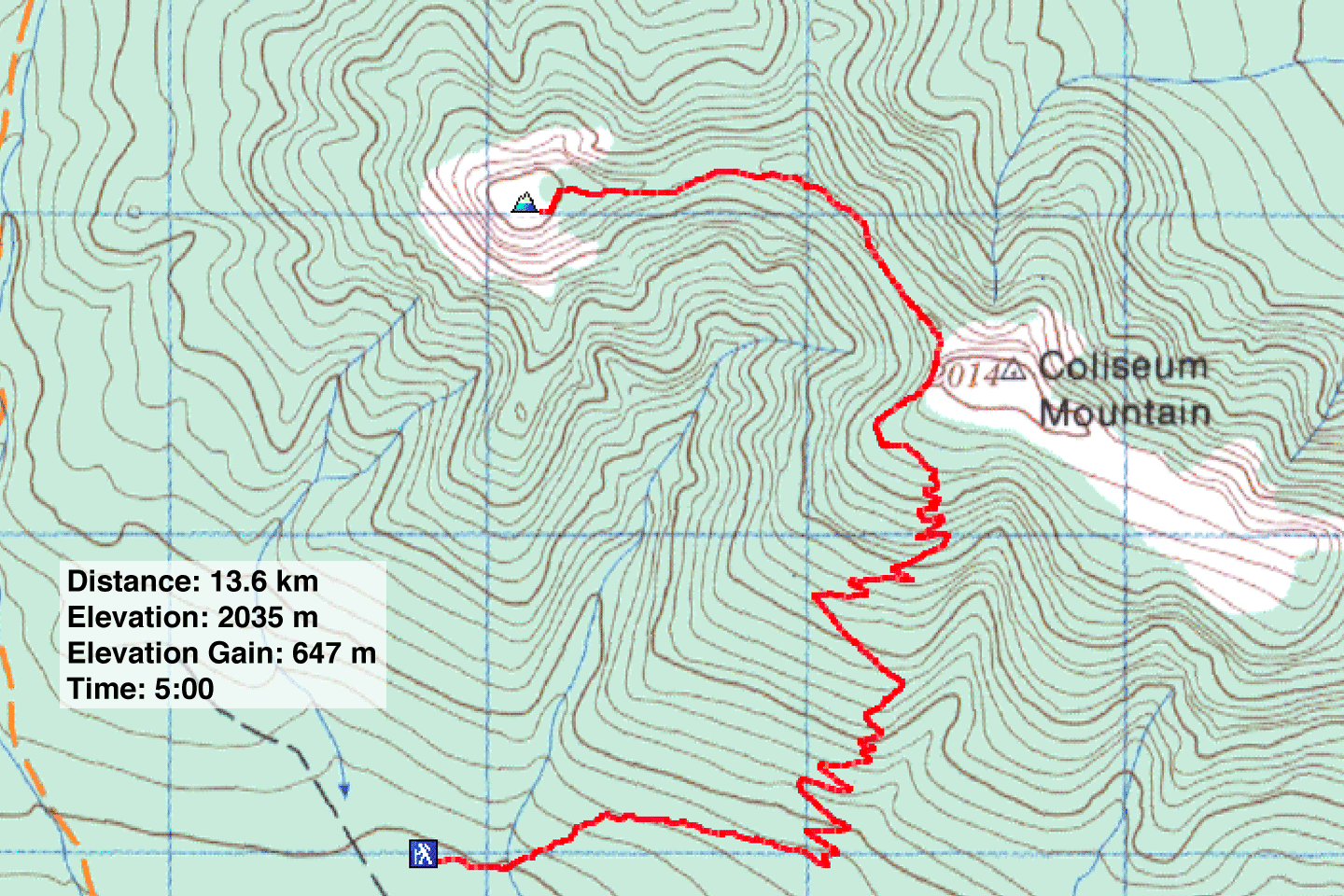 83 C/9 Wapiabi Creek