bobspirko.ca | Home | Canada Trips | US Trips | Hiking | Snowshoeing | MAP | About

"Cougar Creek Loop"
Kananaskis, Alberta
April 9, 2005
Distance: 20.2 km
Cumulative Elevation Gain: 1045 m

Cougar Creek Loop has little to recommend, but at this time of year there are few options. However, it gave us a chance to study possible summits to attempt another time. After a long approach, we only reached the base of a cliff, not even a summit.
Following a creek won't result in a loop, of course, but after hiking up Cougar Creek we took the east fork, climbed over a ridge, and returned on the northwest fork.
When we set out on the trail, I was hoping to reach a ridge in an area that was rugged, rife with cliffs. Summiting was out of the question, but I wanted to climb at least high enough to view the surrounding peaks.
Initially we thought we could hike up the right fork and climb the skyline ridge. However, an hour later the skyline ridge was still far away, so we left the creek and blindly headed up a wooded slope.
Much of it was steep and wooded. I was concerned we would have to turn back, but eventually we appeared on a knob. From there we could see a scree gully that looked possible to ascend, although a cliff above it barred the way from climbing higher. After working through more trees, we came out on the gully. We struggled up the scree to a cliff face and then headed left along its base. We soon reached a corner at the cliff base which was as high as we could go. Everywhere impossible cliffs towered above us.
Rather than go back the same way, we decided to take a chance and descend the west slope. We soon hit a cliff band that worried us; if forced to turn back it would have made for a very long day. But after following it a short way, the cliff ended and we dropped down to the creek bed of the left fork.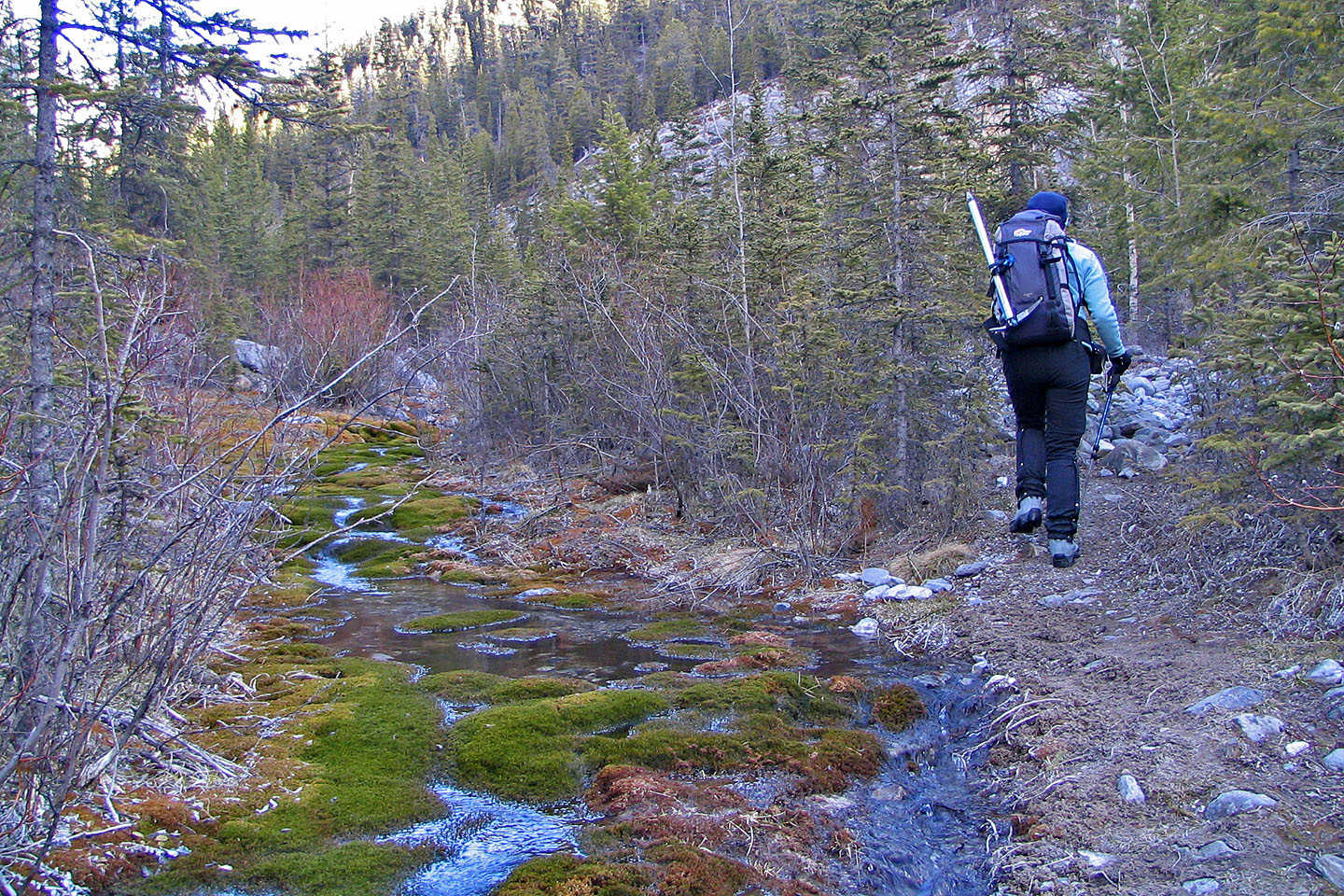 Hiking up Cougar Creek

Ice forms patterns on Exshaw Creek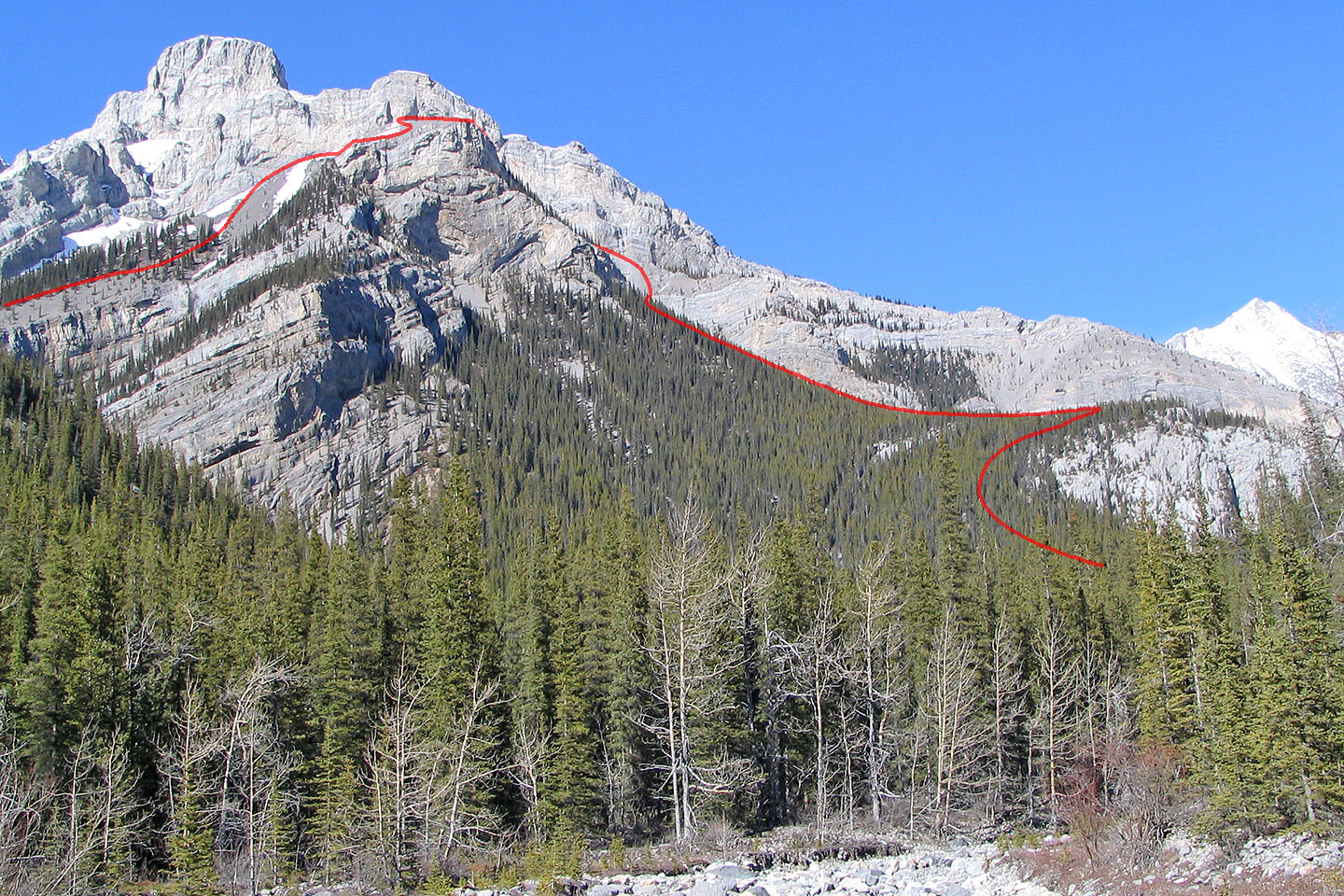 After hiking 2 hours and 7 km, our goal came into view. Our route runs left to right, partially hidden in a gully.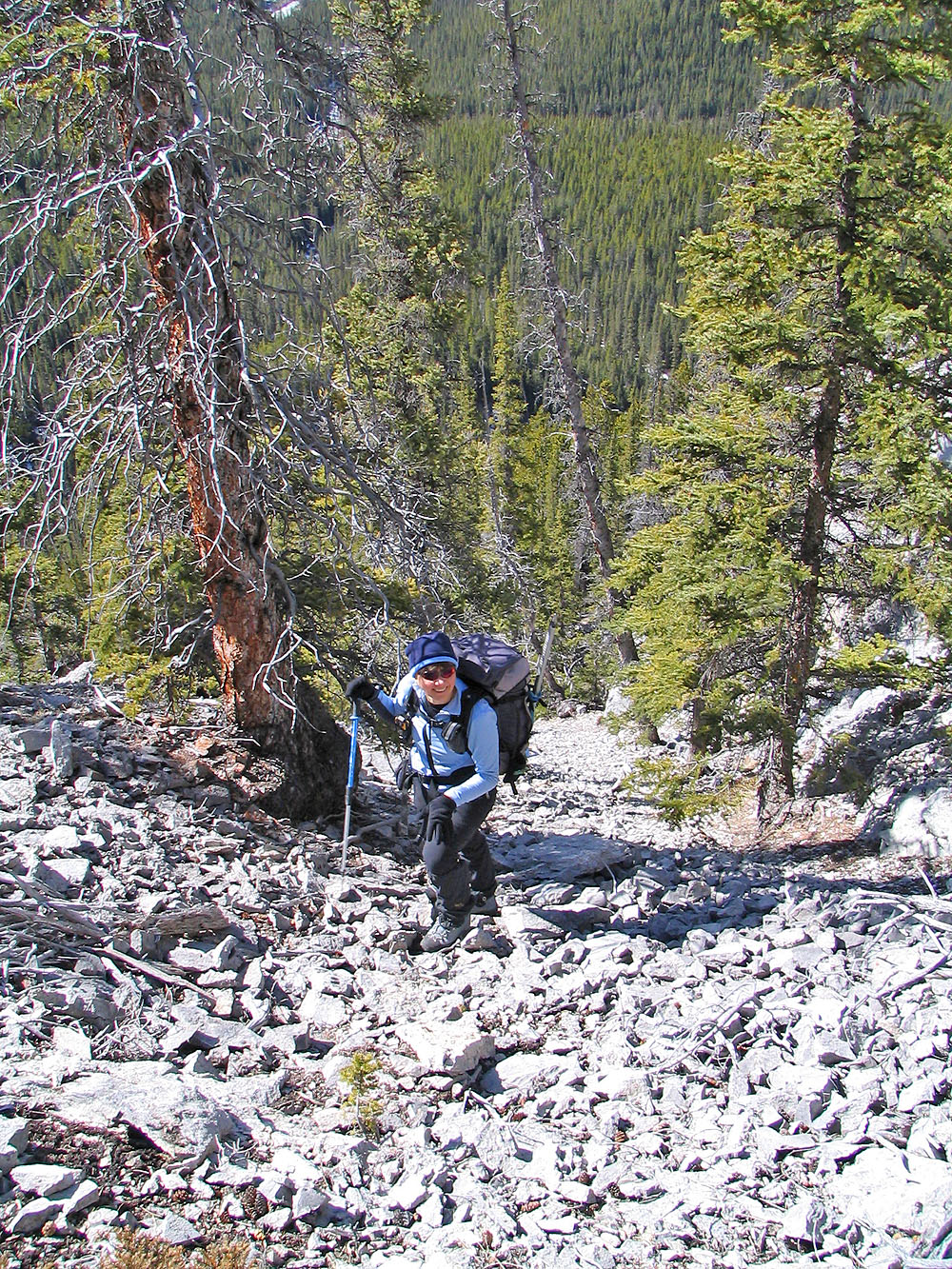 Hiking up the slope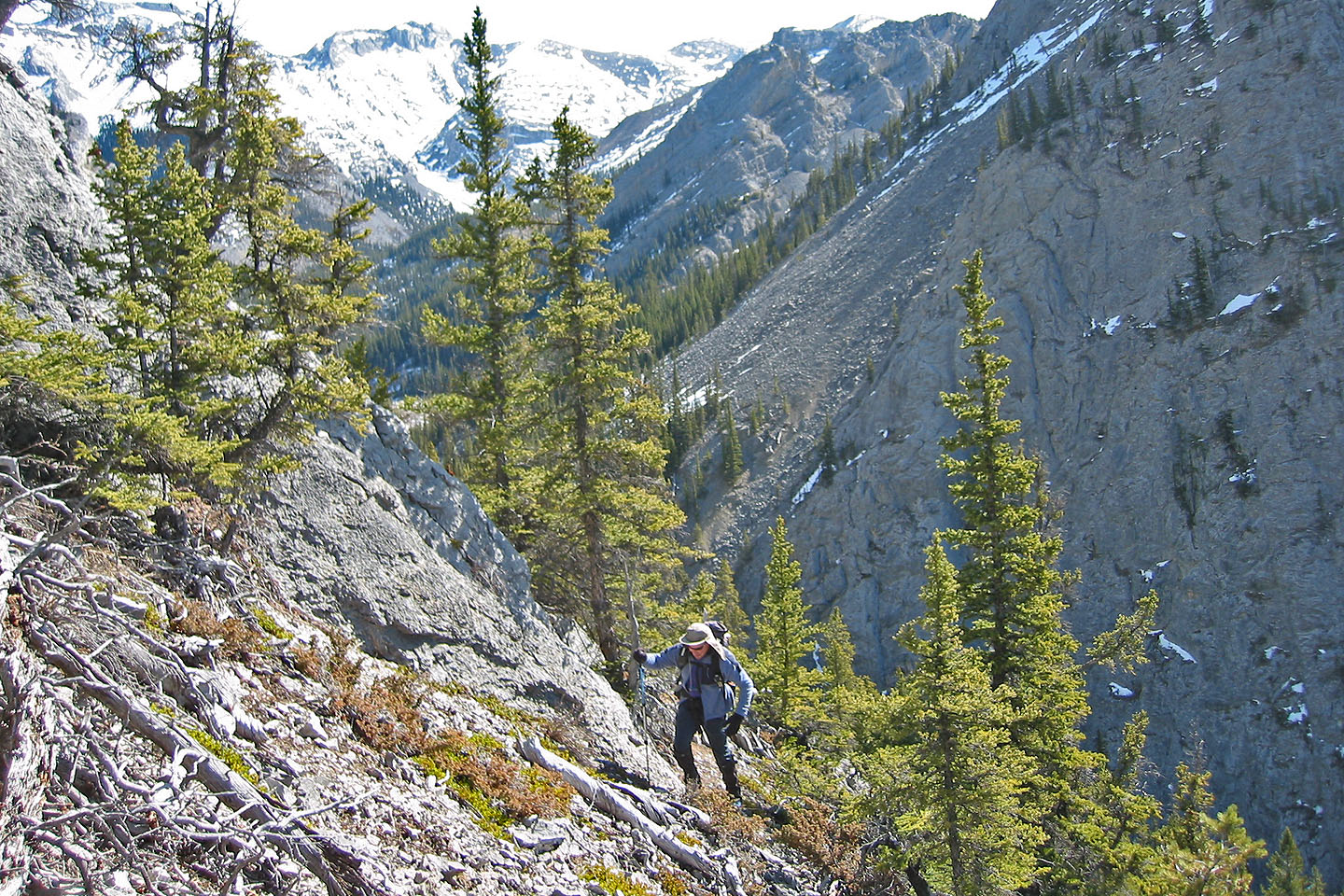 Mostly we bushwhacked up the slope; there were few breaks in the trees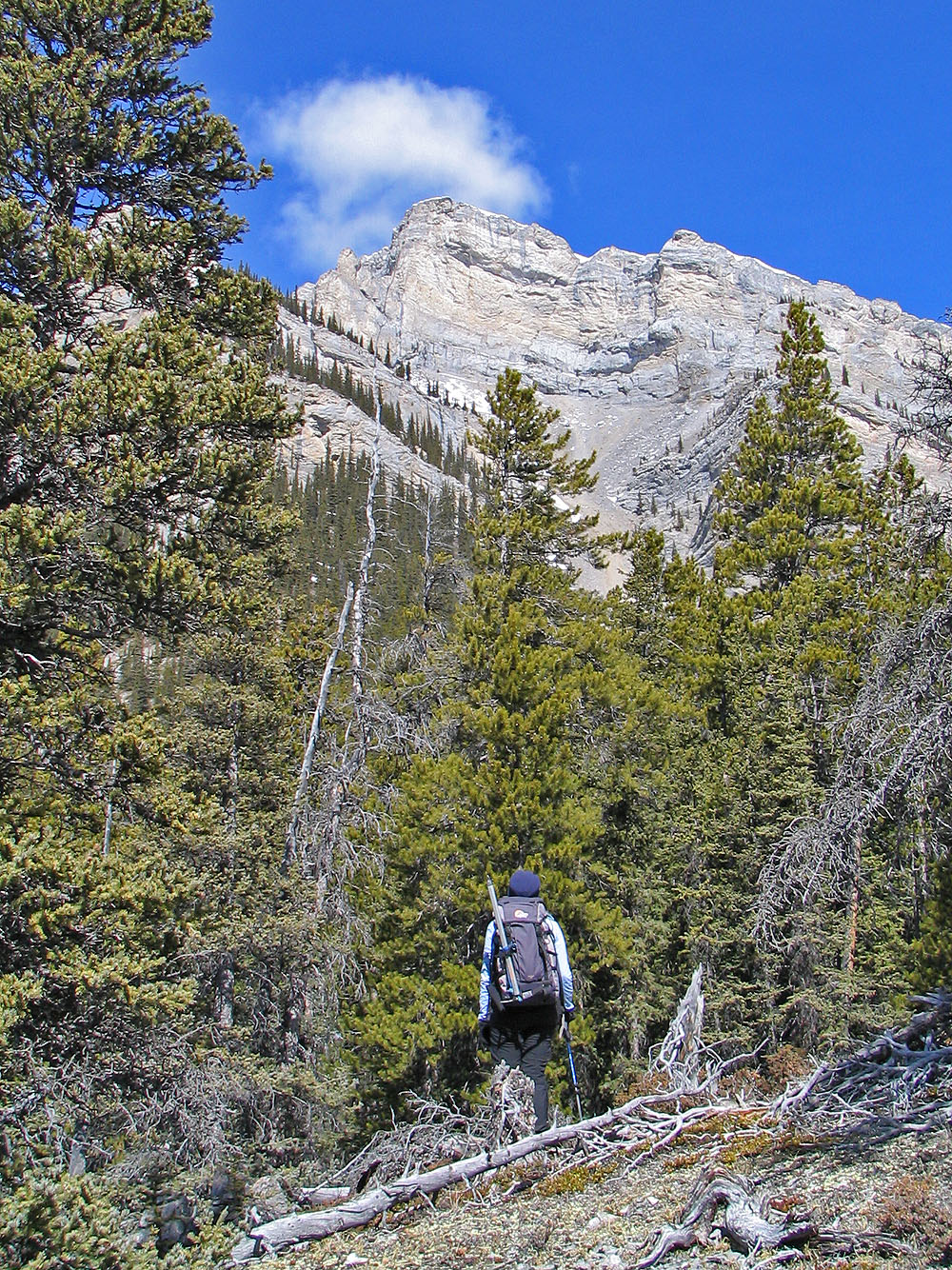 Looking up at our ascent gully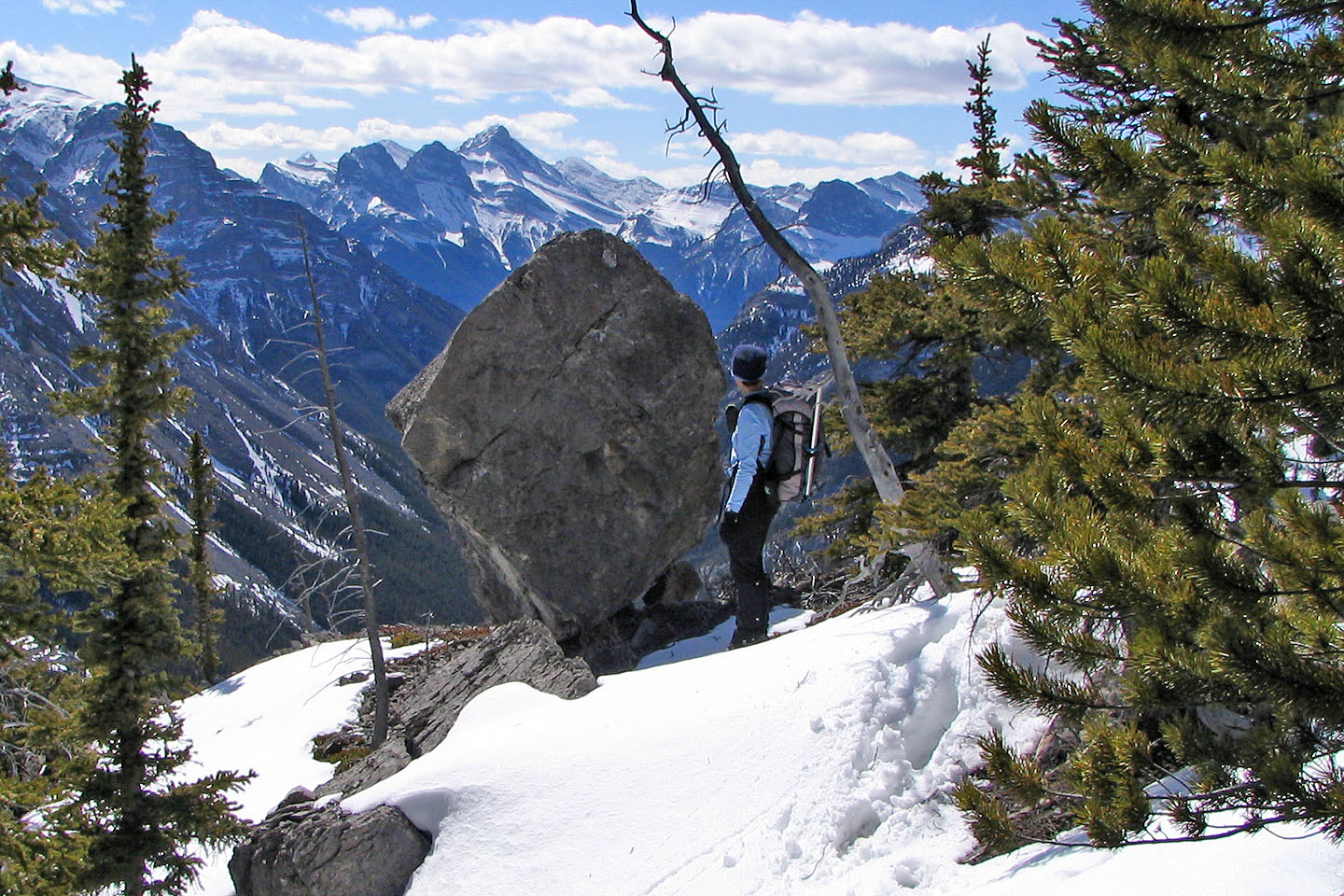 In the background are The Three Sisters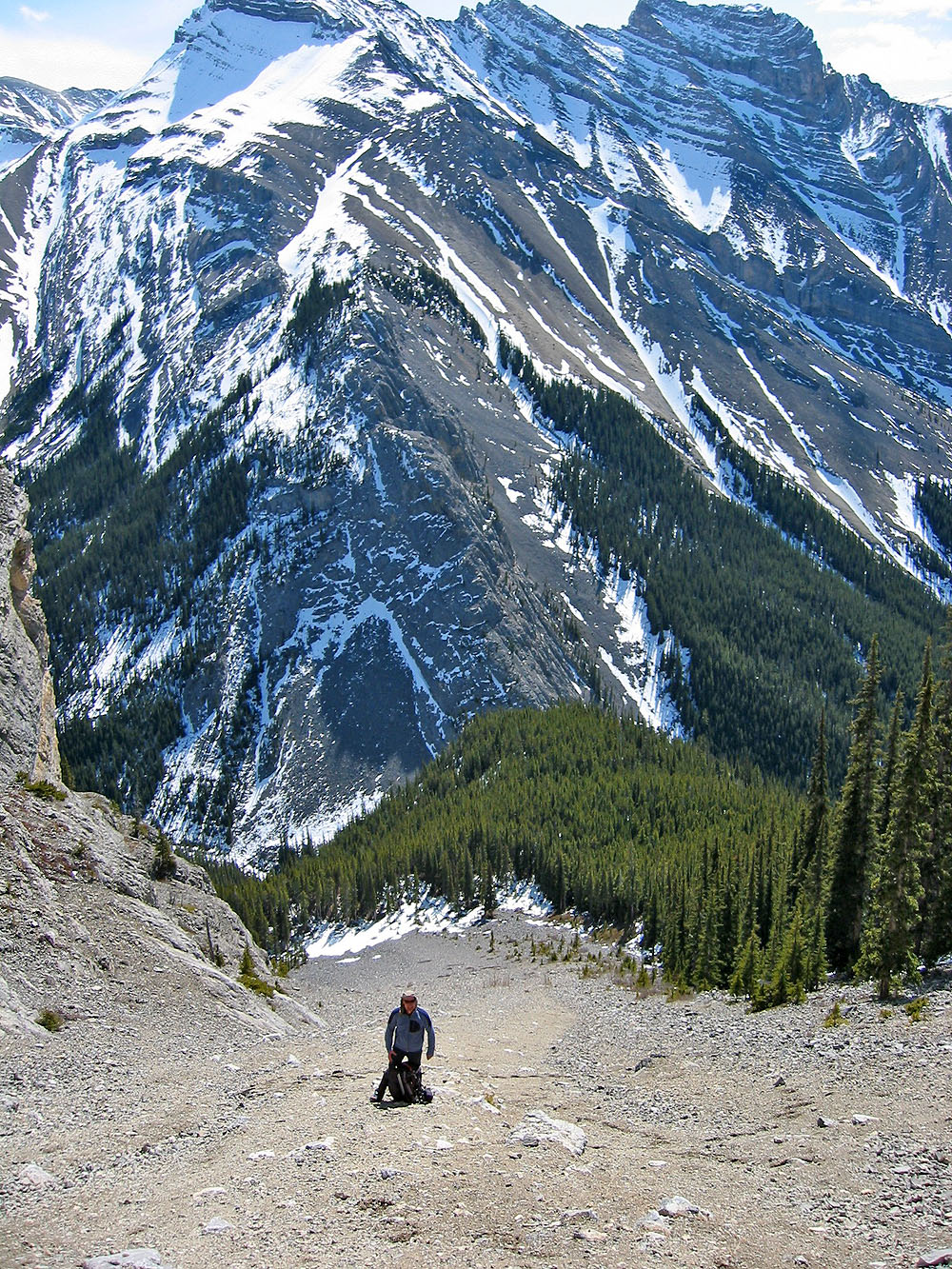 Heading up the scree gully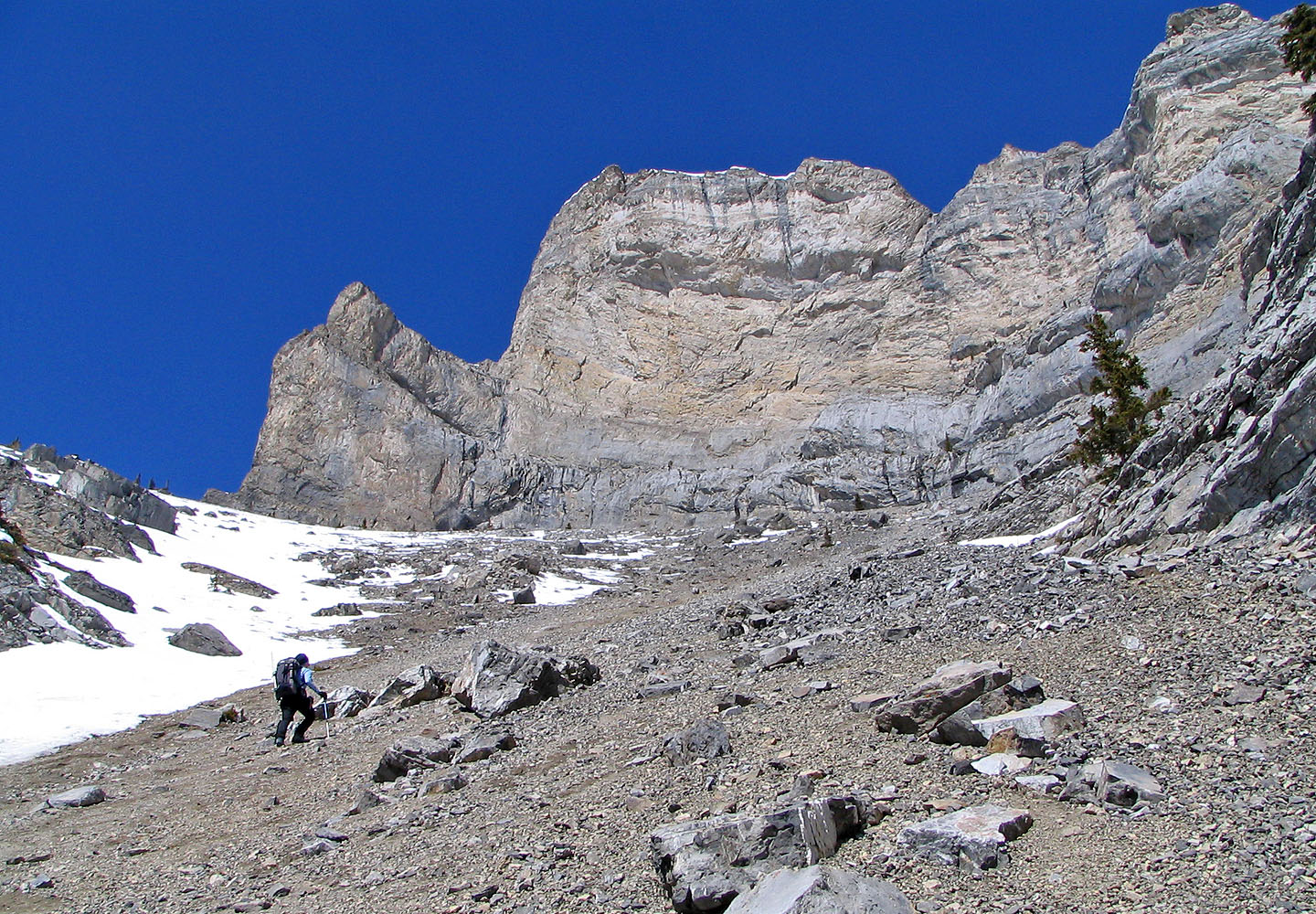 Huge cliffs blocked the way ahead so we went left

At the base of the cliffs. Mount Fable on the right.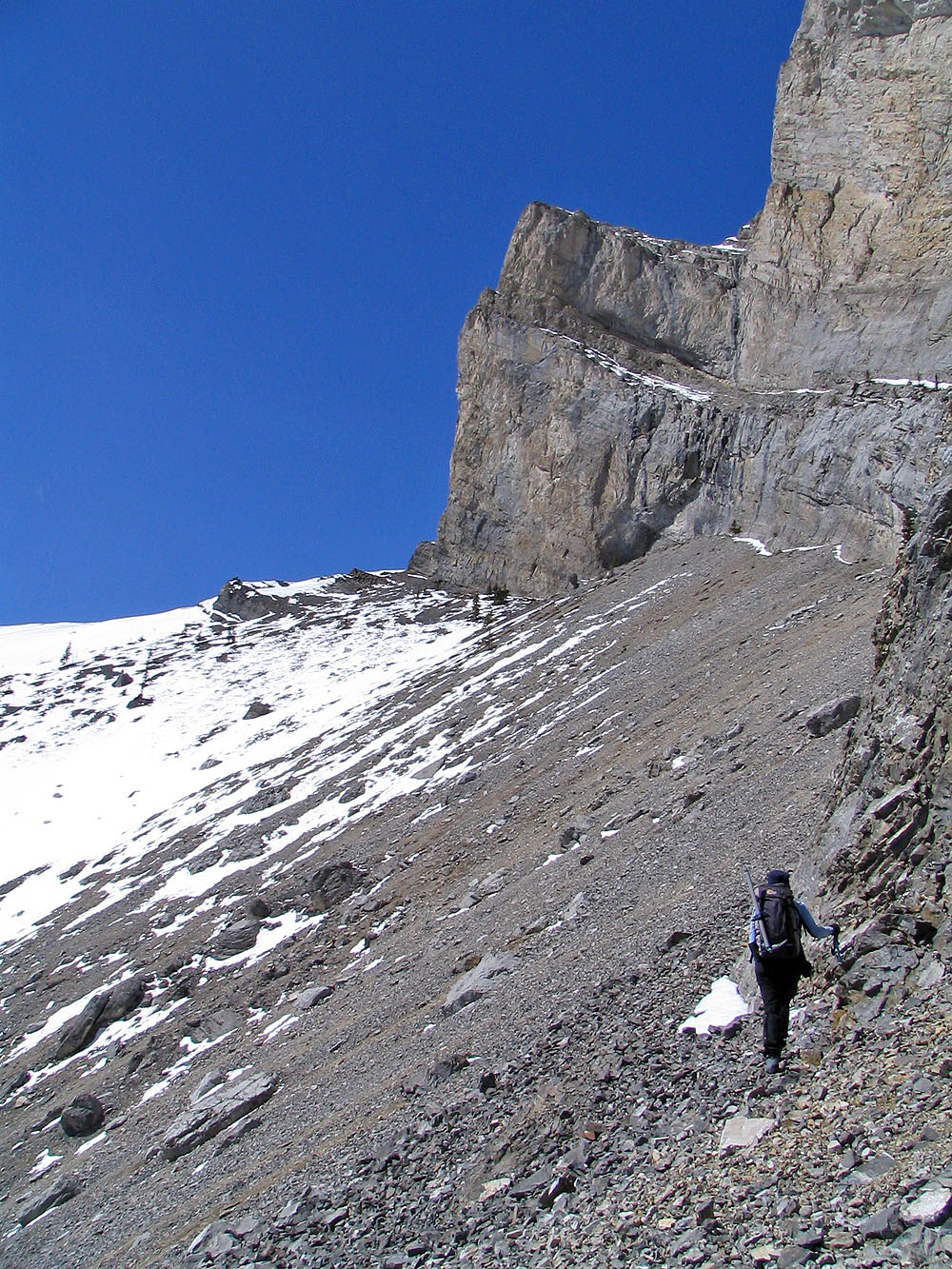 We climbed as high as we could, to the rock corner ahead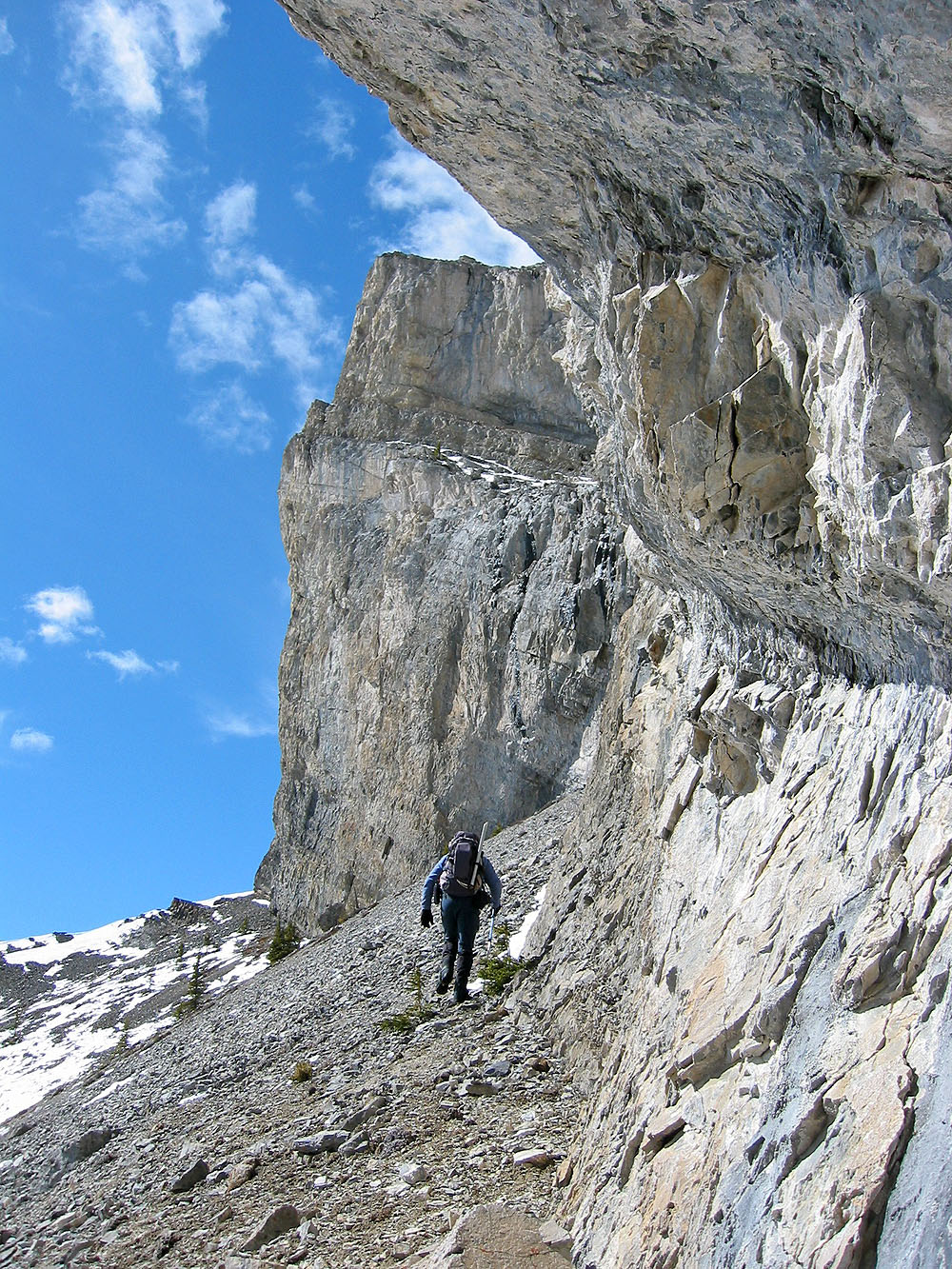 Following the base of the cliffs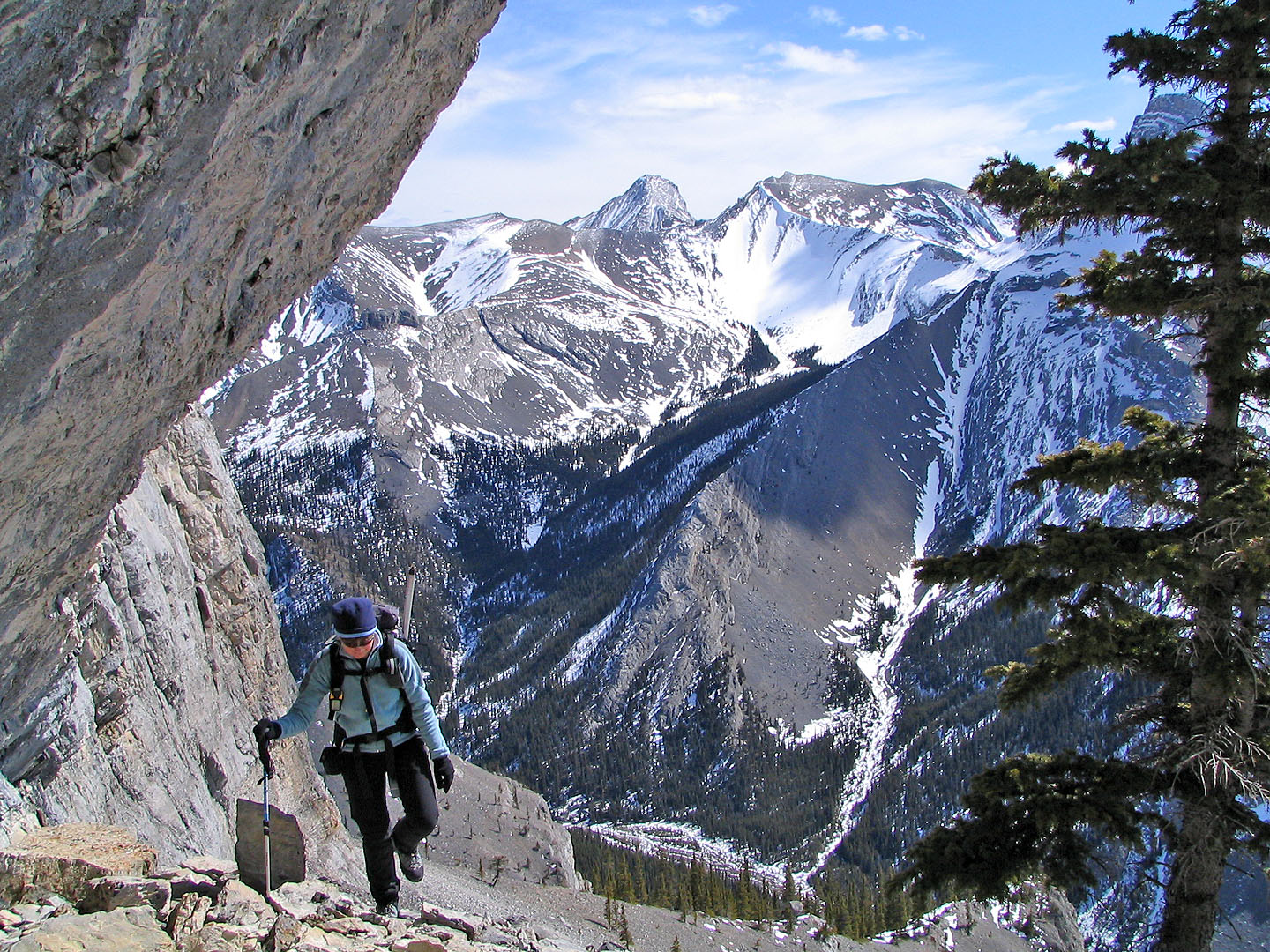 Mount Fable in the background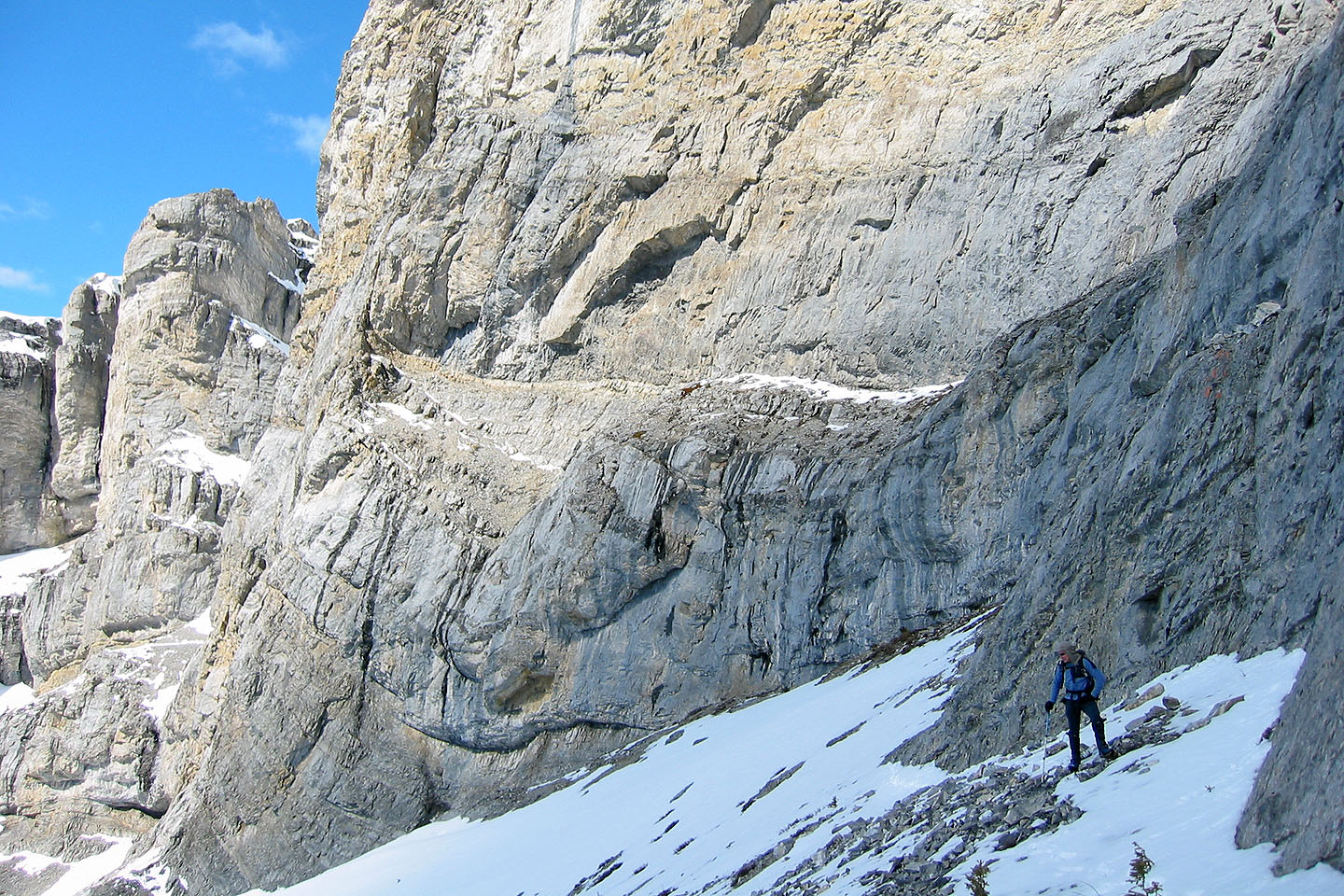 We reached a dead end as far as a vertical ascent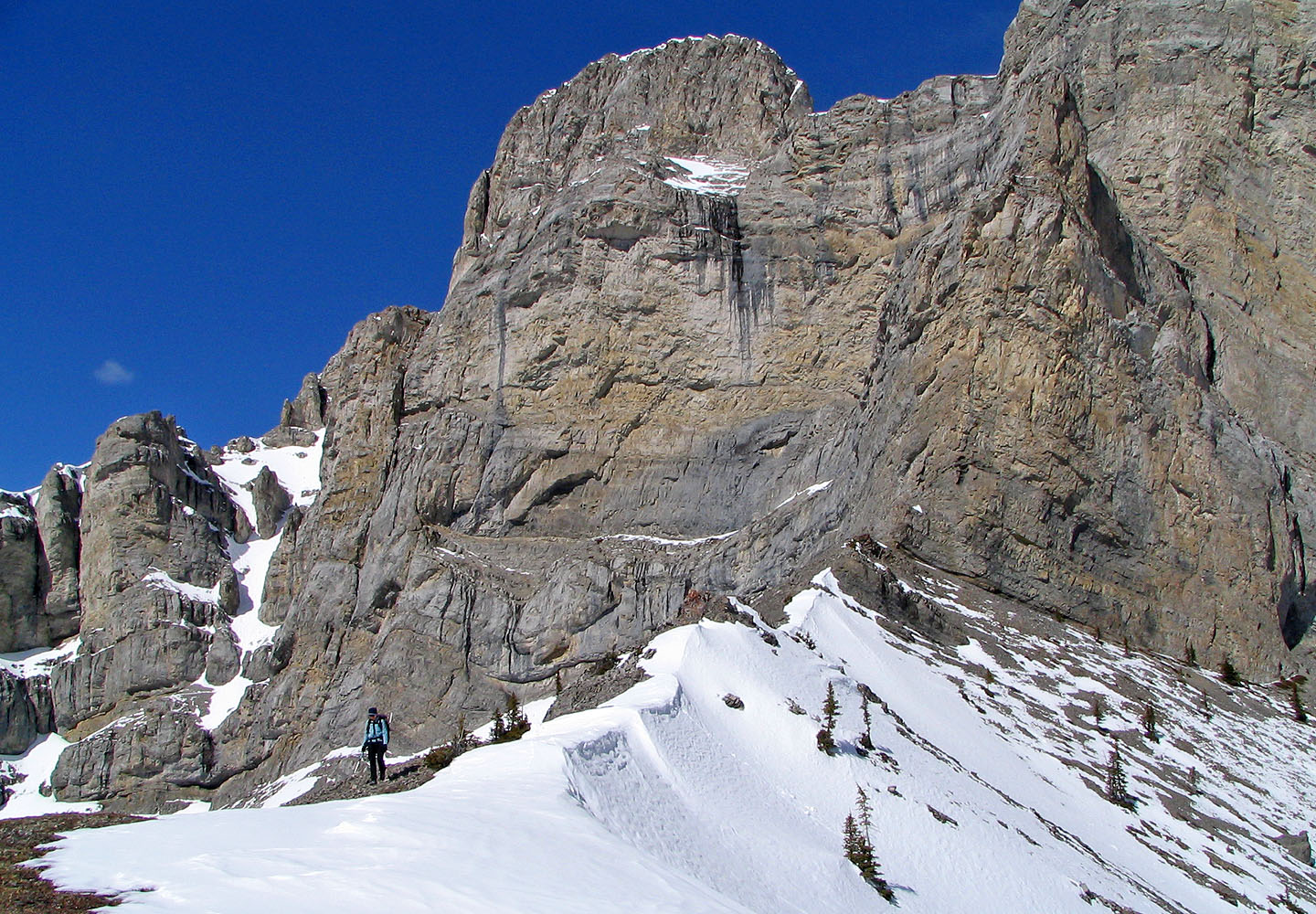 Heading down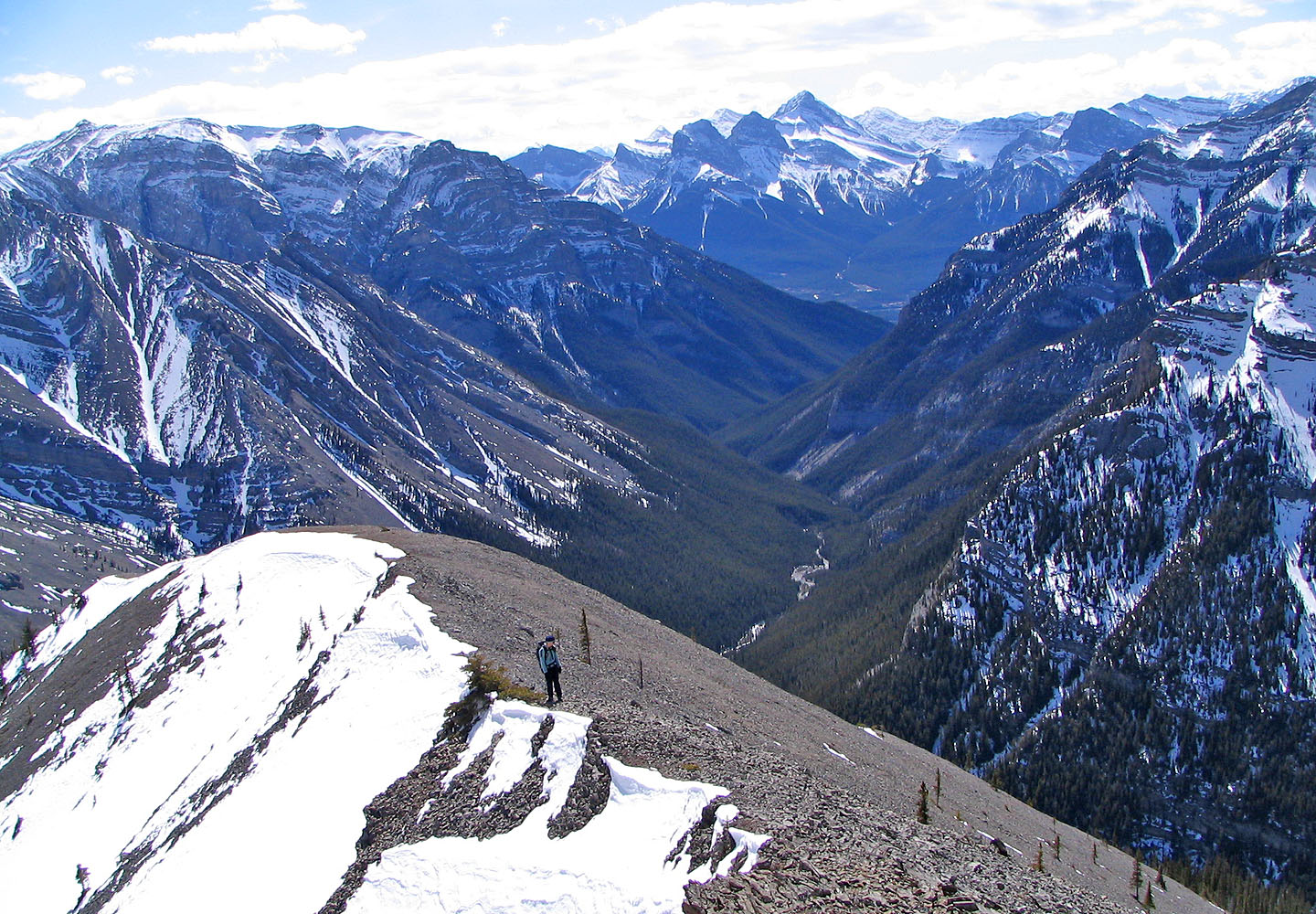 Looking down at Cougar Creek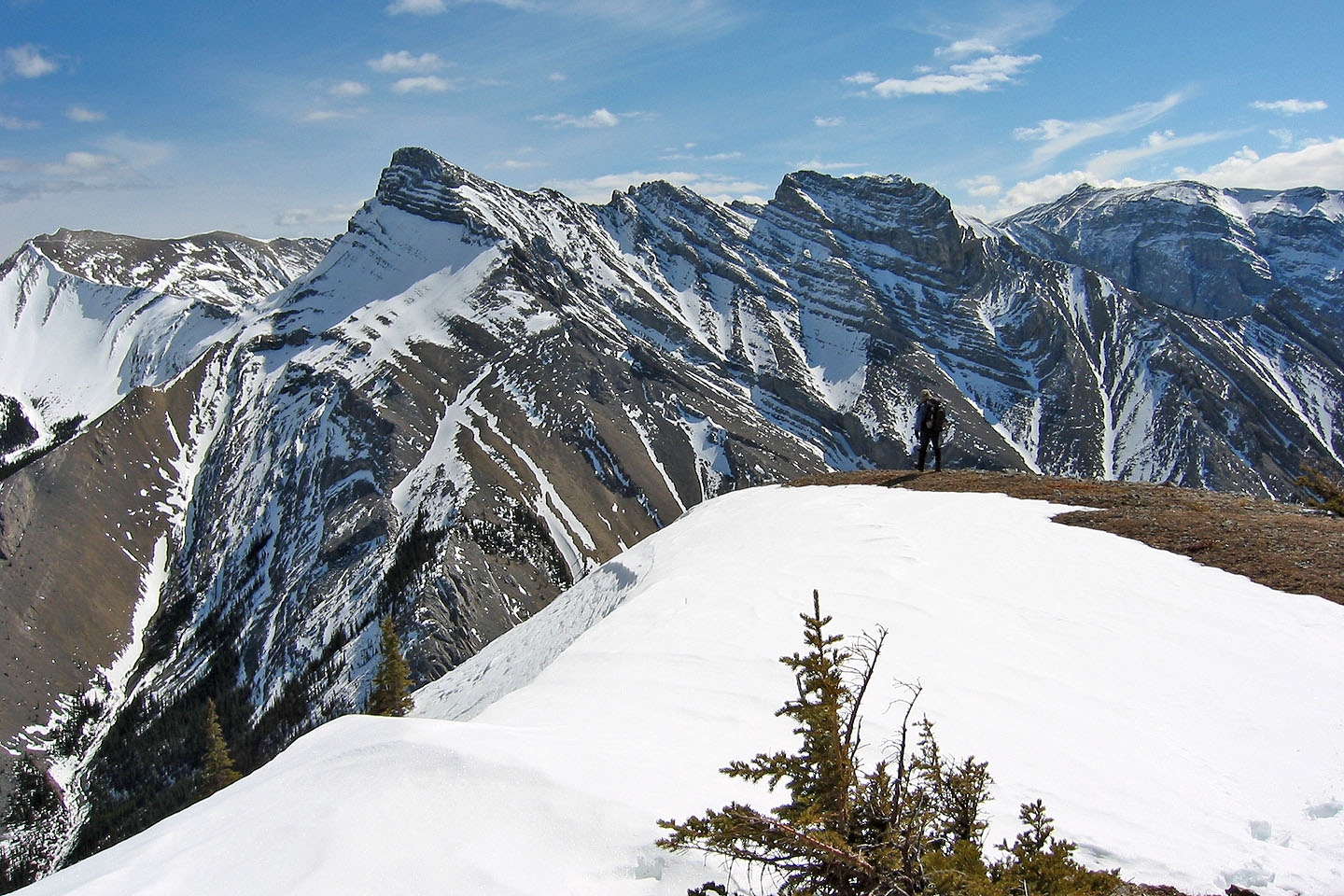 This is as high as we were able to climb. Cougar Peak on the left.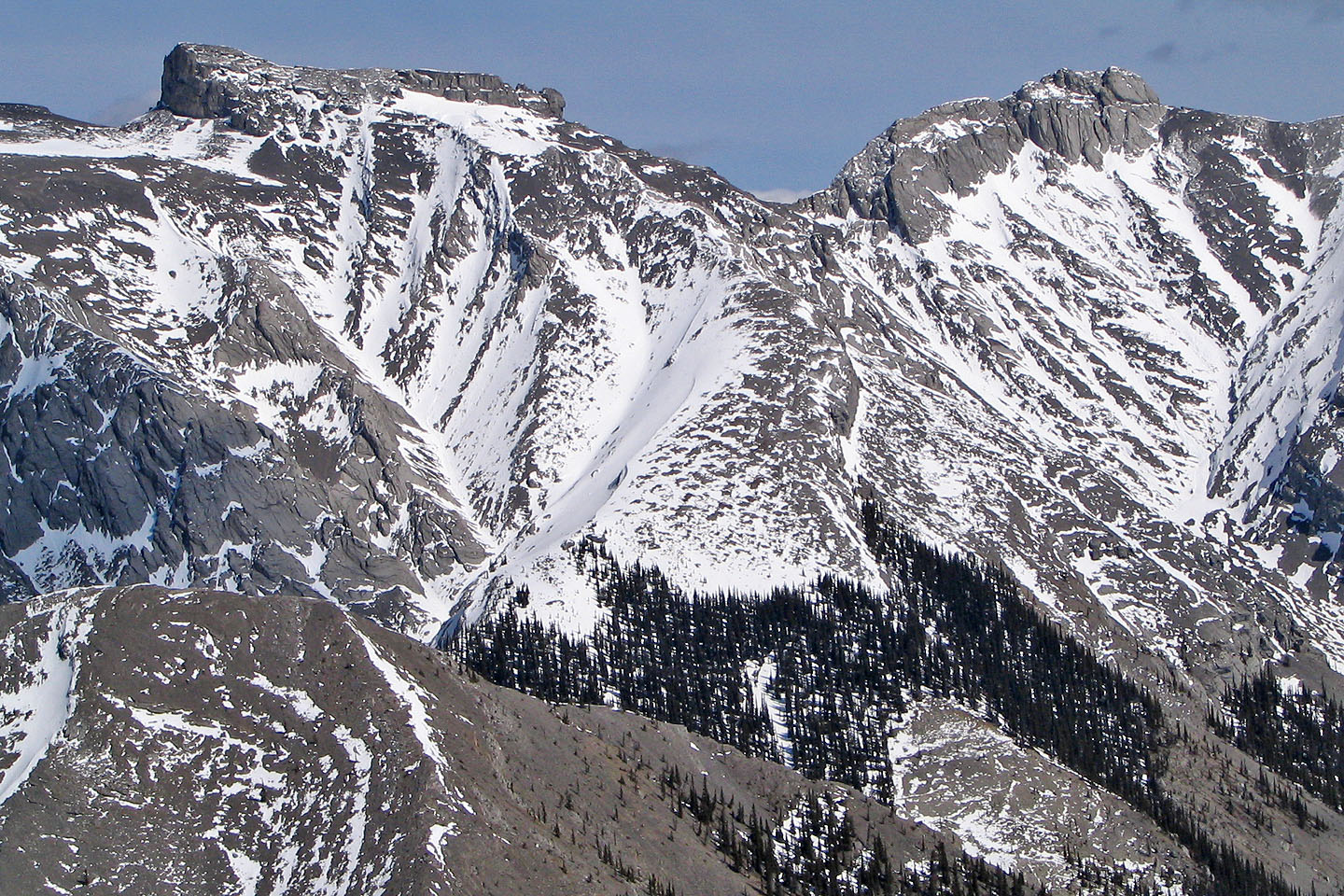 Mythic Towers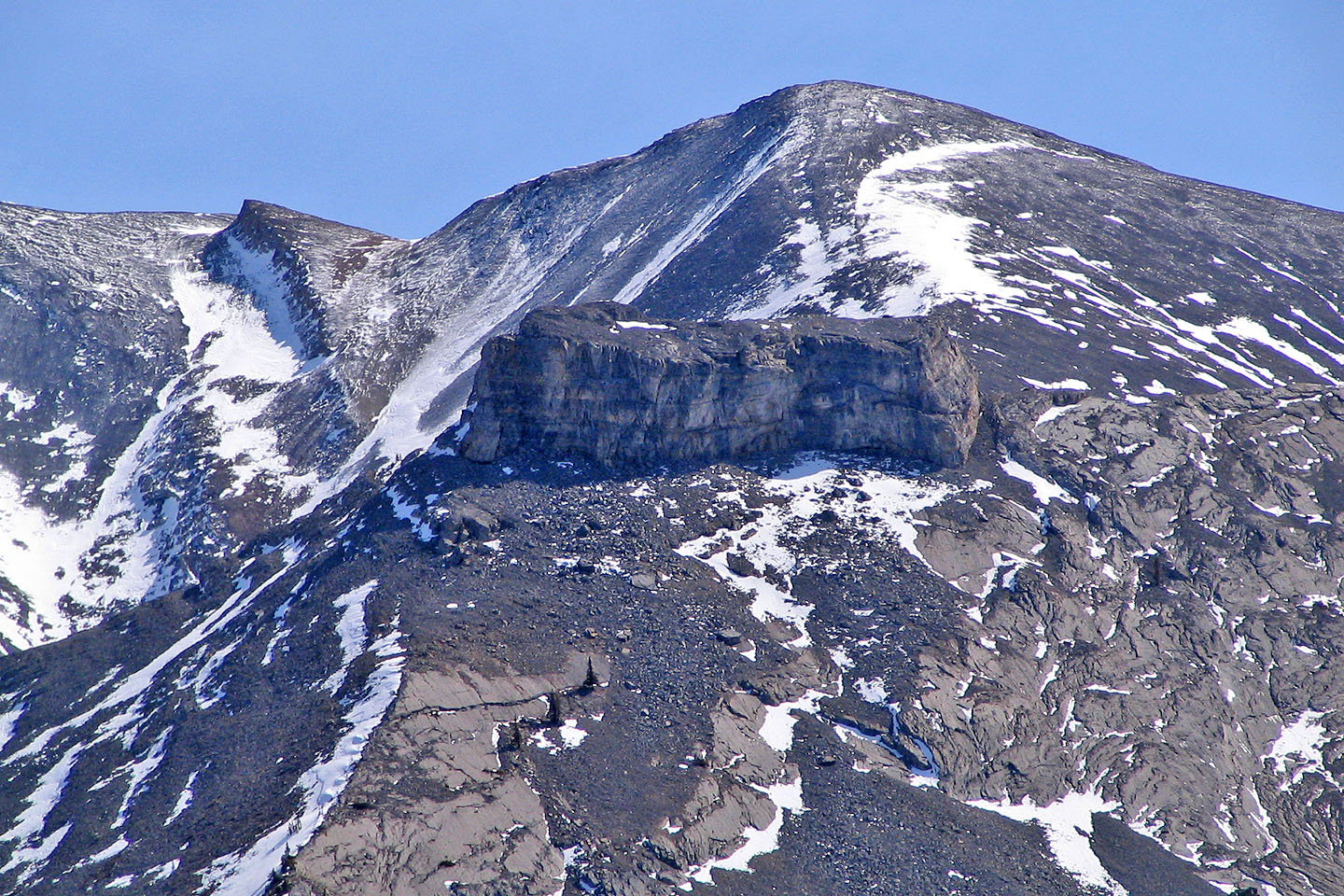 An enormous and unusual rock block sits below Little Mythic Tower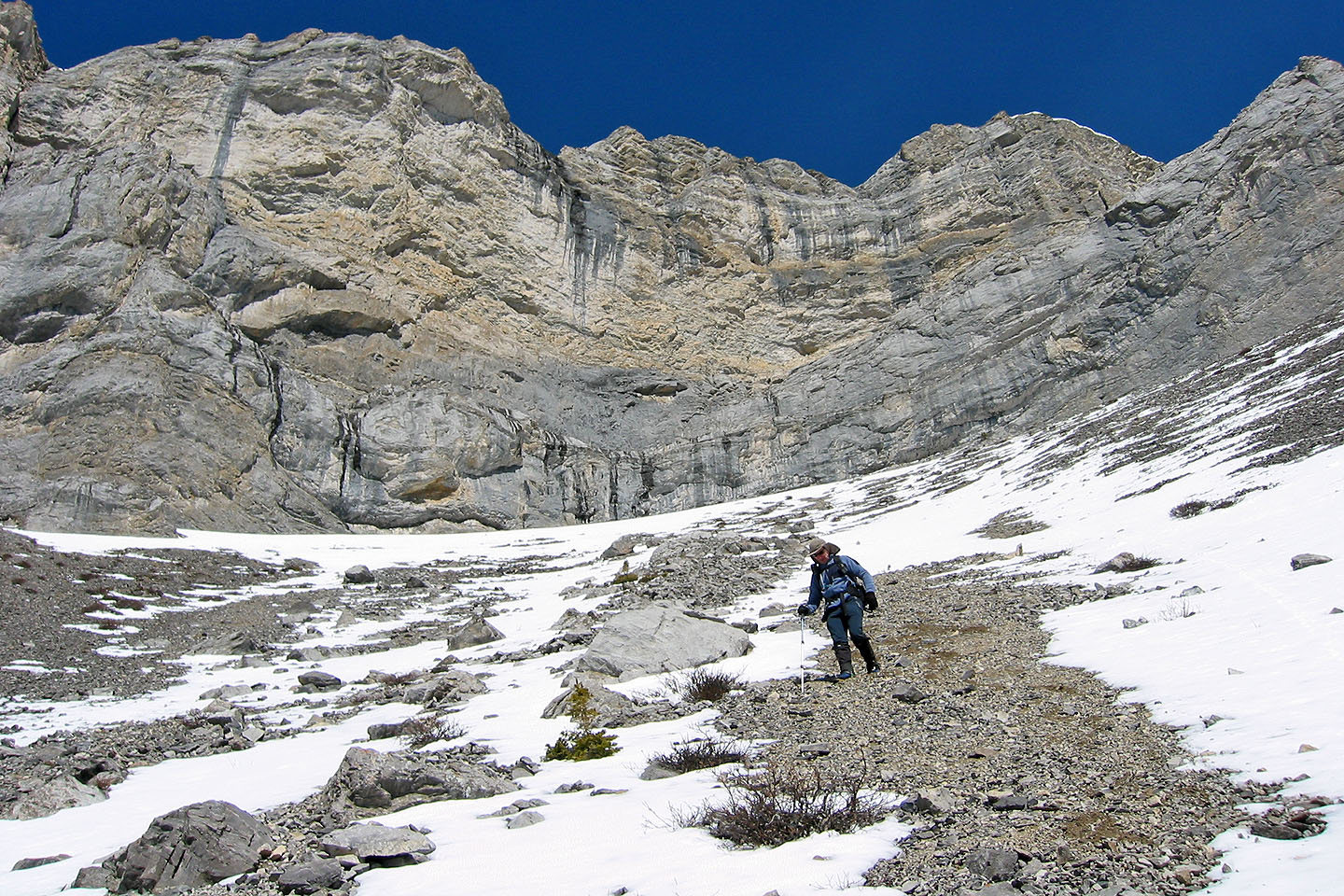 Starting our descent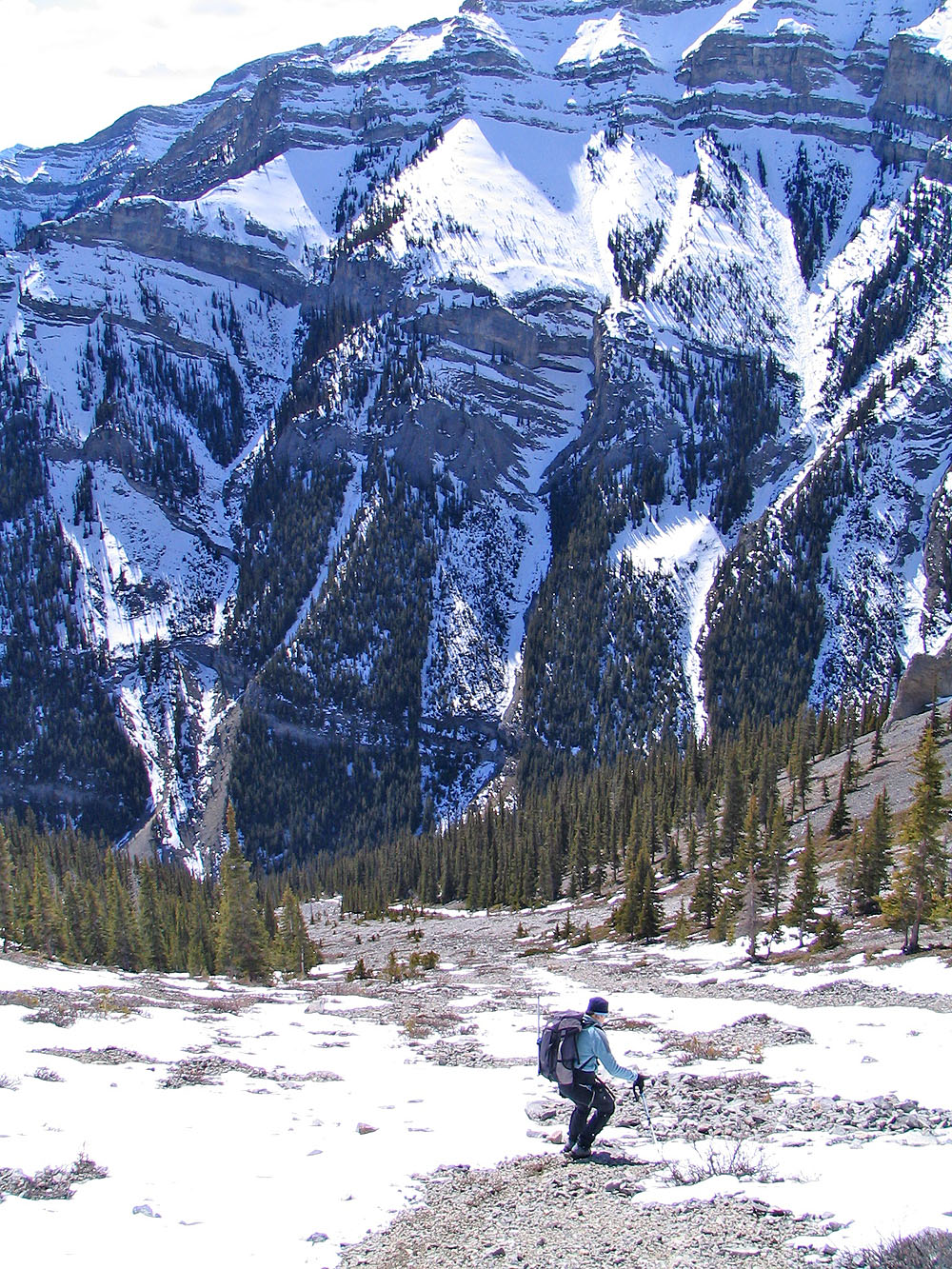 We followed a scree slope down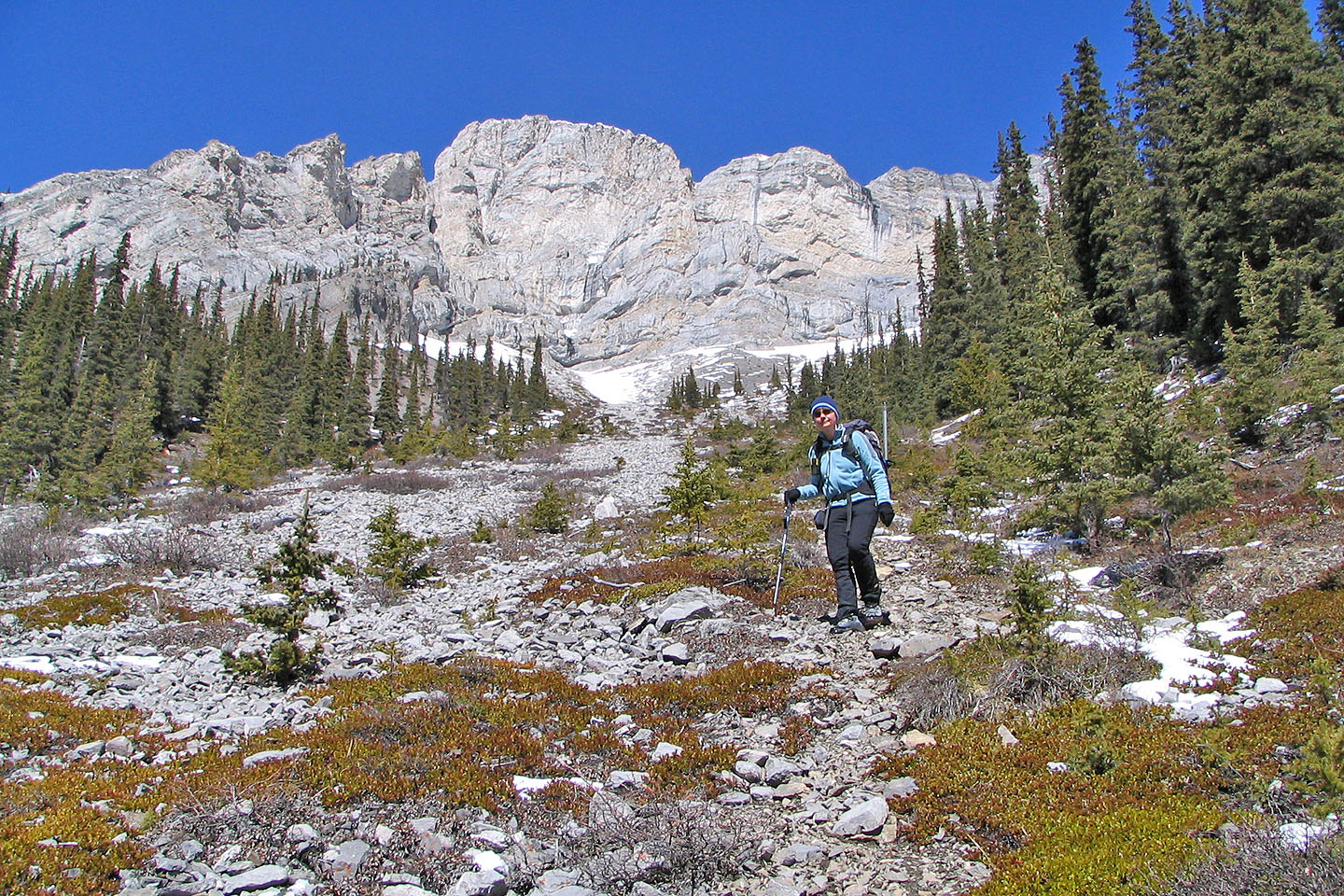 Almost at the bottom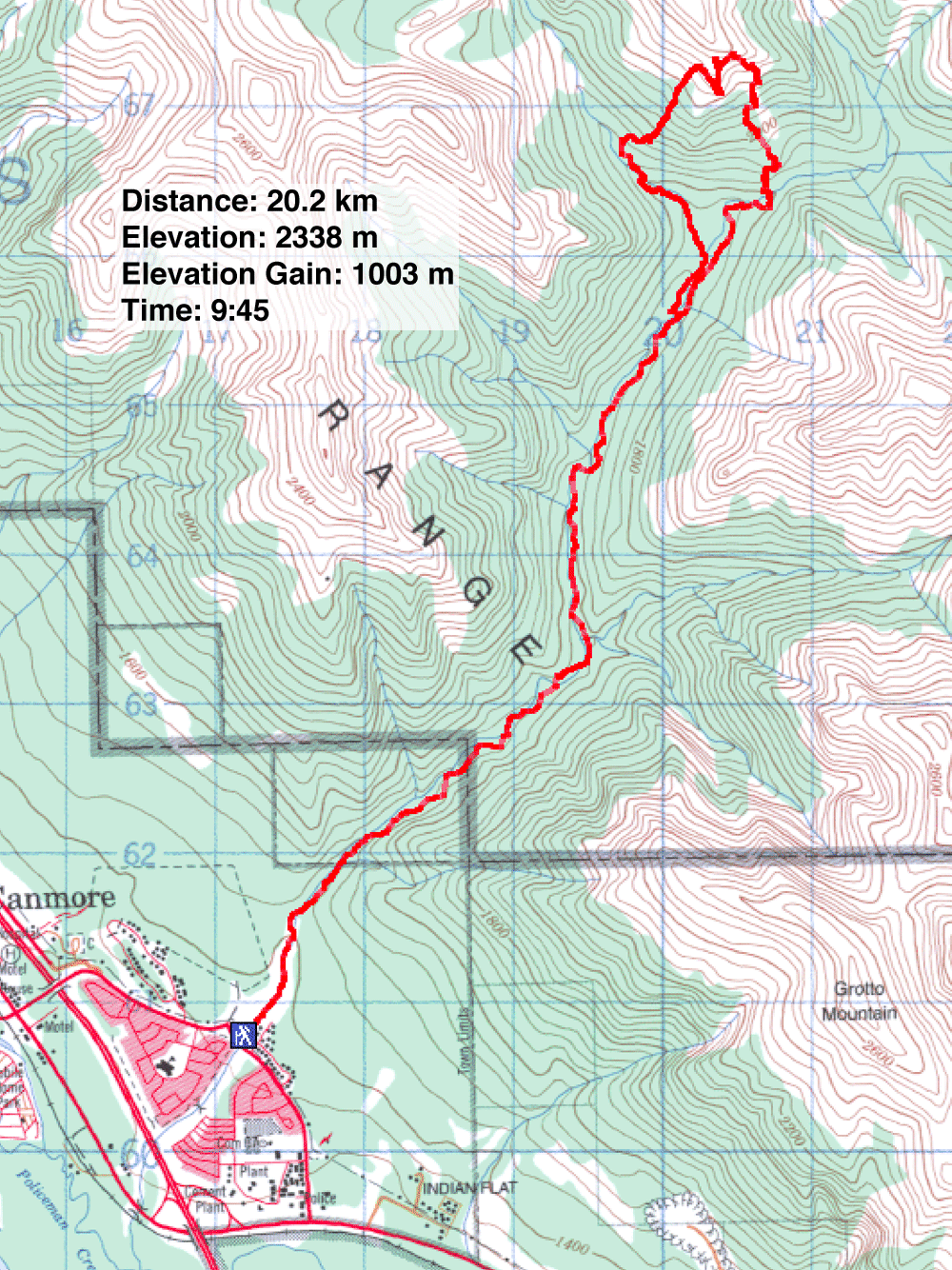 82 O/3 Canmore