bobspirko.ca | Home | Canada Trips | US Trips | Hiking | Snowshoeing | MAP | About

East Ridge of Panorama
Banff National Park, Alberta
September 24, 2016
Distance: 20.0 km
Cumulative Elevation Gain: 1110 m

Panorama Ridge runs north to south, and much of it is rugged, but extending like a contrary afterthought is a gentle spur, the East Ridge. One can follow good trails almost to the base of this ridge before hiking offtrail to the summit. Aside from light bushwhacking, there's nothing technical about the ascent, and from Panorama Meadows you can climb the mountain from just about anywhere. The Meadows, incidentally, is a popular spot for viewing larches in the autumn, so there is no prettier time to climb the East Ridge of Panorama than when the larches are turning yellow. Zora has visited the East Ridge a few times, all in the fall, and offered to share the experience with Kari and me.
The only drawback to the trip is the 6.7 km hike to Taylor Lake. Walled in by trees, there is absolutely nothing to view along the trail and nothing to do but put one foot after another. But the trail is wide, climbs gradually, and other than being extremely muddy in places, it did the job of taking us to the lake.
After pausing to take in the blue waters of Taylor Lake ringed by rocky slopes, we turned back into the trees and started up the narrow trail leading to Panorama Meadows. But we turned off before the Meadows, at a clearing (631338) about 100 m from a creek we had to cross. We aimed for the end of the East Ridge and made our way through a mix of yellow larches and evergreens. Once on the ridge, we merely followed it to the summit. A trail runs up the ridge but being mostly under snow, it helped us little. (Unfortunately, I had issues with my GPS batteries and wasn't able to record our entire ascent, but I was able to track our descent.)
Unlike the broad ridge we hiked up, the summit is an odd, horn-like projection with a small footprint. We didn't stay long on top, and a sudden, strong wind drove us down the ridge where we took a sheltered break. After lunch, we headed down the slope through the trees to Panorama Meadows and to the trail. We followed the trail back, passing groups who, like us, came to see the yellow larches, but unlike us, didn't seek the panoramic viewpoint above the Meadows, the East Ridge of Panorama.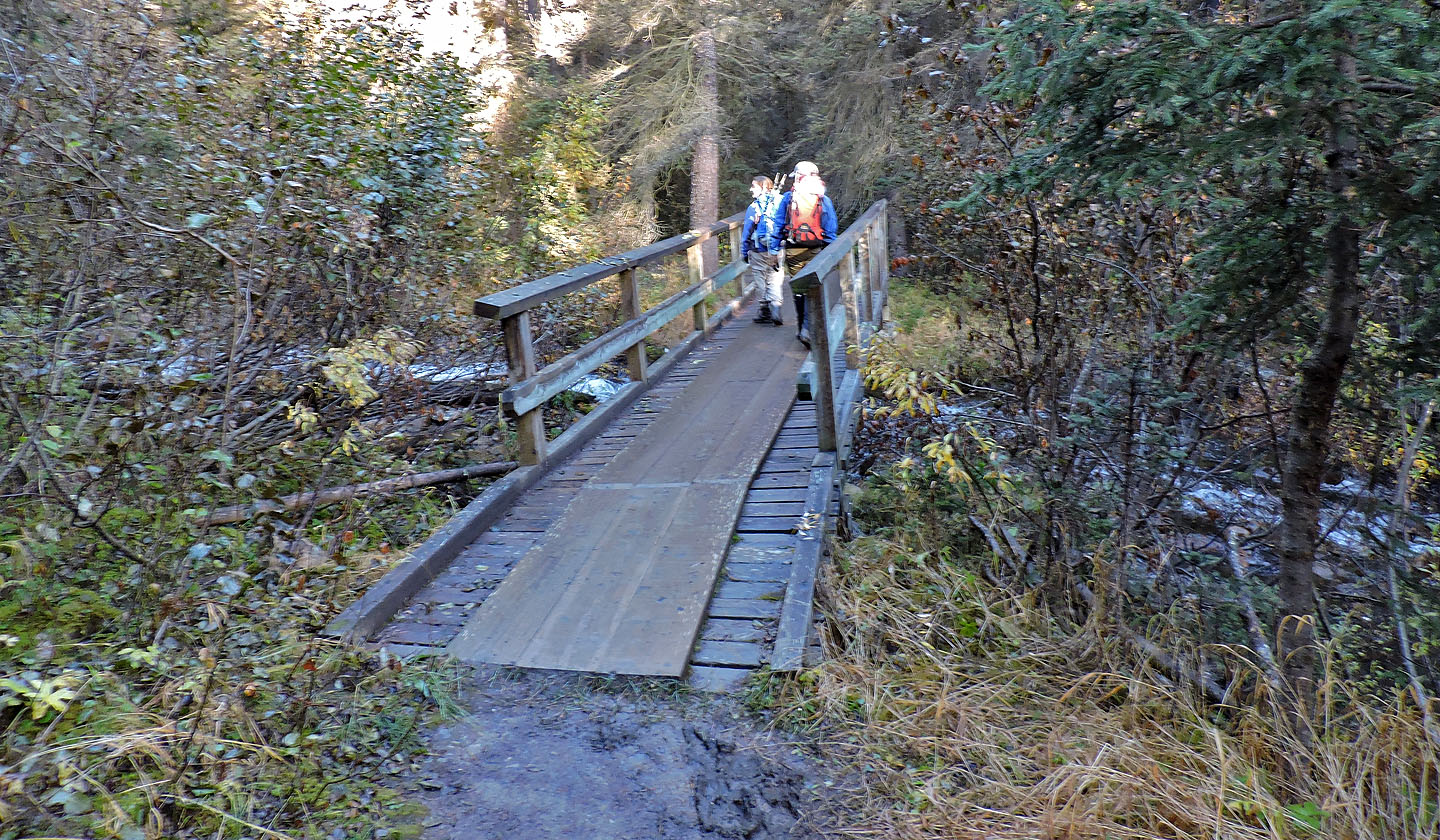 One of two bridges that break up the monotony of the long approach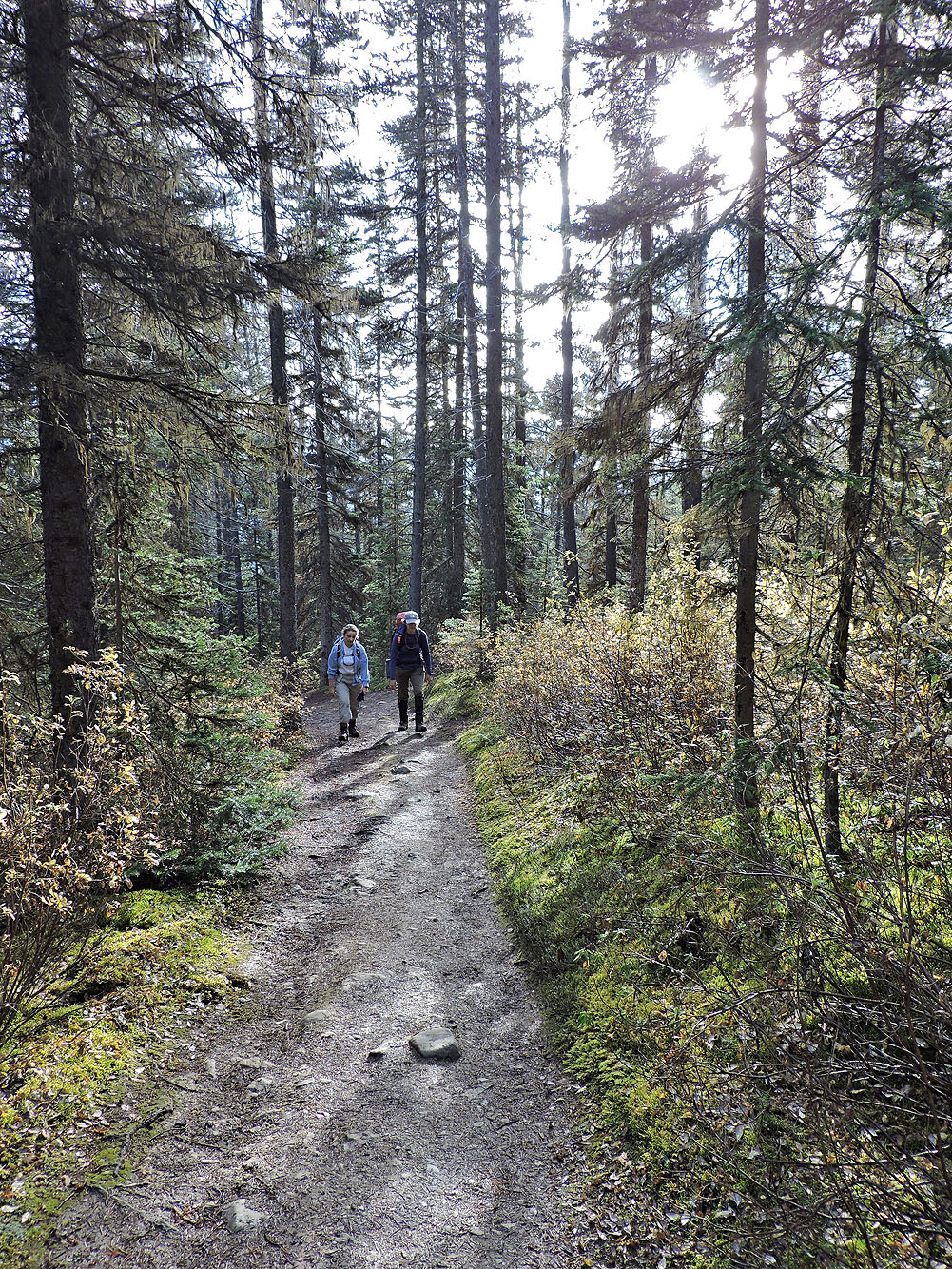 One section of trail looks much the same as the next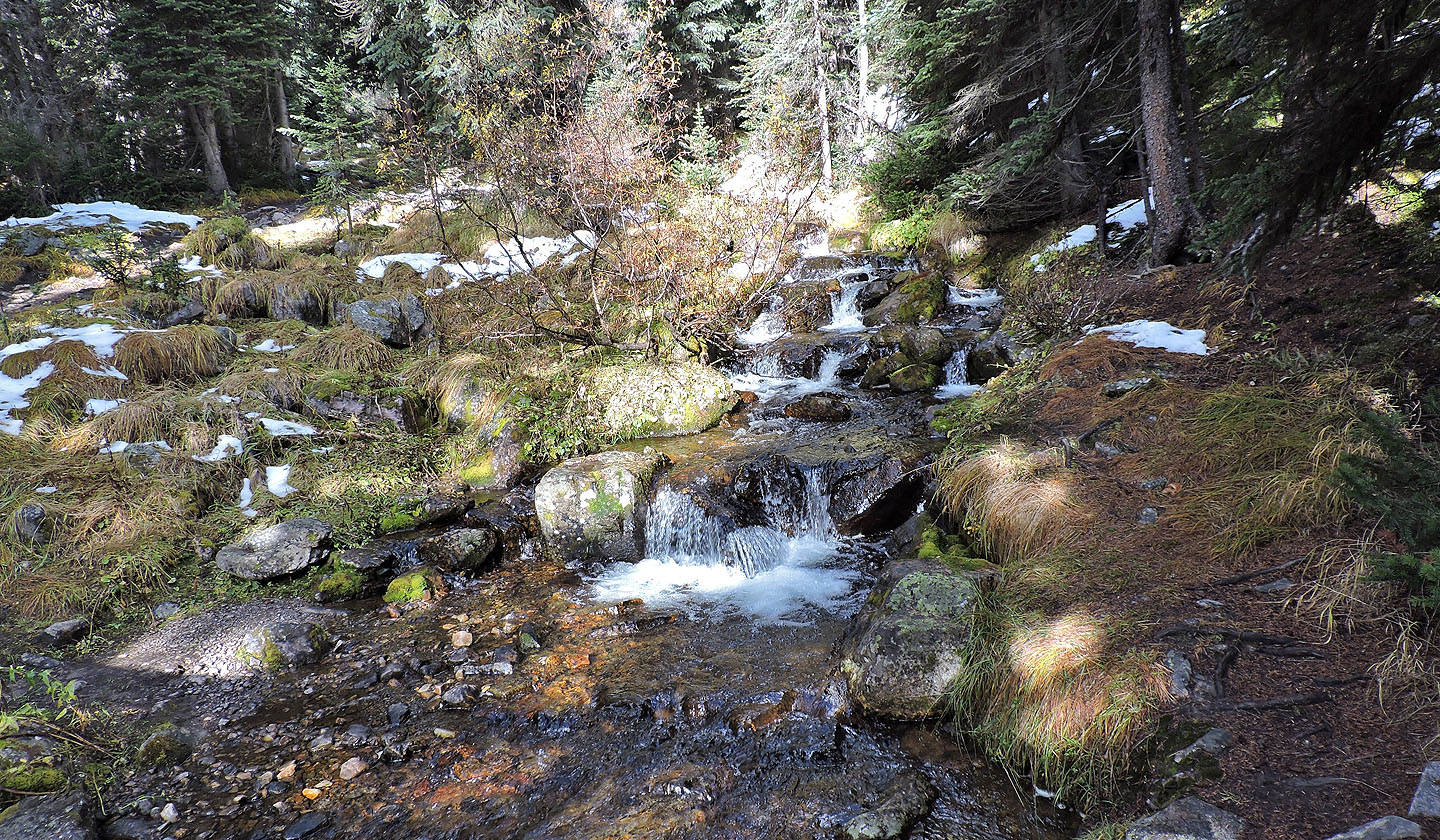 View of the creek from the second bridge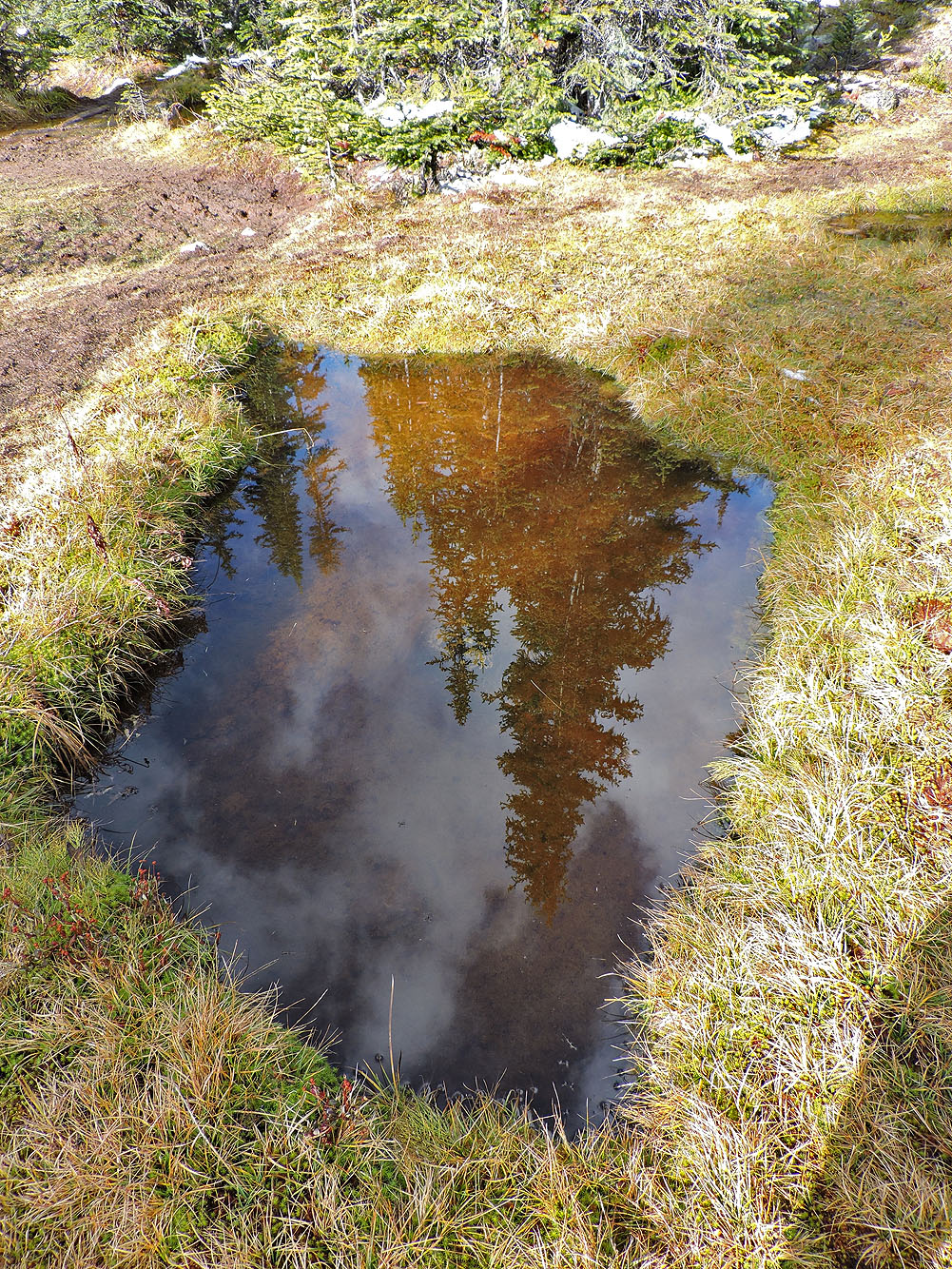 Just before the lake we crossed soggy marshland that held small ponds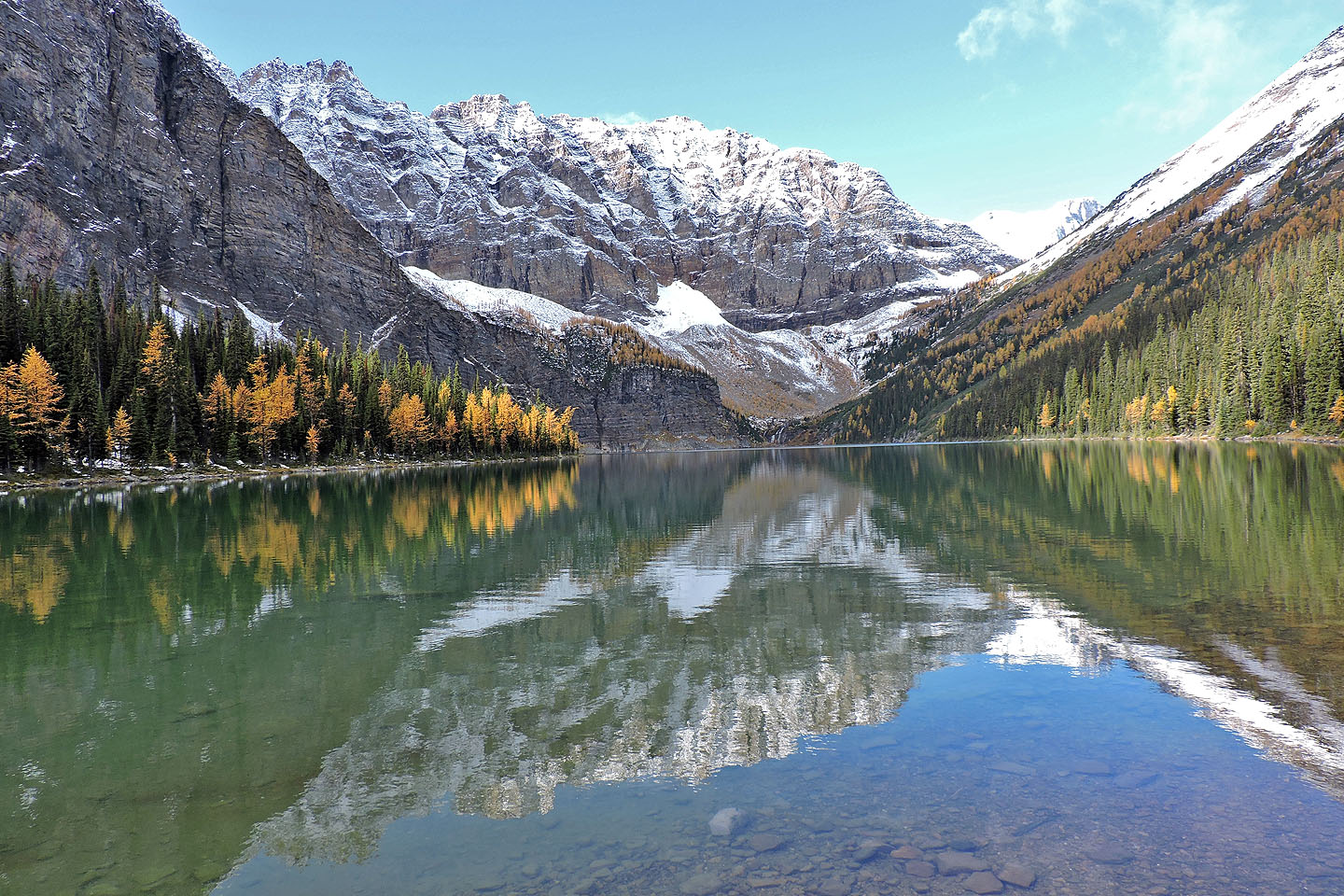 Taylor Lake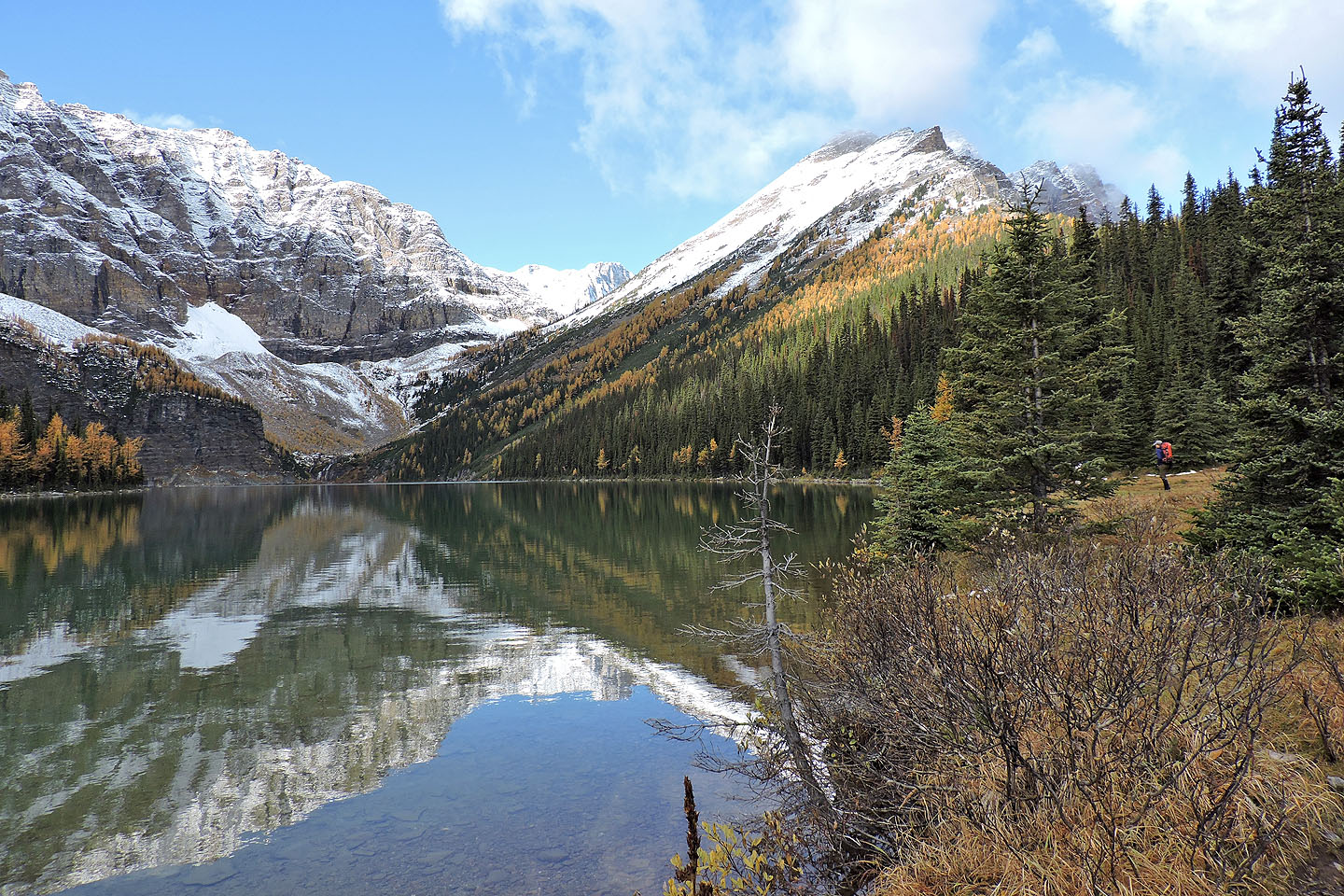 The south end of Panorama Ridge. The trail to the Panorama Meadows begins behind Kari.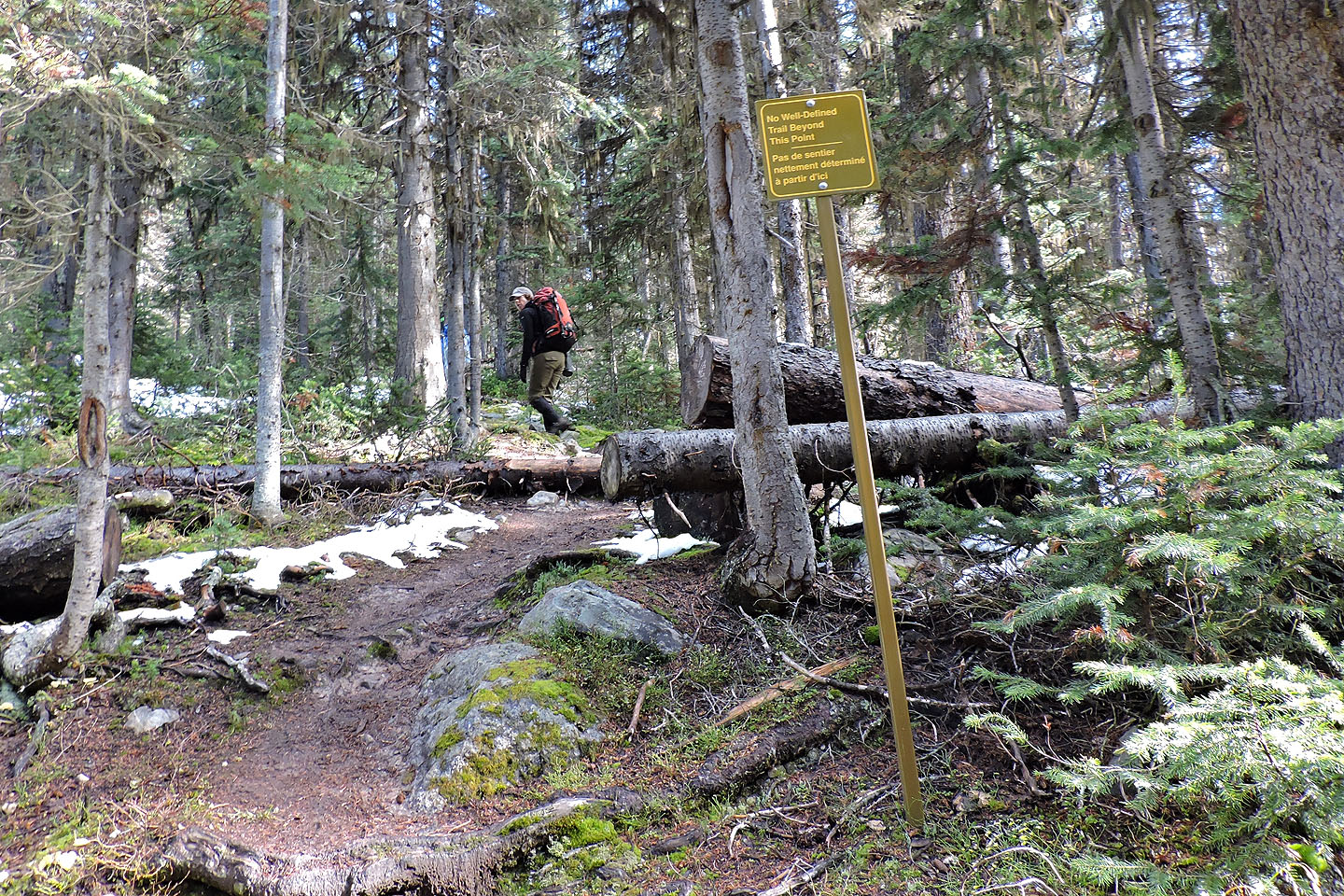 Starting up the trail to the Meadows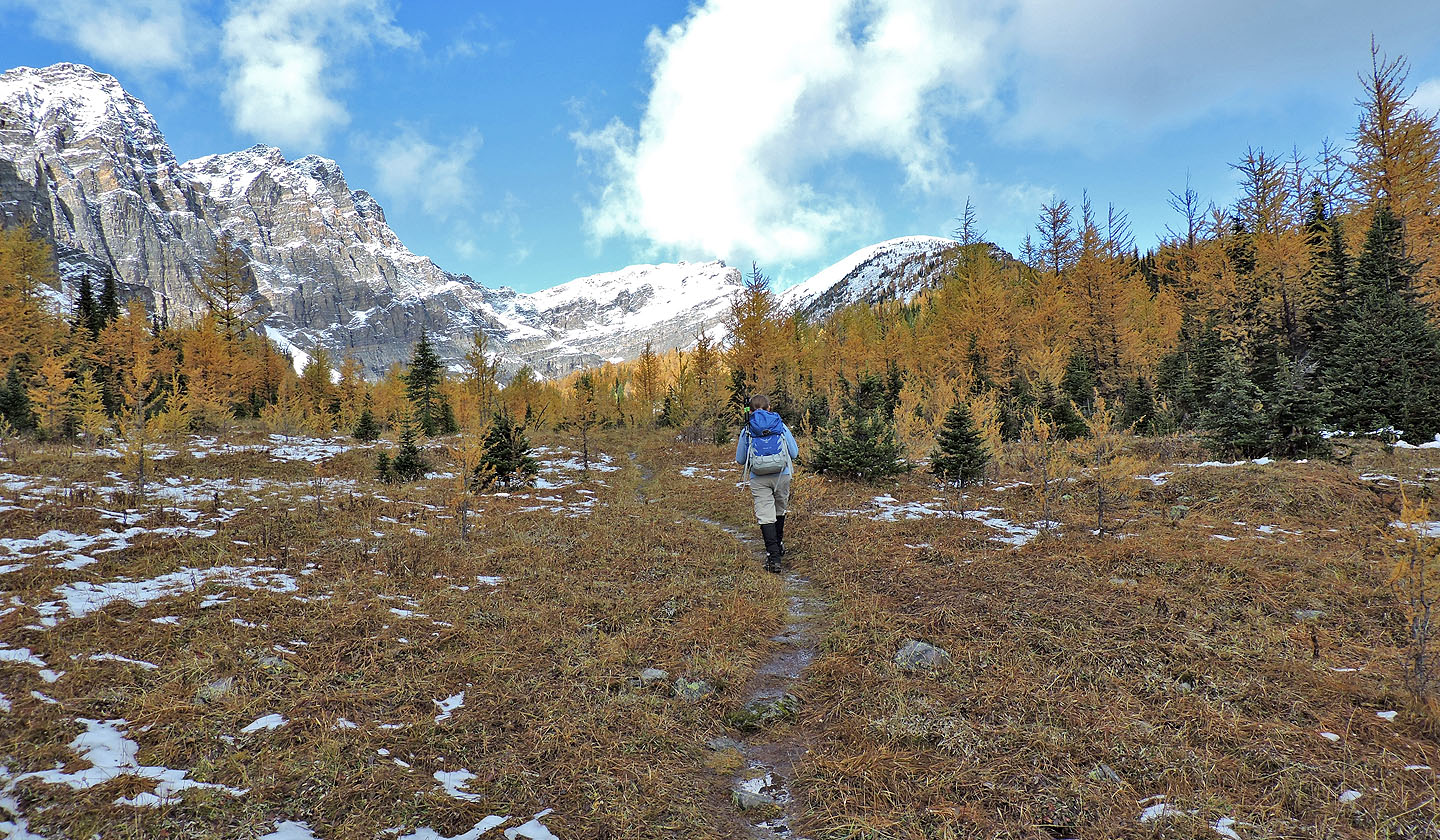 The East Ridge is on the right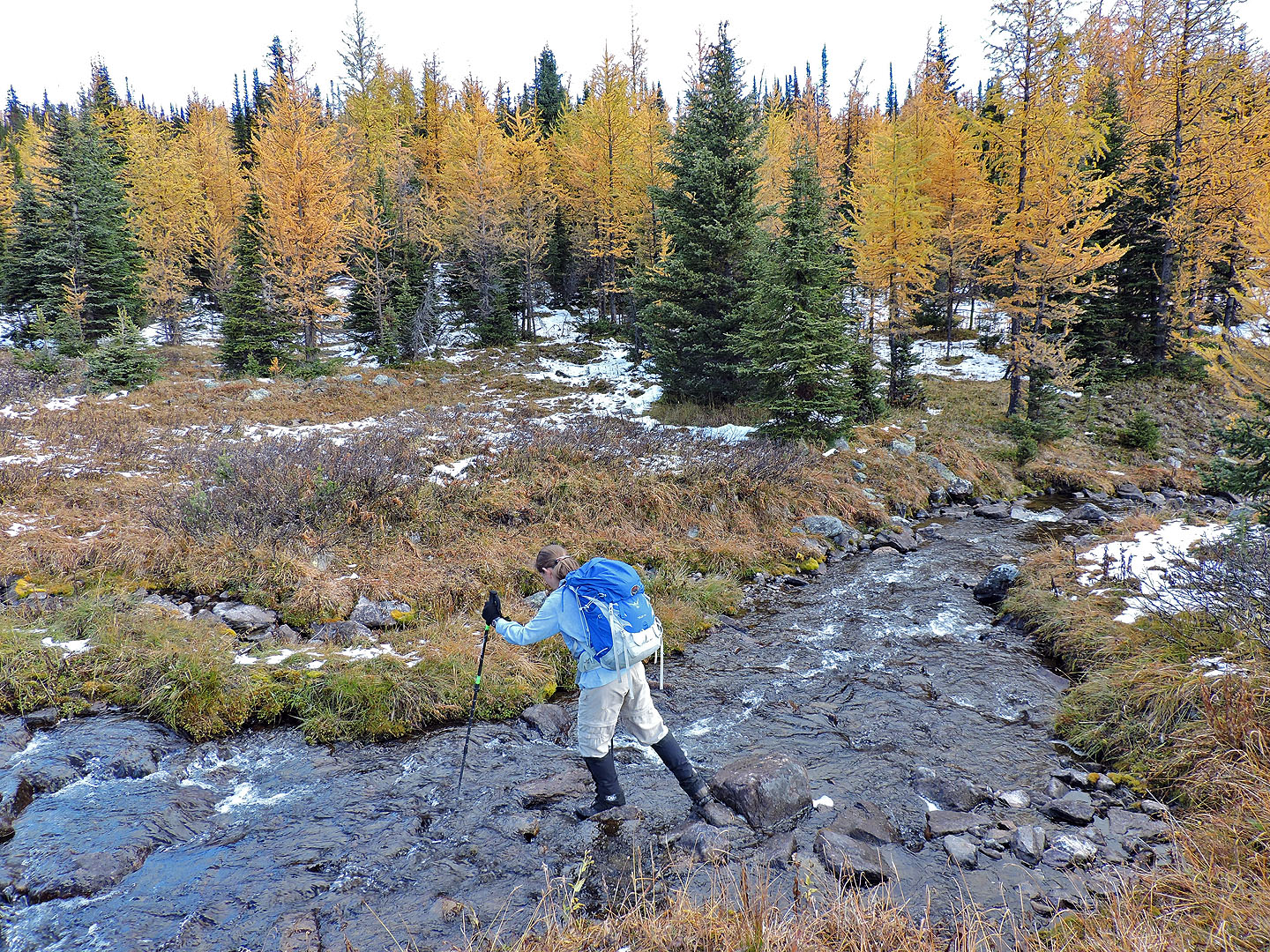 After crossing the creek we headed to the end of the ridge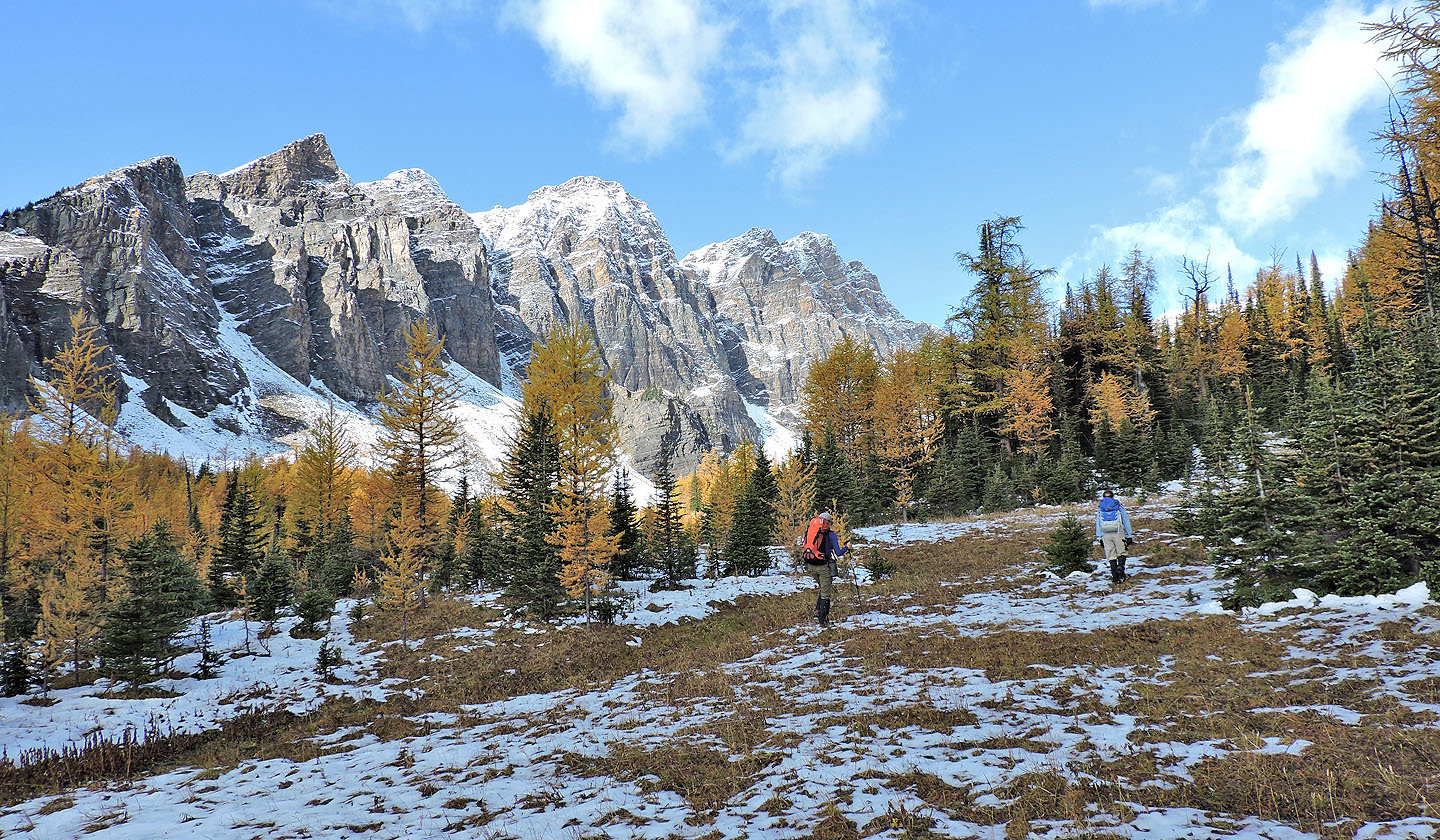 Crossing a clearing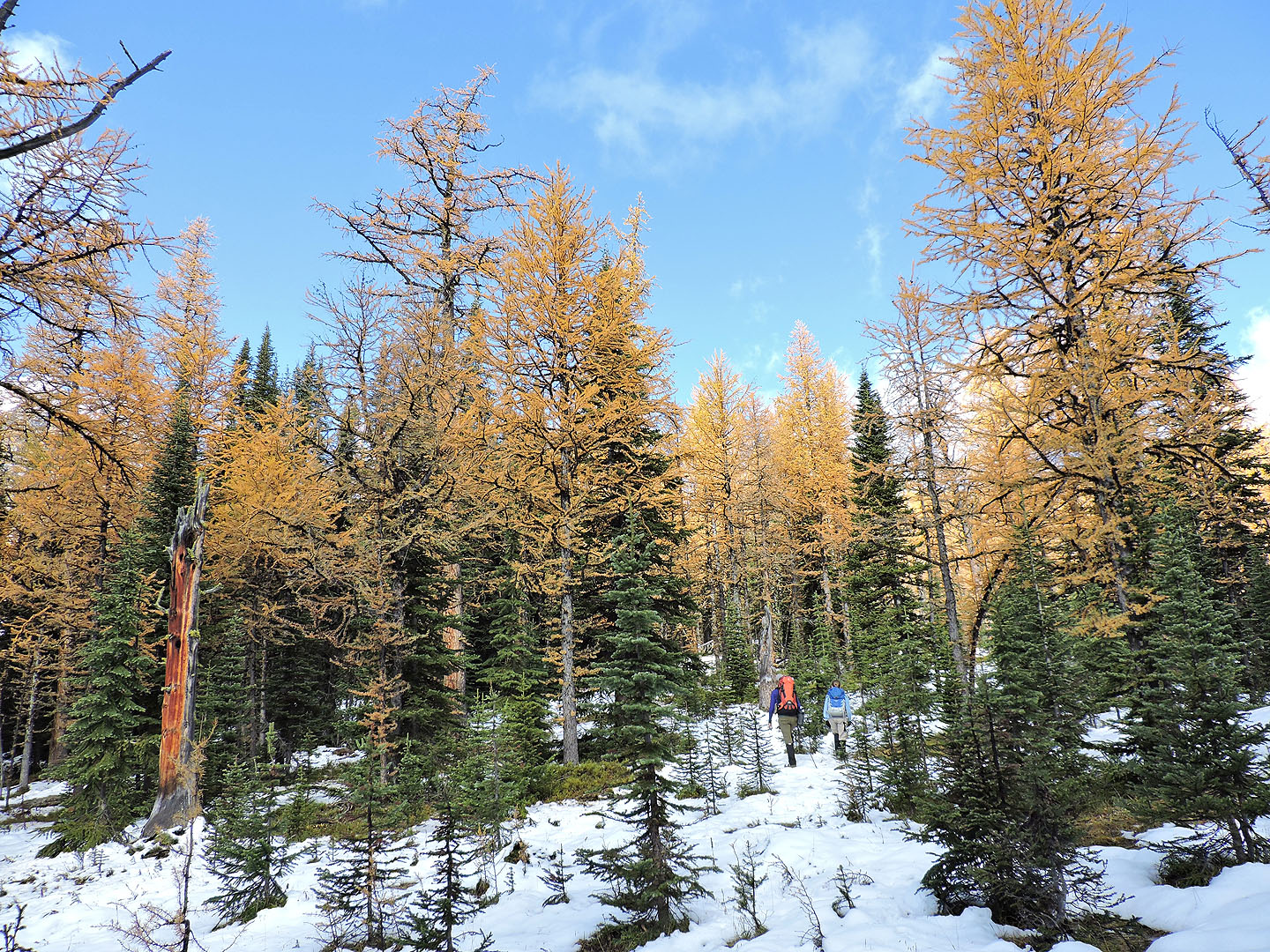 We hiked through a mix of evergreens and larches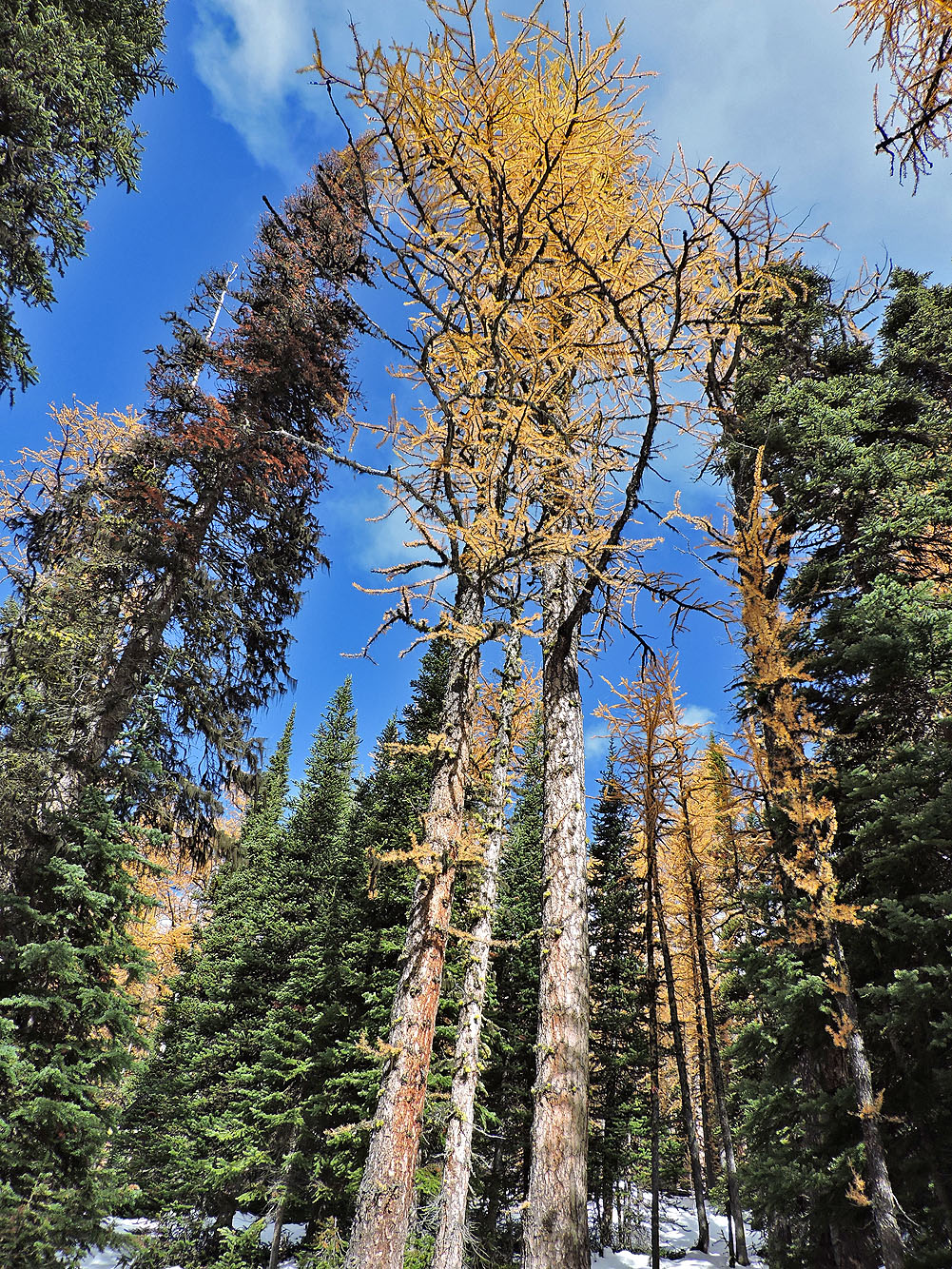 Some larches towered well above us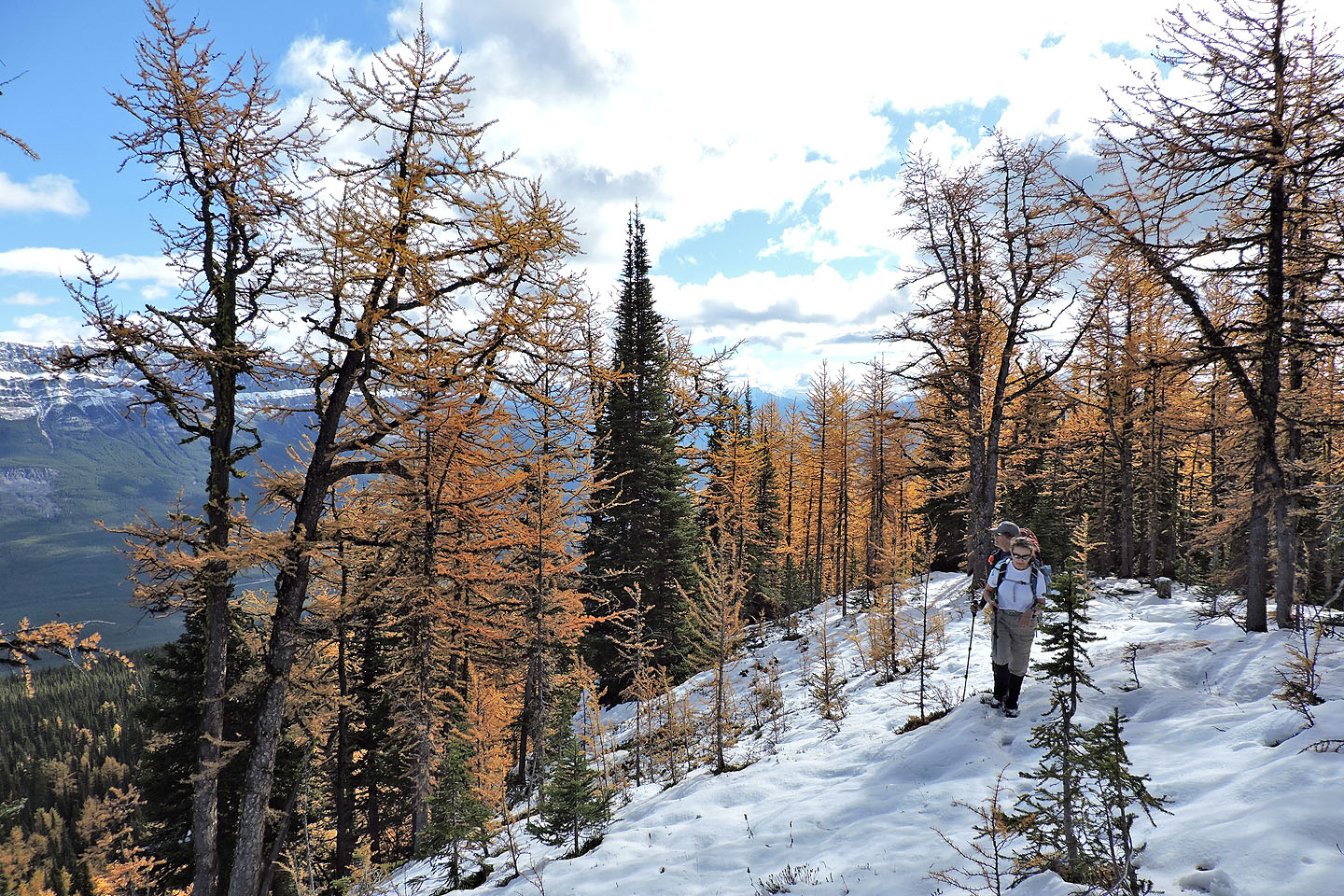 On the ridge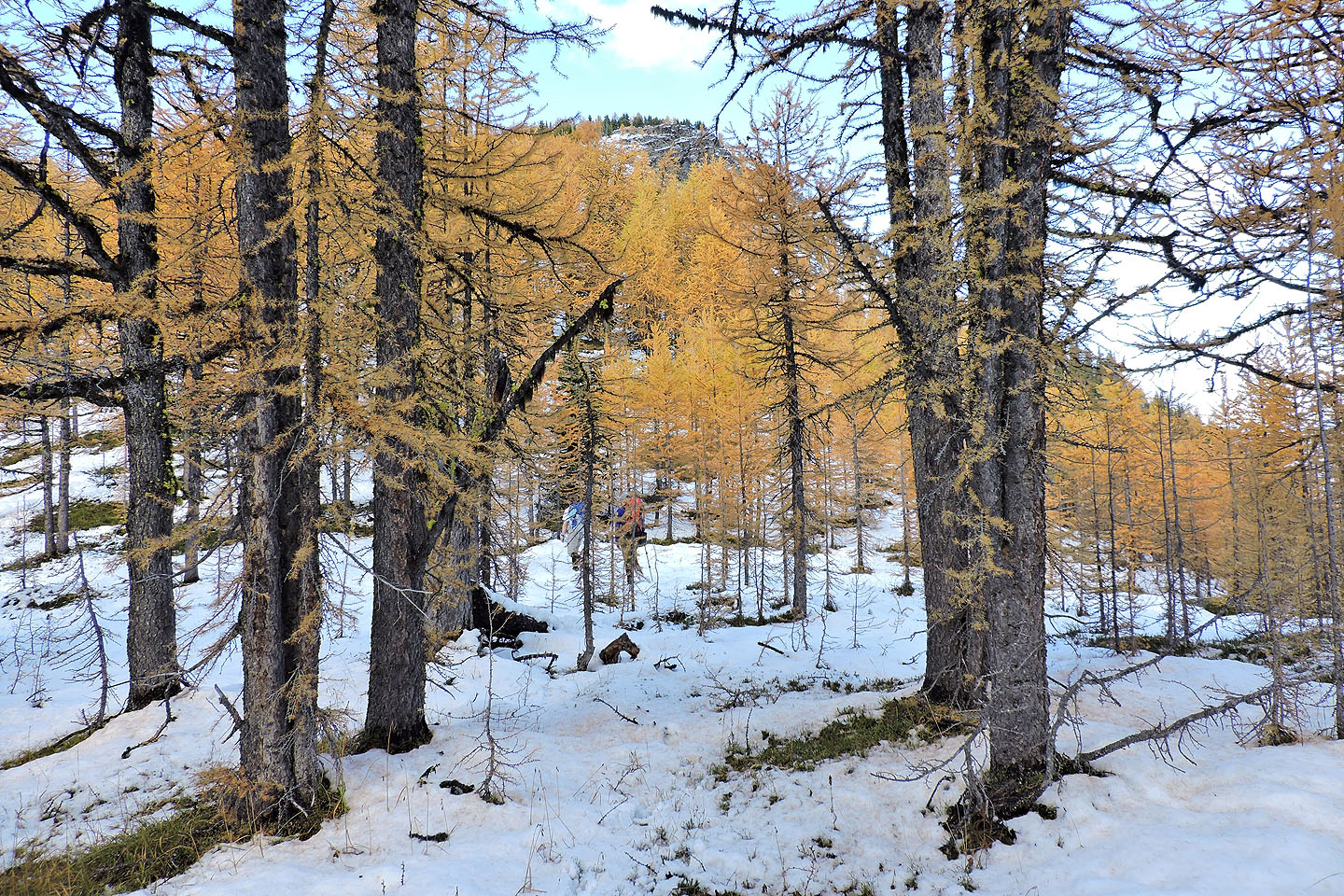 The ridge rises up sharply ahead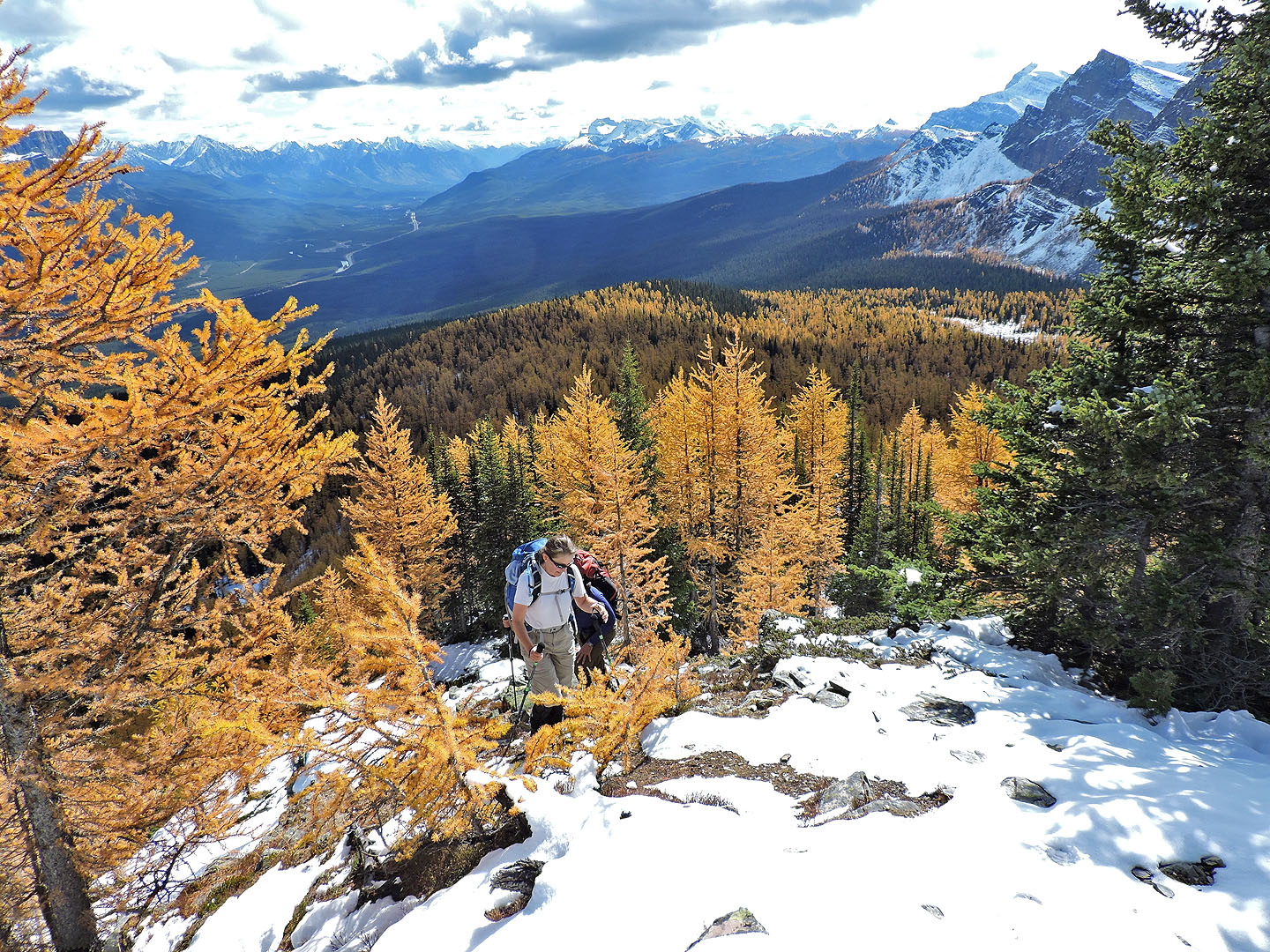 Looking back along the larch-covered ridge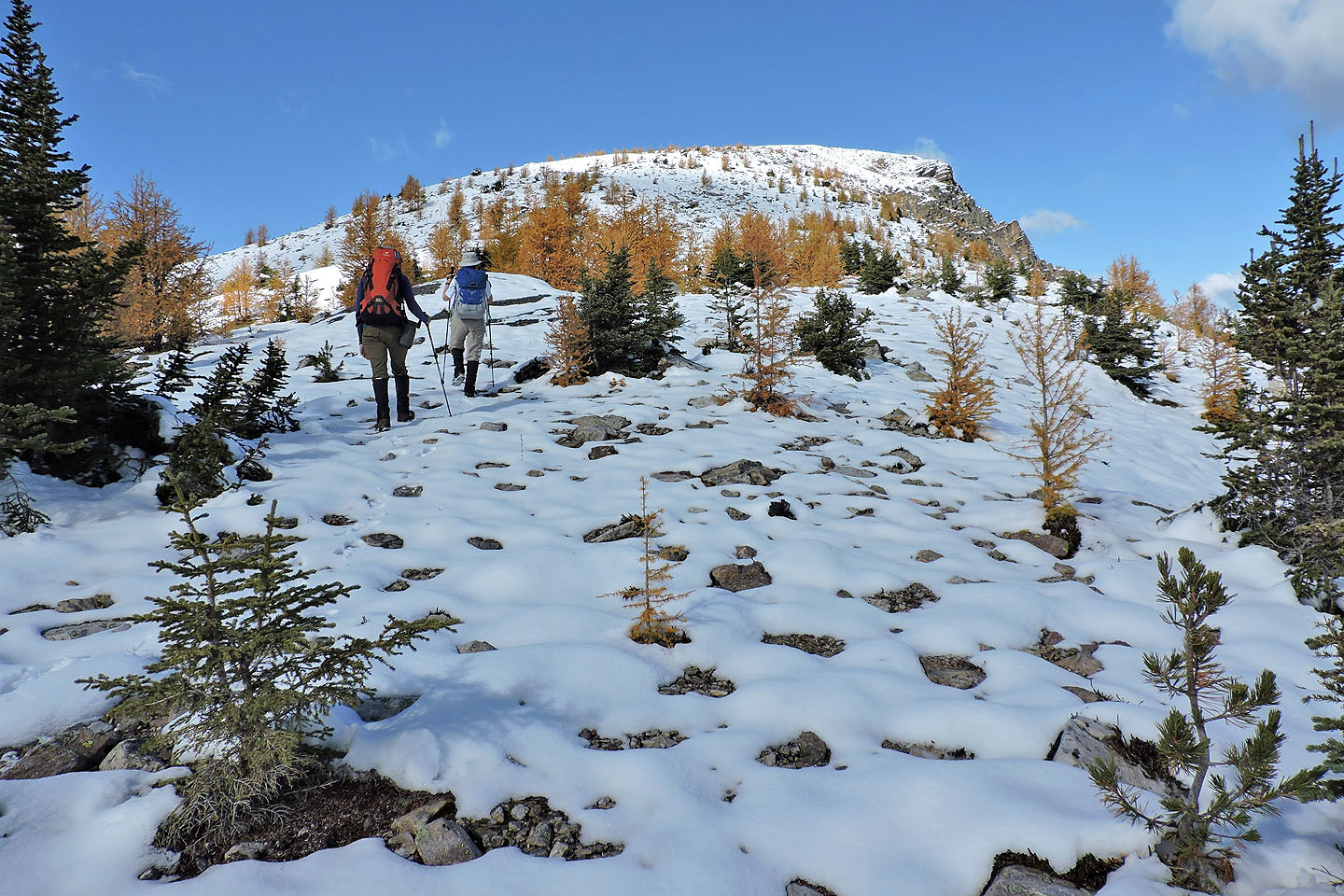 The ridge becomes rocky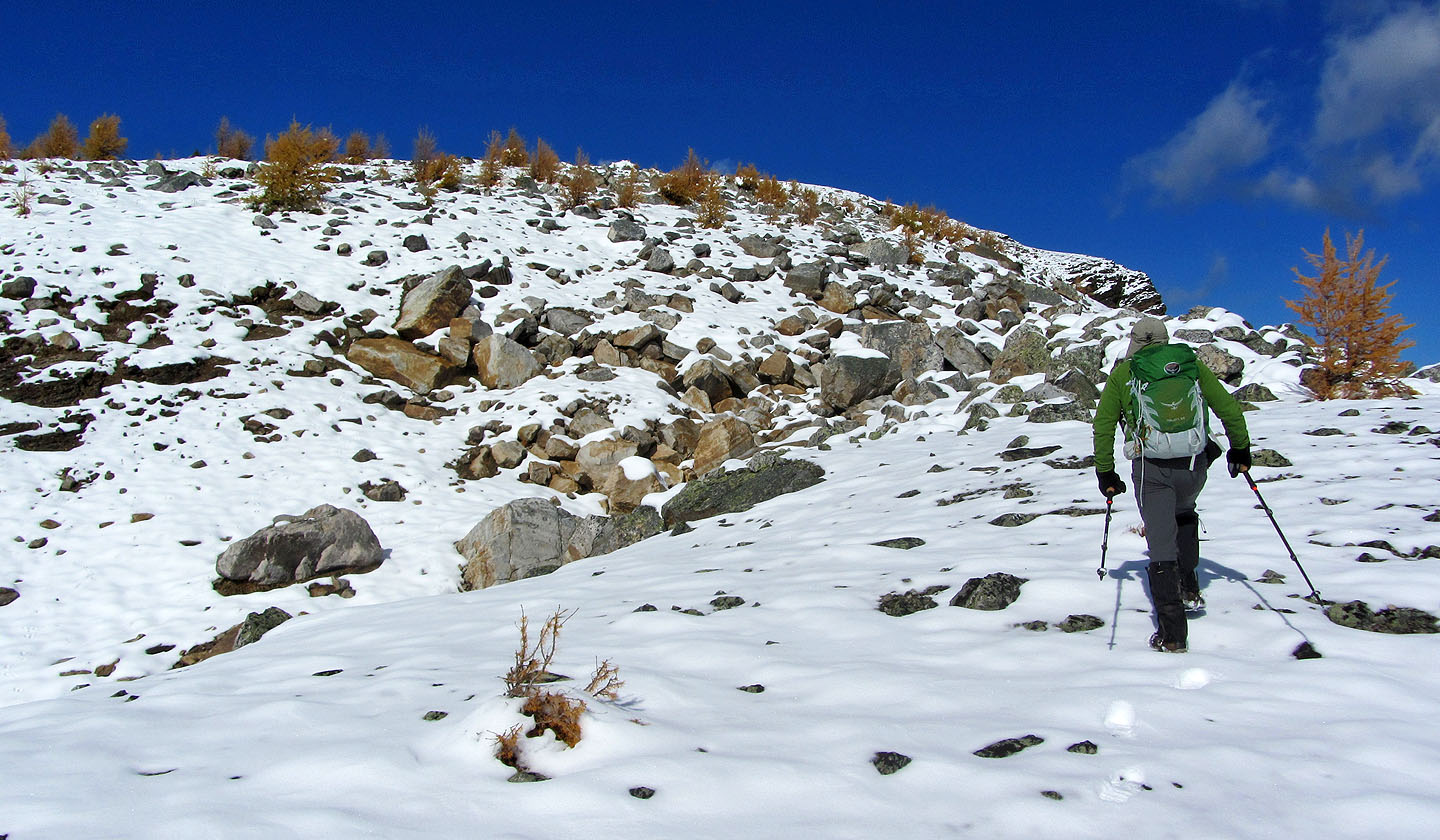 The rocks get bigger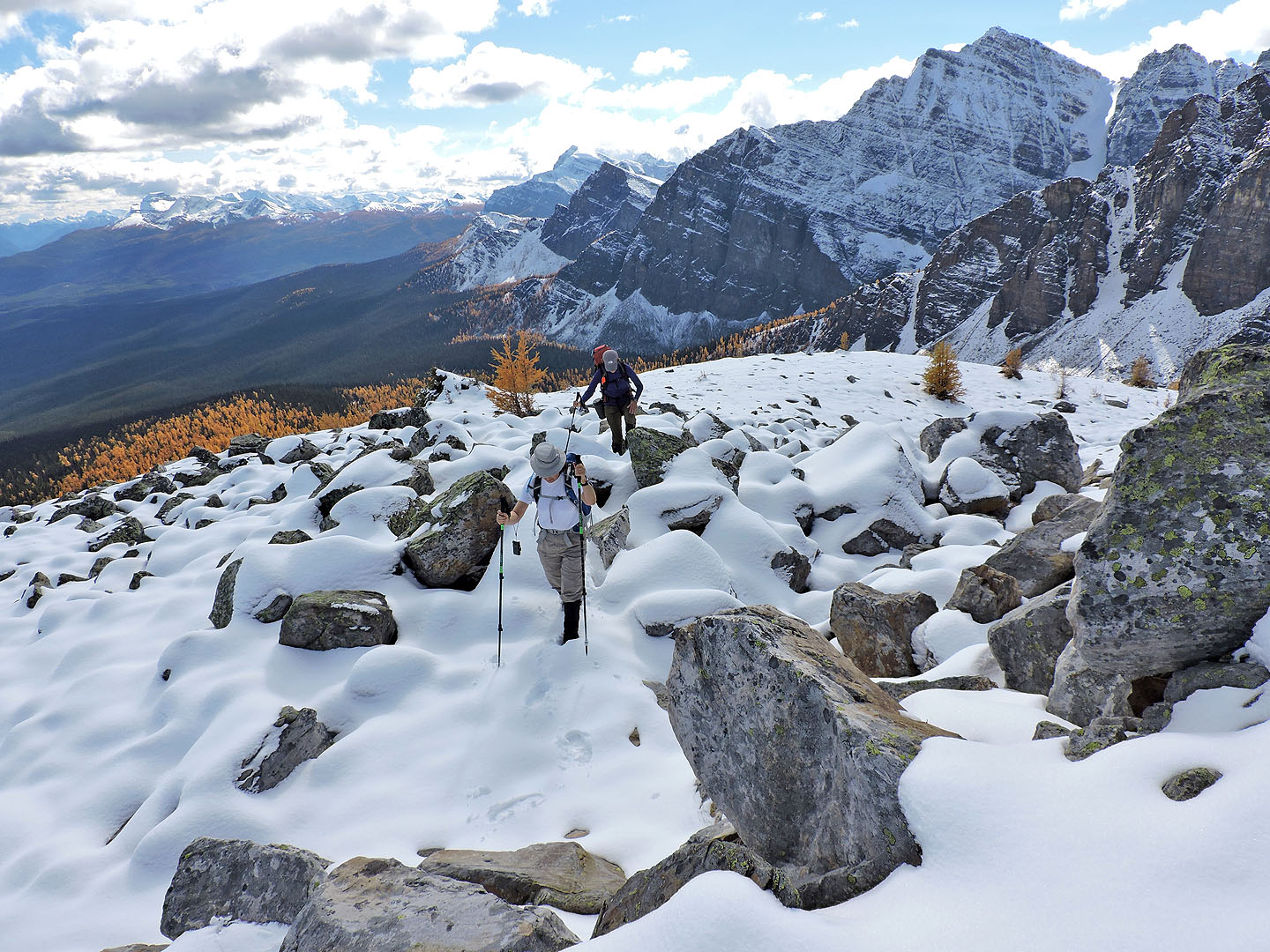 Looking back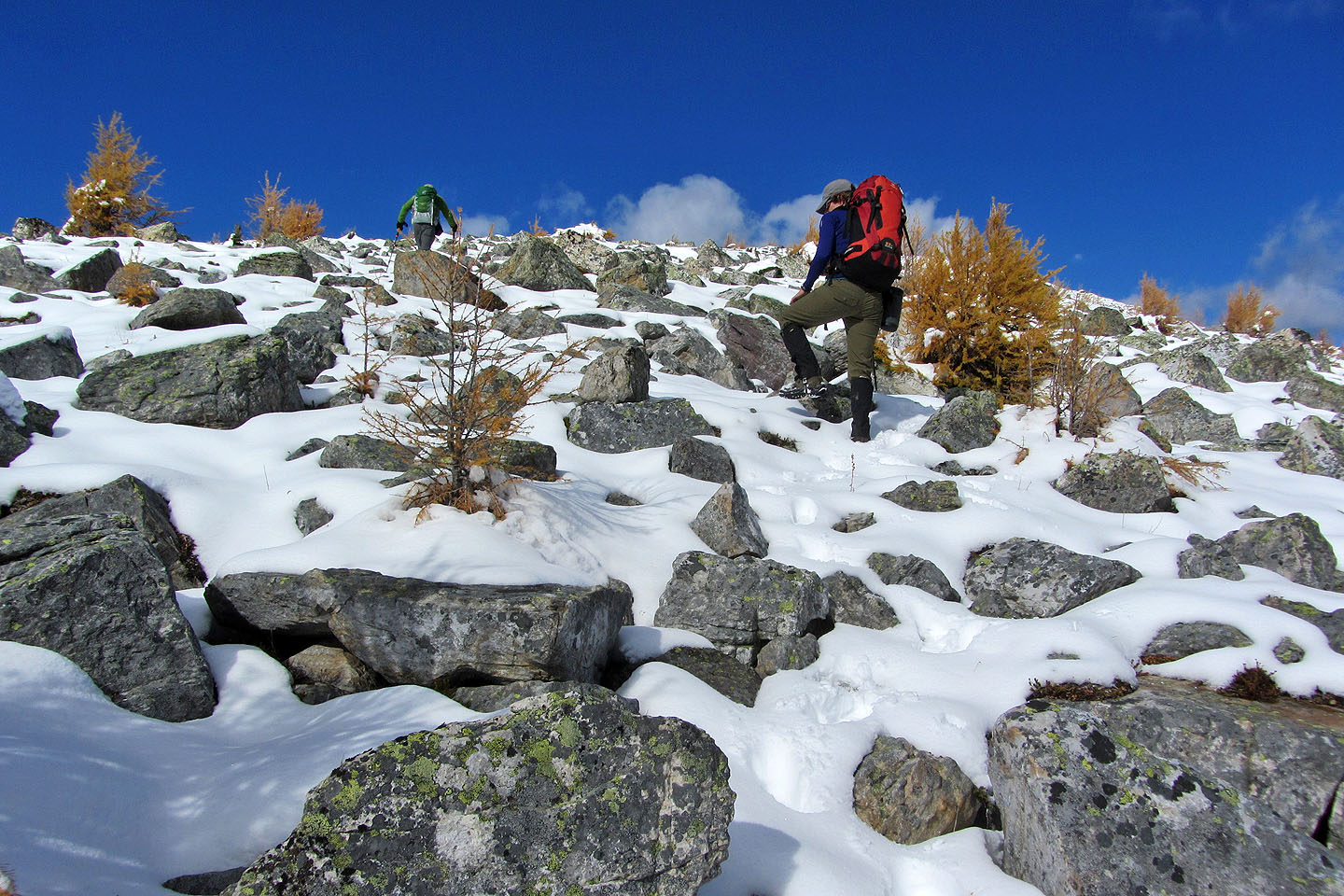 Heading to the summit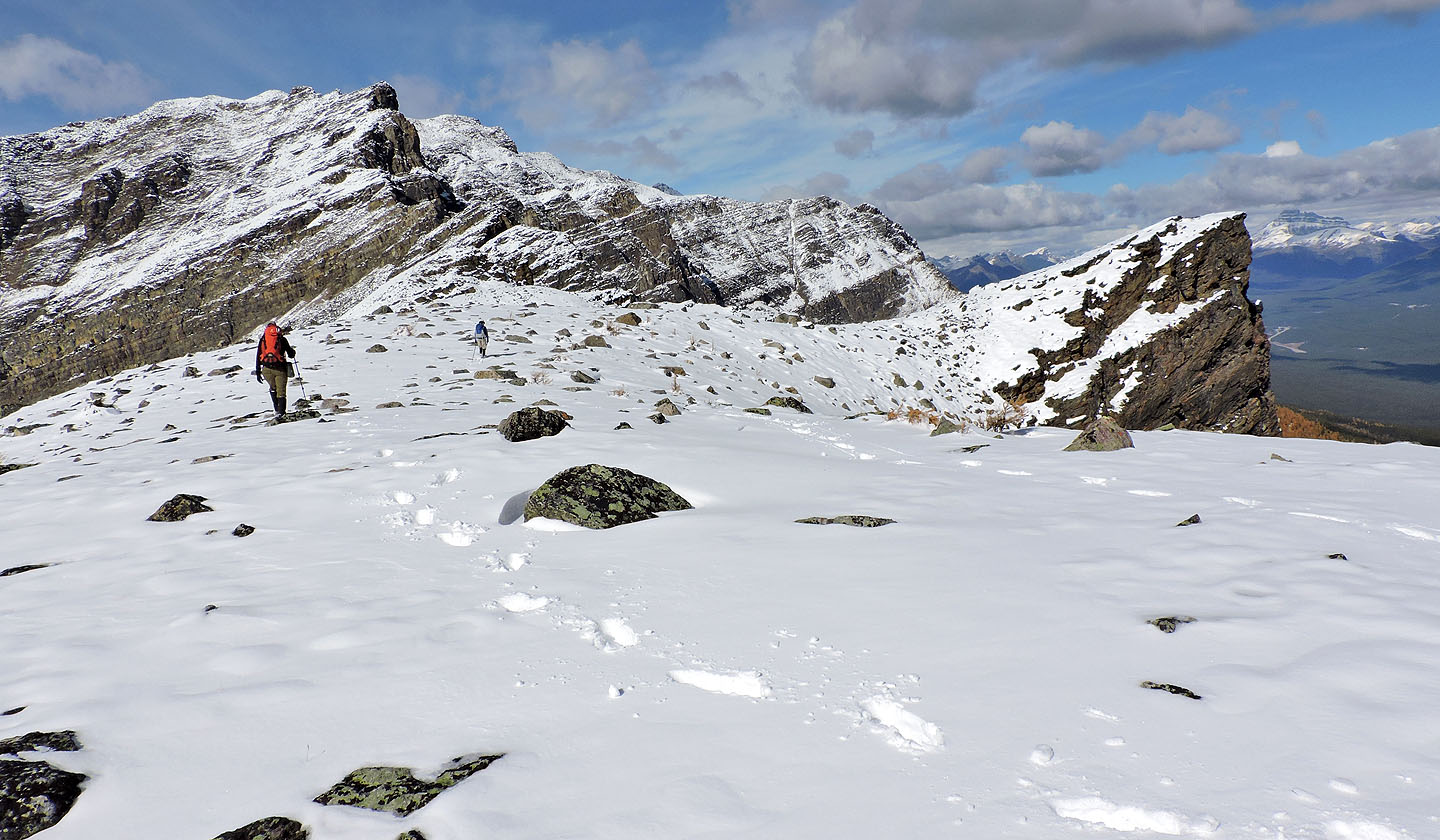 The unusual summit juts out from the broad ridge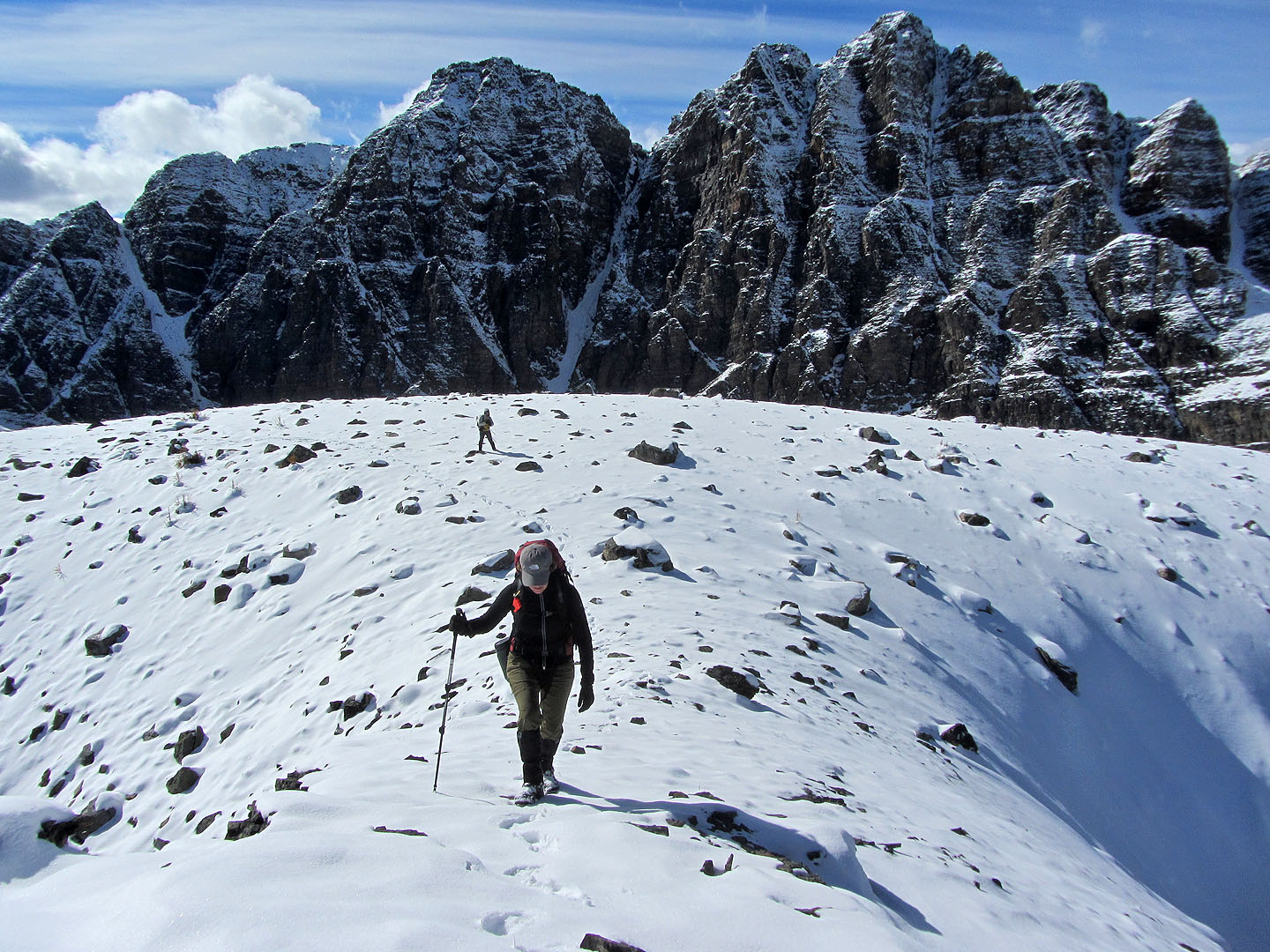 Looking back on the way to the summit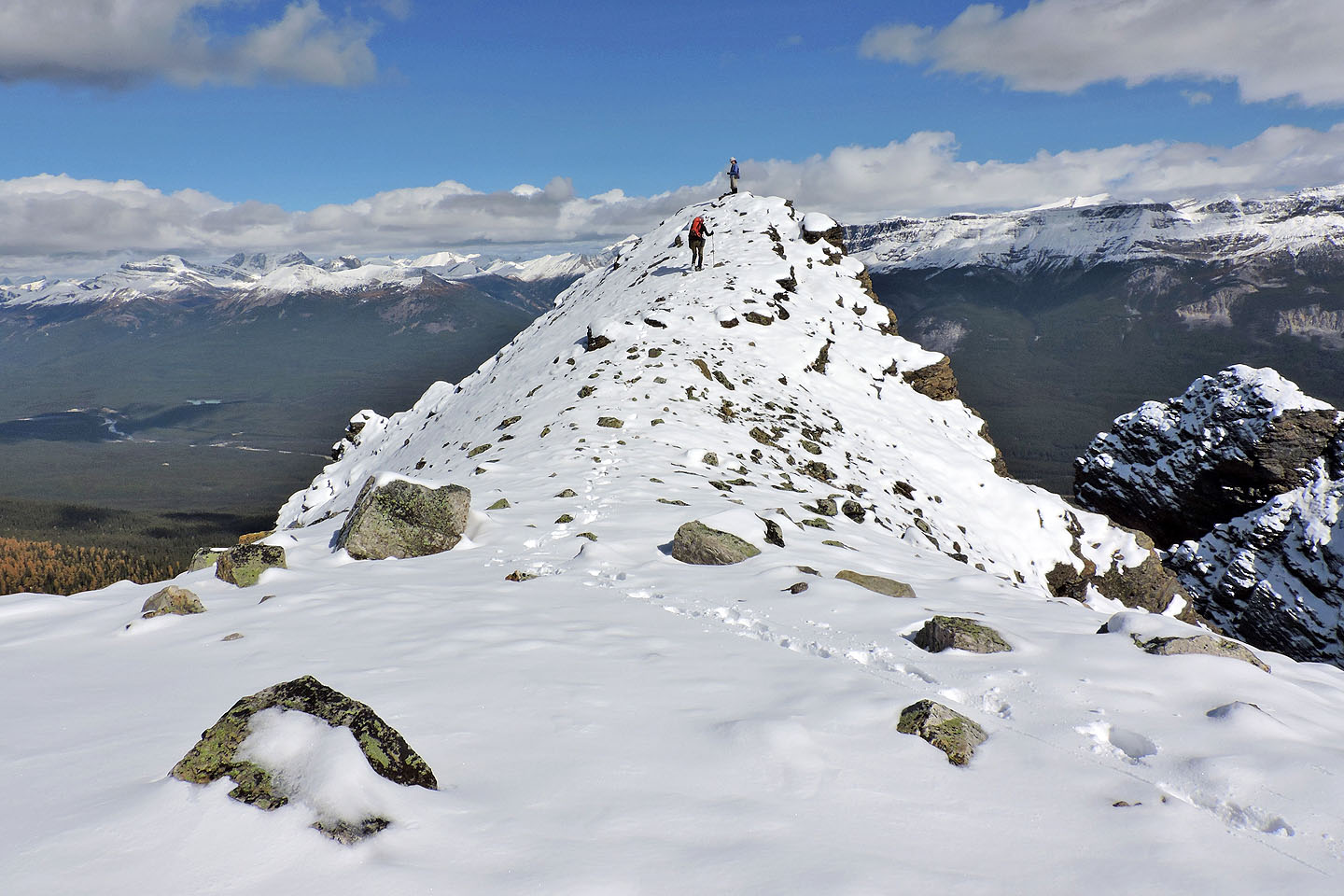 Zora waits for us on the mountaintop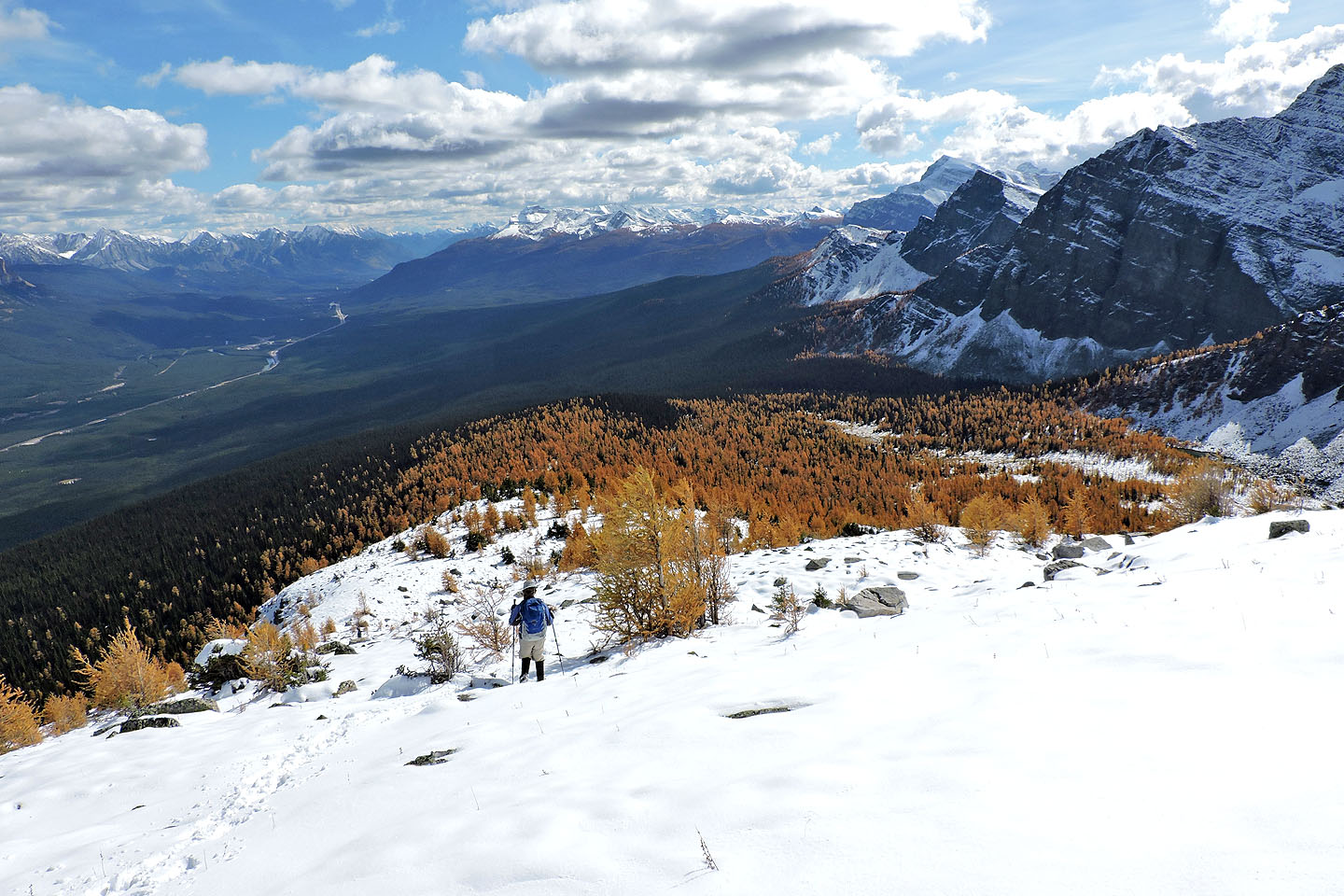 Heading back along the ridge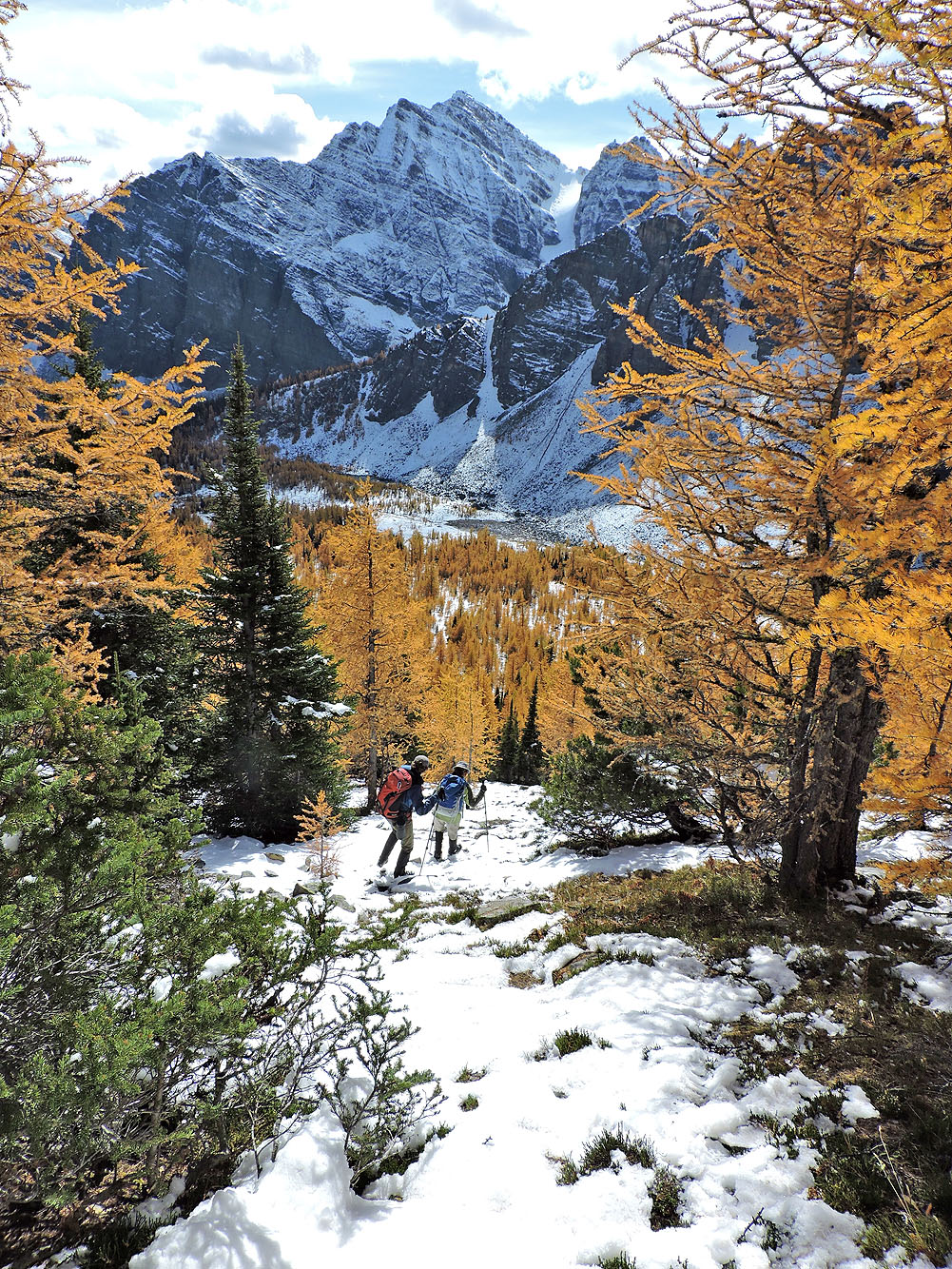 Dropping down to Panorama Meadows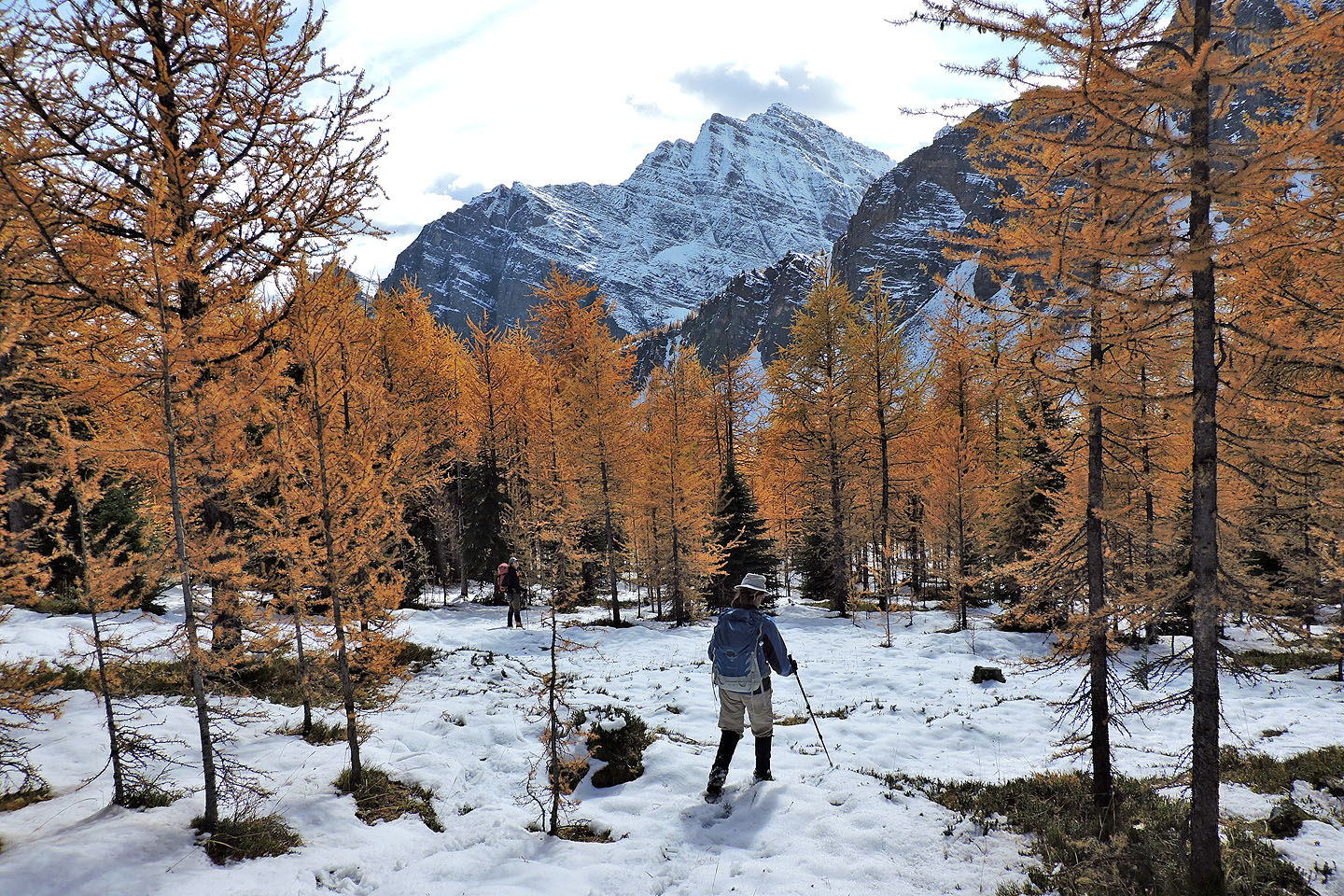 Mount Bell in the background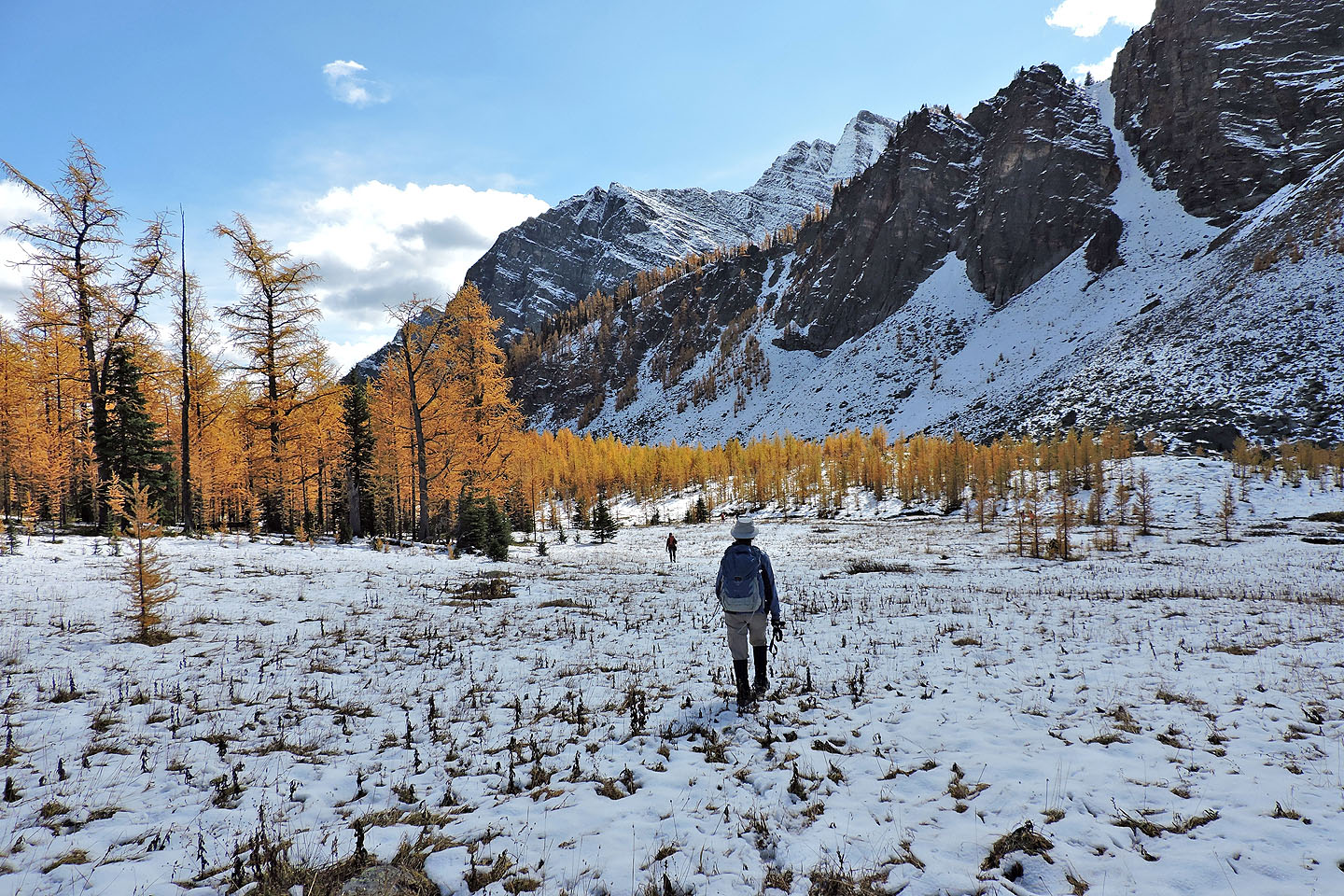 Panorama Meadows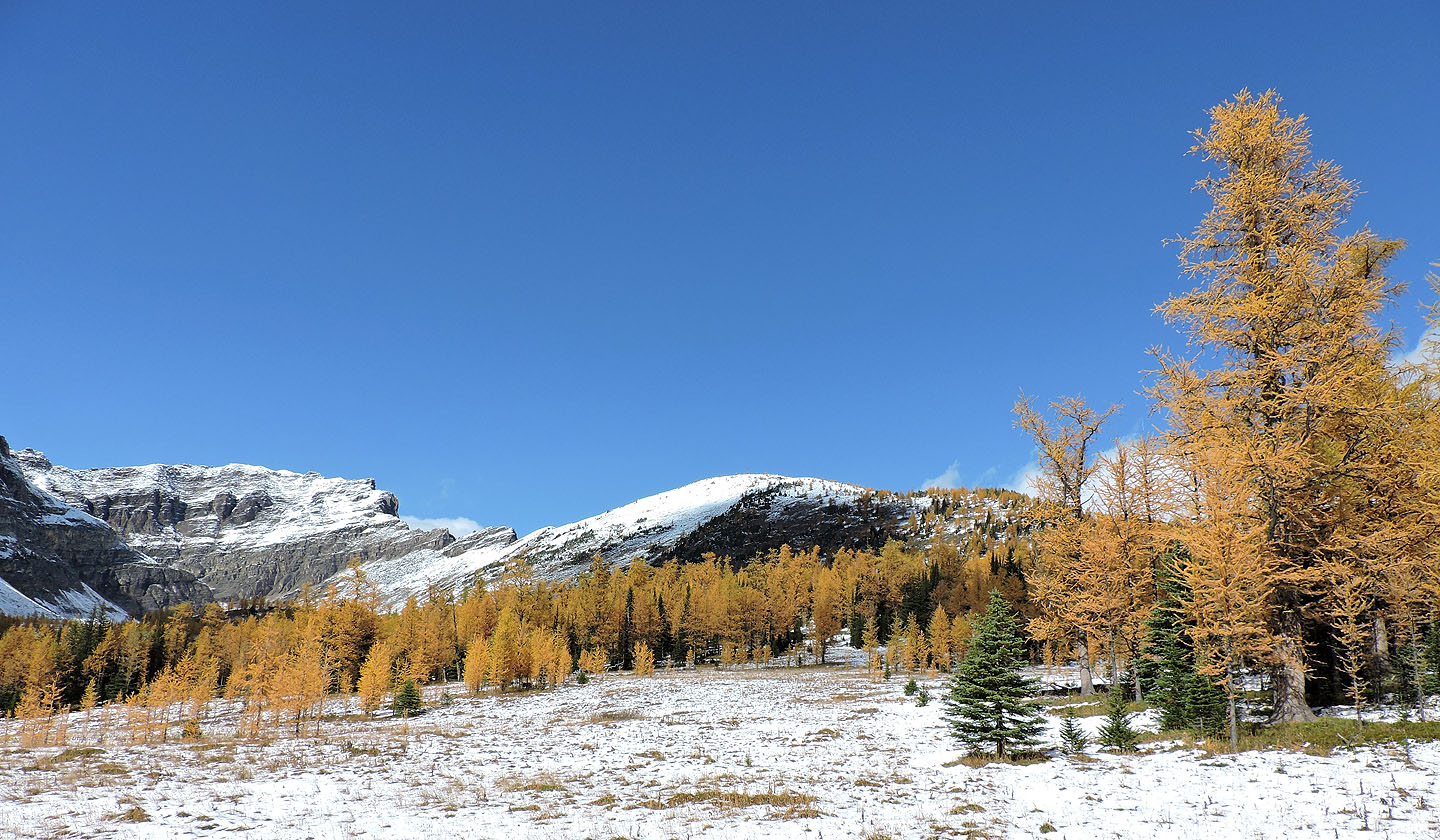 Looking back at the East Ridge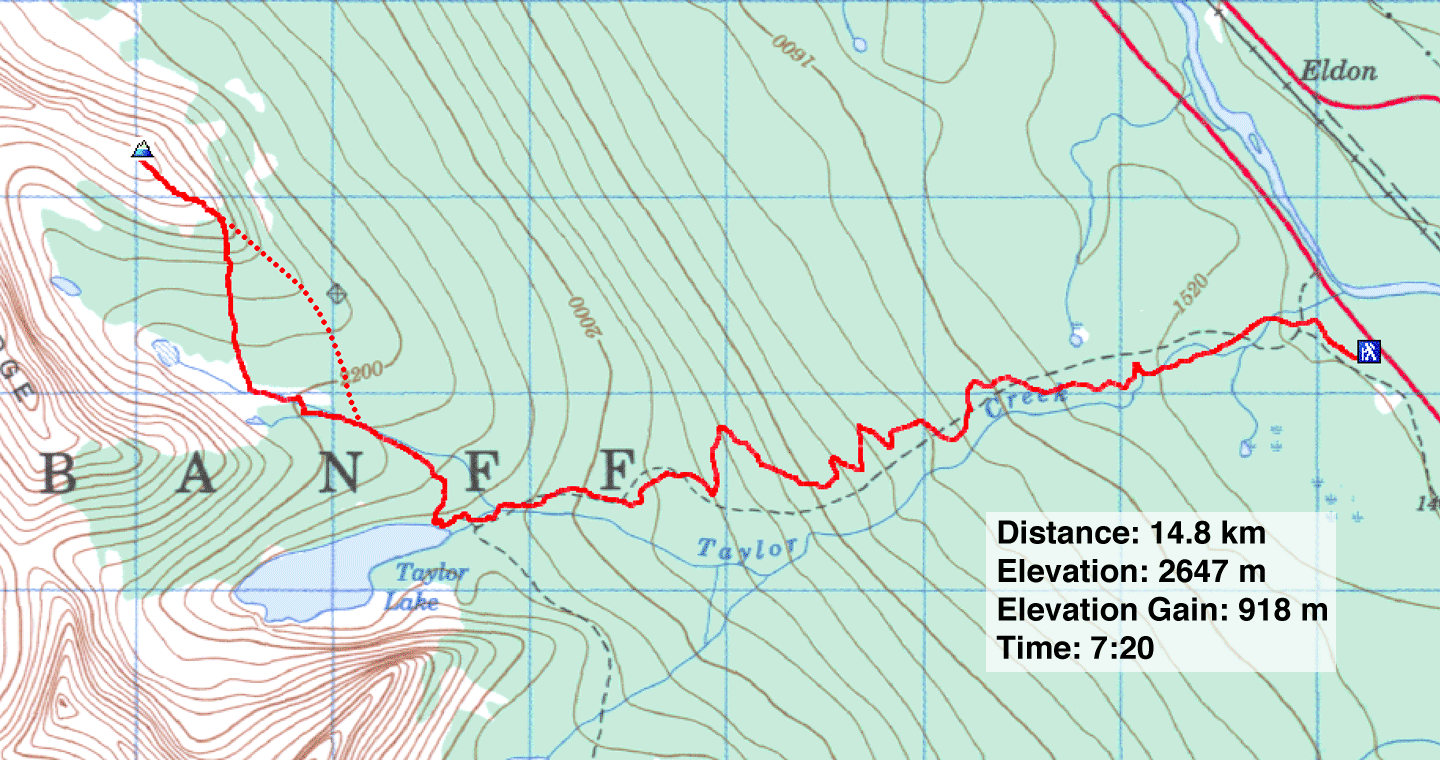 82 N/8 Lake Louise (dotted line shows ascent)