bobspirko.ca | Home | Canada Trips | US Trips | Hiking | Snowshoeing | MAP | About
Saddle Mountain
Lake Louise, Alberta
September 18, 2020
Distance: 10.5 km
Cumulative Elevation Gain: 794 m

Anyone climbing popular Fairview Mountain can easily include Saddleback Mountain. From Saddleback Pass, a pass shared by both peaks, the summit of Saddle Mountain can be reached in half an hour. Even so, when Dinah and I climbed Fairview last summer, we decided to reserve Saddle for larch season. And we're glad we did. Against the splendour of yellow and gold larches, the little grey peak took a backseat.
The trail begins on the lakeshore of Lake Louise, although you can take a shortcut from the upper parking lot. Under a pall of wildfire smoke, we followed Saddleback trail through dark evergreens before bursting into a forest of yellow larches. We passed through colourful conifers all the way to Saddleback Pass.
At the pass, we turned our attention to Saddle Mountain. We followed a narrow trail through dense larches to the edge of a boulder field. Despite the rocks, we didn't need to resort to scrambling since the slope is so gentle.
Cairns on the ridge suggested two candidates for the highest point, but the farthest cairn marked the summit. Further along the ridge is a third cairn. It's obviously lower, but nonetheless I went to it. Leaving Dinah behind, I scrambled down the ridge, working around or down short cliff bands. The effort was worthwhile just to catch sight of the sheer east cliff of Saddle Mountain.
Eventually we headed back. But we weren't ready to end our trip. We left Saddleback trail to reach Fairview Lookout. A side trail climbs 80 m to a viewing platform. A gap through the trees allowed a view of the lake and hotel, but little else.
The trail continues past the lookout, but it's not maintained. Dinah opted to return the same way, while I ventured on. The narrow trail switchbacks down to Lake Louise before following the lakeshore to the hotel. The trail wasn't difficult, but it was rooty and bushy in spots, and messy where it crossed mud holes by the lakeshore. There were a few views along the way, but a haze of smoke muted any possible compelling scenery.
In fact, smoke from U.S. wildfires spoiled the view of peaks throughout our trip. We could see nothing of Mount Temple which towers 1100 m above Saddle Mountain and is only 4 km away! But we came to experience yellow larches and in that, we came away satisfied.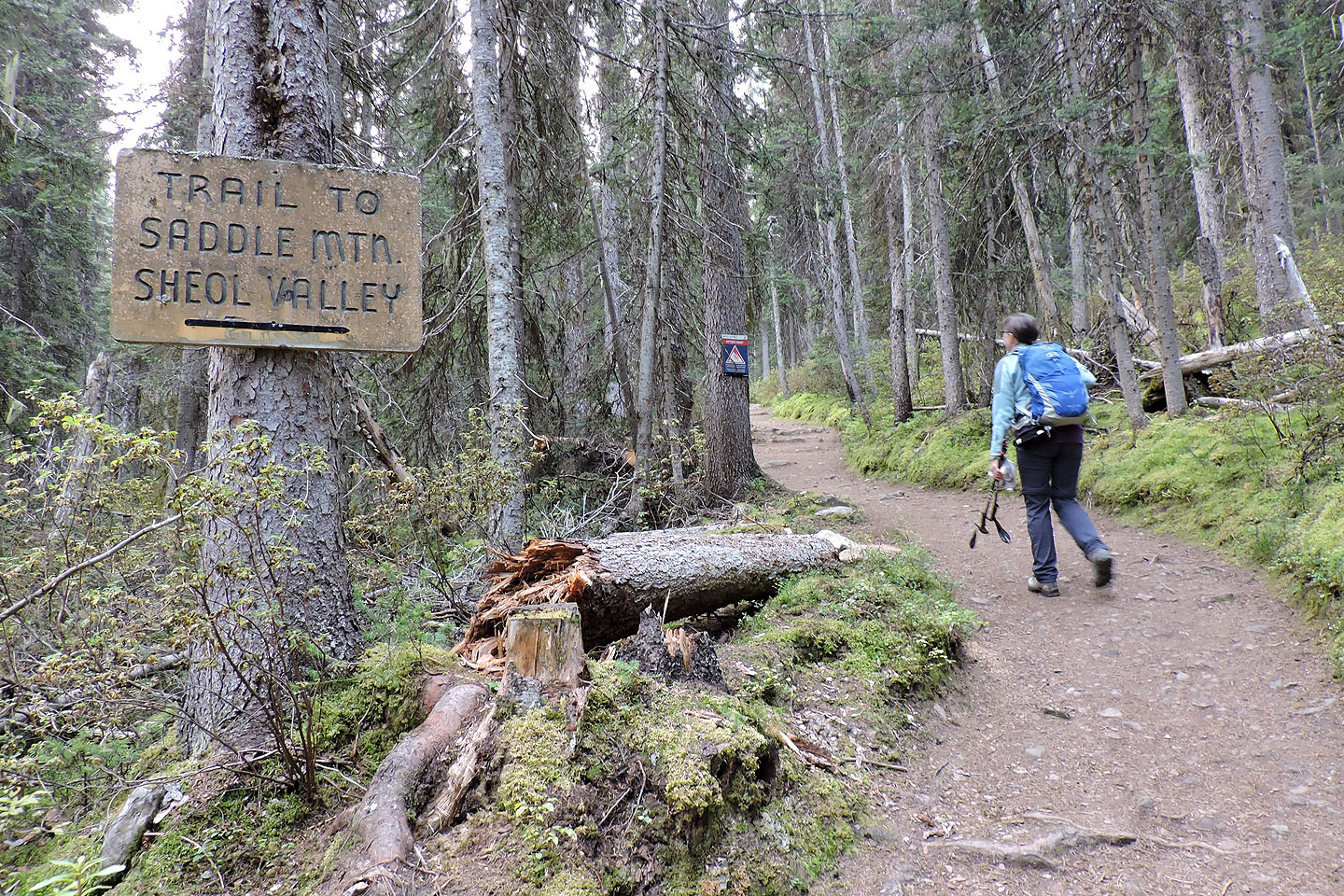 On the trail to Saddle Mountain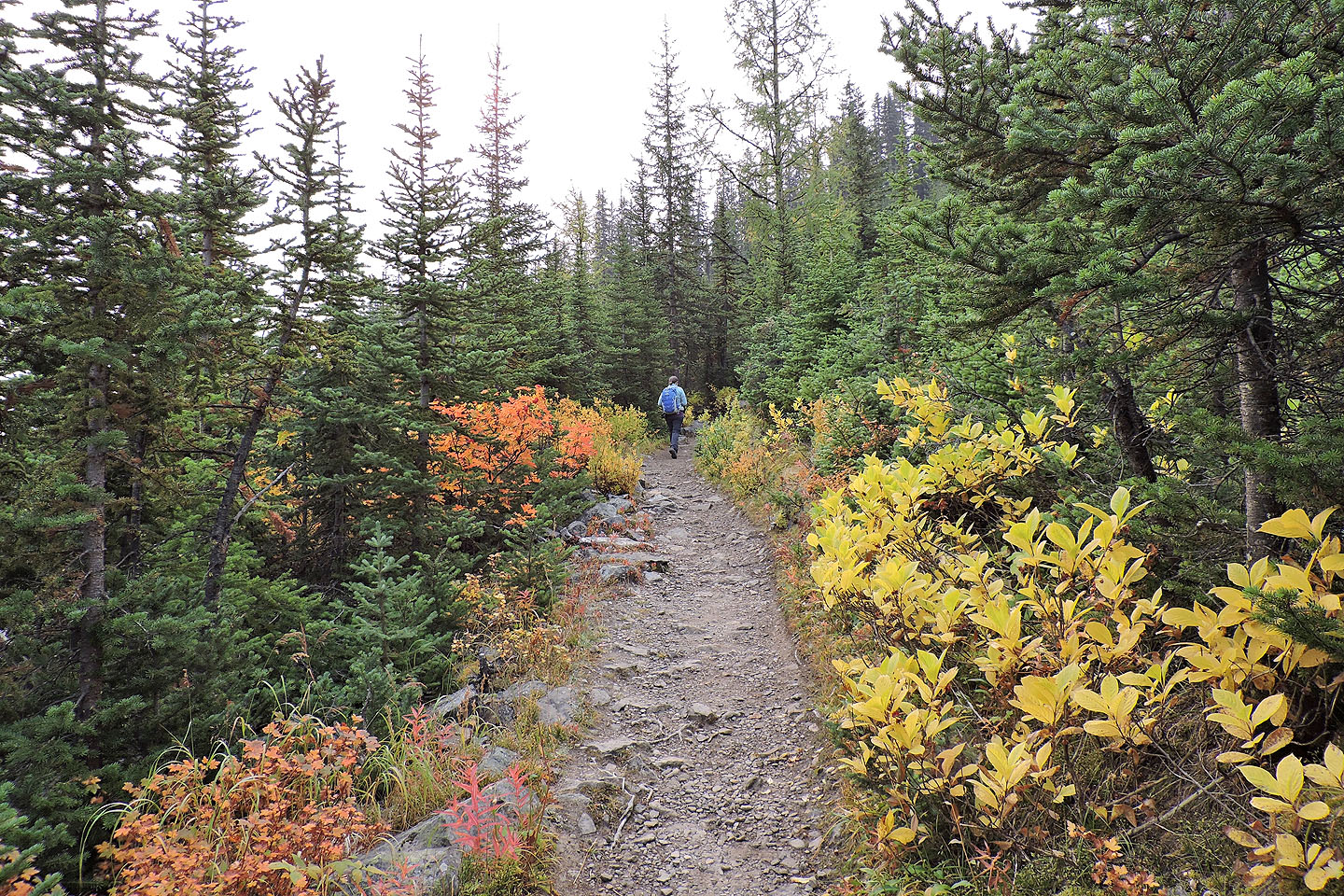 The trail runs through avalanche slopes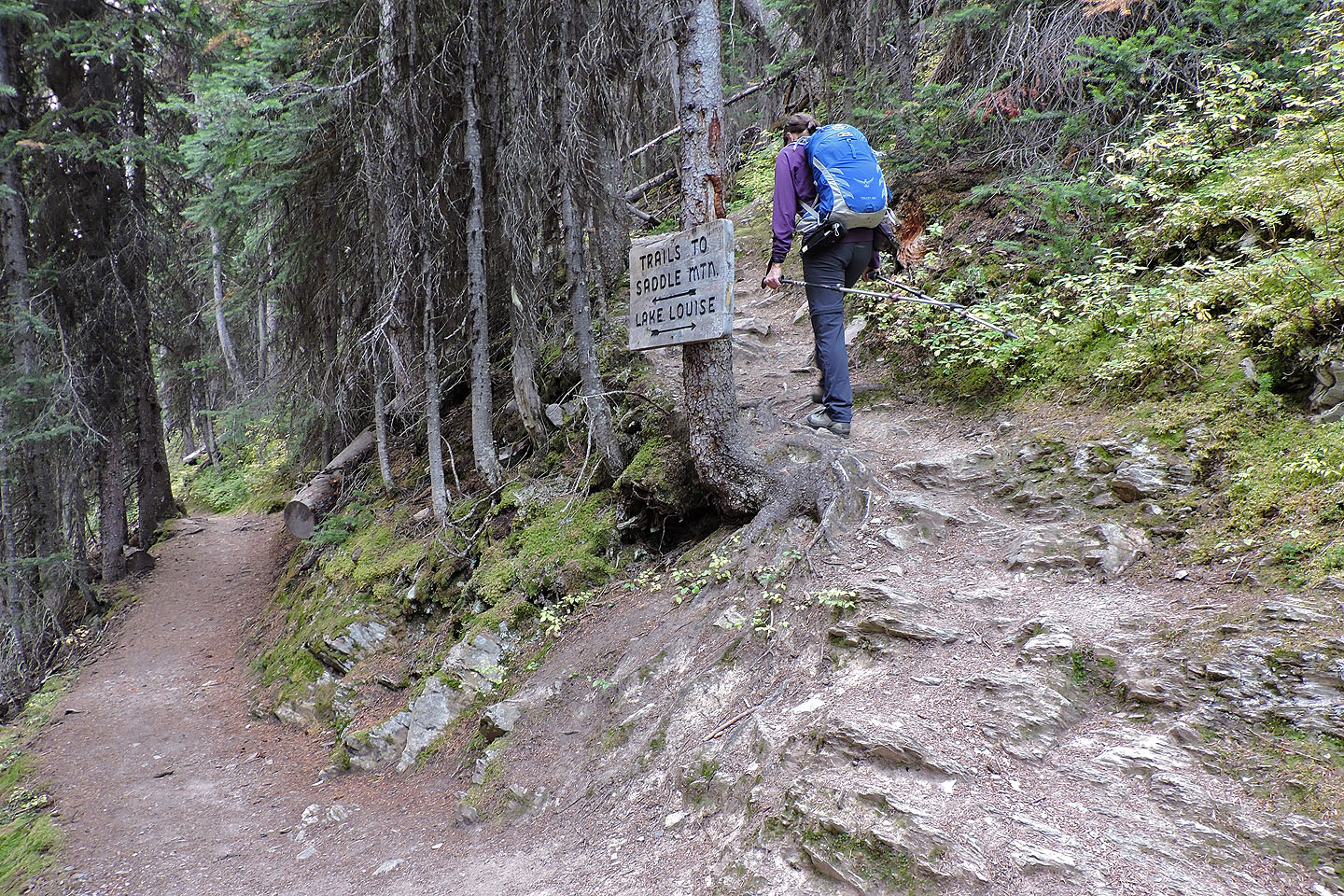 We took the shortcut going up but came down on the switchback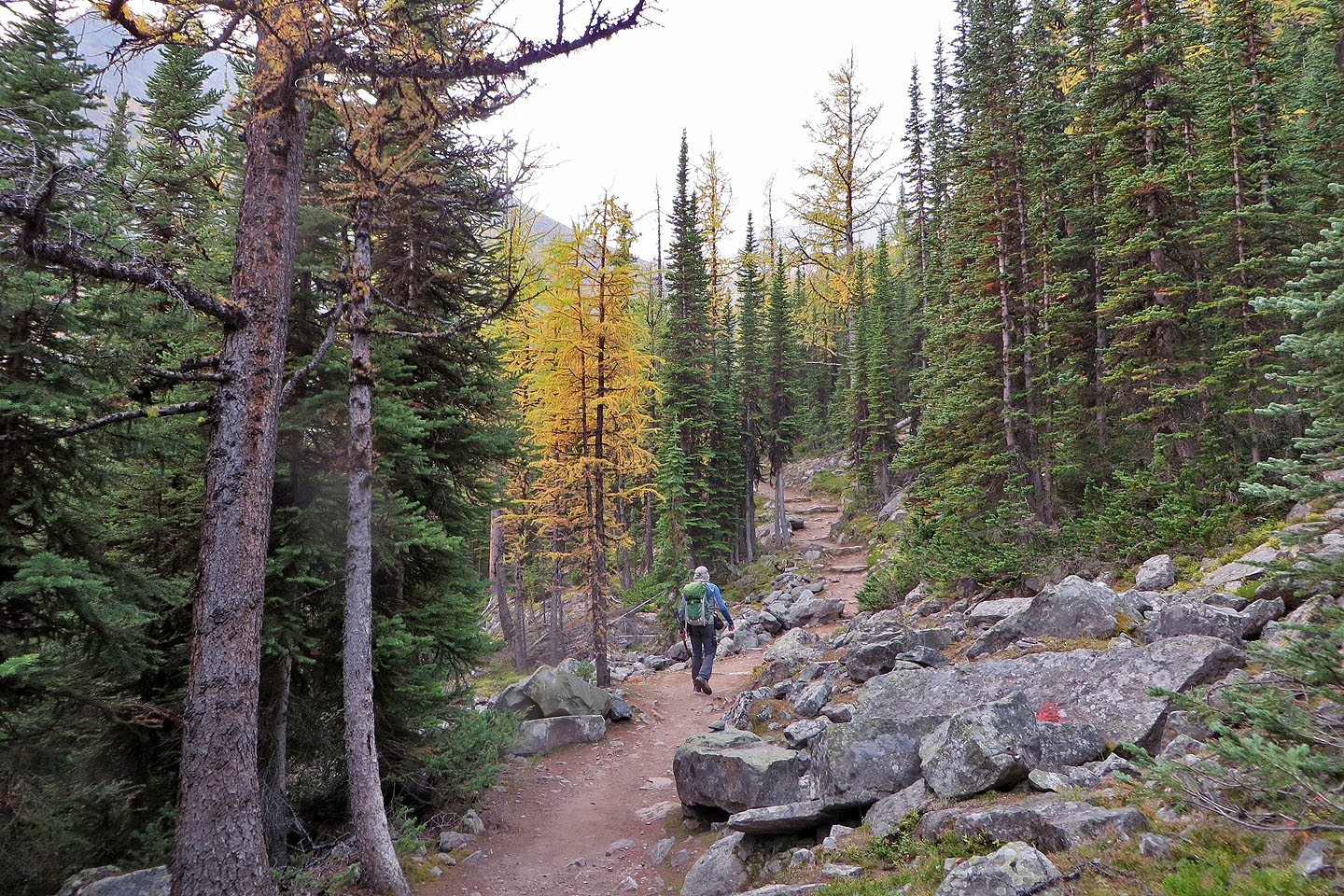 We reached our first larches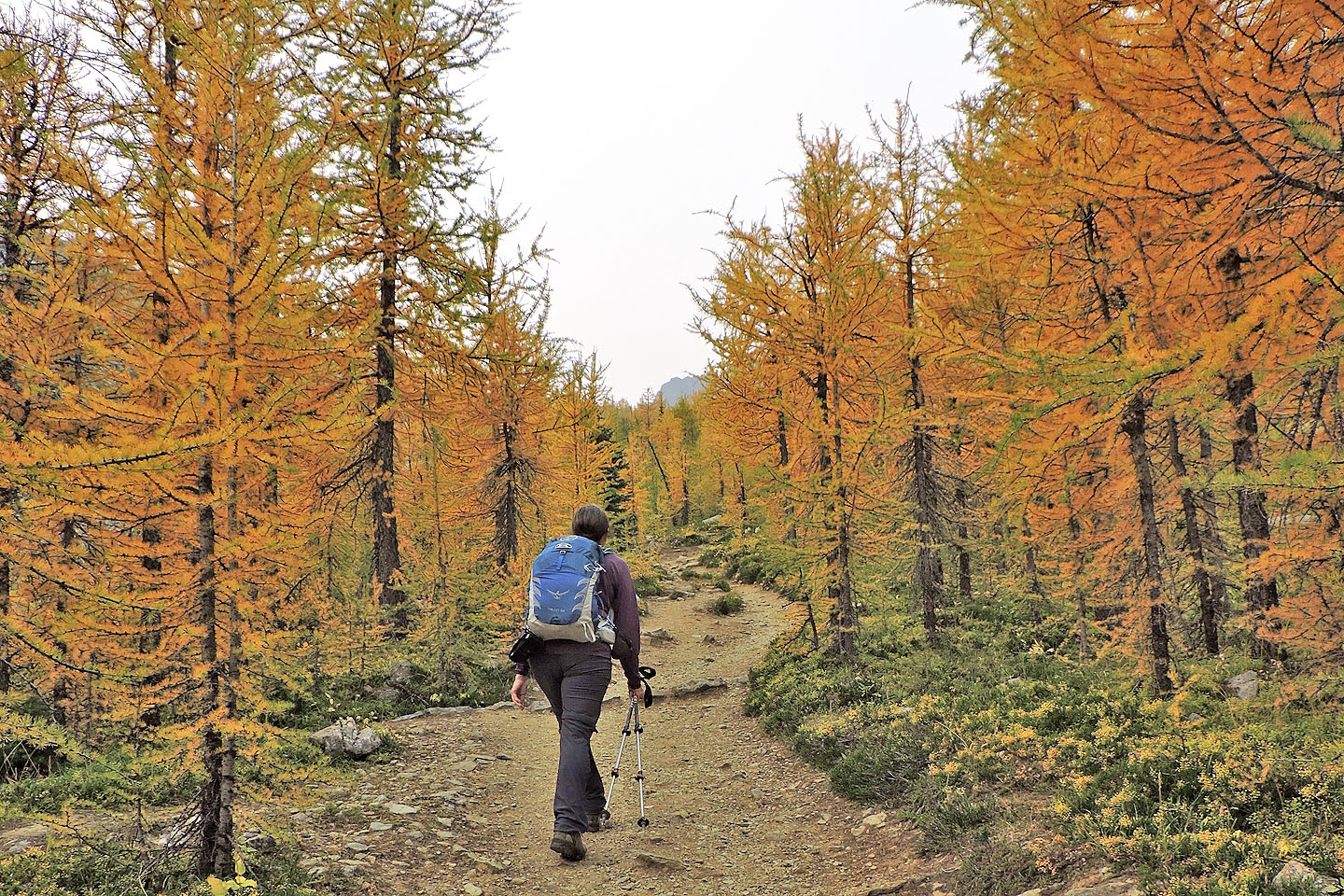 Walking down a golden corridor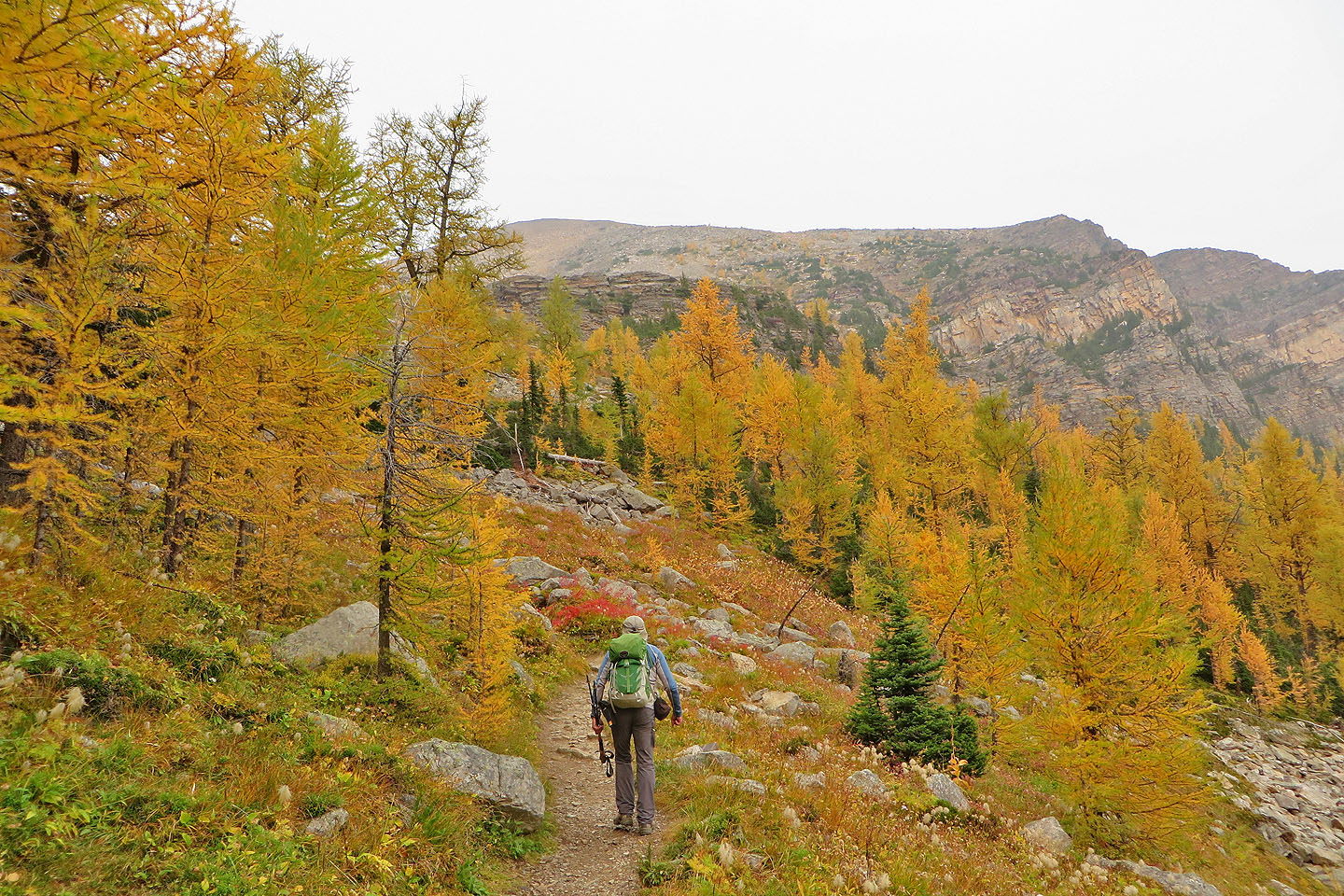 Fairview Mountain came into view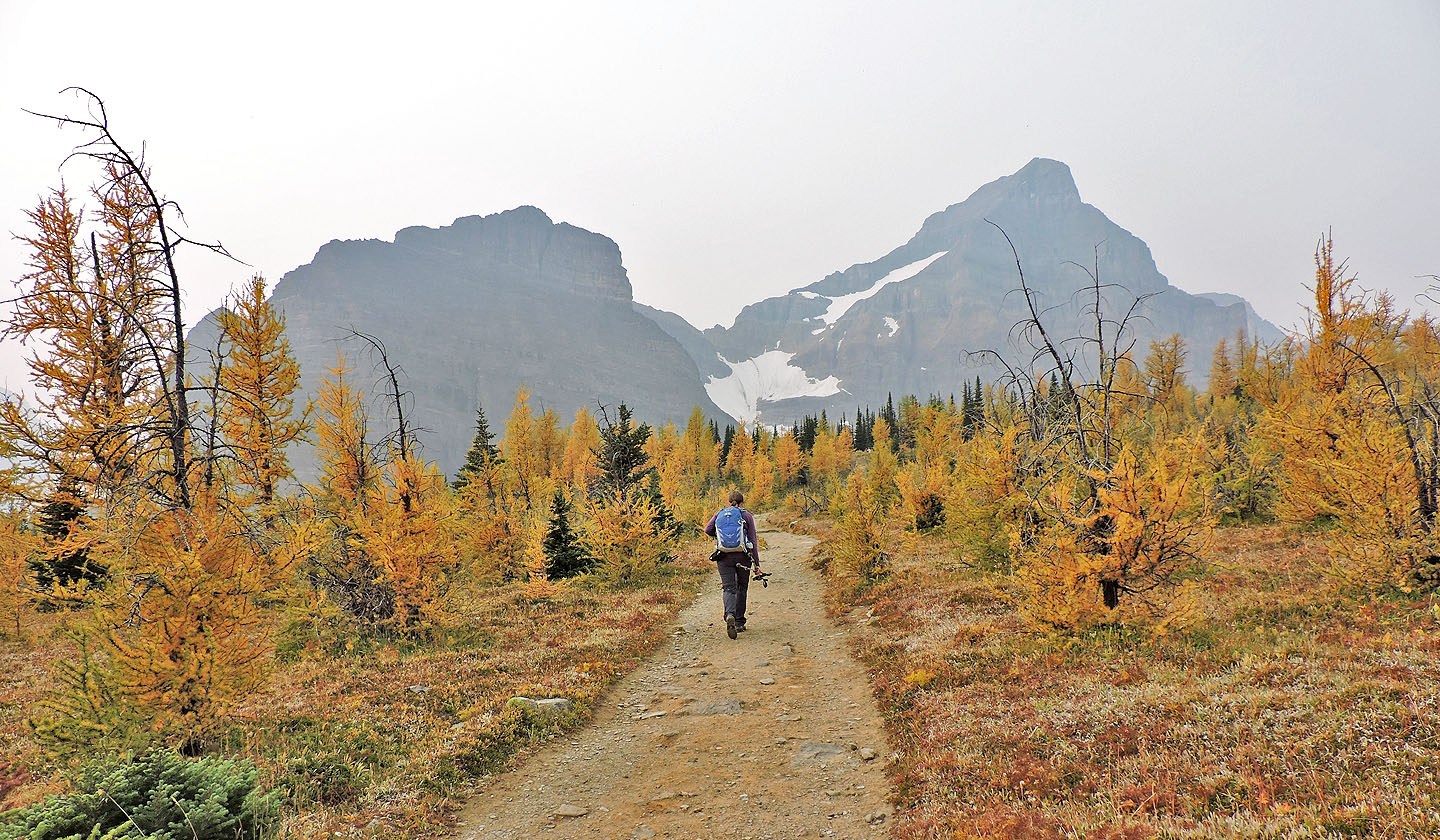 Heading to Saddleback Pass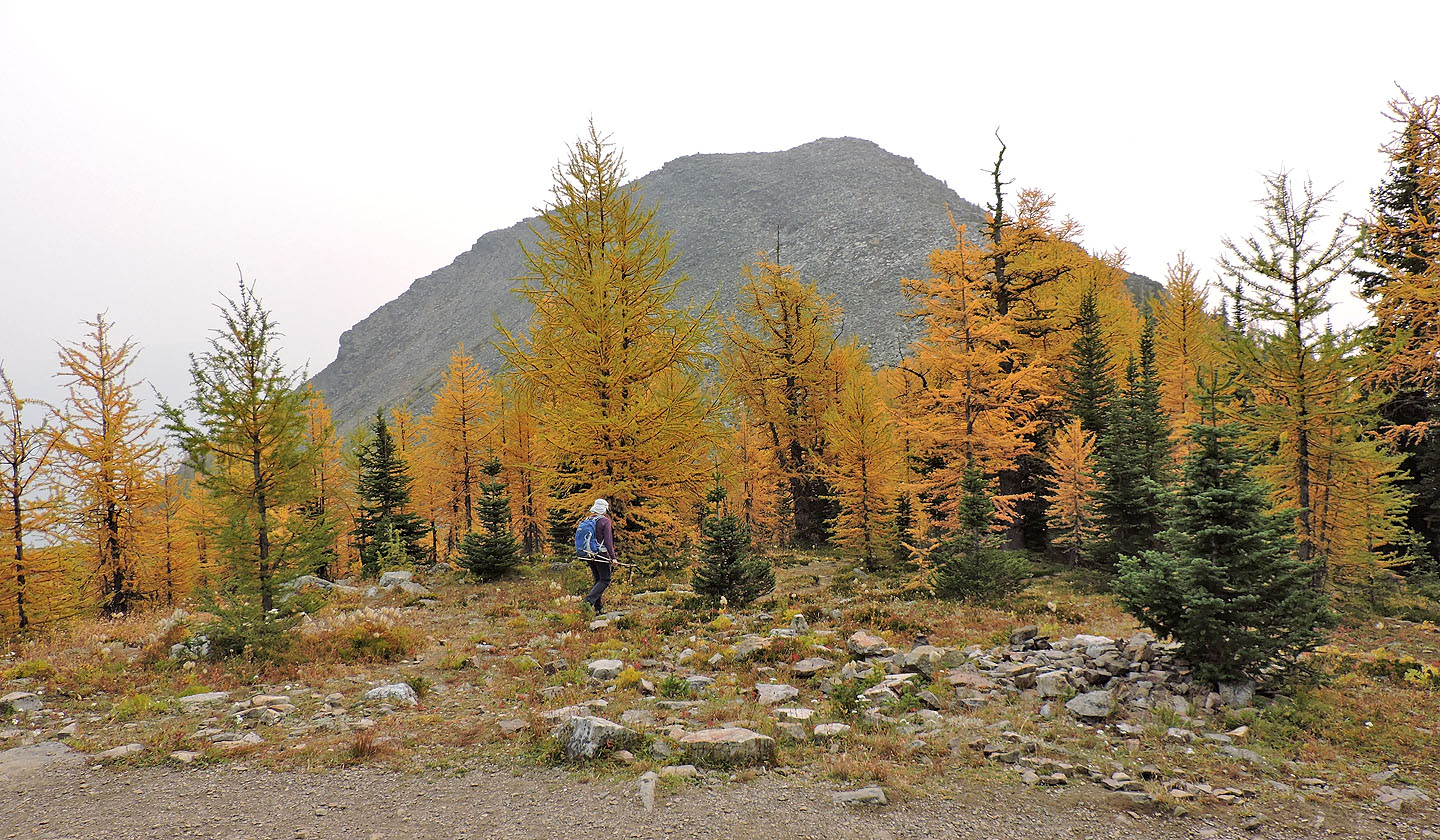 From the pass we started up a trail to Saddle Mountain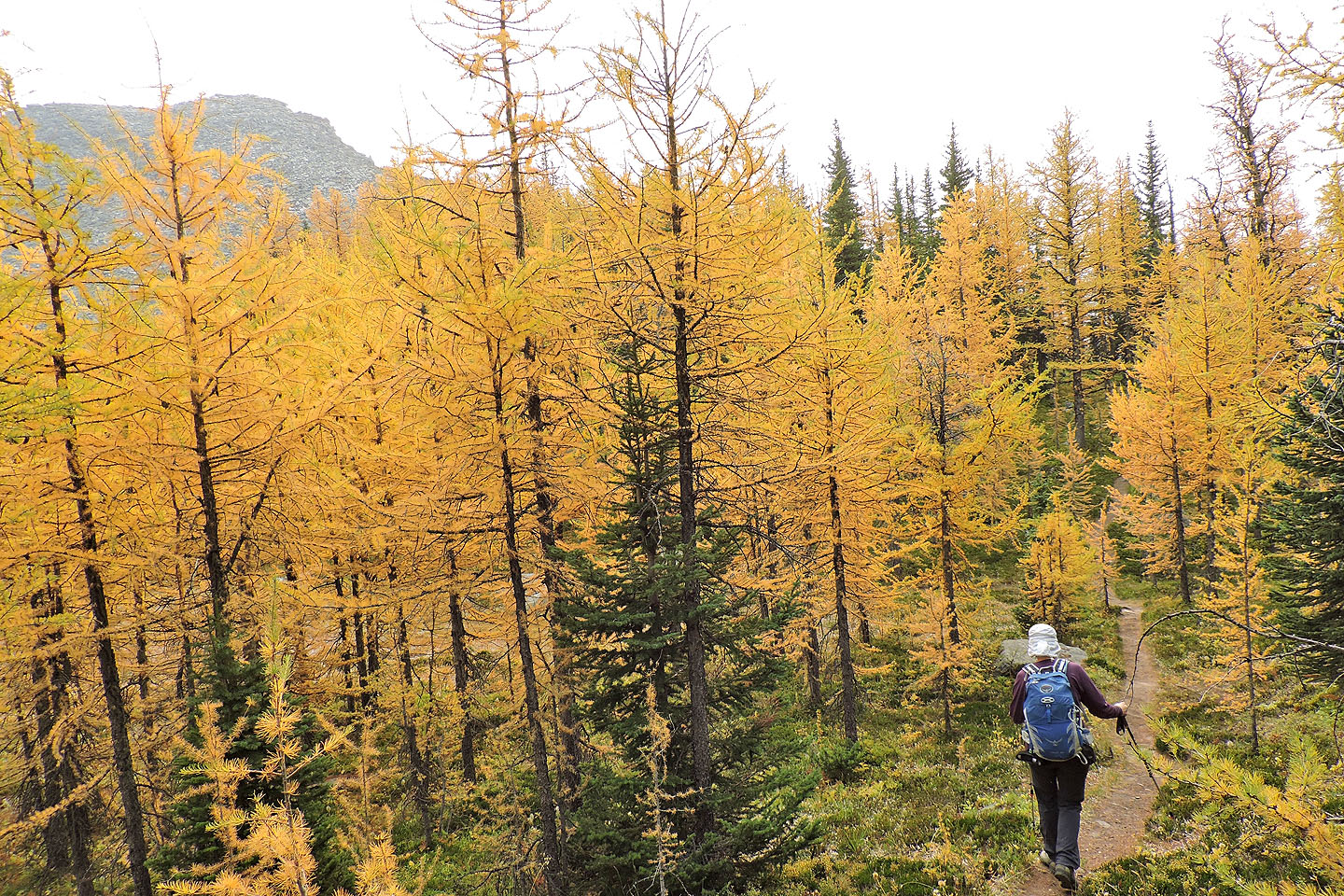 We're soon engulfed in yellow larches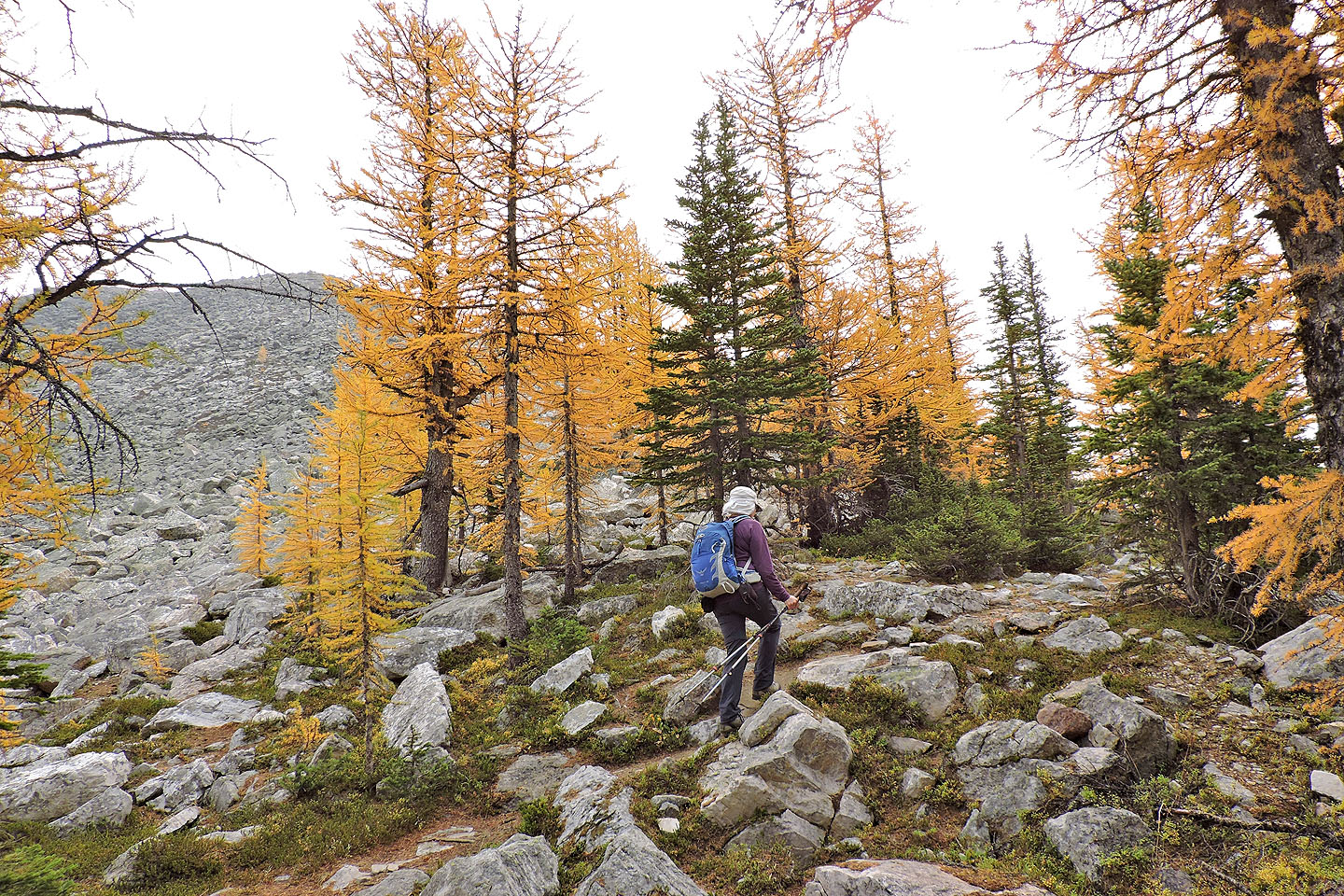 Coming to the edge of the larches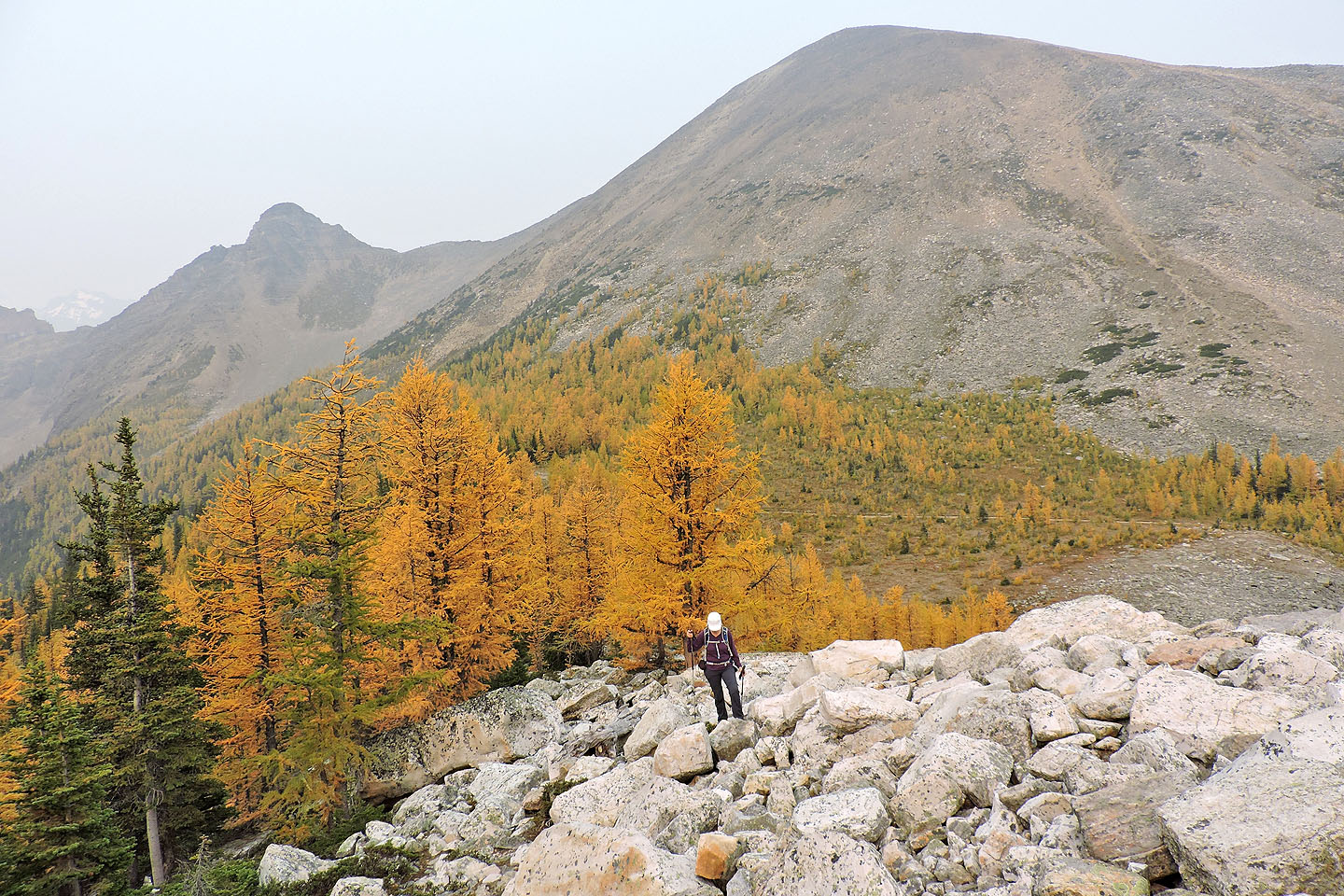 We left the larches behind and started up the rocky slope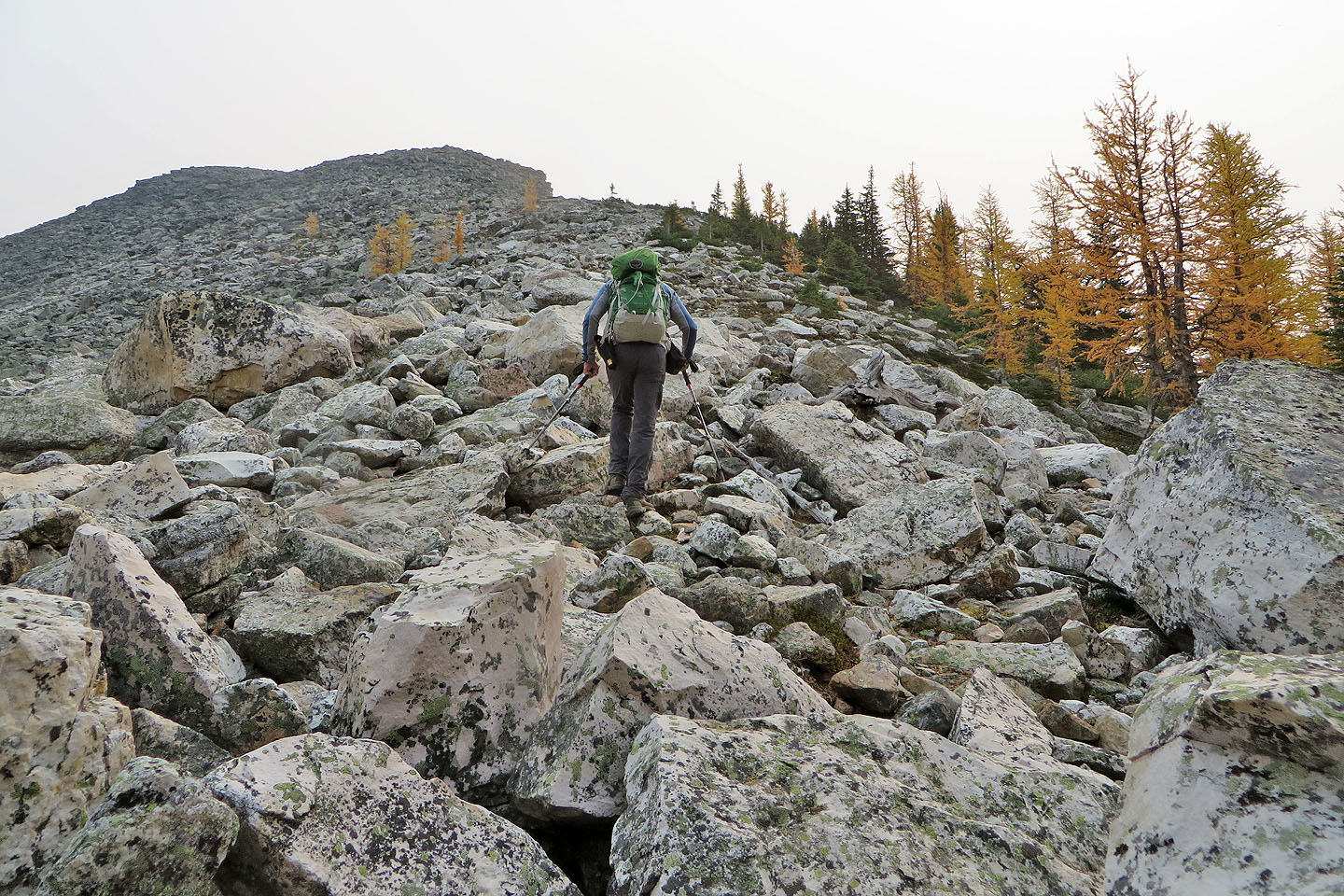 Look for cairns for the easiest way up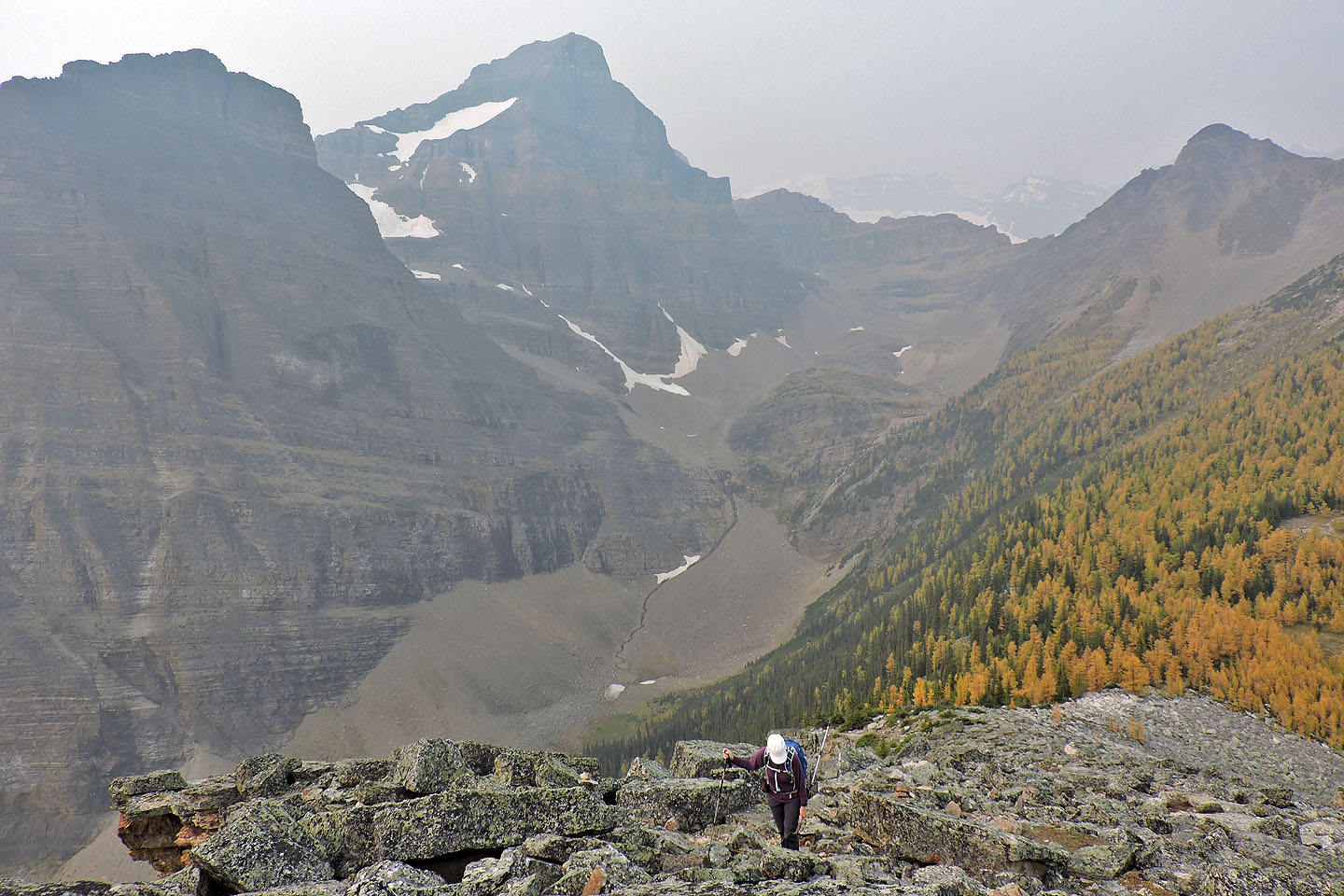 Sheol Mountain and Haddo Peak on the left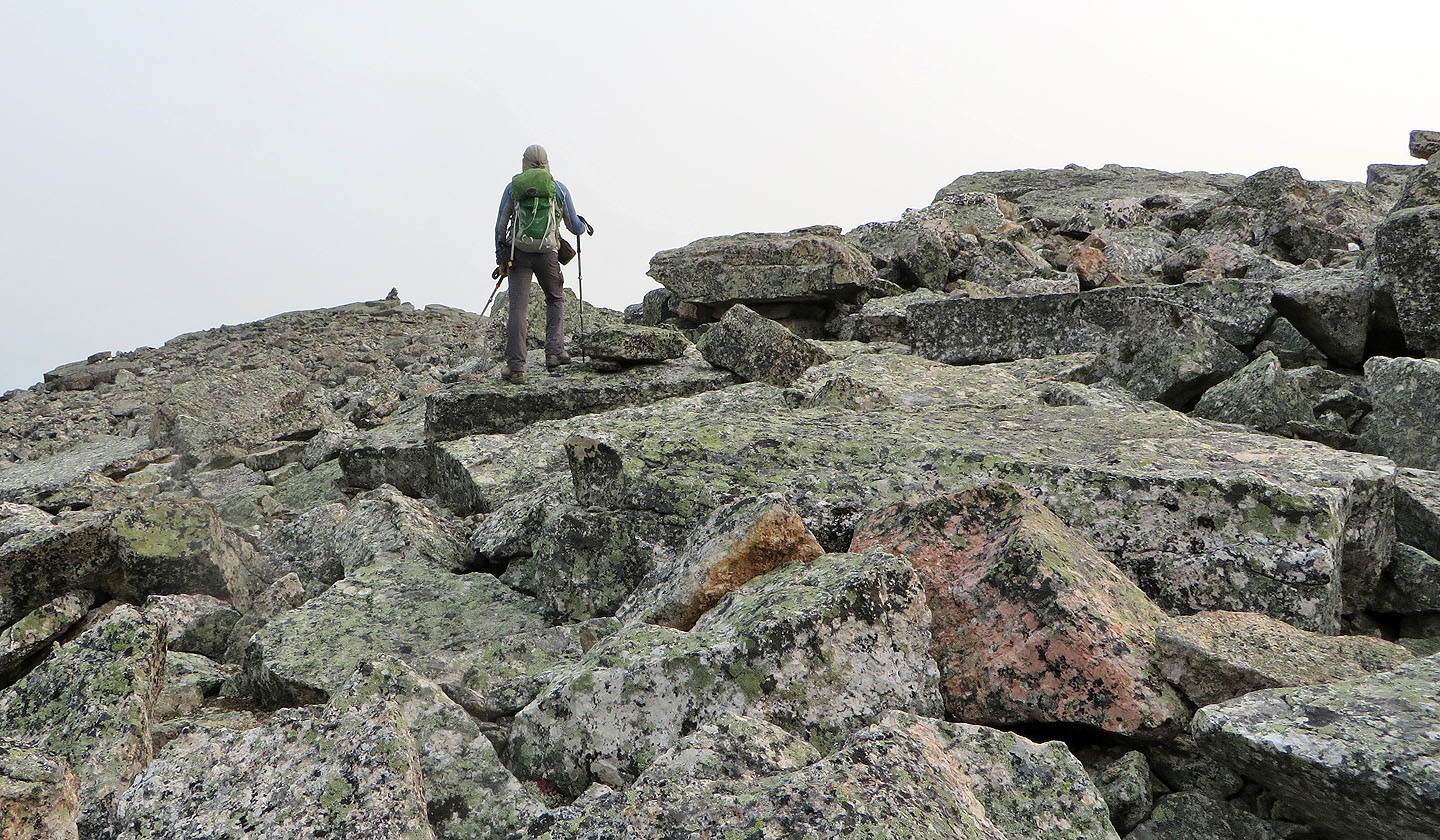 Near the ridgetop, we caught sight of the summit cairn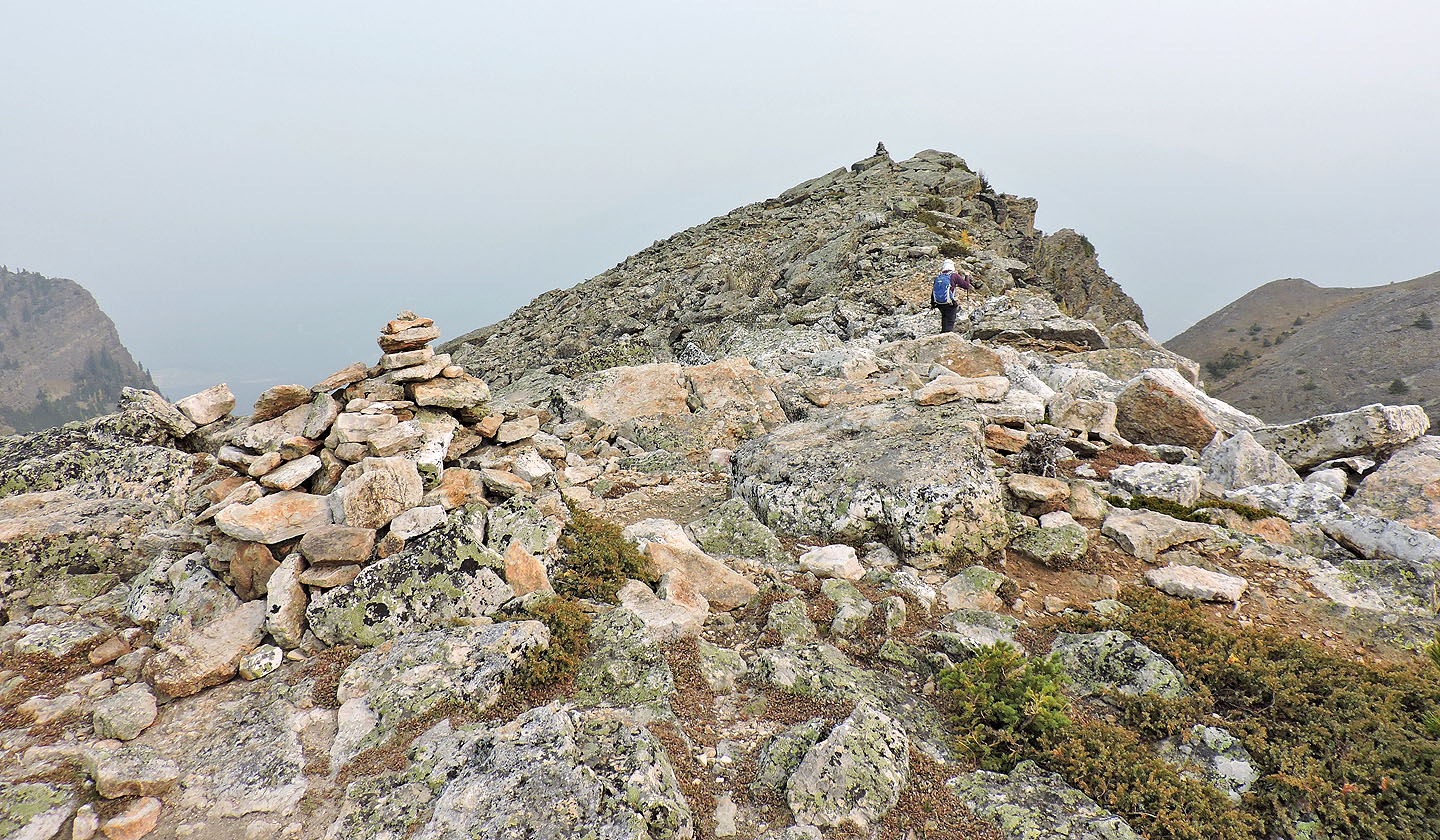 The farther cairn marks the summit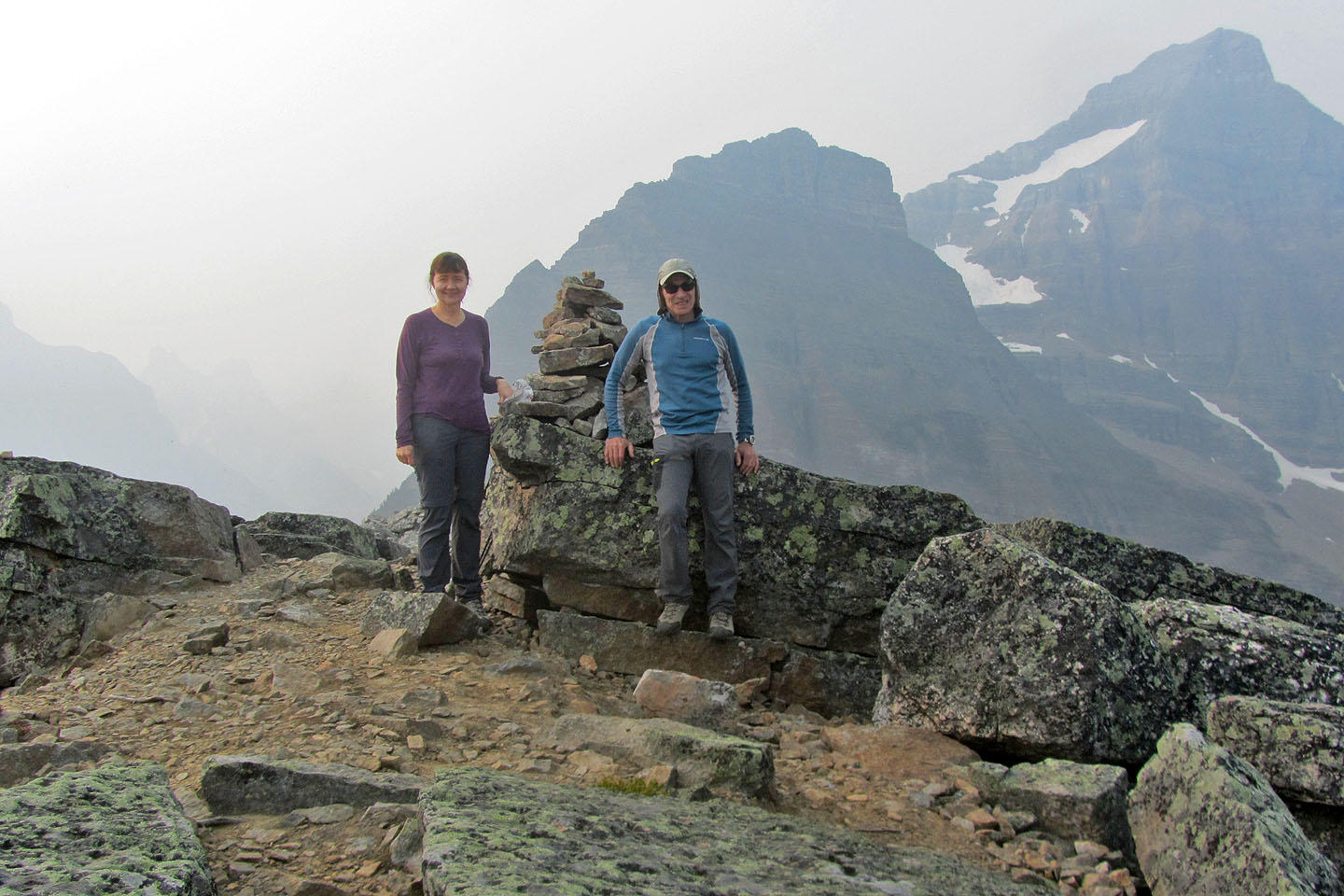 Standing by the summit cairn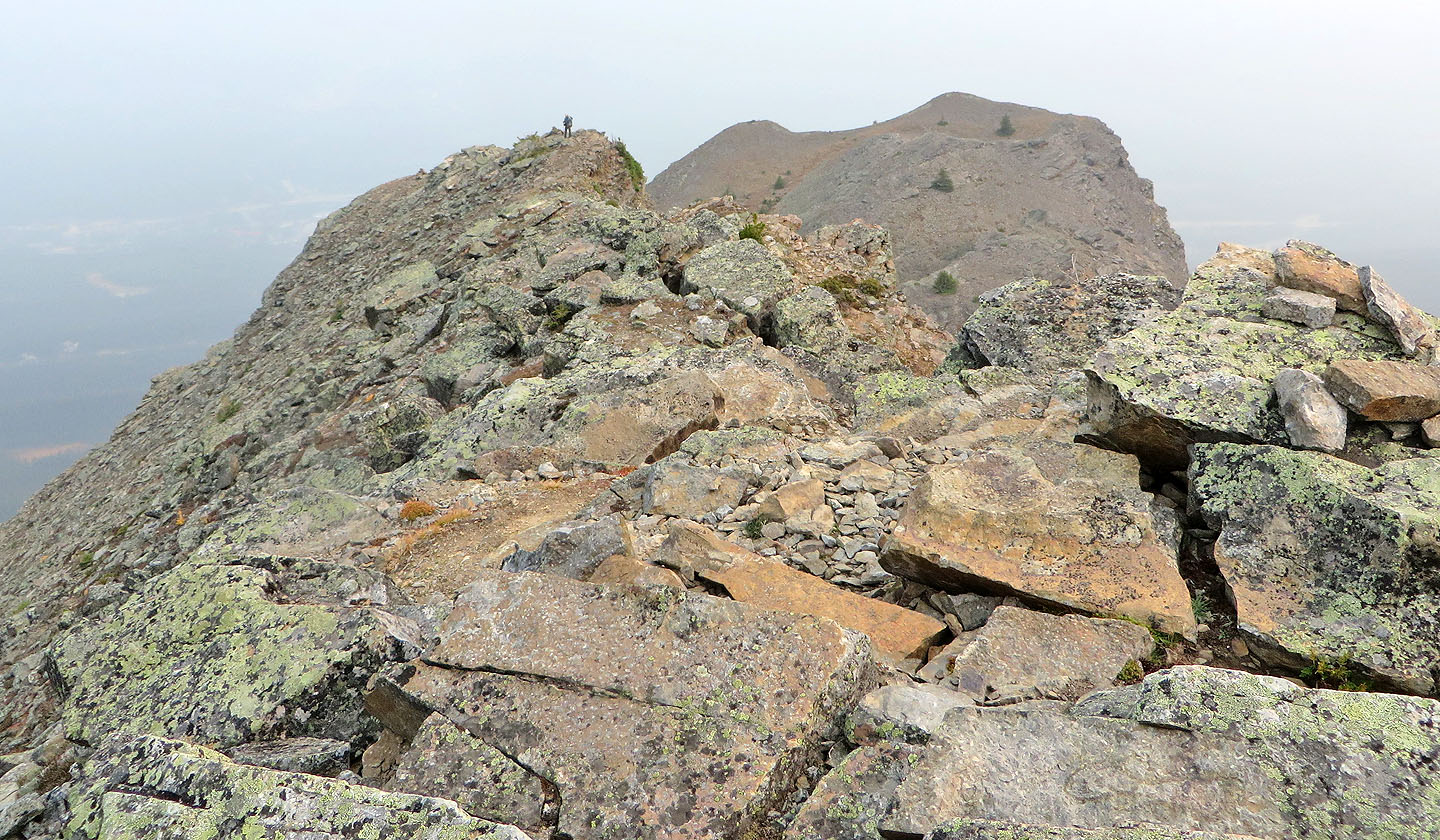 I headed to the far end of the ridge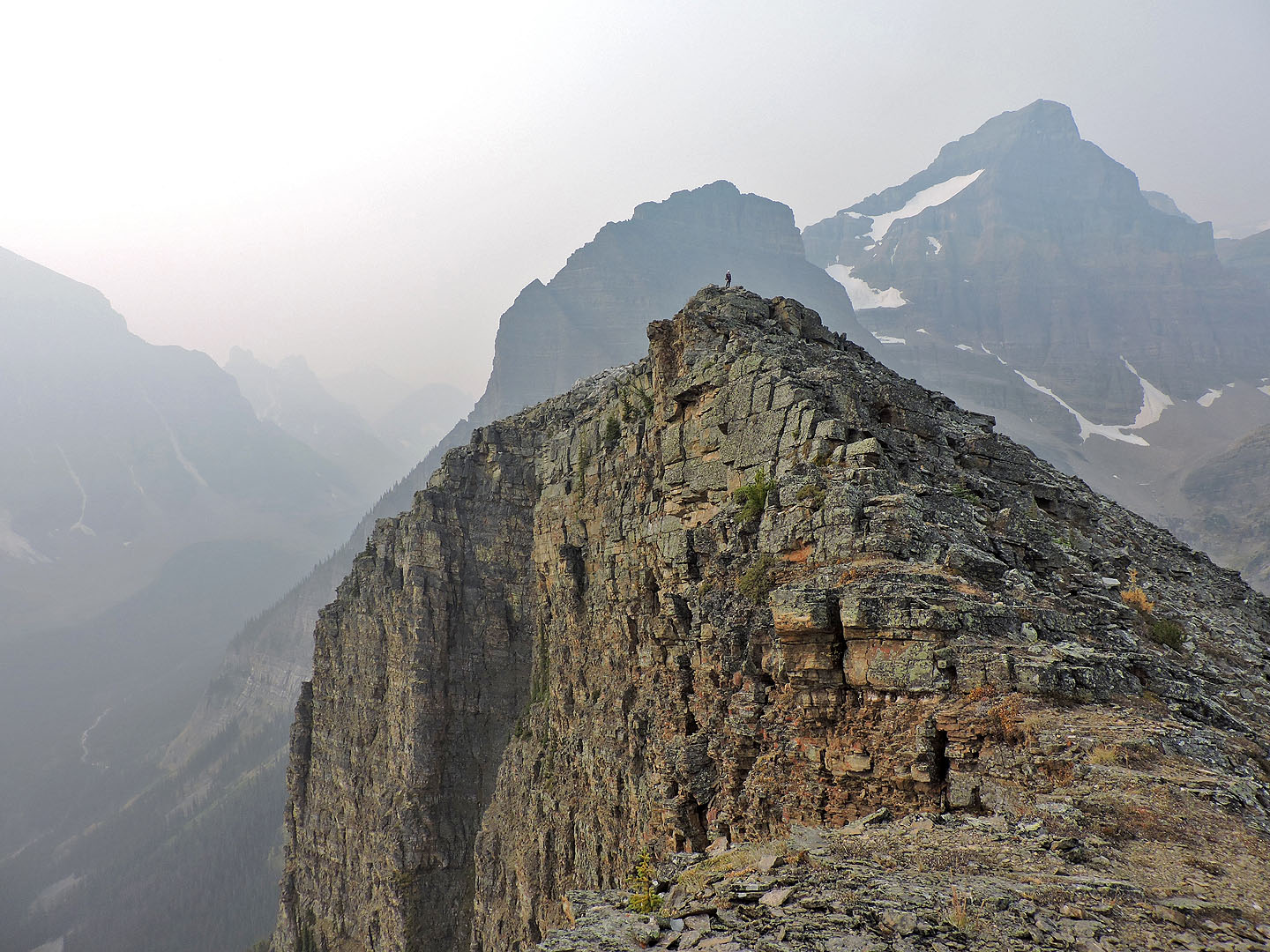 Looking back at Dinah on the summit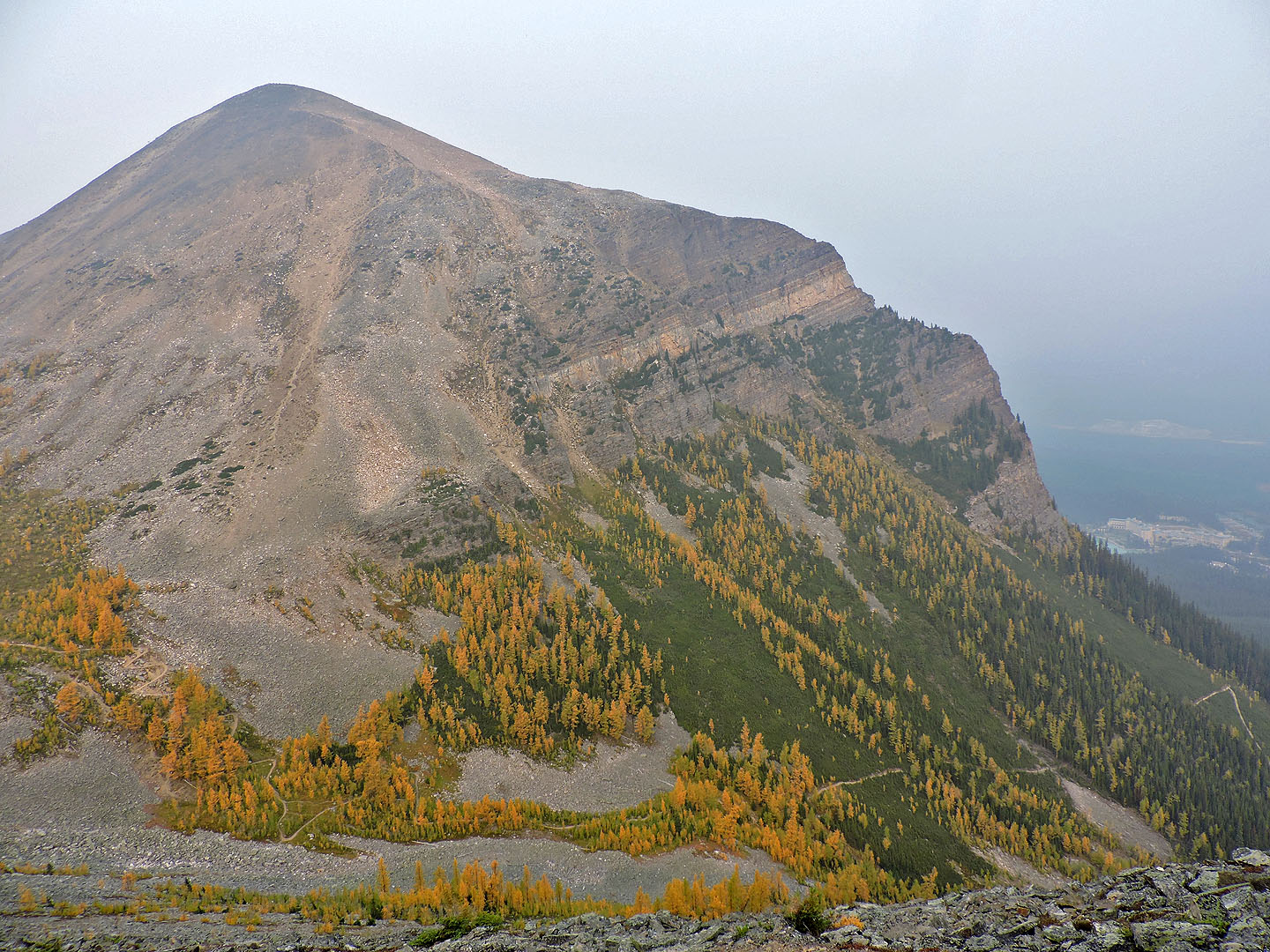 This angle of Fairview Mountain shows much of the approach trail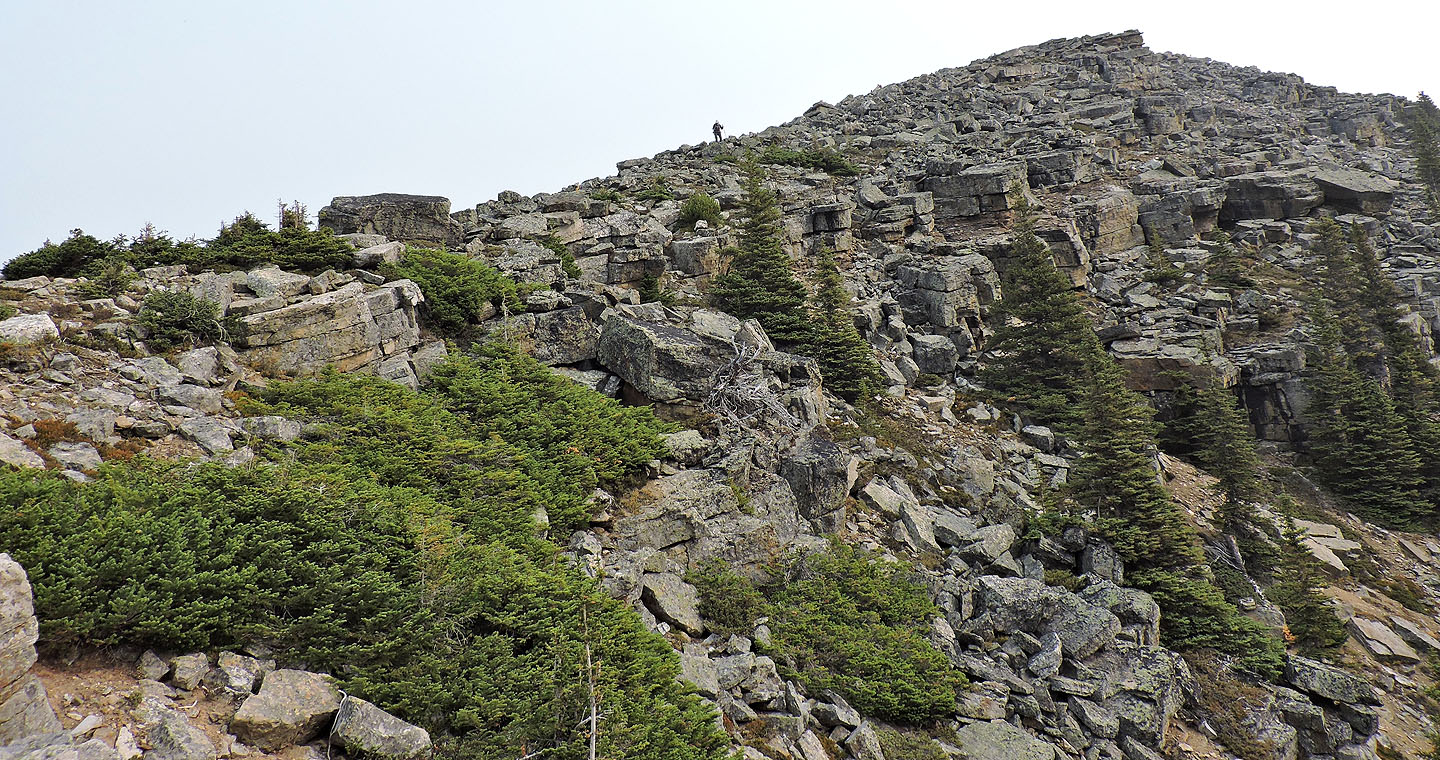 Dinah descends Saddle Mountain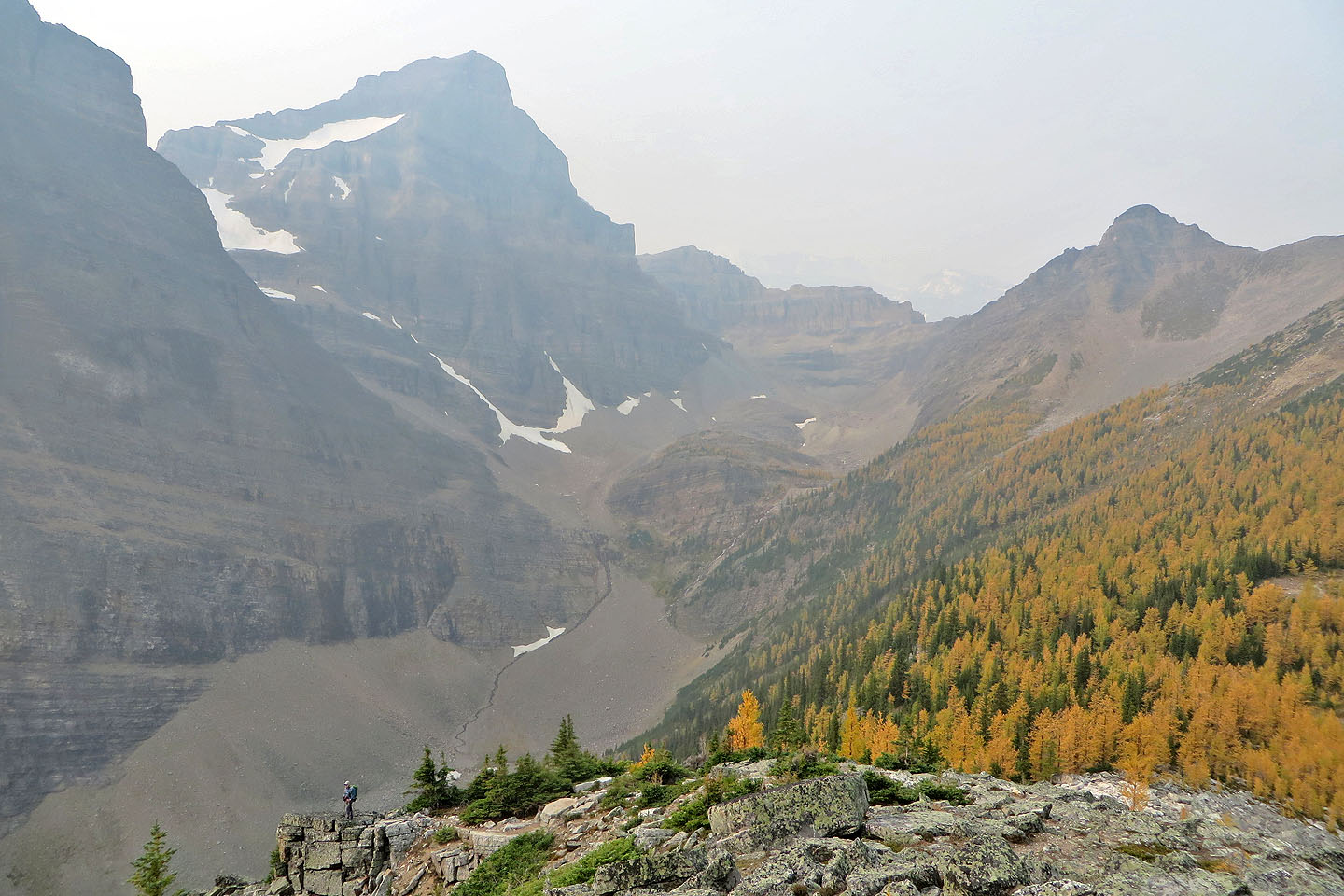 I waited on a small cliff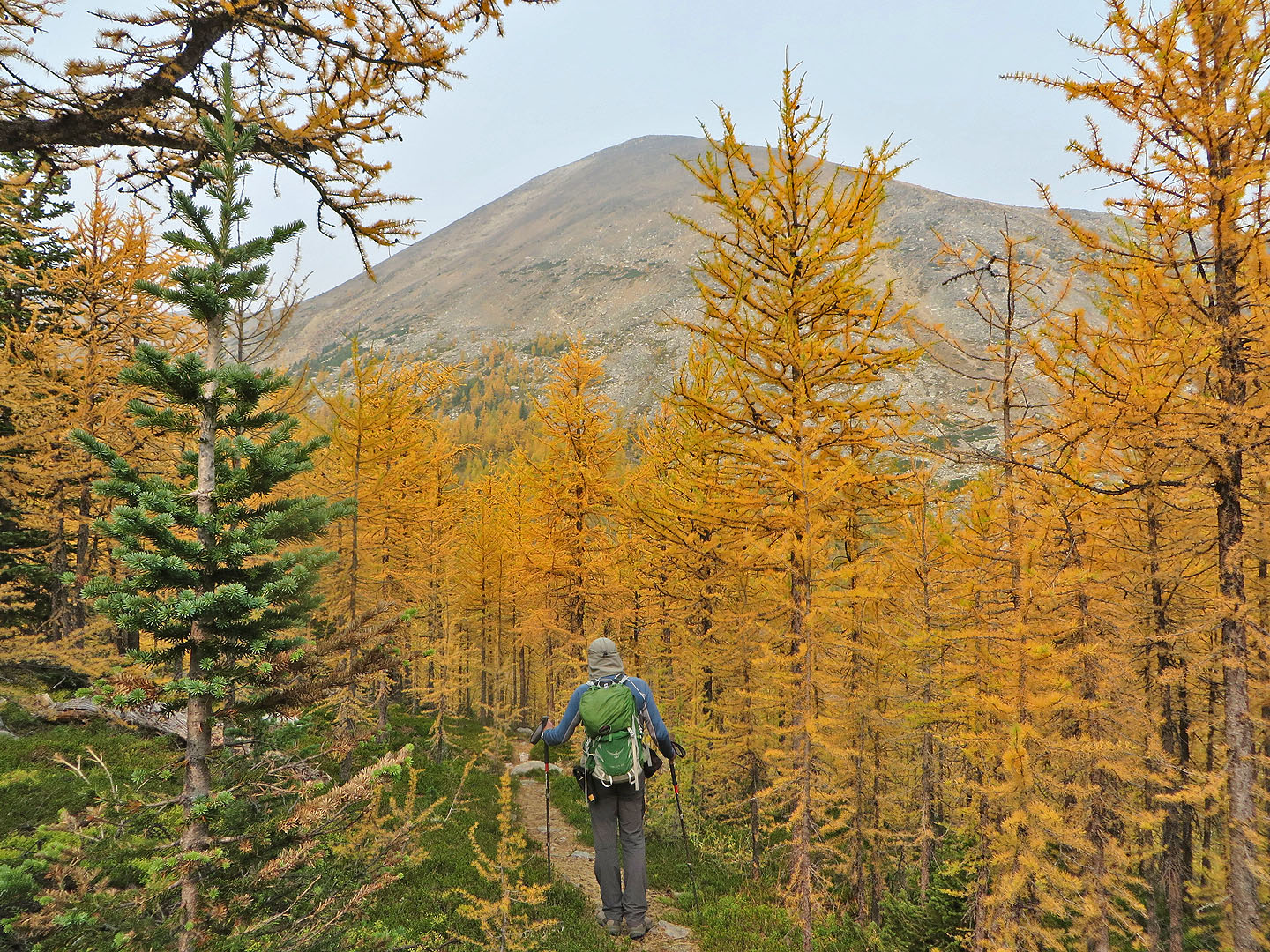 We followed a different side trail through the larches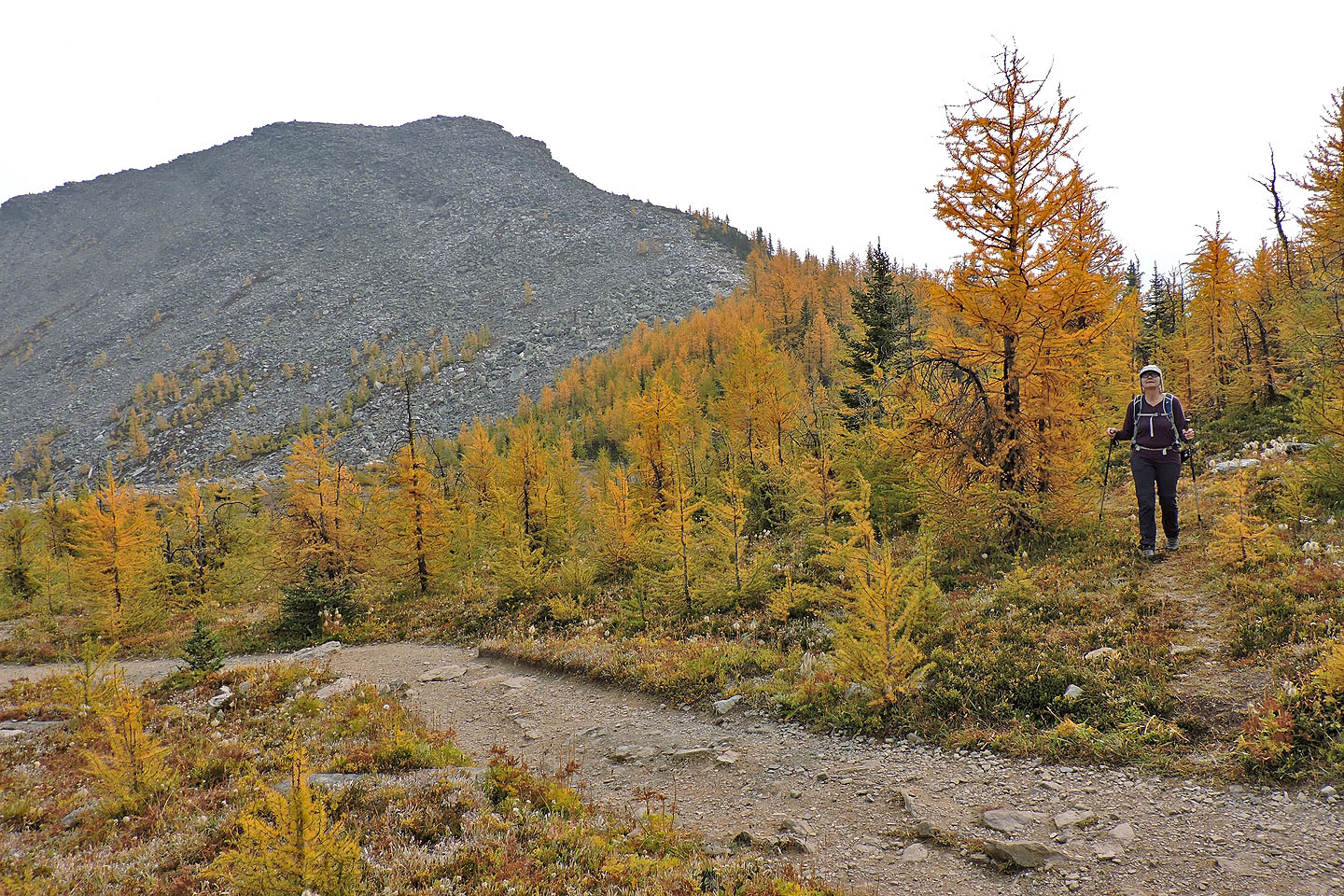 This side trail meets the main trail 40 m from the pass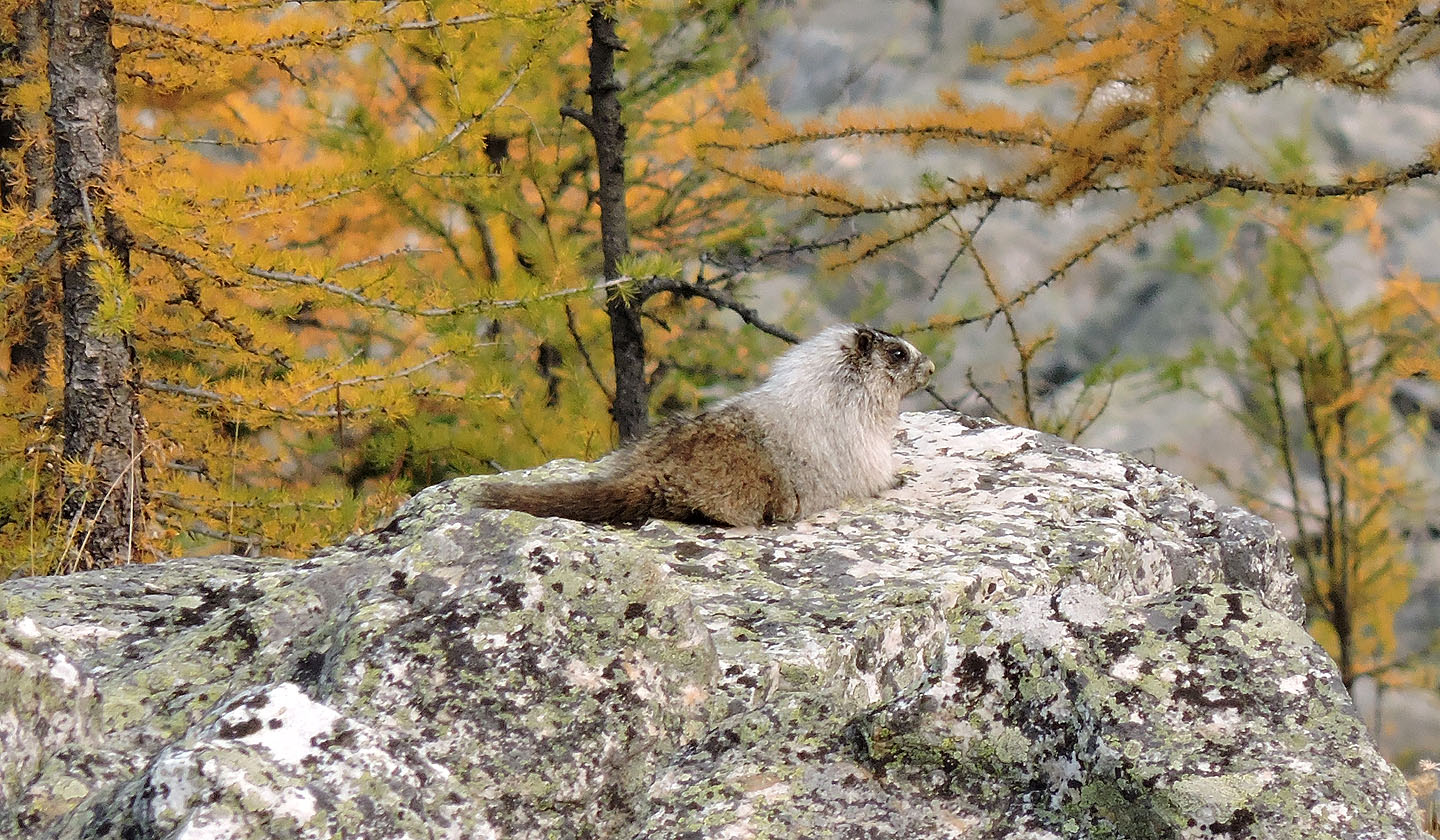 On the way back, we spotted a hoary marmot lounging on a rock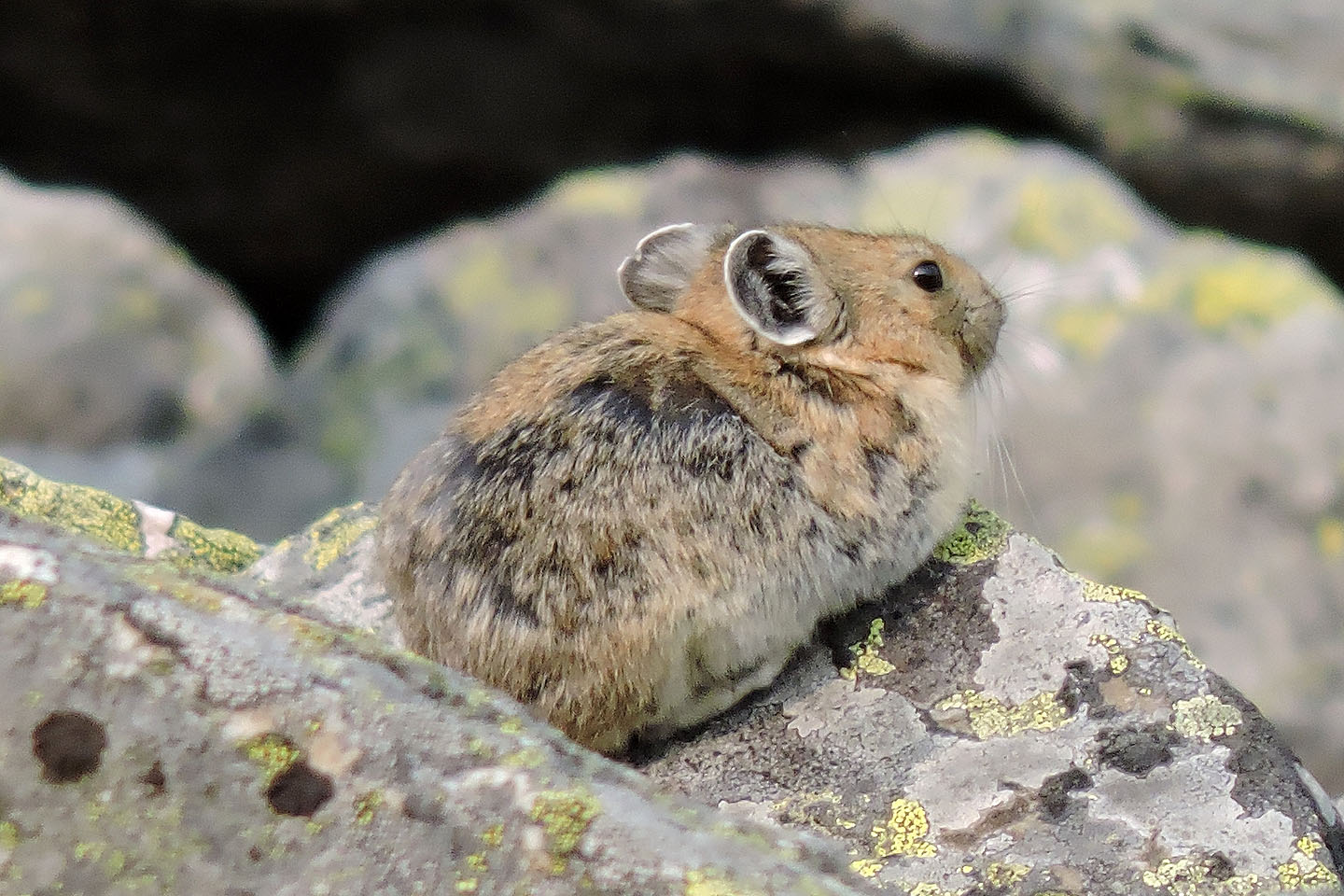 We saw pikas too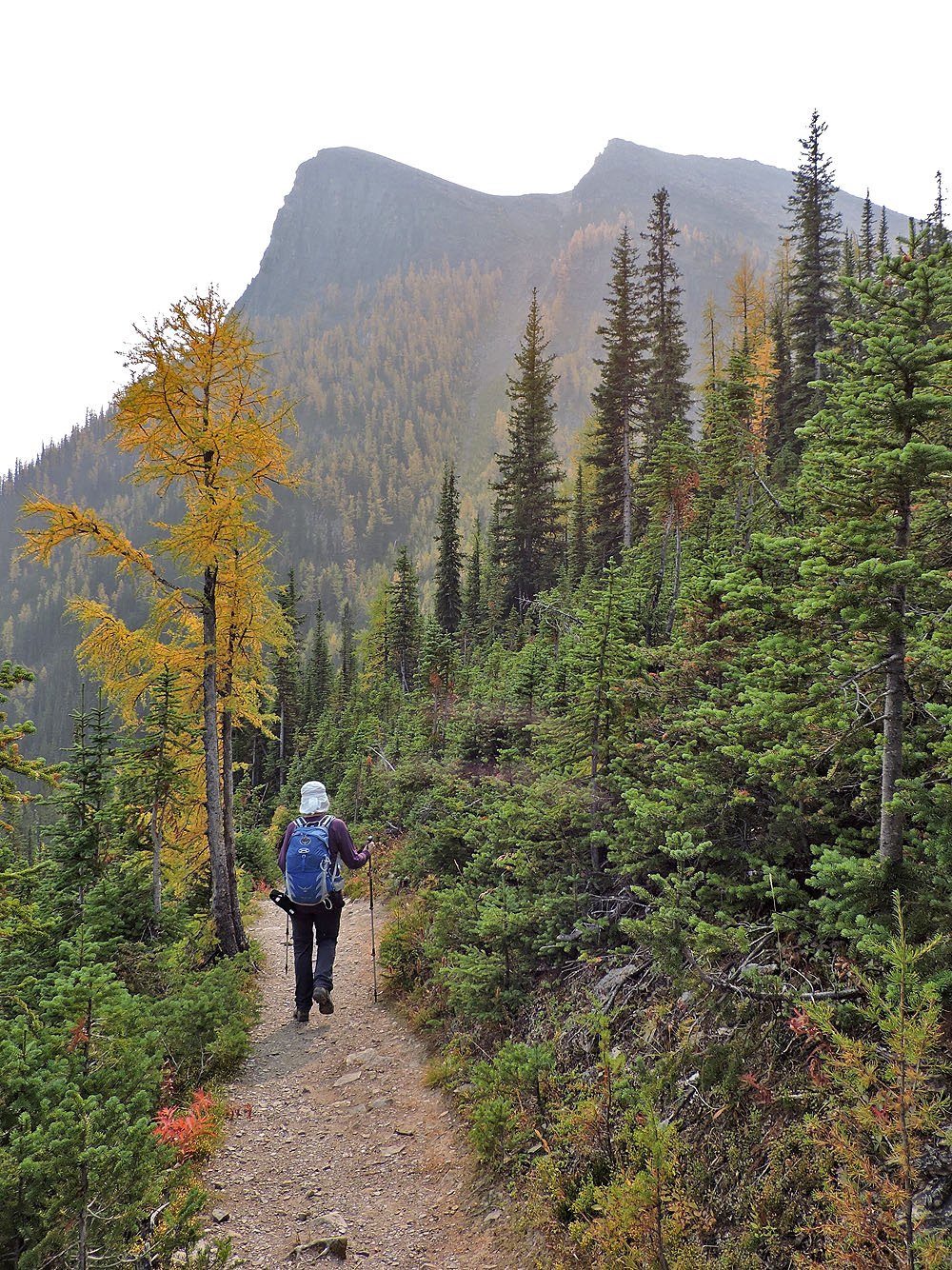 From here, Saddle Mountain looks like a saddle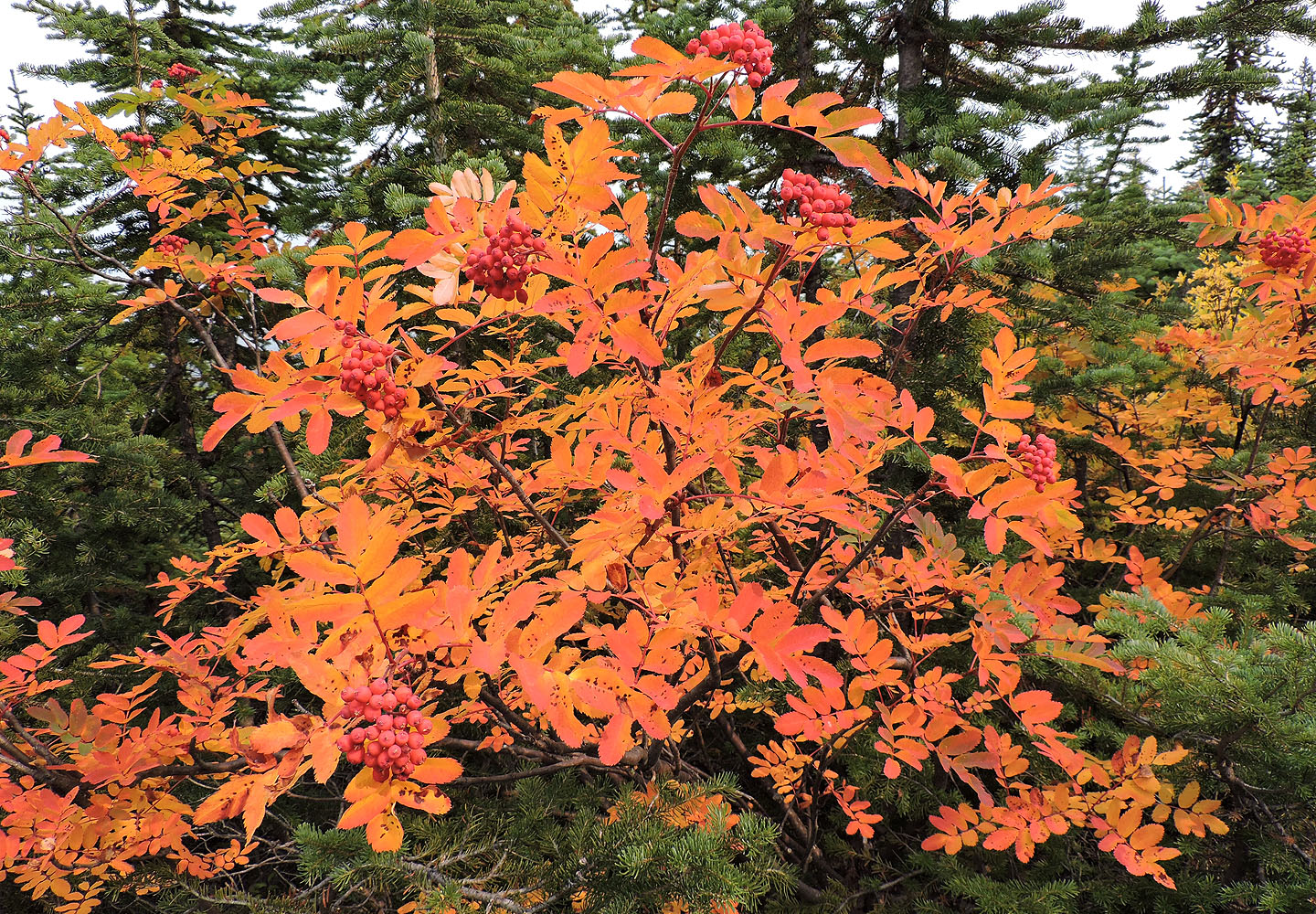 This plant stood out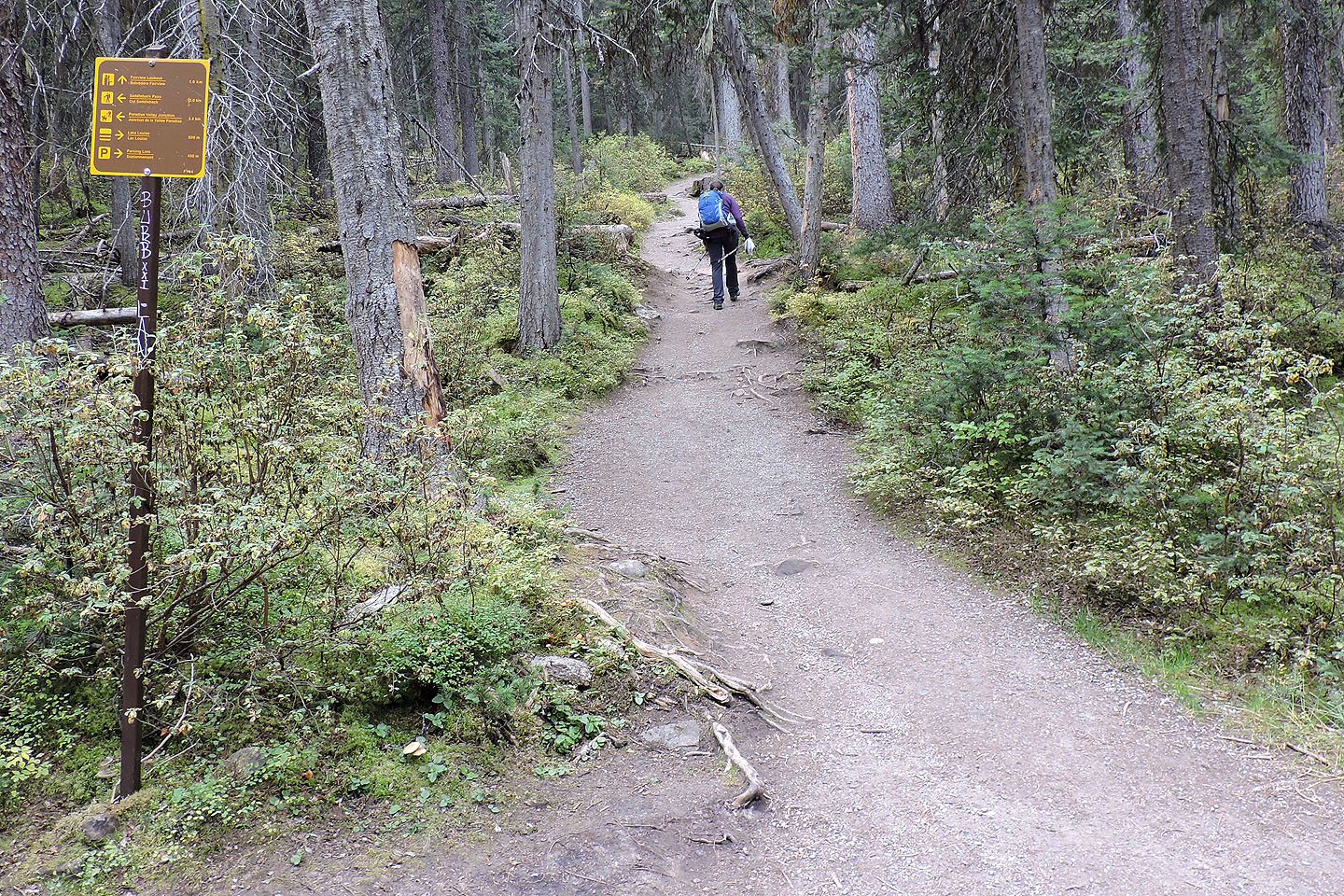 Starting up the trail for Fairview Lookout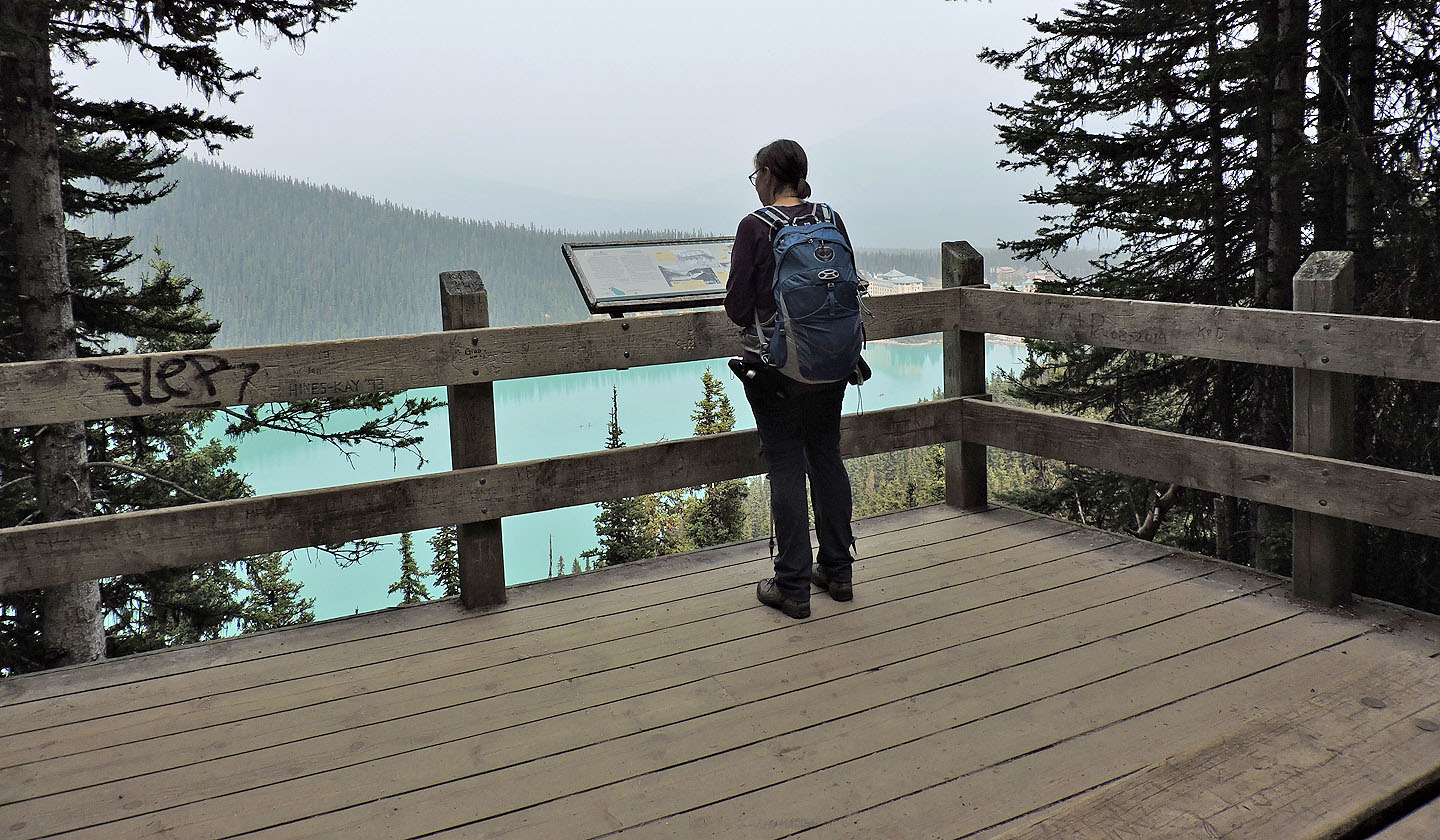 Dinah reads the fascinating history of Fairmont Chateau Lake Louise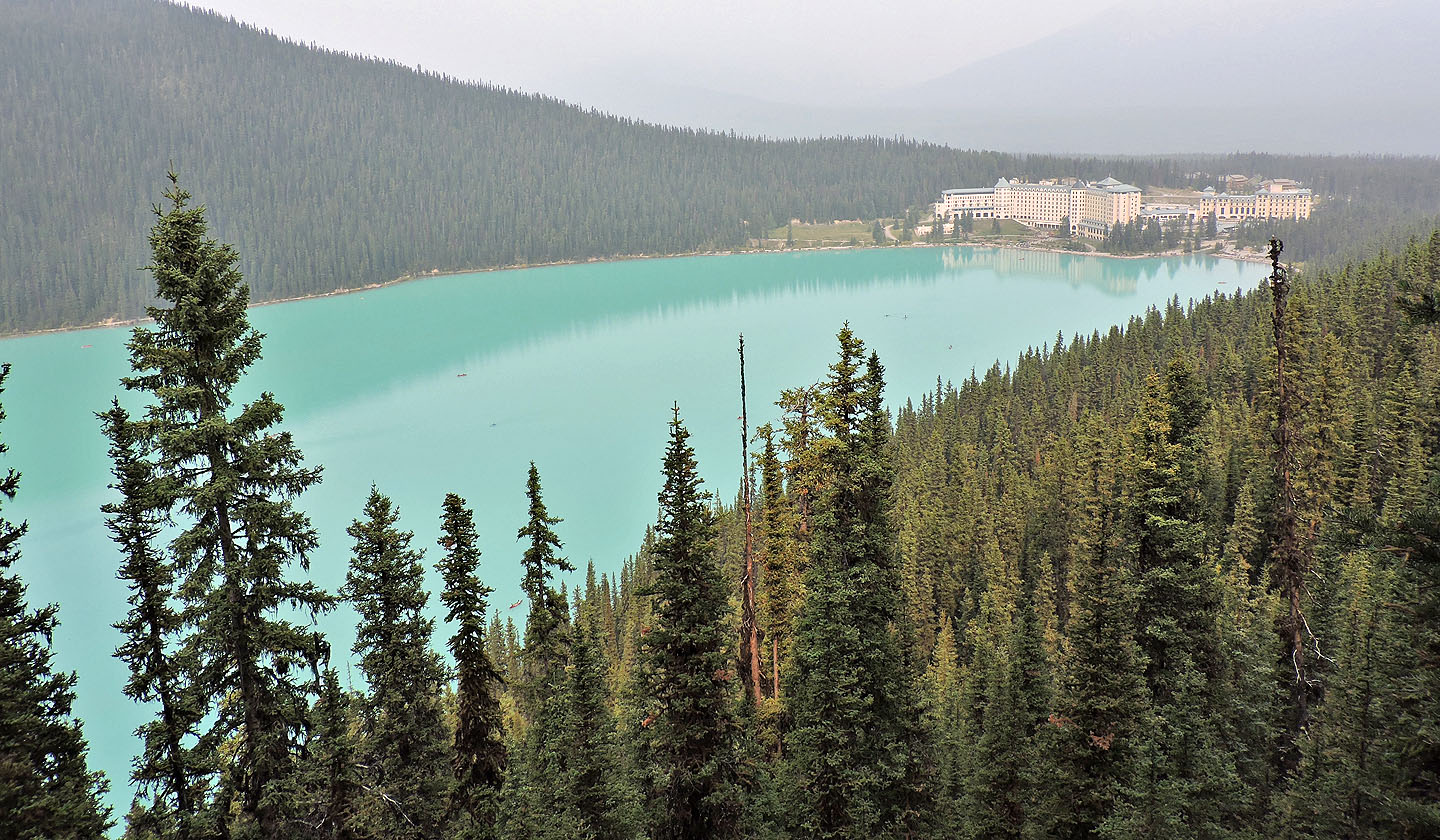 It was worth the modest effort to see the hotel and Lake Louise from here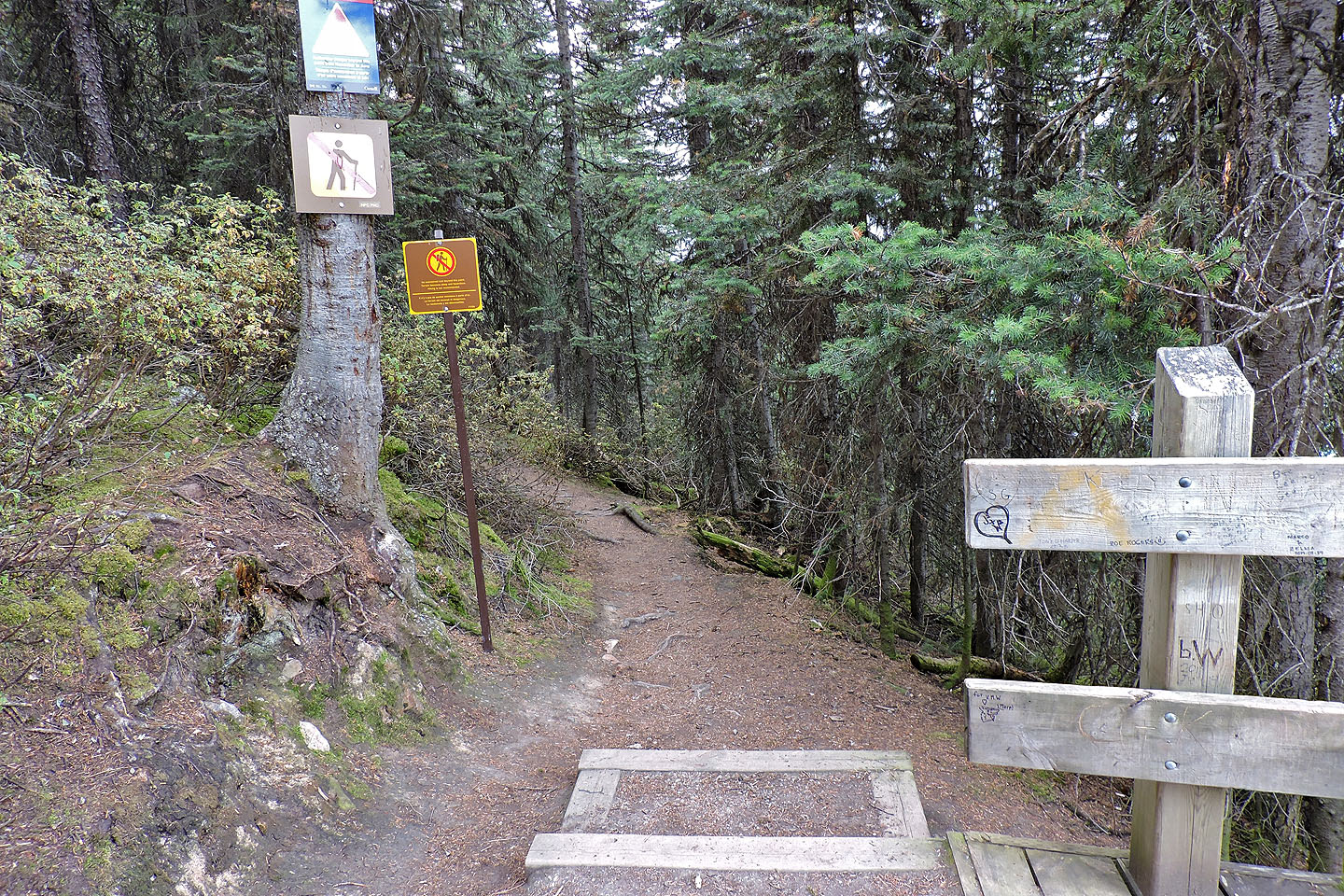 Signs warn hikers not to continue as the trail is not maintained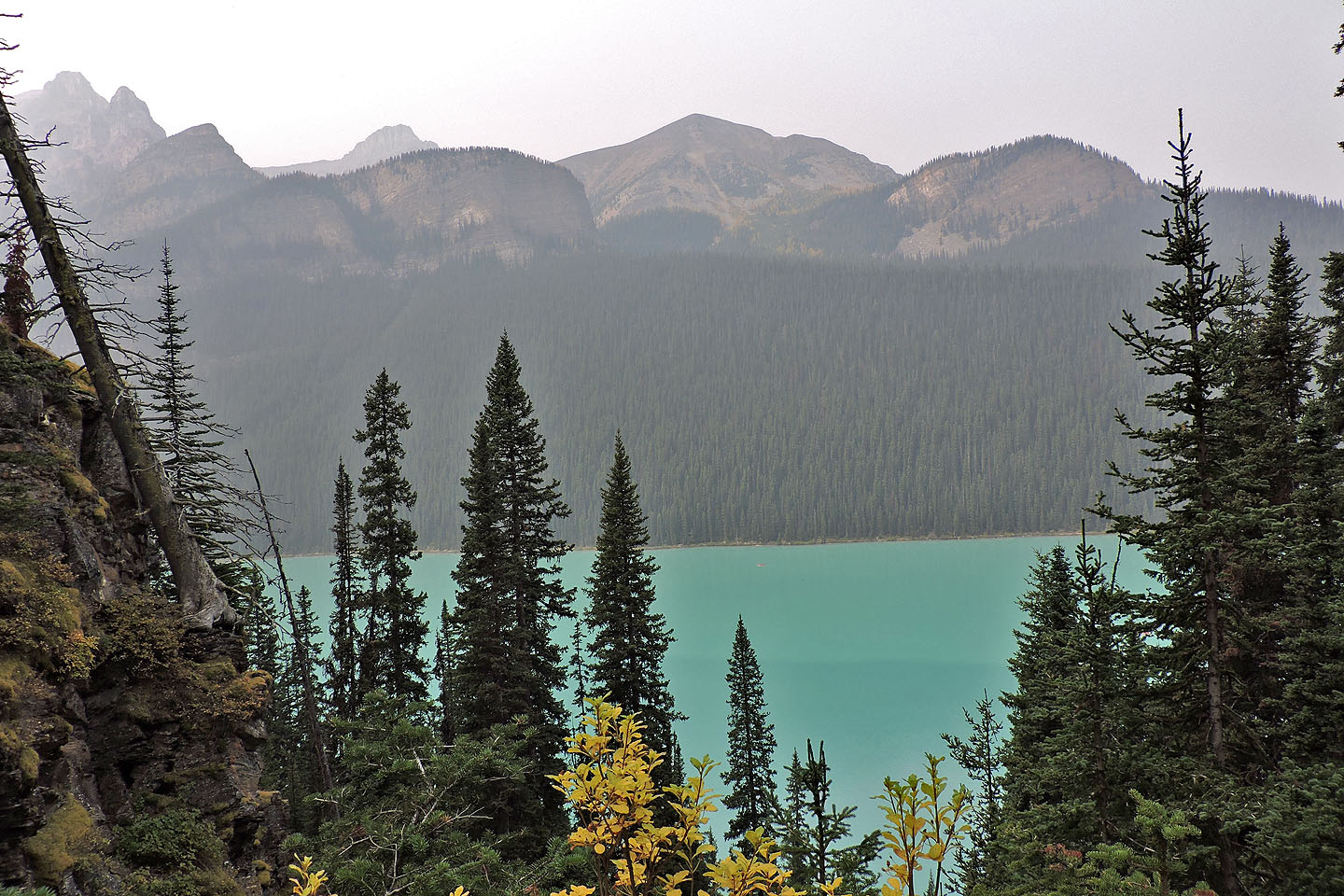 From an avalanche slope, I caught sight of Mount White, Devil's Thumb, Big Beehive, Mount Niblock and Mount St. Piran, but details were lost in a haze of smoke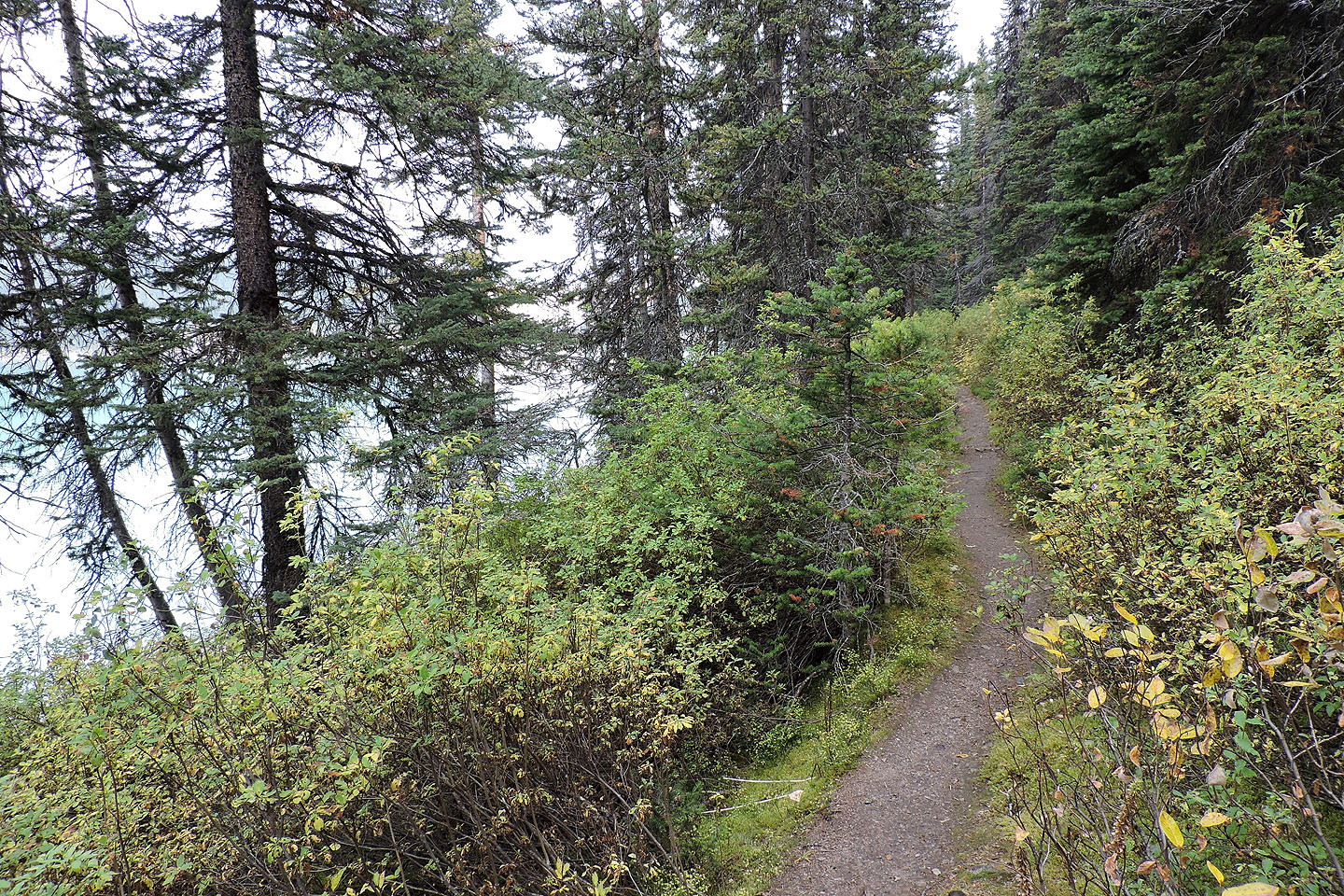 I thought the trail was in good shape although bushy and muddy in spots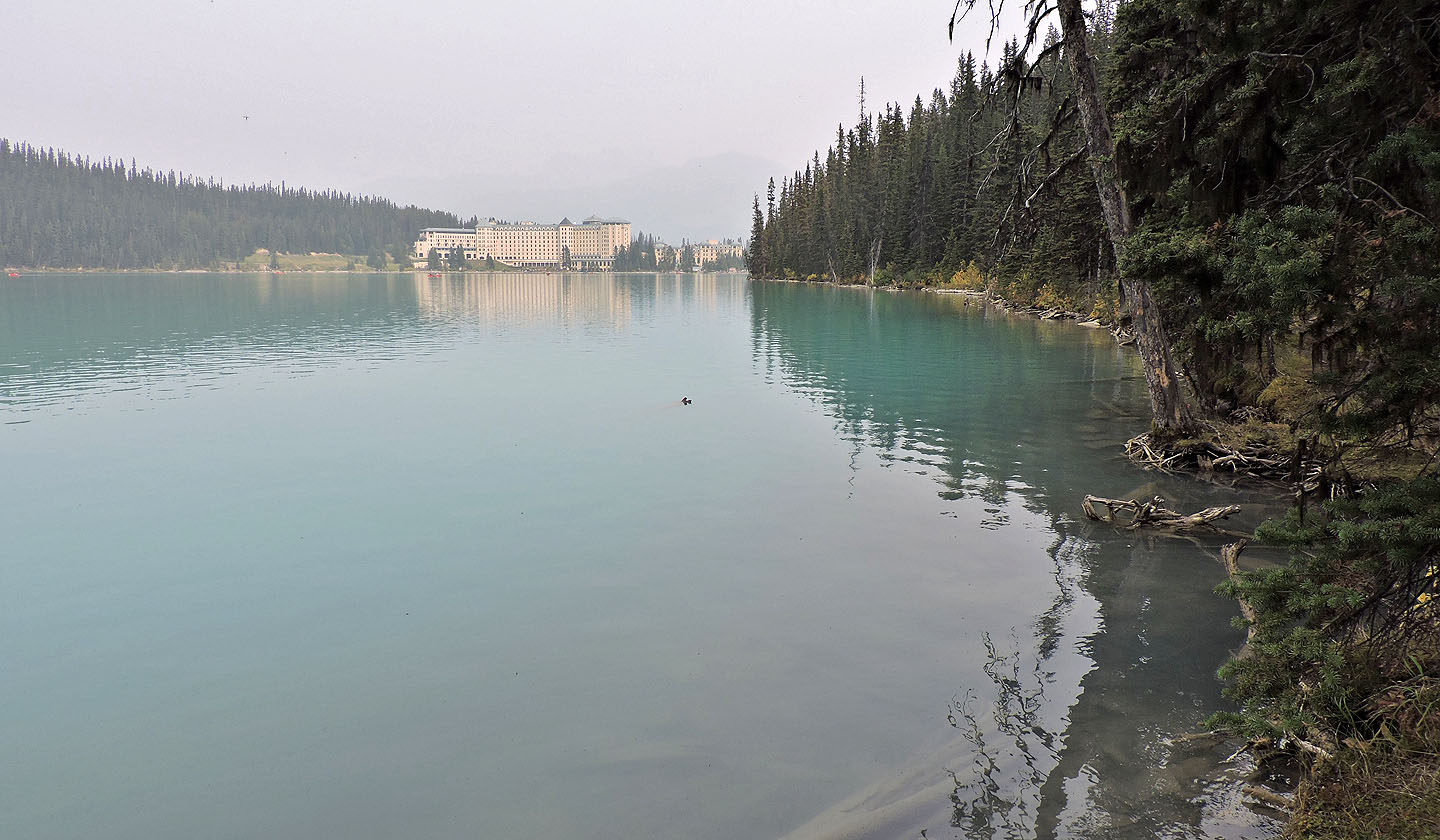 The trail follows the lakeshore back to the hotel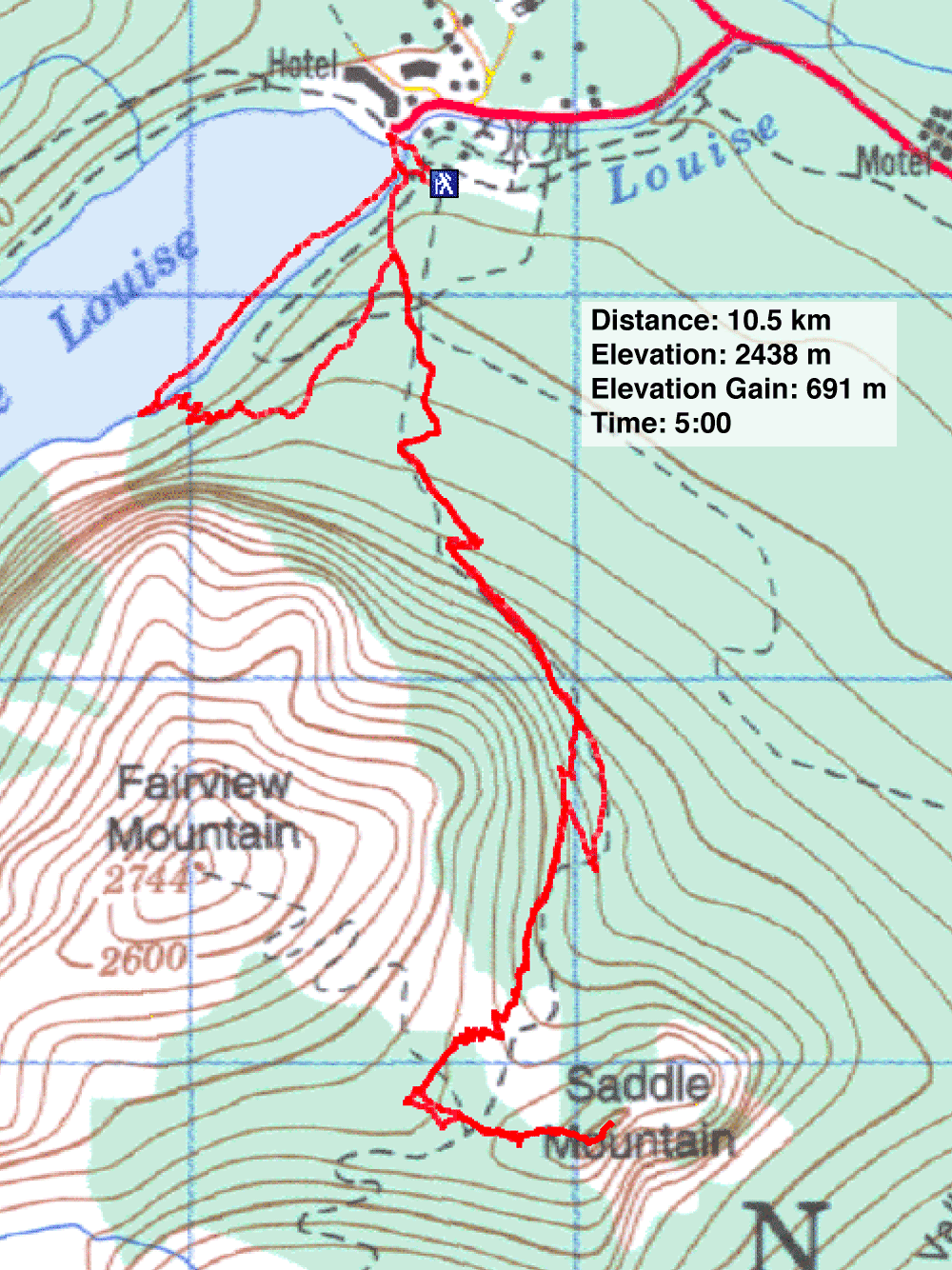 82 N/8 Lake Louise