bobspirko.ca | Home | Canada Trips | US Trips | Hiking | Snowshoeing | MAP | About

Mount Bell
Lake Louise, Alberta
July 12, 2005
Distance: 20.0 km
Cumulative Elevation Gain: 1221 m

Unlike many of my scrambles so far this year, Mount Bell I didn't create havoc with snow, rain or thunderstorms. Nor was I turned back because of a slow party as in my attempt via Taylor Lake five years ago. In short, there was nothing to stop me from summiting. For this scramble, I linked up with Andrew Nugara from the RMB forum. This would be my first successful summit with him.
The hike to Boom Lake was monotonous, but Andrew and I passed the time with talk and eventually arrived at the lake. A short, rough trail along the shore led us to the boulder pile. From there, we climbed up a steep gully until we reached the treeline. We climbed a bit higher than we should have, so when we traversed to the col we had to drop down.
From the col, we mostly stayed below the crest. Often a path helped us traverse the rubbly slopes. Other times, we delighted in scrambling over huge boulders.
Andrew proved to be great company. We both enjoyed making side trips to explore interesting features and snap photos. Near the summit we clambered down to the base of a huge cornice that had peeled away from the mountain just to explore it.
We reached the summit without incident. It was cool and windy, but comfortable enough for an extended stay, so we studied the surrounding peaks before turning back.

Boom Lake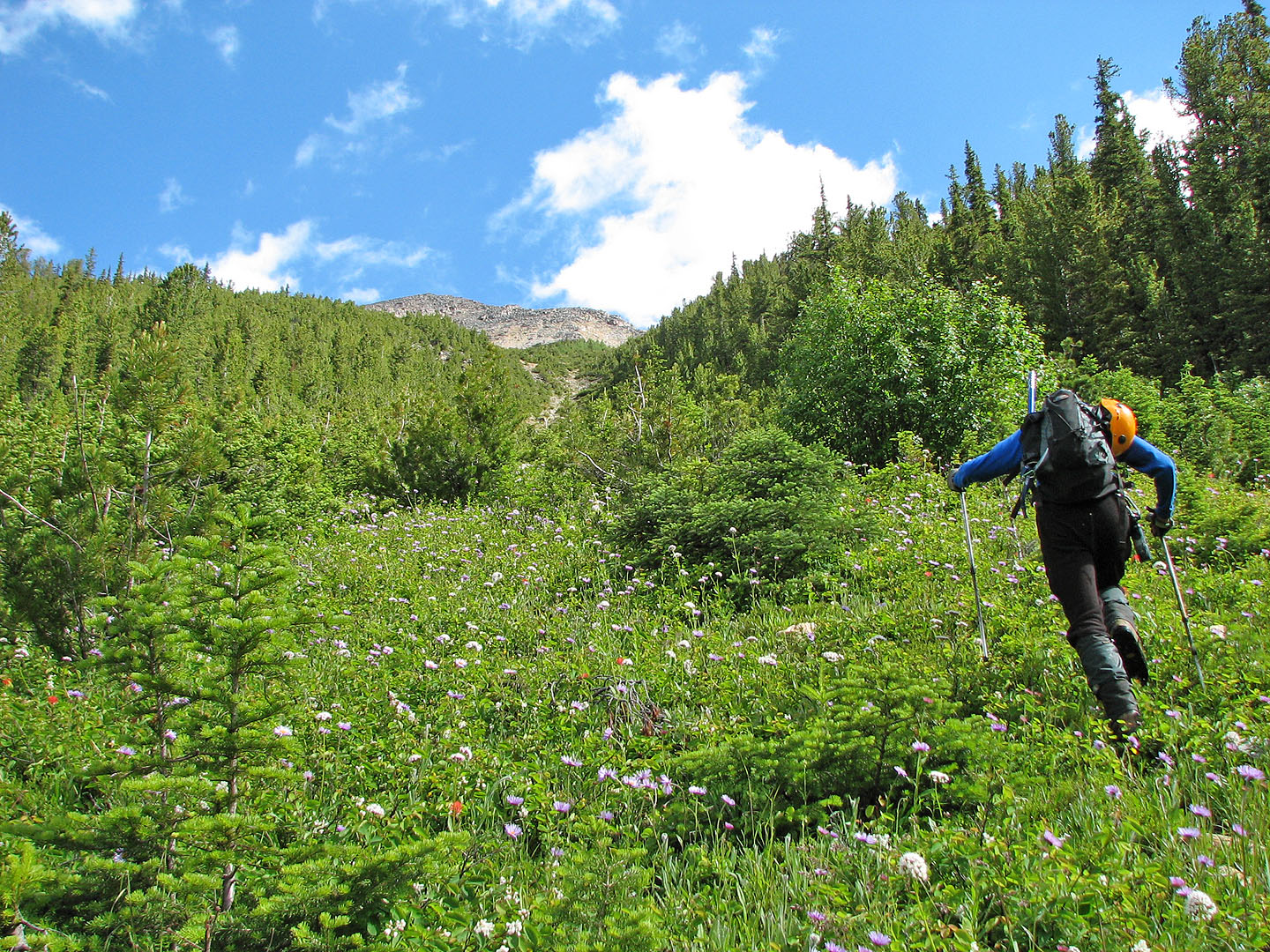 Heading up the gully from the boulder pile by the lake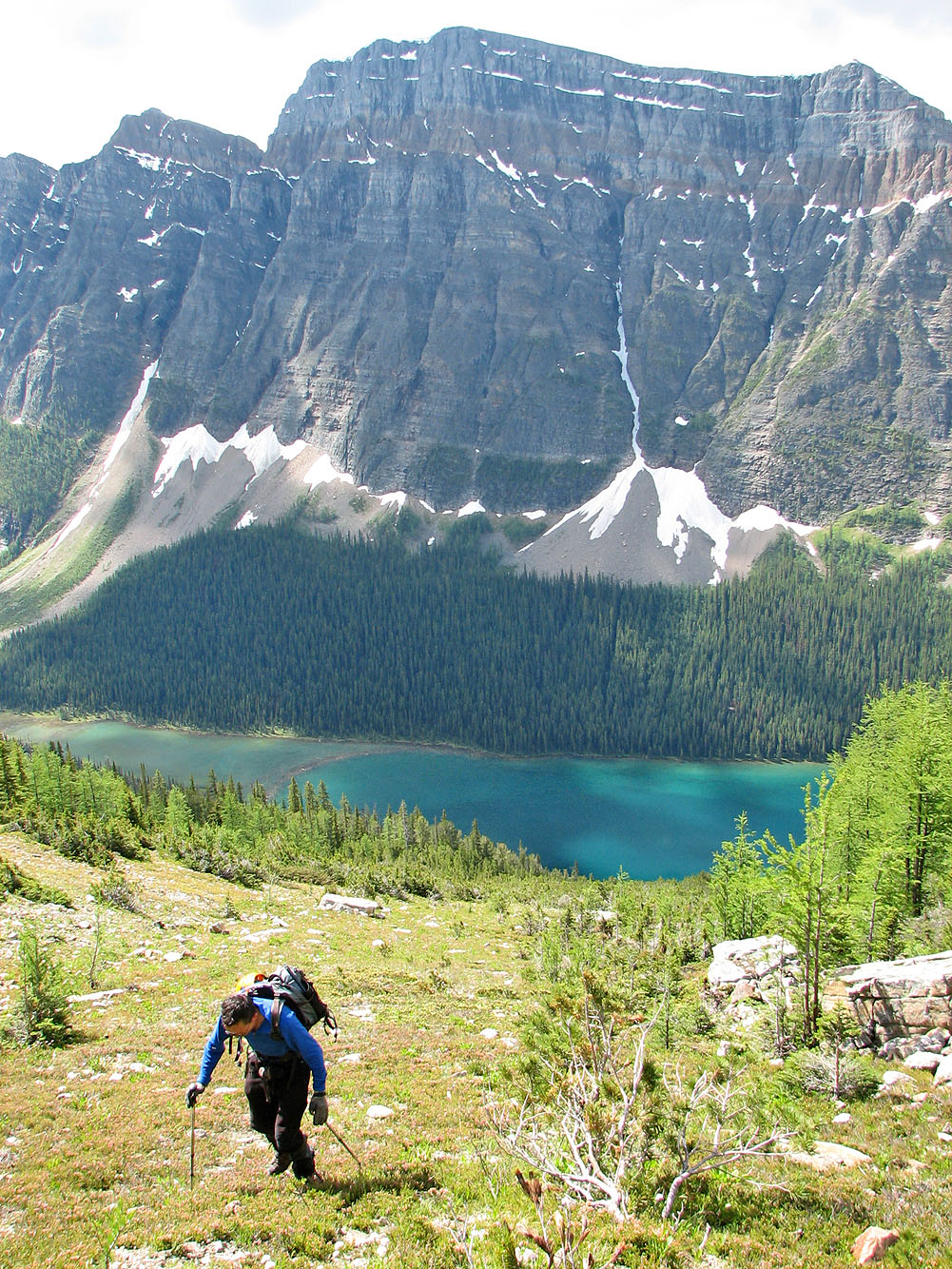 Looking back at Boom Mountain and Boom Lake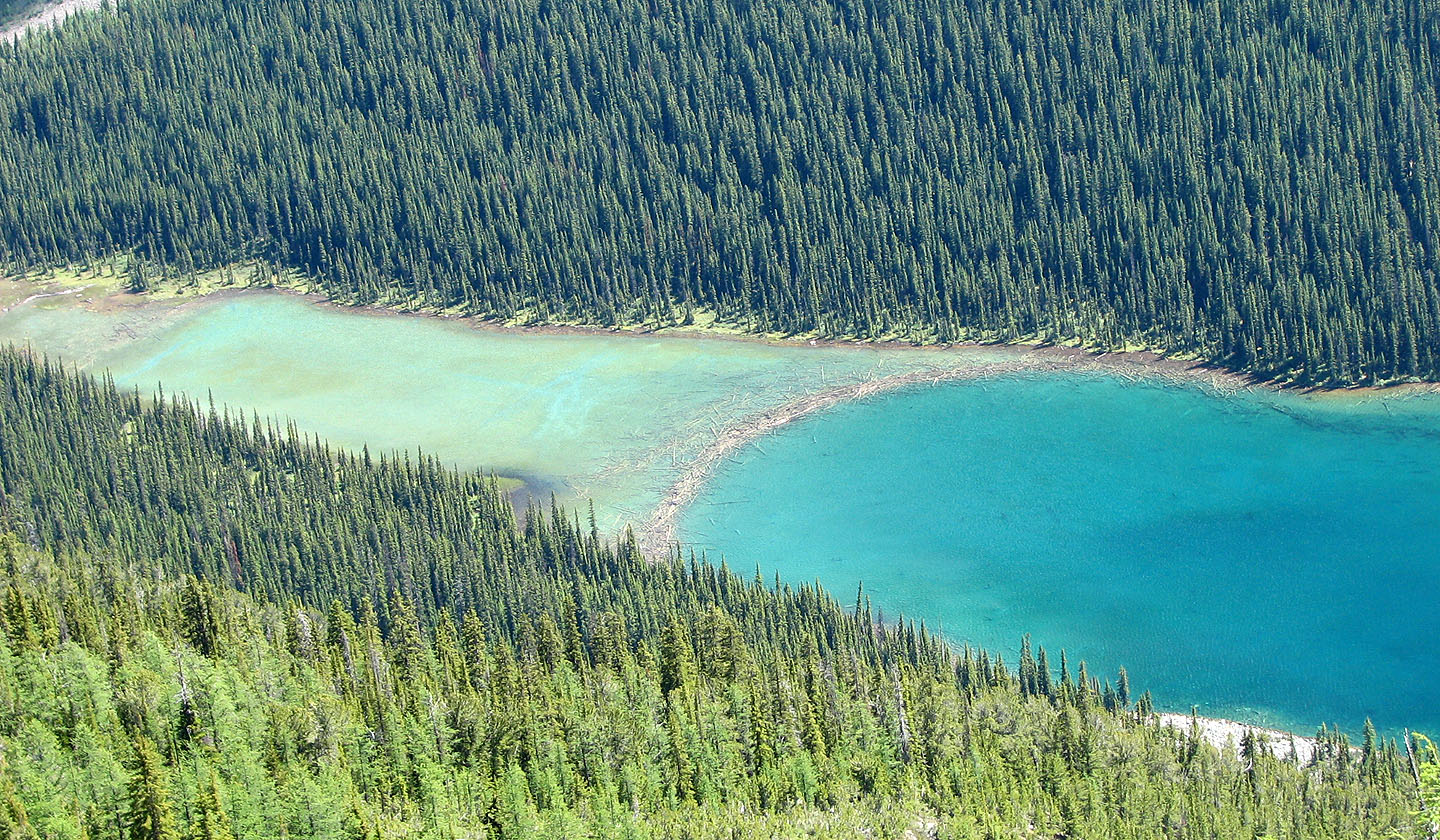 Boom Lake takes it name from the log boom in shallow water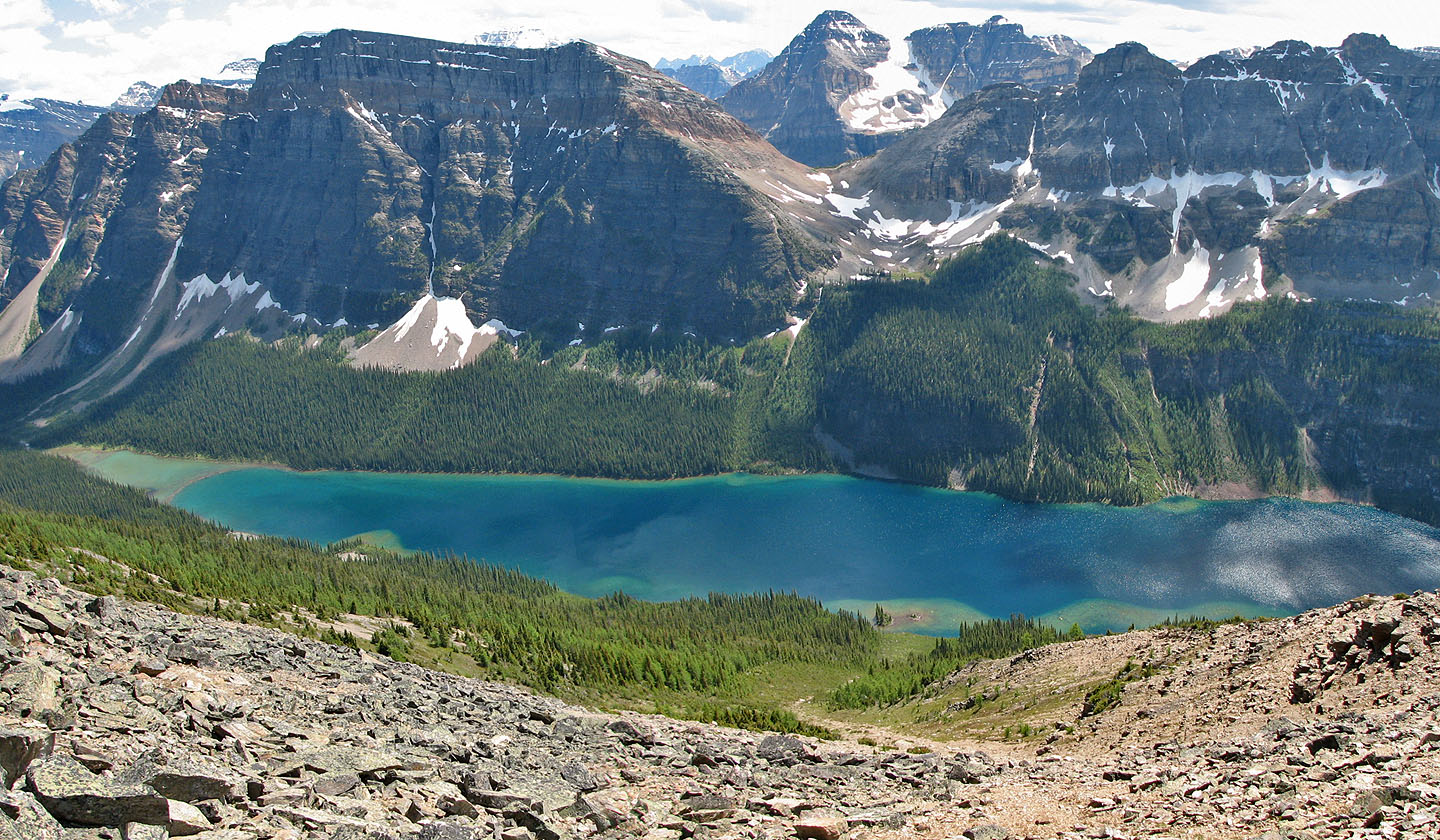 Another look at Boom Mountain

The long grind up the gully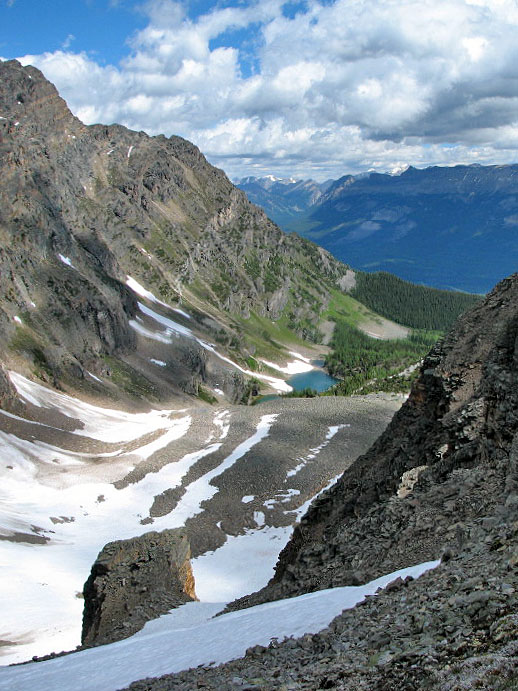 View from the col. This is the alternate Taylor Lake approach that Kane describes.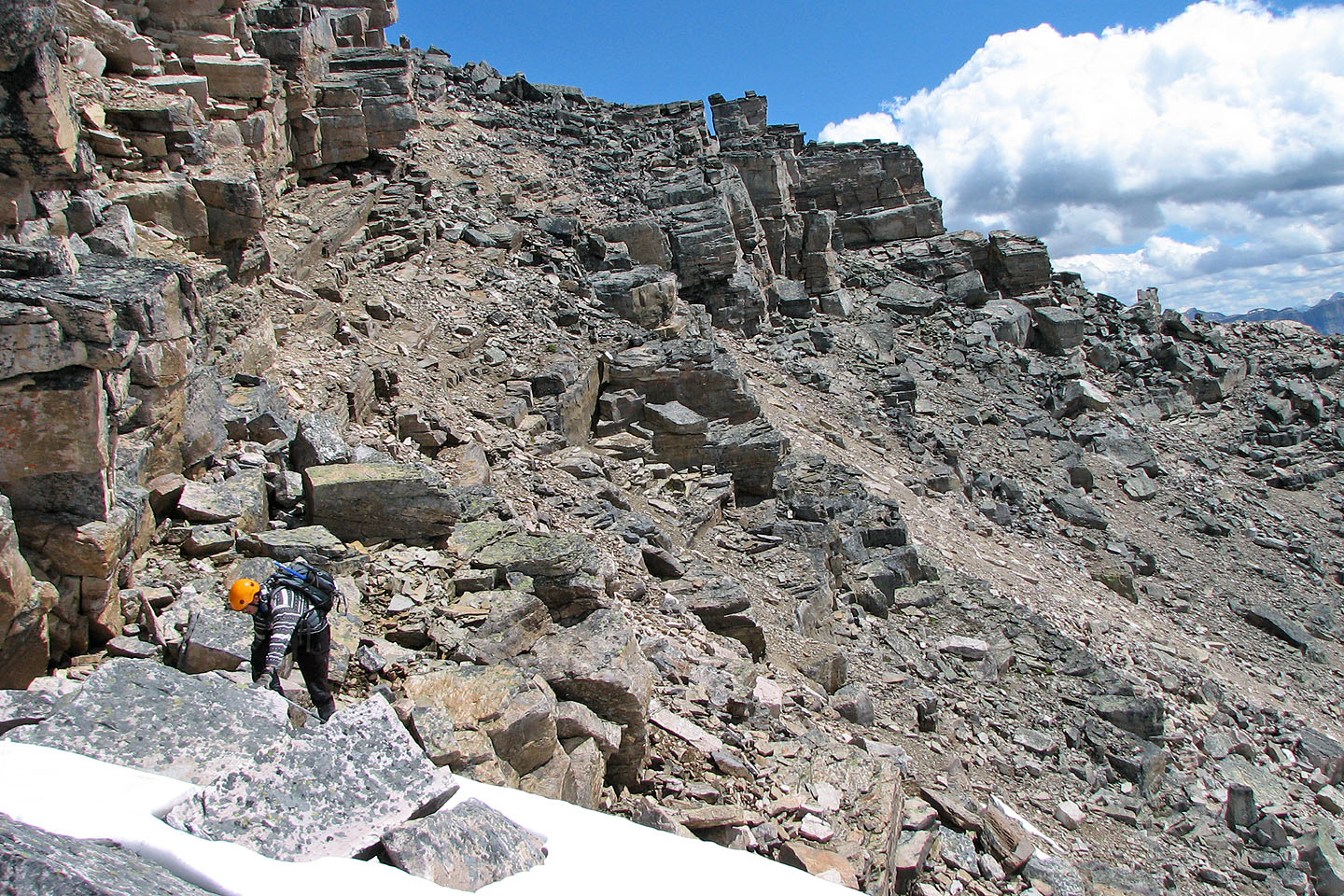 Typical scrambling below the ridge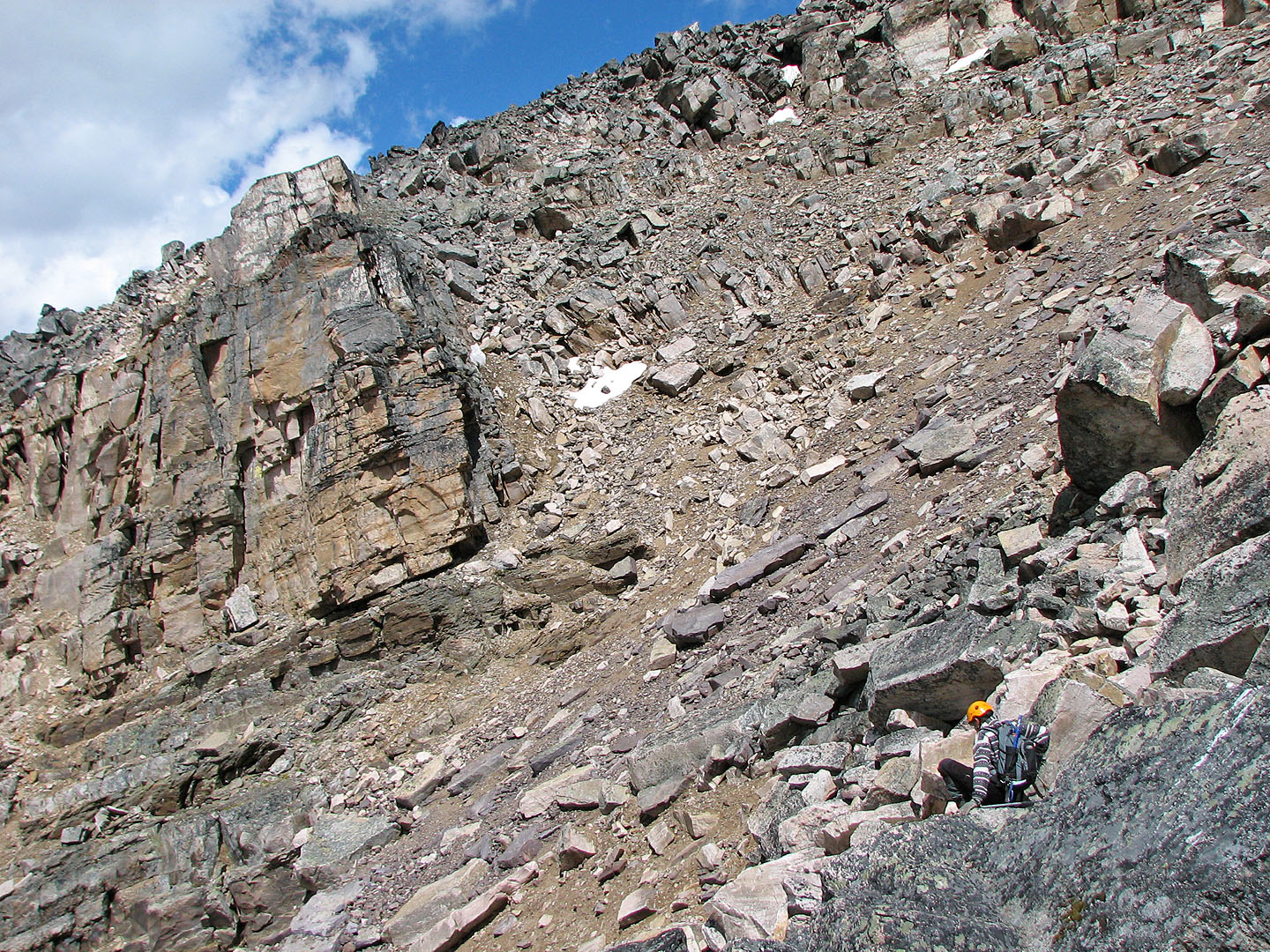 Andrew drops down to cross a broad gully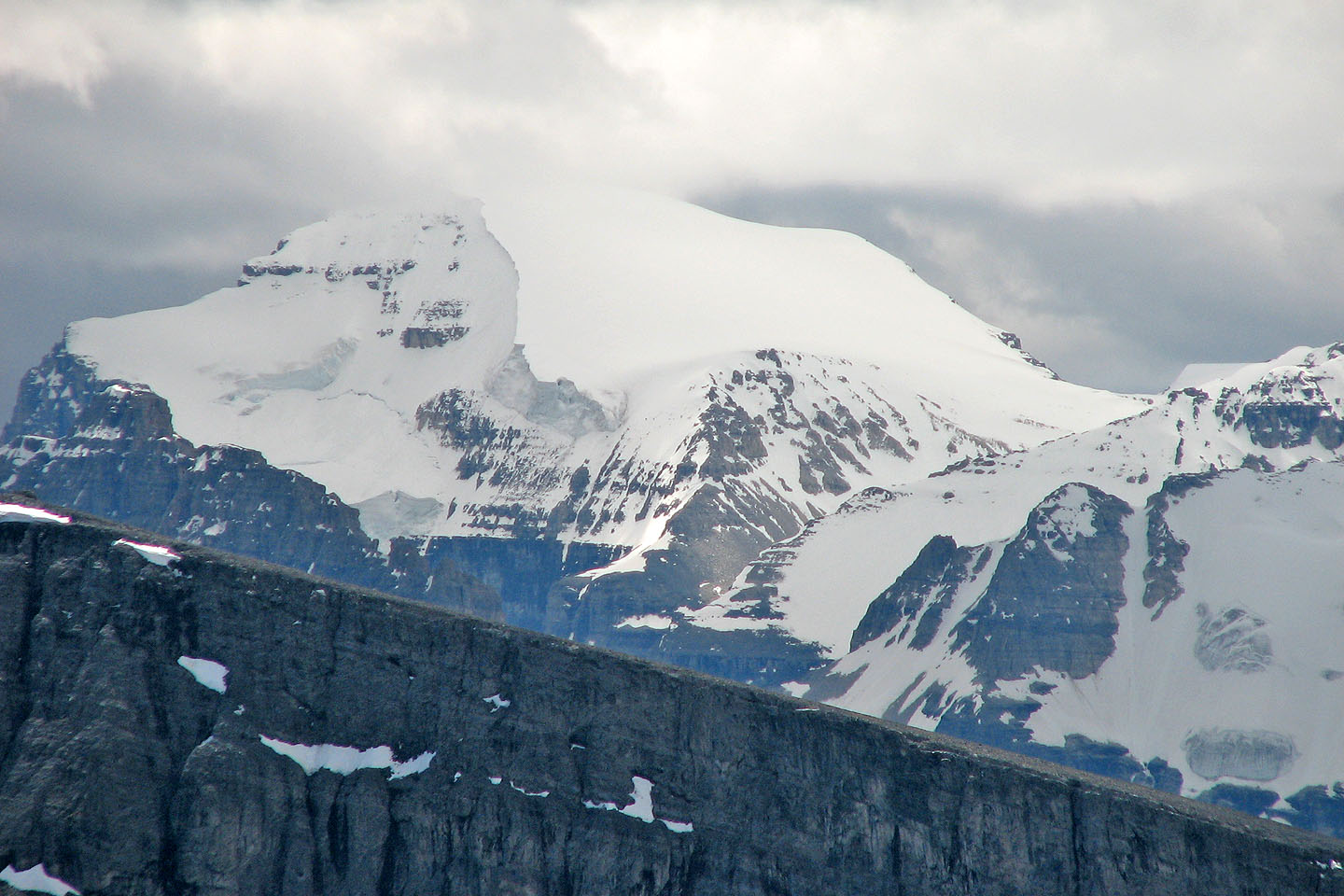 Mount Ball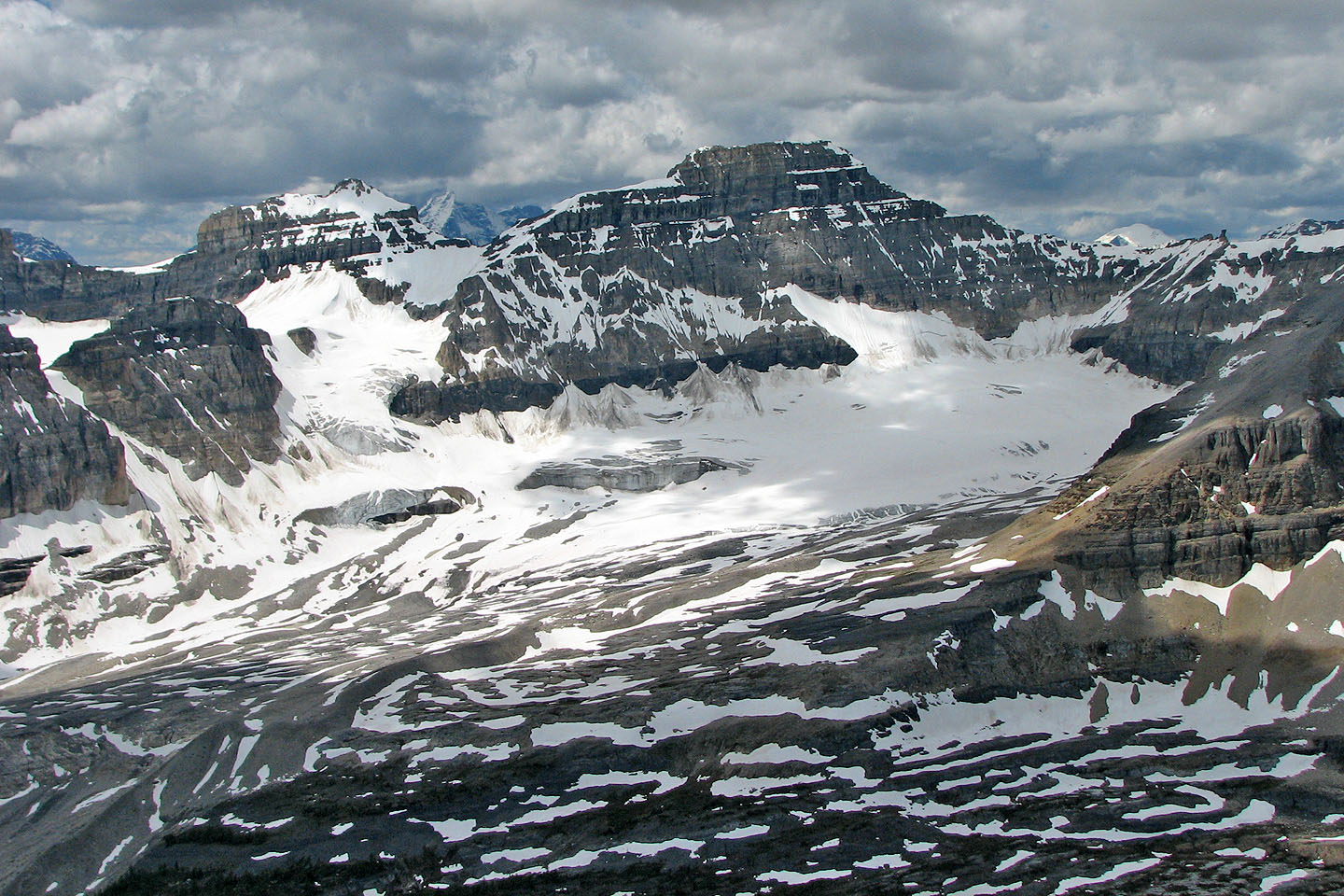 West is Chimney Peak on the left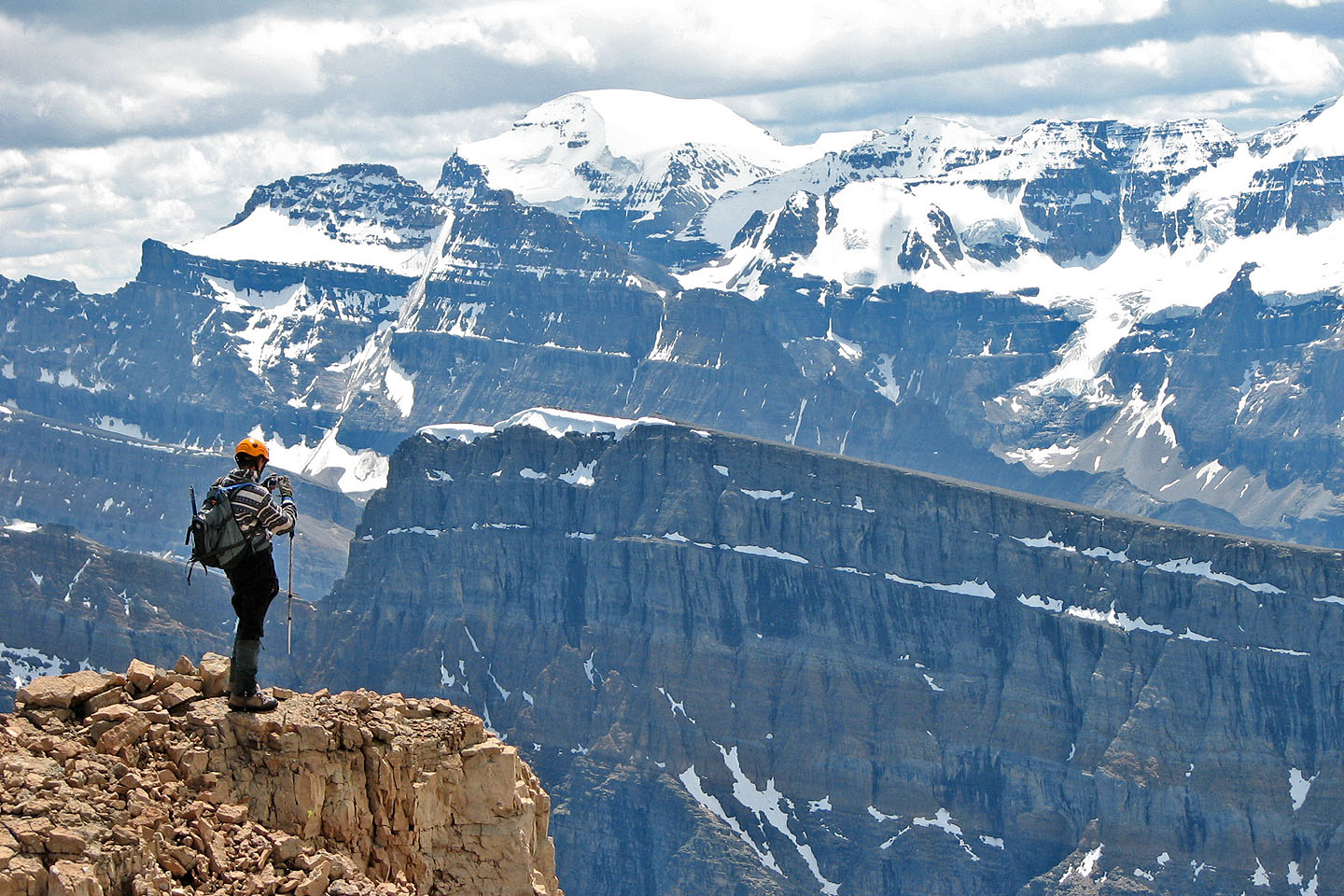 Andrew kept busy snapping photos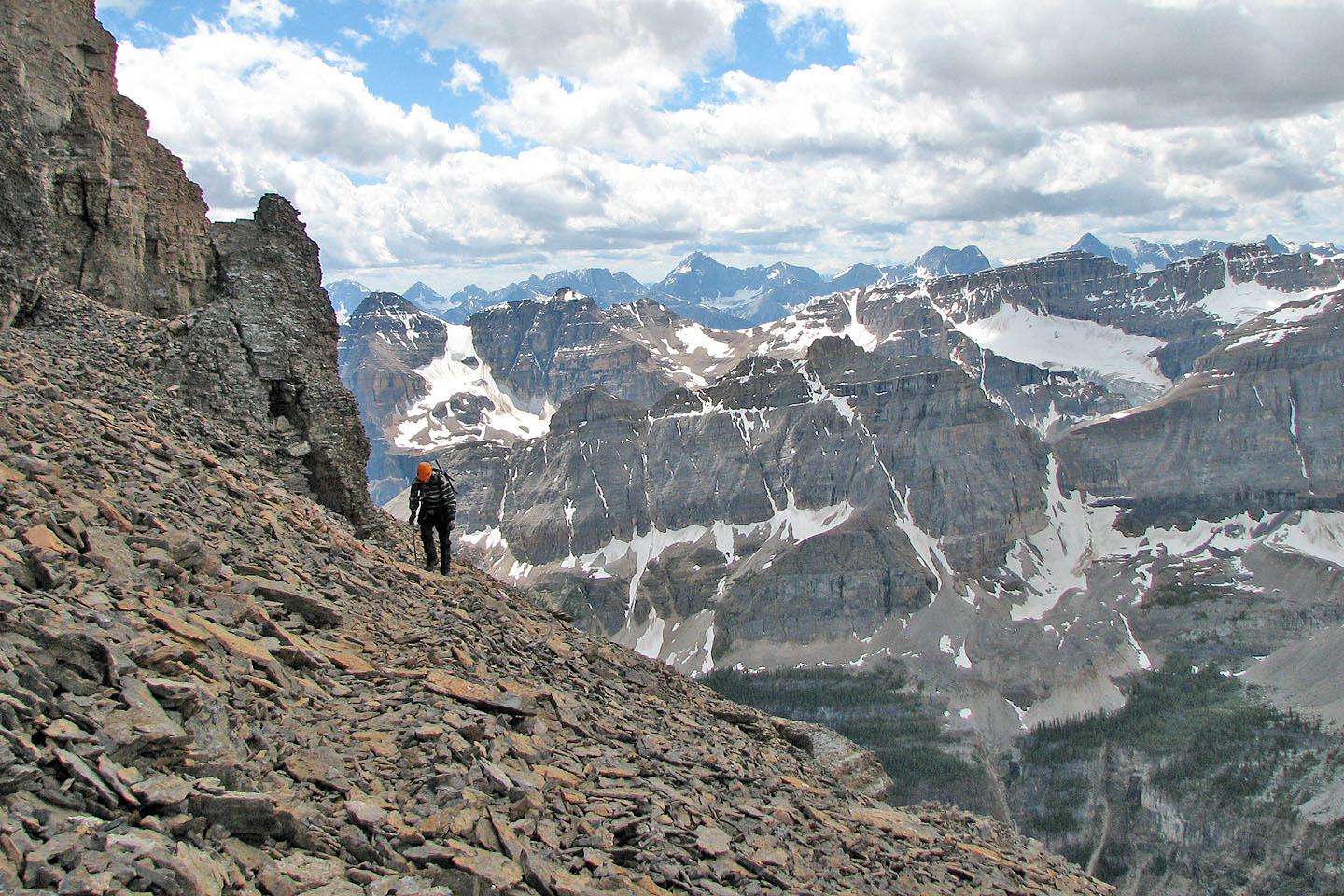 Minutes away from the top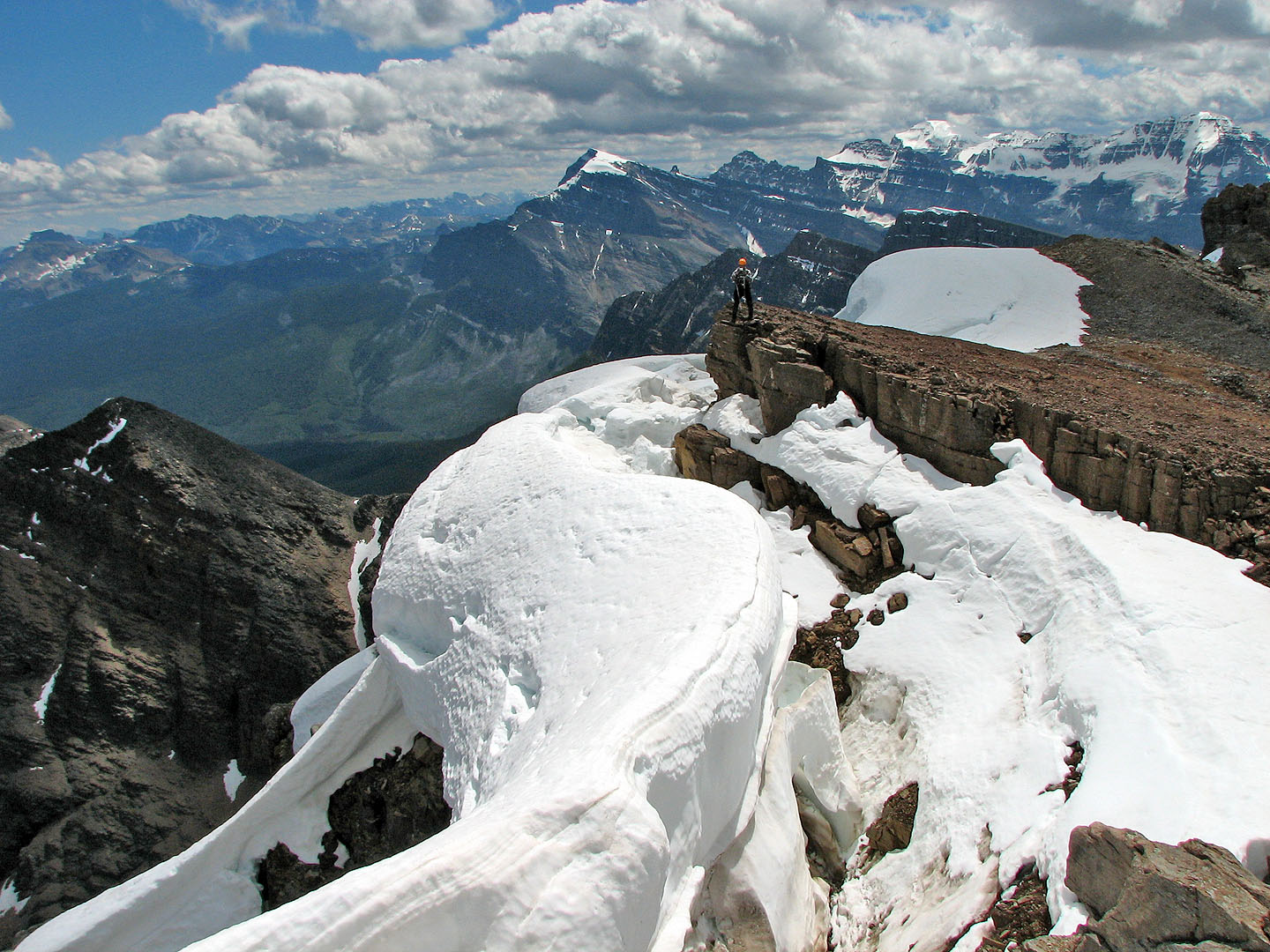 Andrew above an old snow cornice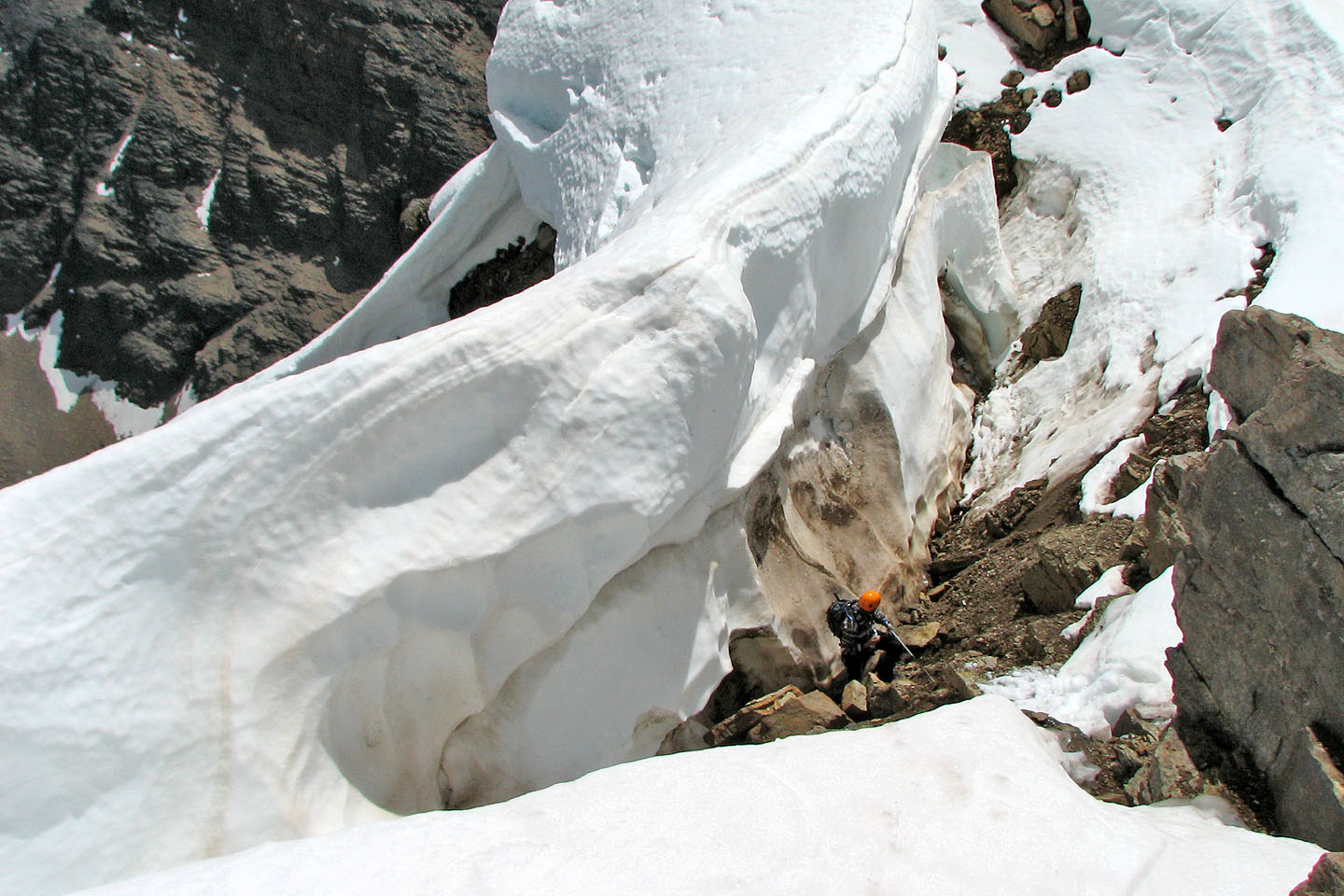 Andrew dropped down and I soon joined him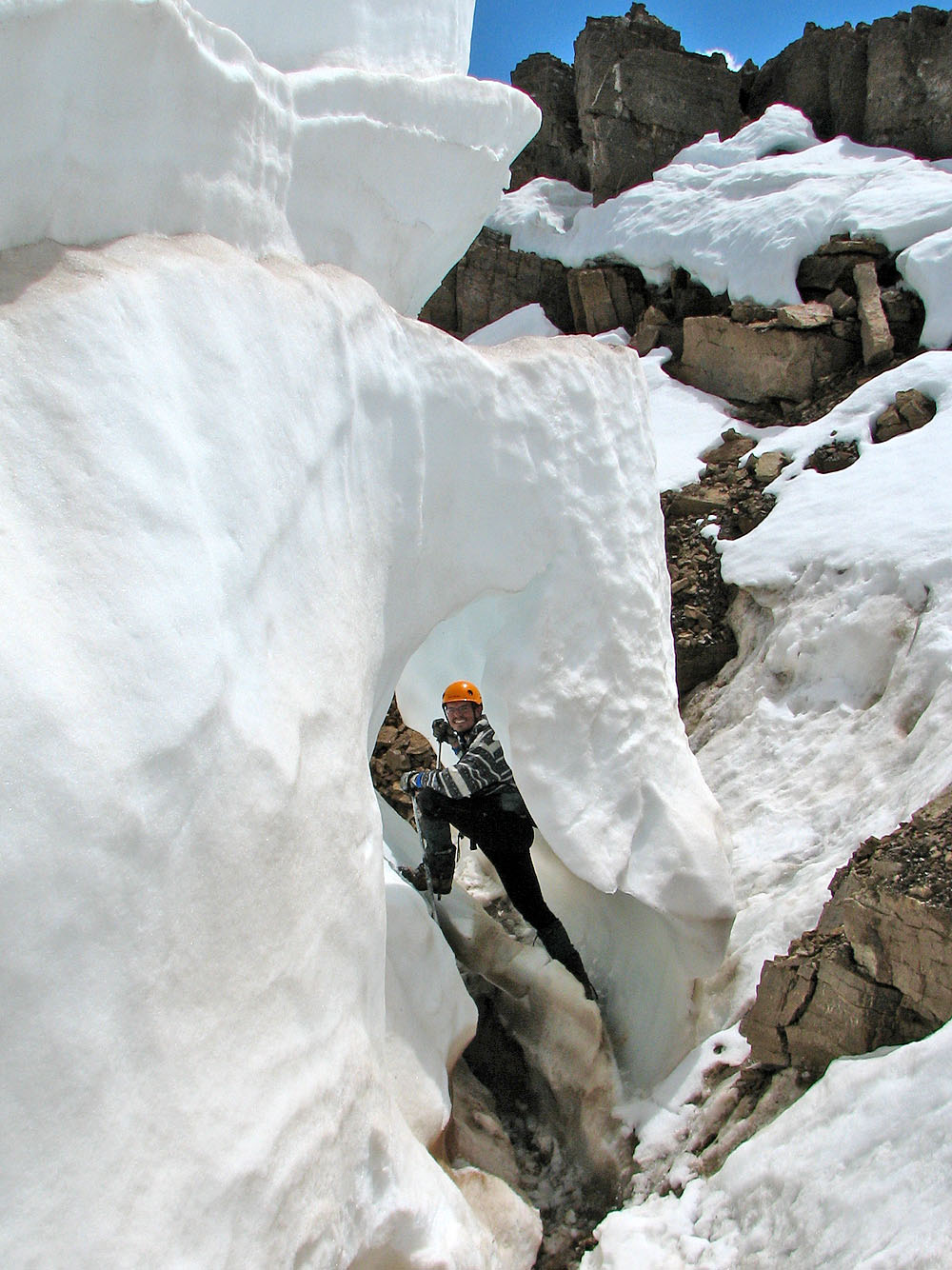 Exploring a short tunnel in the cornice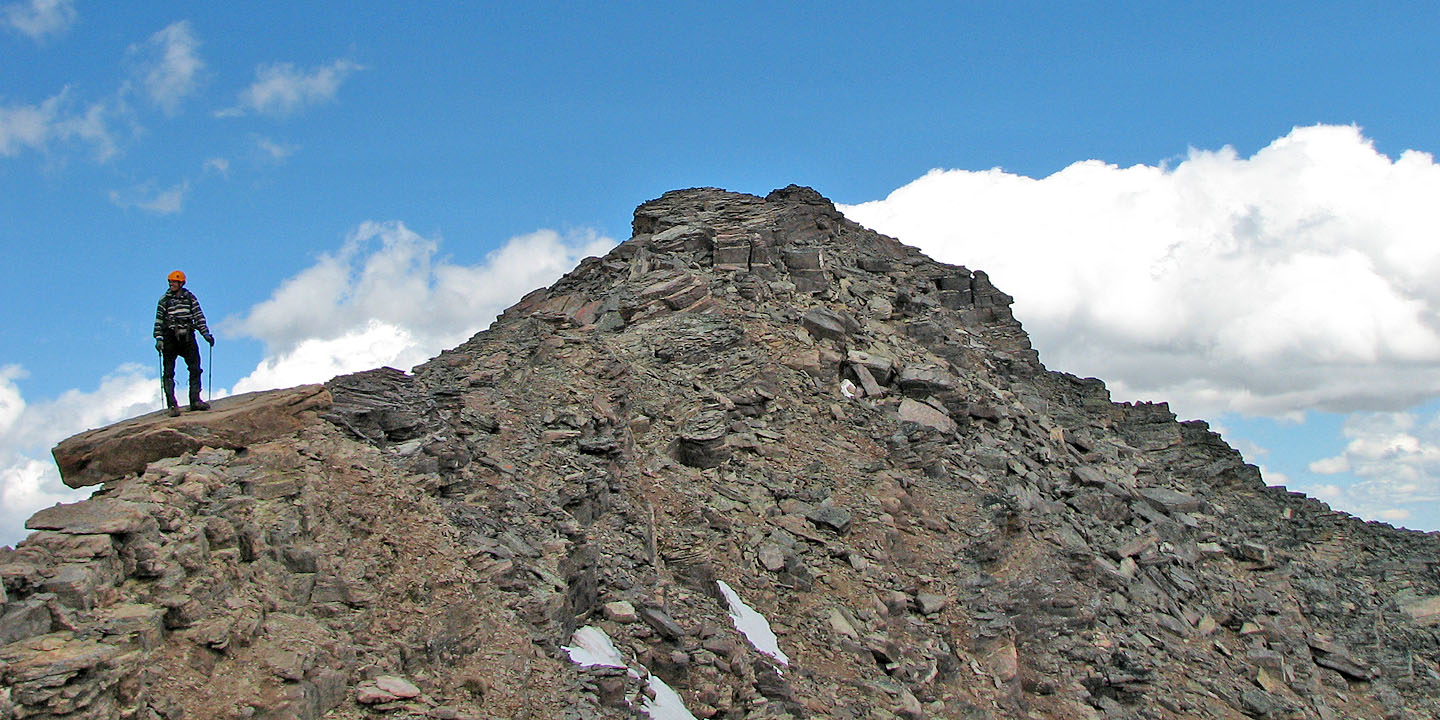 The summit is a stone's throw away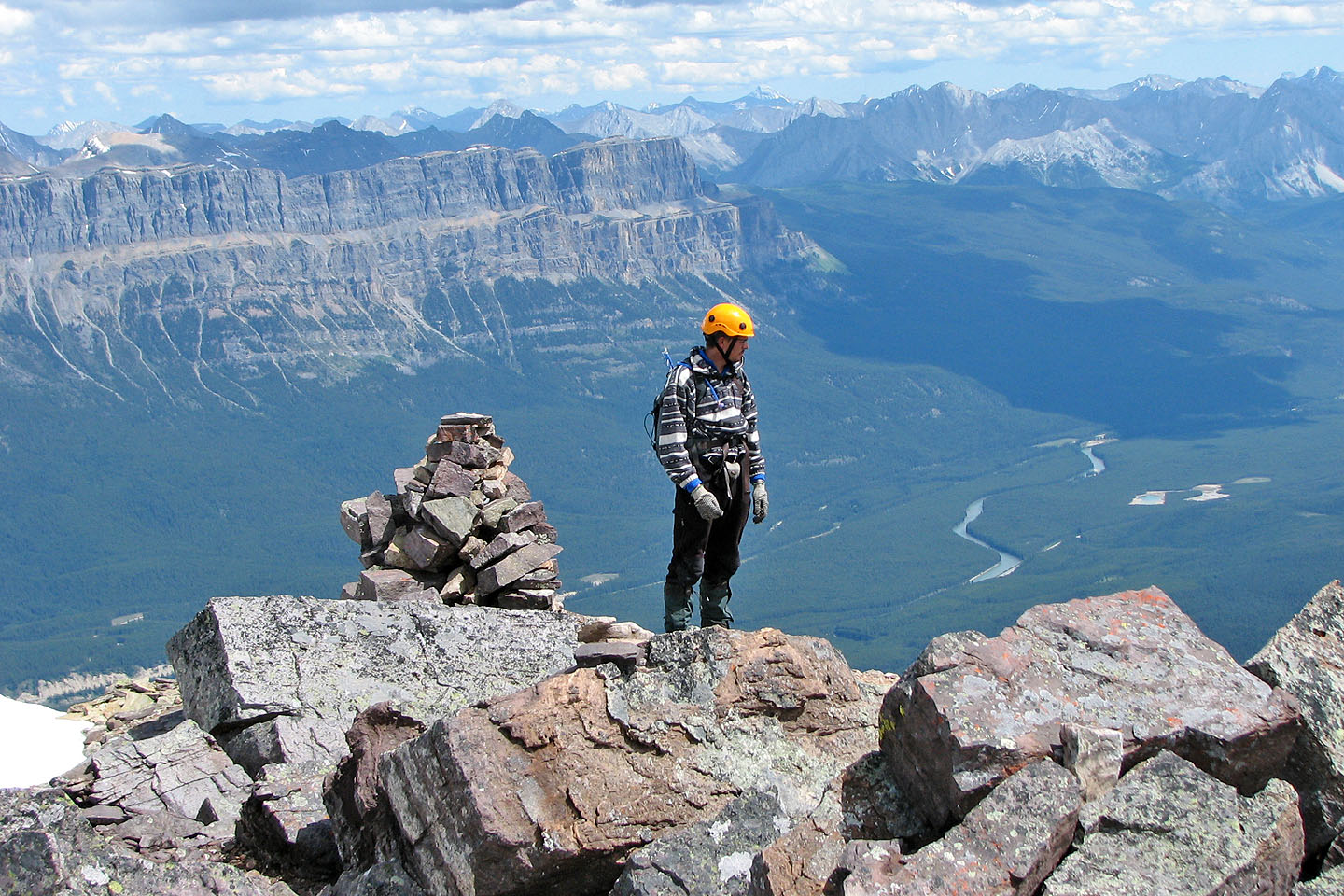 Andrew stands next to the summit cairn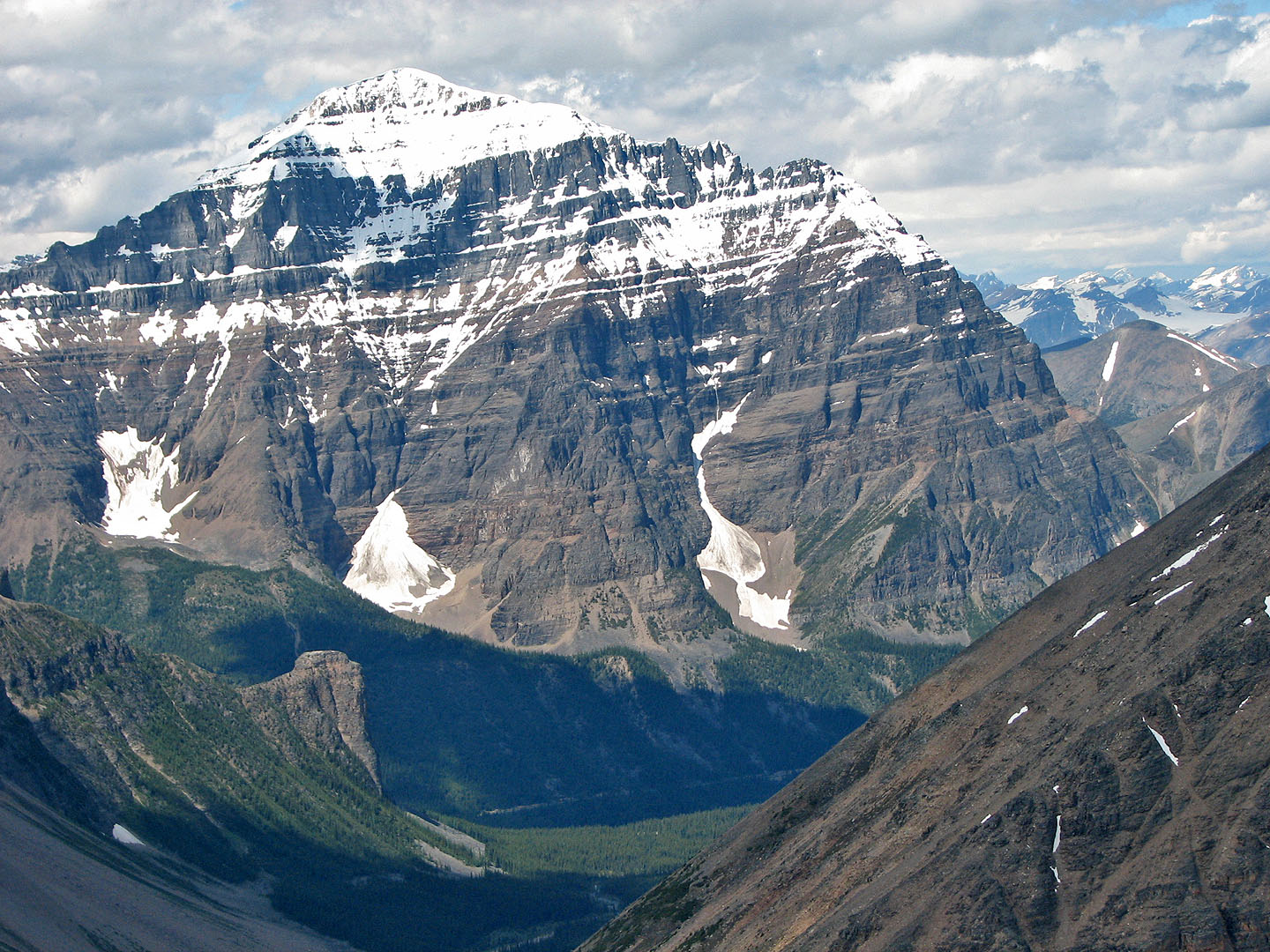 The mighty and the humble: Mount Temple overshadows The Tower of Babel (lower left).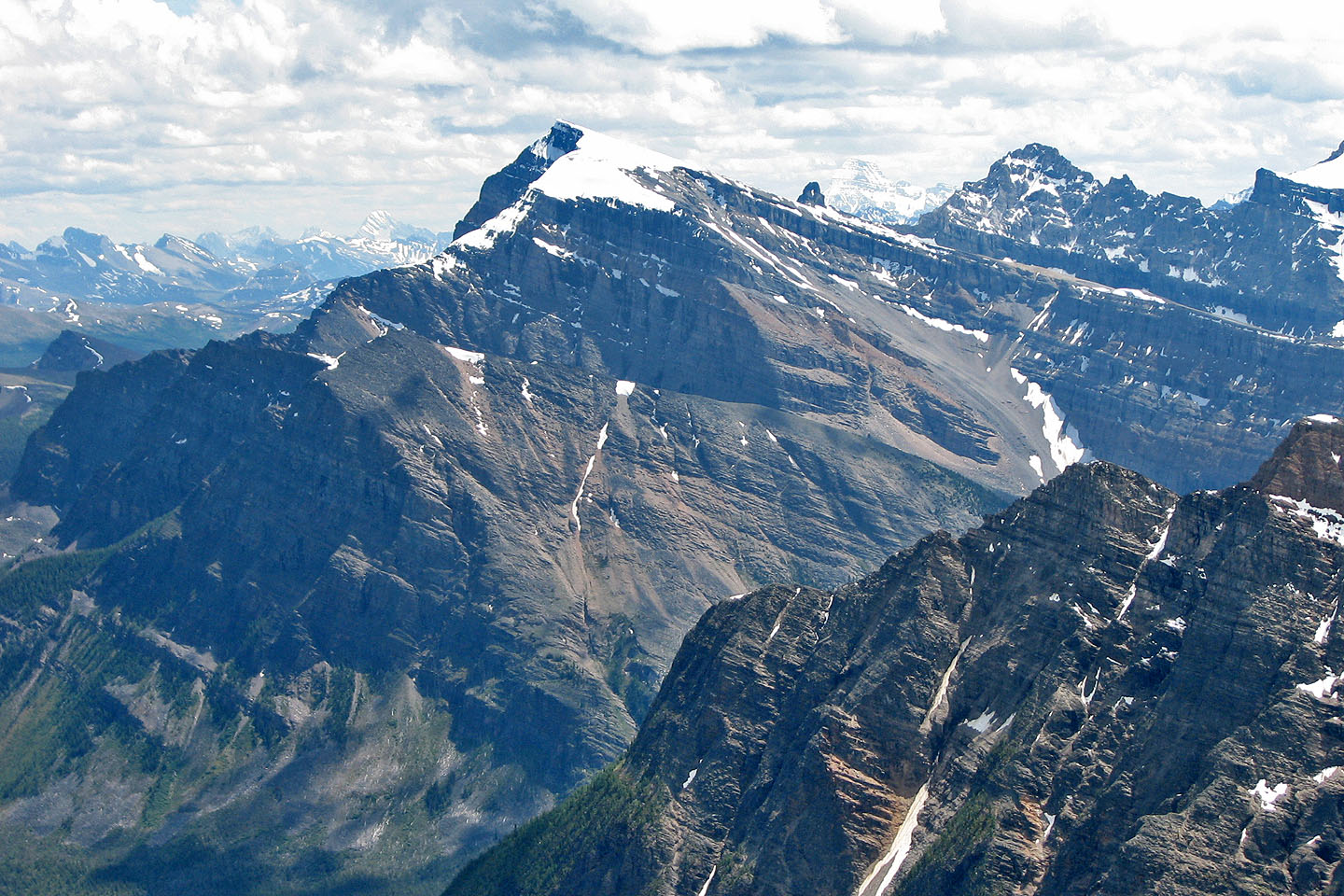 Storm Mountain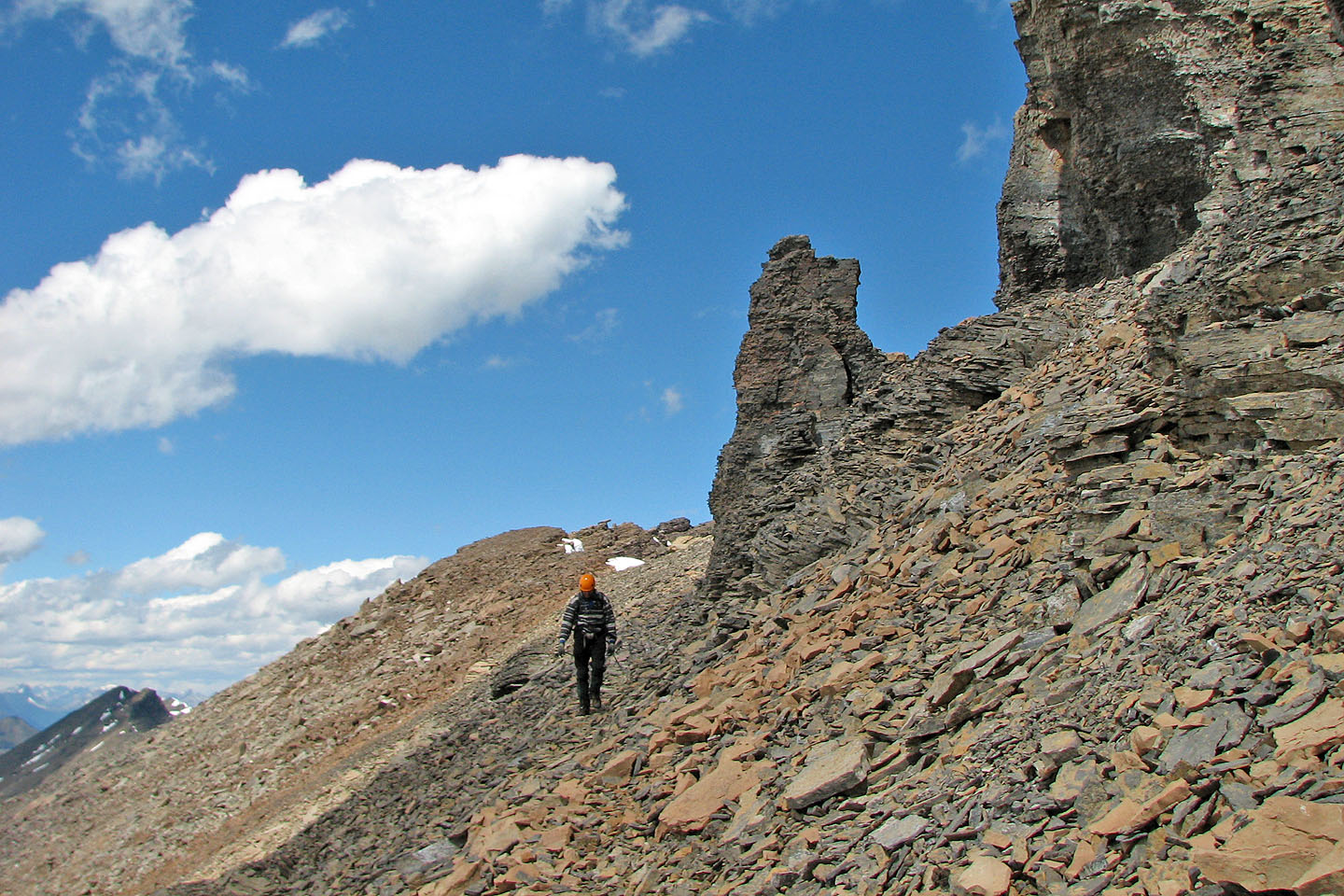 Heading down from the summit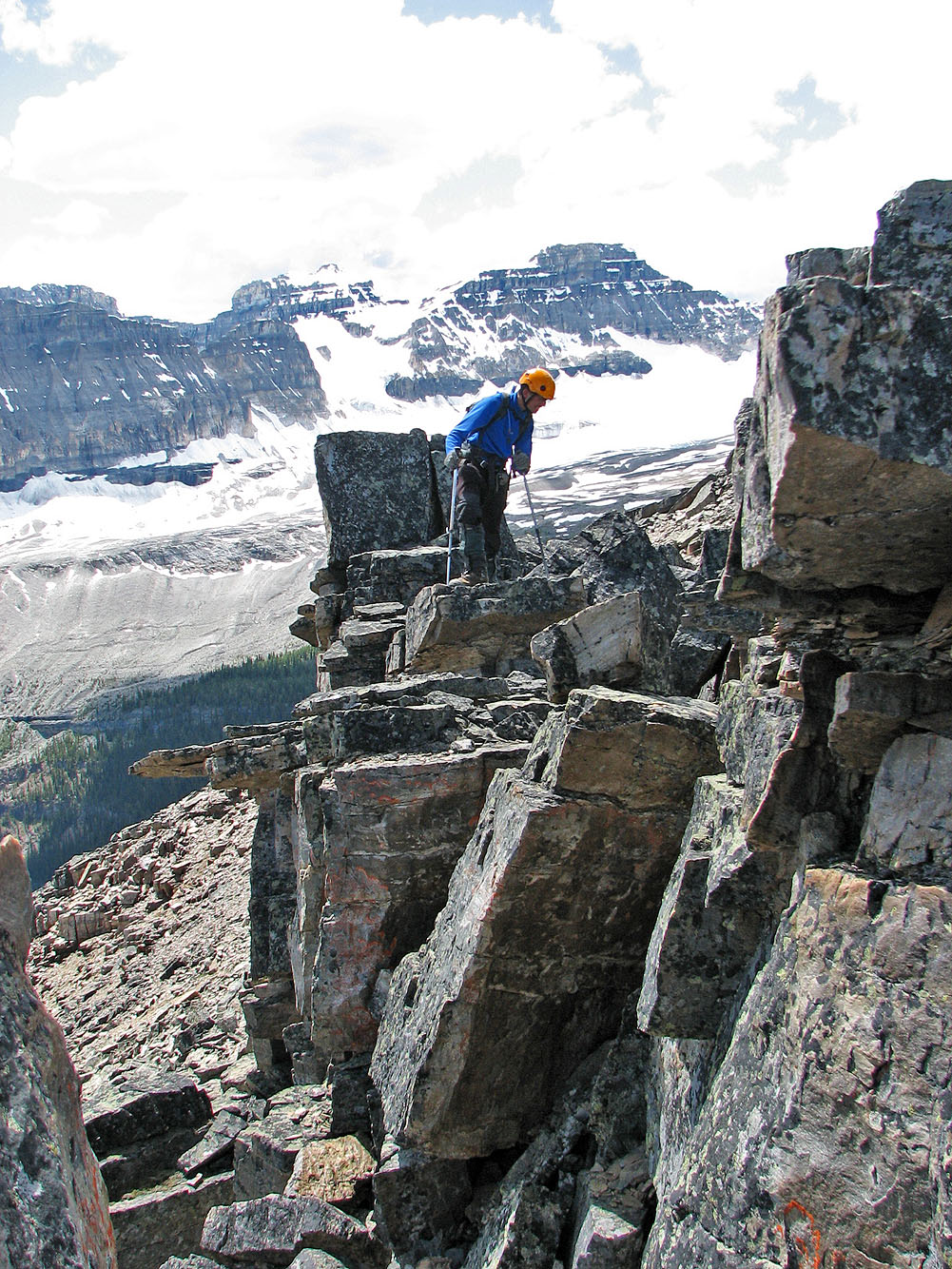 The usual route follows below the ridge, but there's some good
scrambling on the crest in places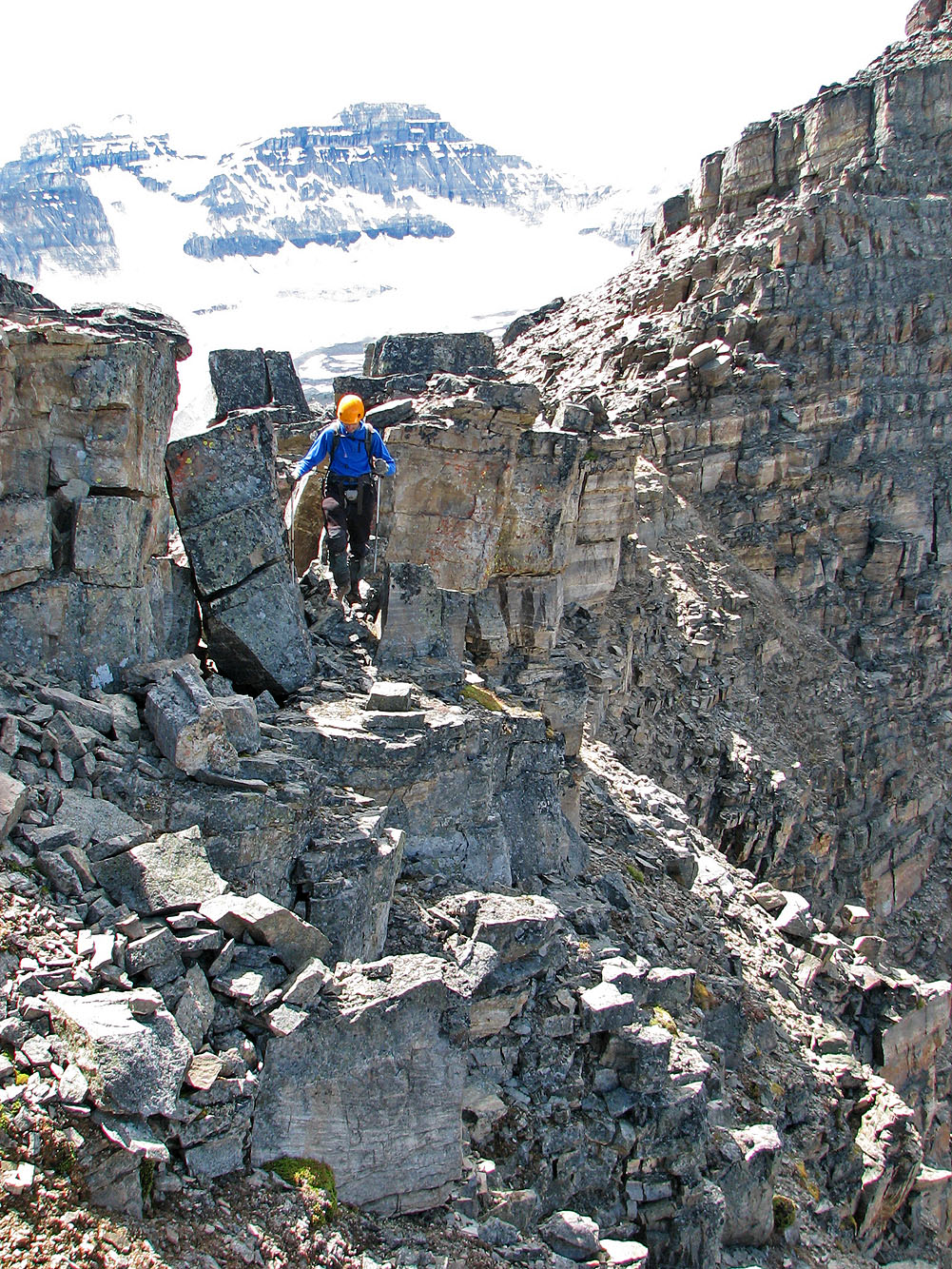 Scrambling for fun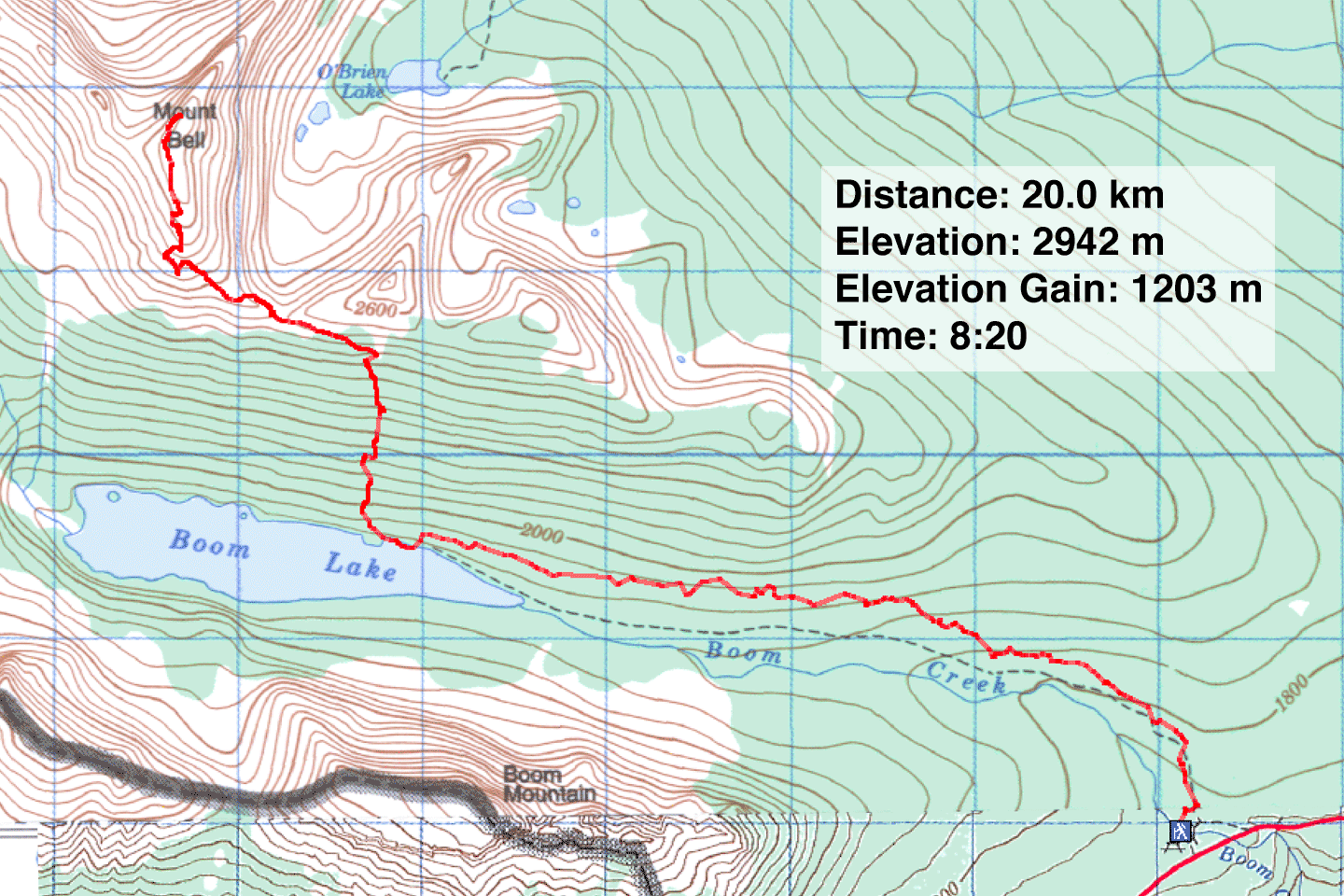 82 N/8 Lake Louise