bobspirko.ca | Home | Canada Trips | US Trips | Hiking | Snowshoeing | MAP | About

Kent North
Kananaskis, Alberta
July 27, 2013
Distance: 8.1 km
Cumulative Elevation Gain: 1136 m
The north summit of Kent Ridge – or "North Kent" as Gillean Daffern simply calls it – can be reached a several ways, but I chose routes described in the Kananaskis Country Trail Guide. I ascended the gully that runs between the outlier and North Kent but returned along the outlier.
Starting from the Sawmill day-use area, I started up the trail. (Don't take the newly graded dirt road behind the outhouses, but instead walk a bit north to a metal gate.) This trail is part of a network of logging roads that lead to the outlier, provided one is careful to take the correct forks and turns. Otherwise expect to get lost in a maze of bushy roads. Well up the trail, look for a faint side trail on the right that's easily missed if one is inattentive. It follows an overgrown road before reaching the spacious meadows below the outlier. From the meadows, I got a good look at the gully as well as the rubbly slopes leading to the summit of North Kent. The trail disappeared at the edge of the meadows.
Aiming for the gully, I traversed the meadows above the drainage and lost little elevation. When I reached the gully, I stayed high on the right side where I found firm footing. I hardly set foot in the gully.
Before reaching the col at the top of the gully, I swung right and headed up the open slopes to the summit. After an uninspiring plod to the top, I reached the summit cairn. The register showed only one entry for 2013, just days before the June flood.
Although I had no difficulties ascending the gully to climb North Kent, I looked forward to the scenic ridgewalk over the outlier, void of any bushwhacking and routefinding. Even at the expense of climbing 50 m from the col, it was a fine finish to the trip.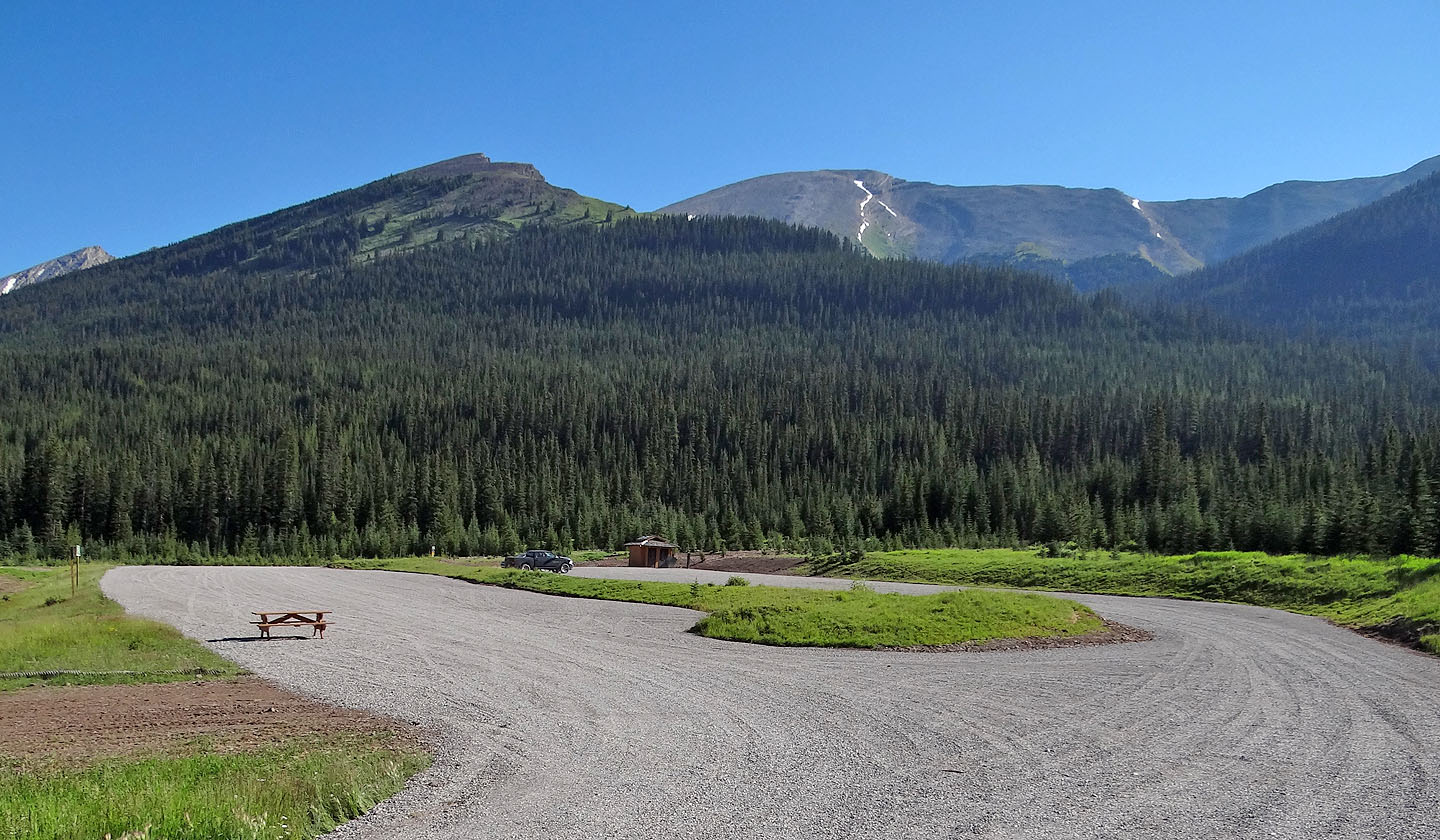 The outlier and North Kent from the Sawmill day-use area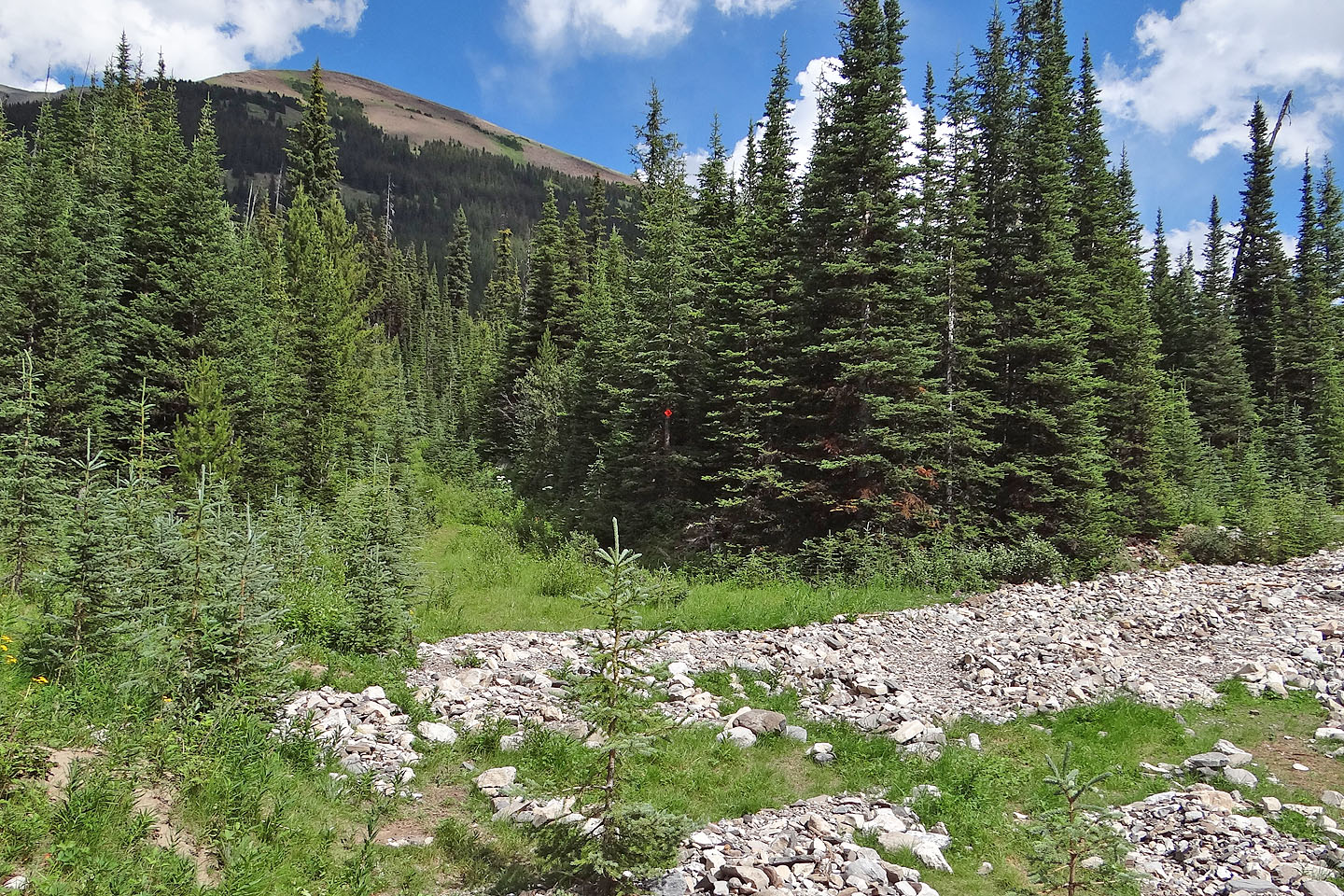 Just past the metal gate, the trail forks. Keep left to reach the outlier and North Kent.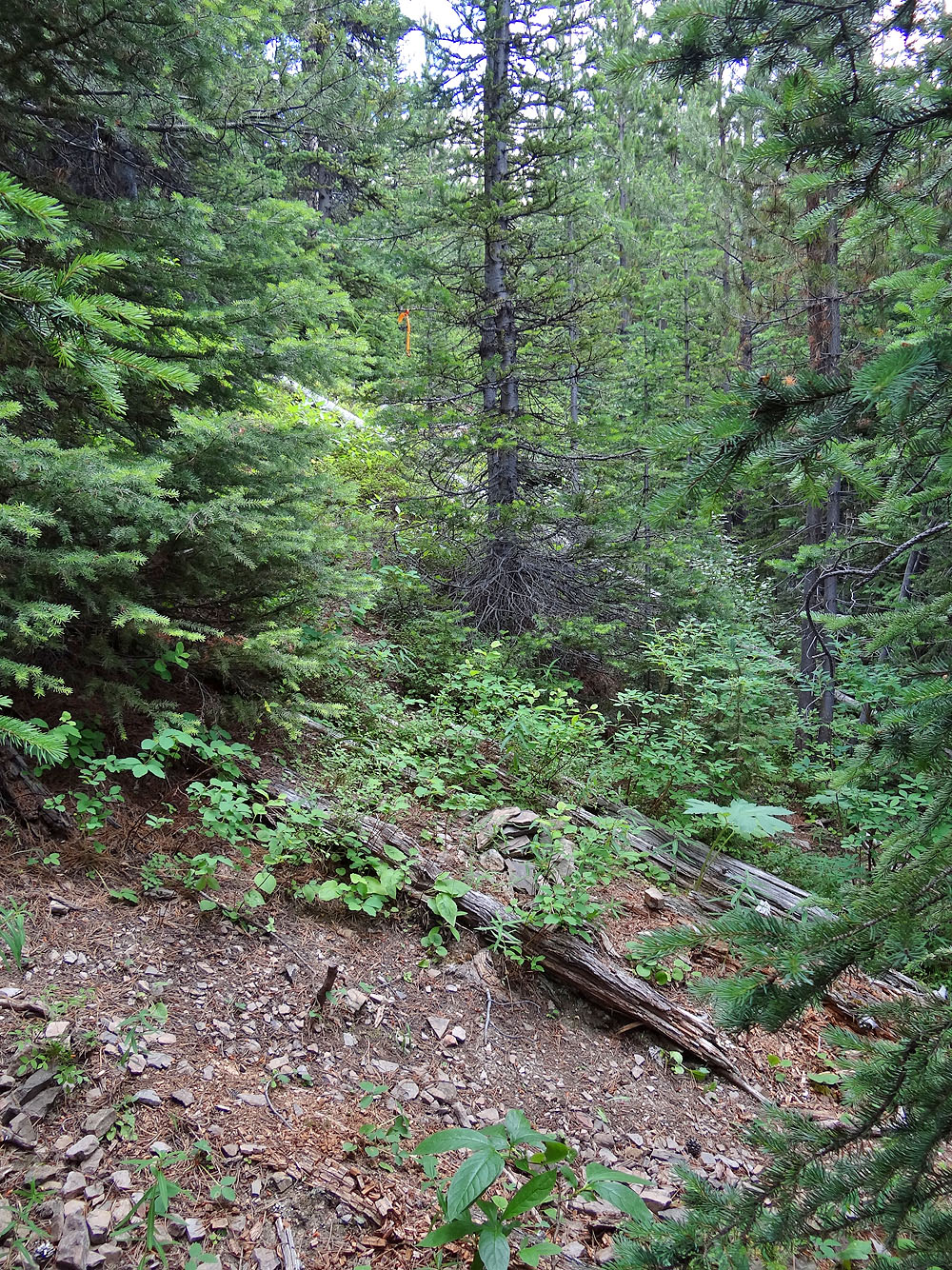 Orange flagging and a tiny cairn mark the side trail to a road to the meadows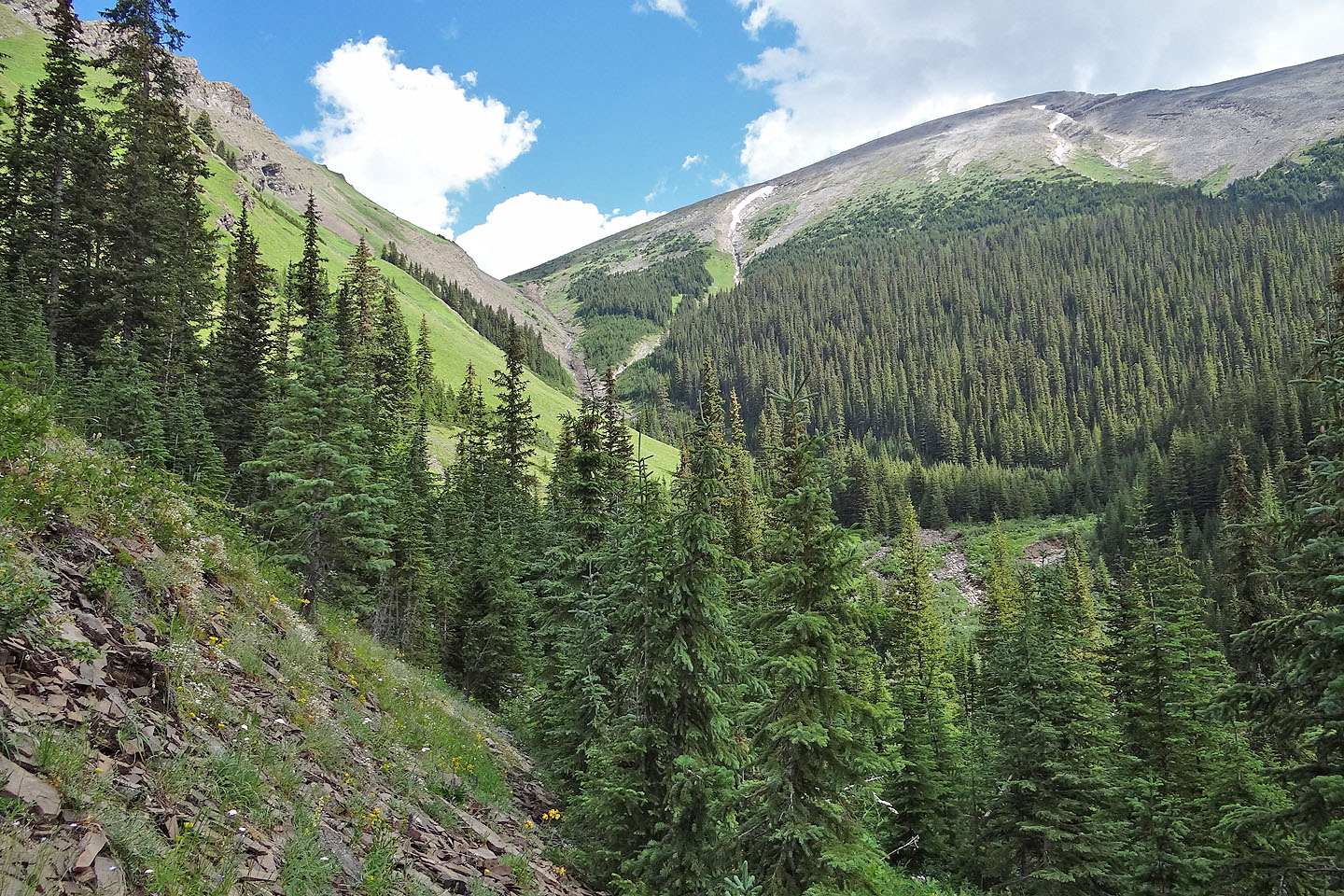 After bushwhacking up an overgrown road, the ascent gully and North Kent came into view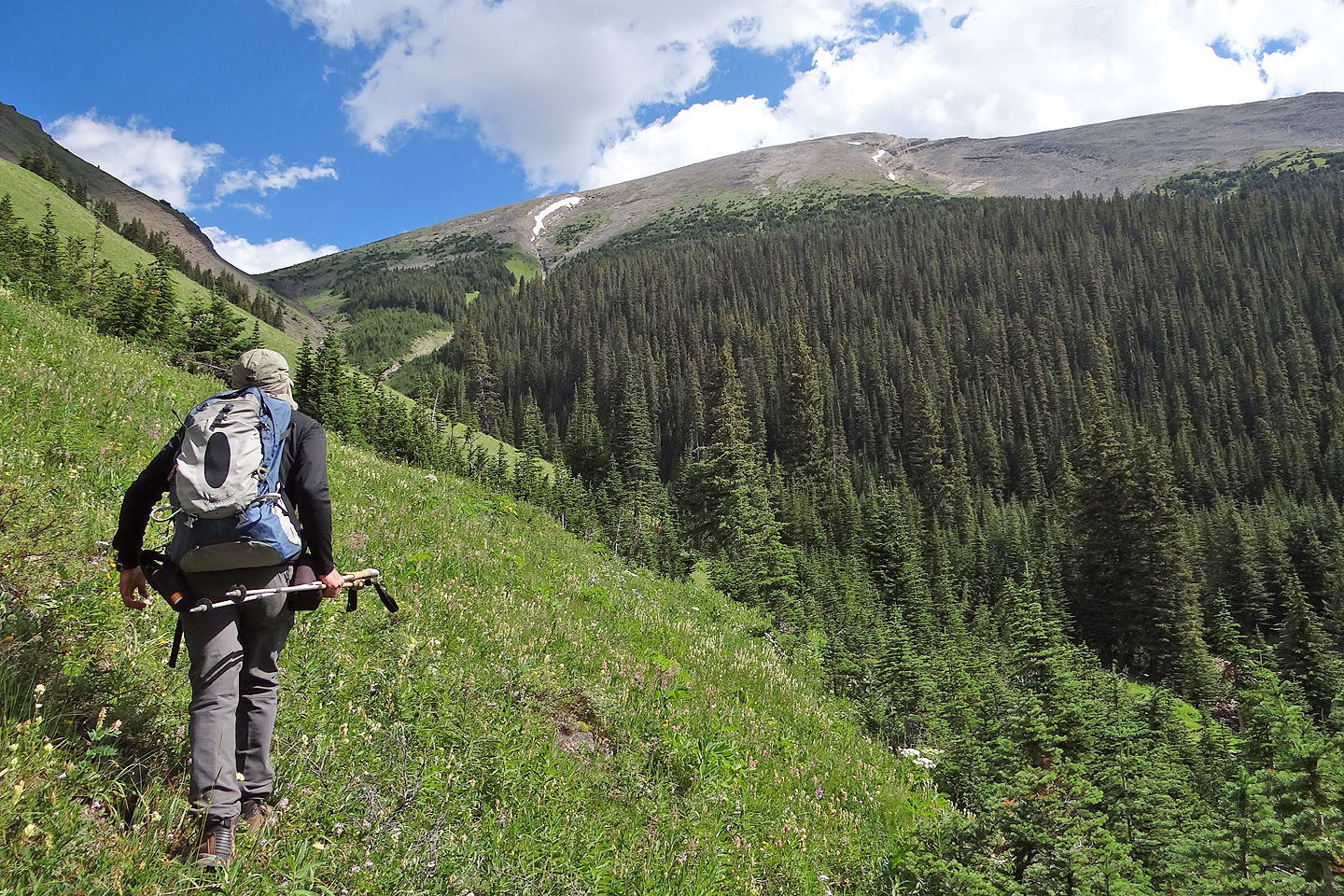 Traversing the meadow was easy at first, but soon I was wading waist-deep in plants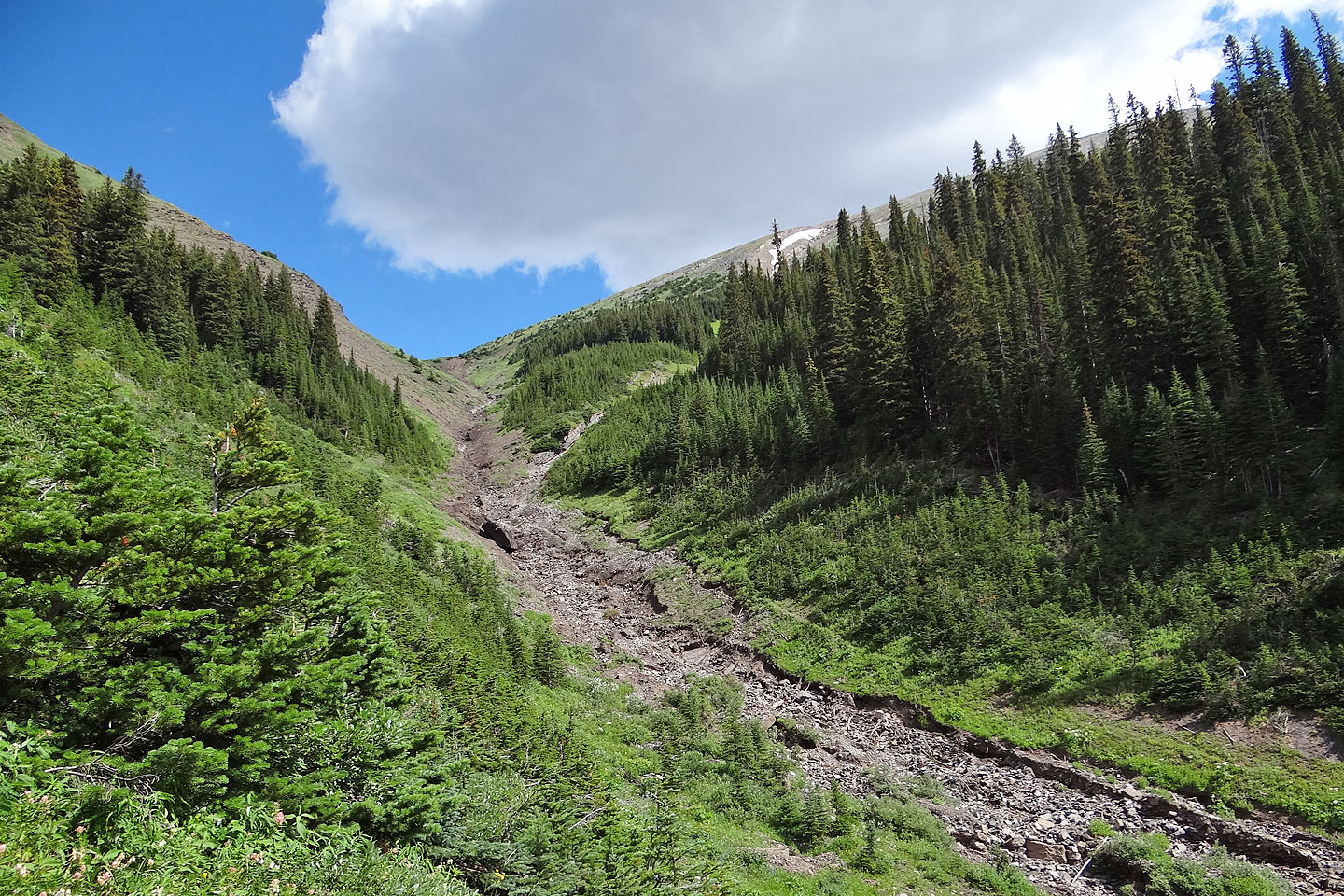 Coming to the gully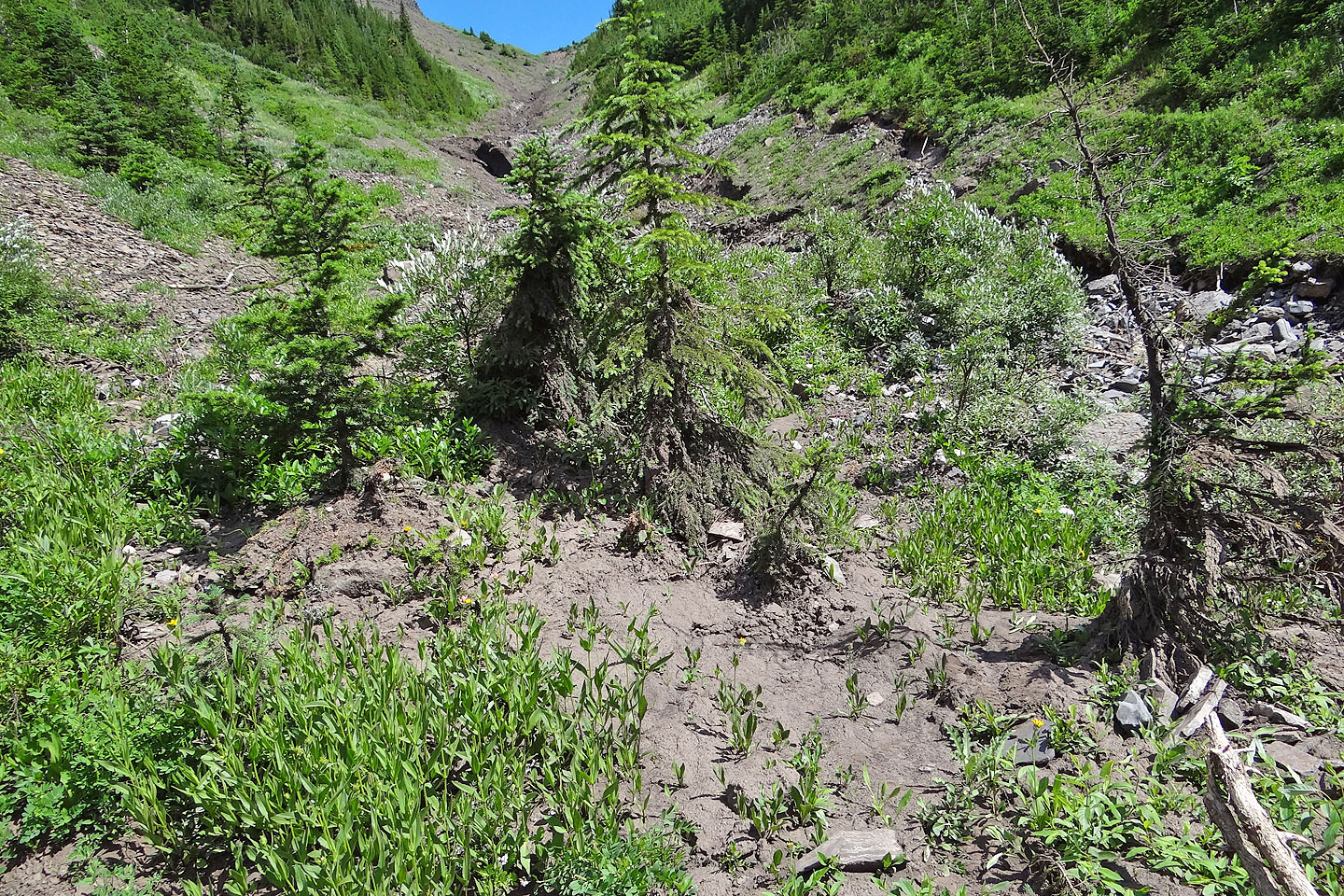 Evidence of recent flooding can be seen in the mud-covered trees and in the fissures on the right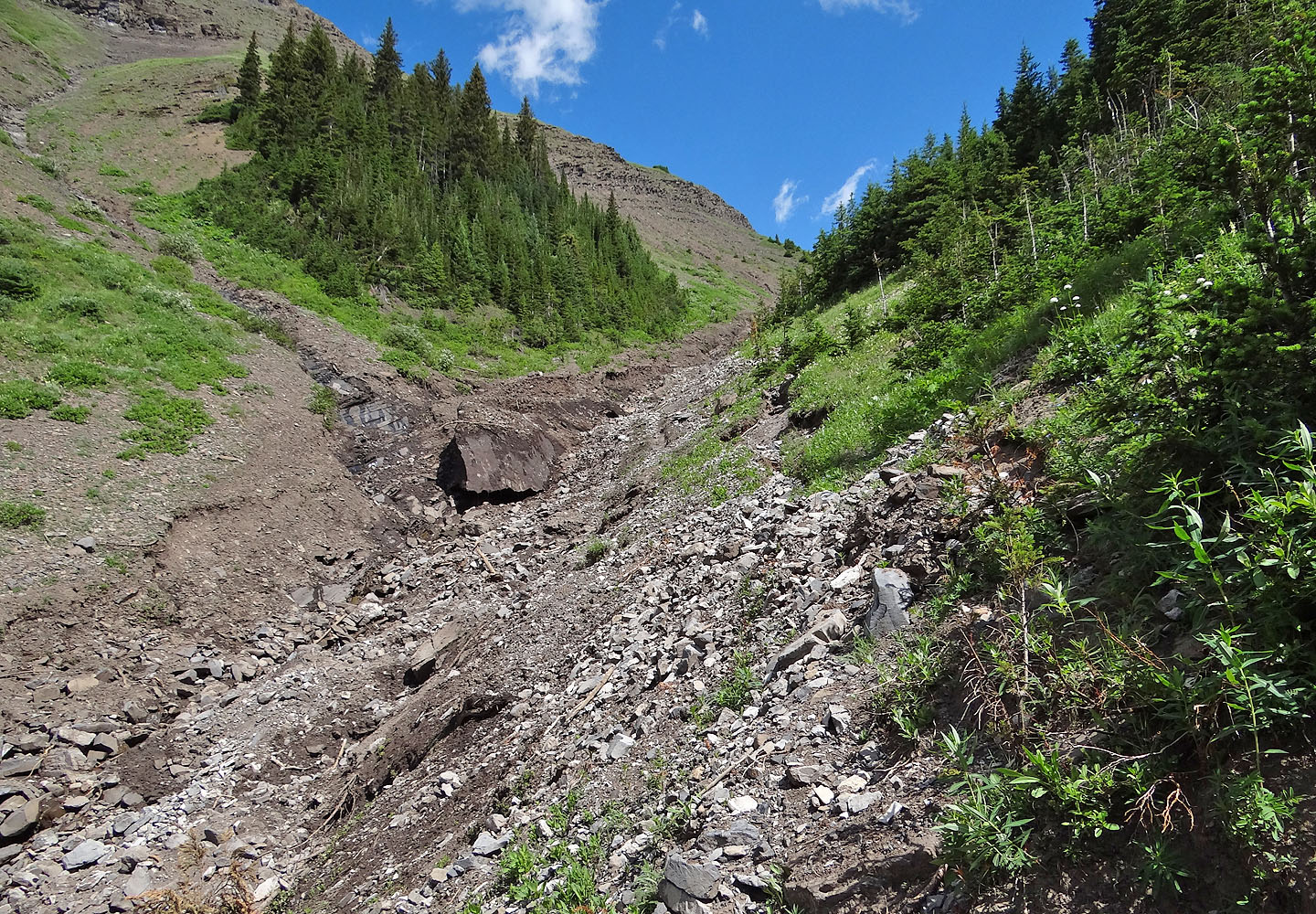 Keeping high above the gully on the right, I found travel generally easy. What appears to be a boulder in the gully was detritus-covered snow.

I was tempted to take the intriguing right fork (mouse over) but instead continued to the col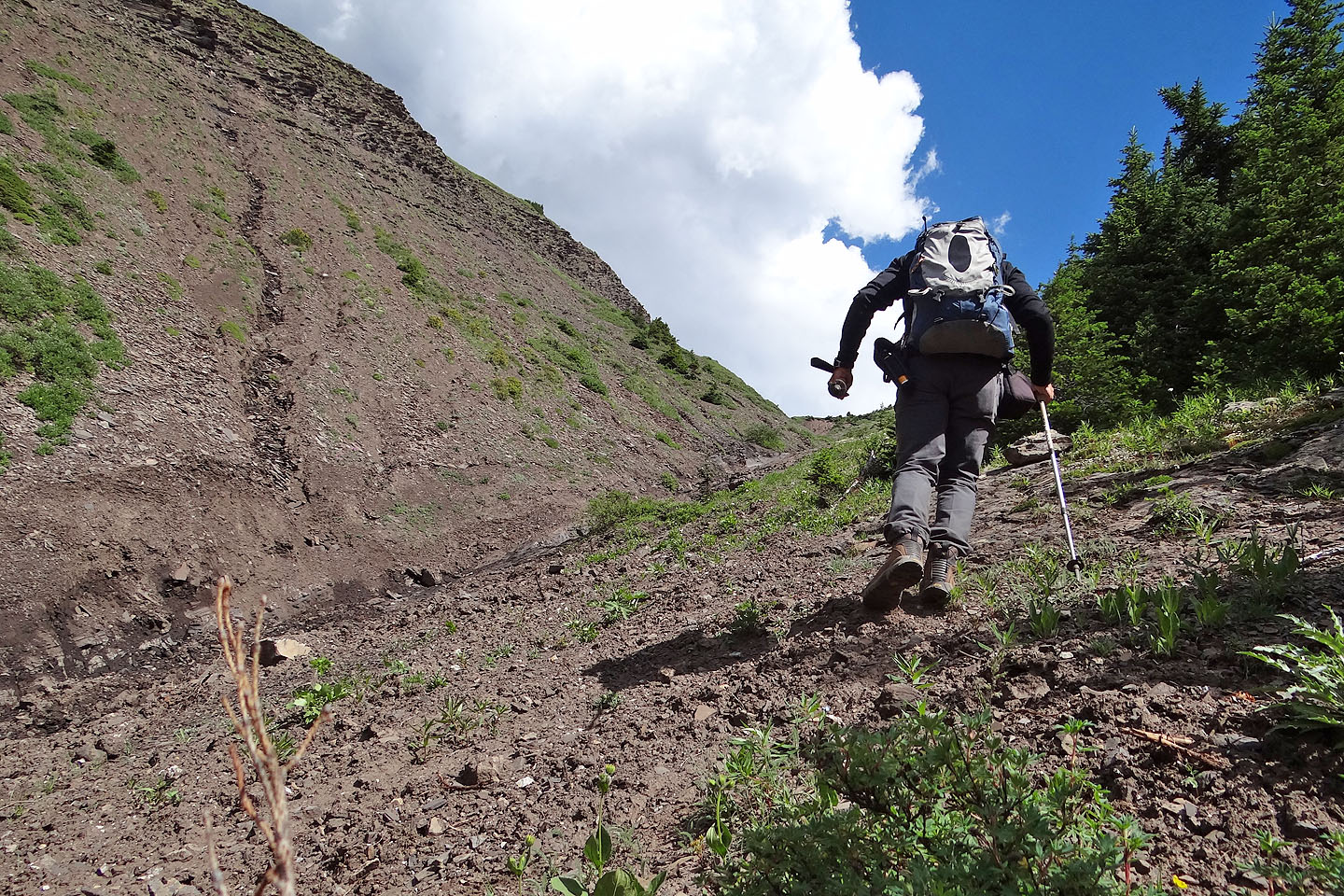 The col still appears well in the distance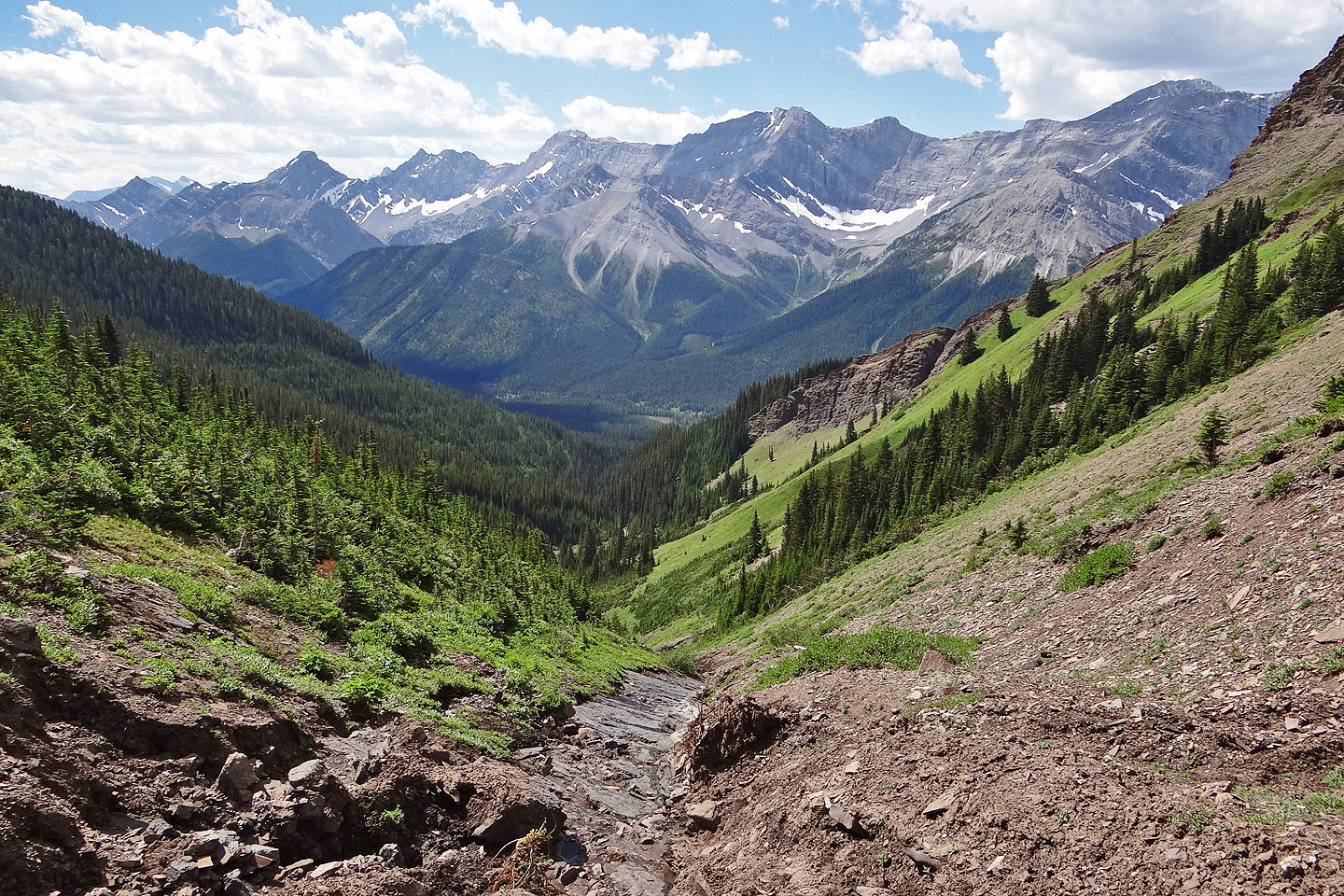 Looking back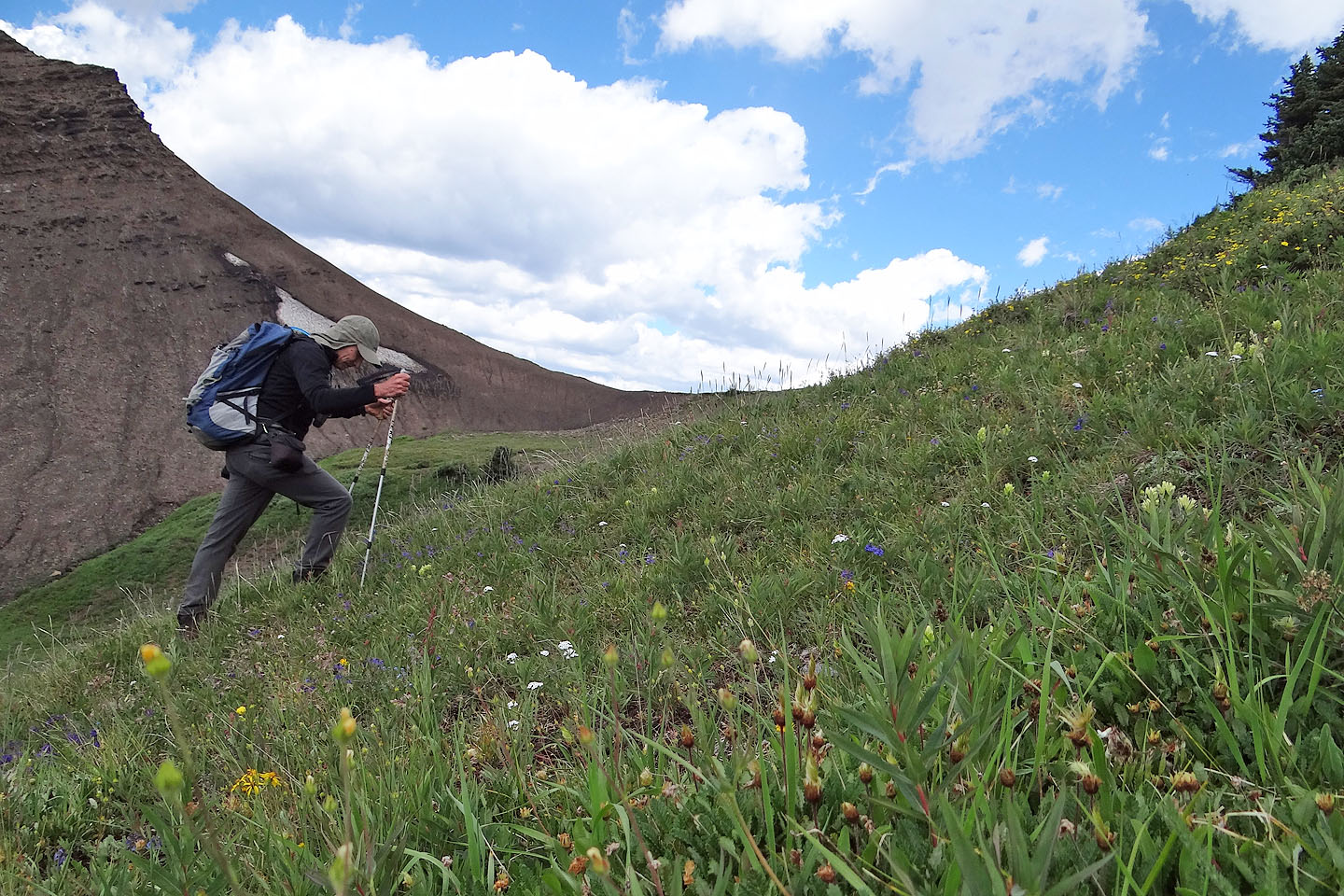 Well before the col, I swung right and headed to the summit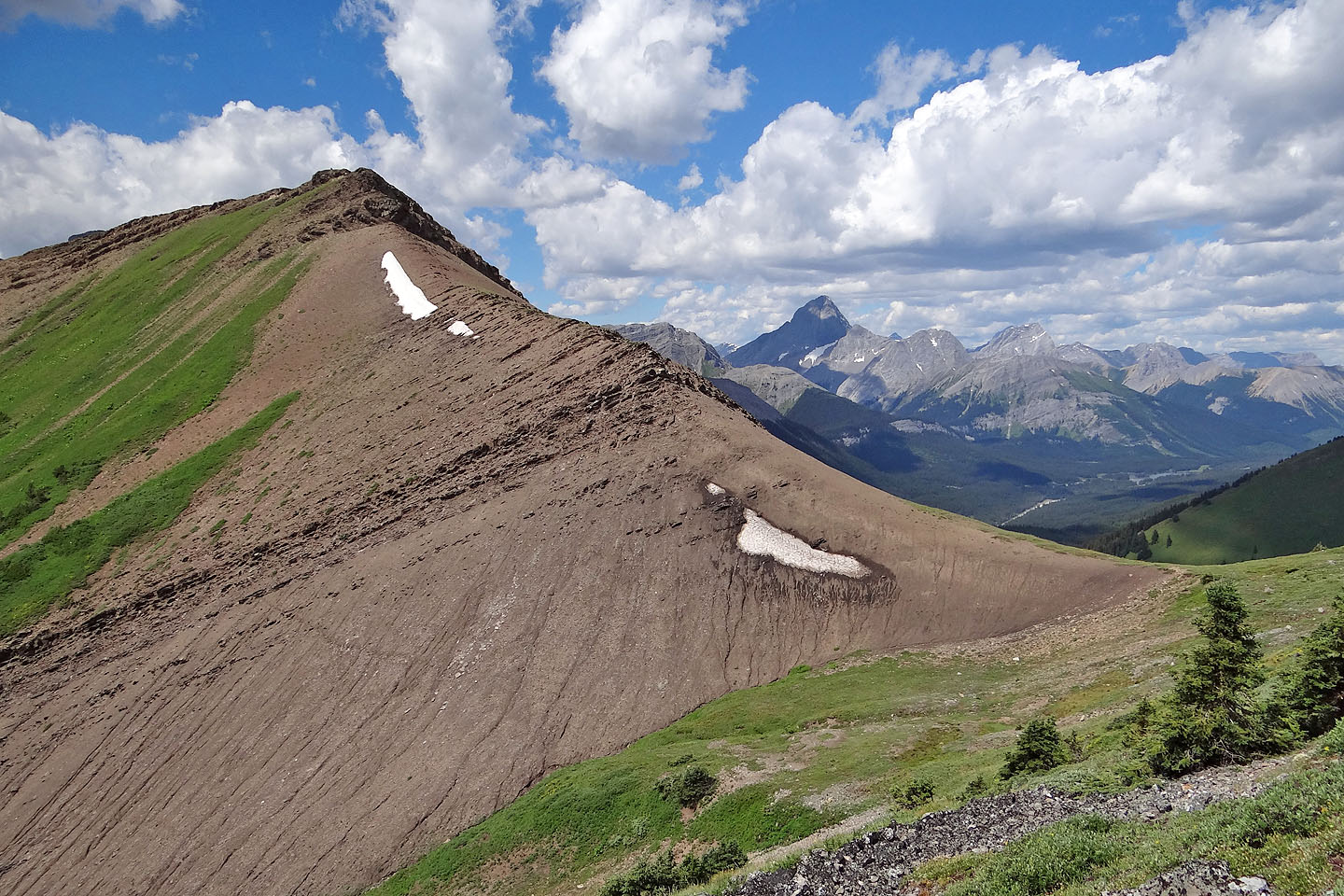 The outlier and the col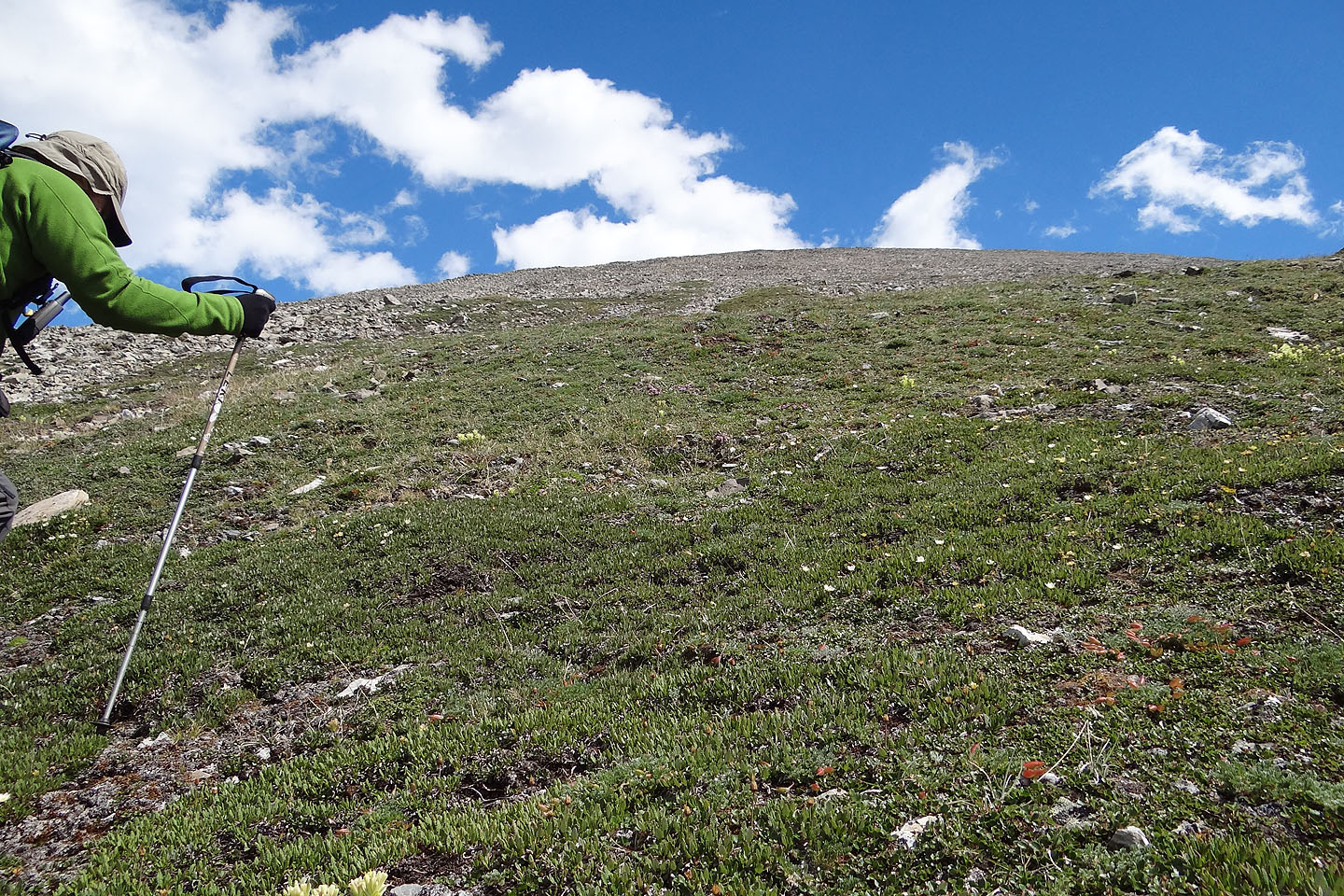 Soft dryas mats give way to rubble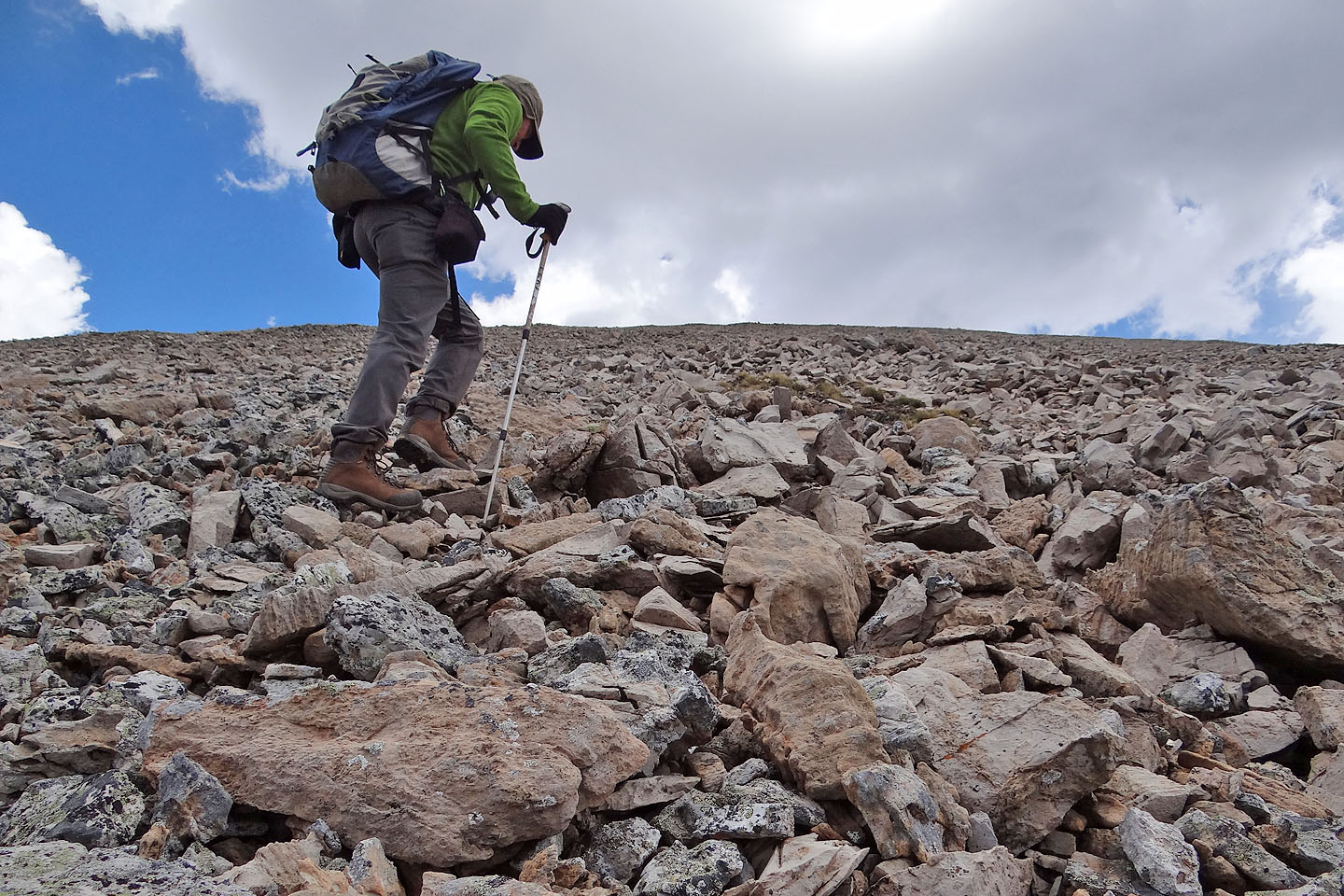 The summit is still about 200 m above me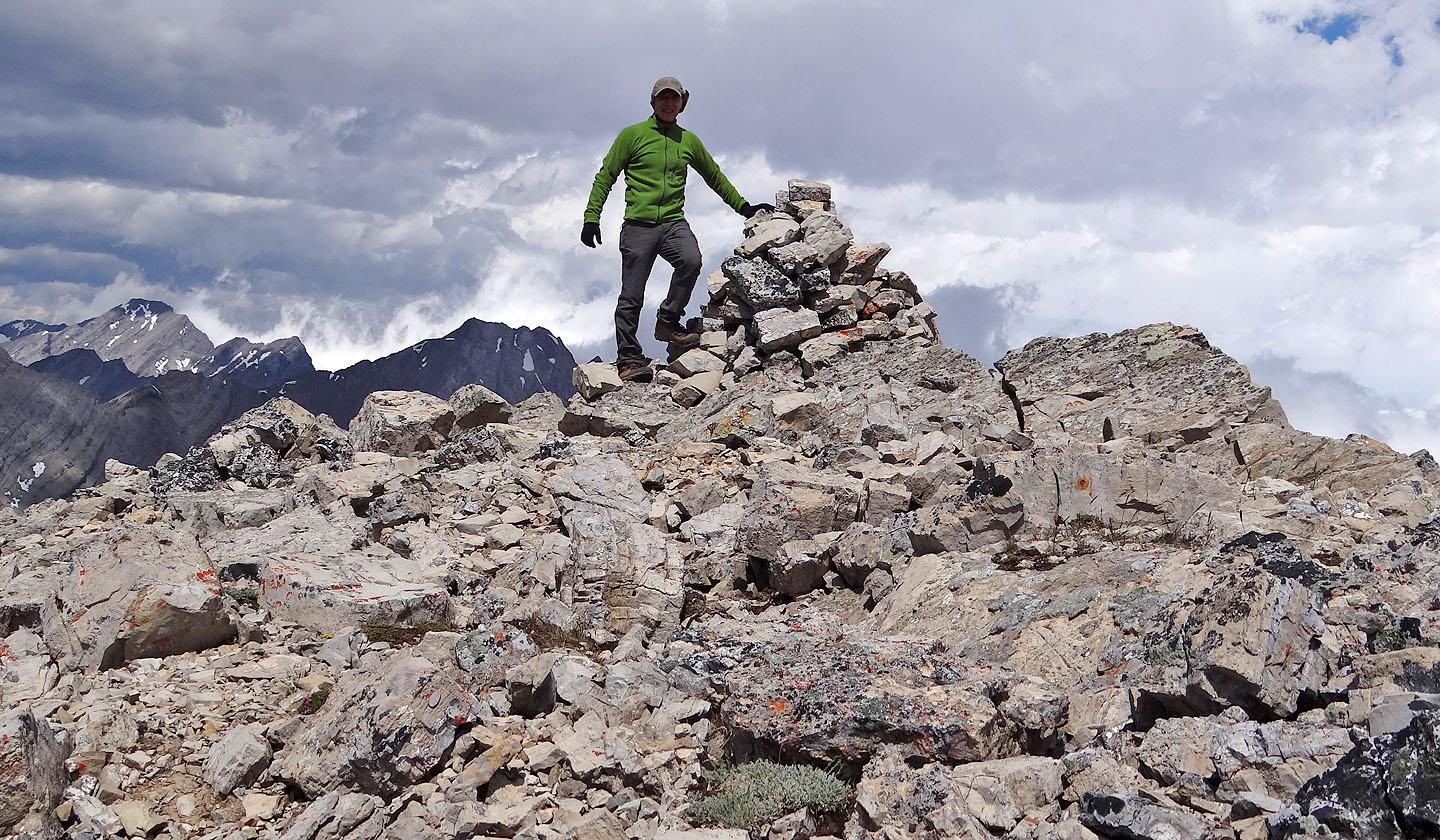 The summit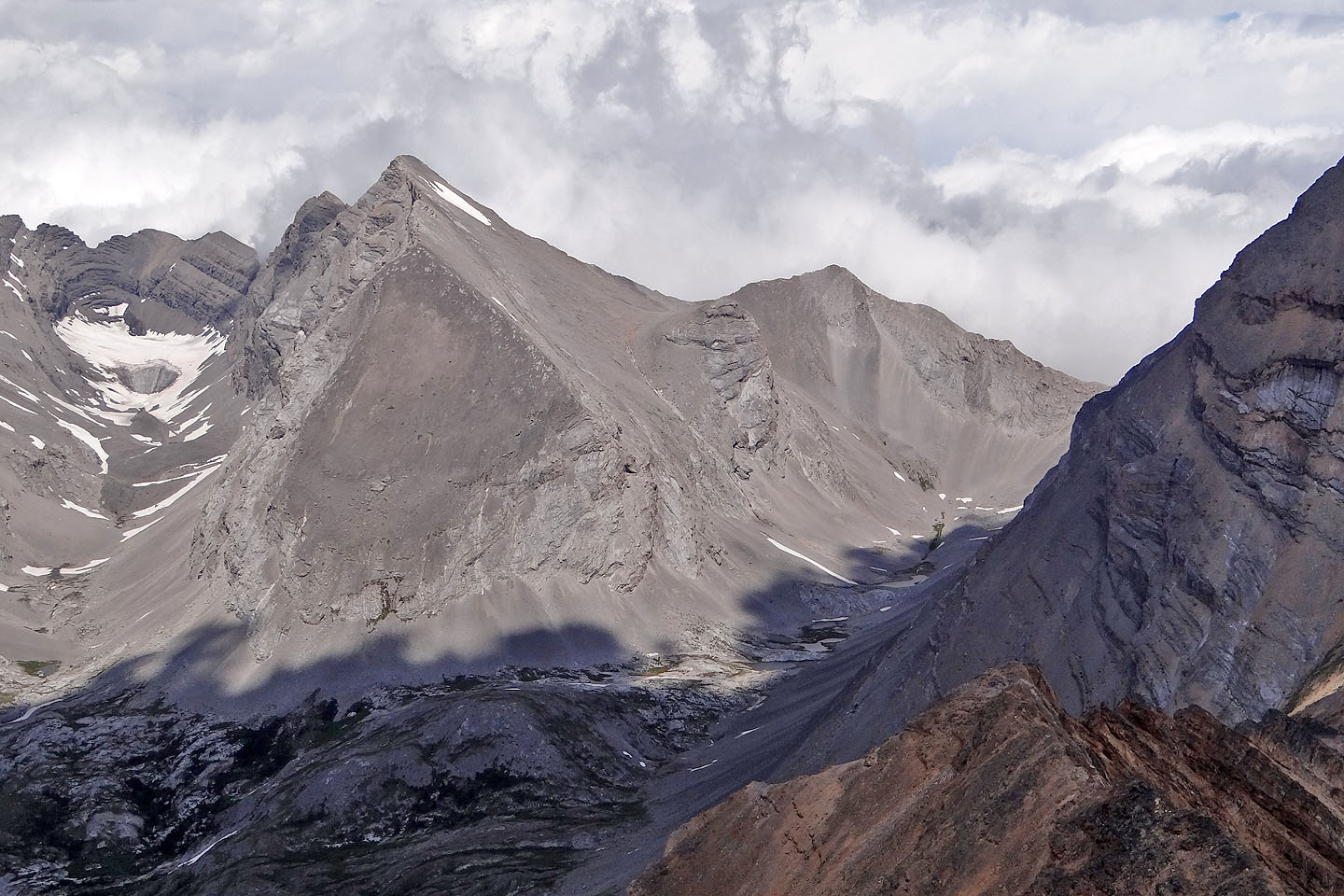 Mount James Walker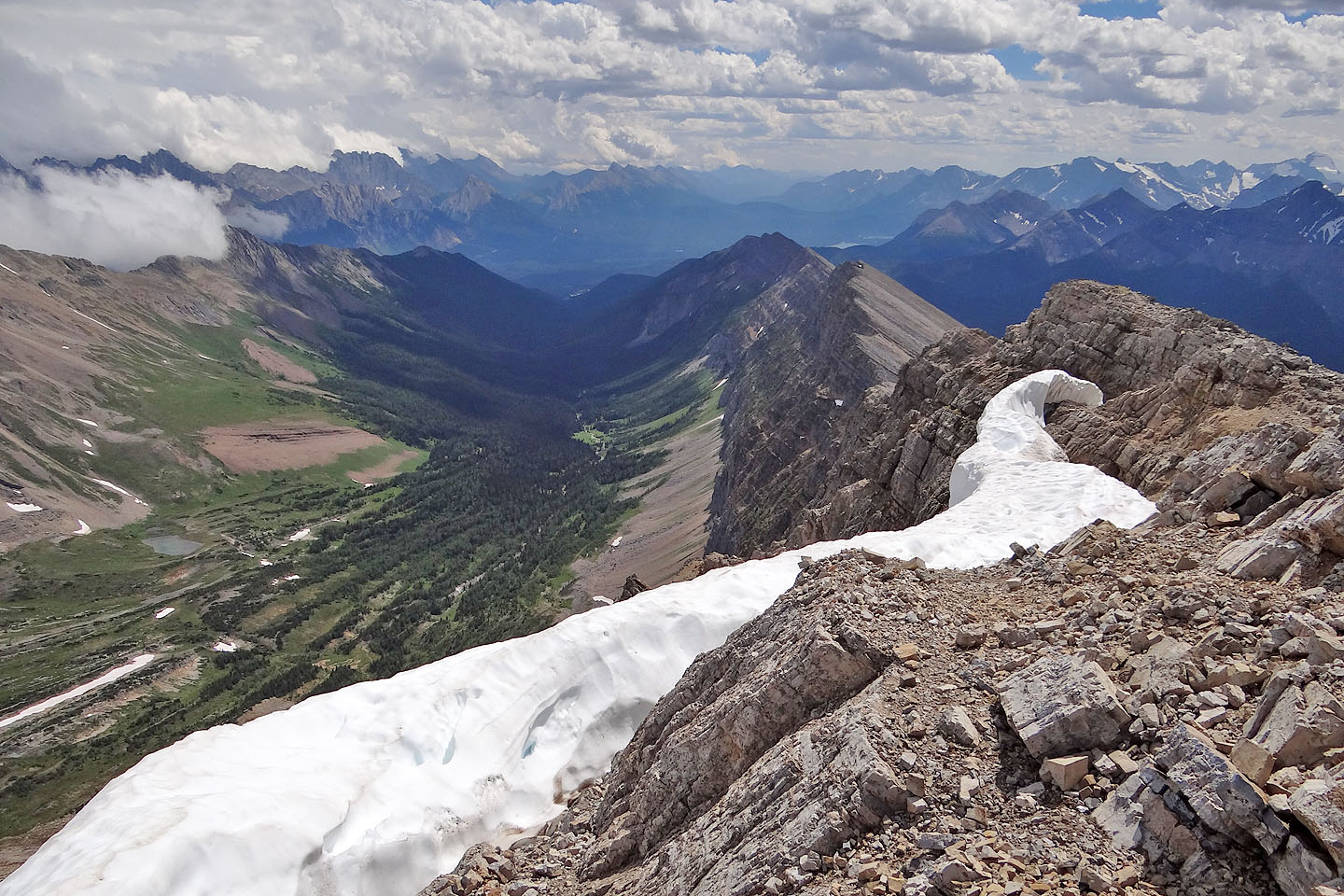 Kent Creek Valley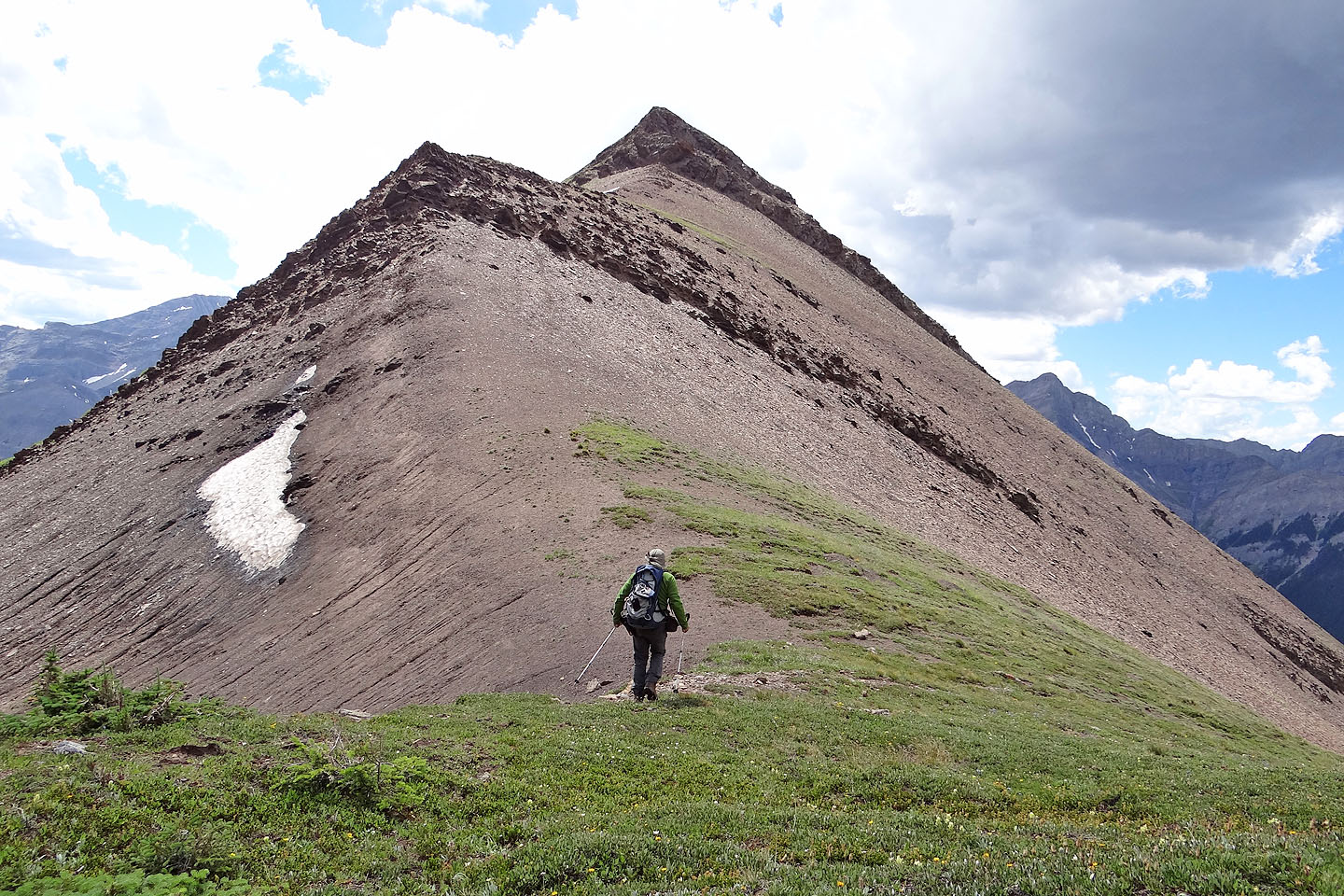 Heading to the outlier from the col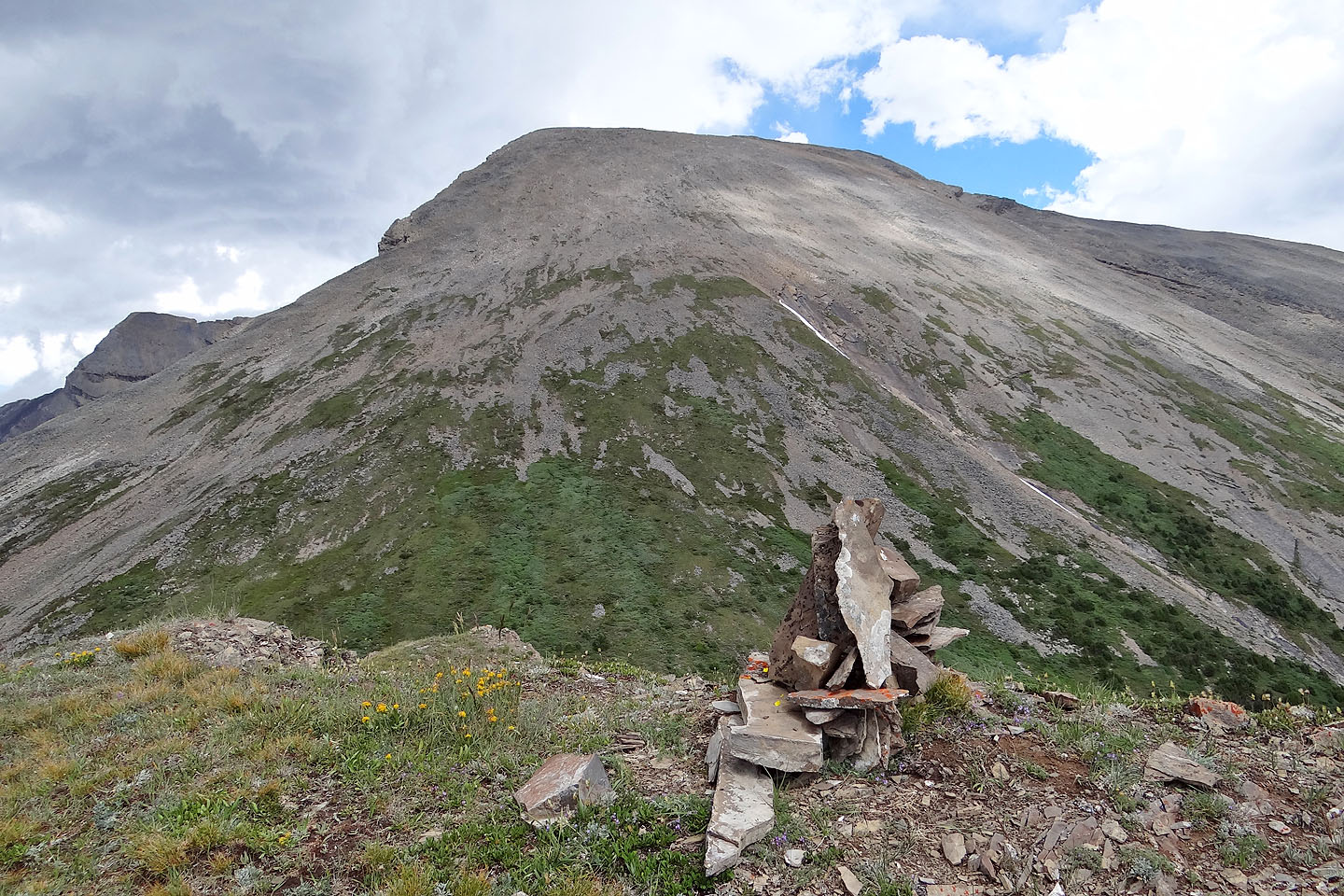 North Kent seen from the outlier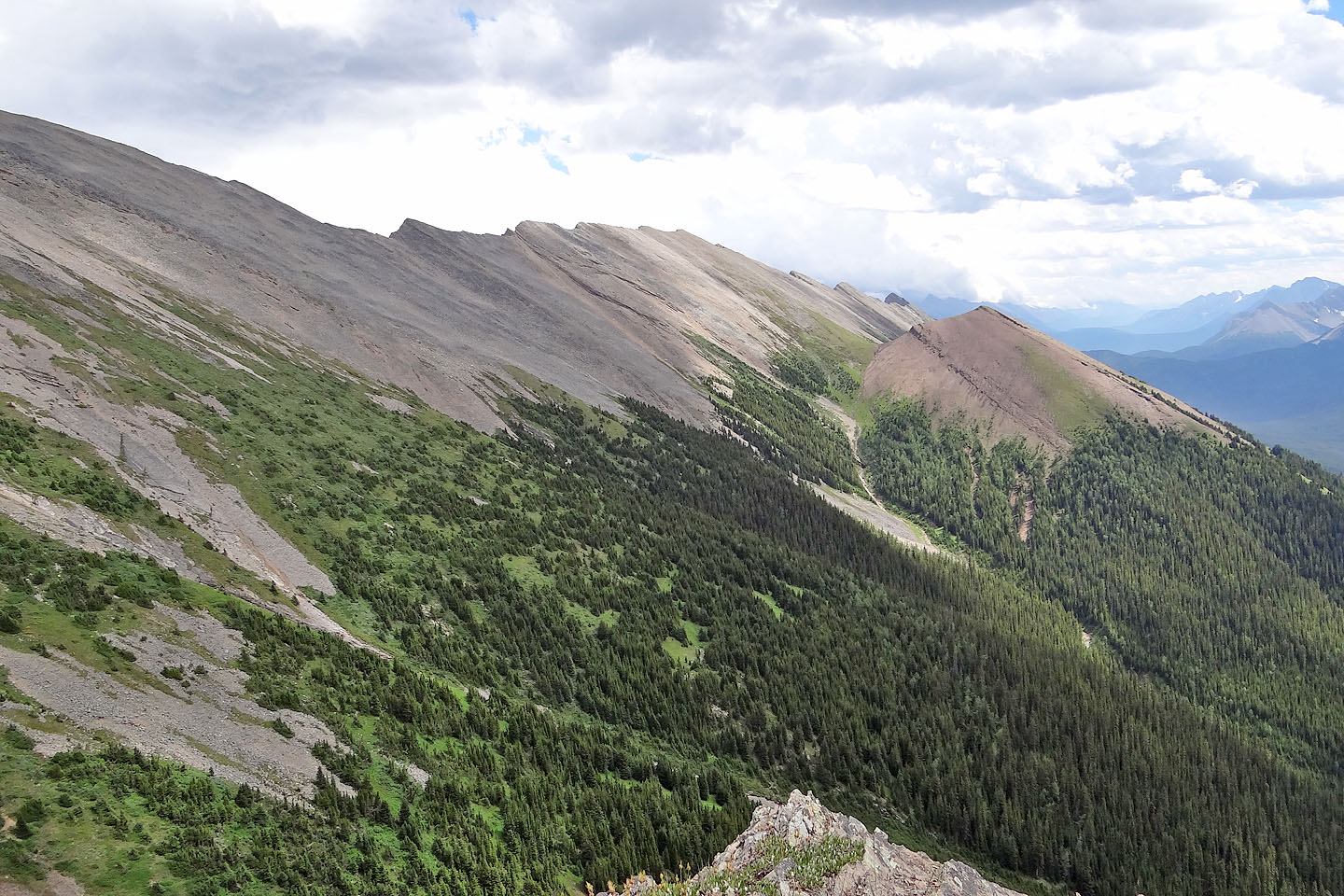 Looking along the length of Kent Ridge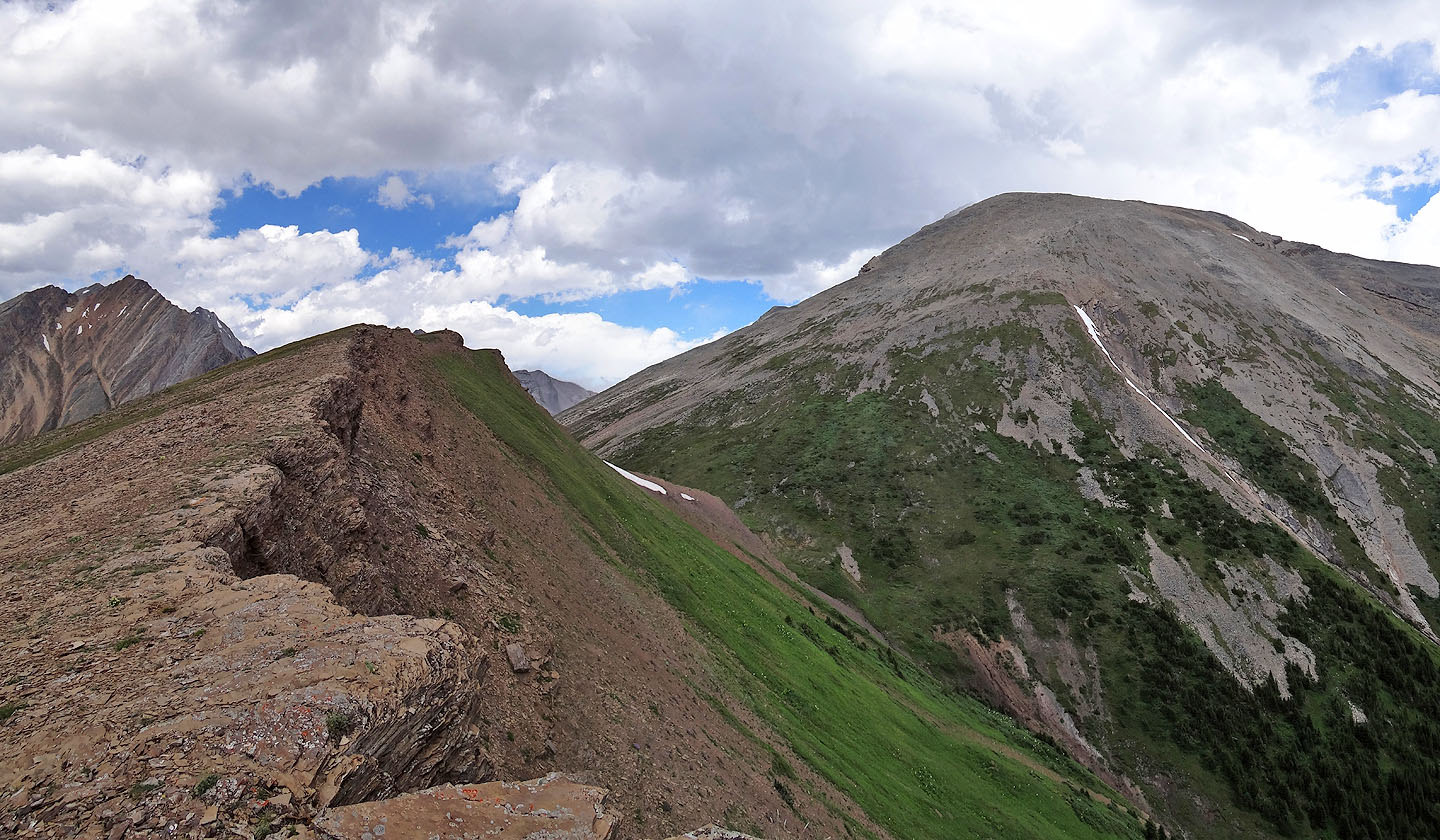 Final look back at the outlier and North Kent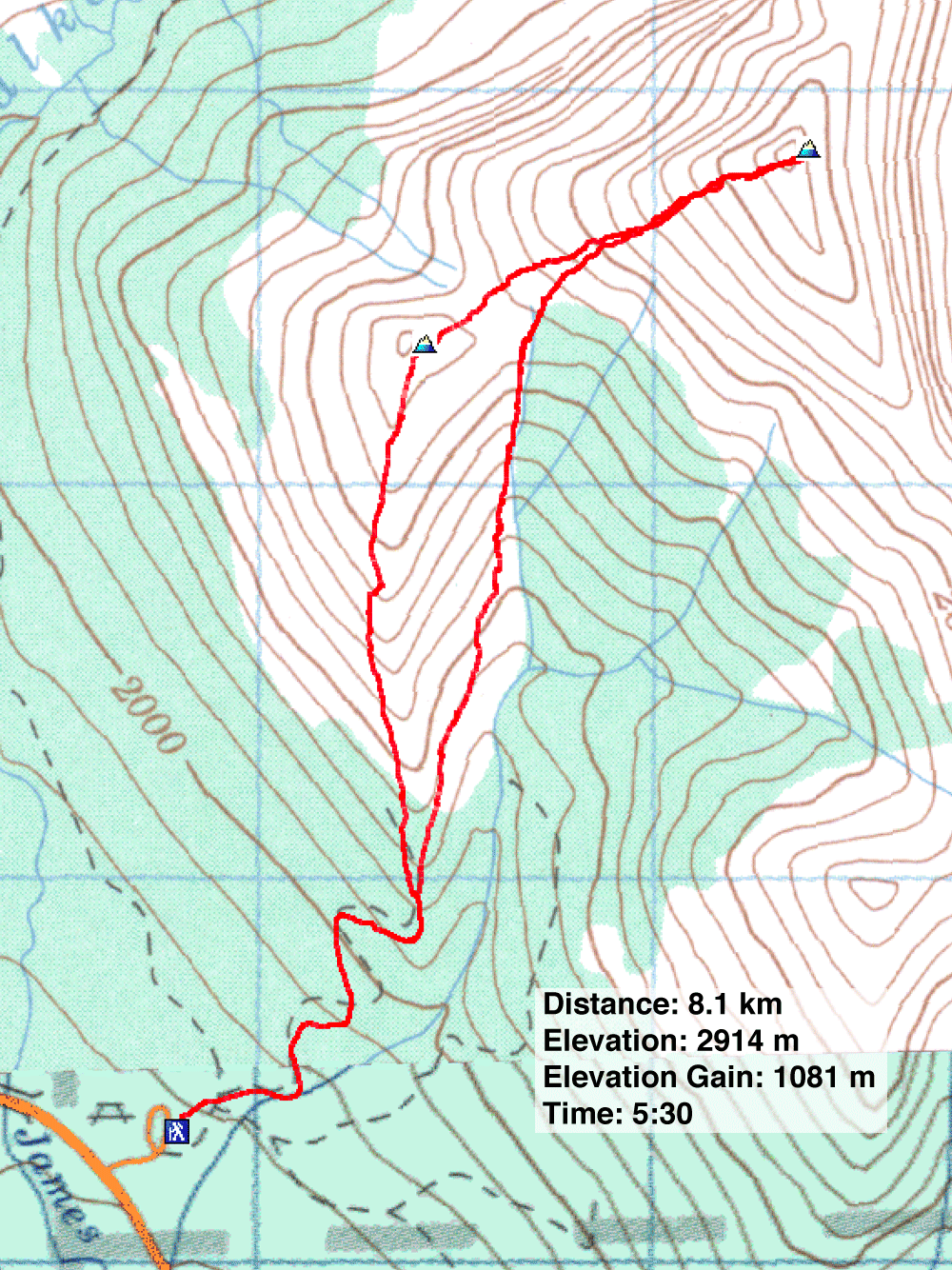 82 J/14 Spray Lakes Reservoir