bobspirko.ca | Home | Canada Trips | US Trips | Hiking | Snowshoeing | MAP | About

Hailstone Butte
Kananaskis, Alberta
September 20, 2015
Distance: 7.5 km
Cumulative Elevation Gain: 725 m
Up until a softball-sized rock appeared out of nowhere and slammed into Dinah's side, I didn't think much could go wrong on Hailstone Butte. It's a short hike with a brief, easy scramble to the top. We actually planned a more challenging trip that day, but we just happened to have a flat tire near Hailstone's trailhead and didn't dare risk driving another hour on back roads to our intended destination without a spare.
Dinah and I were part of a larger group. Organized by Sonny, it included Marta Wojnarowska and Aga Sokolowska. Sonny, Marta, Dinah and I had climbed Hailstone Butte before, but the trip would be a novelty for Aga. In a way, it would also be novel for Dinah and me. Unlike our 2002 trip, there was no snow, and we took a different approach. From the pass on Hwy. 532, a trail leads to a surmountable cliff band running below the crest of Hailstone Butte.
The five of us were spread out, hiking up the steep, grassy slope below the cliffs when the rock struck. Unleashed by unknown forces, it rocketed down without warning or sound, silently bouncing on grass. There was no time to move or even yell. It was almost upon me before I was even aware of it. It flew past me in a blur. I turned around to see the rock strike Dinah. I thought she was going to topple, but she steadied herself and remained on her feet. However, she doubled over and clutched her side. I ran down to see her.
Dinah said she was okay except that she felt like she had been kicked in the stomach. The outcome could have been worse. Any of us could have been hit in the head. Aga, who had been ahead of me, said the rock narrowly missed her head.
To gain such momentum the rock must have fallen from the clifftop high above us. There's no telling what set the rock careening down the mountainside, but it's not the first time I've seen a rock fall down a mountain for no apparent reason. After taking a few minutes to get over the shock, Dinah was ready to go on, albeit with a sore tummy.
We made our way to the base of the cliffs and scrambled to the ridge crest. Nearby, a fire lookout topped the north summit of Hailstone Butte. Respecting the wishes of a sign – "authorized persons only" – we didn't venture further.
Only an hour had passed since we started out, so we decided to extend the trip by walking to the south summit. Like my 2002 trip, my GPS indicated it was several metres higher than the north summit, purportedly the highest point on Hailstone.
We continued along the ridge with the intent of traversing it down to Hwy. 532, but after lunching on the next high point, we found the aspect of walking along the road to our car unappealing. We made our back along the ridge. There was no need to go all the way to the cliff we ascended. We found a way down between the north and south summits, and made our way back to the trail. Unlike our ascent, our descent went without incident.
KML and GPX Tracks
Sonny's Trip Report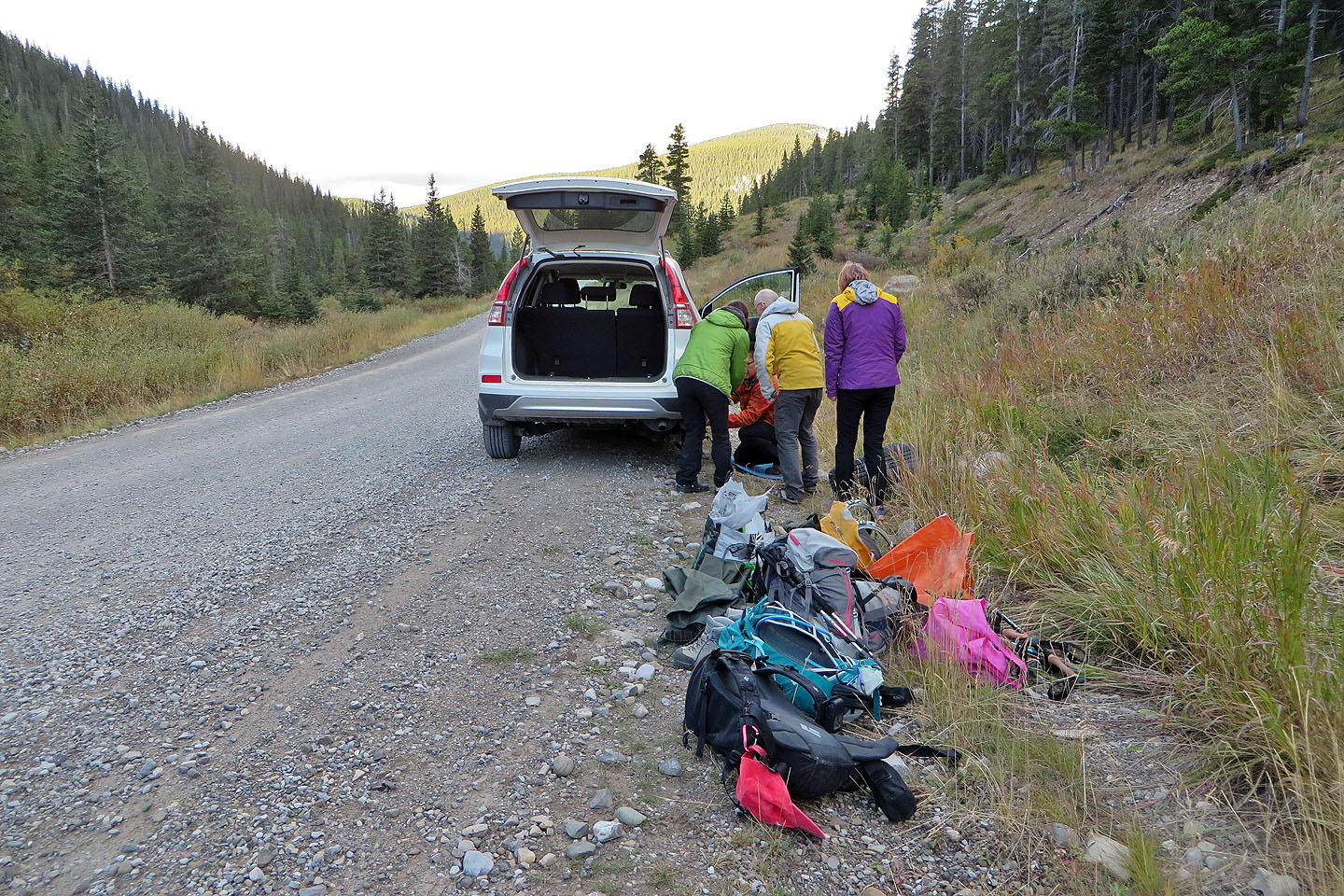 Fixing a flat tire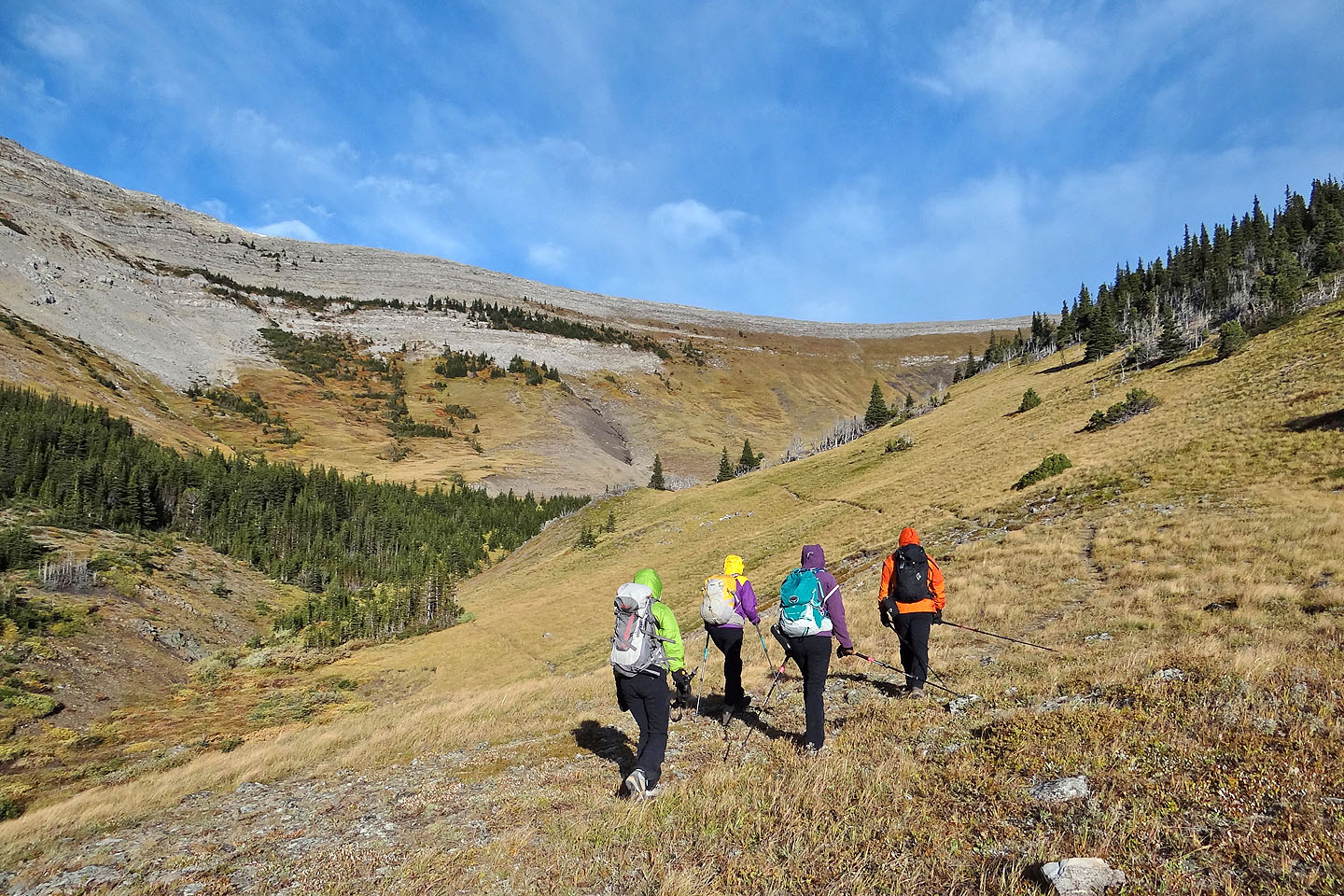 We started out on the high trail but took the lower one on the way back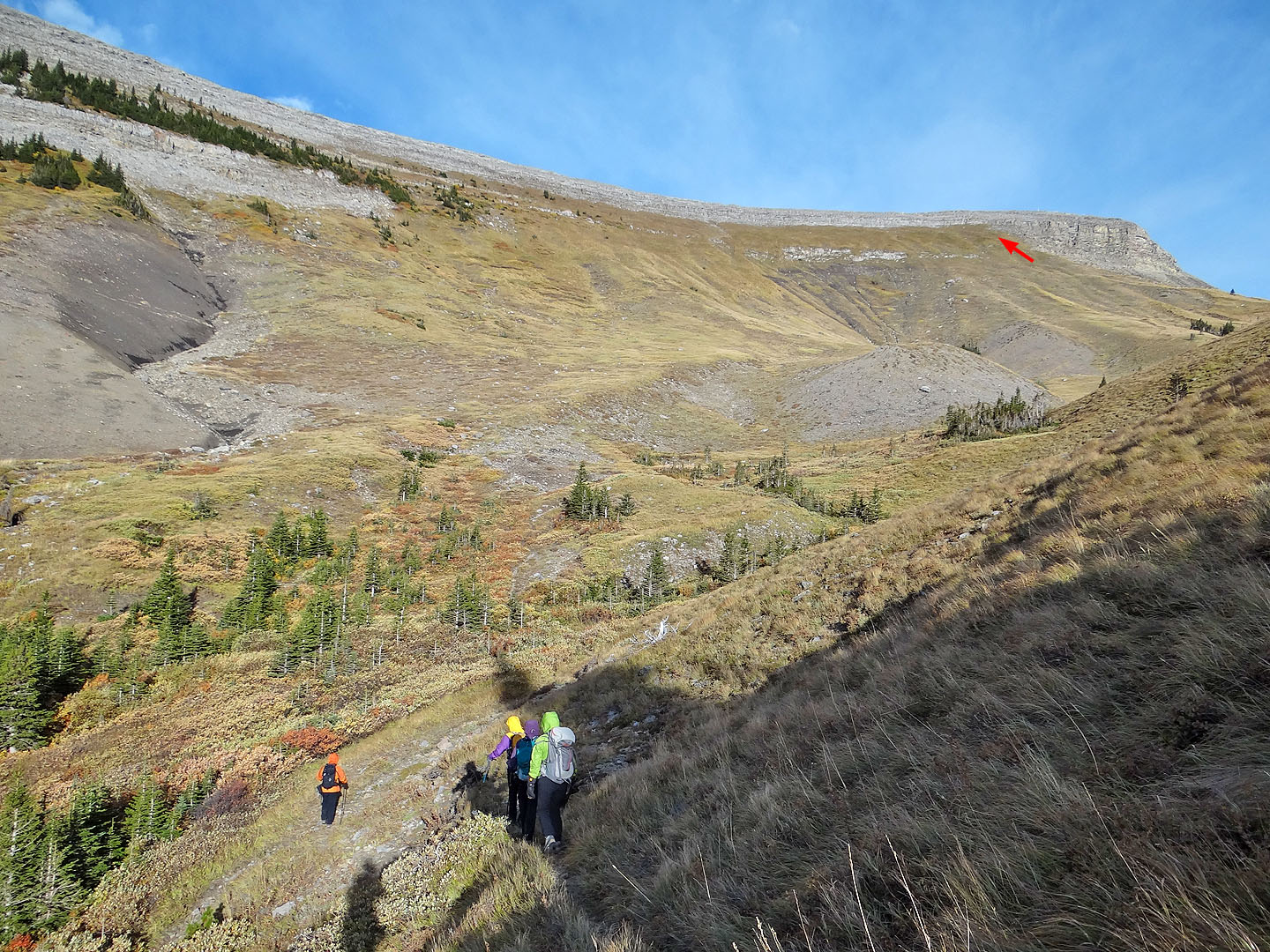 The trail ends at the base of the cliff band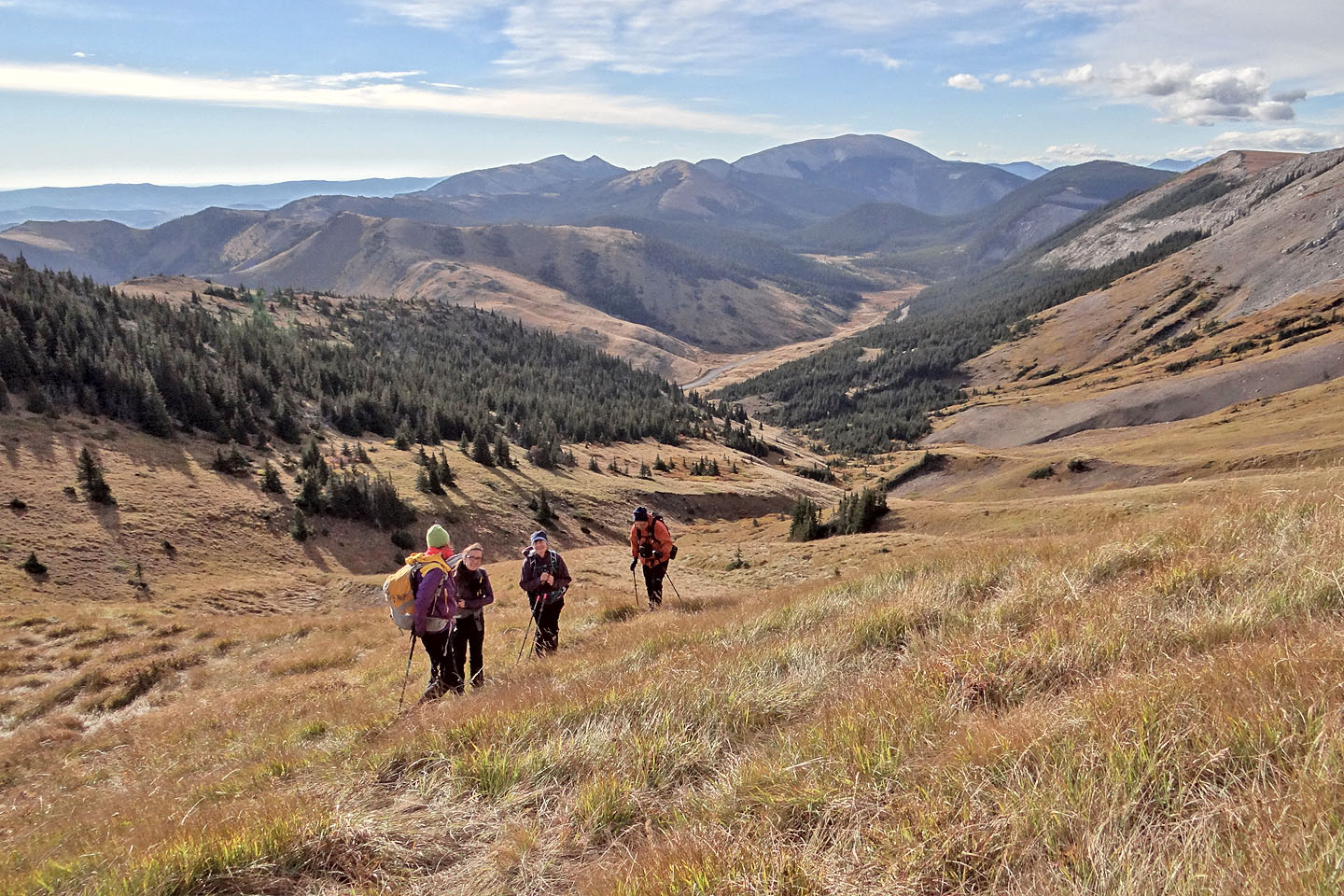 Looking back down the valley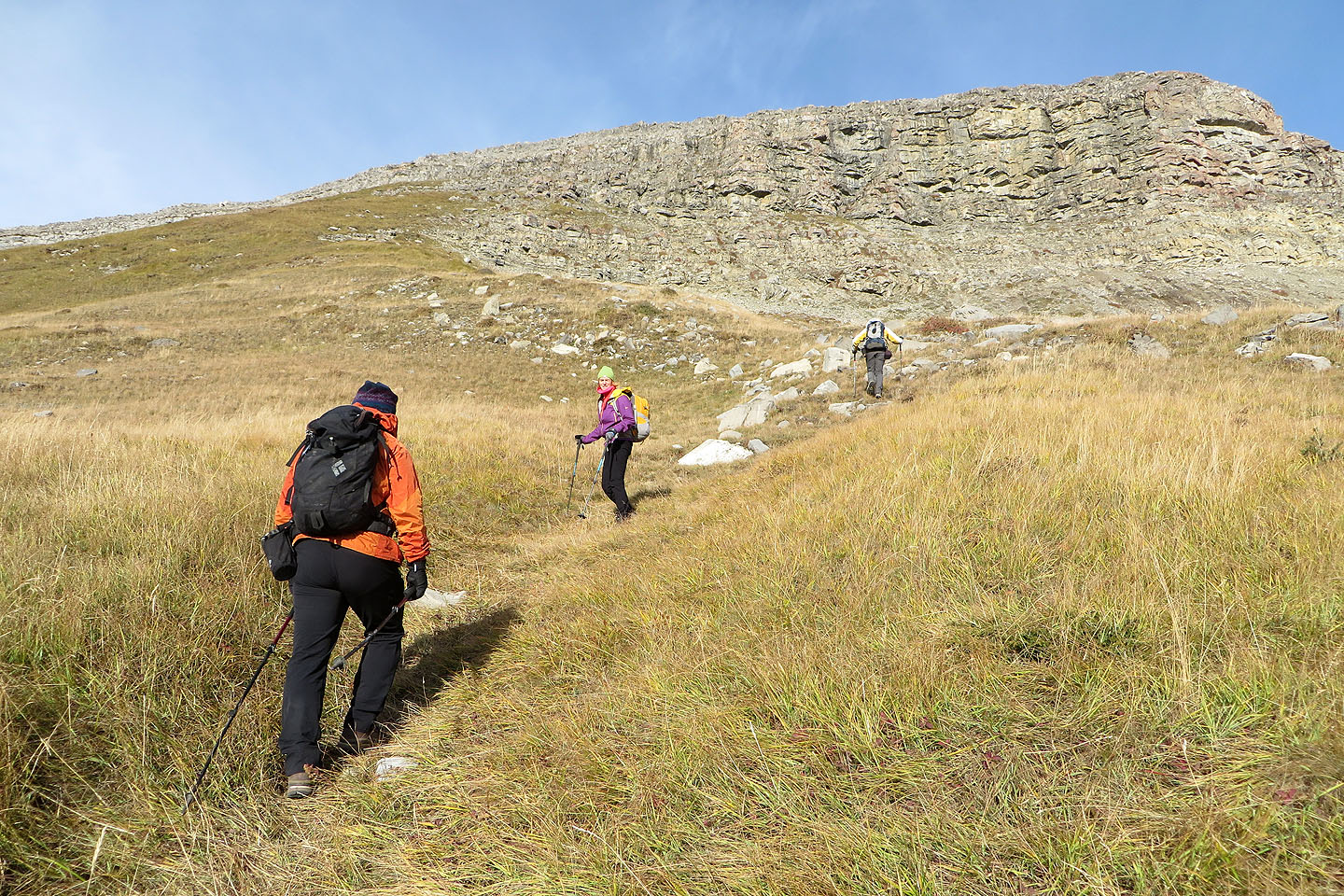 The trail became less distinct as we approached the cliffs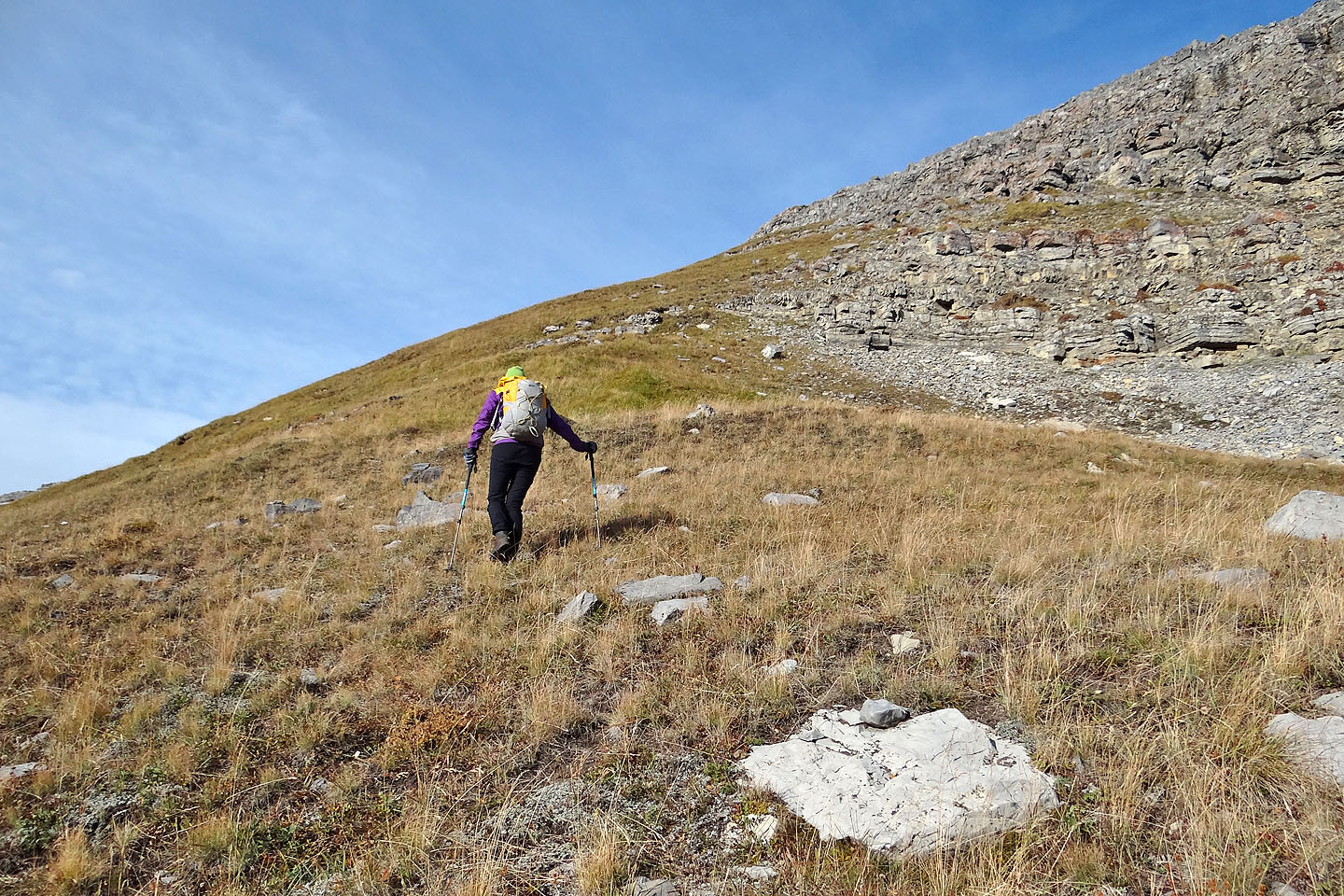 Dinah was struck by a rock soon after this point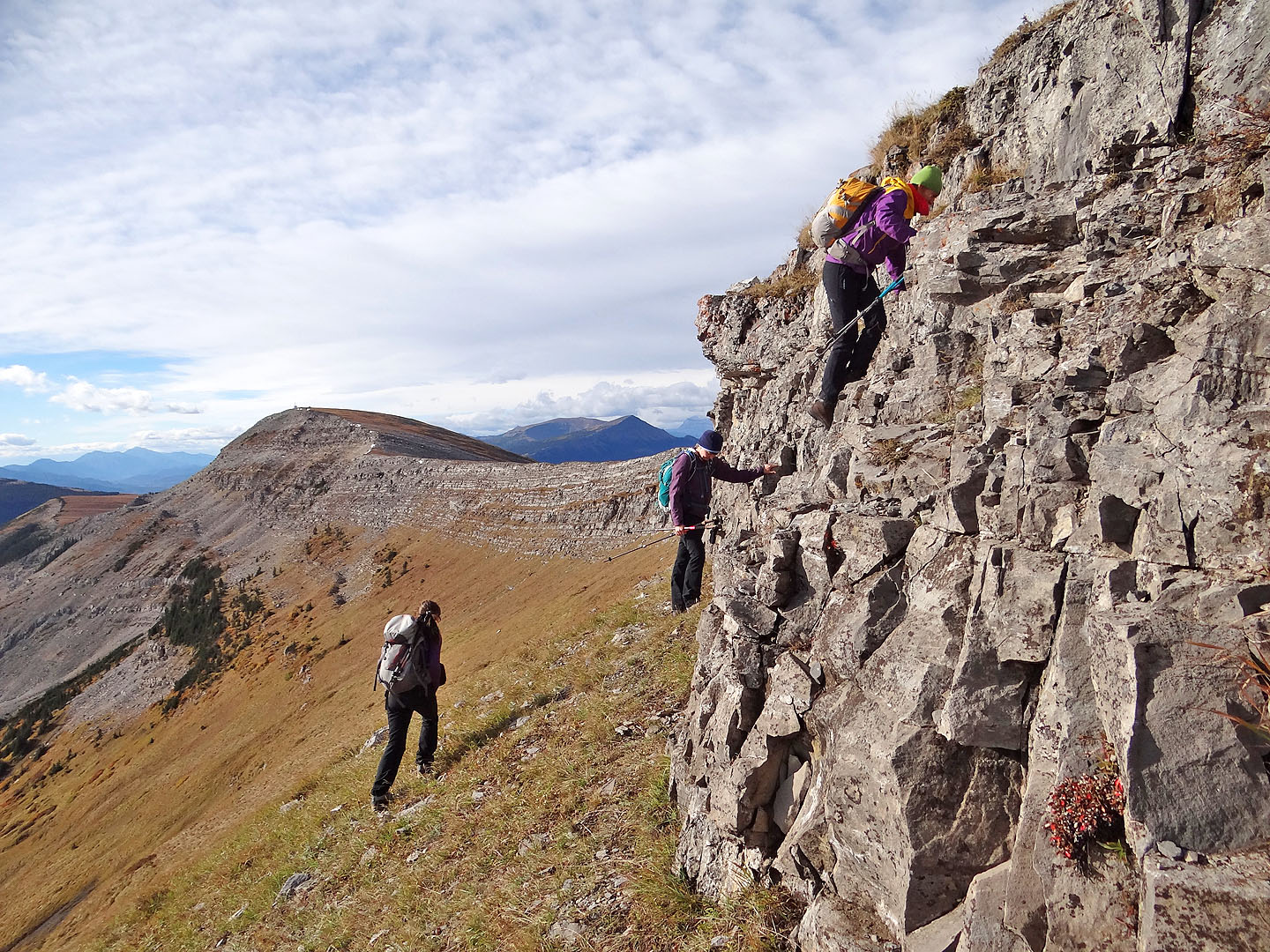 Starting up the cliff band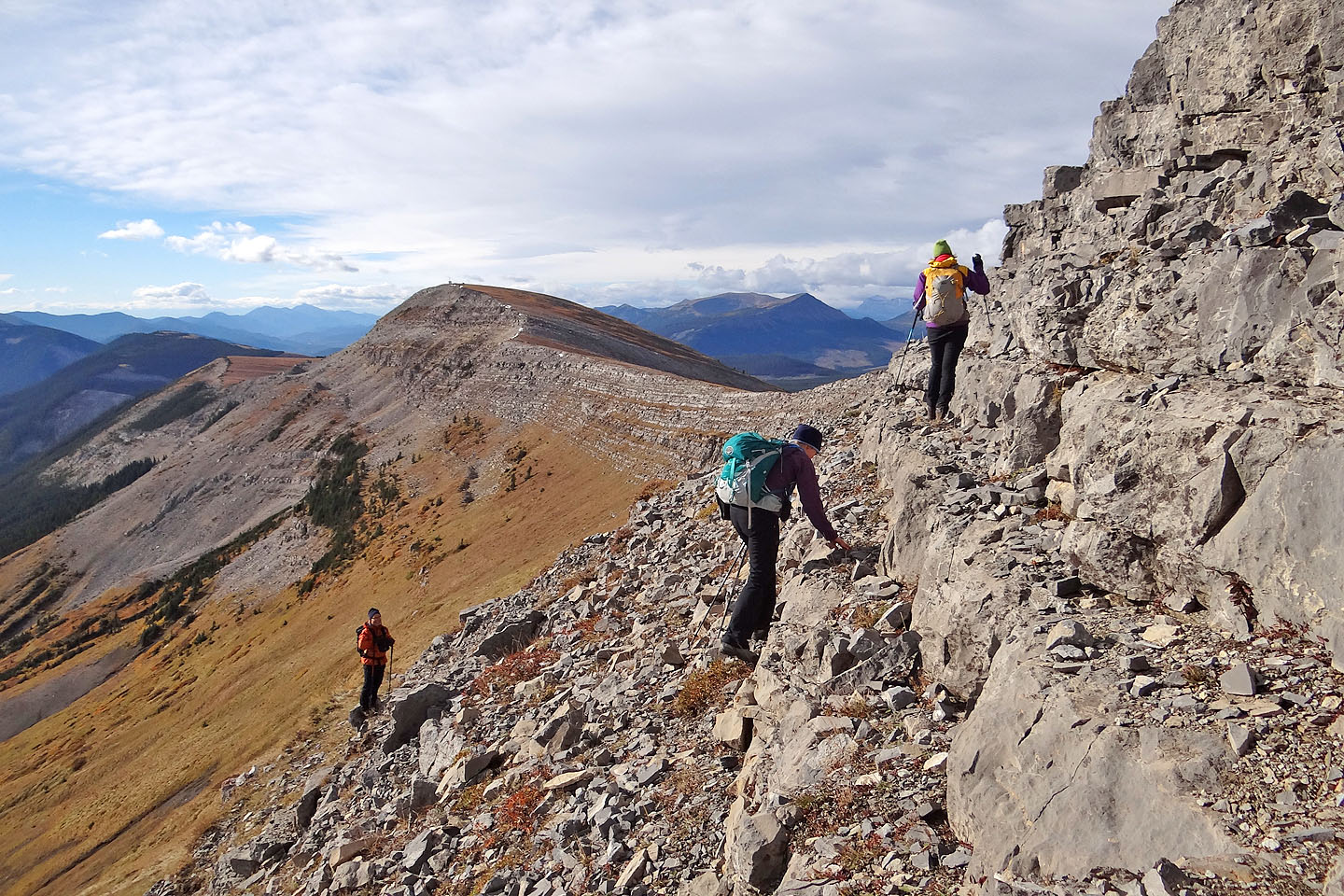 The cliff band comprises a series of ledges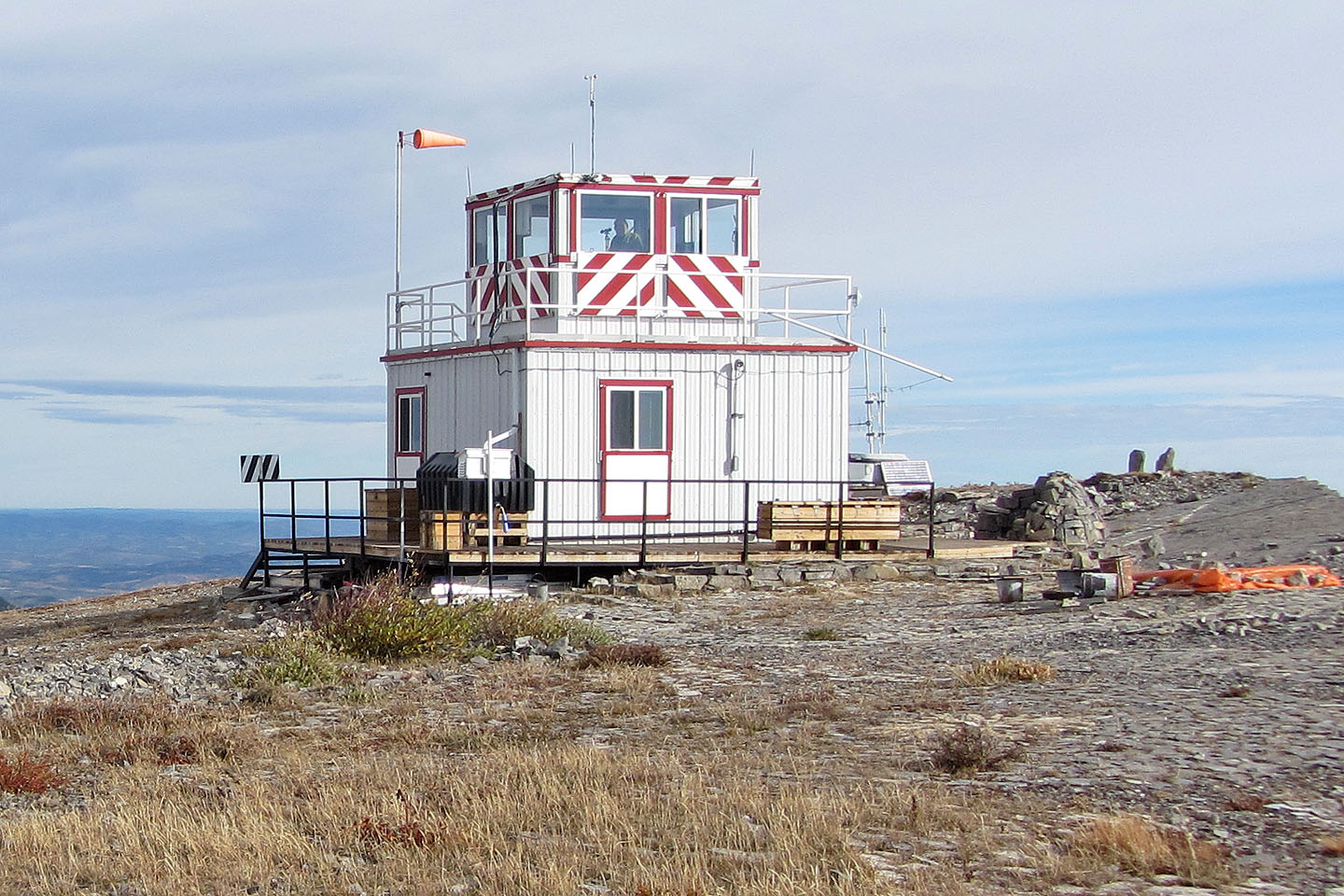 An observer sits in the lookout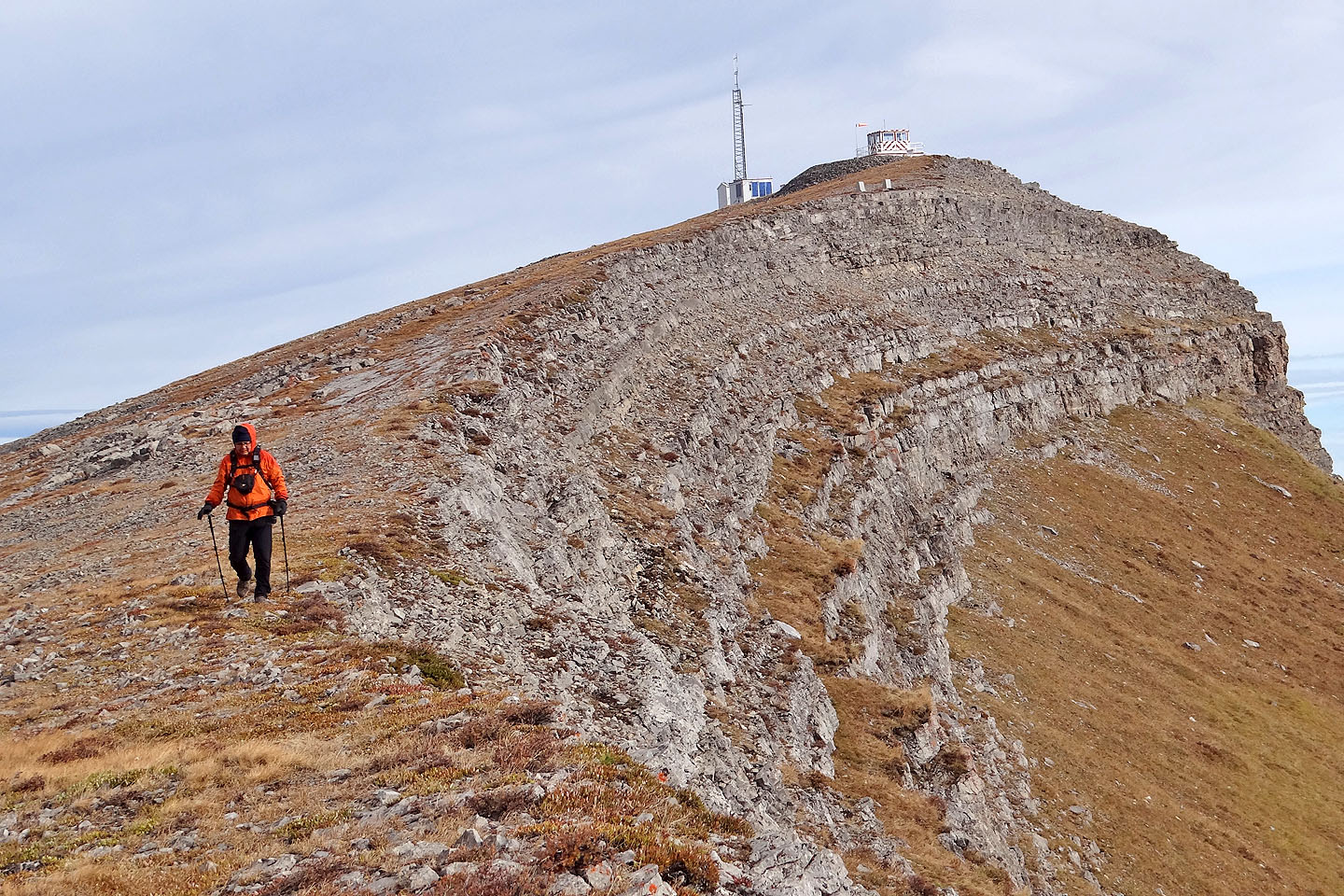 Looking back at the fire lookout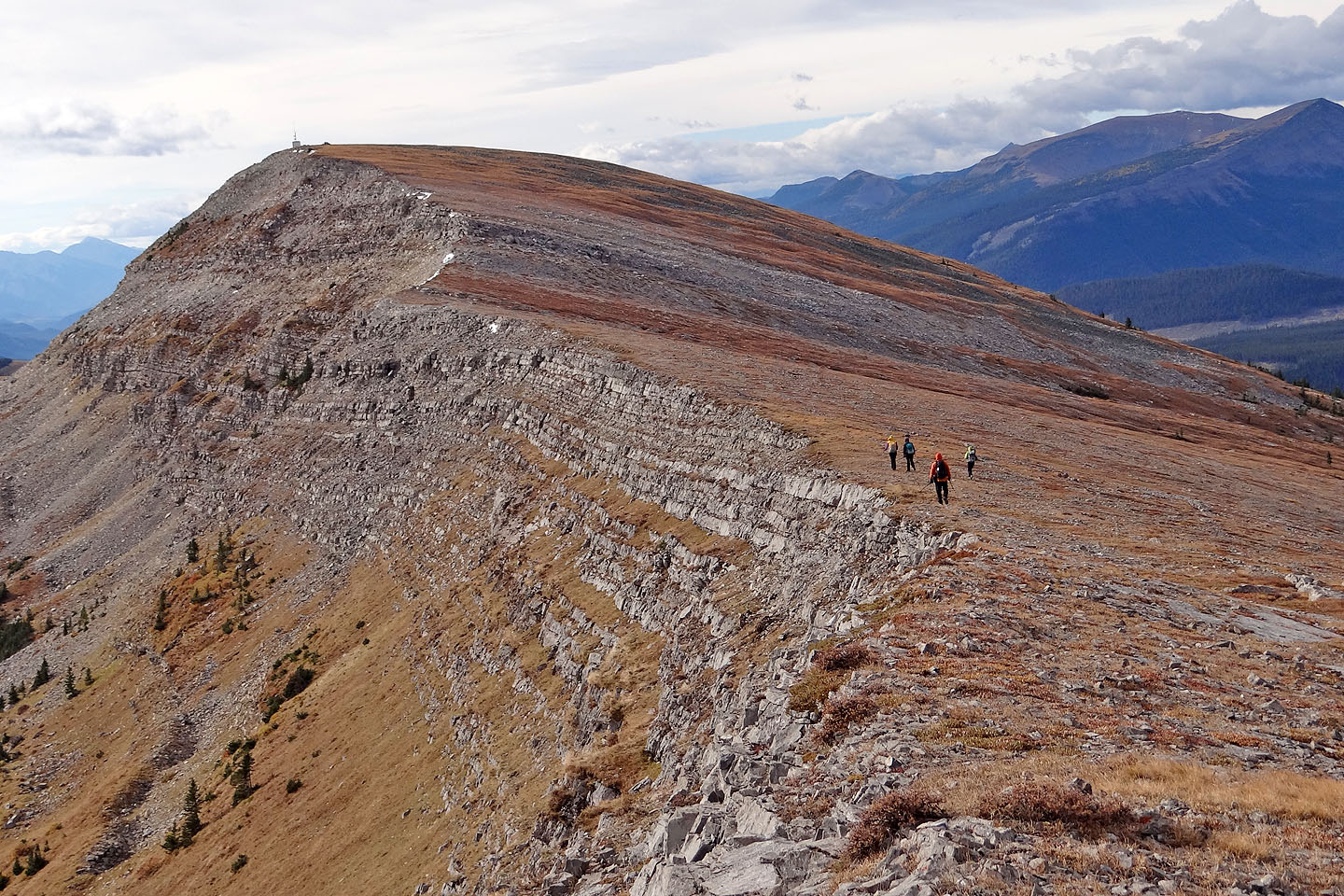 Heading for the south summit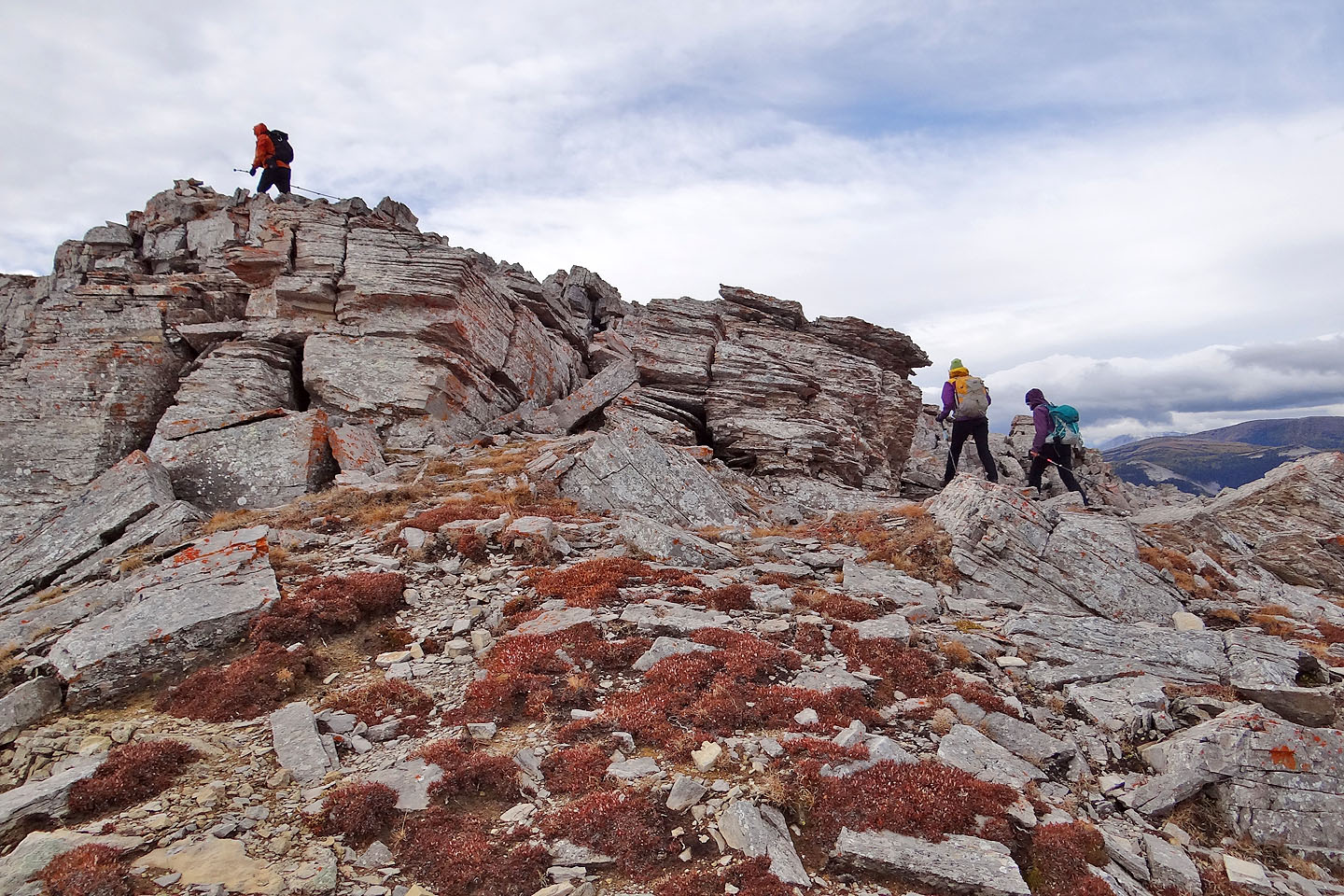 Aside from these rocks, it's a walk to the south summit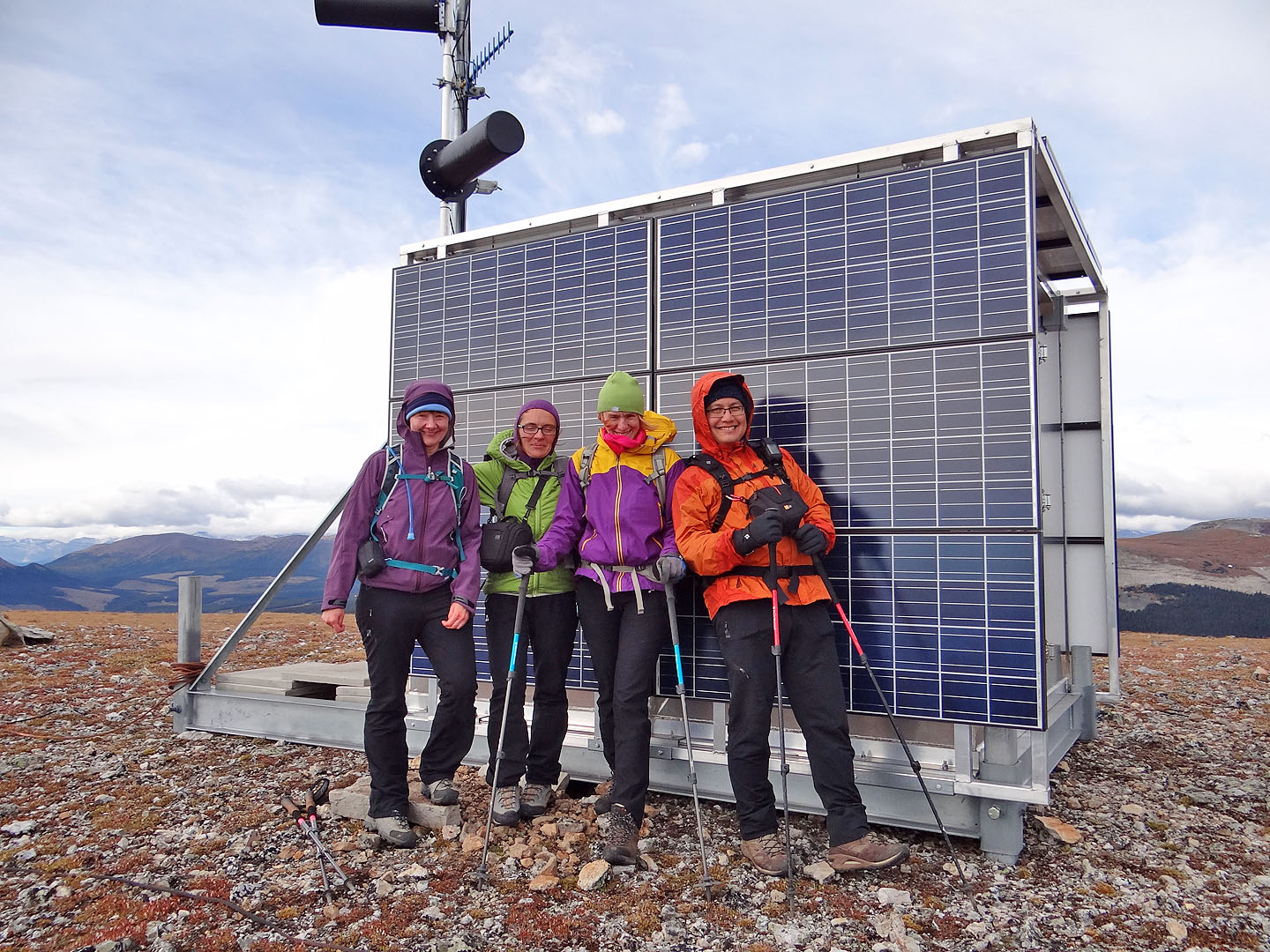 The small building on top gave Dinah, Aga, Marta and Sonny respite from the wind

We dropped down the other side of the south summit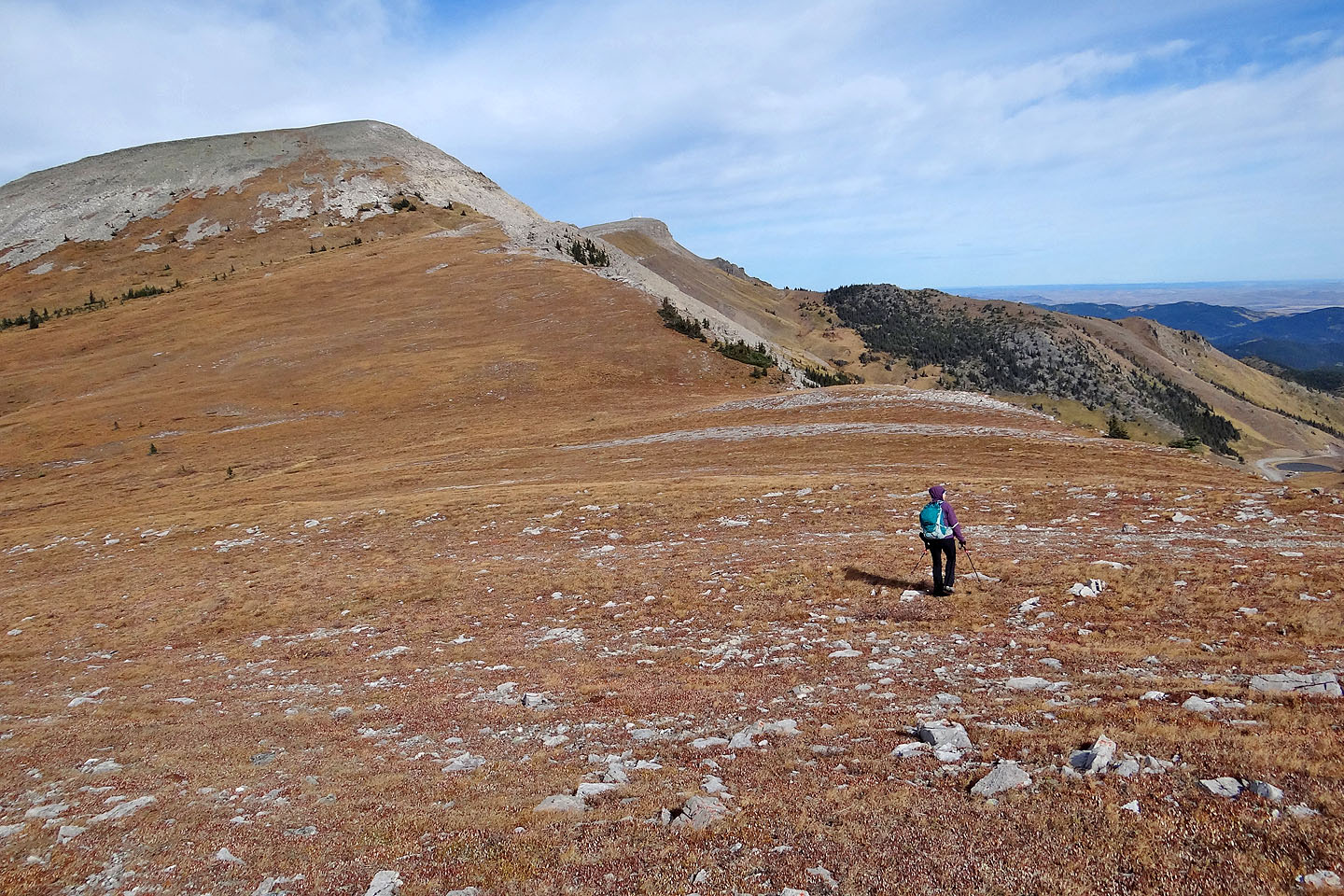 Heading back to the south summit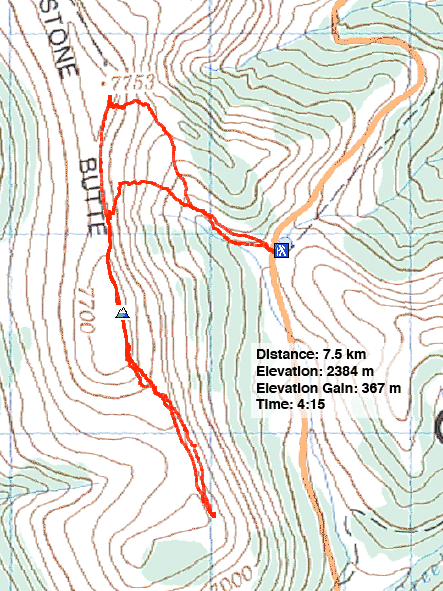 82 J/1 Langford Creek