bobspirko.ca | Home | Canada Trips | US Trips | Hiking | Snowshoeing | MAP | About
Mount Pocaterra (attempt)
Kananaskis, Alberta
September 9, 2006
Dinah and I decided to attempt Mount Pocaterra using the west slopes to avoid another ascent of Mount Tyrwhitt and for the adventure of routefinding. Bob Parr made an ascent from a west gully south of the summit but had to squelch up the marshy West Elk Pass trail to do so. He thought it might be possible to gain the ridge more southerly to avoid hiking through the swamp. After studying Pocaterra from Kananaskis Lookout, I thought so too, especially if we gently angled up the west slopes before reaching the ridge.
From HWY 40, we started up the trail to Kananaskis Lookout but kept left when we reached the turnoff. A few minutes later, we reached an avalanche warning sign for skiers, and started up the avalanche gully. In a short time we were out of the trees angling towards the ridge. Everything worked as planned until we were on the ridge just a half a kilometre from the summit. Here the ridge suddenly became a knife-edge topped with loose rock. We were below the summit by only 70 m.
After dropping down, things didn't look any better. To continue, we would have had to drop down a few hundred metres to the bottom of the next gully. The descent appeared neither quick nor easy. Then we would have to slog up the scree gully and try to regain the ridge. We didn't have the heart to continue, and possibly not the time (the entire trip took 8:20). Disappointed, we turned back and taking a different route, angled down more sharply to get back on the trail. Next time, we'll ascend the mountain using an established route!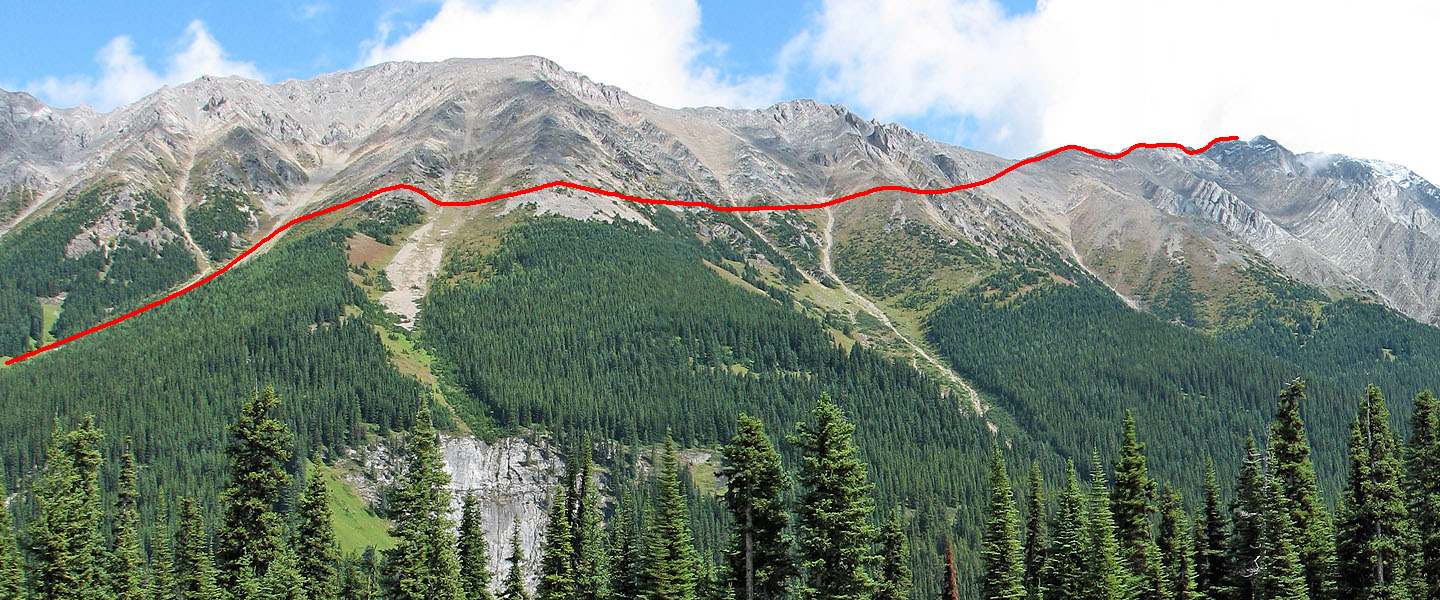 Our route as seen from Kananaskis Lookout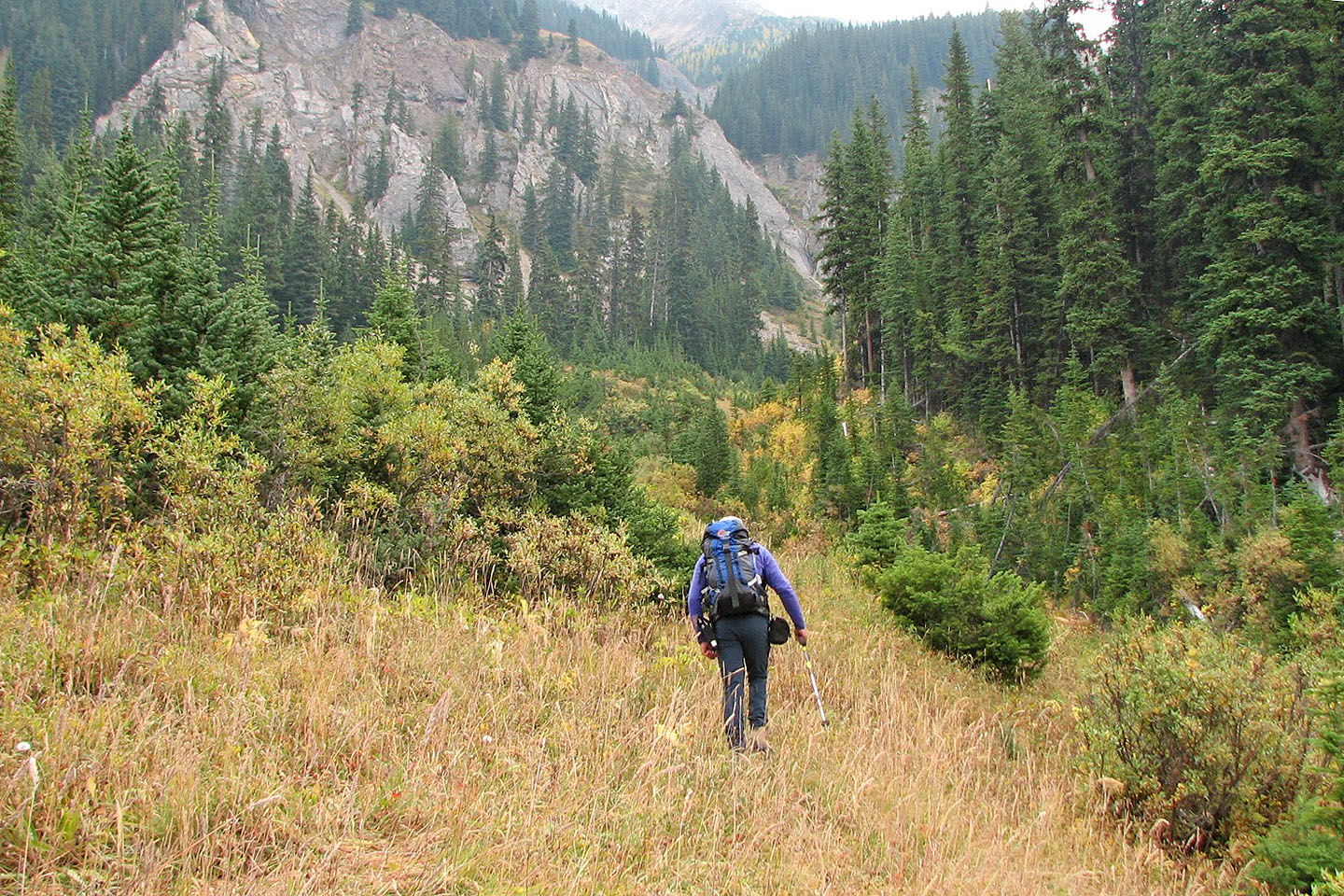 Heading to the drainage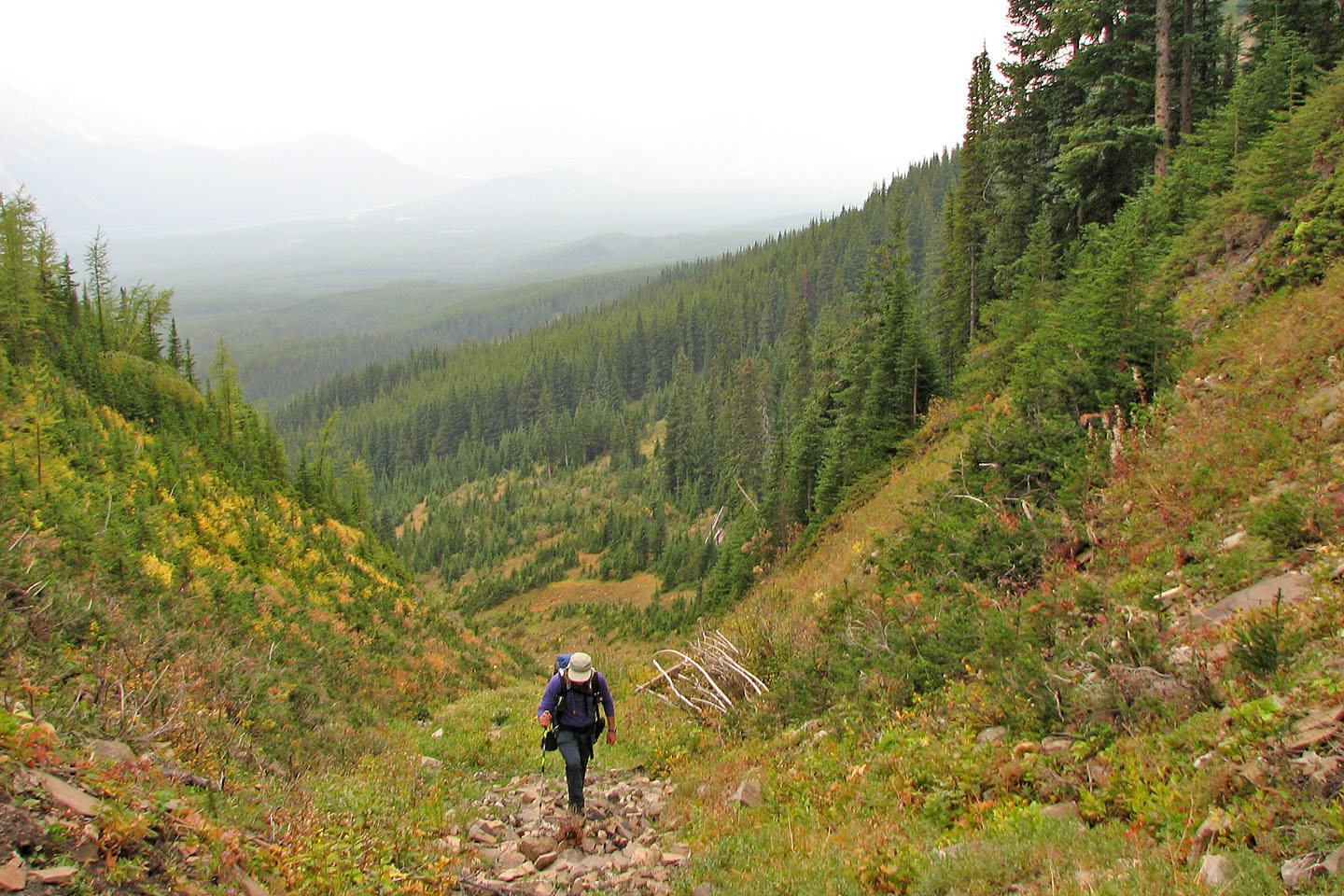 Starting up the drainage; haze from forest fire smoke obscured the background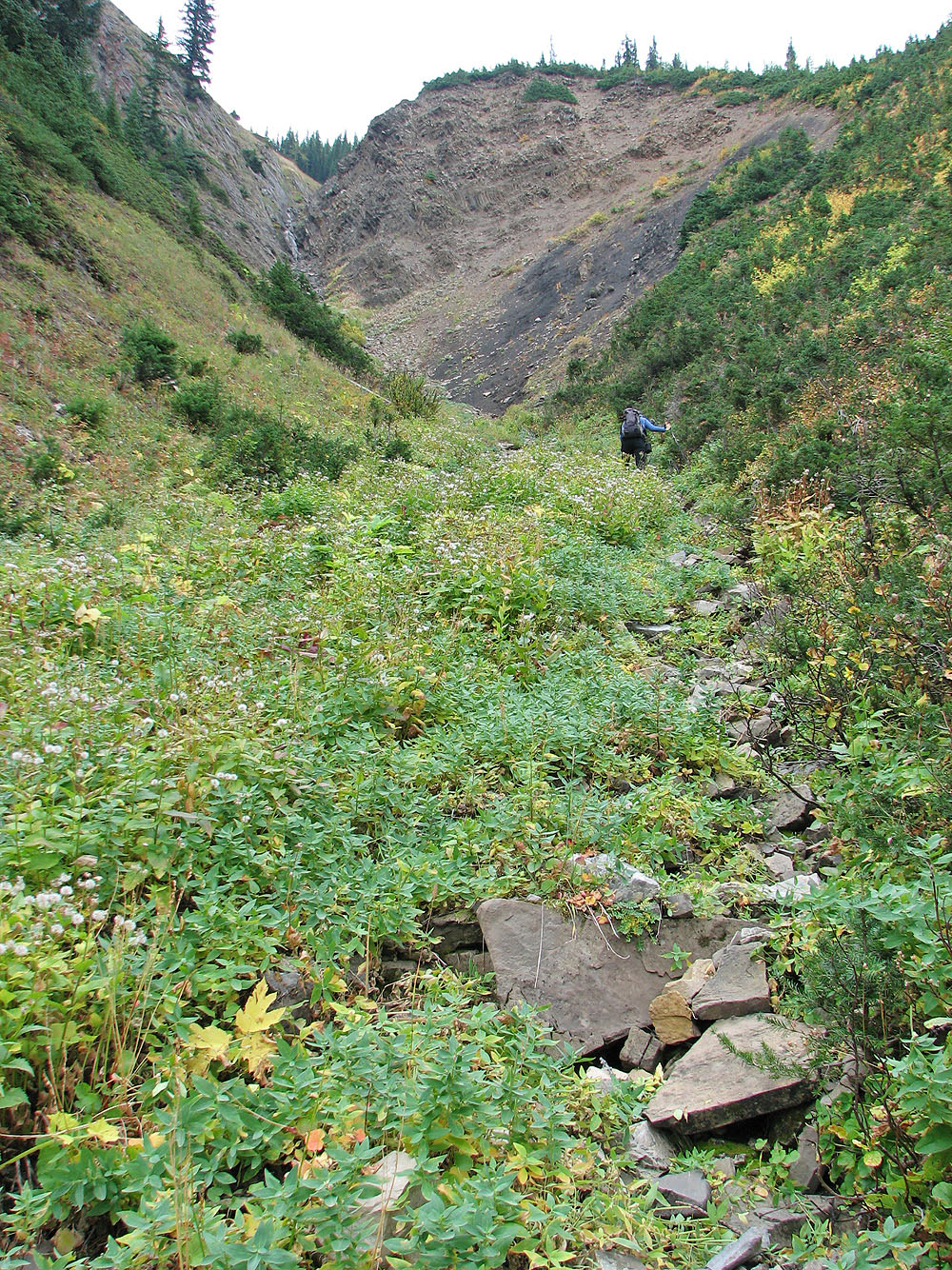 The gully narrows and becomes rocky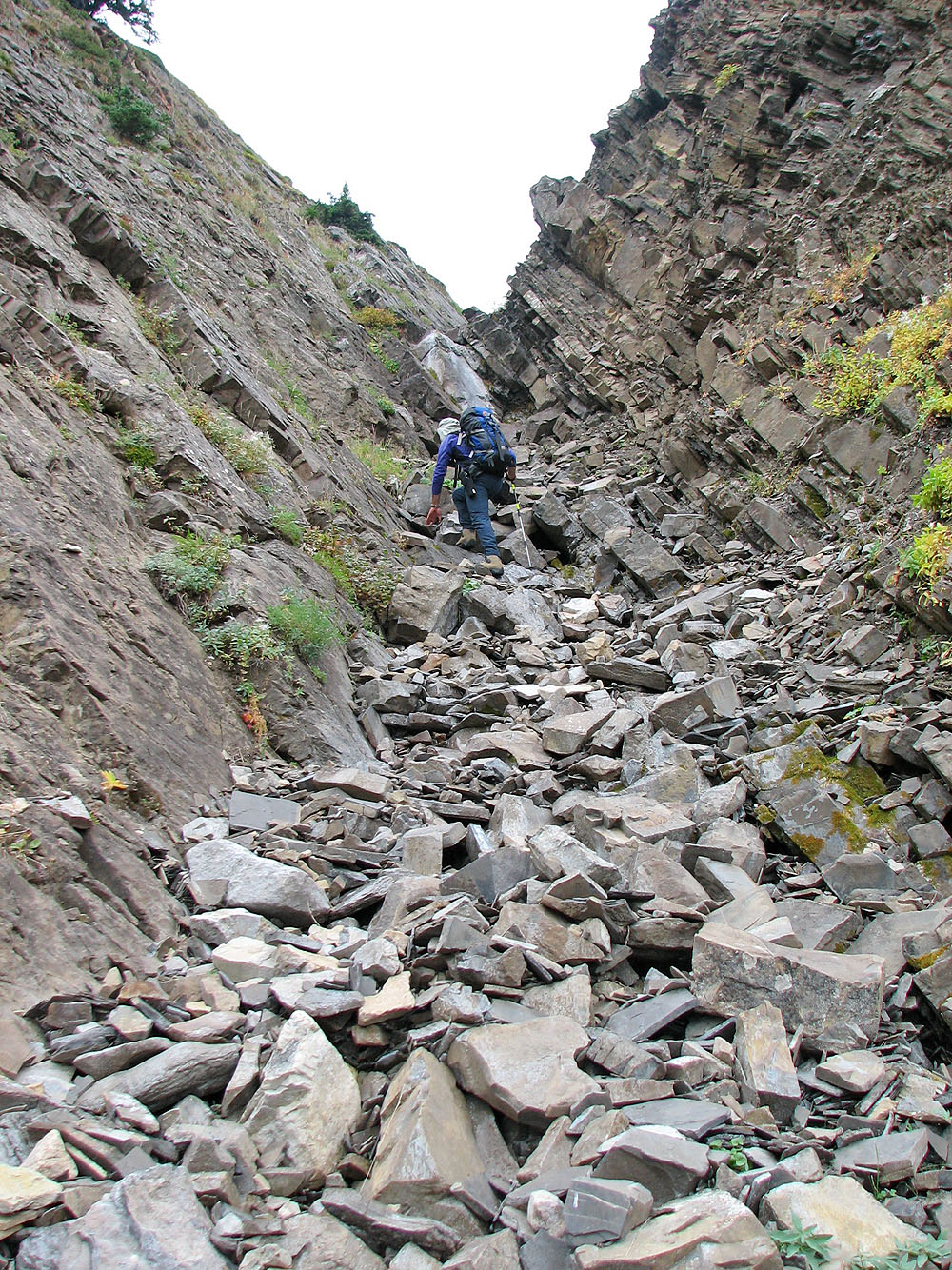 We'll have to do some scrambling ahead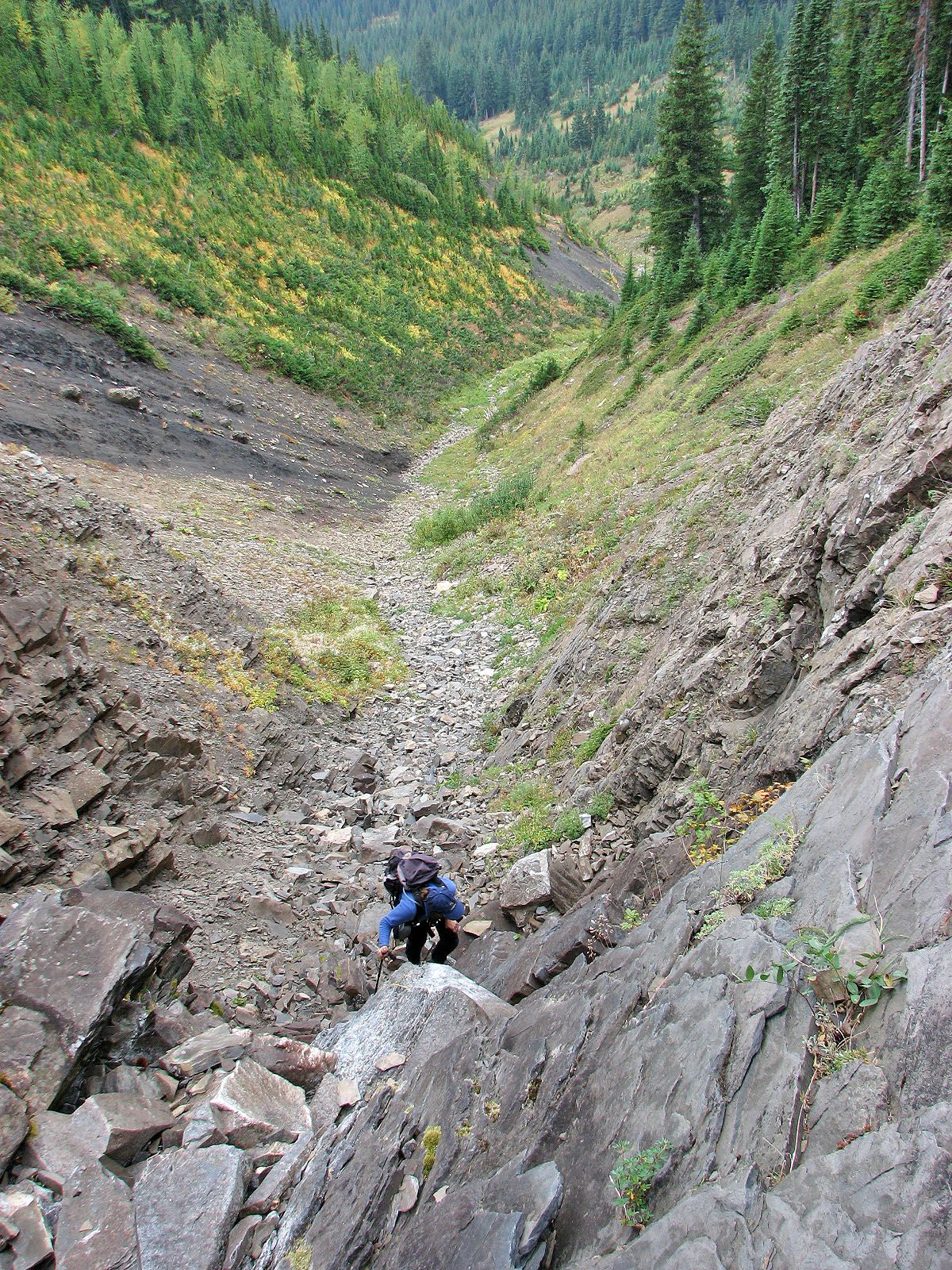 Dinah's turn to scramble up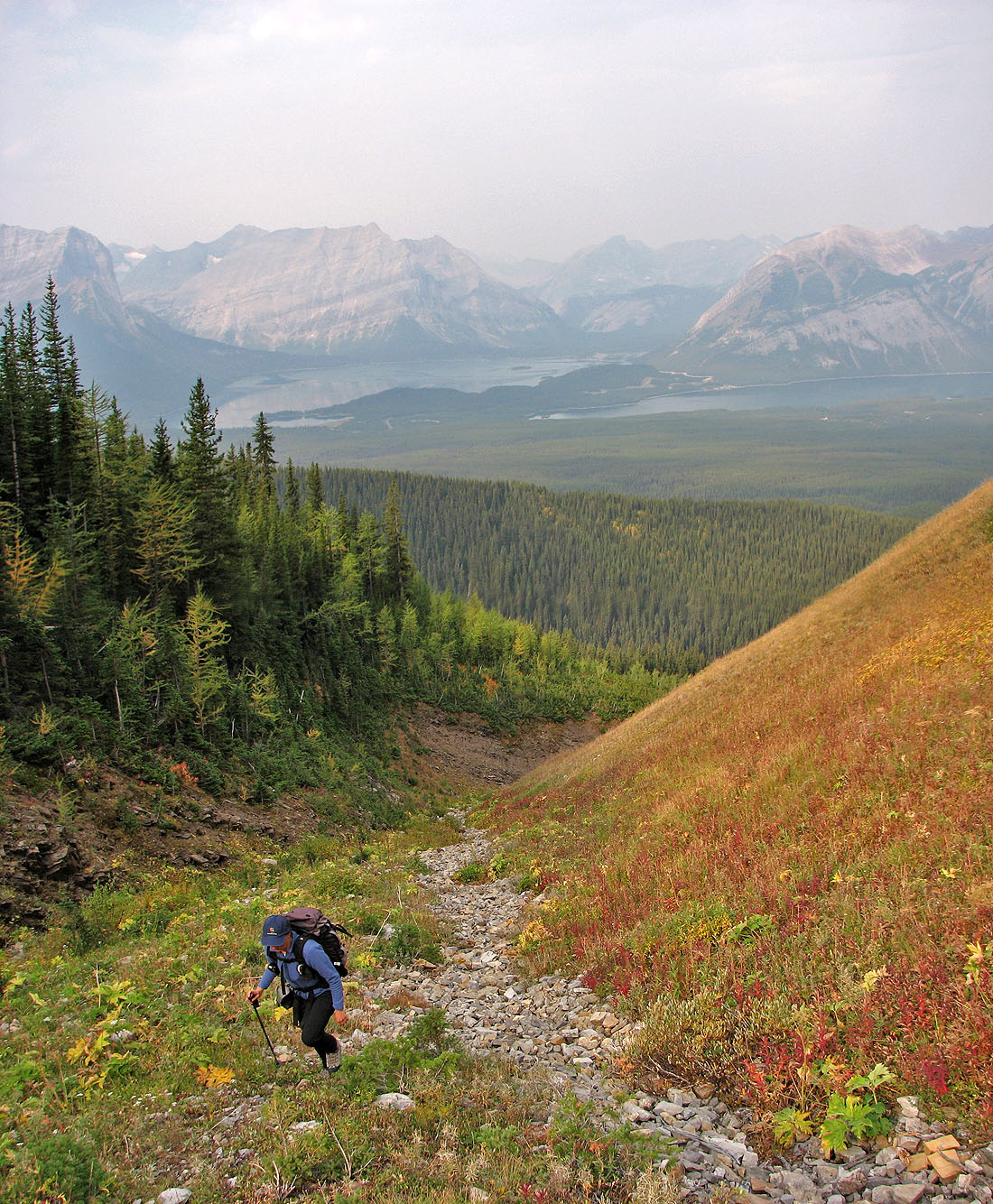 After scrambling we're back to hiking up the drainage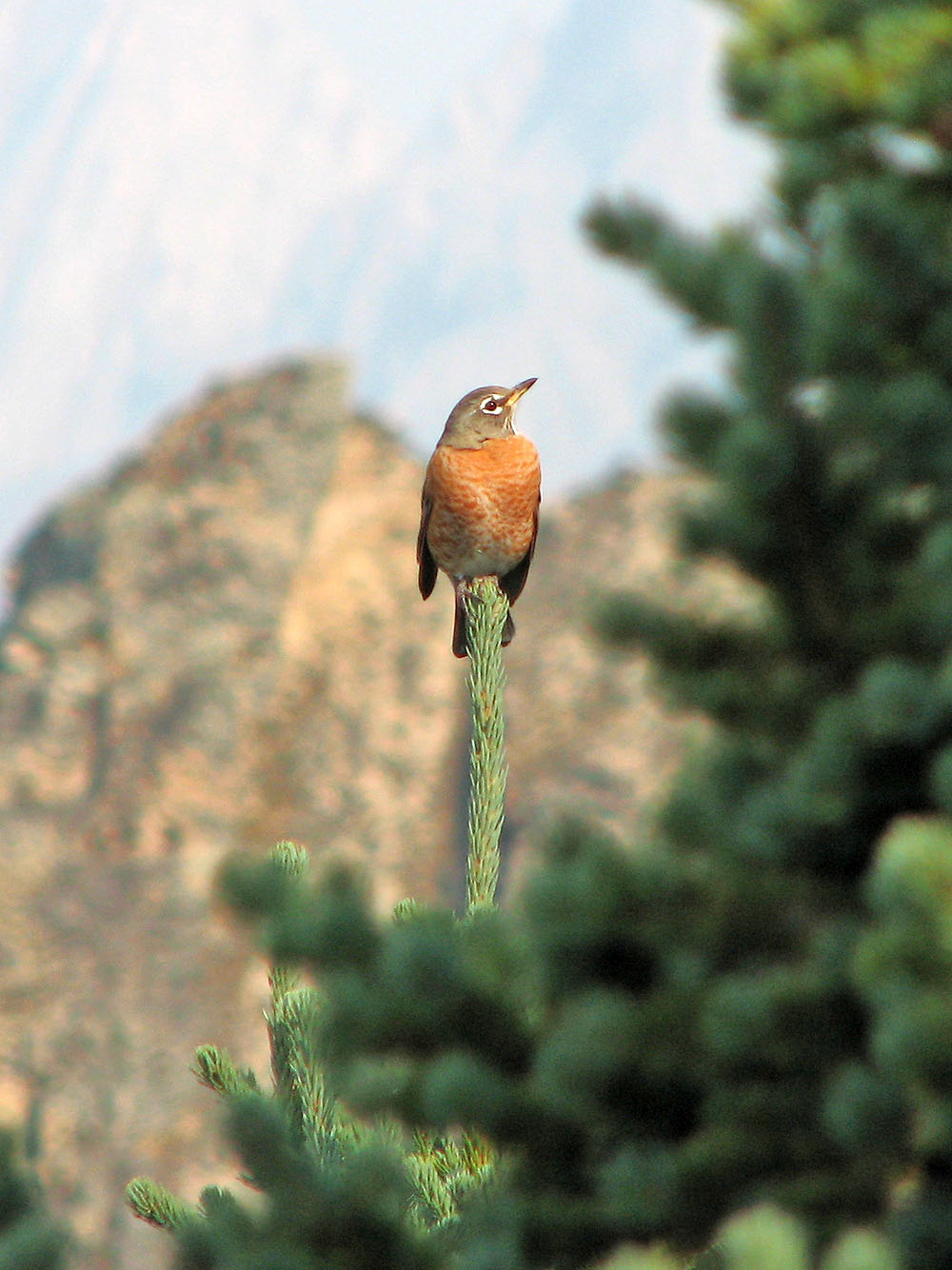 We saw several American robins who seemed curious about us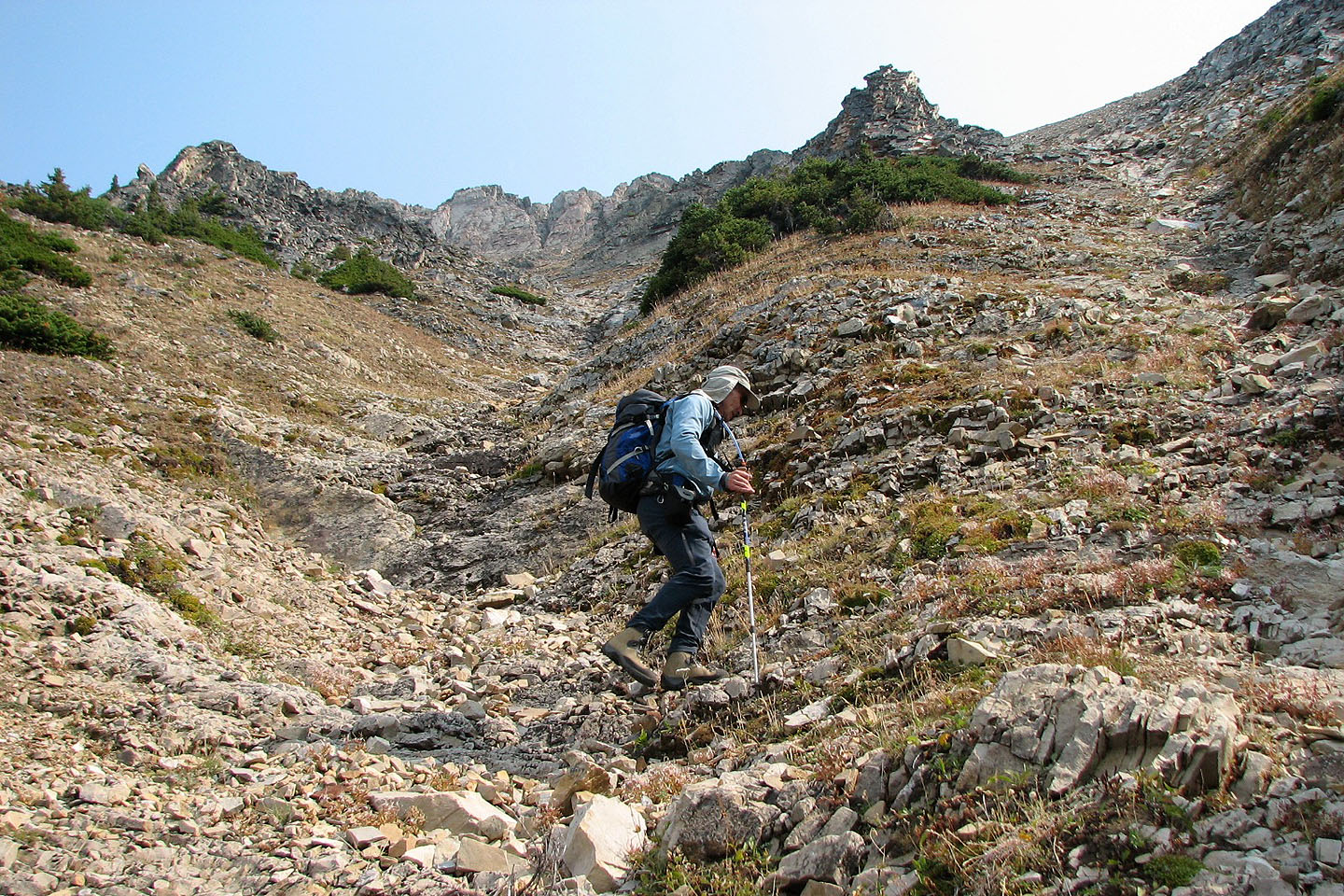 Interesting rock above us as we traverse the slope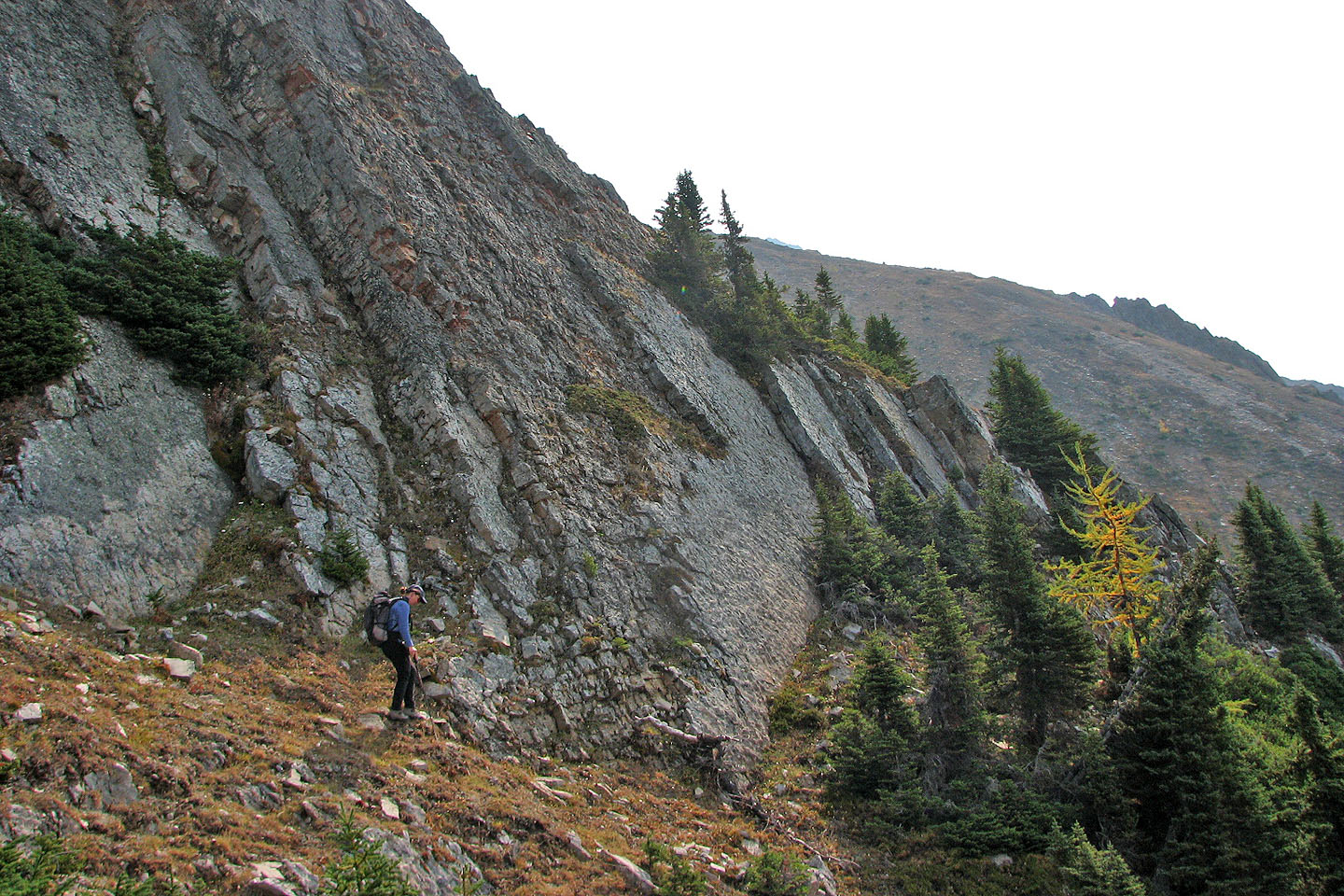 We had to drop down to get around these slabs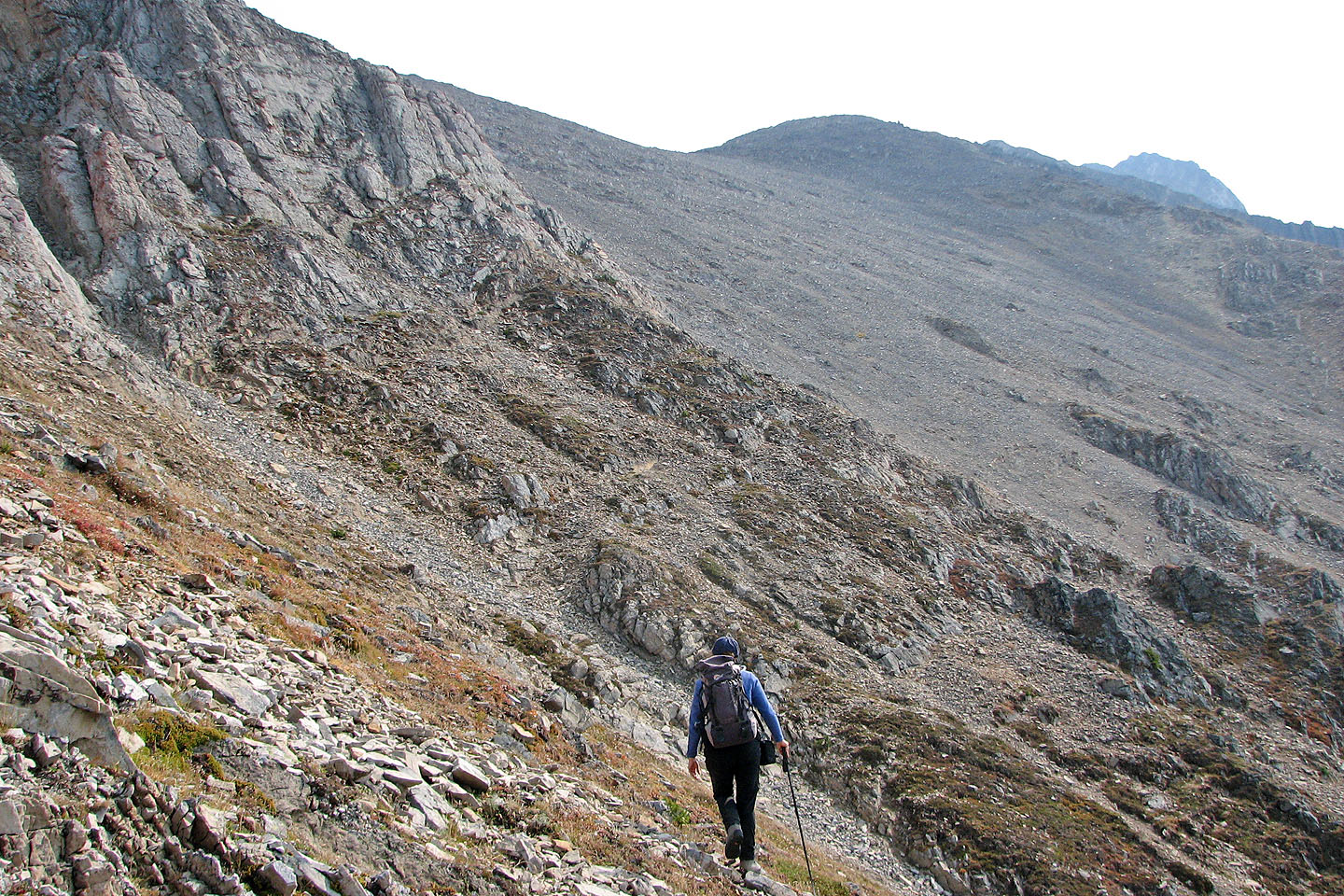 The hazy summit appears on the right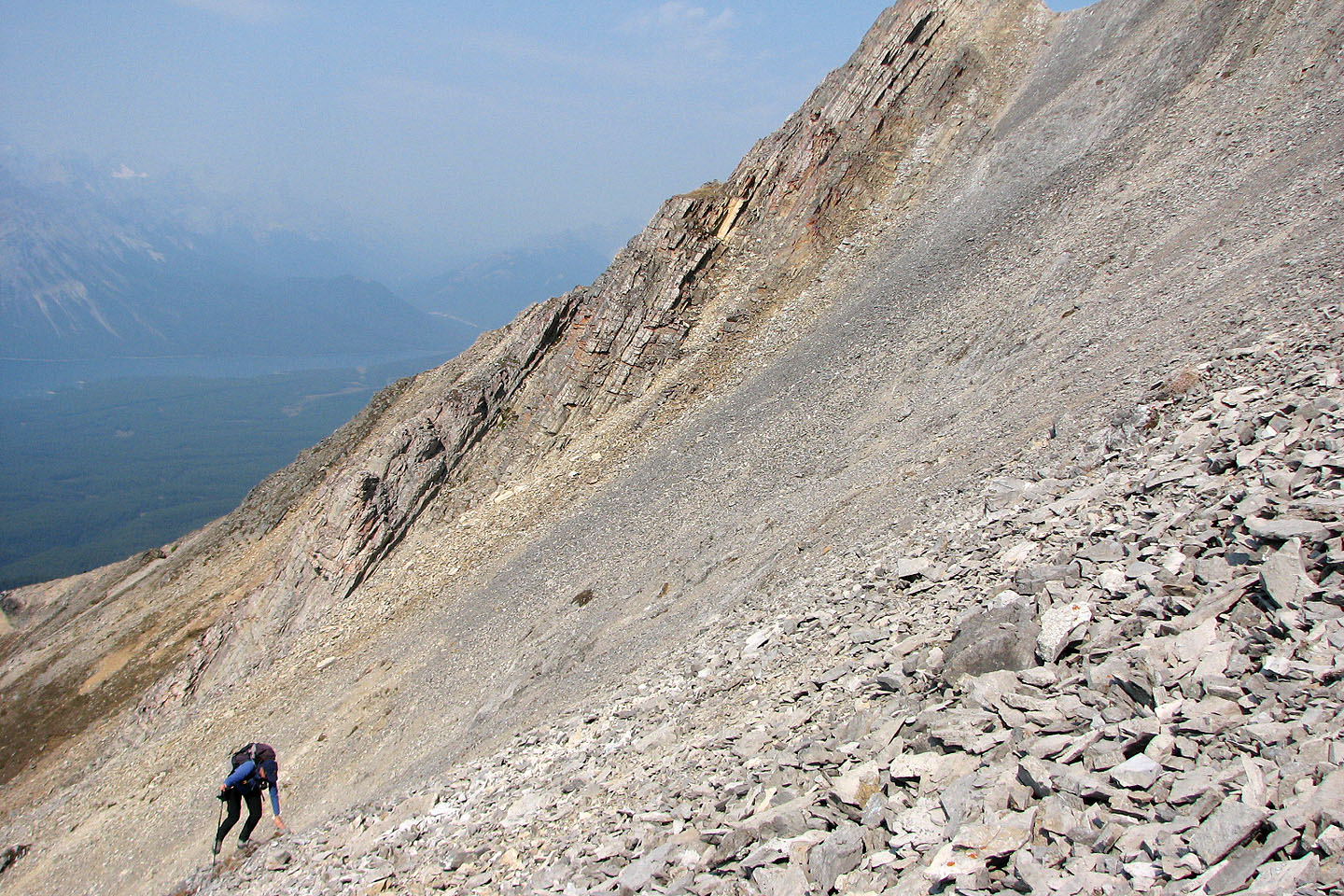 We headed to the ridge crest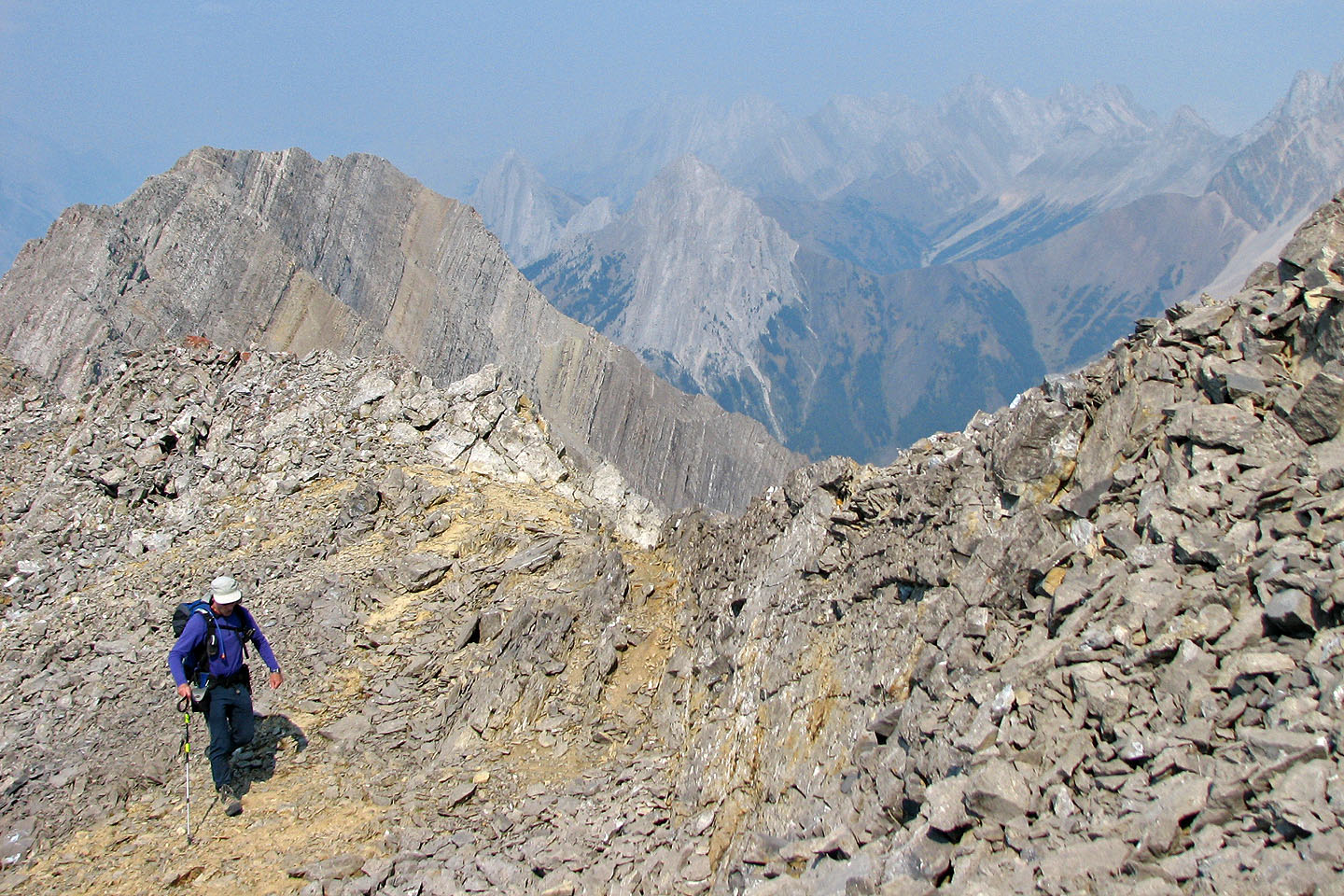 On the ridge finally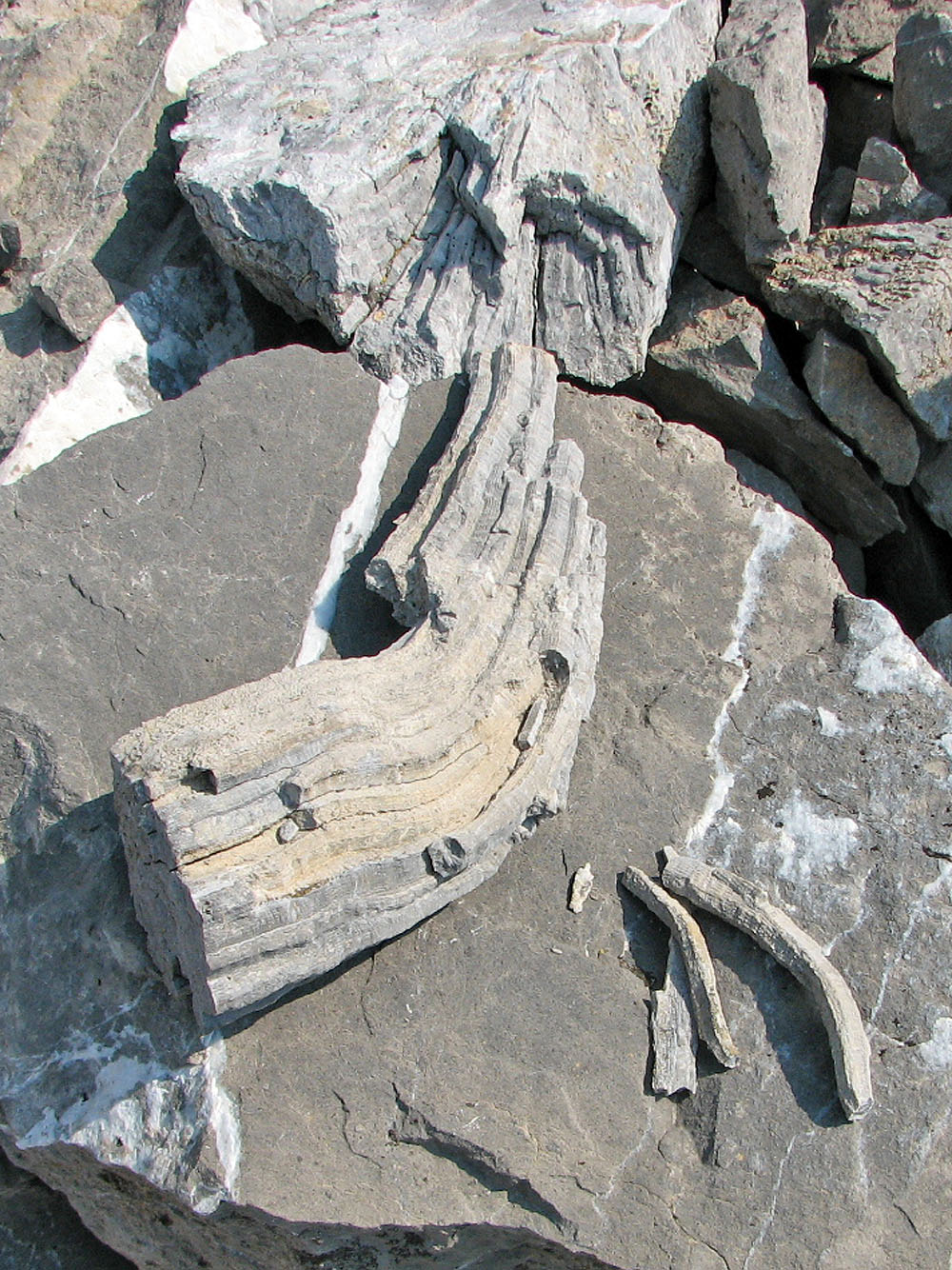 Fossils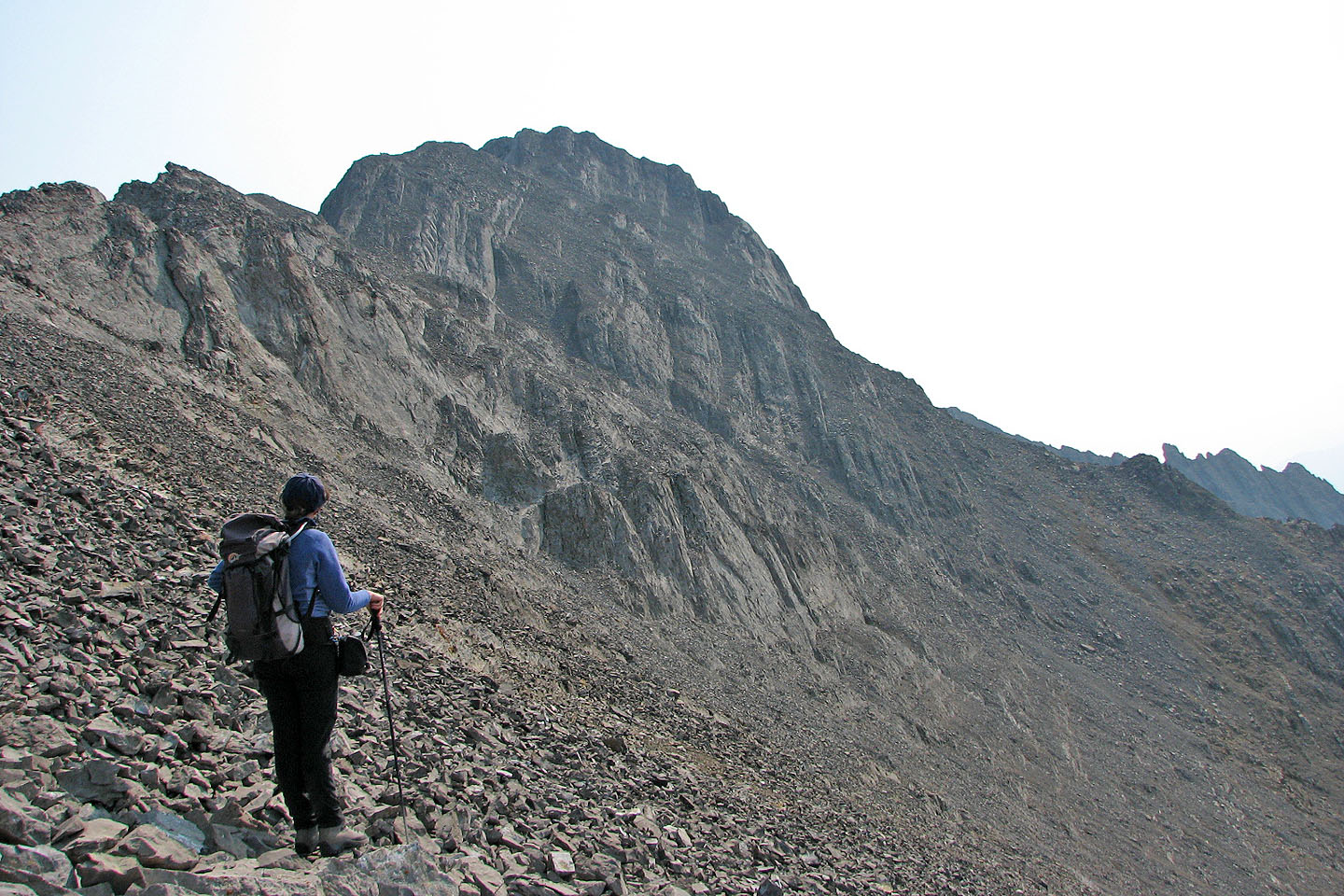 Near the summit, we'll drop below the slabs ahead and regain the ridge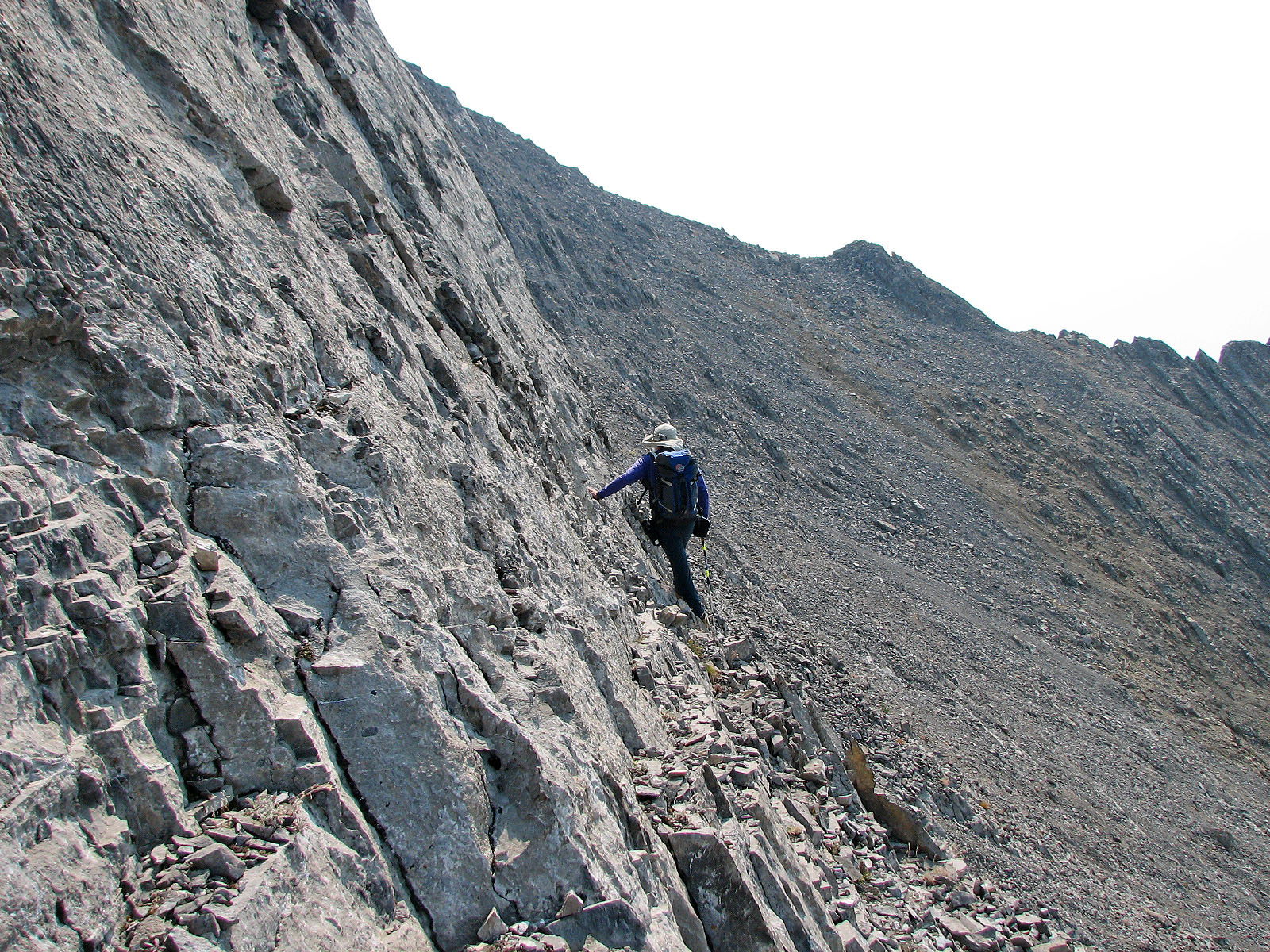 Skirting the slabs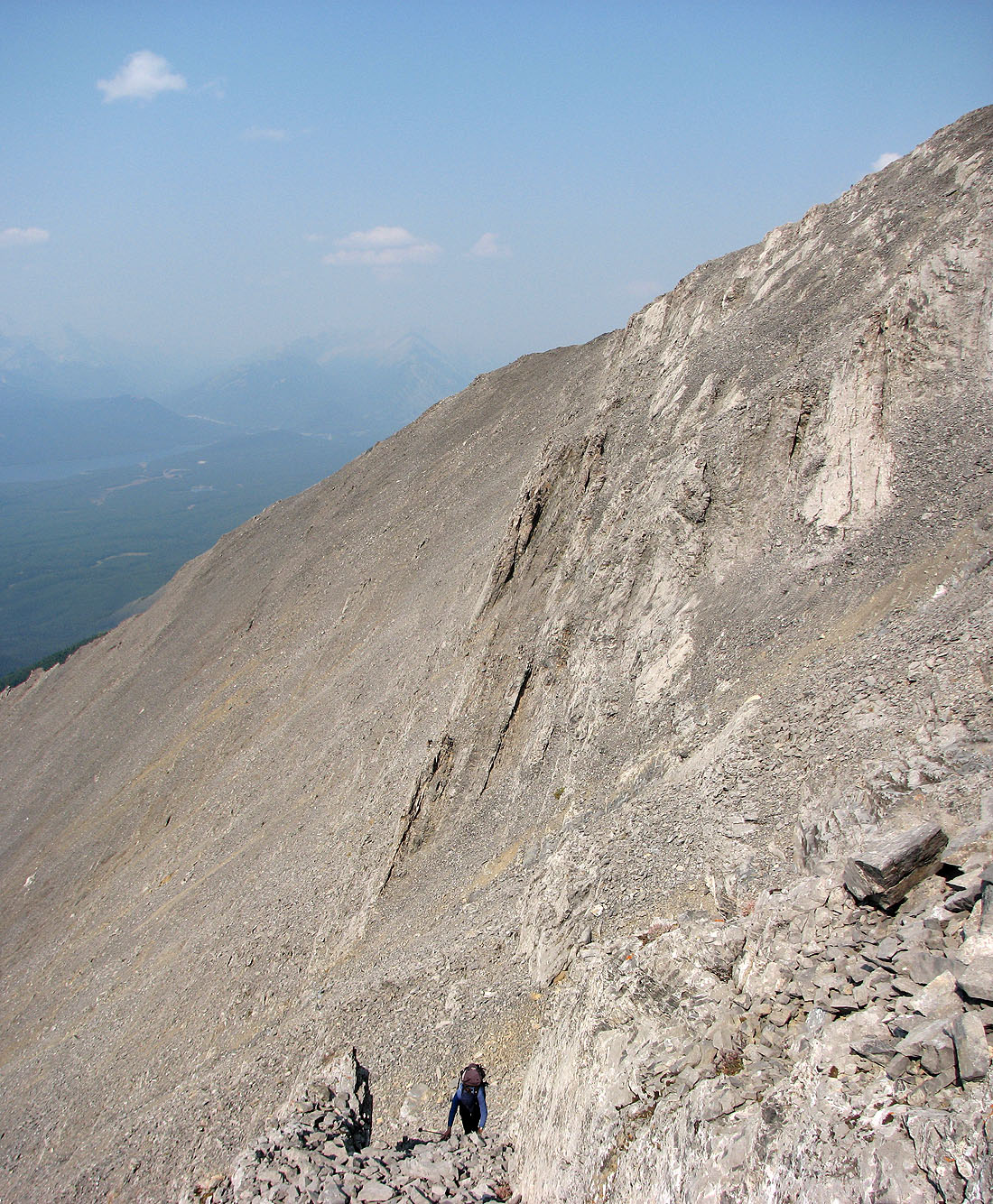 Heading back up to the ridge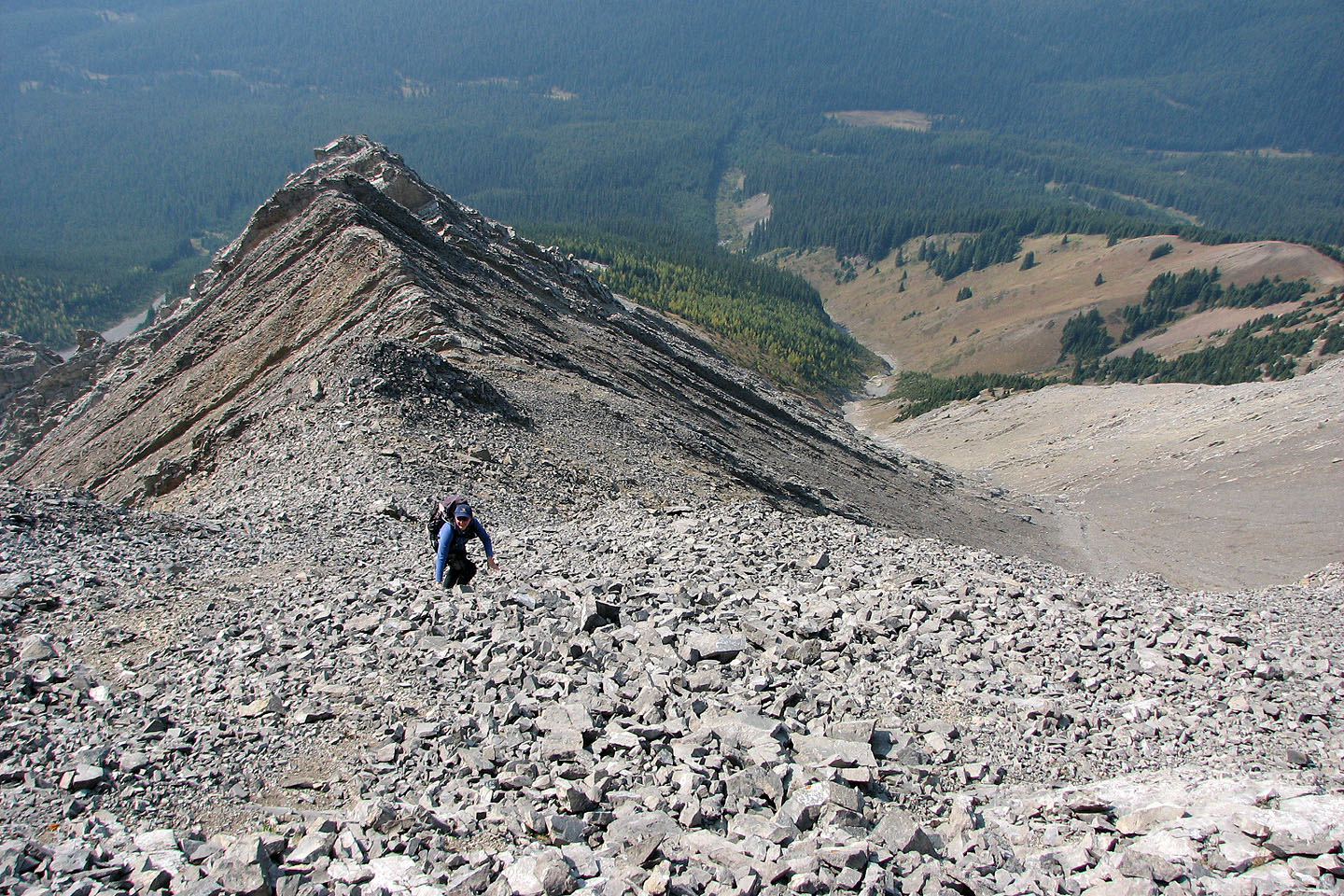 Back up to the ridge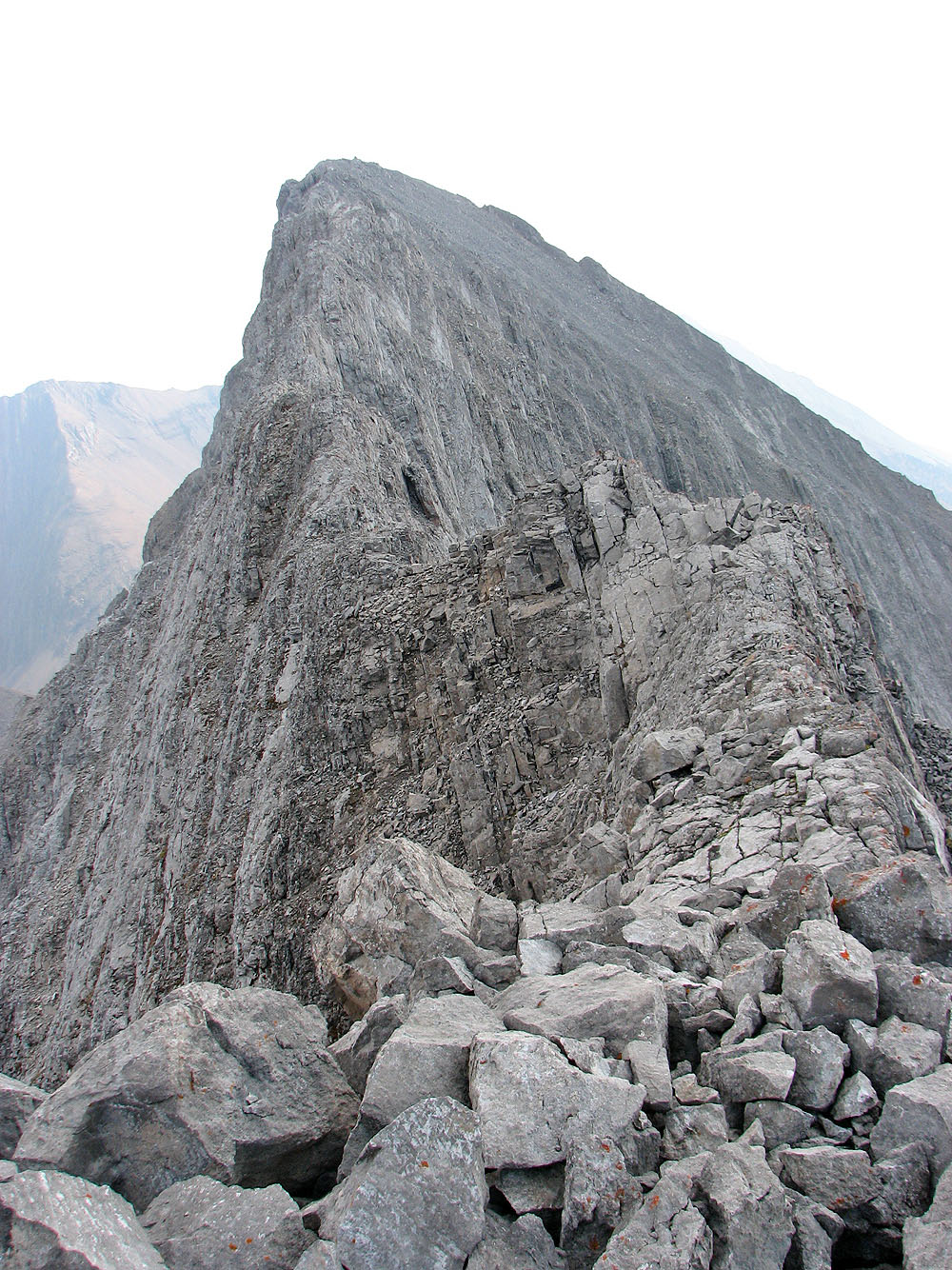 This crumbling knife-edge before the summit is the end of the line for us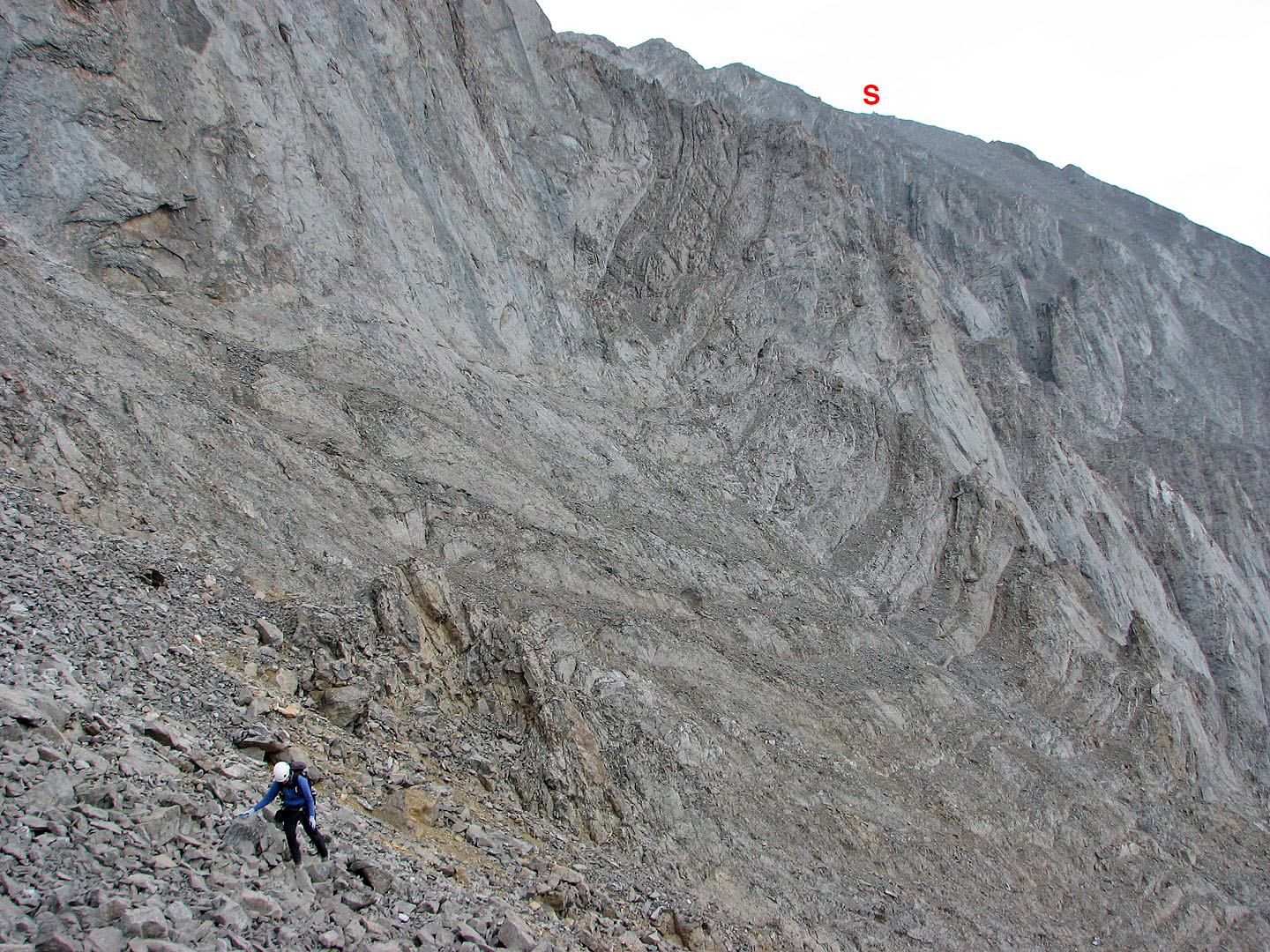 The terrain forced us to descend. S = summit.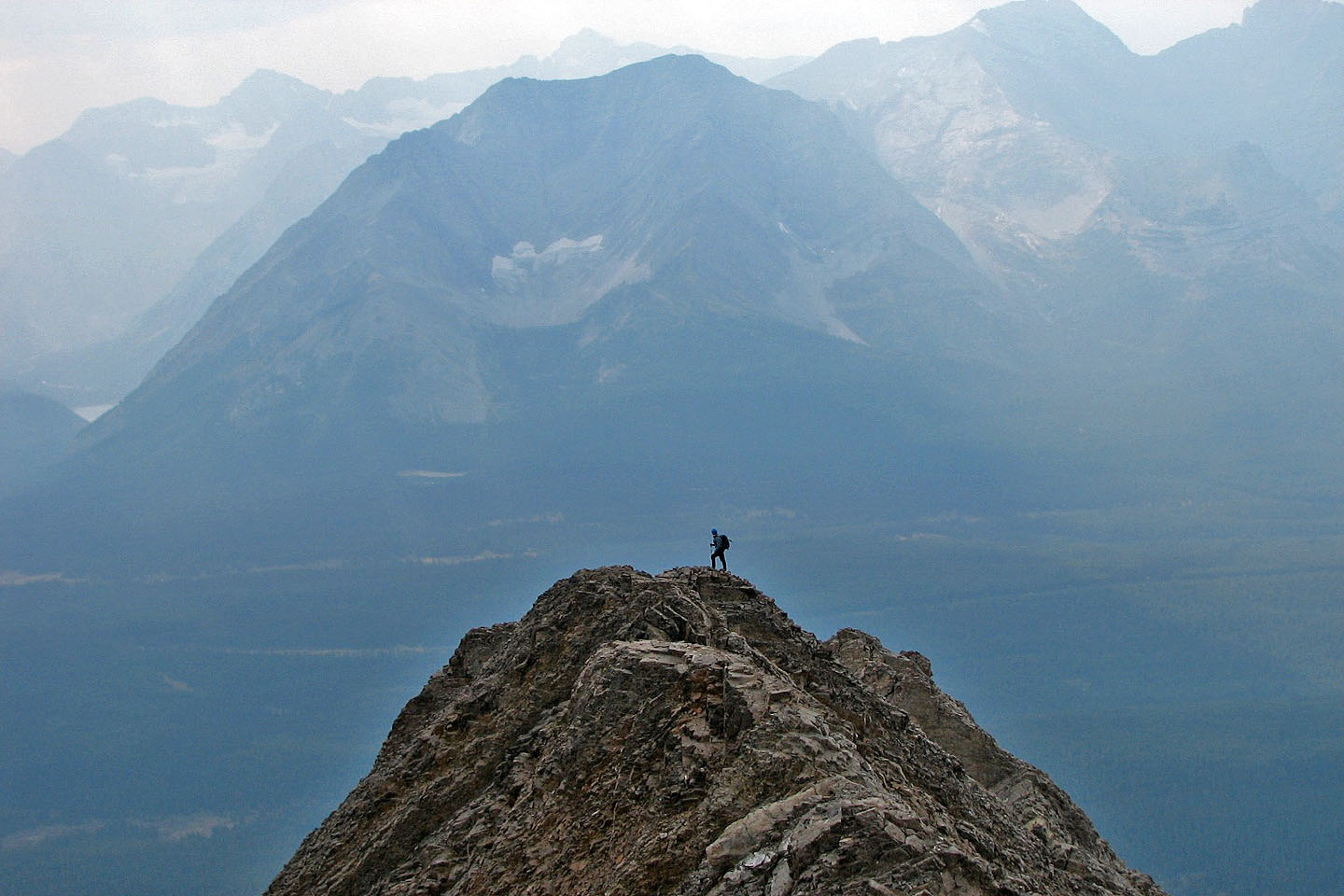 We started down a spur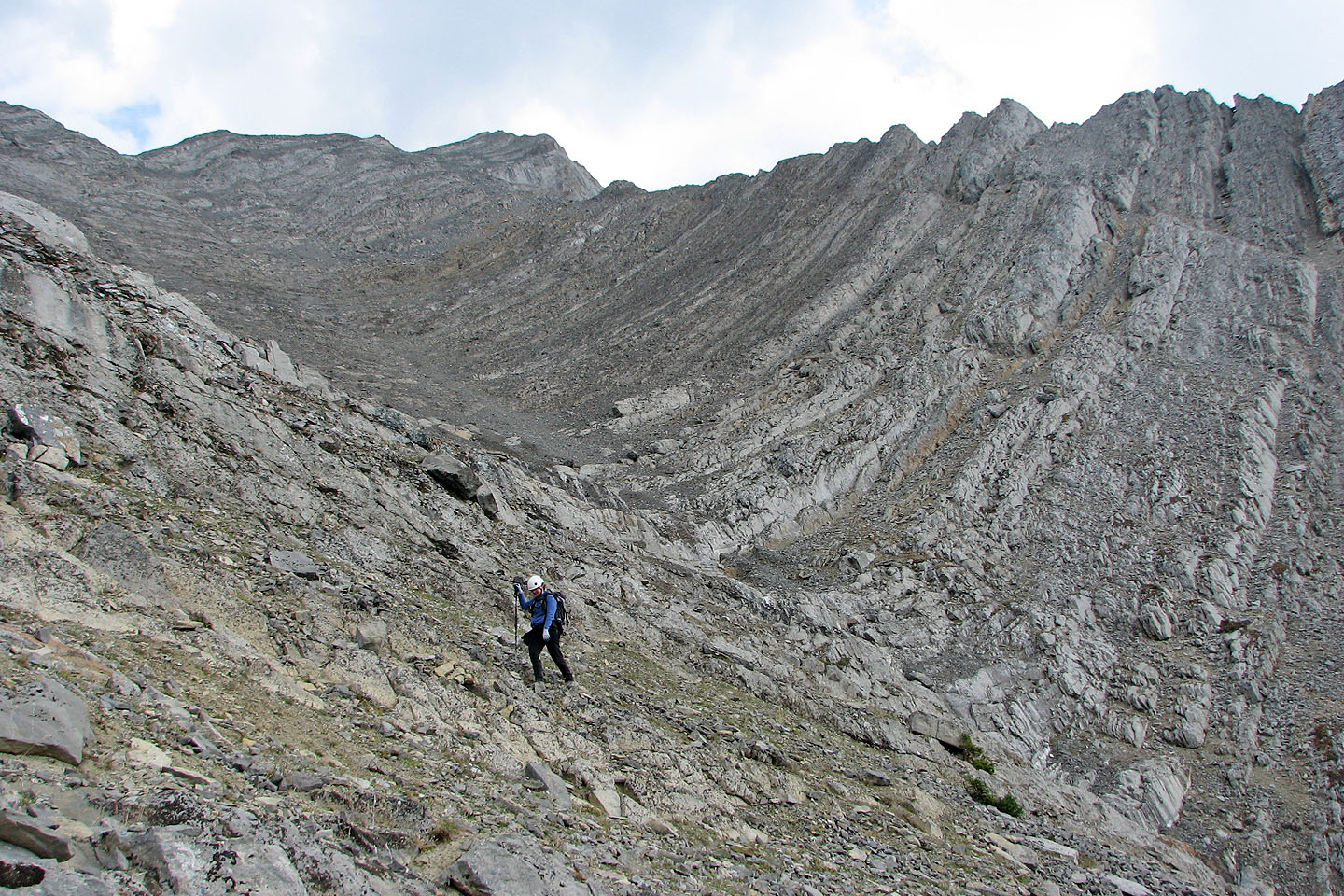 Above is the high point we reached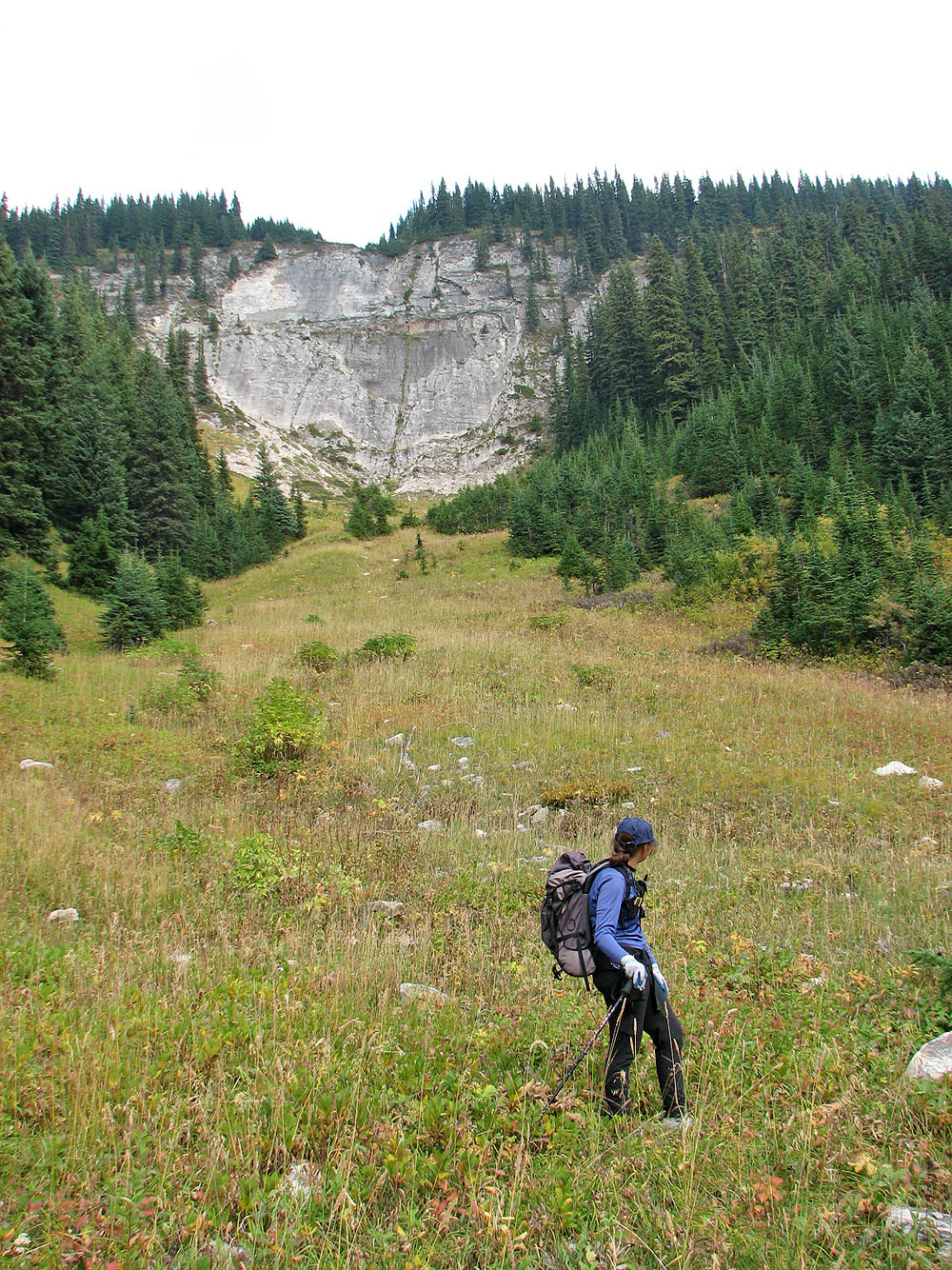 Impressive cliff face near the valley bottom