bobspirko.ca | Home | Canada Trips | US Trips | Hiking | Snowshoeing | MAP | About

Mount Lady Macdonald
Kananaskis, Alberta
May 27, 2005
Distance: 10.7 km
Cumulative Elevation Gain: 1184 m
When Dinah and I first attempted Mount Lady Macdonald, we didn't get past the south summit because of rain. When we returned two years later almost to the day, we had perfect conditions: dry rock, blue sky and calm winds.
The approach uses the popular trail to the teahouse. It runs alongside Cougar Creek before climbing the treed south ridge of Lady Macdonald. The grade steepens until it relaxes at the site of the teahouse. After ascending above the teahouse, the trail splits. We tried the straight-up ascent, but found the ridge crest too exposed for us. We traversed most of the way across before turning back.
The route that runs below the ridge is easier, and we had no trouble reaching the false summit. From the false summit, the ridge leading to the true summit looked impossibly narrow and jagged. There were a few places where downclimbing was awkward, but even so I was surprised the traverse only took 10 or 11 minutes each way. I reached the summit, but unfortunately, Dinah became uncomfortable on the exposed traverse and turned back.
Postscript: In 2018, when our original plan to climb a peak on the Icefields Pkwy. was thwarted by heavy rain, we retreated to Canmore and hiked 900 m up to the teahouse just for the exercise. I added a few photos from that trip.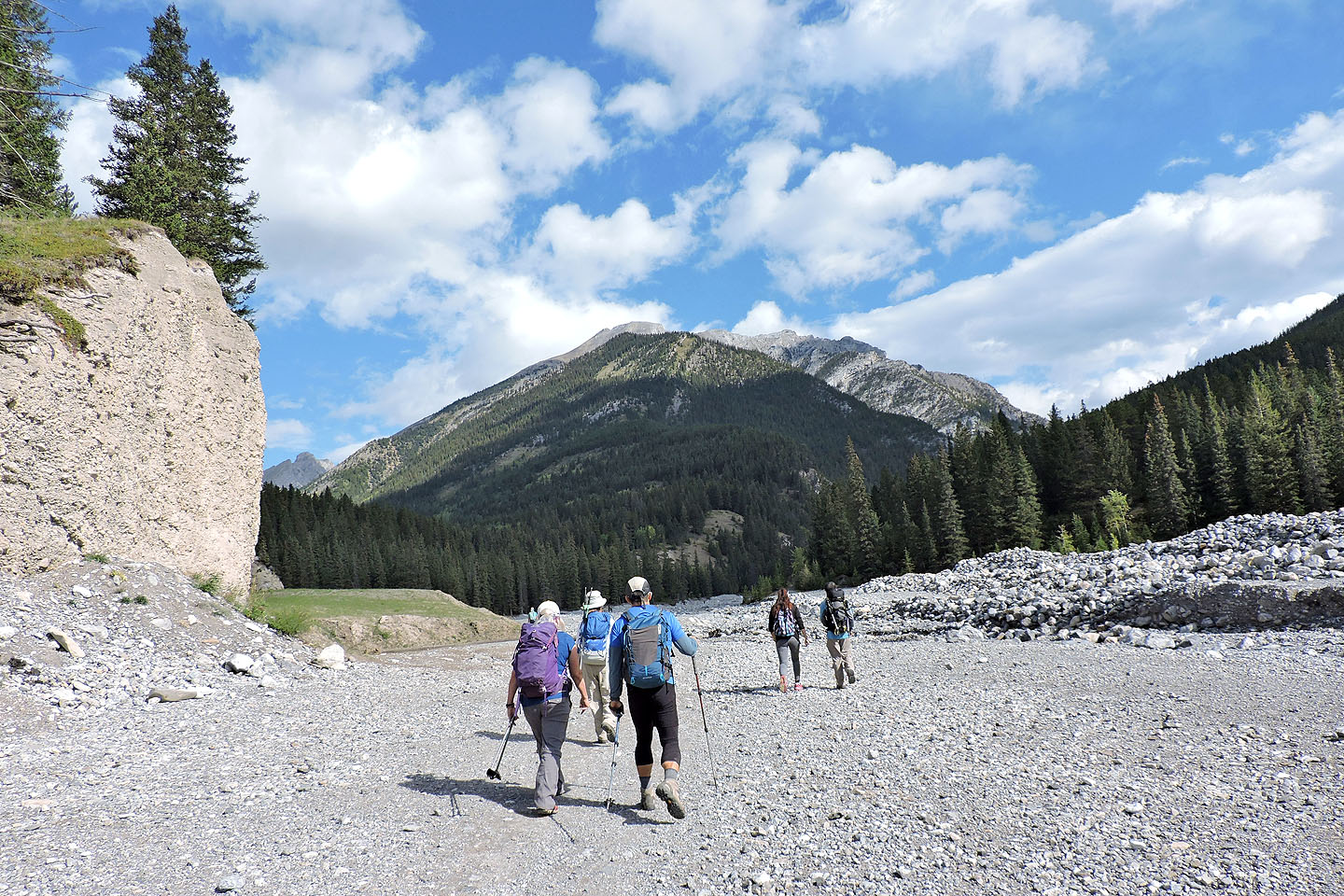 Starting up the trail along Cougar Creek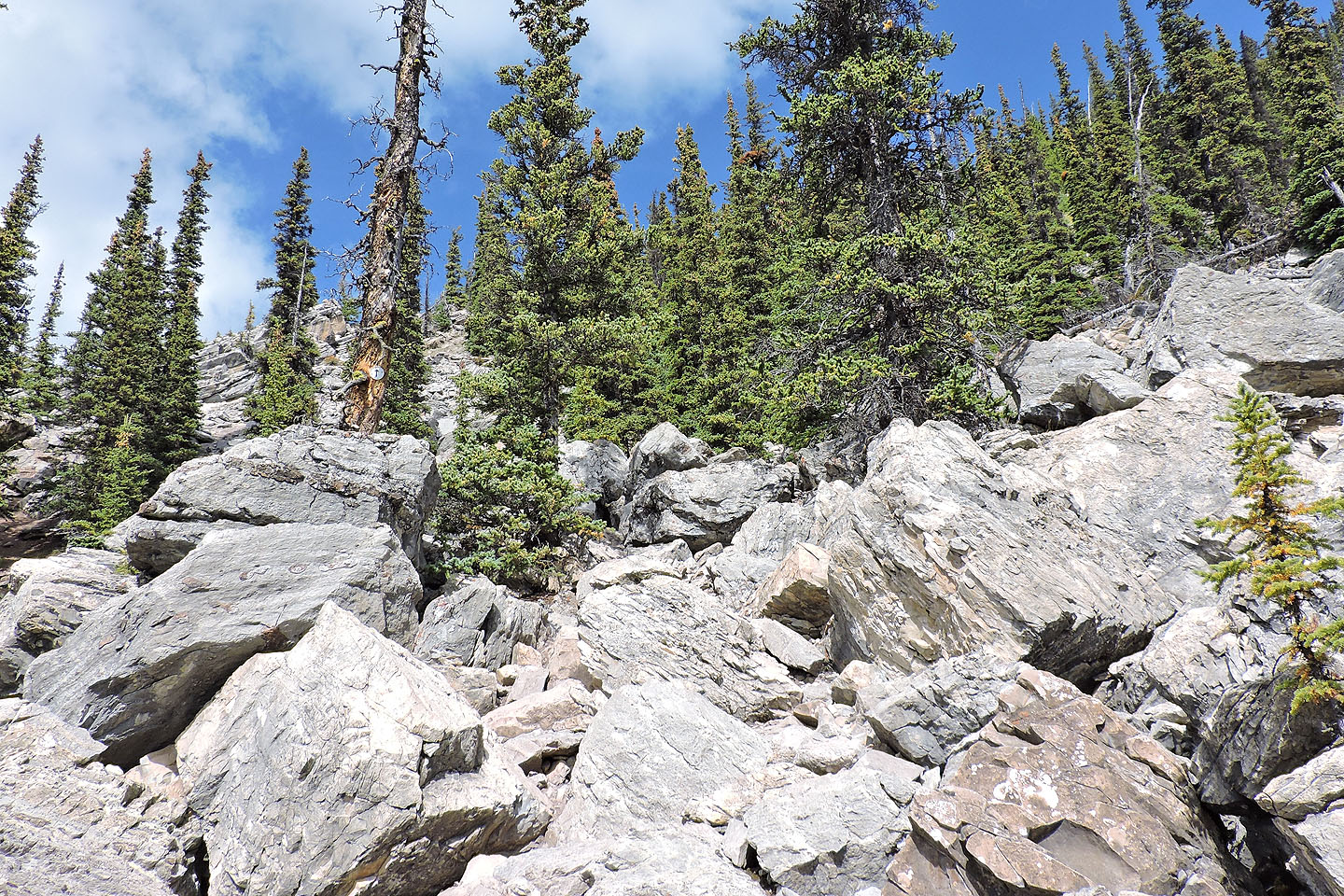 The trail goes through a boulder field. Note the white sign on the dead tree pointing the way.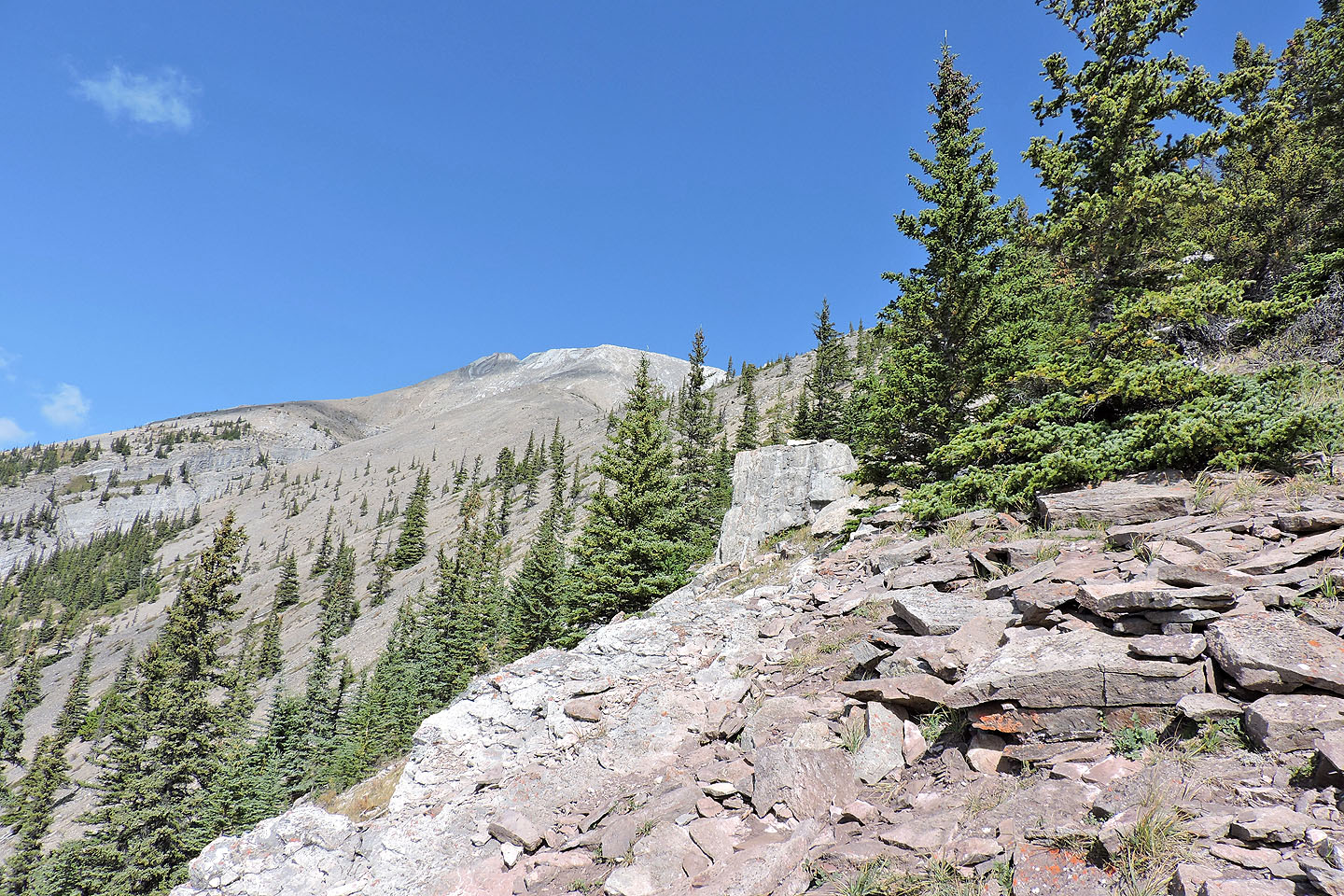 View of the false summit from the trail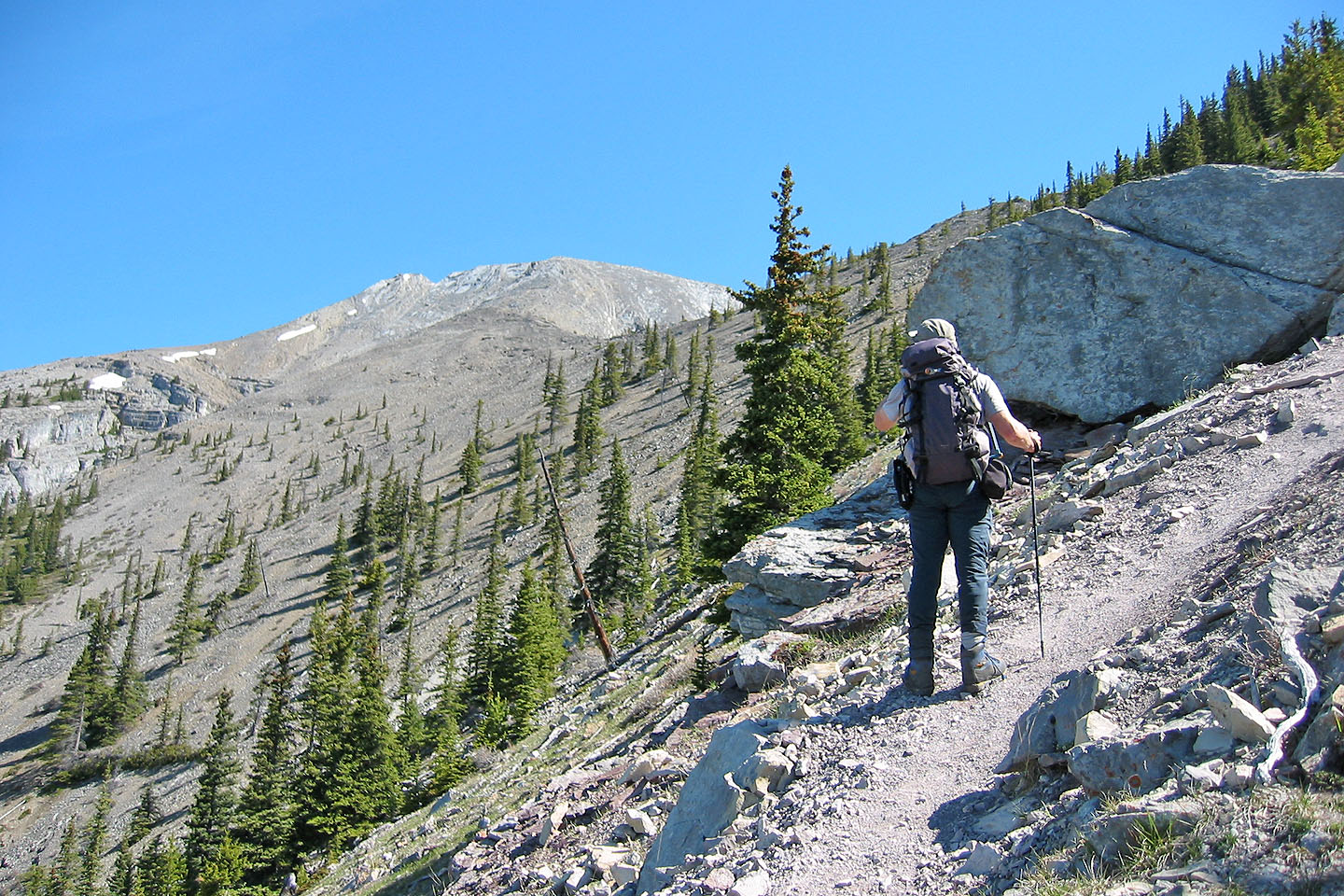 A good trail leads to the teahouse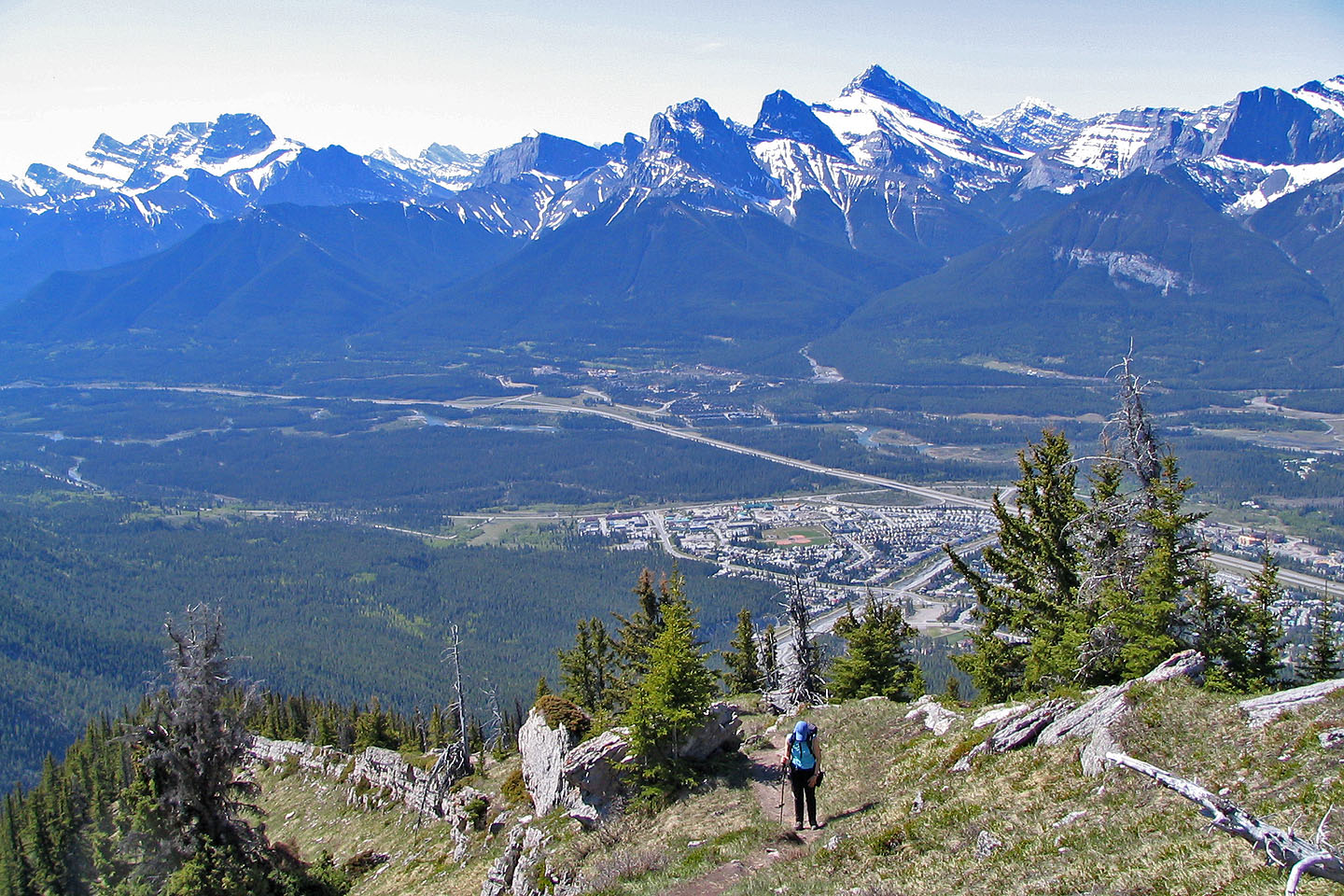 Looking back down the trail. Three Sisters in the background.

View of the ascent from the teahouse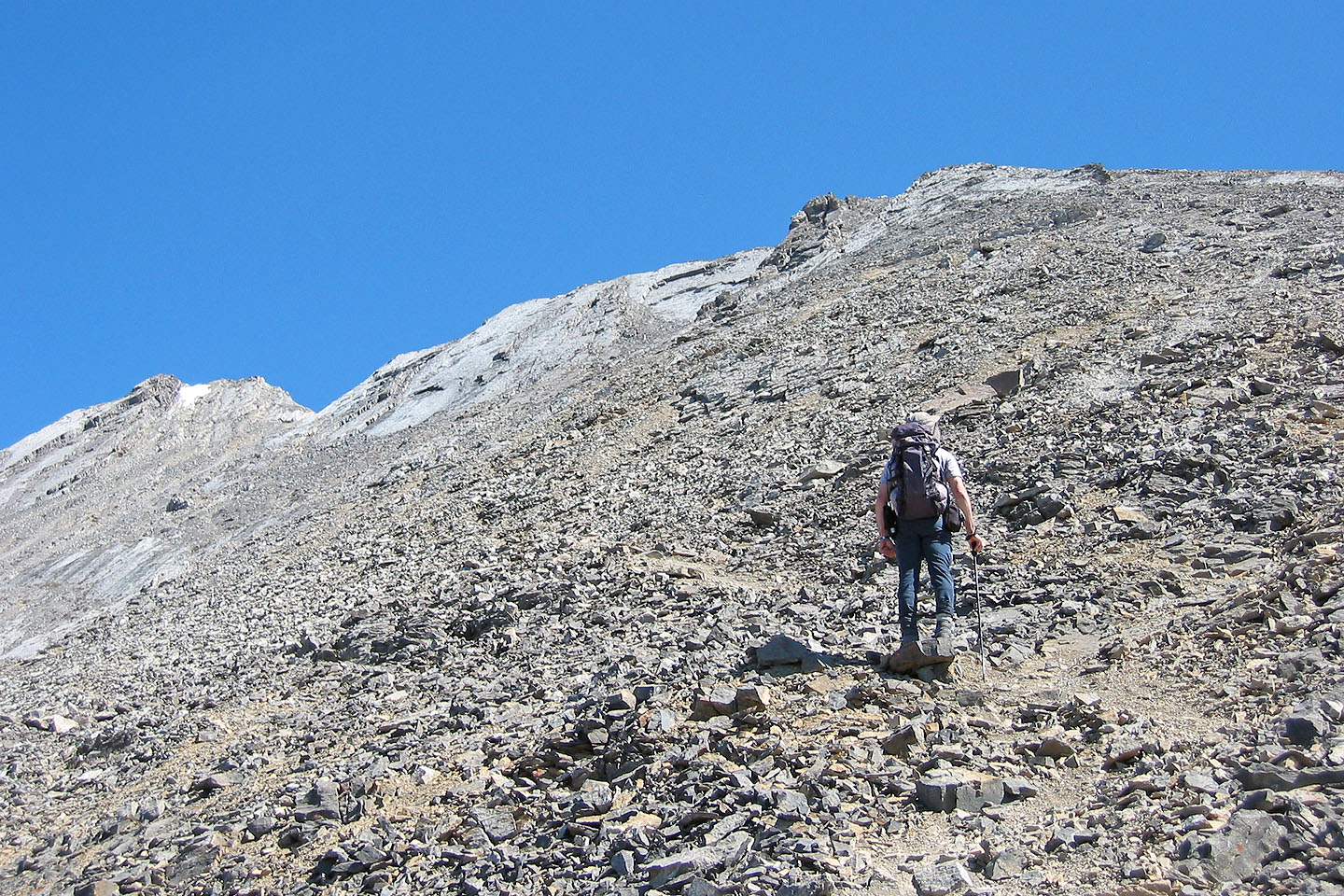 The path splits: straight up takes you to the top of the slabs in the centre. Left leads to the south summit where the snow patch is.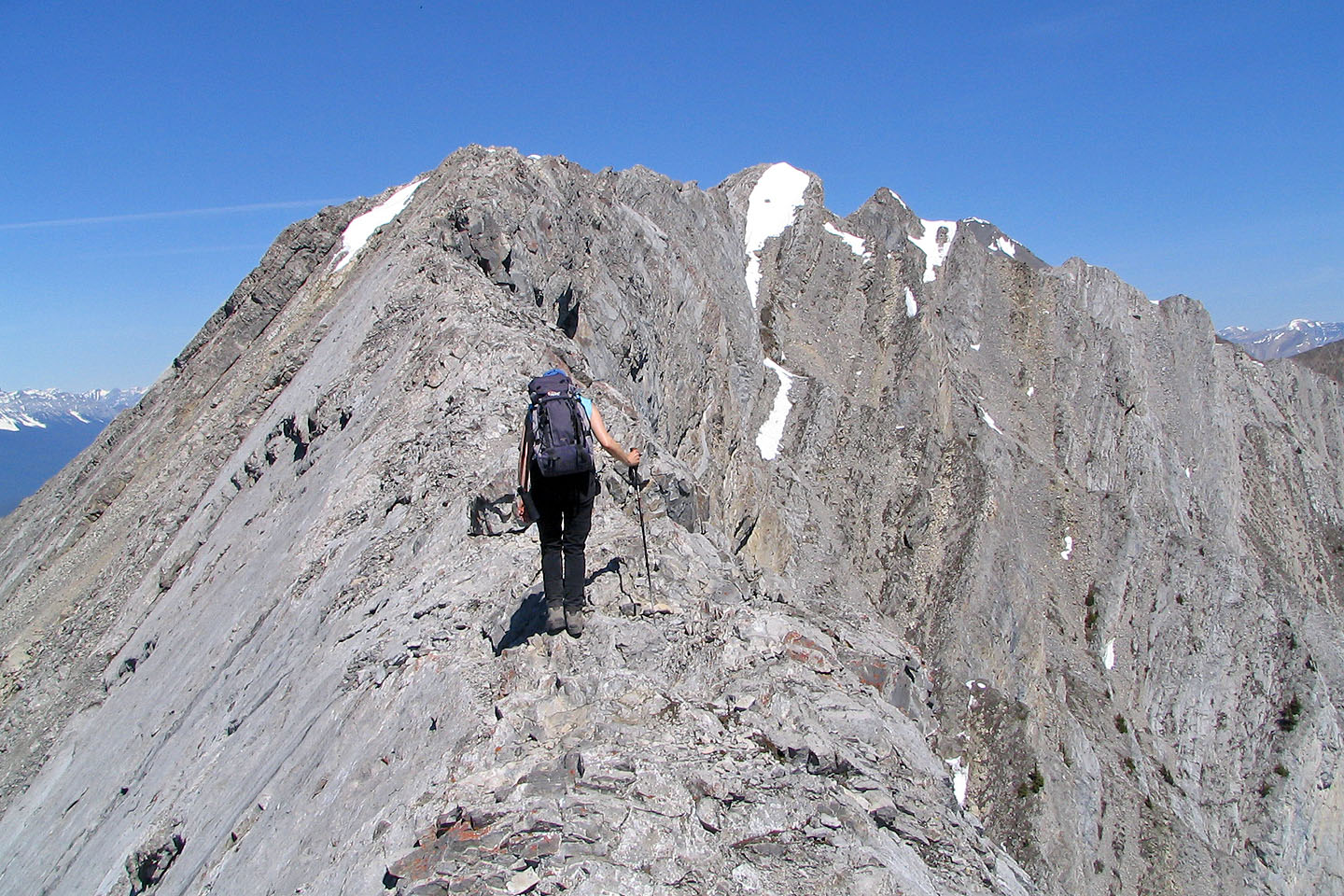 This is the upper route where scrambling was more awkward than fun at least for us (mouse over to look back)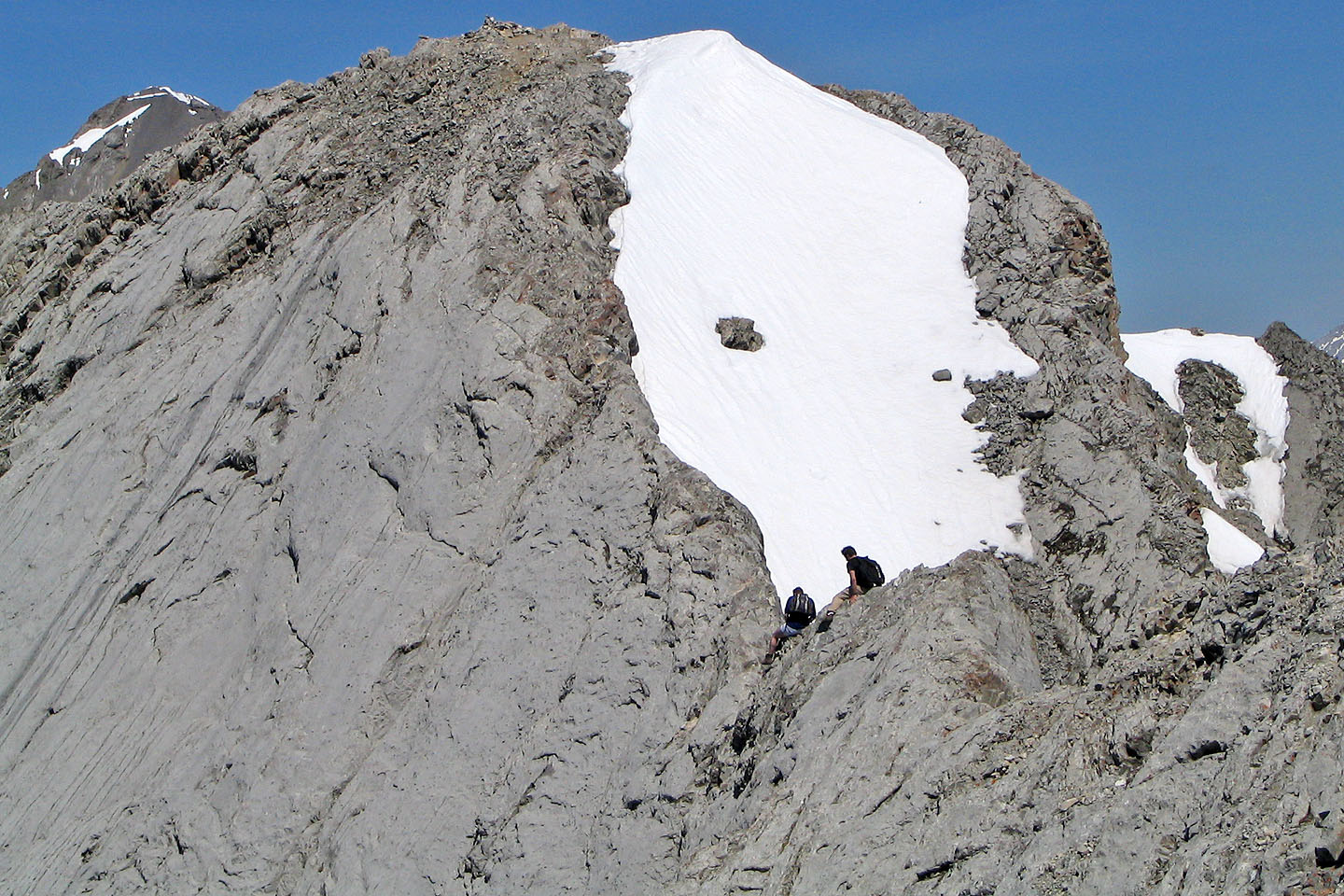 Two people crawl along the crux to to the summit from the south summit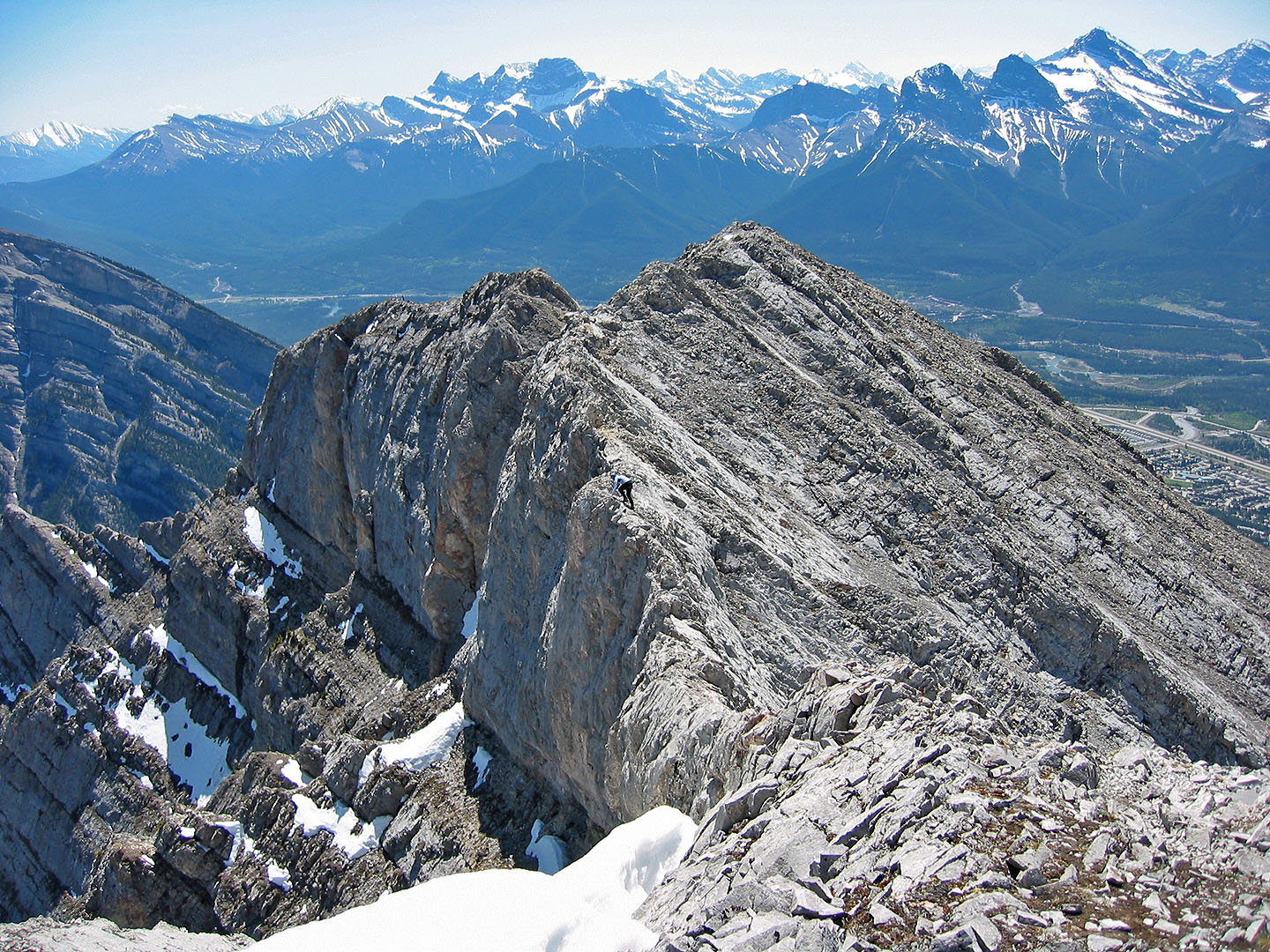 View looking back at the false summit from the true summit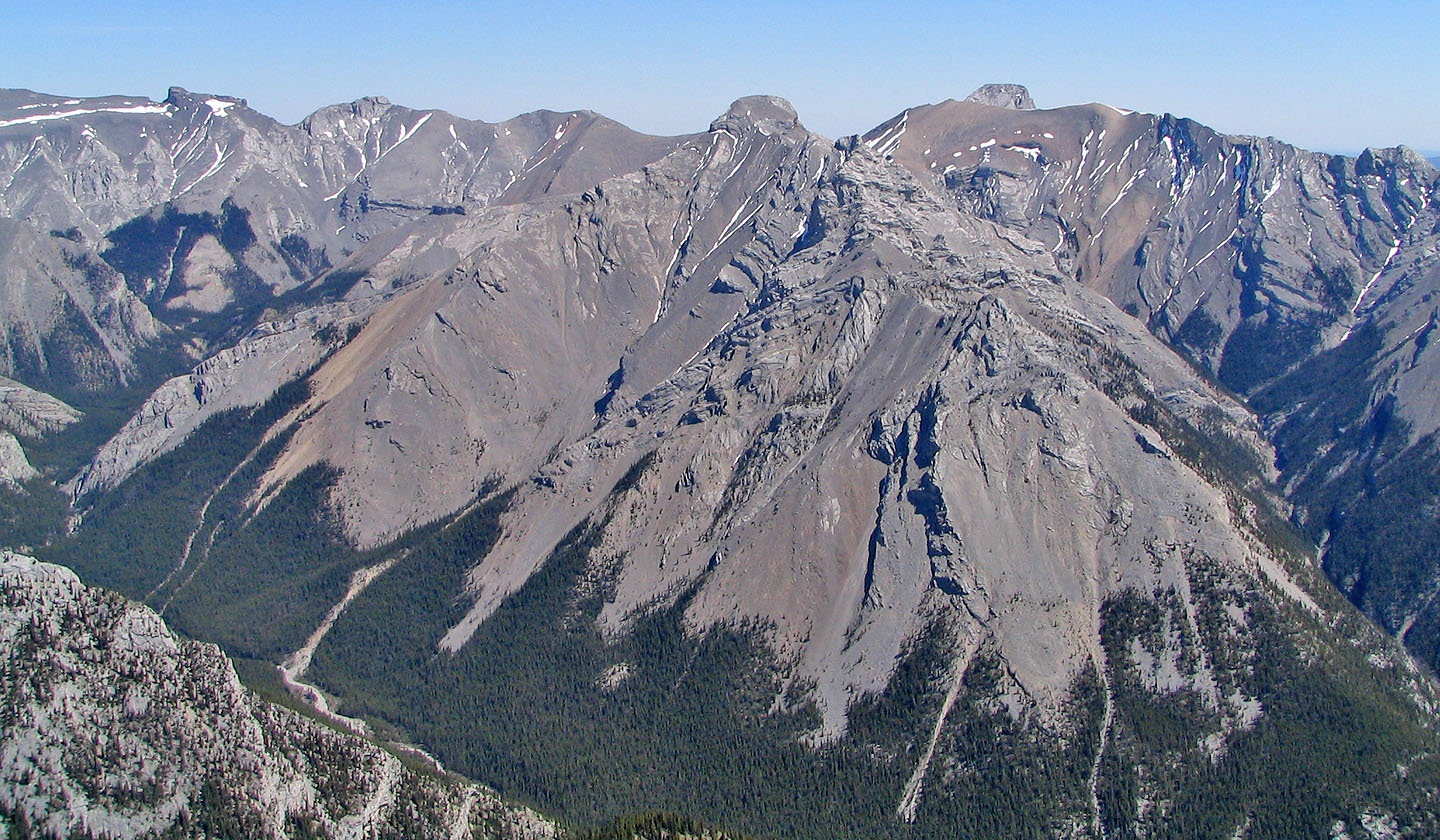 Cougar Peak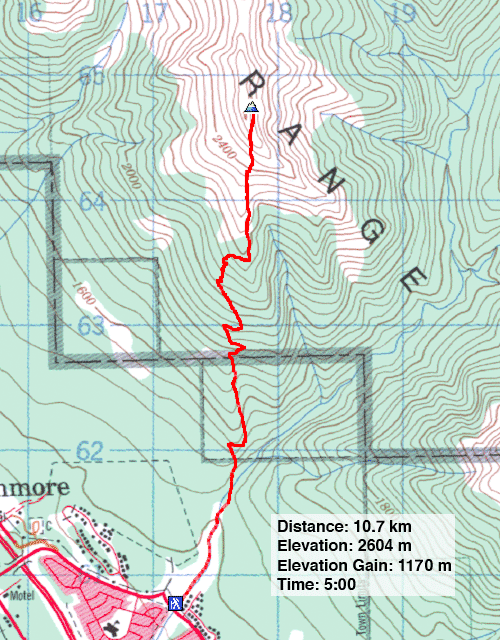 82 O/3 Canmore