bobspirko.ca | Home | Canada Trips | US Trips | Hiking | Snowshoeing | MAP | About

Jarvis Peak
Beaver Dam Mountains, Utah
April 23, 2023
Jarvis Peak sports one of the best mountaintop views around St. George with a sight that stretches into Arizona. And the peak can be seen from the city which is only 30 minutes away.
We read that a 4WD vehicle is recommended for the 2.7 km drive up the dirt road to the trailhead, but after covering 500 m, Dinah and I parked our Subaru at a pullout and started our hike there. We didn't want to take a chance of getting stopped somewhere and having to drive in reverse on the narrow, bush-lined road. As it turns out, we could have driven farther and we noticed a few pullouts along the way. However, it was a fine day, and we didn't mind walking up the road.
At a road bend, we came to a cairn marking a trail and started hiking up Jarvis Peak. We followed the trail up the slope, but on the ridgetop, the trail grew faint and eventually disappeared.
We travelled easily up the ridge on gentle terrain and through light vegetation until we neared the summit. The grade steepened, and the ridge became rockier, forcing us to keep left while trees made it difficult to see what lay ahead. It took a bit of bushwhacking and routefinding to make our way up. But we enjoyed the challenge, and it was no more than a class 2 ascent.
We reached the top to find clear views in all directions. We took the time to relax, look around and sign the summit register before heading back down.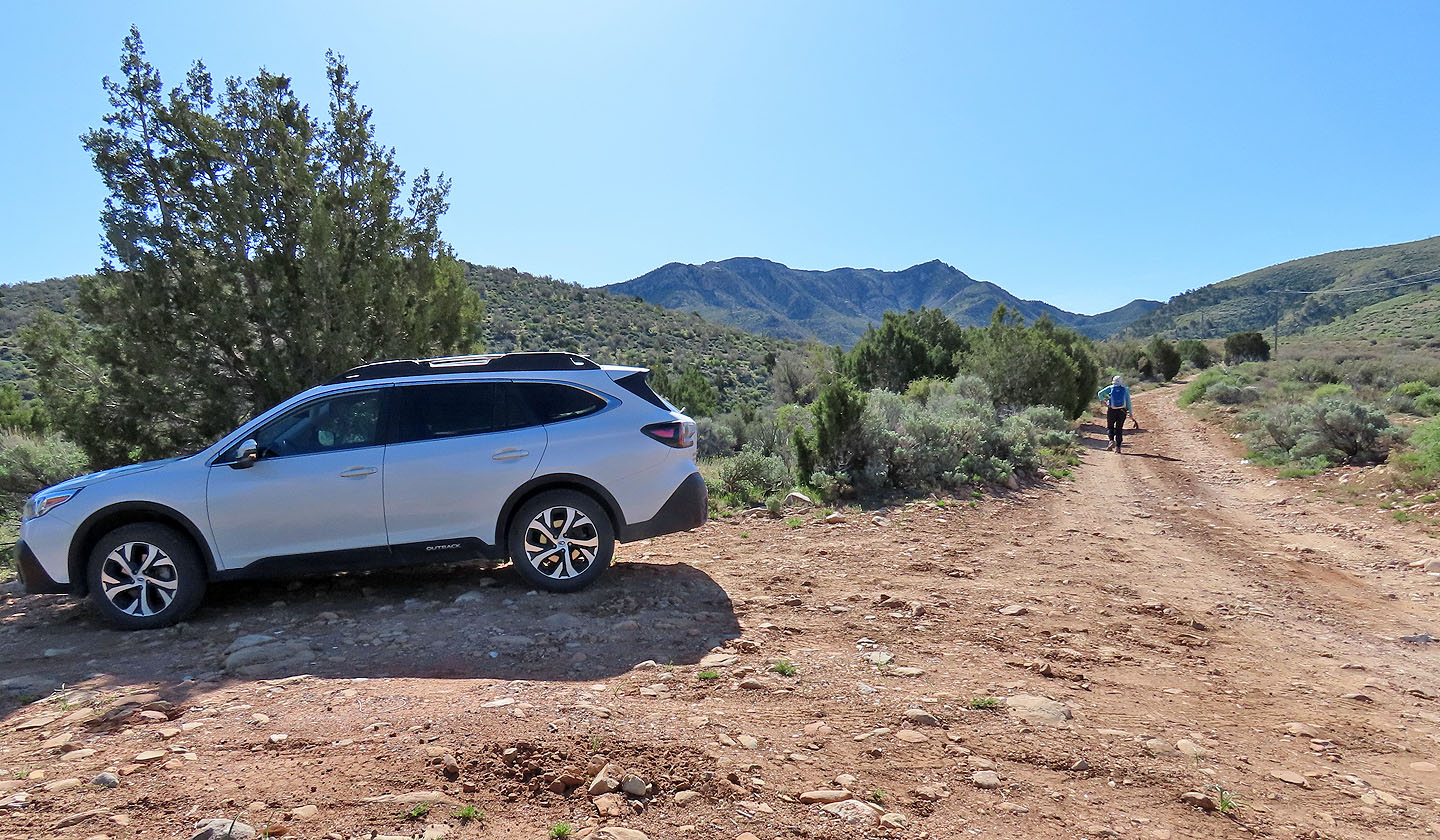 After parking in a pullout, we started walking up the road. Jarvis Peak is the point ahead.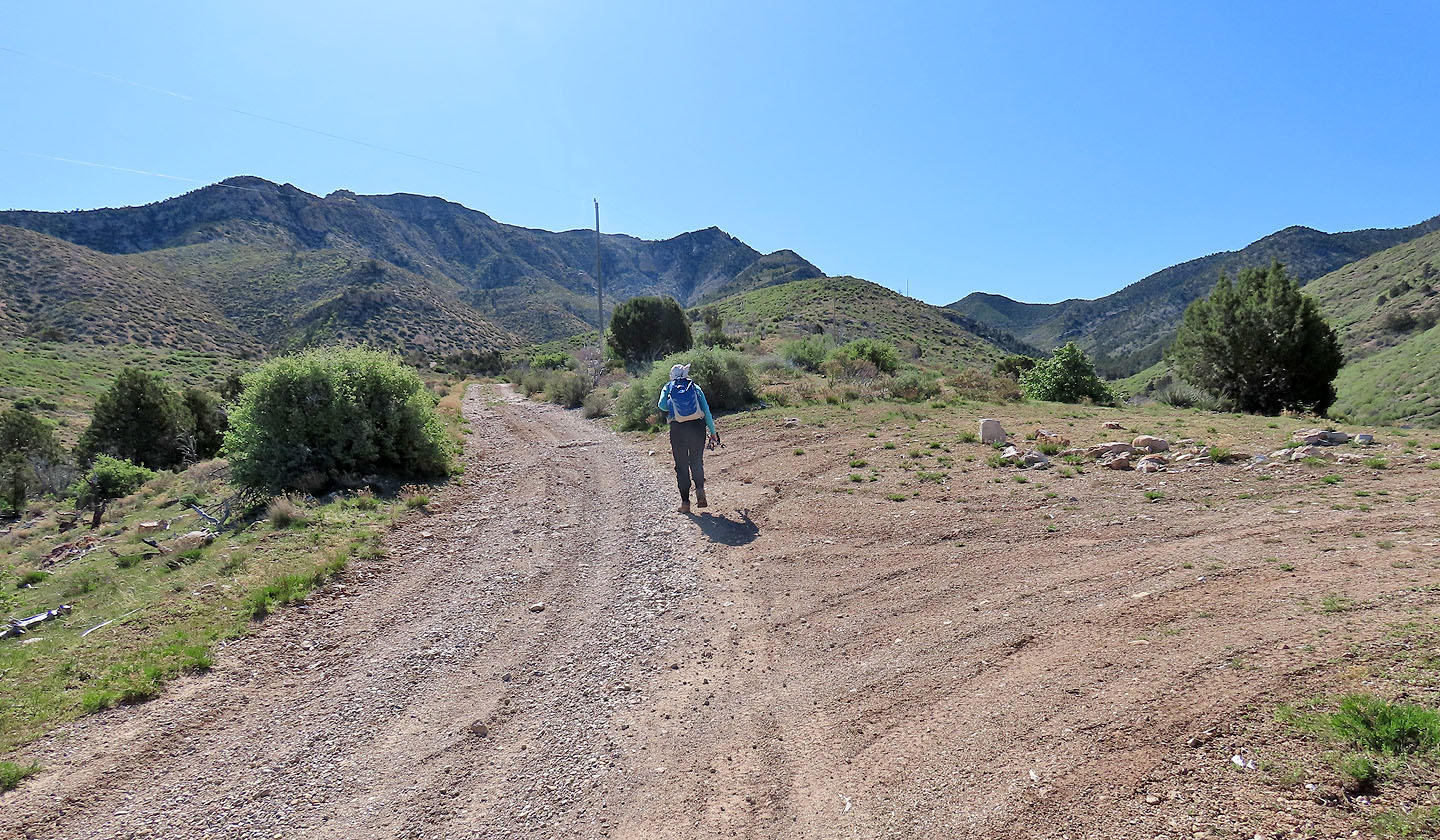 We passed another large pullout a kilometre further up the road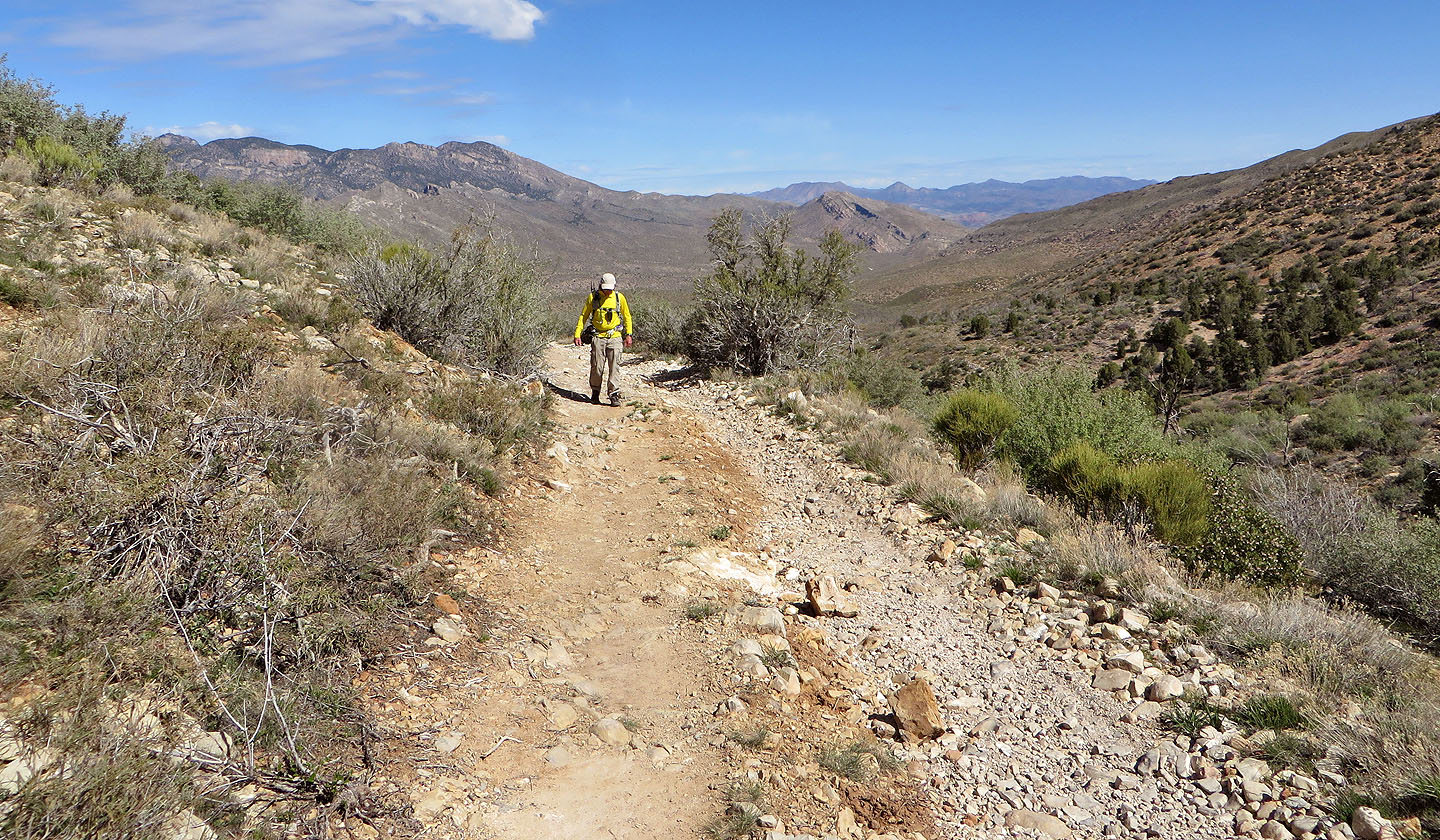 As the road climbed, the scenery behind us unfolded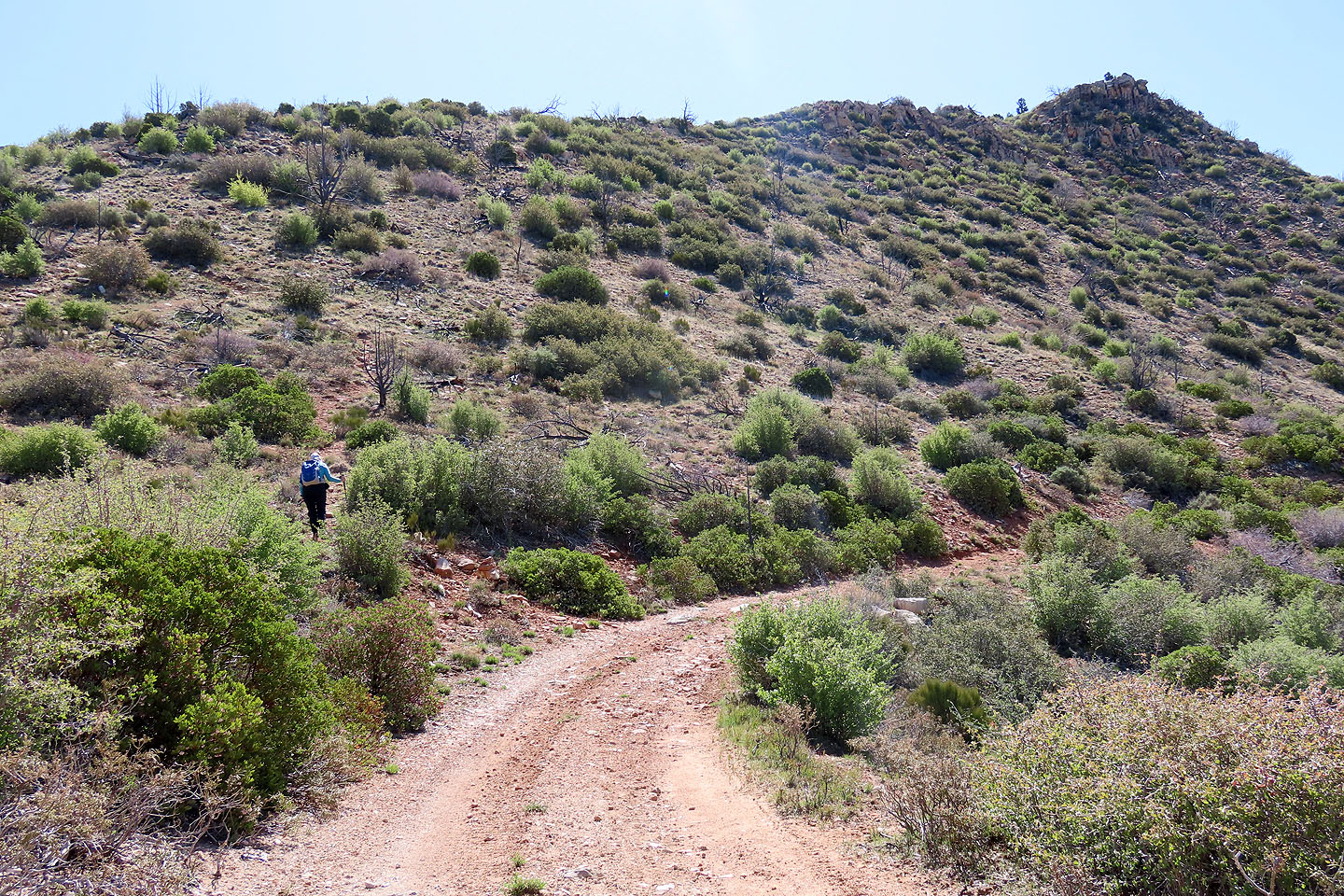 At a bend, we left the road and started up the trail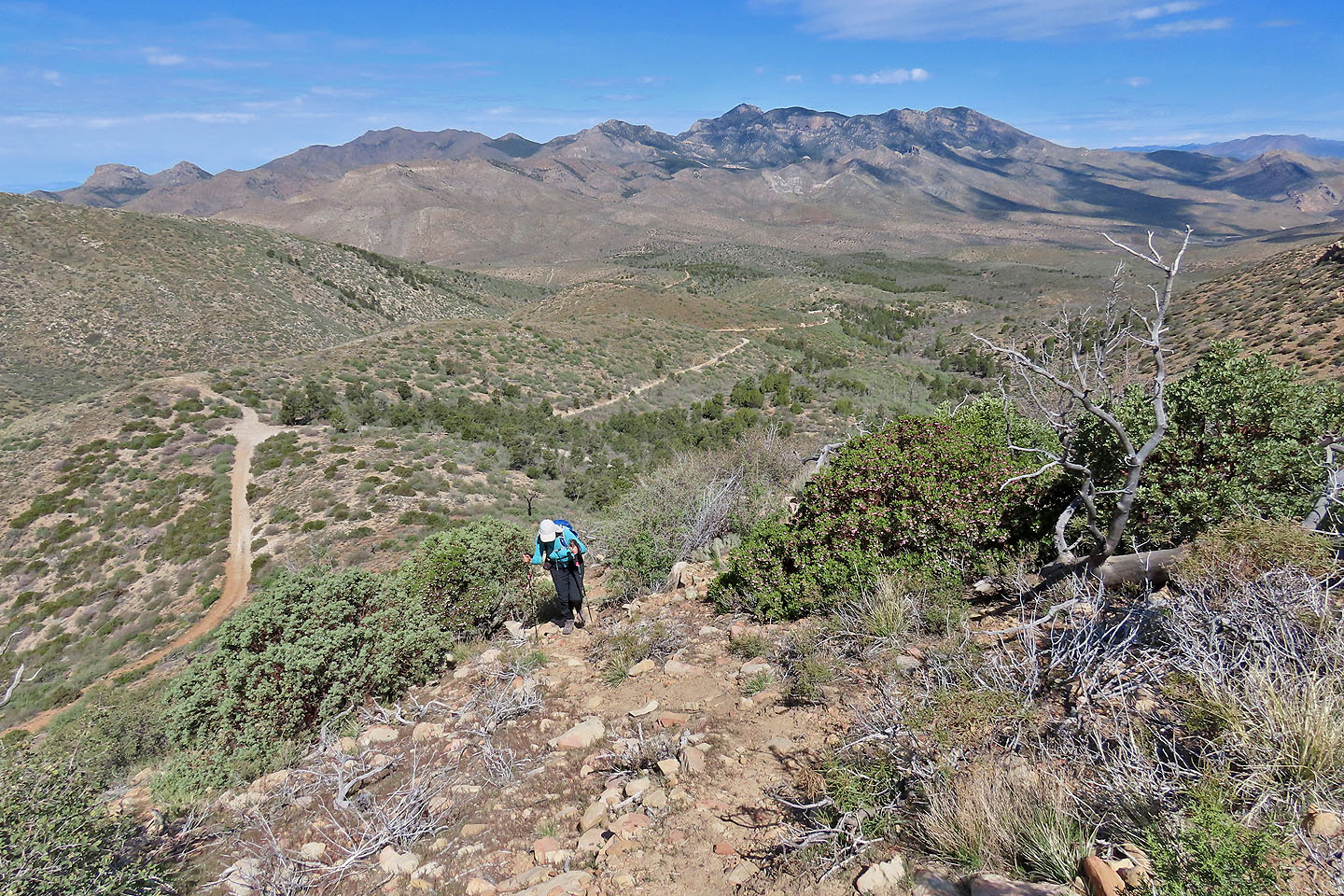 Looking back after climbing well up the trail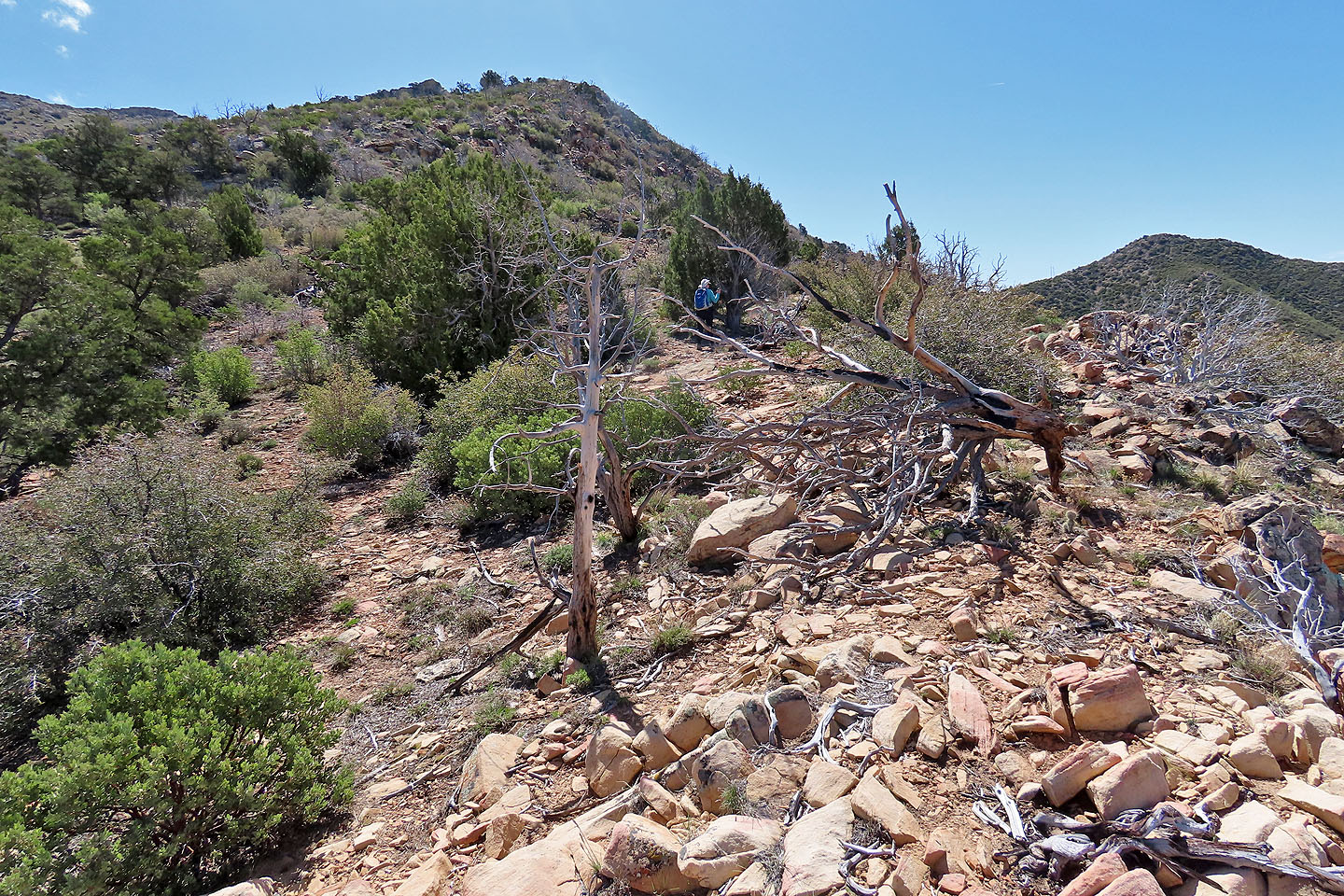 The trail became less evident on the ridge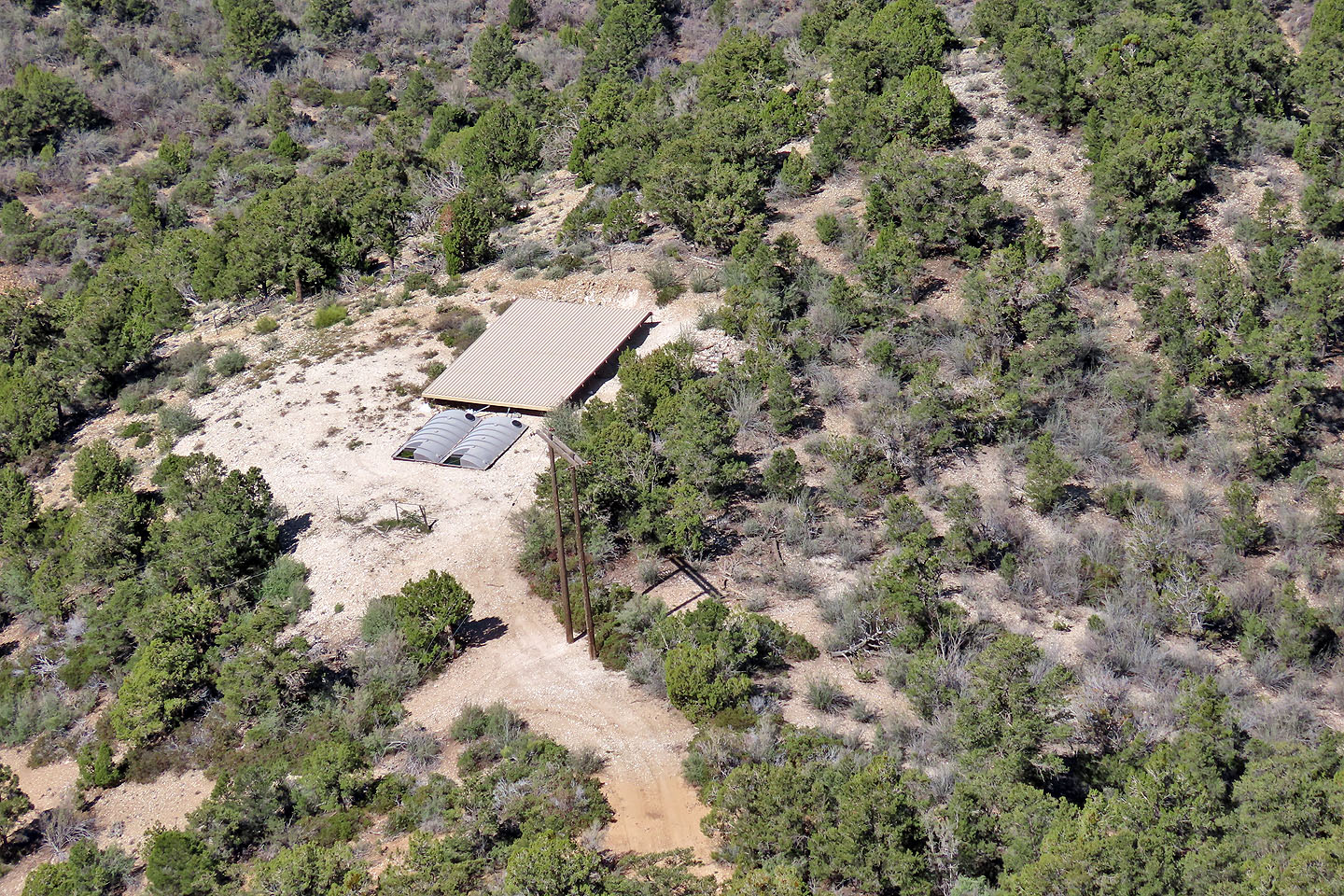 Below, a guzzler collects rain water, stores it and dispenses it to animals (mouse over for a close-up)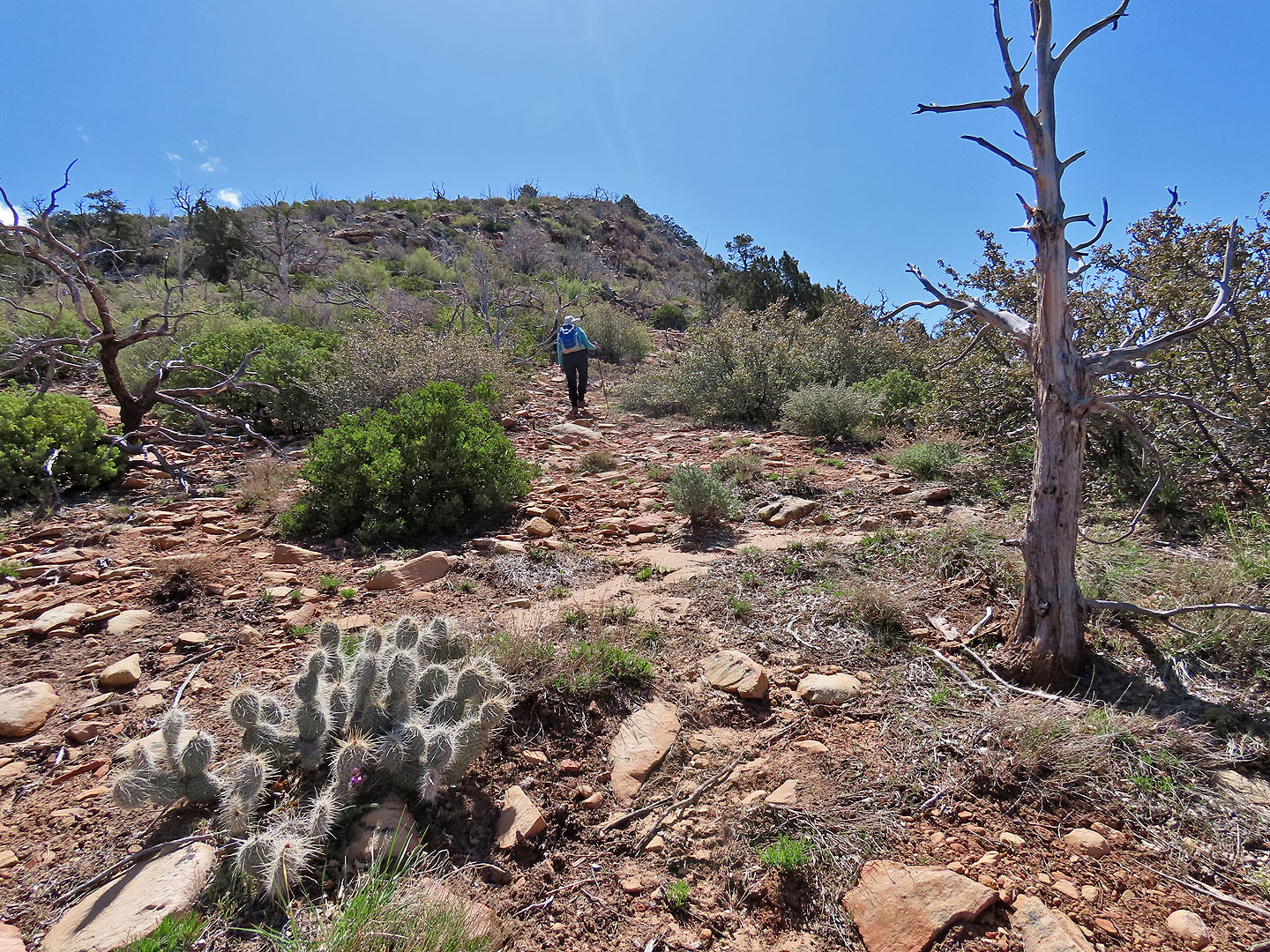 Continuing up the ridge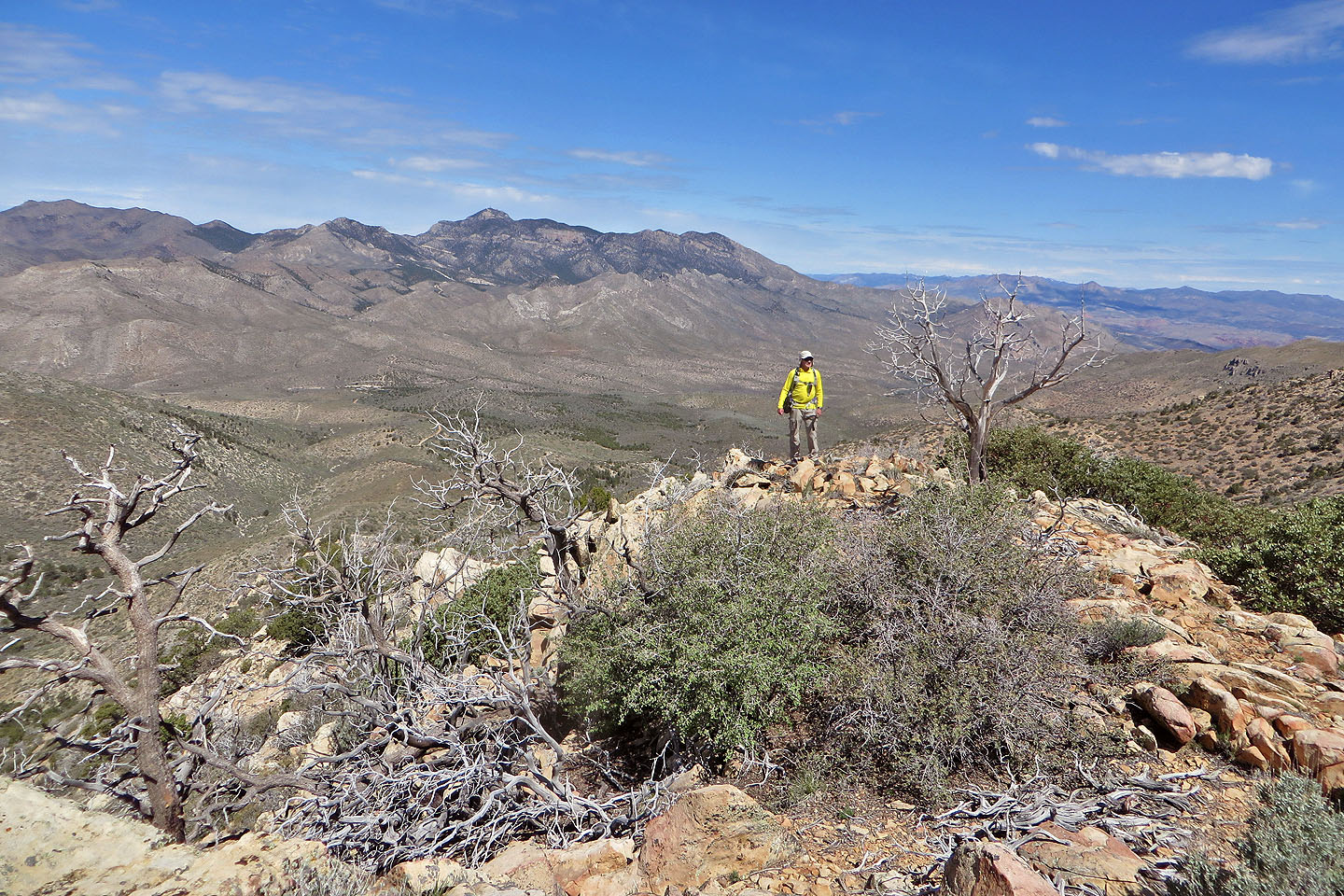 Looking back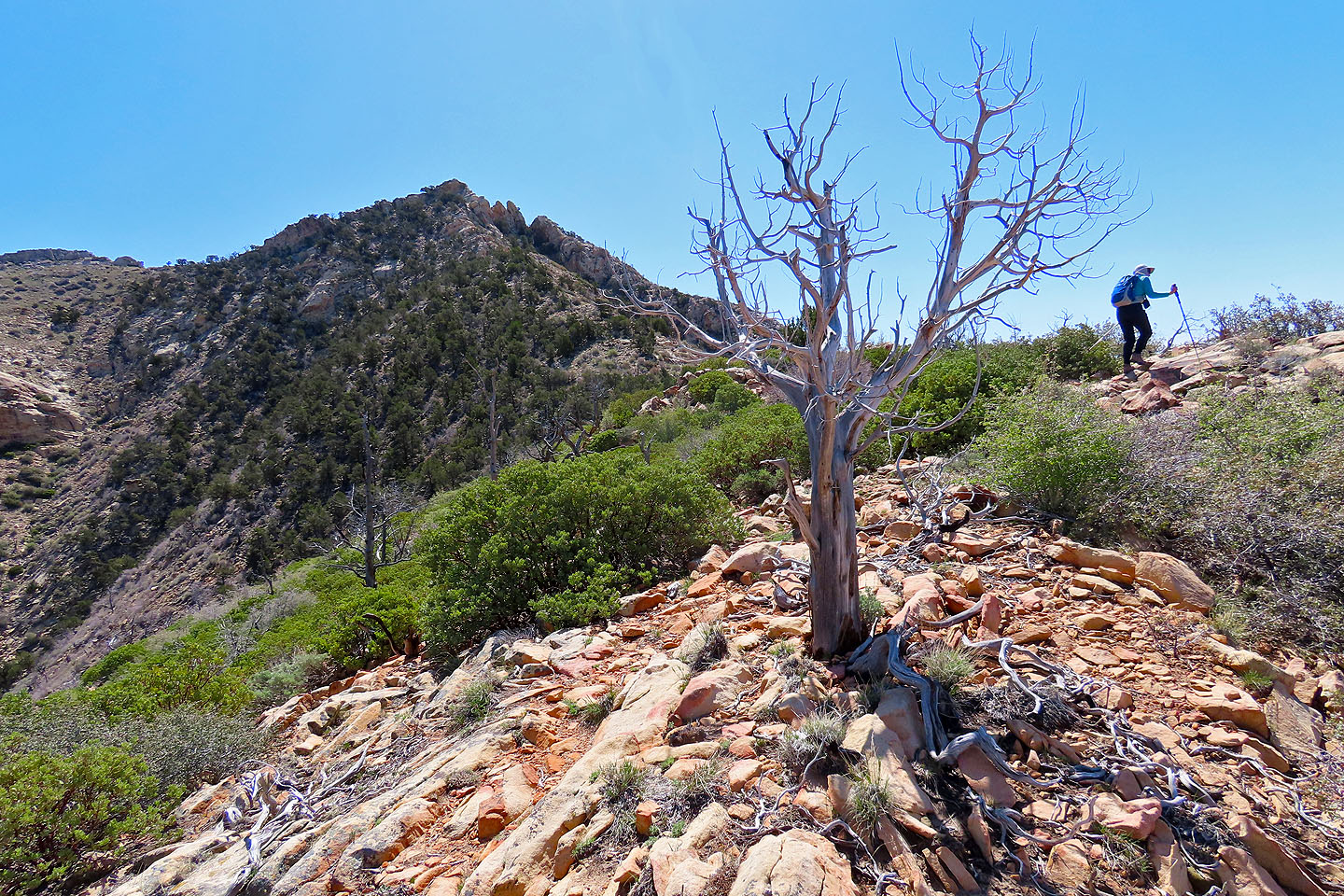 The summit appears ahead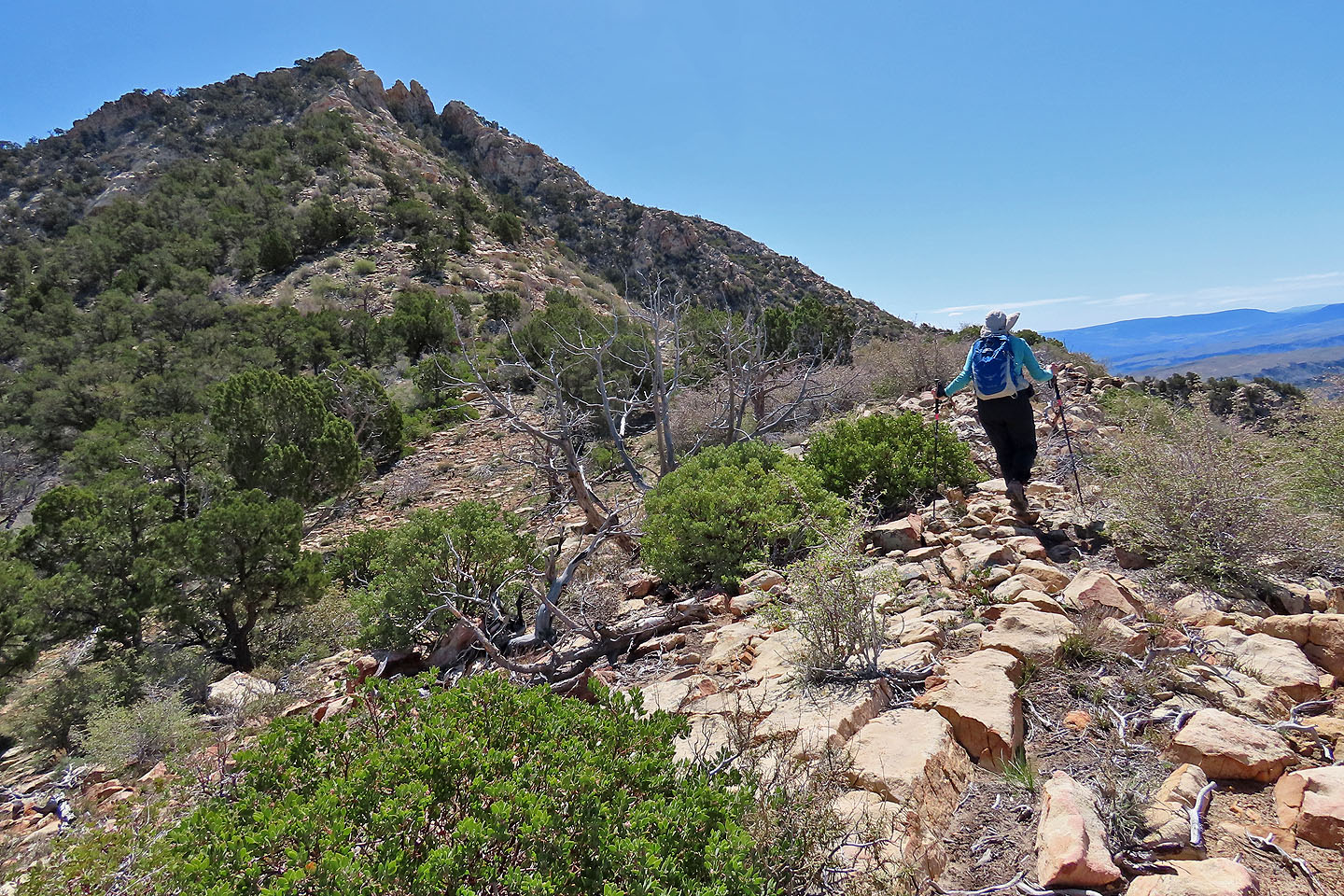 The ridge levels off providing a clear view of the steep climb ahead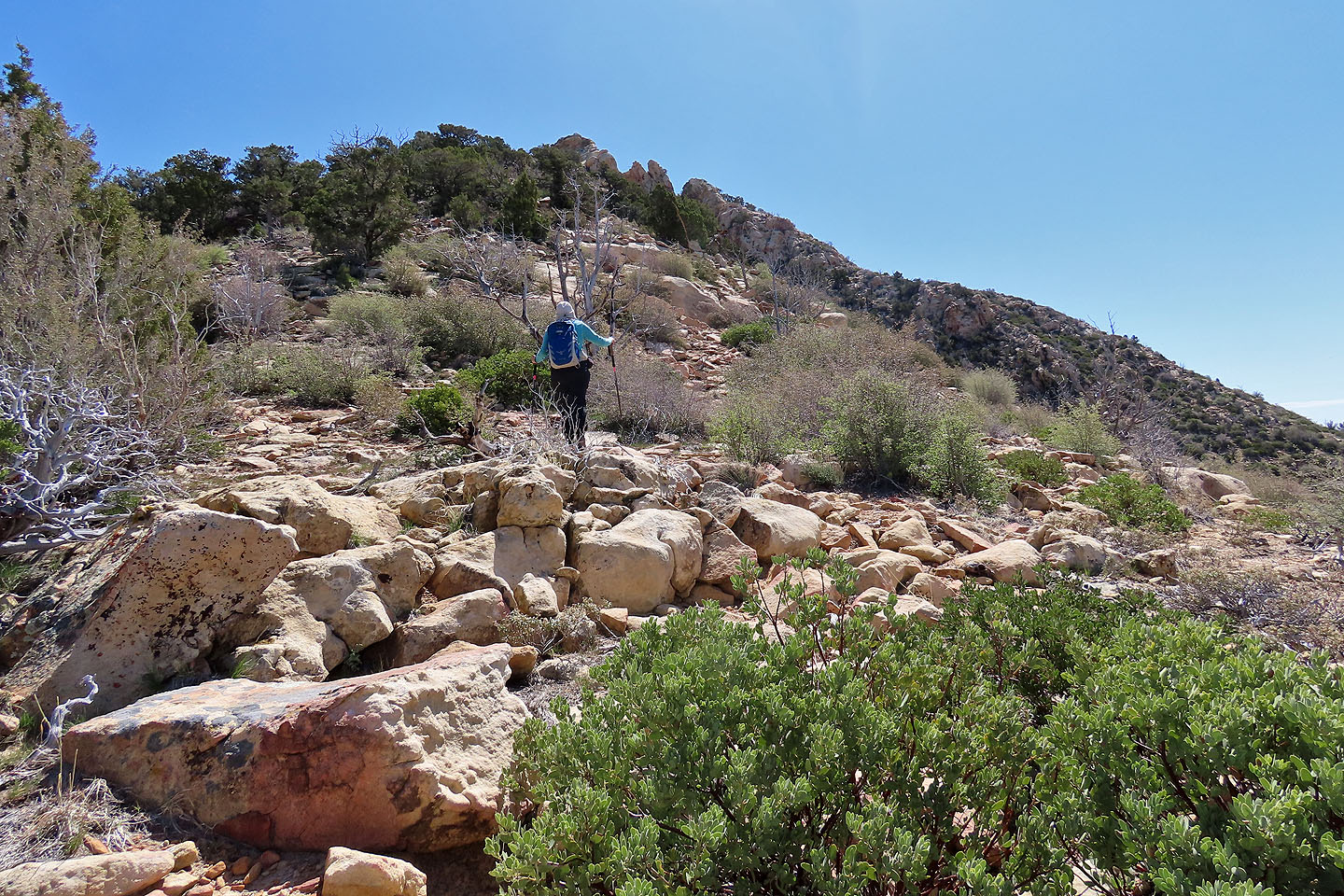 The higher we climbed, the rockier it became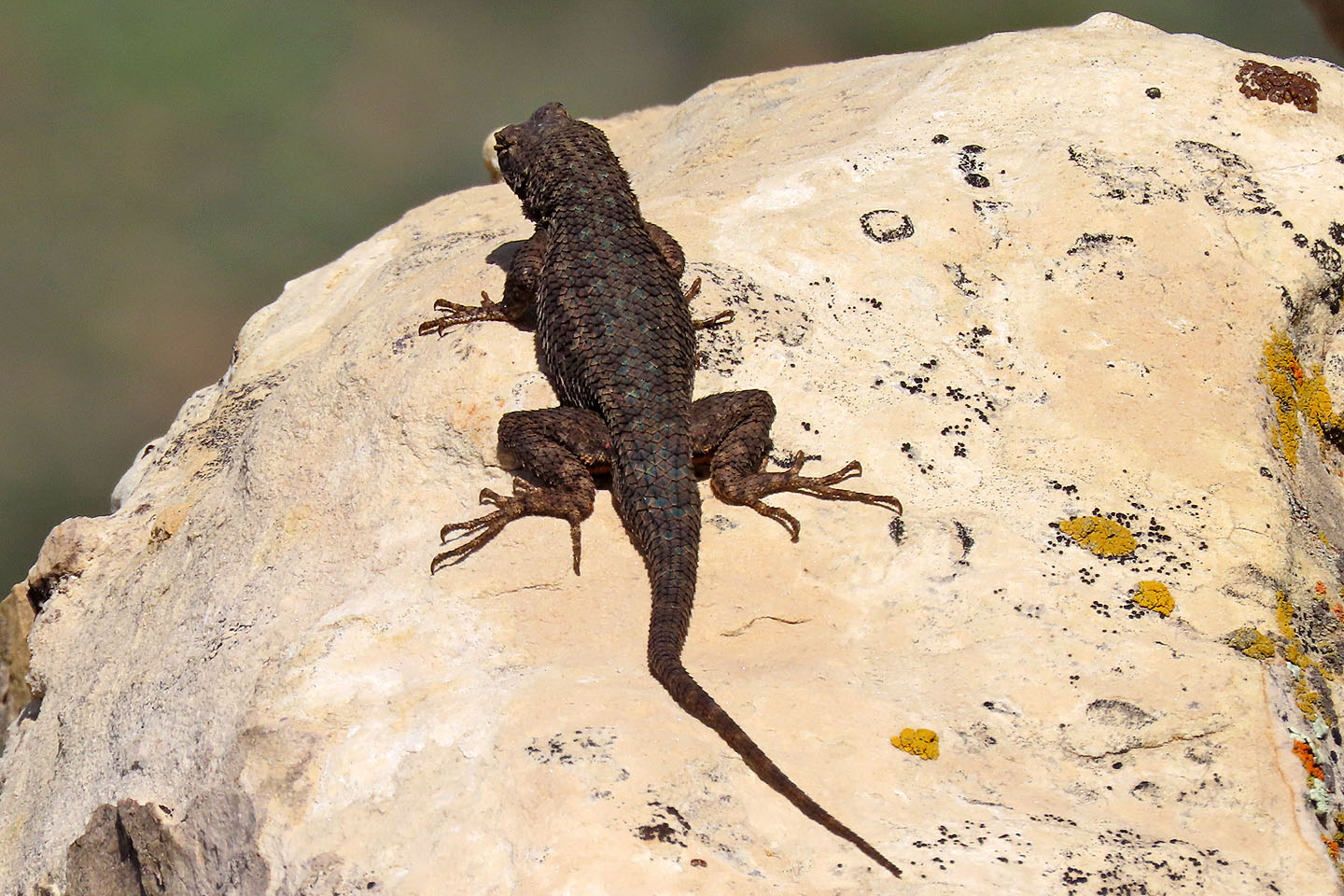 A lizard basks in the sun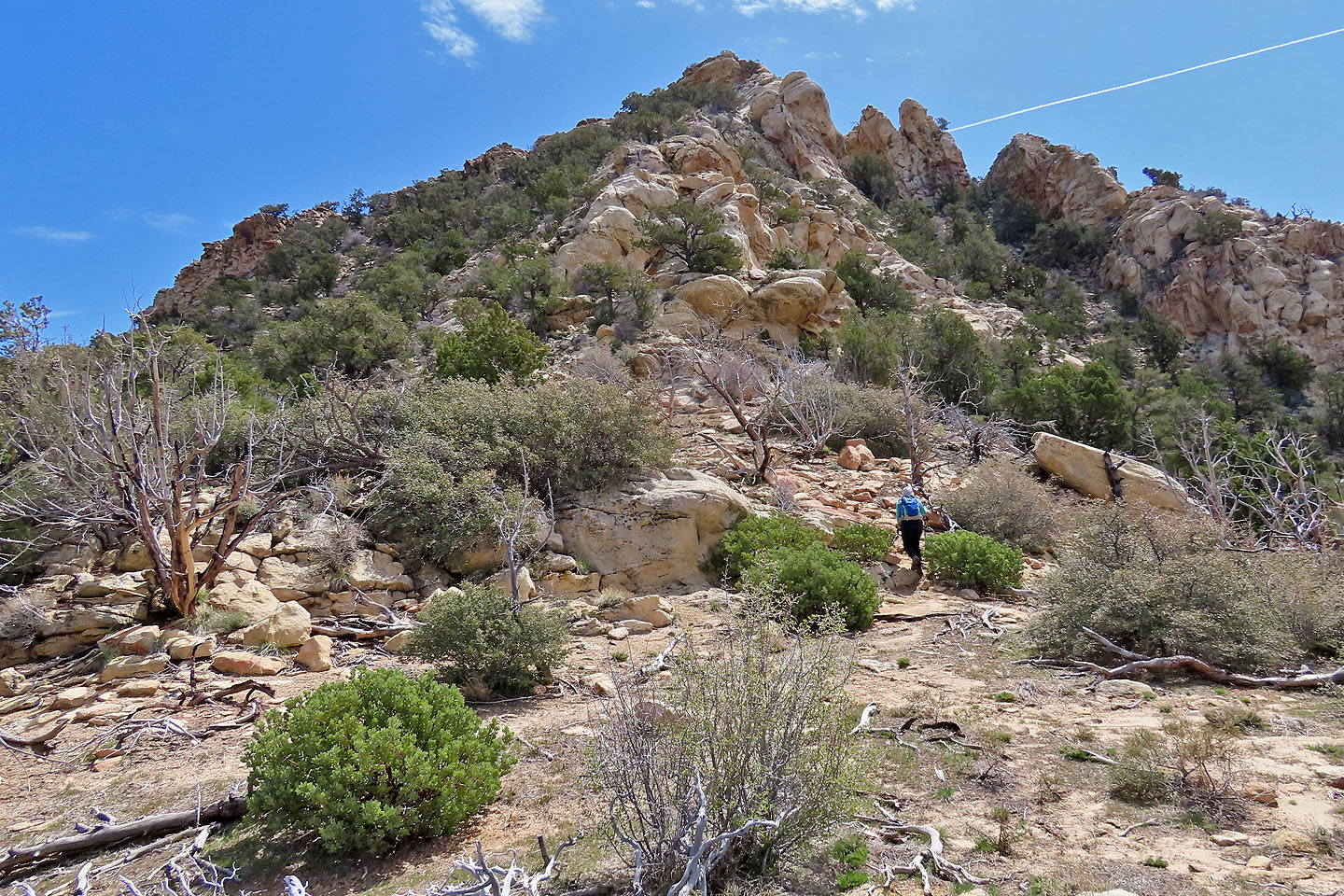 We kept left of the rocks on the ridge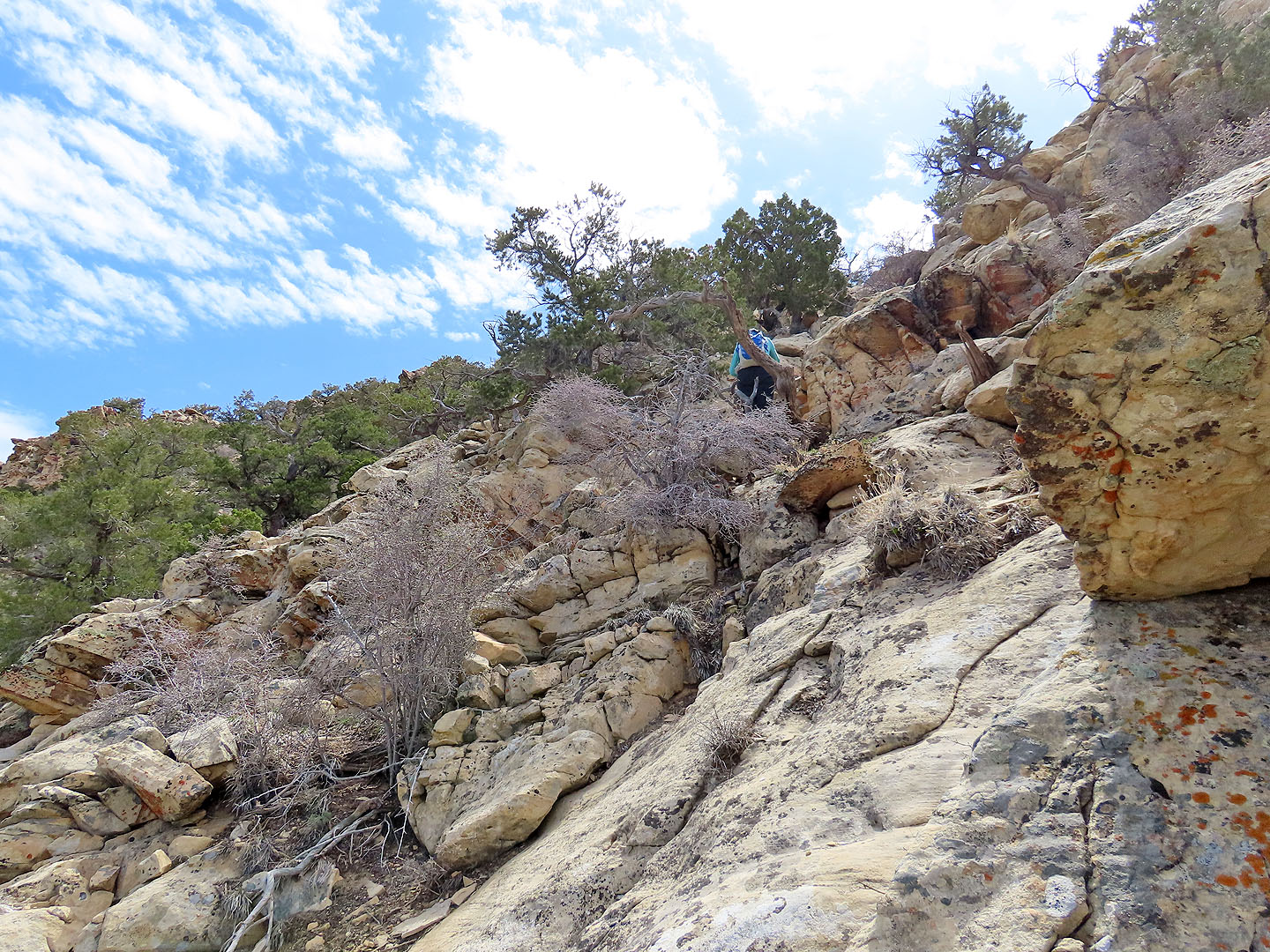 We encountered steep rock below the top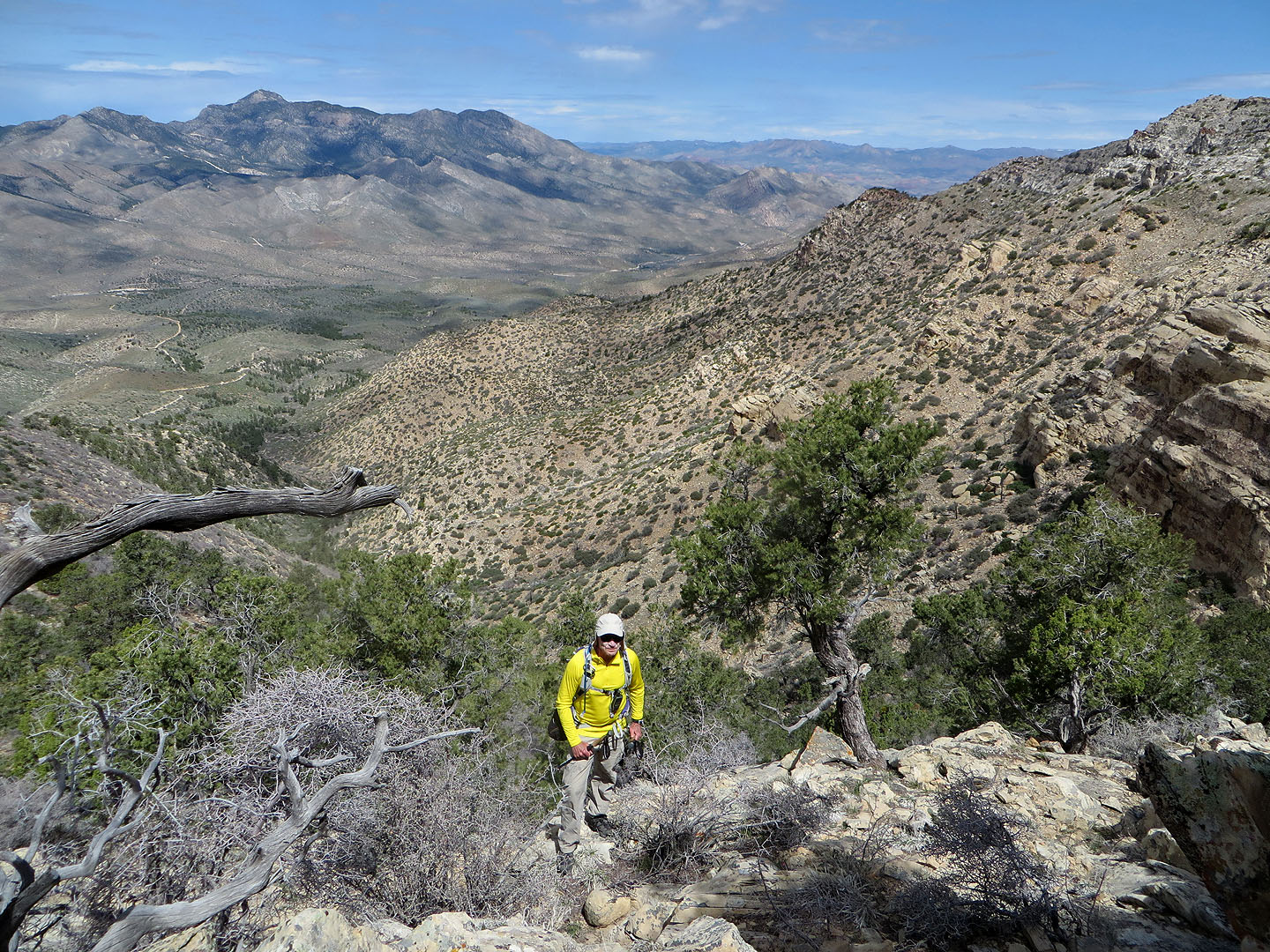 Looking back, the road is visible on the left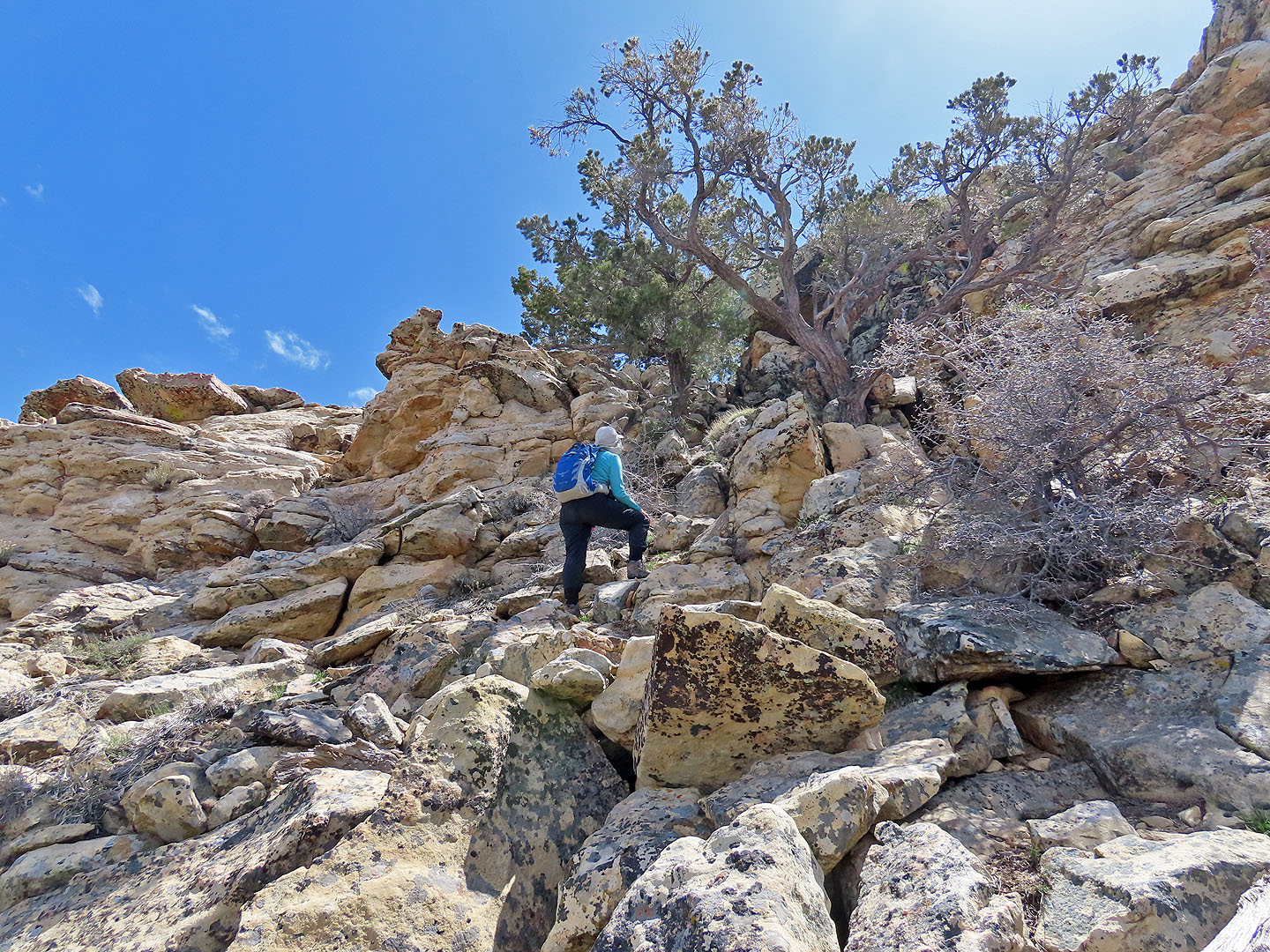 Just below the summit, Dinah headed up through the trees while I climbed the notch on the left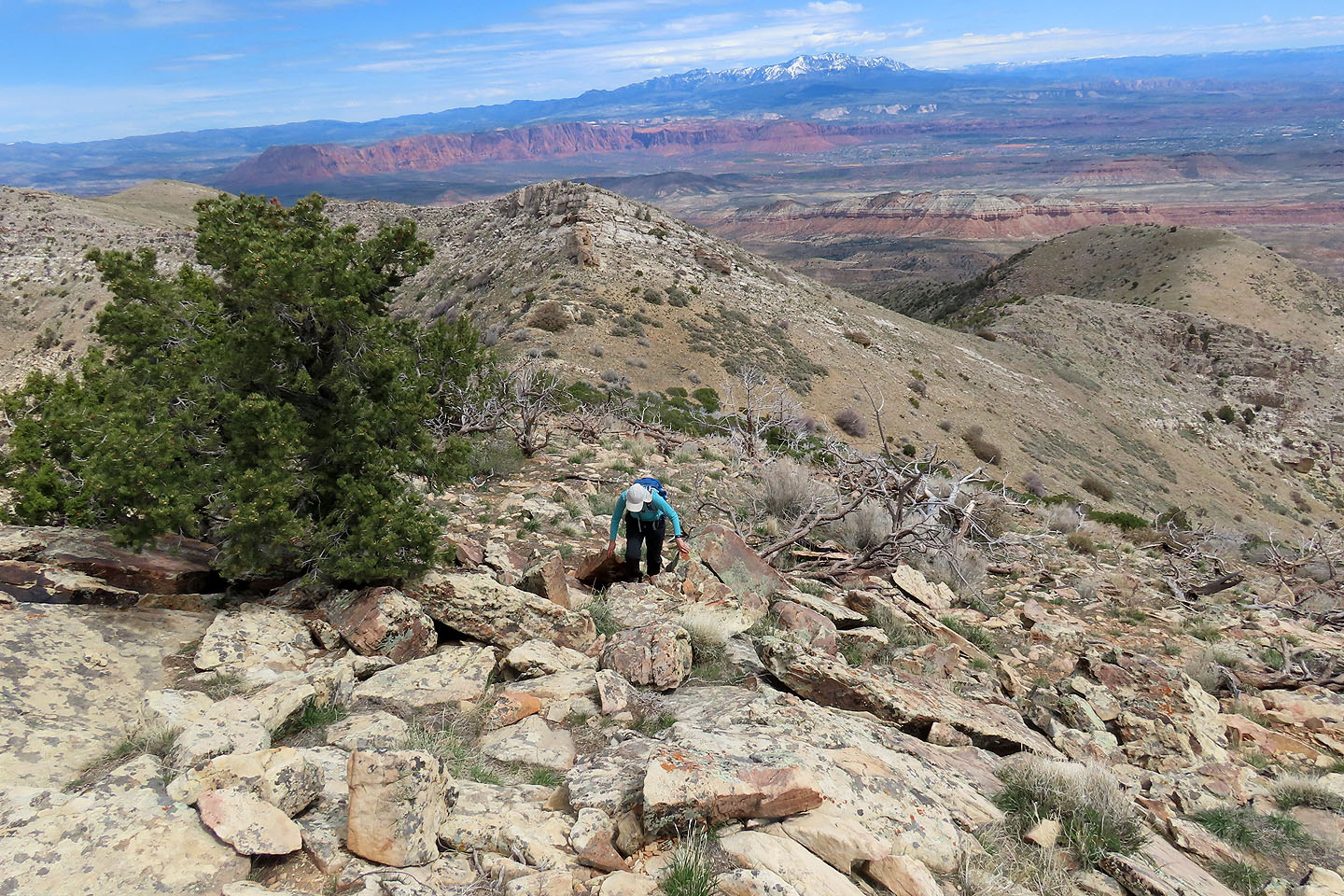 After regaining the ridge, the summit was just metres away

Dinah signs the summit register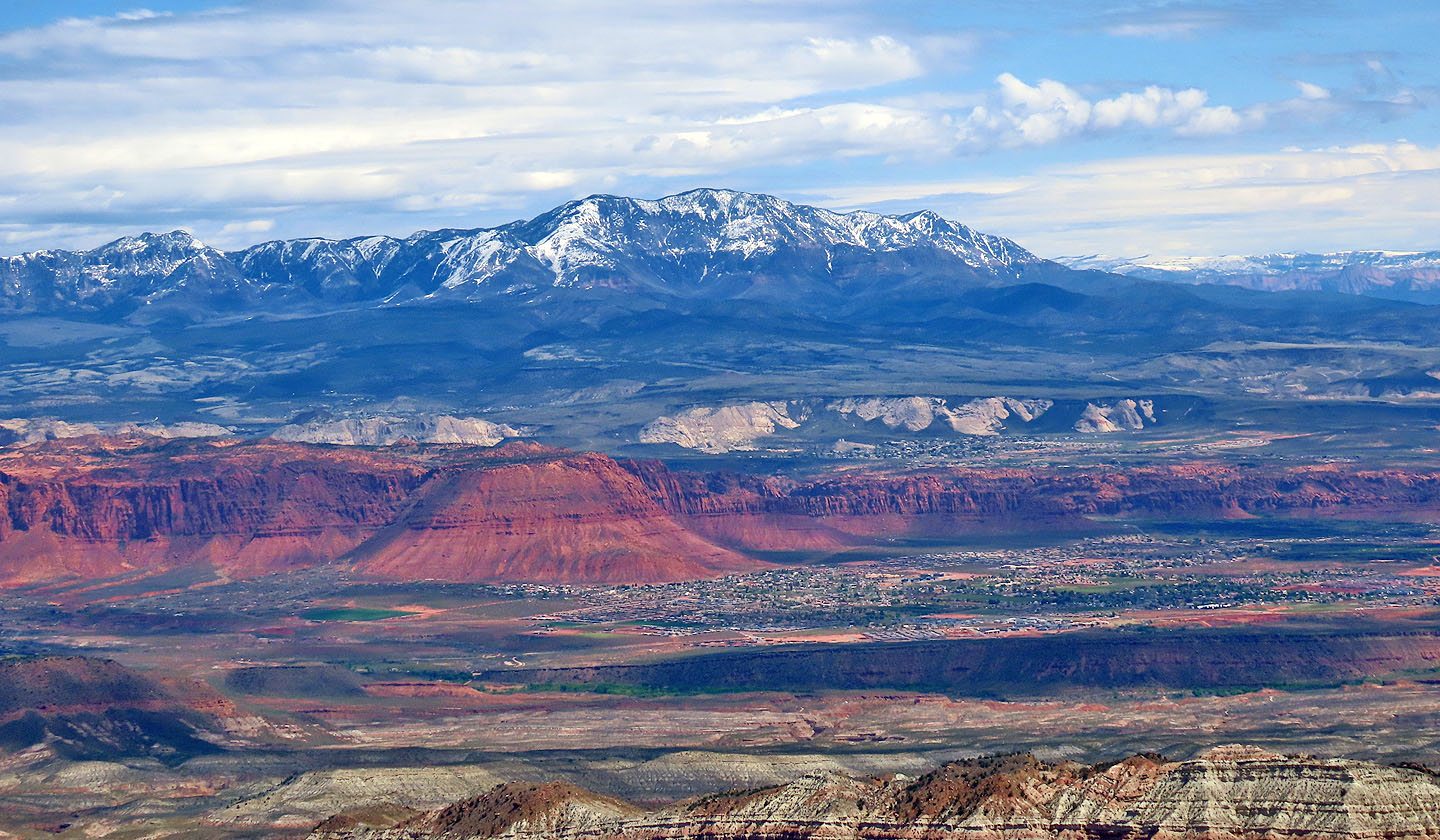 The cliffs of Red Mountain stand out below the peaks of the Pine Valley Mountain Wilderness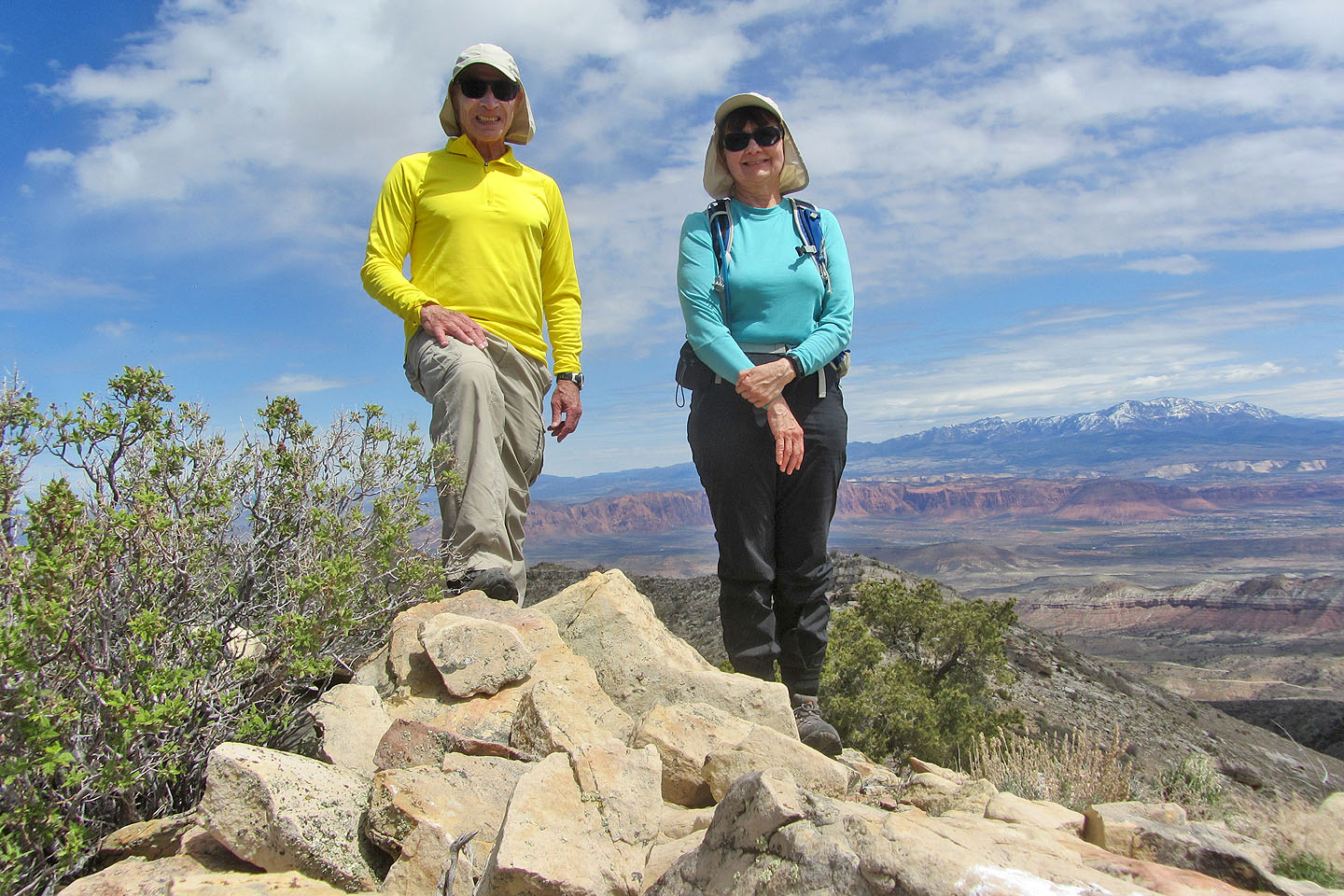 Standing on the summit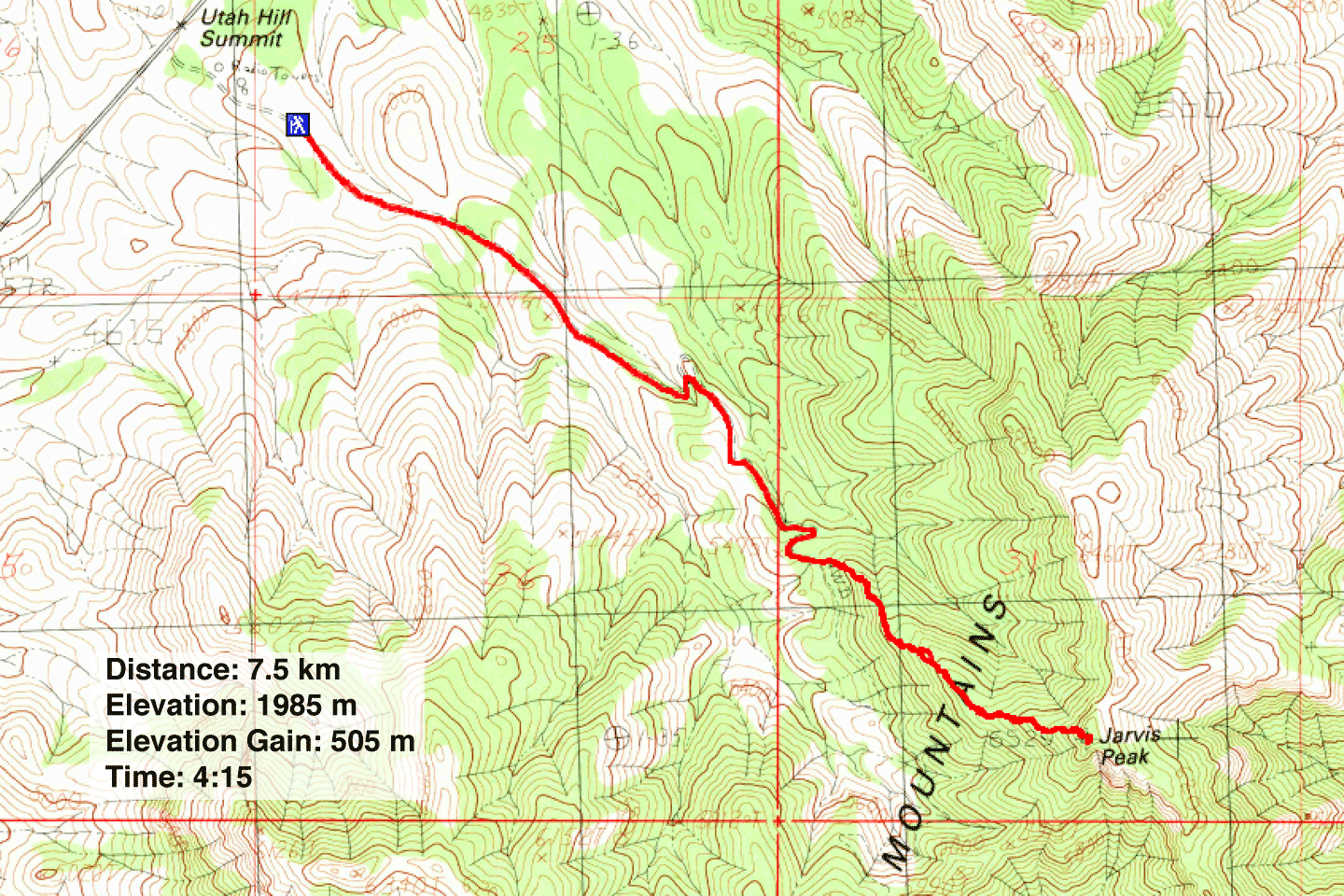 Jarvis Peak Topo (4.7 mi, 6512 ft, 1650 ft)