bobspirko.ca | Home | Canada Trips | US Trips | Hiking | Snowshoeing | MAP | About

Tecopa Peak
Mojave National Preserve, California
April 23, 2014
According to Desert Summits, Tecopa Peak can be reached from the east across the desert flats. That may be so, but Shin, Dinah and I opted for a north approach, through intriguing badlands.
After parking on the roadside on the Old Spanish Trail Highway, we started down a dirt road. On our left, badlands extended all the way to Tecopa Peak, while on our right, stretched a flat expanse. We skirted the badlands until we could enter a canyon that headed towards Tecopa Peak. When the canyon narrowed, we climbed out on the left side. But we were soon forced to drop into the wash that cuts into the south flanks of Tecopa Peak.
After reaching the wash, we split up. Shin and Dinah kept left to gain the south ridge close to the summit, while I went right to reach the ridge more directly. I followed the crest until our paths converged just below the summit. Then together we scrambled up the last several metres to the top.
Tecopa Peak is an isolated mountain. Other than desert flats that extend in all directions, there wasn't much to see. So we sat down and had lunch. Afterwards, we started descending, this time following the southeast ridge. At the base of the ridge, we swung left and dropped into a canyon carved in the badlands. The canyon, which held some fascinating features, curled back to our approach. As we hiked alongside the badlands a second time, we couldn't help but be drawn into them. When we spied a large cave we gravitated to it. On closer inspection, it turned out to be a tunnel and Shin crawled through it.
After returning to our car, Shin suggested we visit China Ranch Date Farm just a few minutes away, east of the town of Tecopa. China Ranch is both strange and wonderful. It's set in an incredibly lush valley incongruous to the surrounding barren Mojave Desert. The ranch welcomes visitors with its gift shop, beautiful desert gardens and several short hiking trails. Shin and I hiked up the Mesa Trail and were rewarded with expansive views of the verdant valley. China Ranch is oddly exotic and provided a fine finish to our adventure.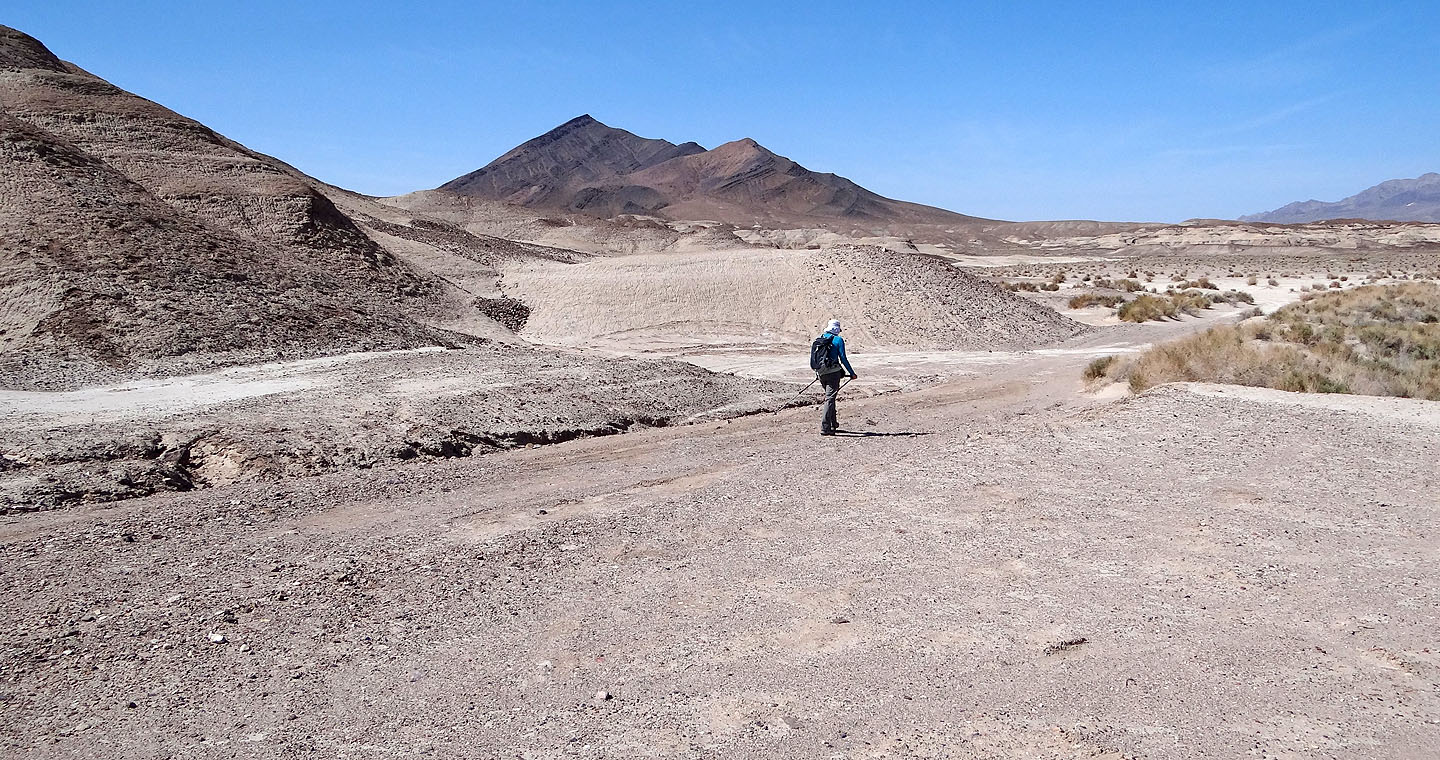 Tecopa Peak seen after we started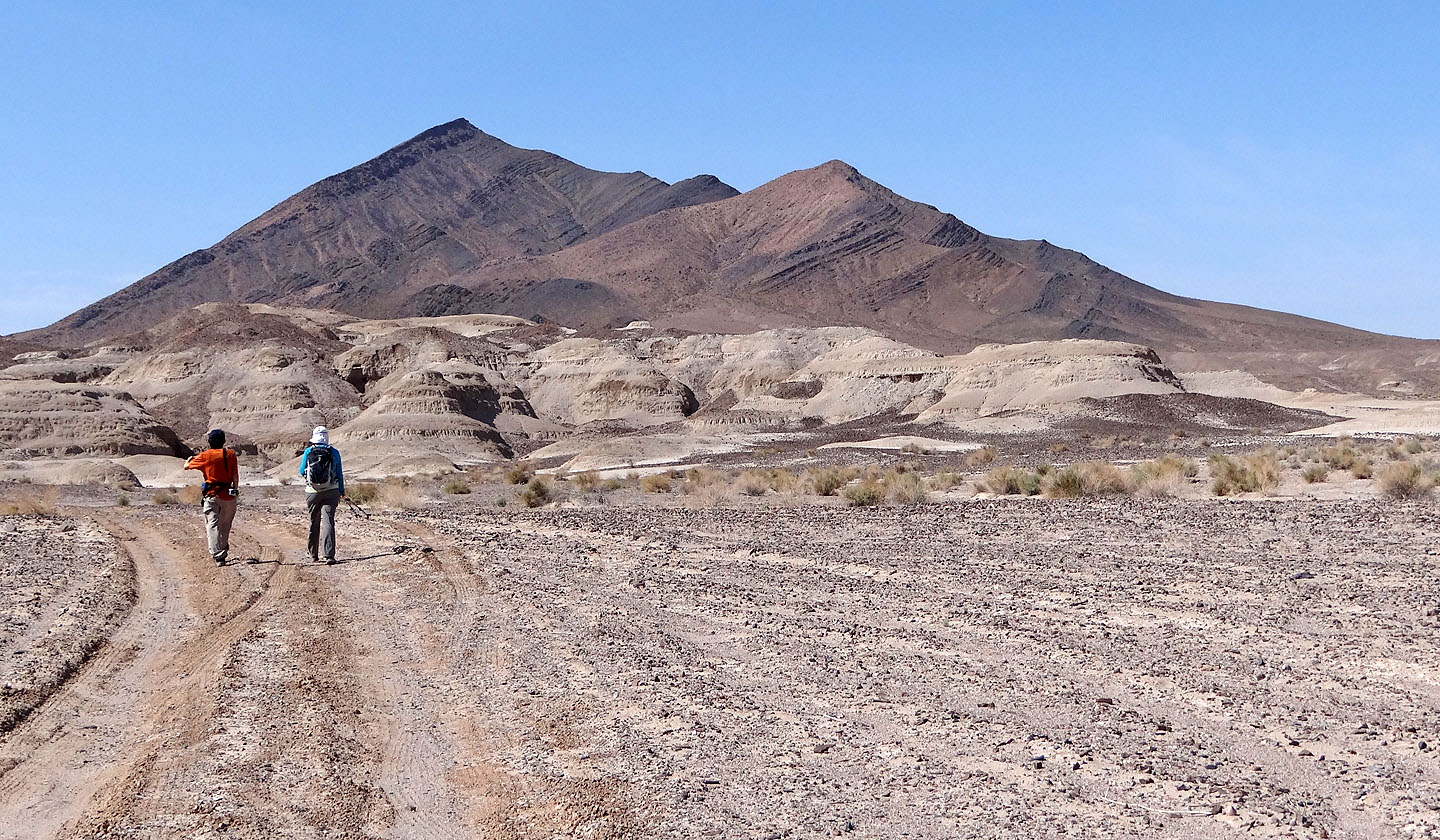 Tecopa seen a few minutes later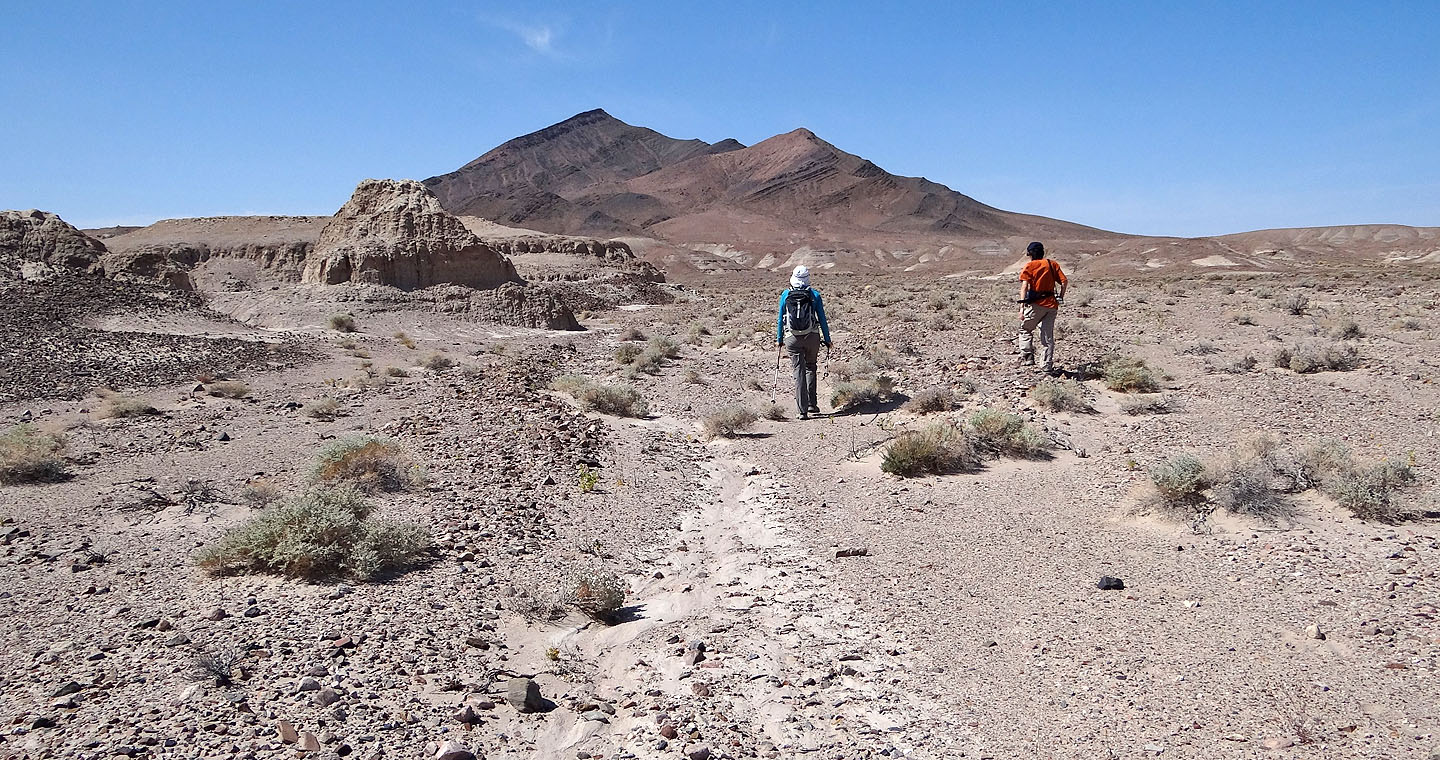 At first we kept right and skirted around the badlands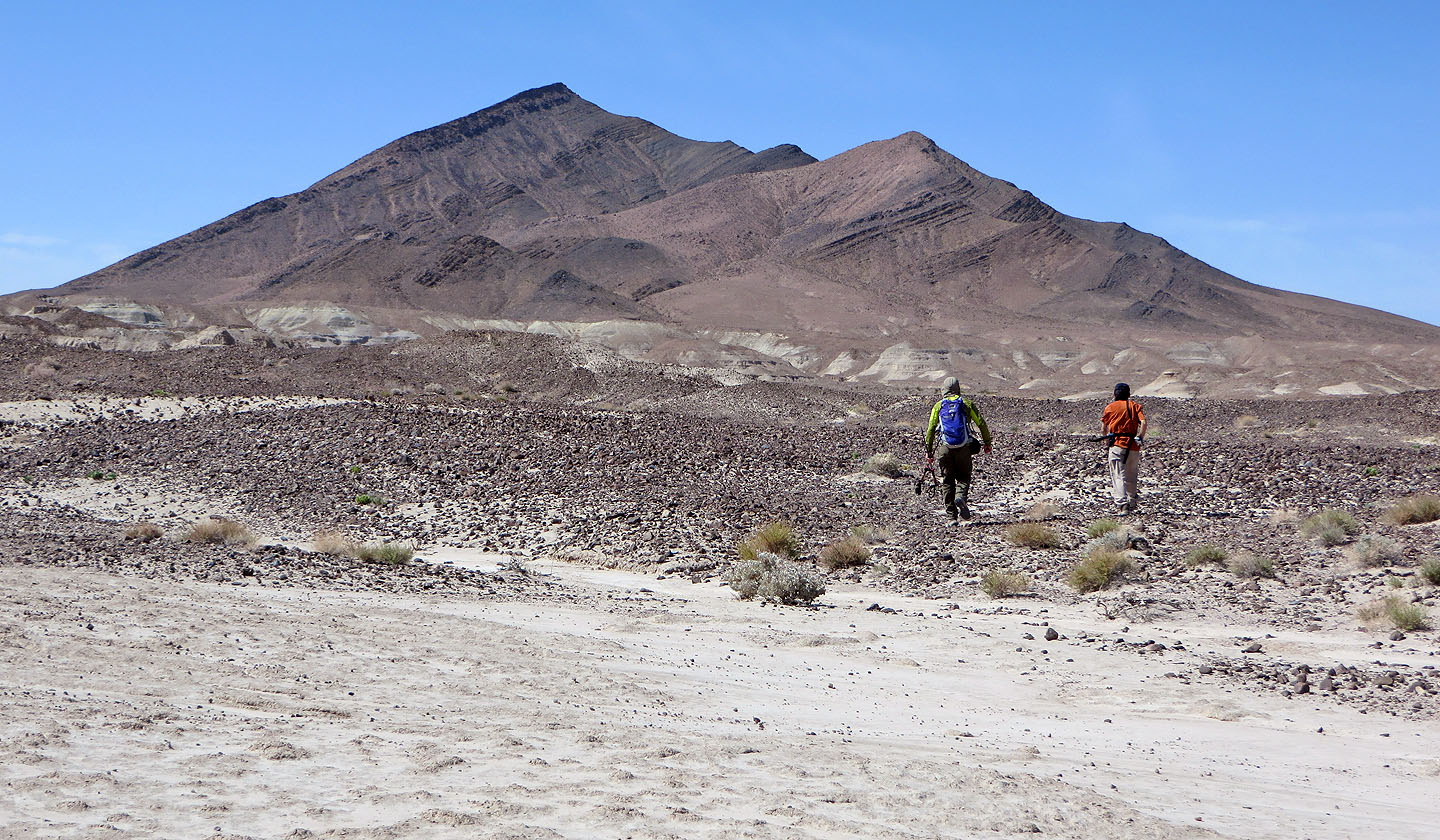 Then we headed to a canyon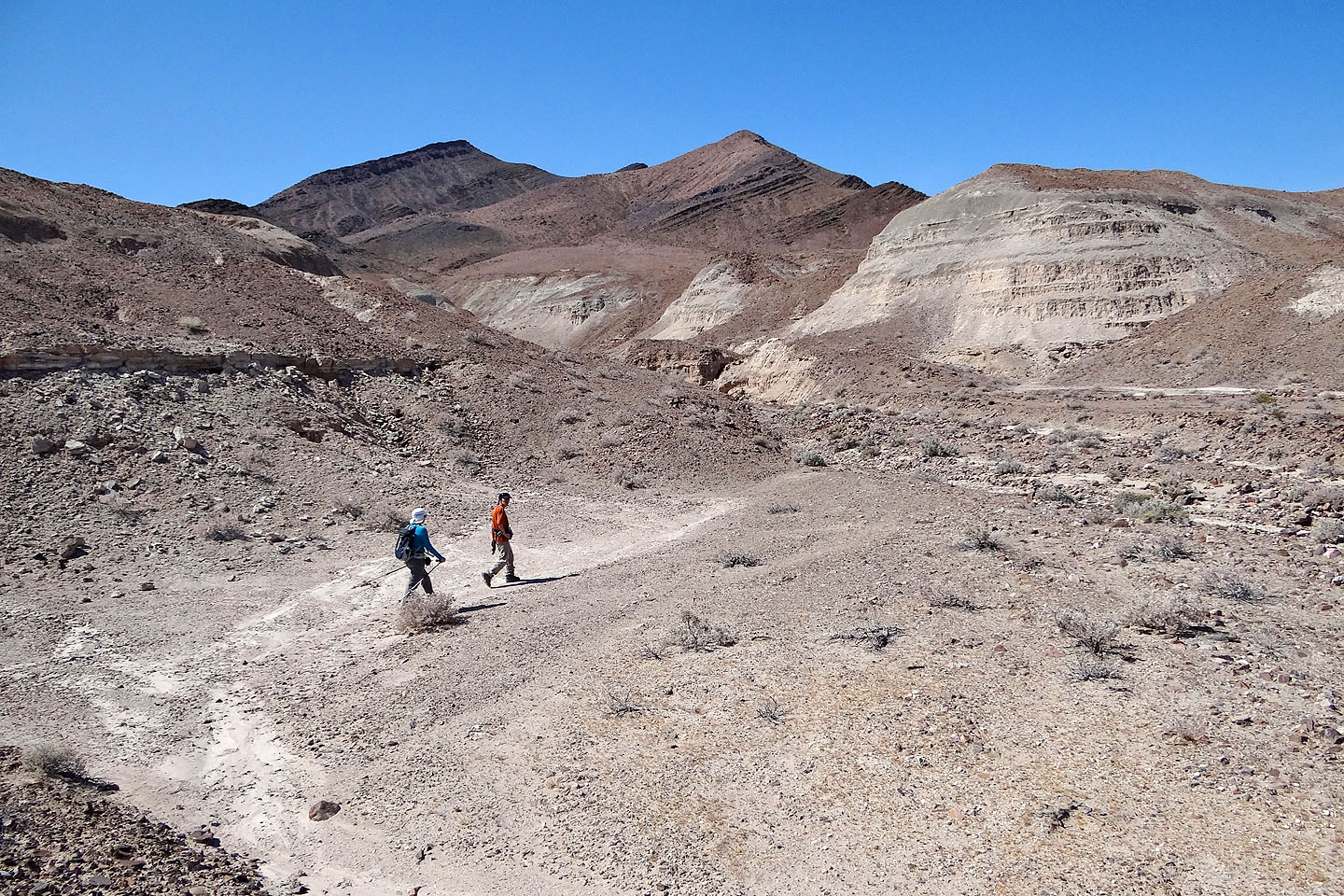 At the mouth of the canyon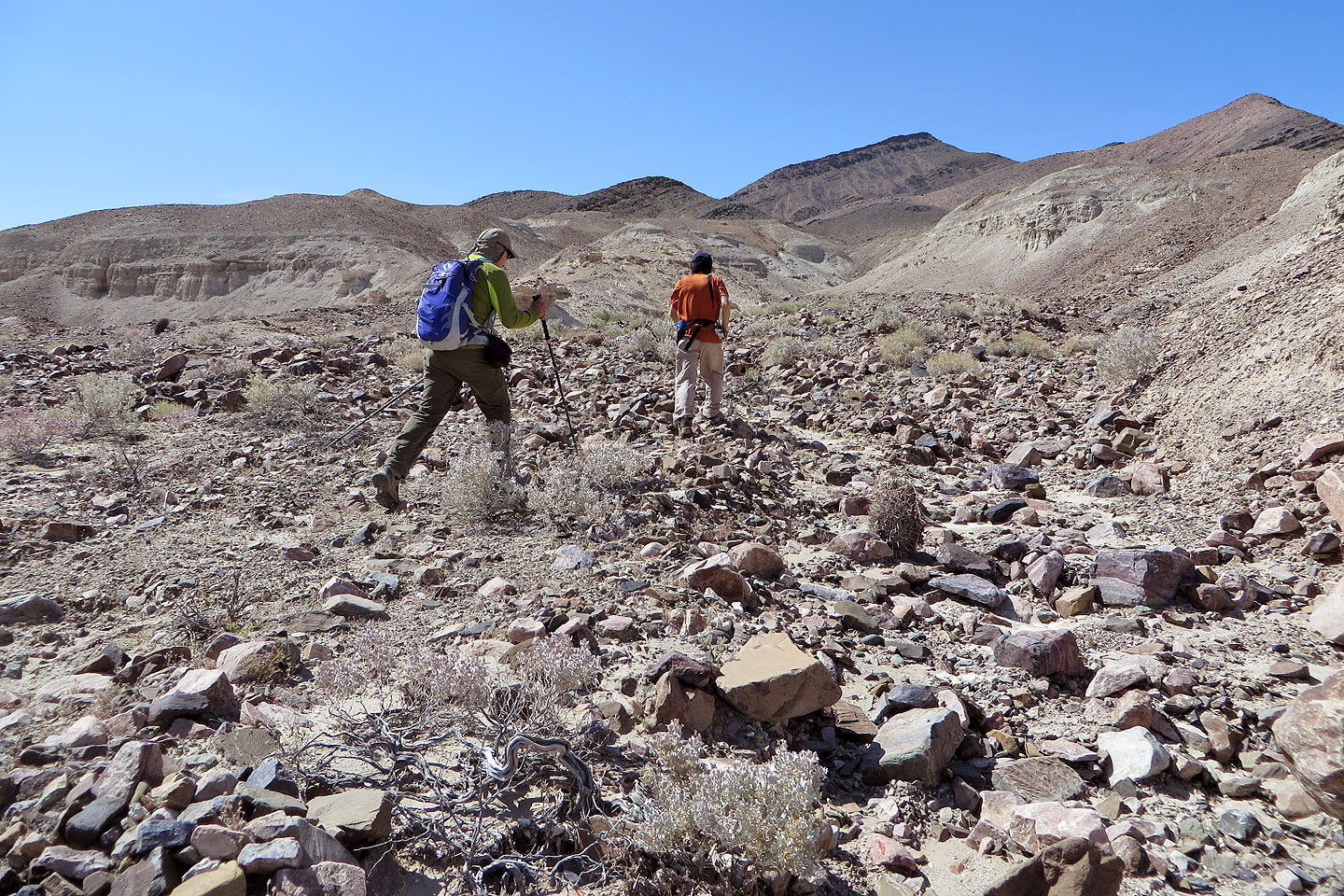 Tecopa Peak is straight ahead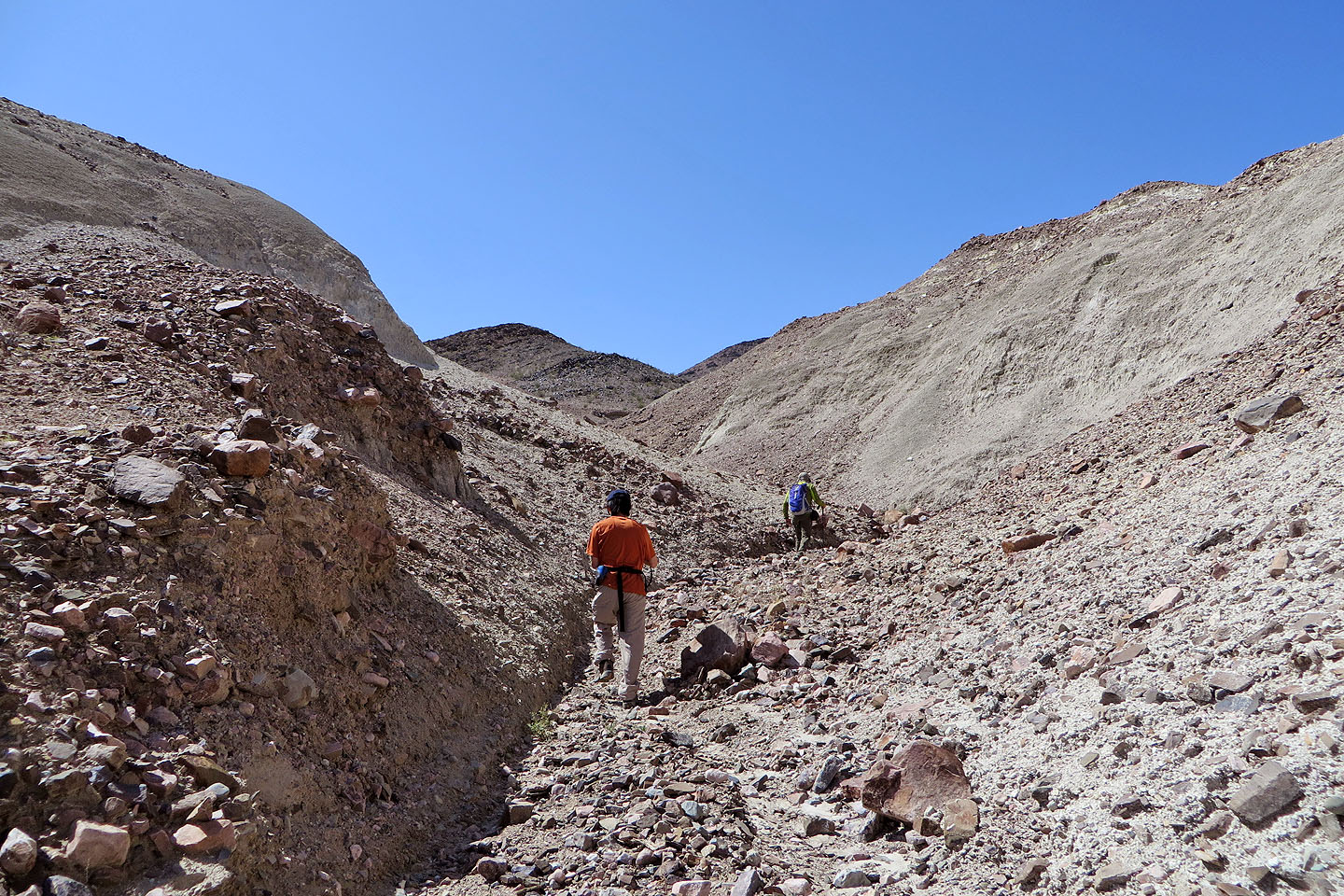 The canyon narrows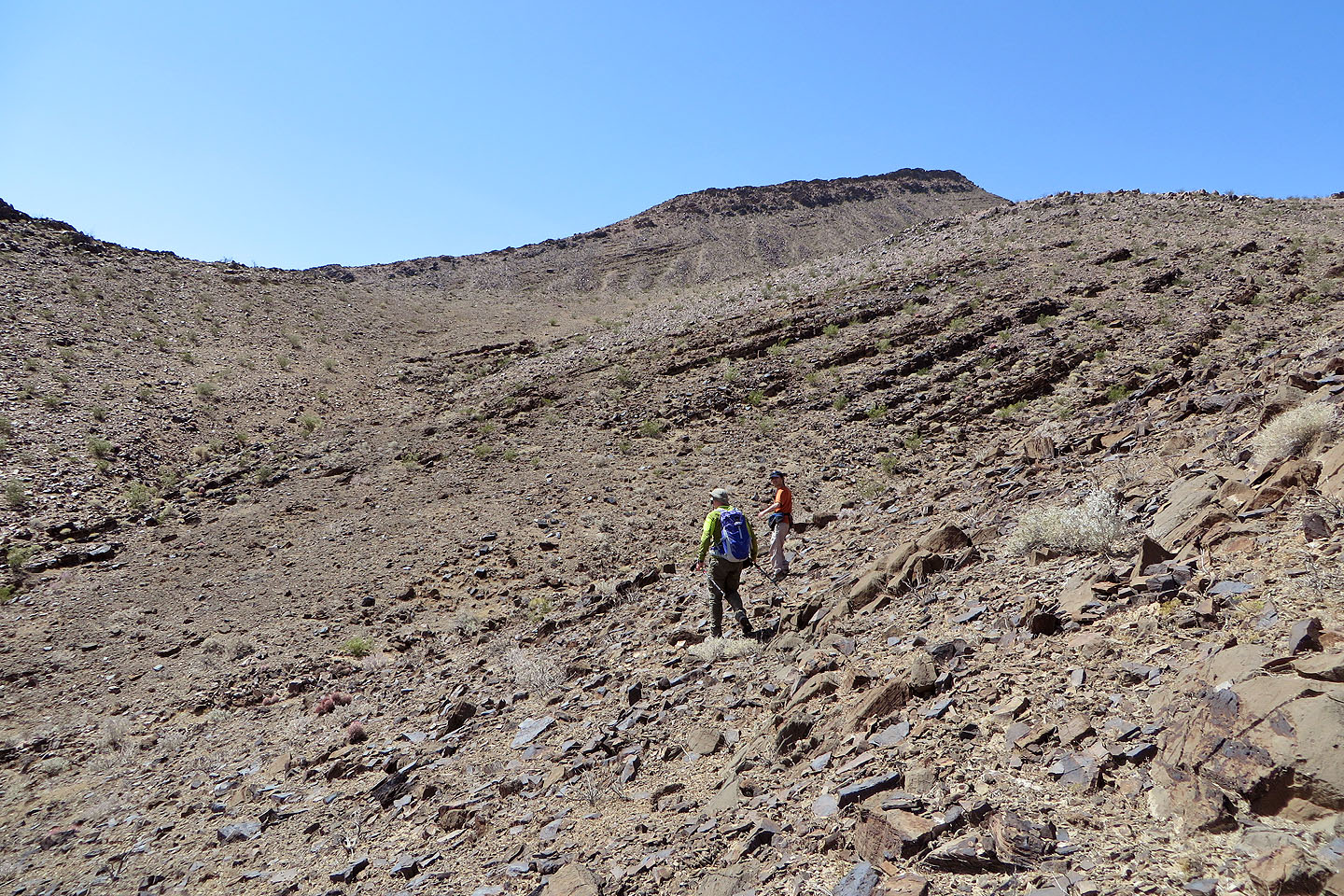 Leaving the canyon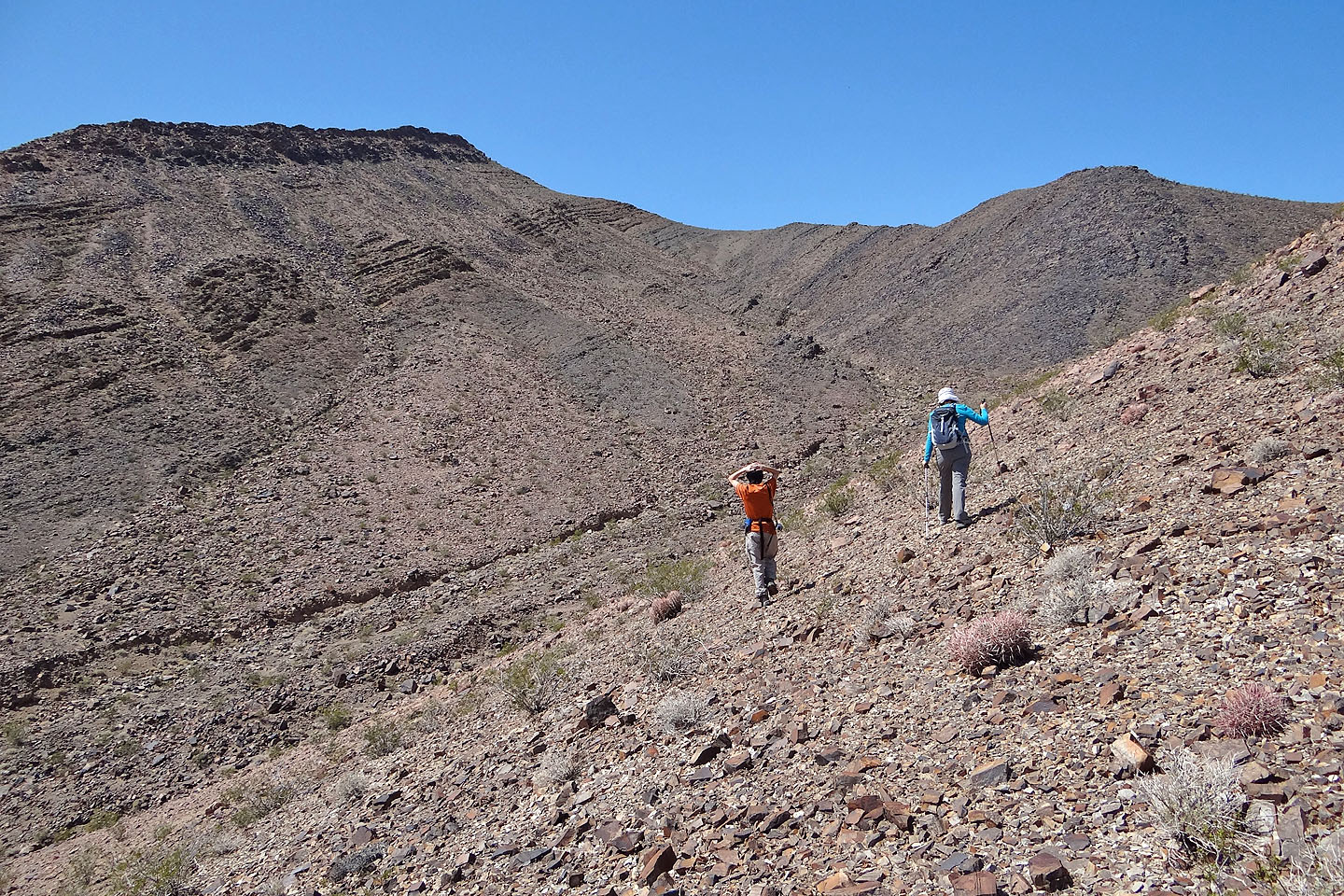 After turning a corner we realized we had to drop to the drainage below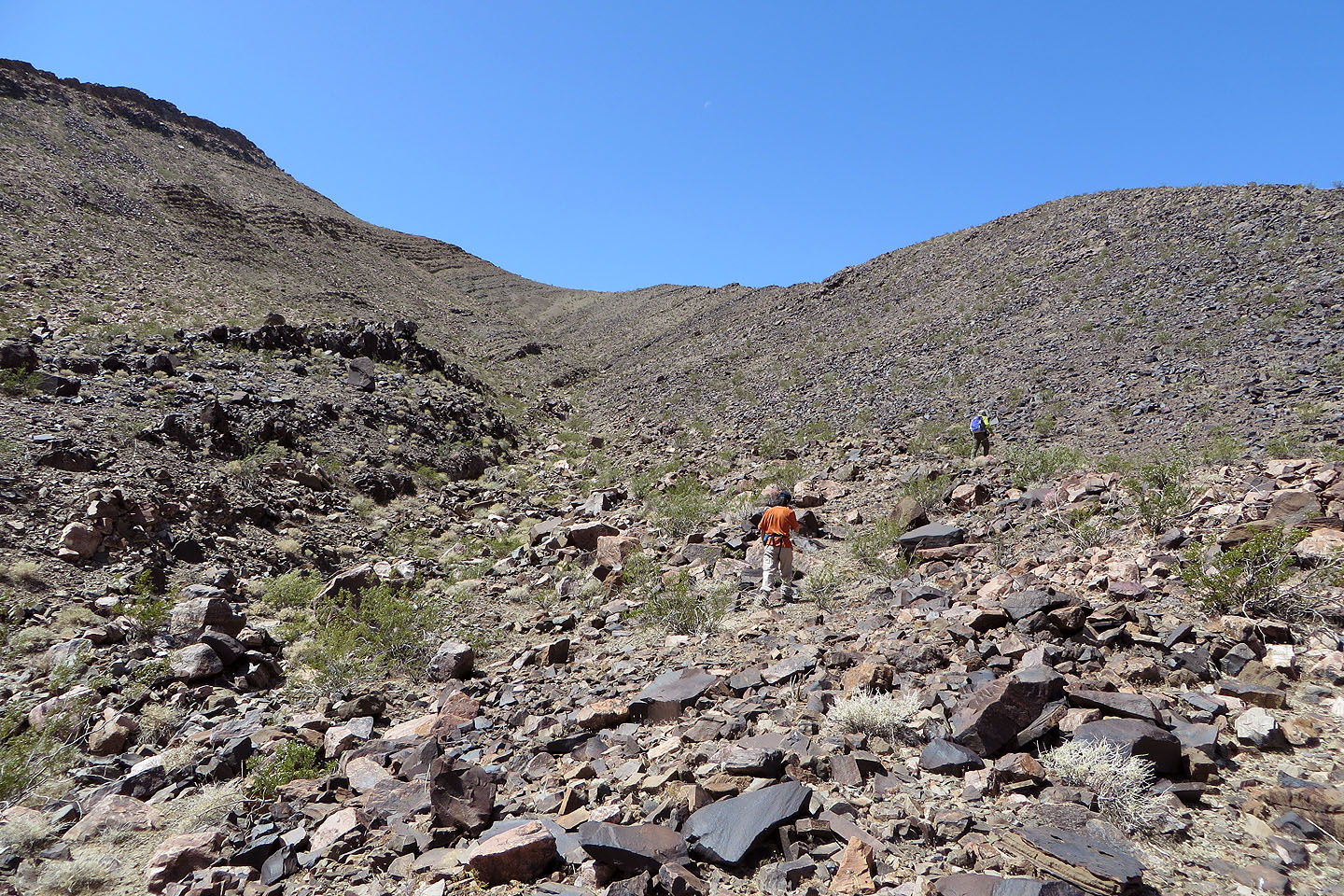 We split up here. Shin and Dinah ascended the slope left of the drainage while I kept right to gain the ridge above.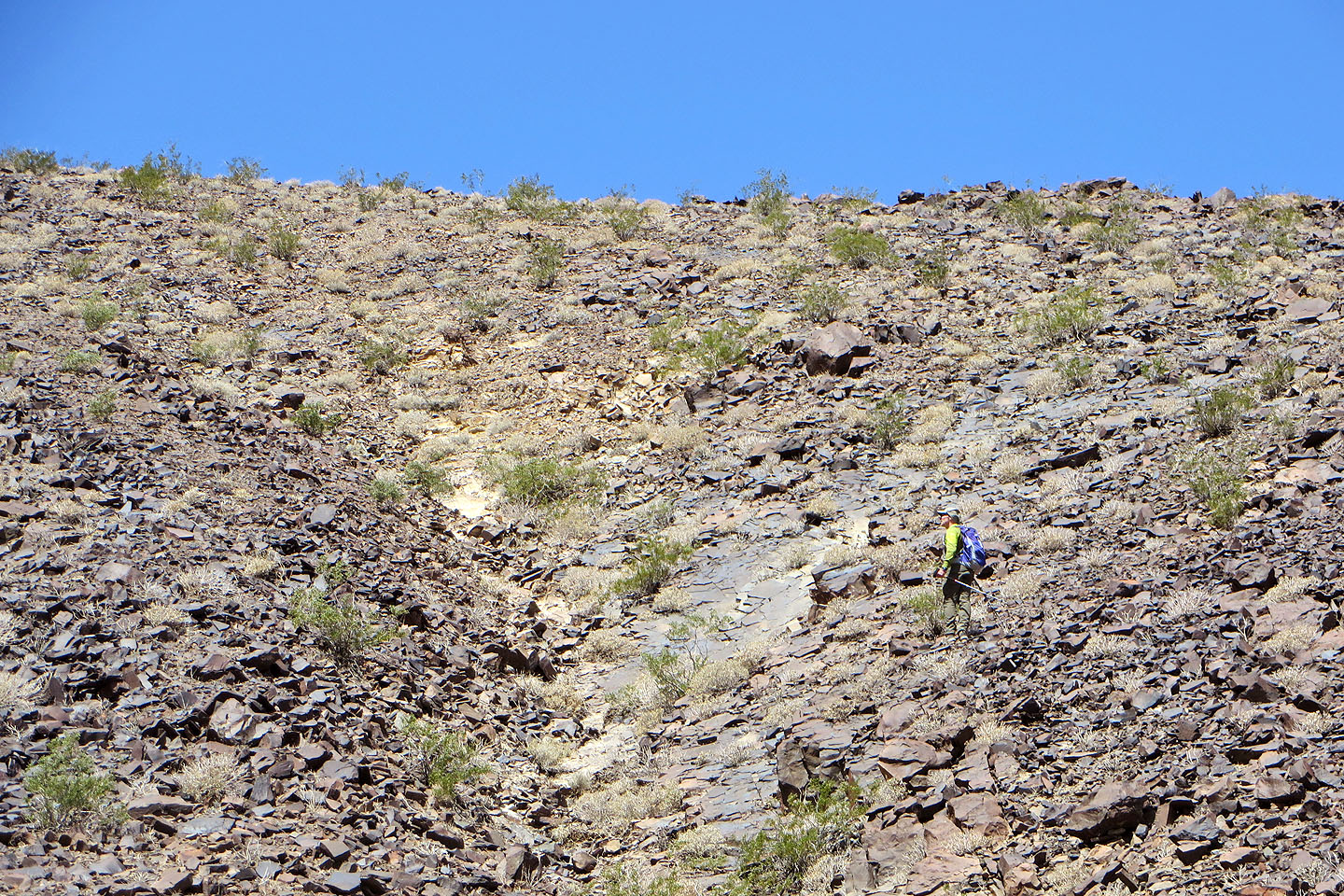 I'm almost on the ridge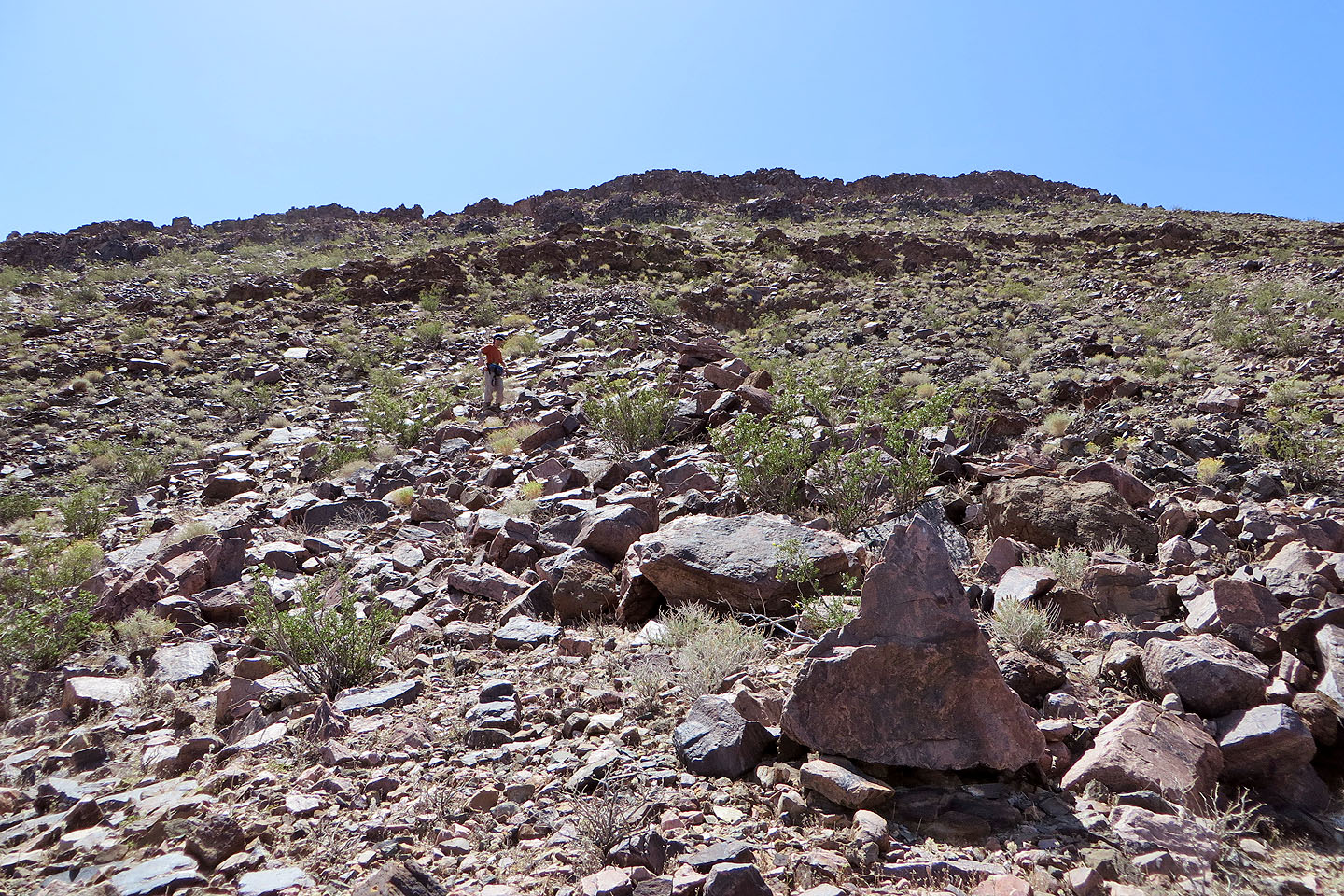 Shin and Dinah took an easier angle to gain the ridge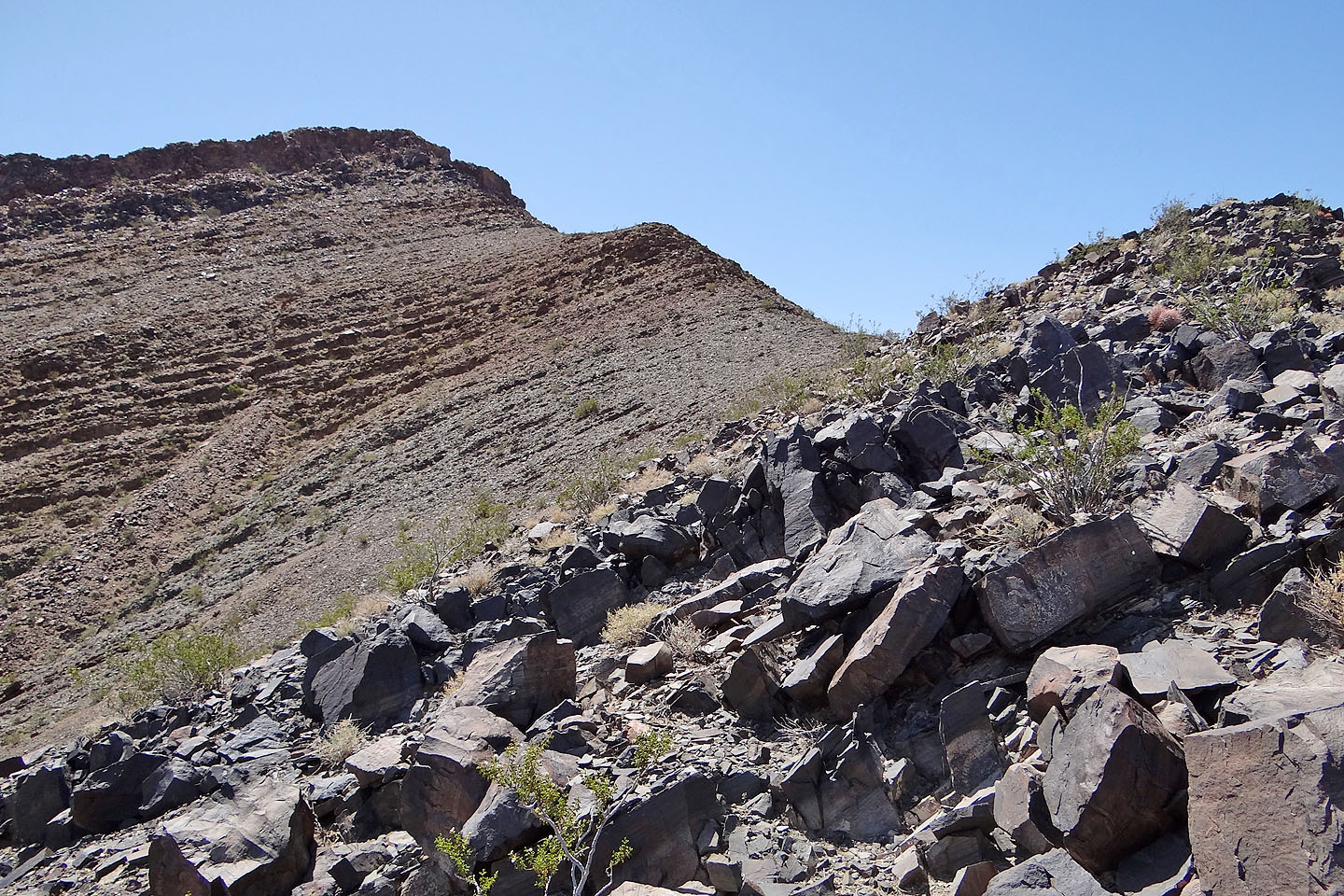 Looking at the summit from the ridge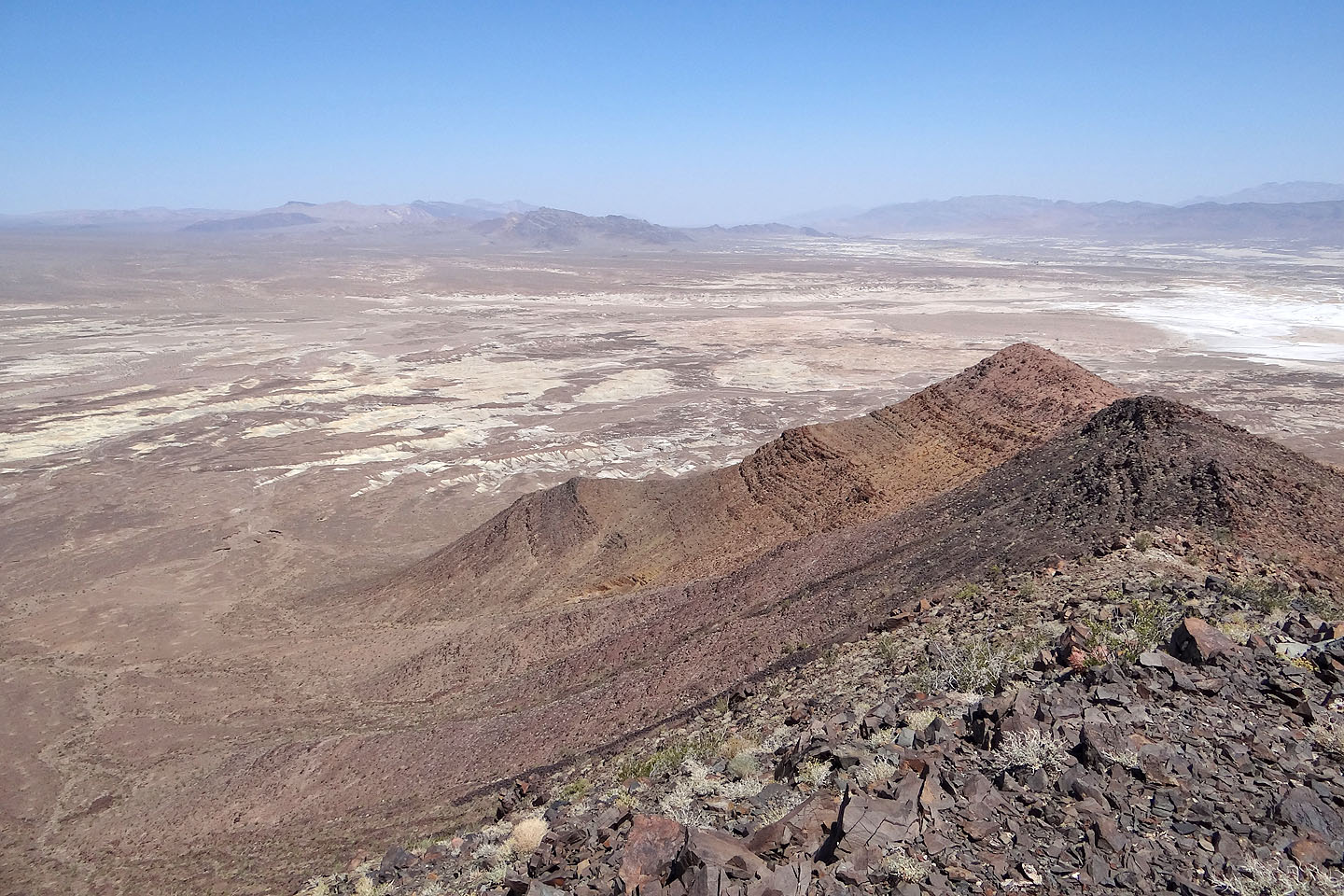 Looking east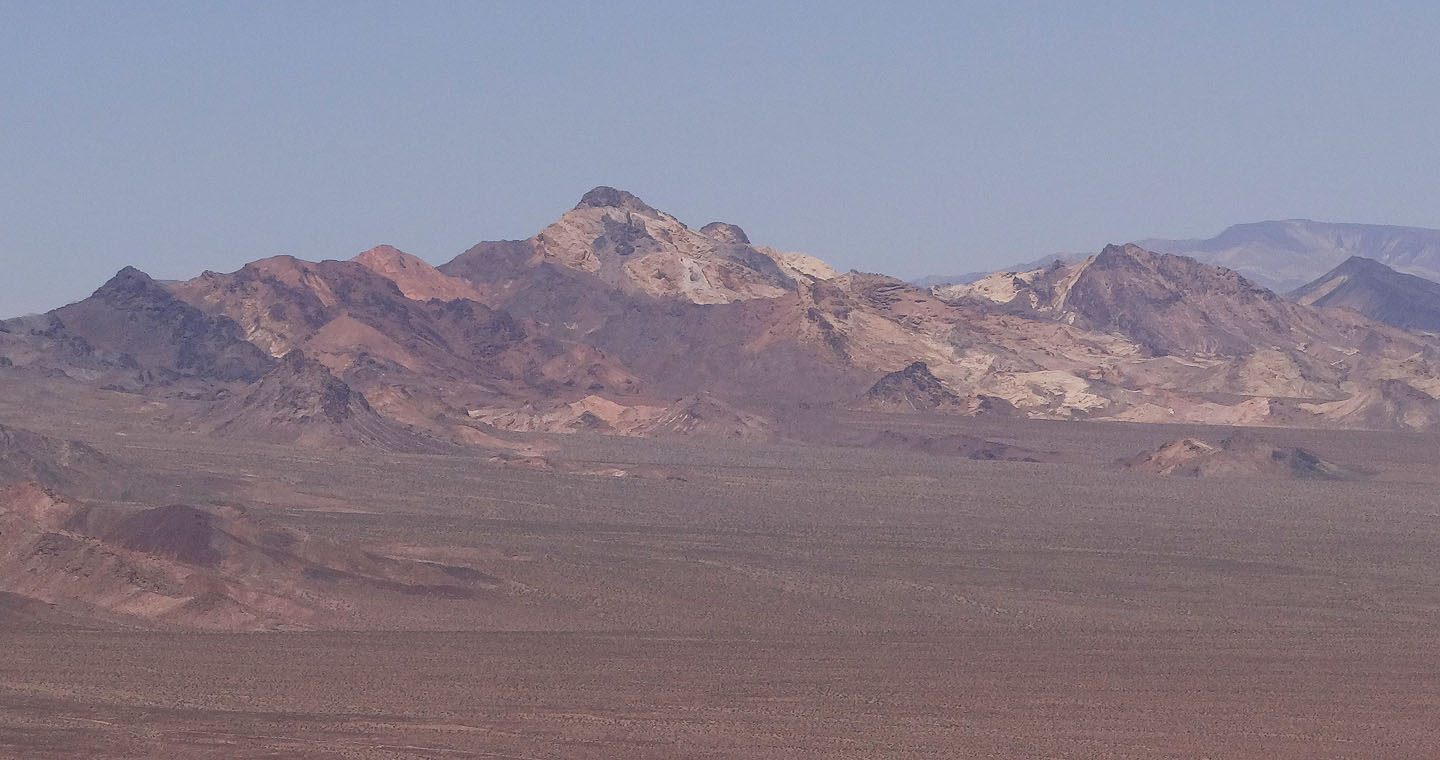 Sheephead Mountain to the northwest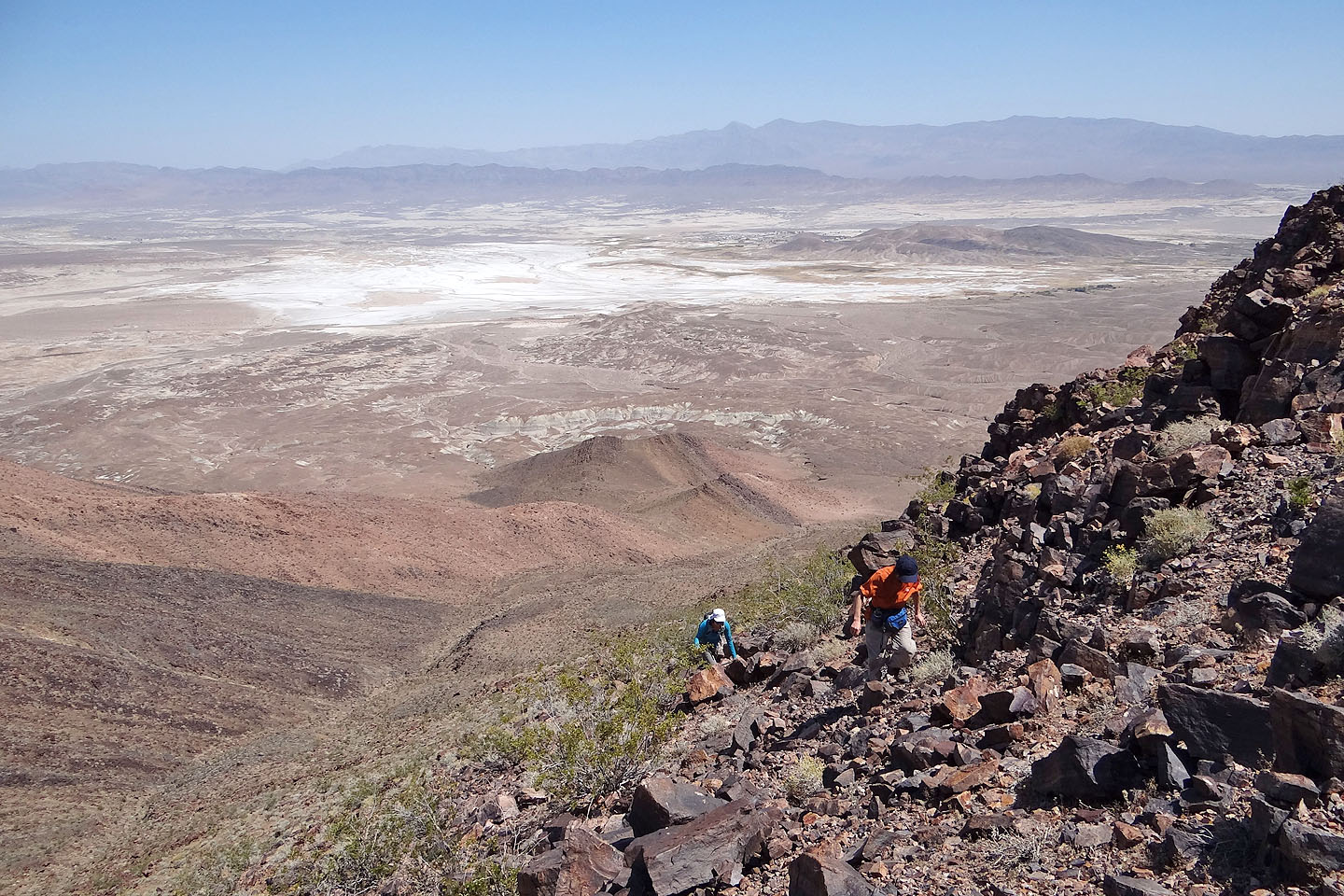 Dinah and Shin will soon meet up with me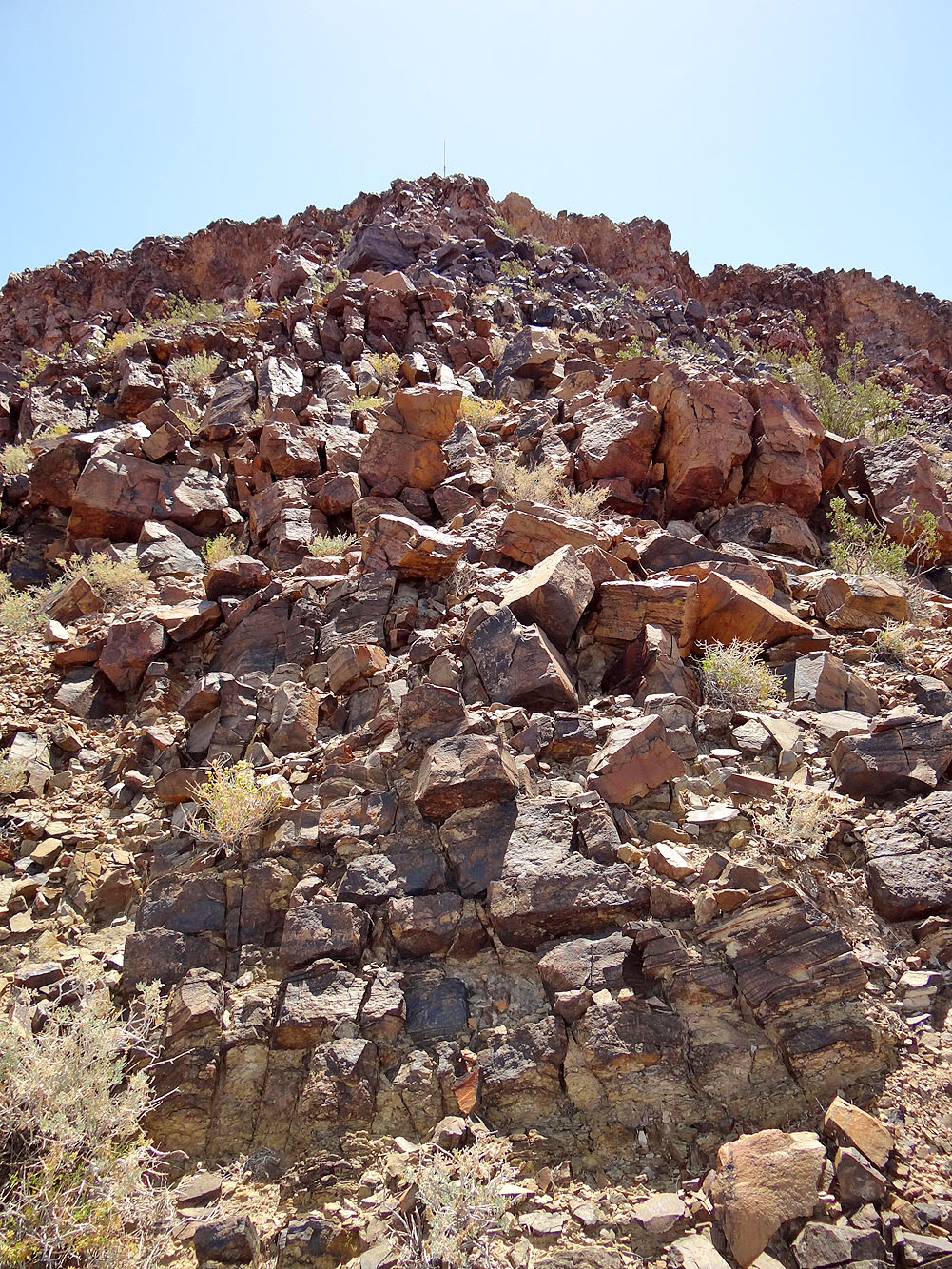 The final climb to the summit is steep and rocky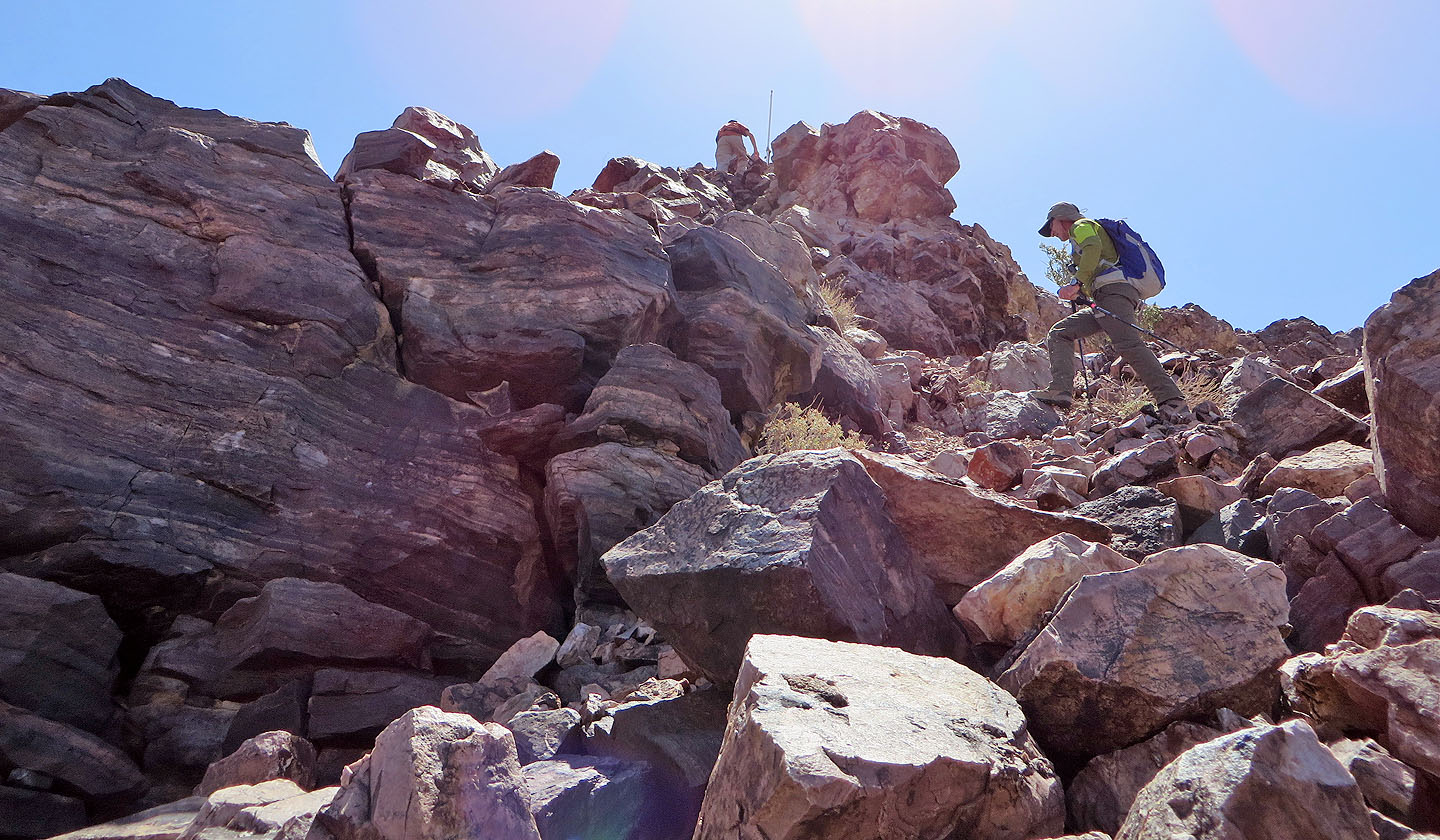 A pole marks the summit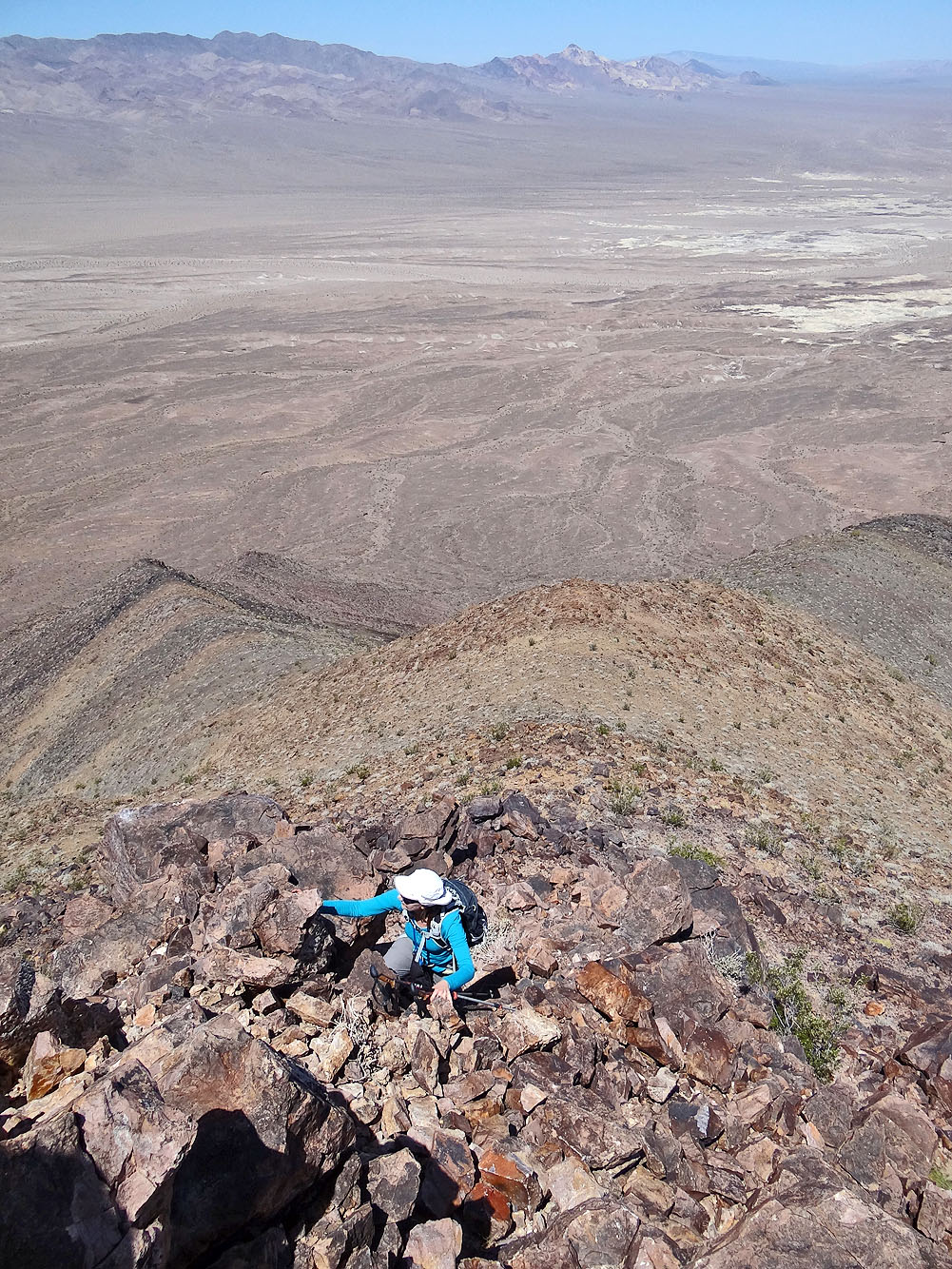 Dinah scrambles up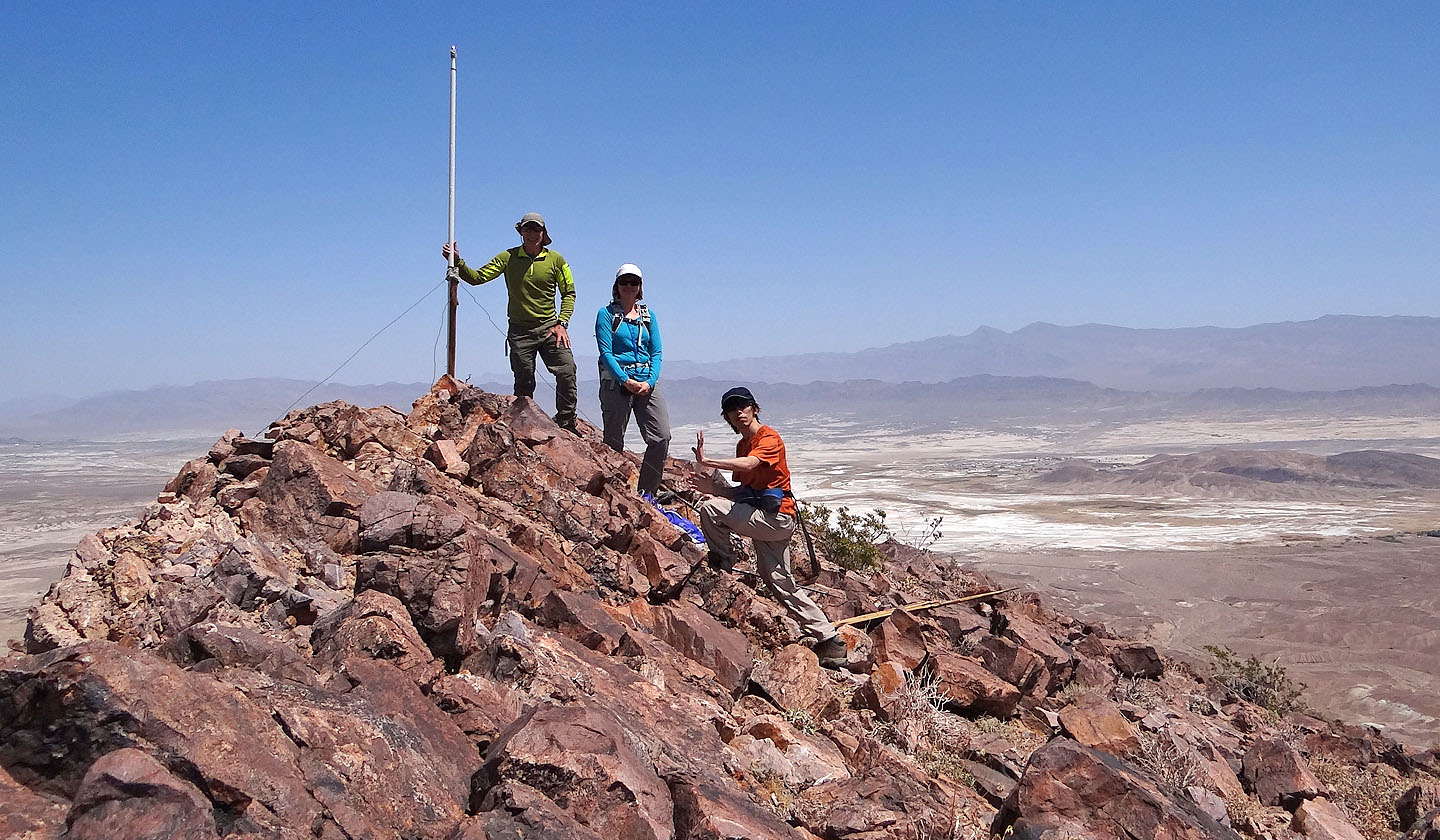 Posing on the summit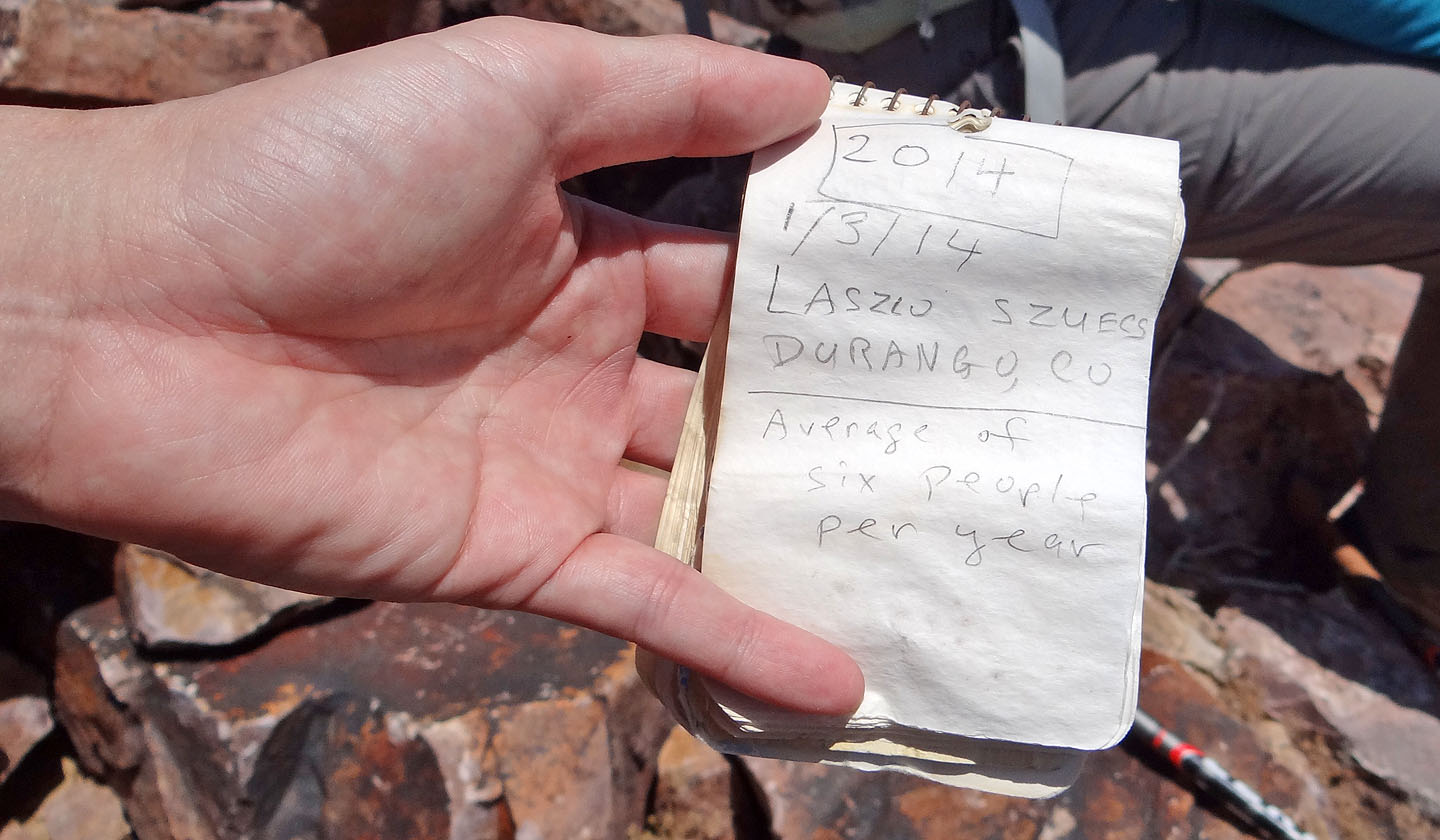 The last register entry suggests Tecopa is seldom visited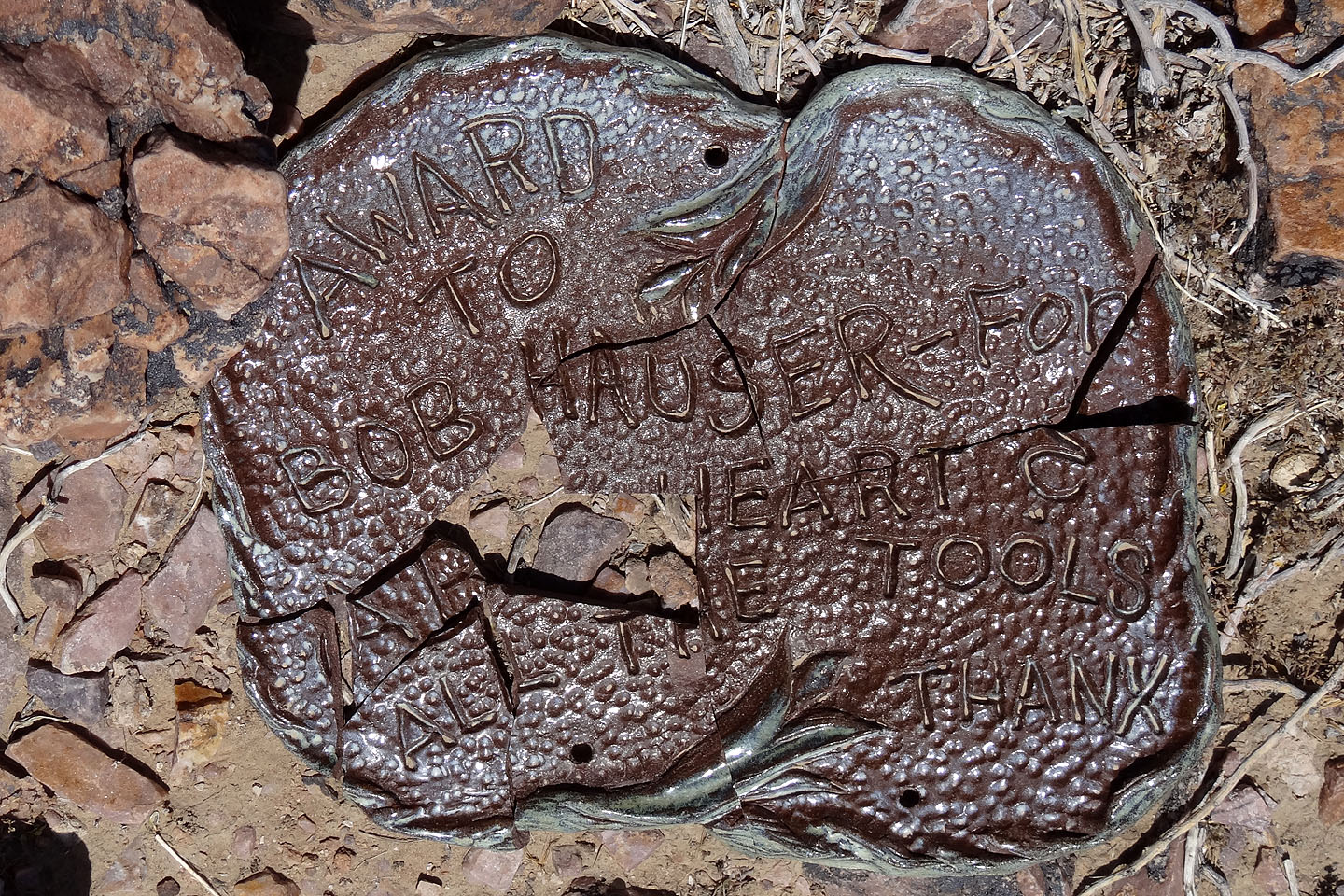 Shattered award on the summit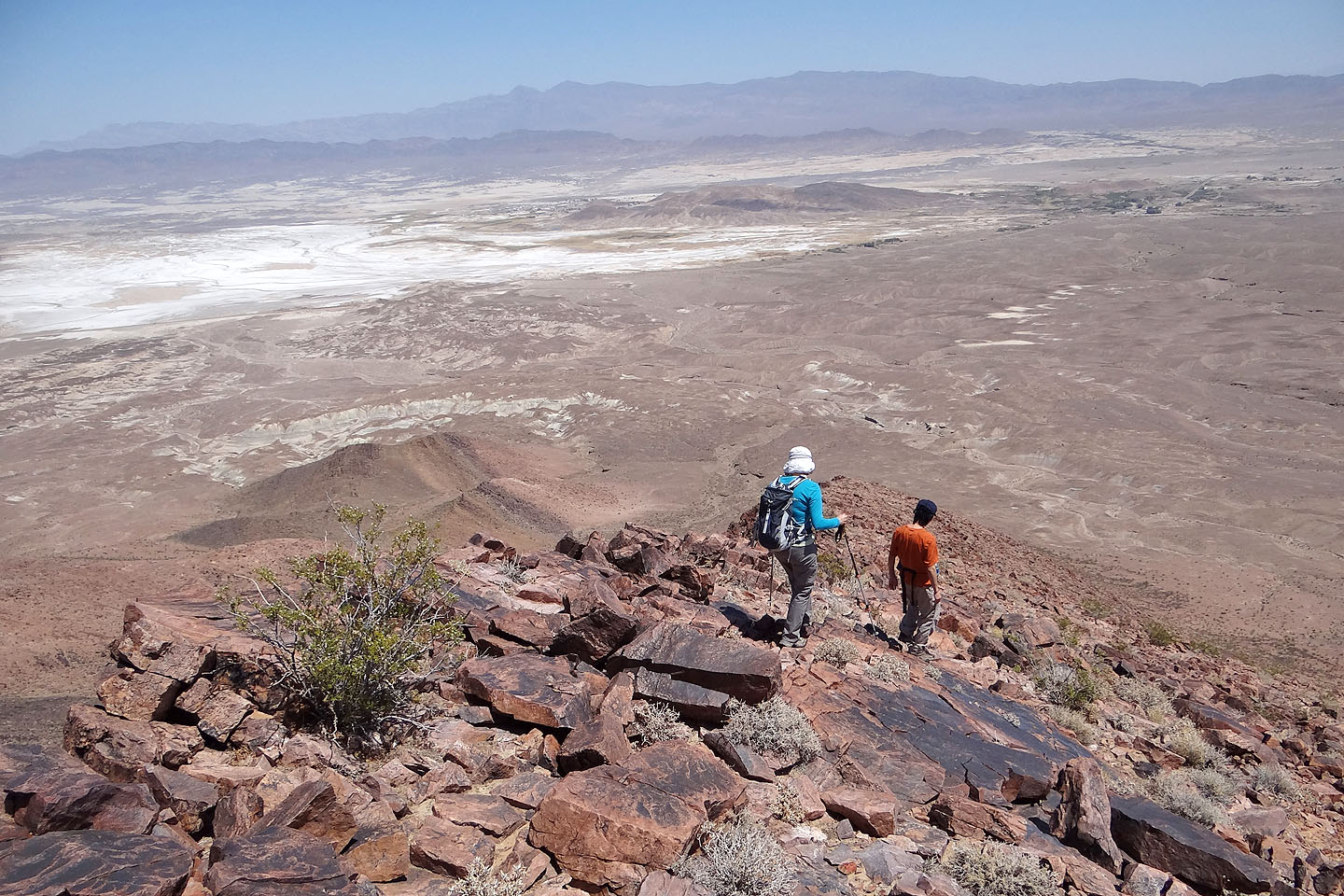 Starting down the northeast ridge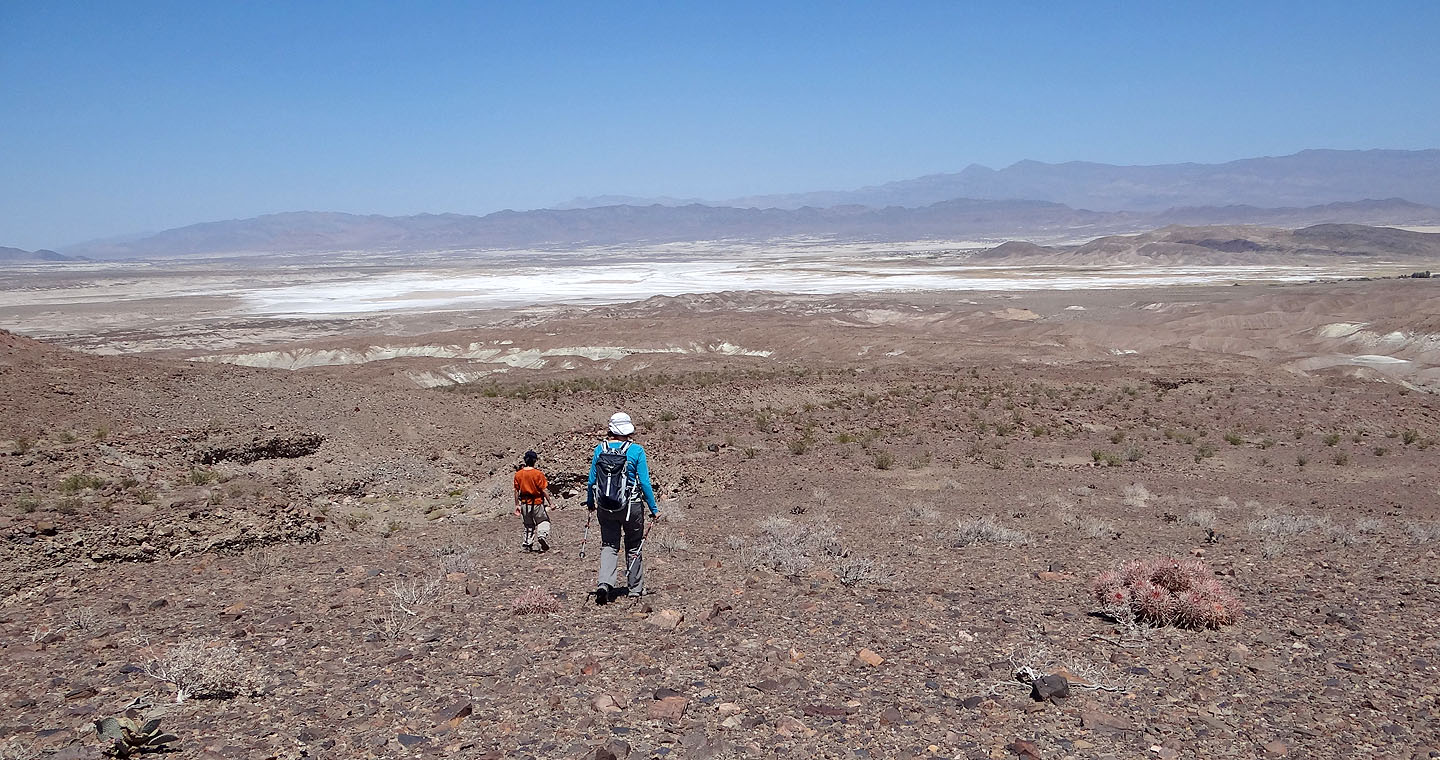 At the base of the ridge we dropped into a wash on our left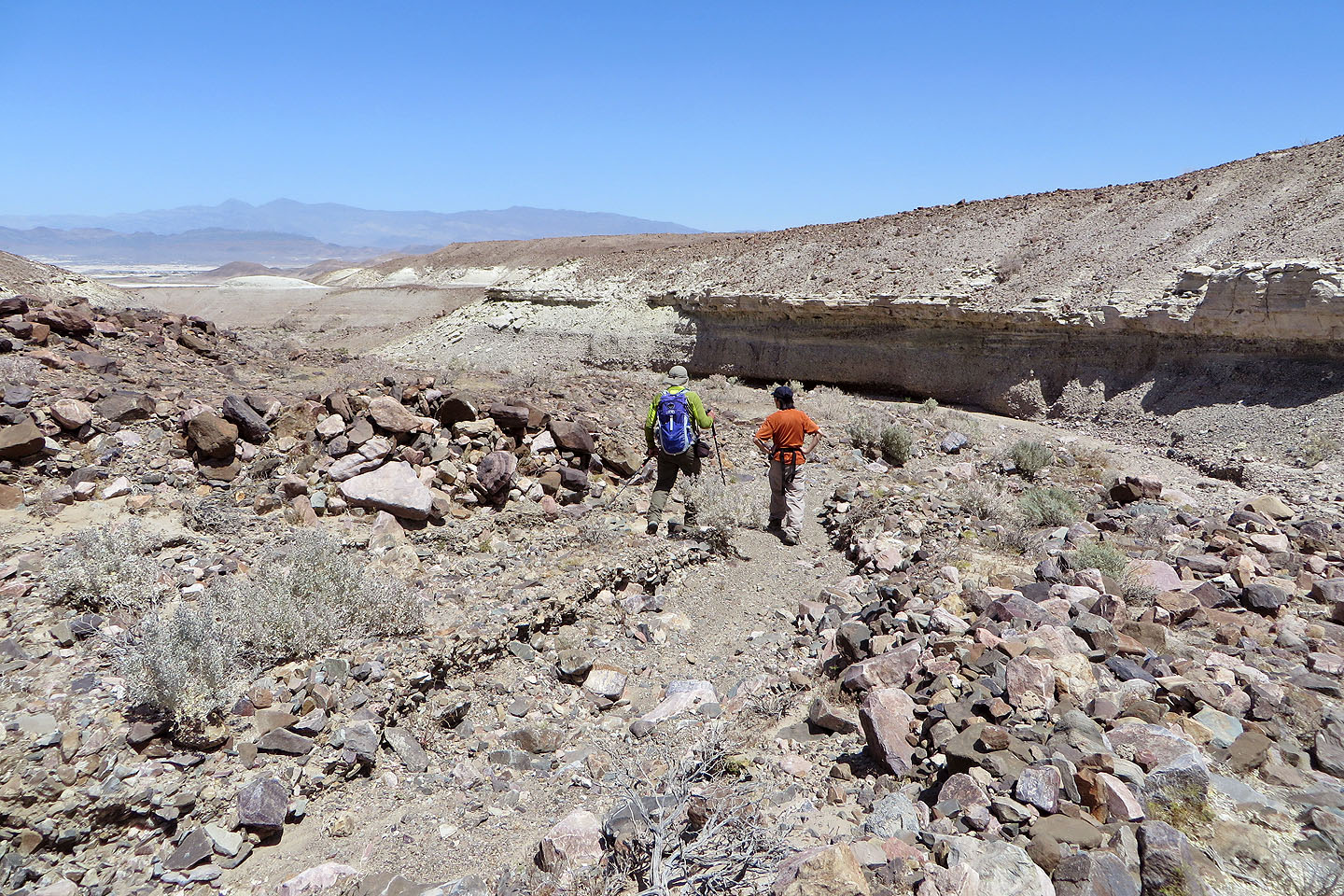 Water has undercut the bank (mouse over for a closer look)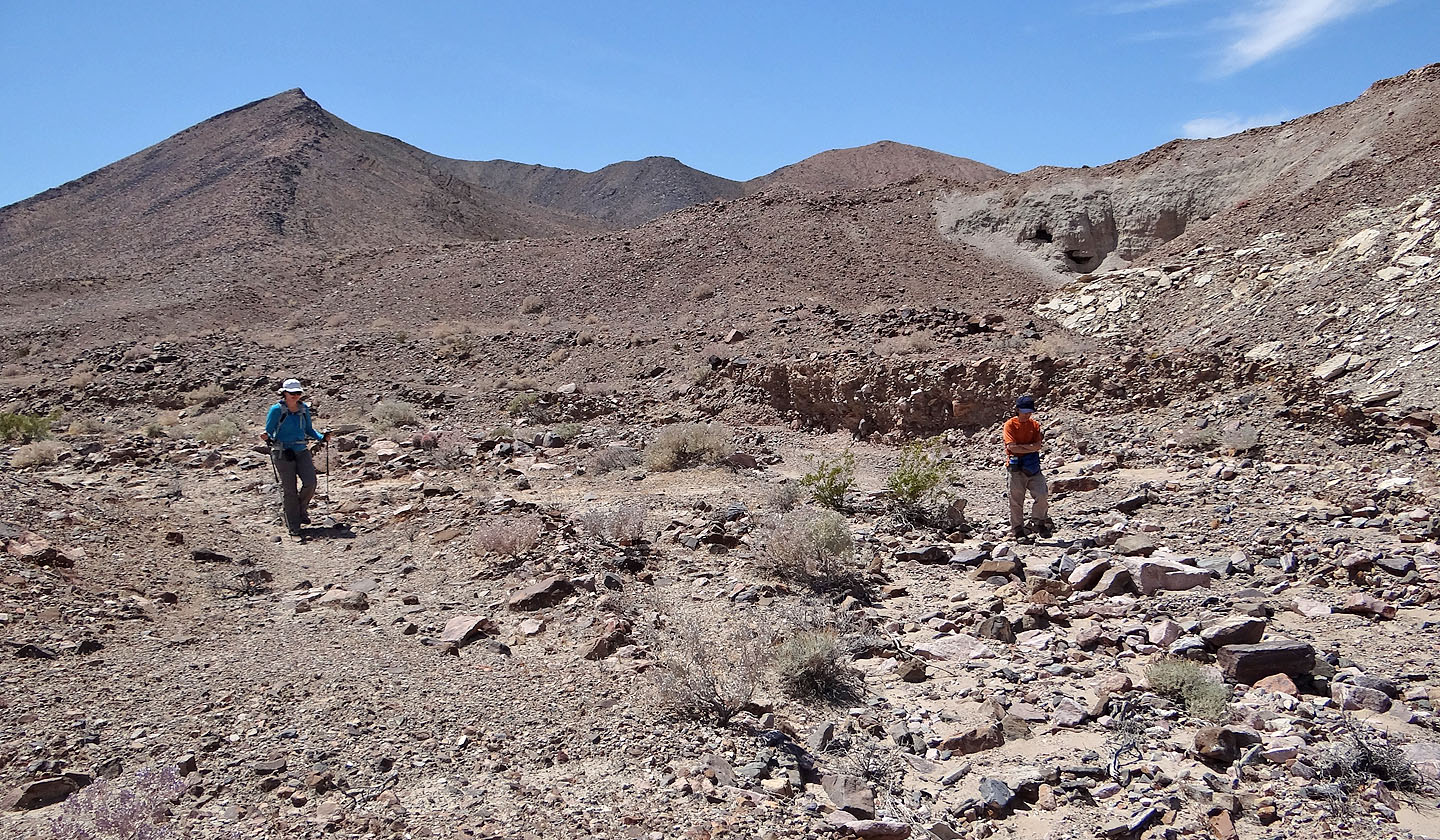 Continuing down the wash with Tecopa behind us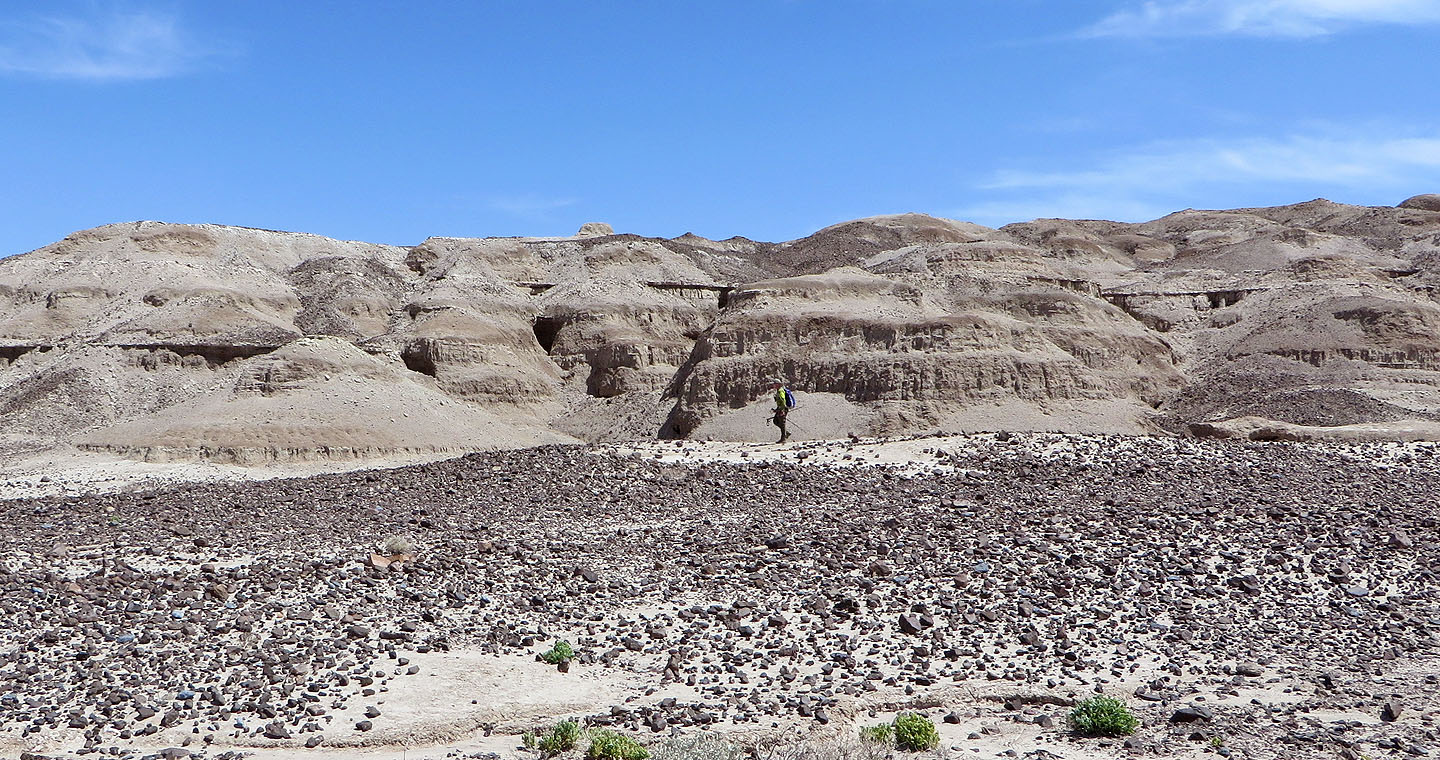 Back on the route we started on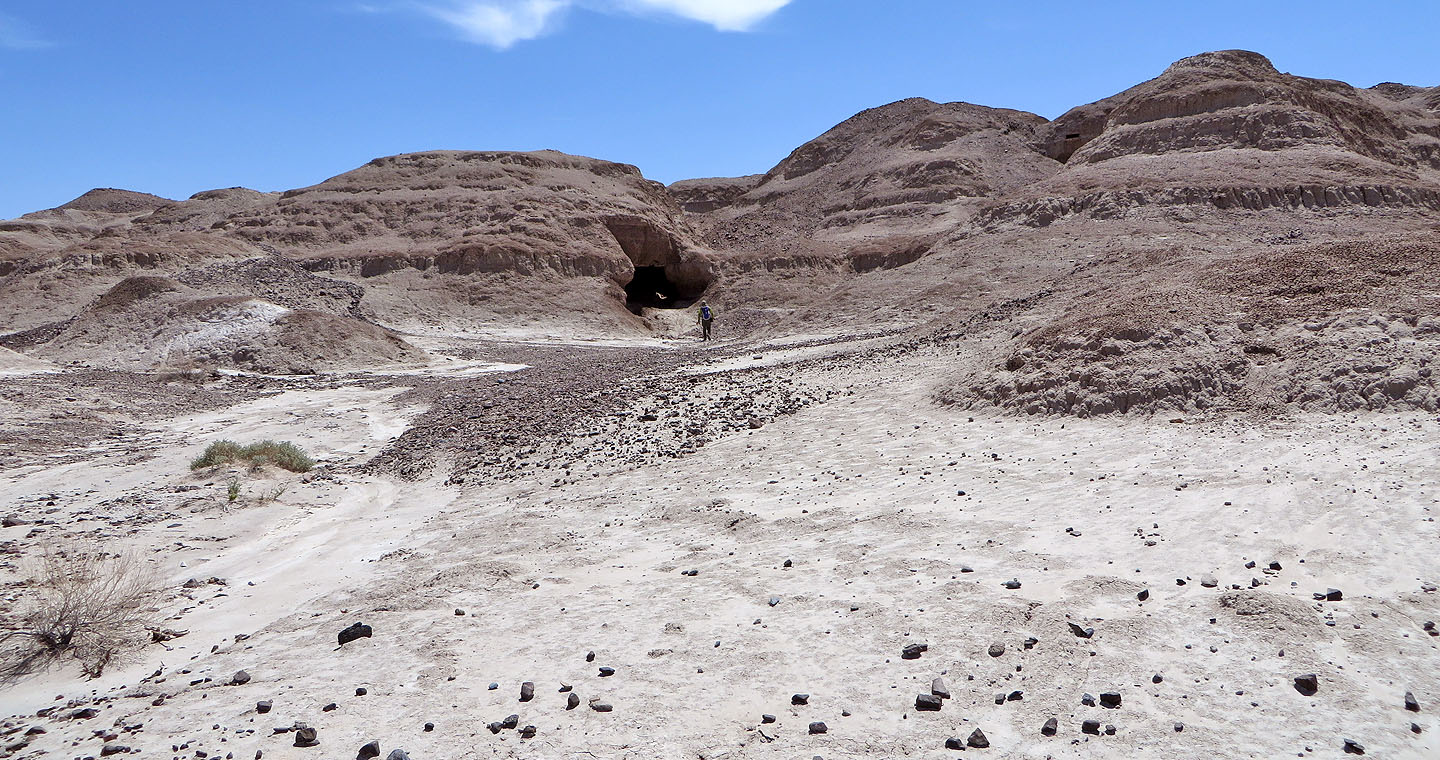 On the way back, we stopped to investigate a cave (mouse over for a closer look)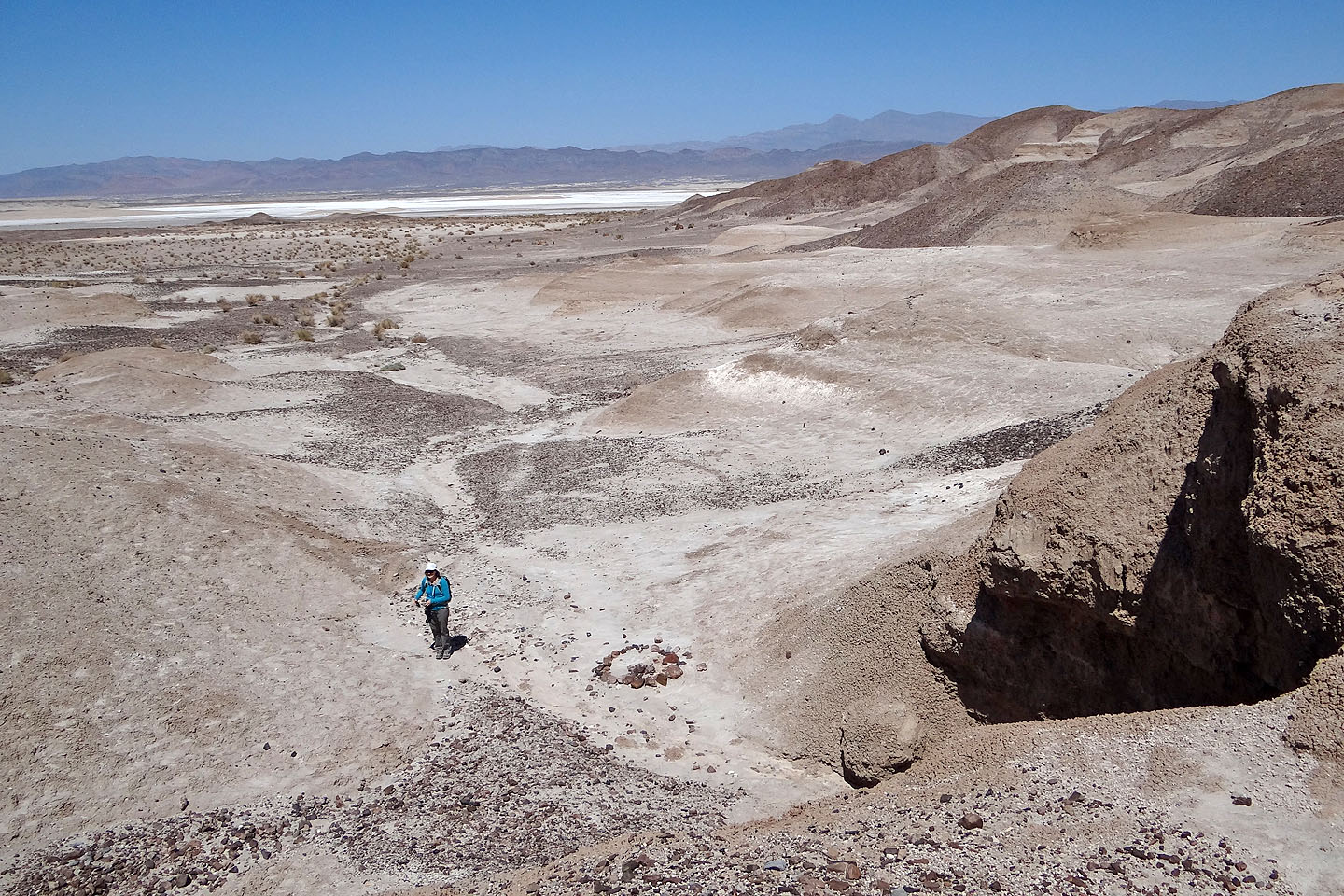 Looking down at Dinah above the cave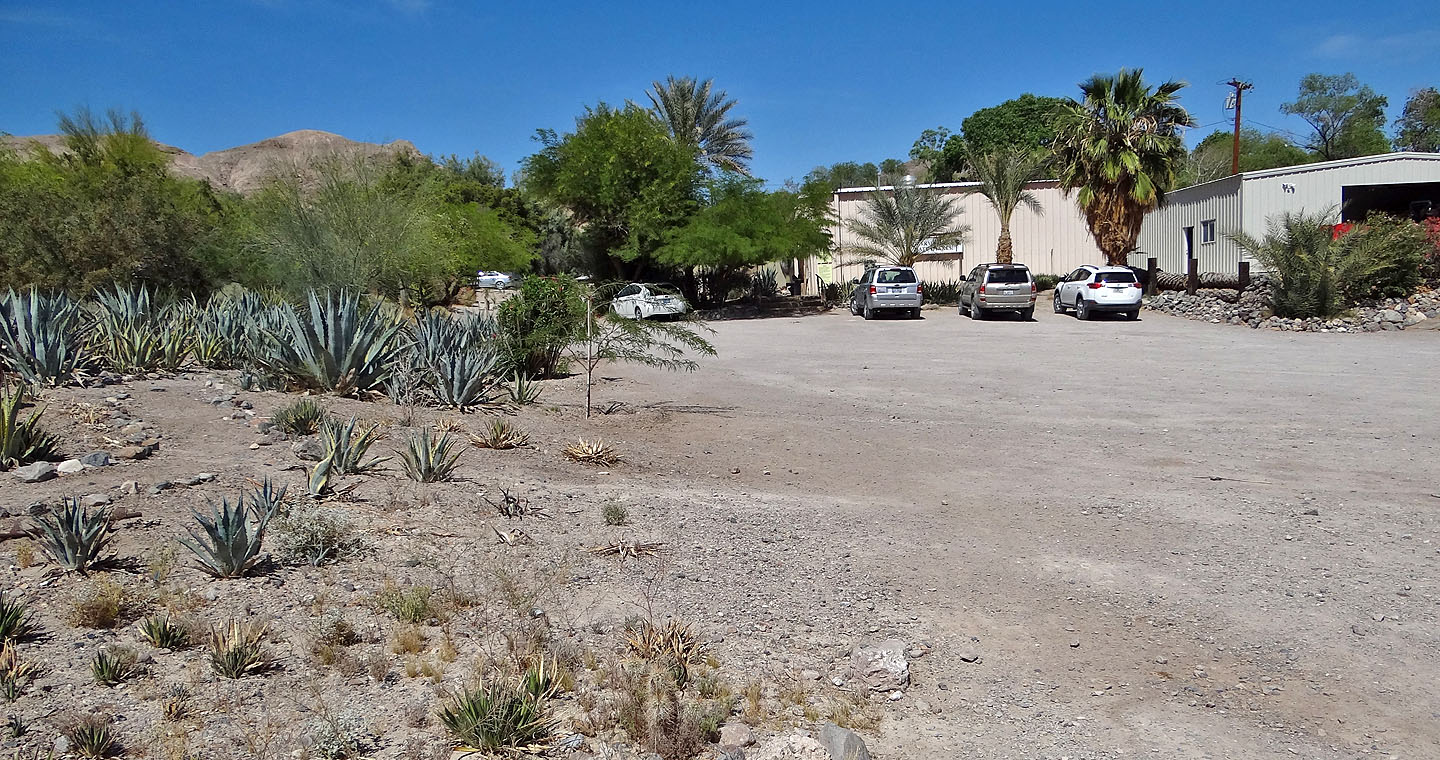 We stopped at China Ranch Date Farm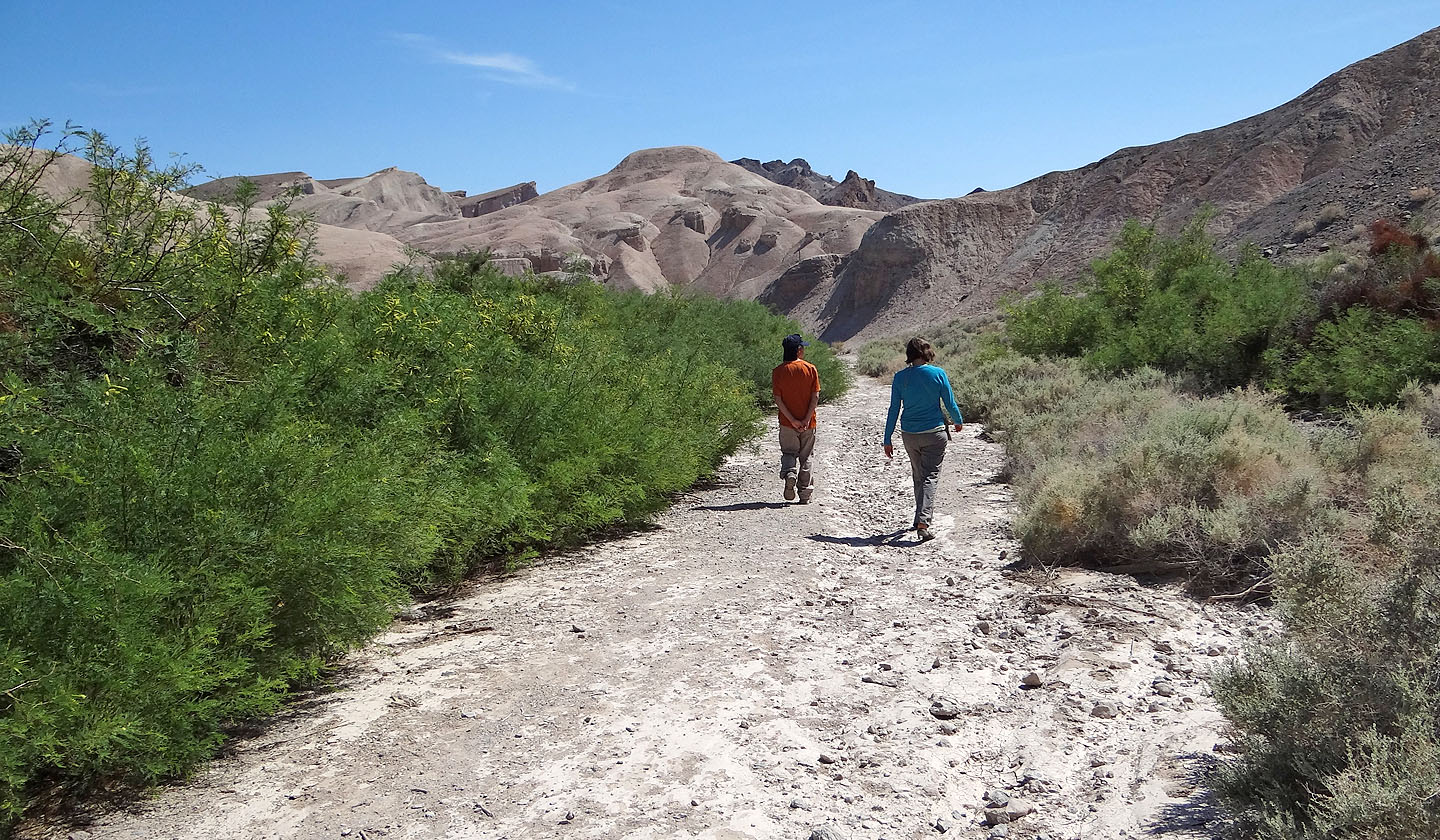 Going for a hike at the farm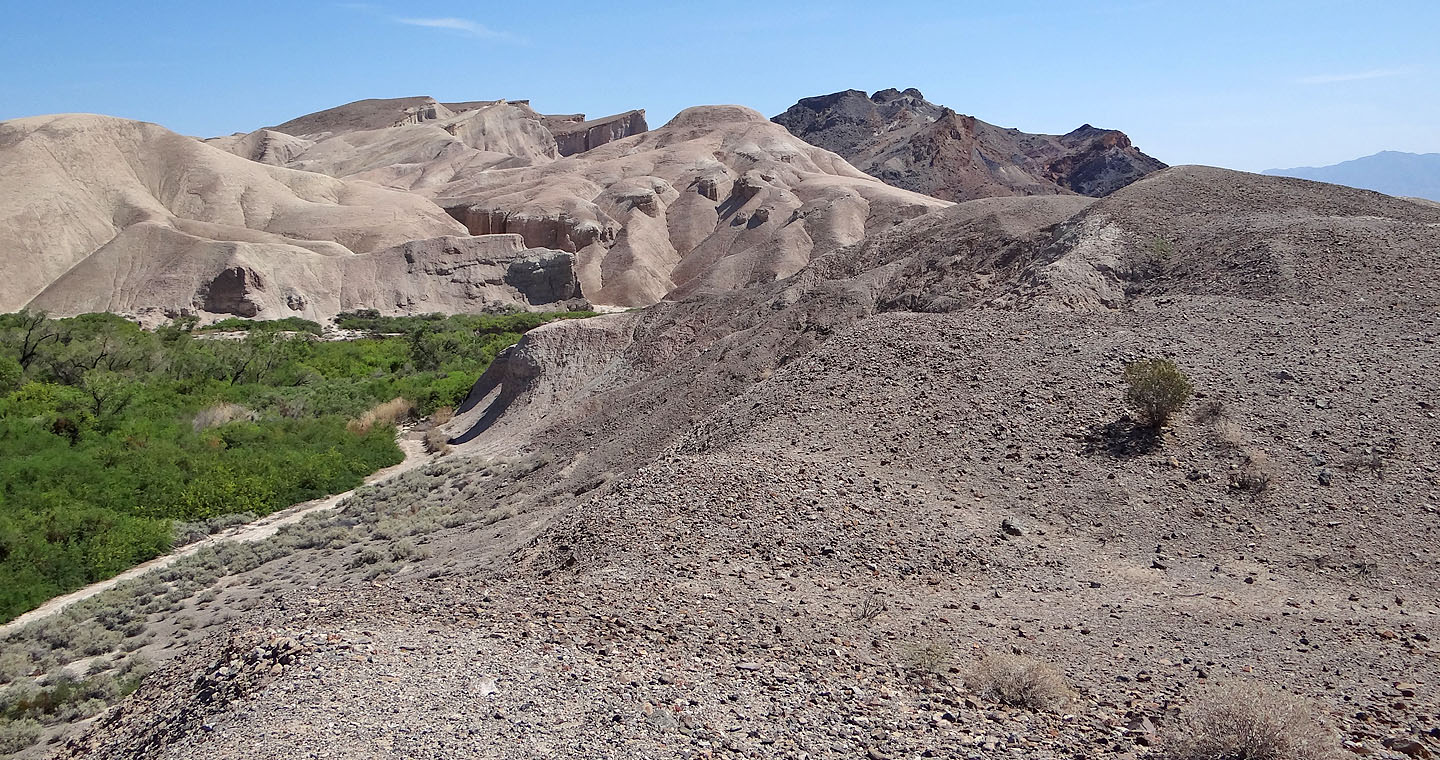 A few small, unnamed peaks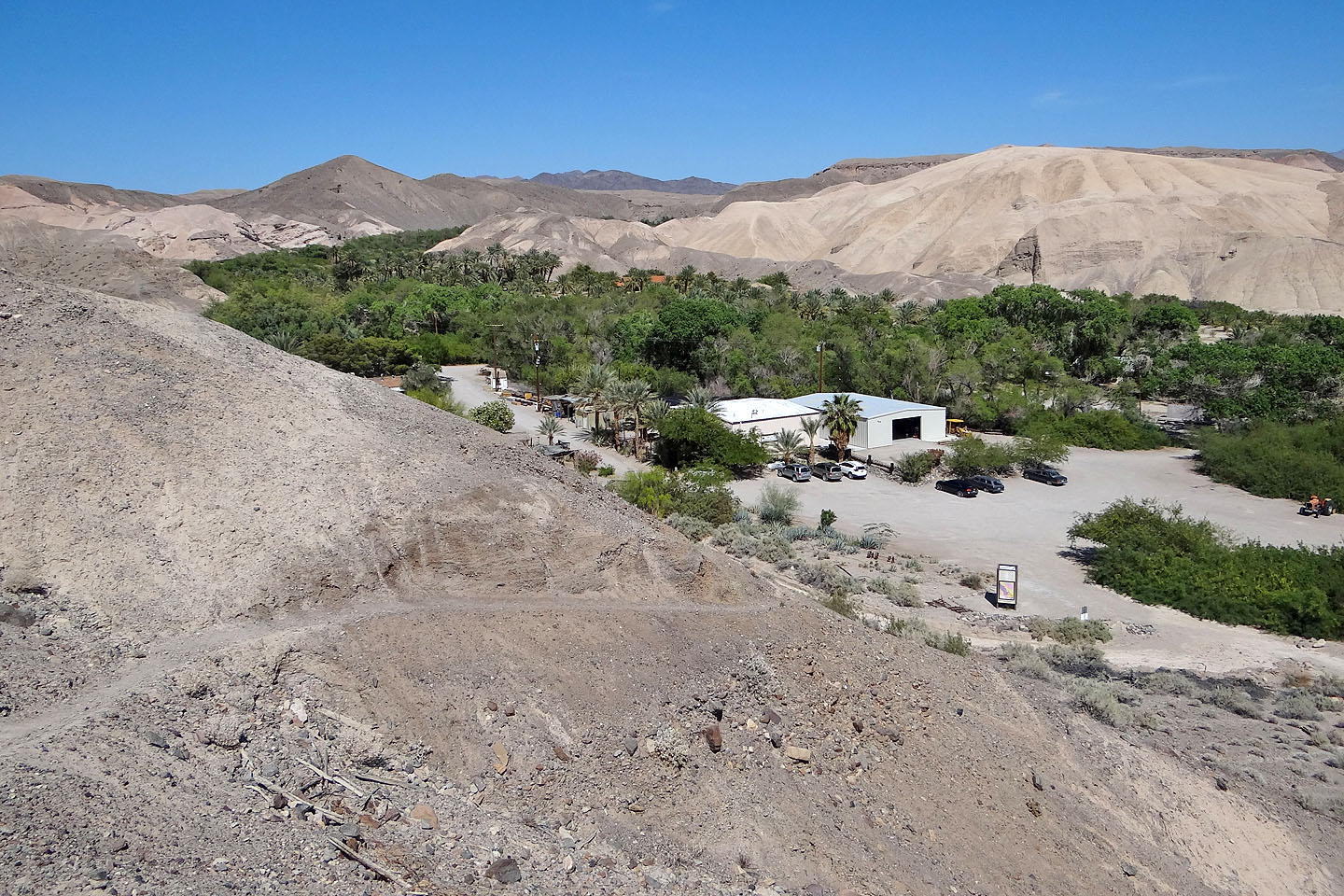 Looking back at the farm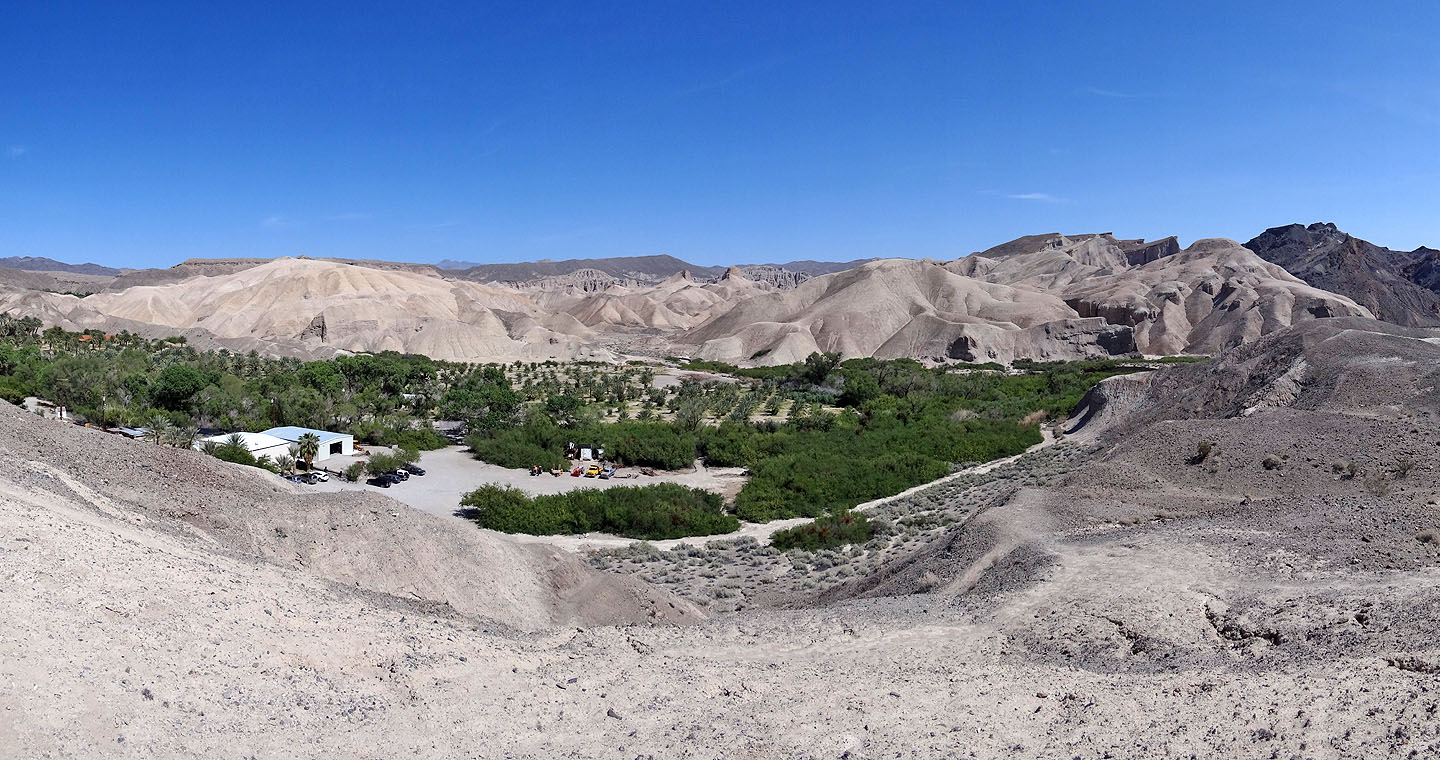 Panoramic view of the farm

Date palms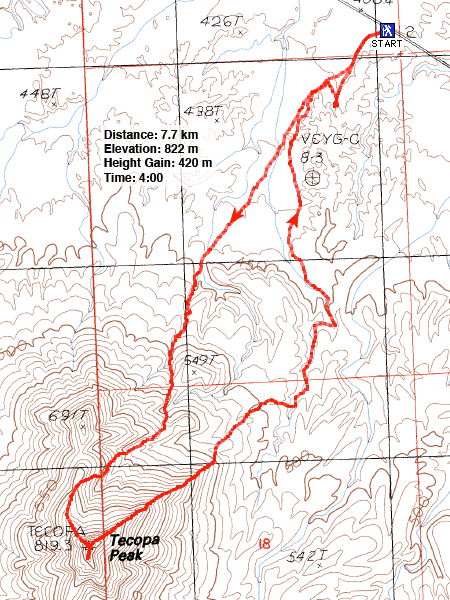 Ibex Pass Topo (4.8 mi, 2697 ft, 1378 ft)