bobspirko.ca | Home | Canada Trips | US Trips | Hiking | Snowshoeing | MAP | About
West Coast Trail
Pacific Rim Park, B.C.
August 20-26, 1995
Although I spent most of the '90s mountain biking with friends, we departed from our usual activities for a six-day hike along the West Coast Trail on Vancouver Island. Organized by Sandy, our group included Claude, Lisa and Bernie. Starting from Pachena Bay and finishing at Thrasher Cove, the trip was memorable not only for a serious injury that befell me but for the rugged coastal rainforest scenery.
The West Coast Trail is set in a wonderful landscape, ranging from lush green ferns, mosses and towering trees to barren, rocky, log-strewn beaches. But it's not a nature walk. Days of rain the previous week had left the trail muddy and tree roots slippery. So when low tides permitted, we eschewed the trail to follow the shore, although we had to contend with soft sand and beach detritus. And that was where I was injured.
It happened on the afternoon of the second day. I was well ahead of the group, fairly running despite my 50-pound pack. Avoiding the soft sand, I took to zipping on logs and jumping the spaces between them. That's when I felt a sudden, sharp pain as if my left calf muscle had been thwacked. I thought I had stepped on a stick so that it had struck my leg from behind, like stepping on a rake, but a search revealed no such thing; there was nothing that could have struck my calf. I assumed it must be a muscle cramp.
The others caught up to me, and we continued to our next campsite. My lower leg was swollen and extremely sore, but I managed to hobble to our site and set up my tent. Exhausted, I crawled into my sleeping bag and immediately fell asleep. While I lay in my tent, my friends discussed having a rescue boat take me off the trail, but I had no intention of abandoning the trip.
At four in the morning, I awoke with a strange urge to jump into the ocean. I got up and did just that (much to Claude's confusion who awoke thinking we were breaking camp well before sunrise). I found the cold water refreshing, although I still don't know what possessed me to go for an ocean dip in the middle of the night. Afterwards, I returned to my sleeping bag.
I found the following days difficult. Someone, Sandy I think, gave me one of her trekking poles. I wouldn't have gone far without it. The pole helped take the pressure off my bad leg and often prevented me from falling – but not always. It hurt to walk, but when I slipped on a wet root or tripped on a rock, pain shot into my calf.
At the end of each day, I was exhausted. So much so, that although my Thermarest air mattress developed a hole and didn't inflate, I hardly noticed the hard ground. With just a thin layer of foam under me, I slept soundly.
In the middle of our trip, my calf showed improvement. Either it was healing or travel became easier. I no longer struggled to keep up with my friends and sometimes I got ahead. But I was still worn out at the end of the day. I would have liked to explore the beach after setting up camp or do a side trip to view the giant redwoods, but I could only rest.
Our last day was the toughest. After our campsite at Cullite Cove, the trail undulates and faces its highest and stiffest climbs. My injured leg was no match for the punishing terrain. After arriving at Thrasher Cove where our trip ended, I could do no more. My lower leg was weaker and sorer now than the entire trip. Even walking on a flat, paved road was excruciating.
The following day, we drove back to Calgary and the next day, six days after injuring my leg, I went to the hospital. X-rays revealed a torn calf muscle. It had started healing, but the doctor estimated 25 percent of the muscle had been torn. (It took weeks to heal, but I remained active, cycling with my good leg.)
Someday I'd like to return to do the West Coast Trail – with two good legs! Like other hikers who have completed the trip and wish to return, I would take my time and spread the trip across more days. And most important, I wouldn't run and jump while carrying a loaded pack!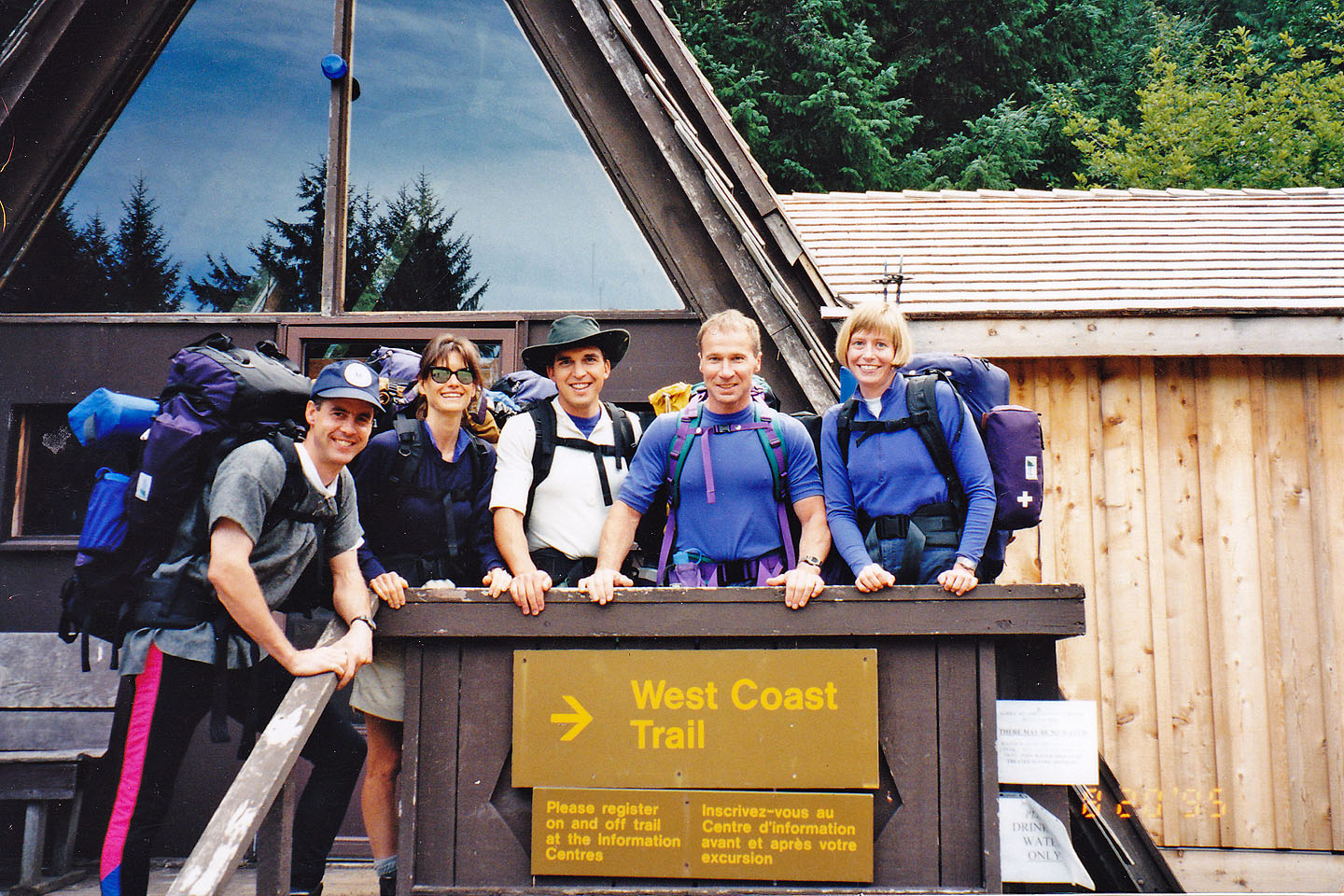 DAY 1: Starting out: Bernie, Lisa, Claude, me, and Sandy (I had no camera: these are Sandy's photos)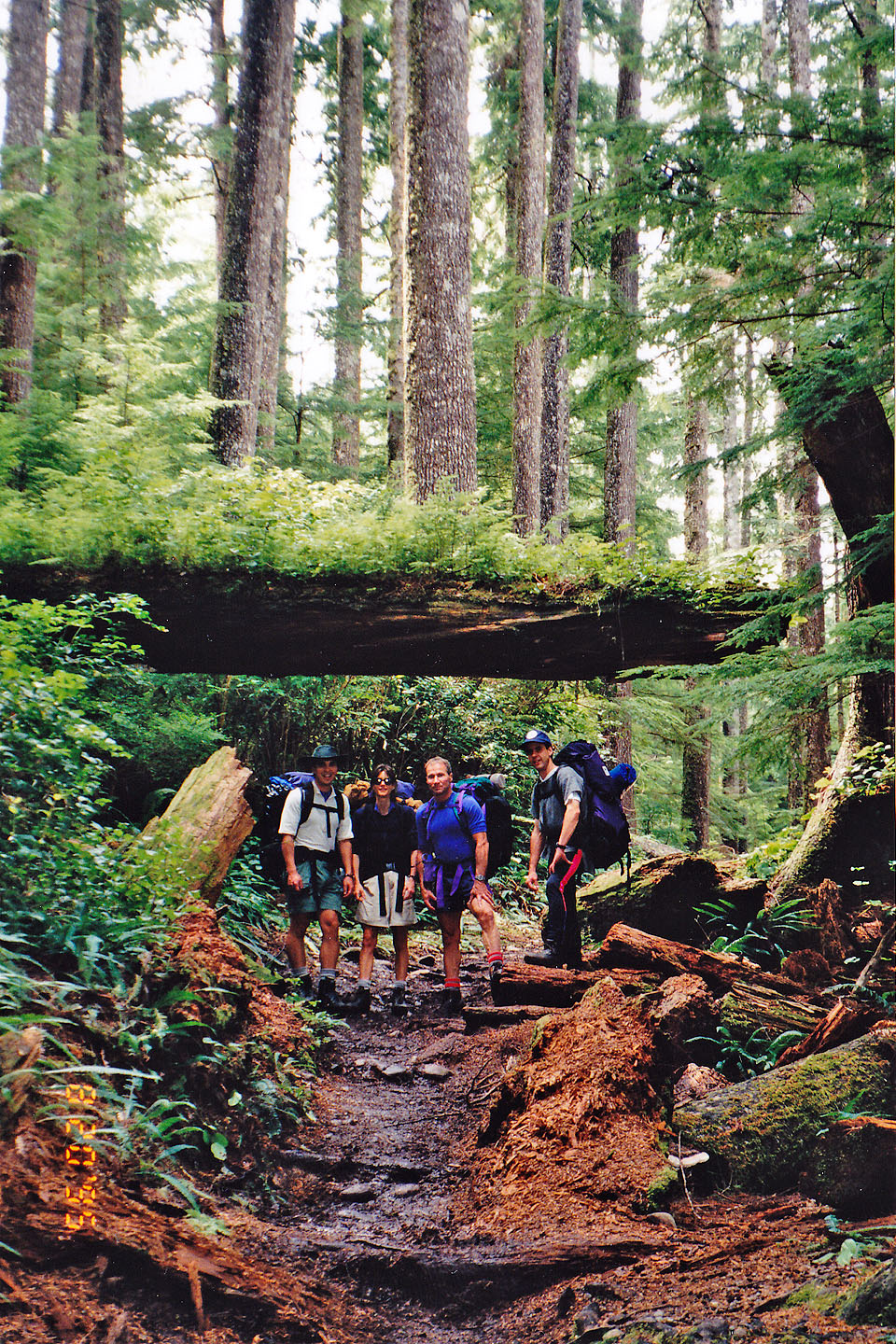 On the trail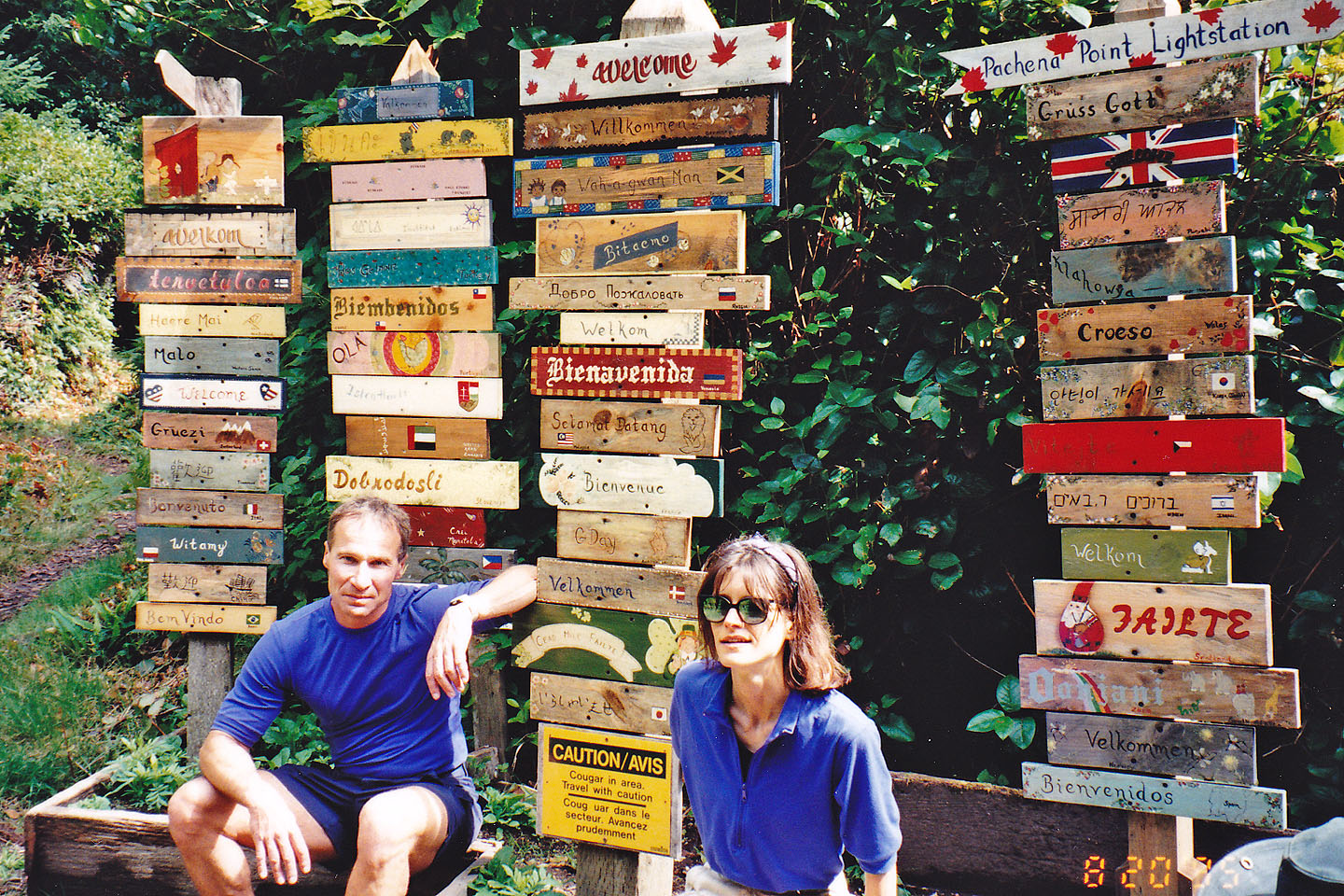 Signposts by Pachena Point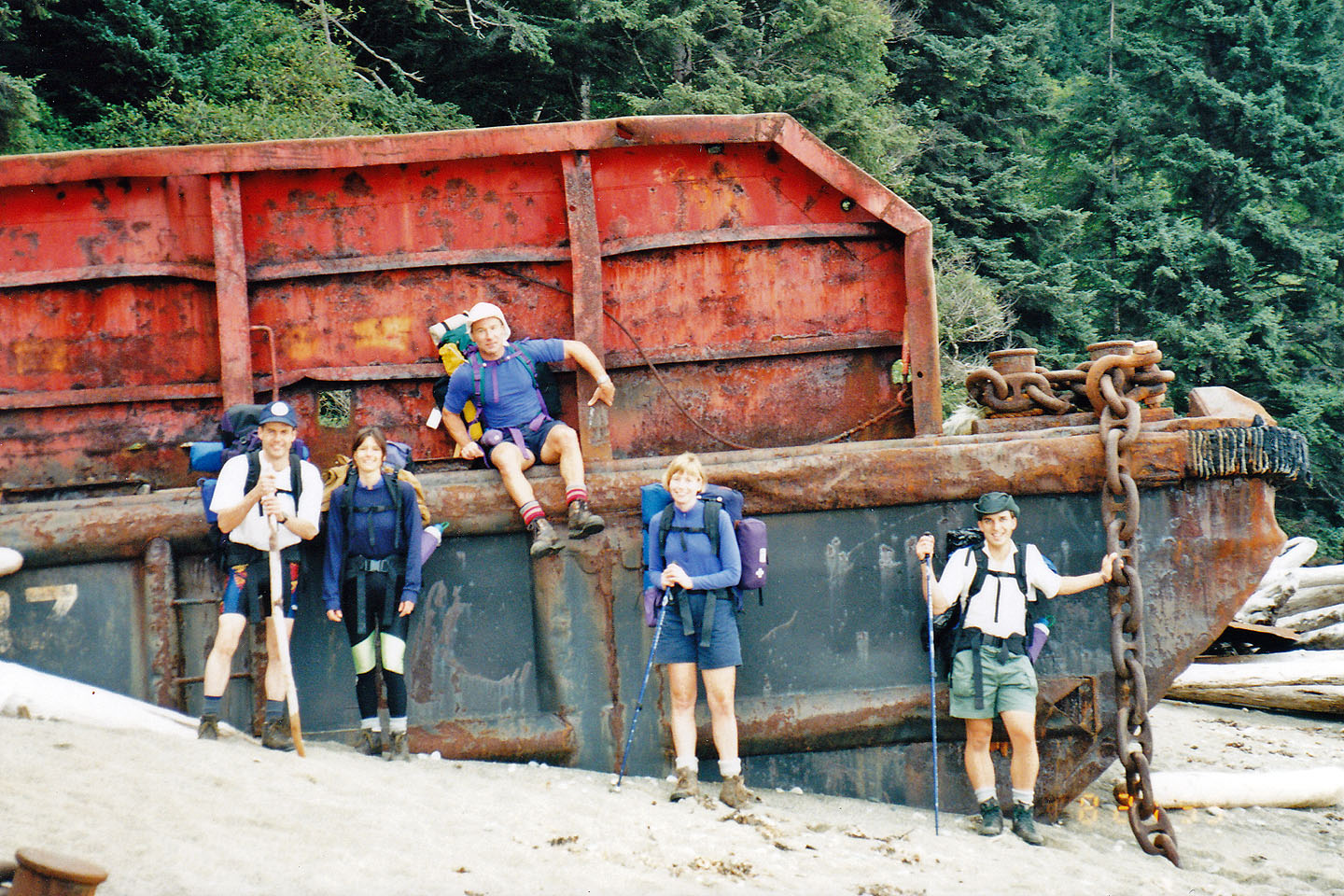 DAY 2: Derelict donkey engine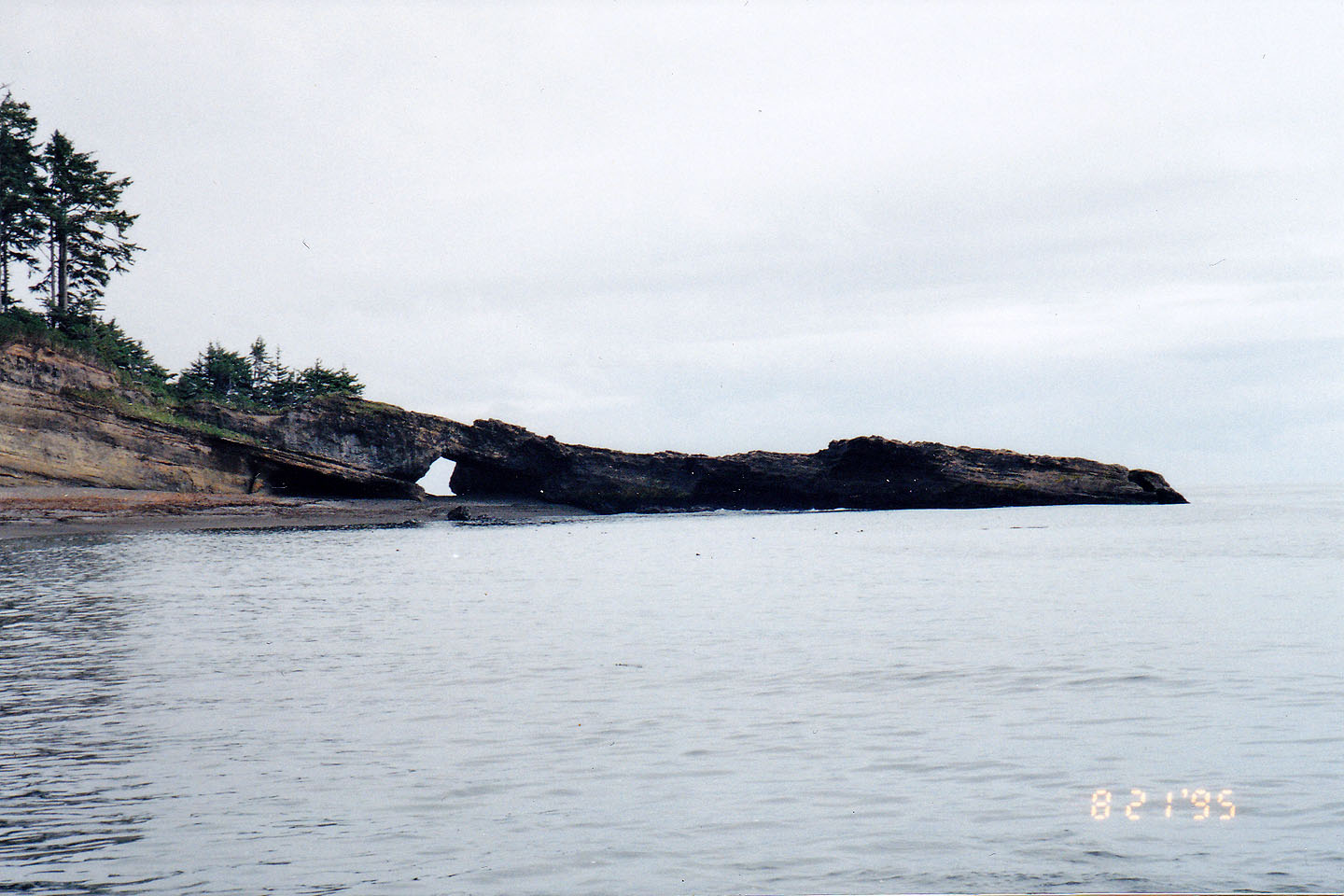 Hole in the rock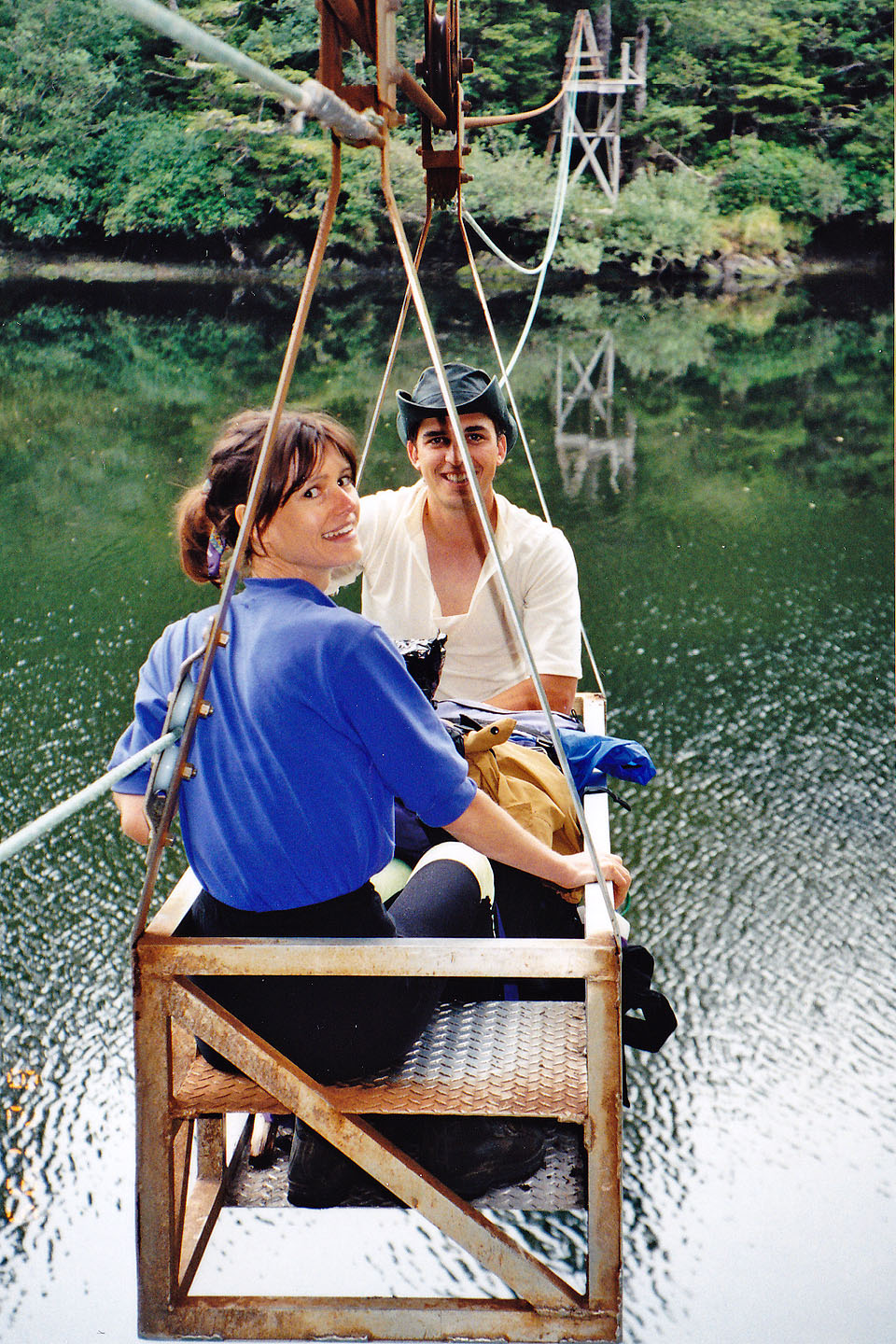 Klanawa River cable car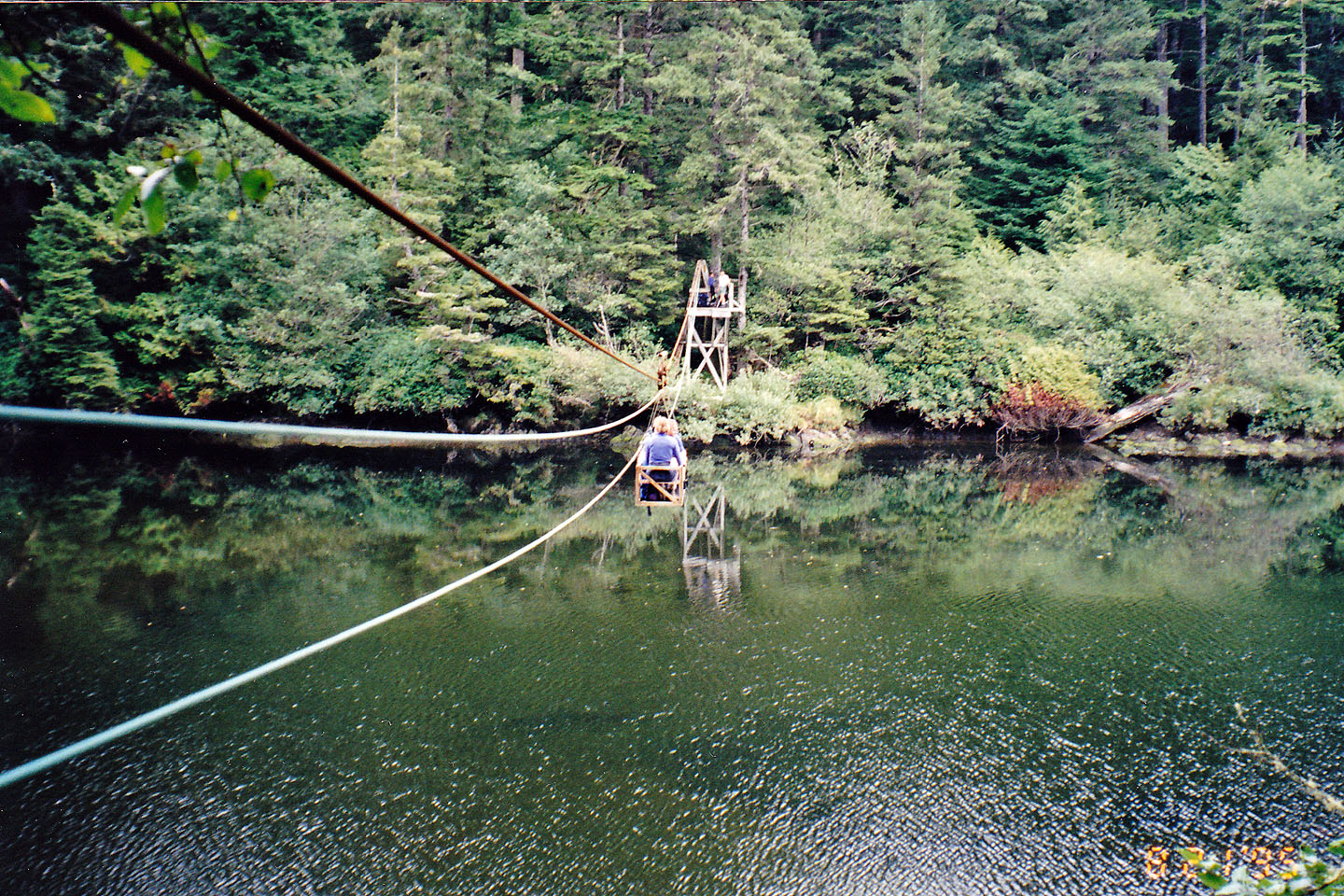 Halfway across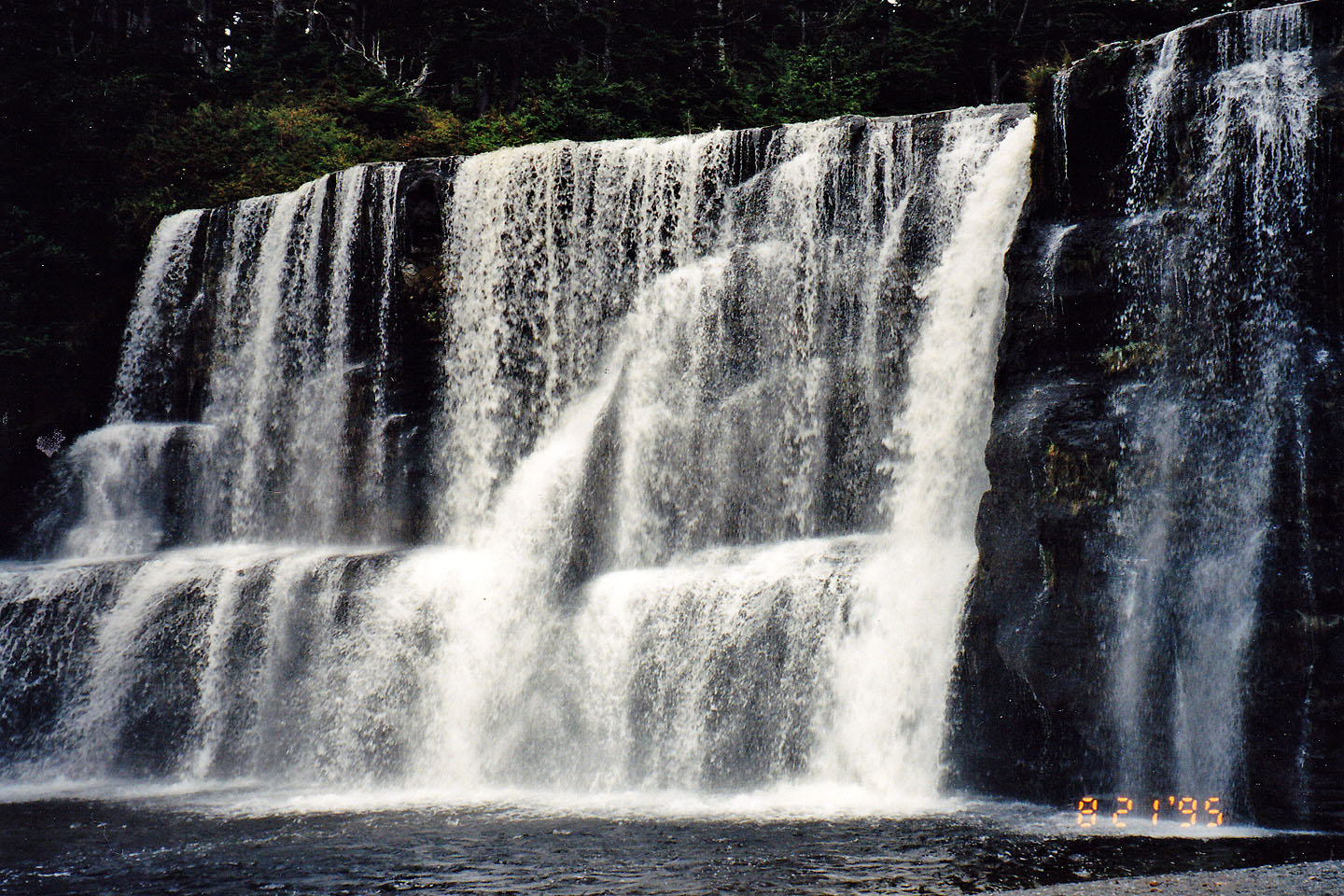 Tsusiat Falls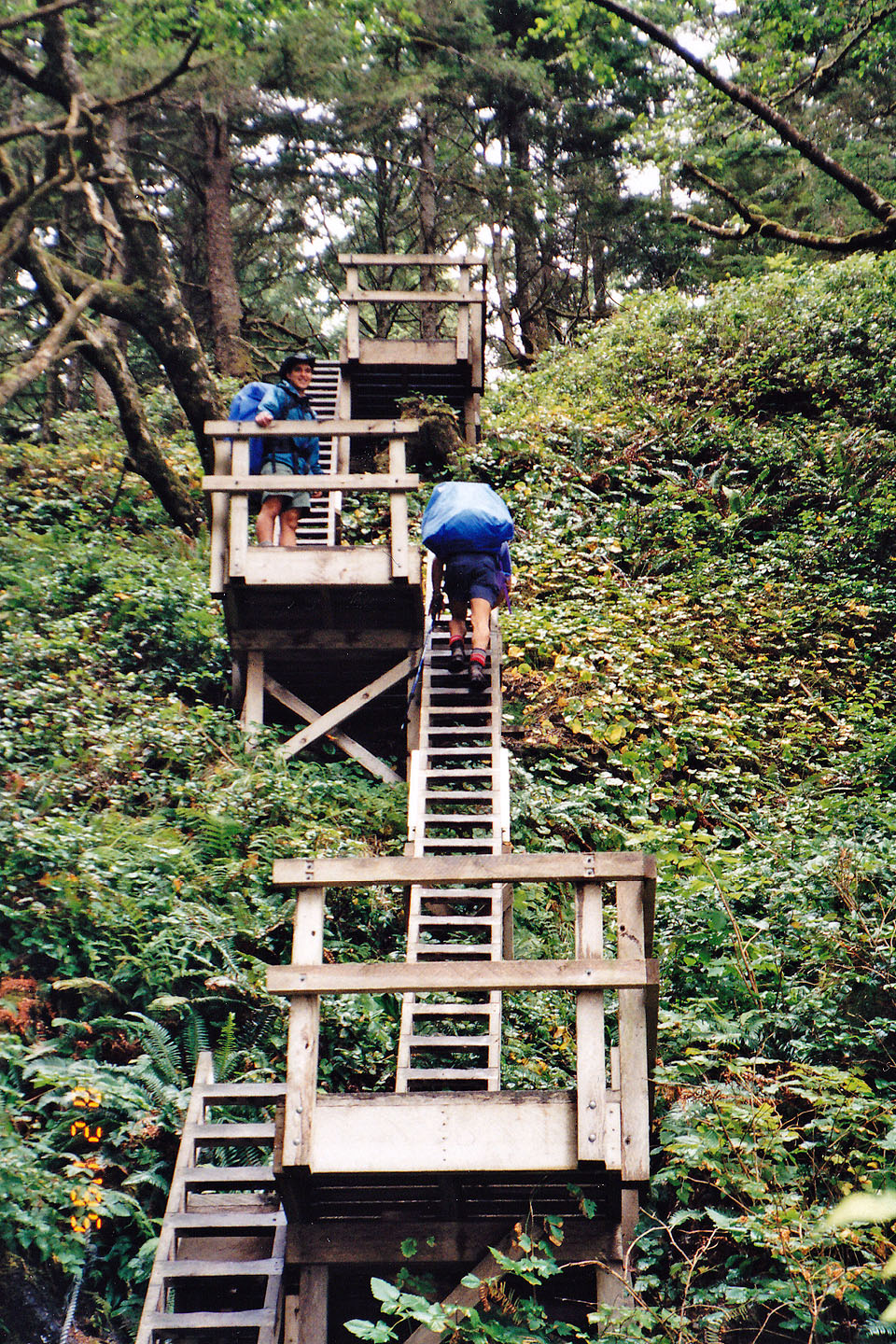 Stairs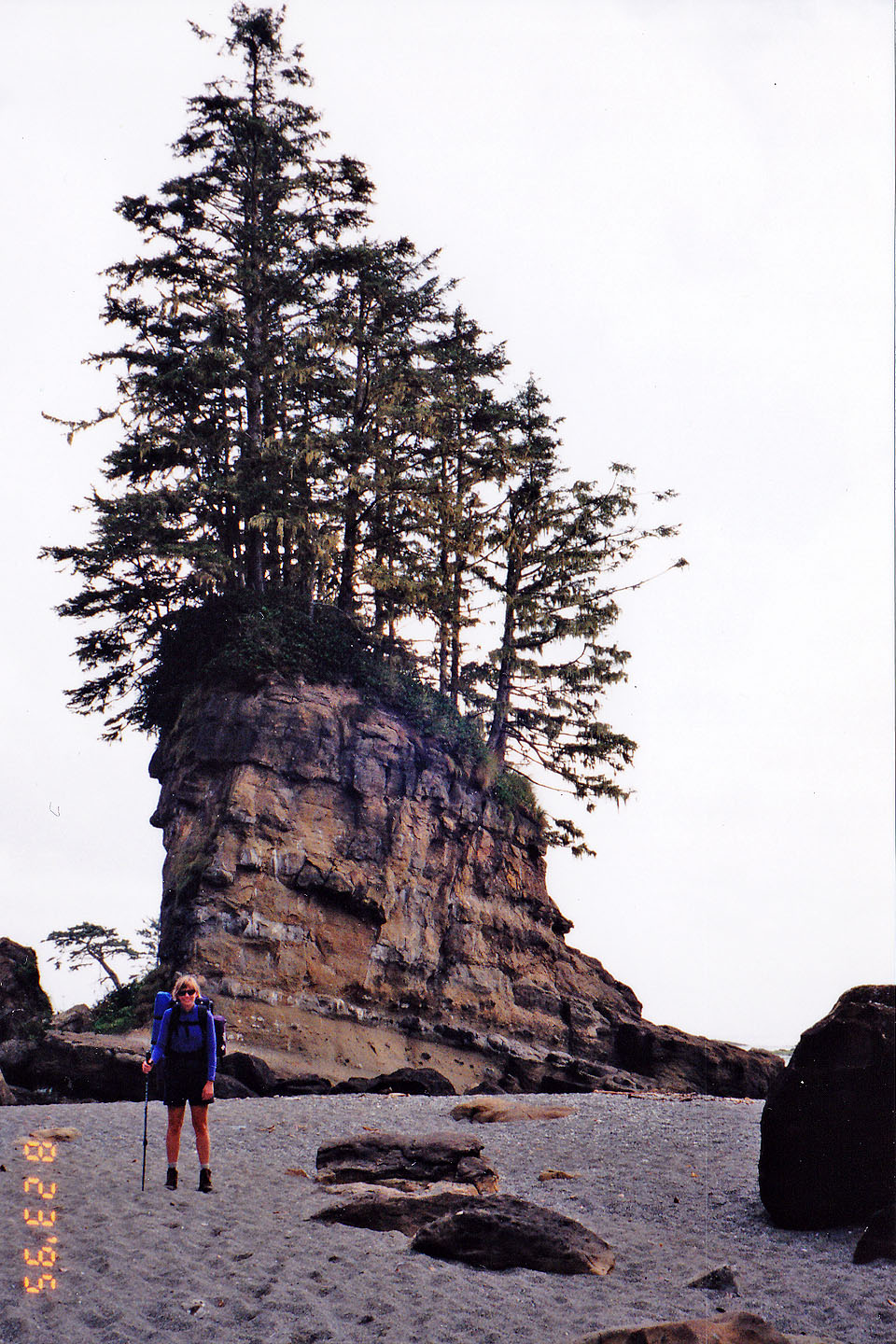 DAY 3: On the beach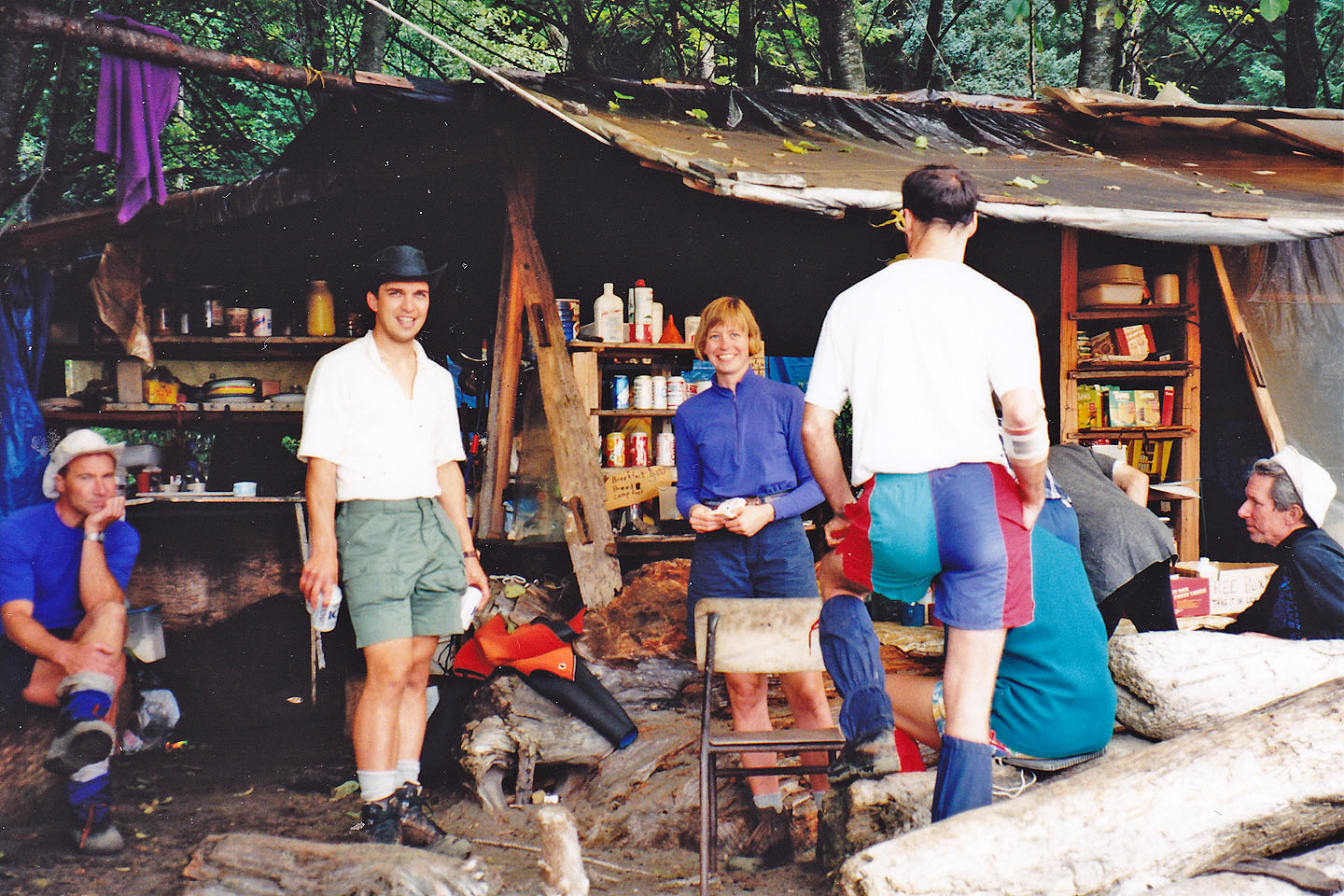 Stopping at the store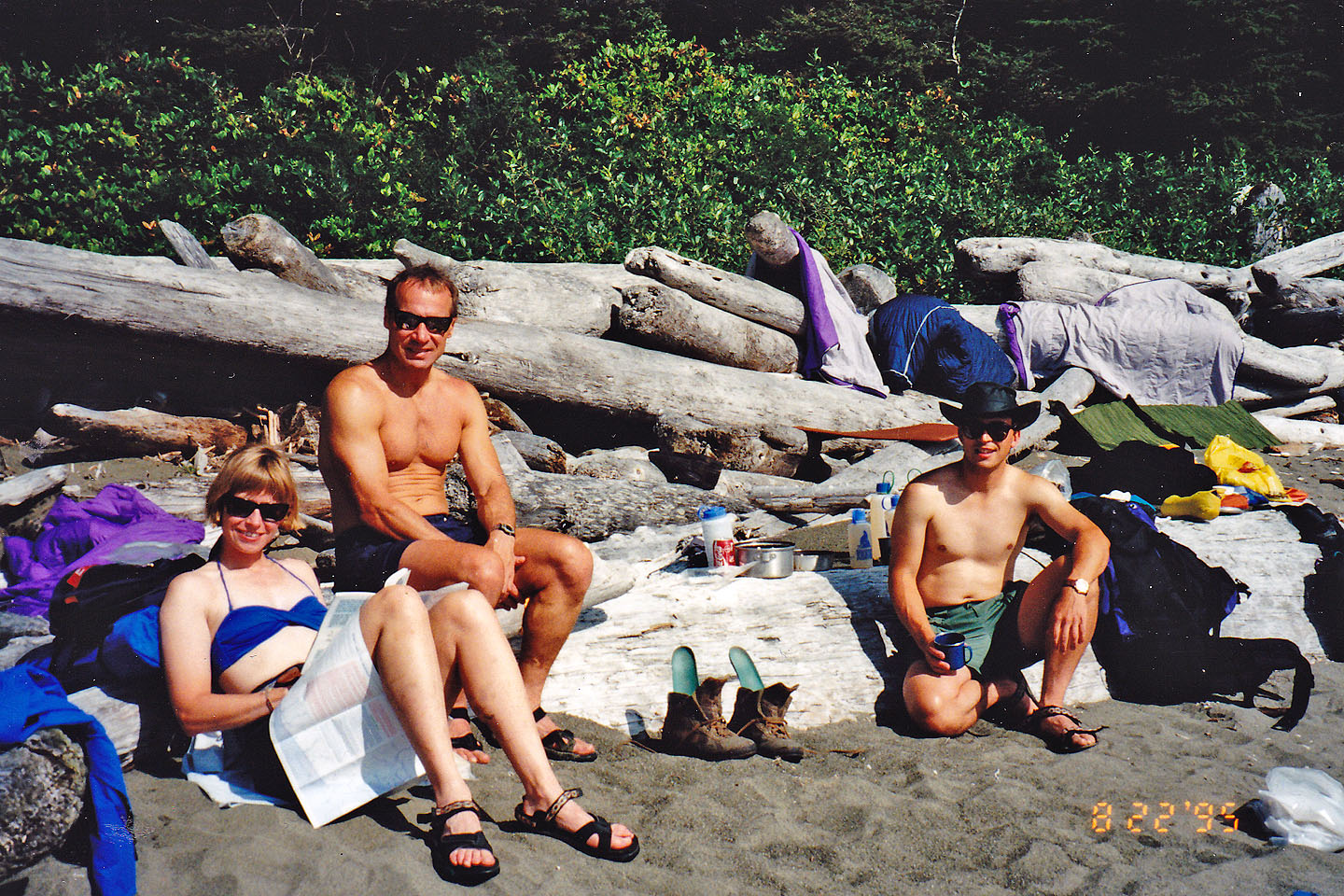 Dare Point campsite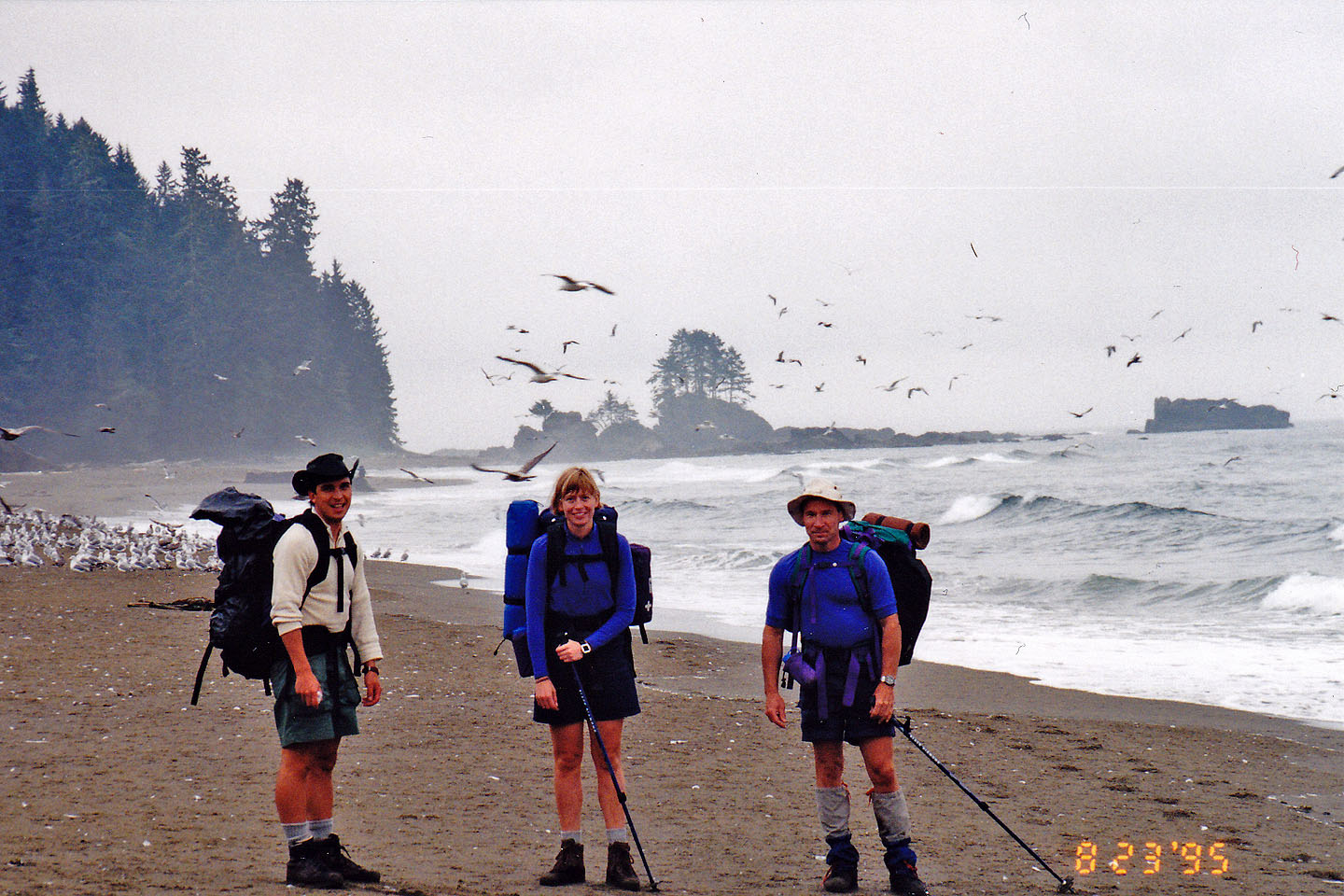 DAY 4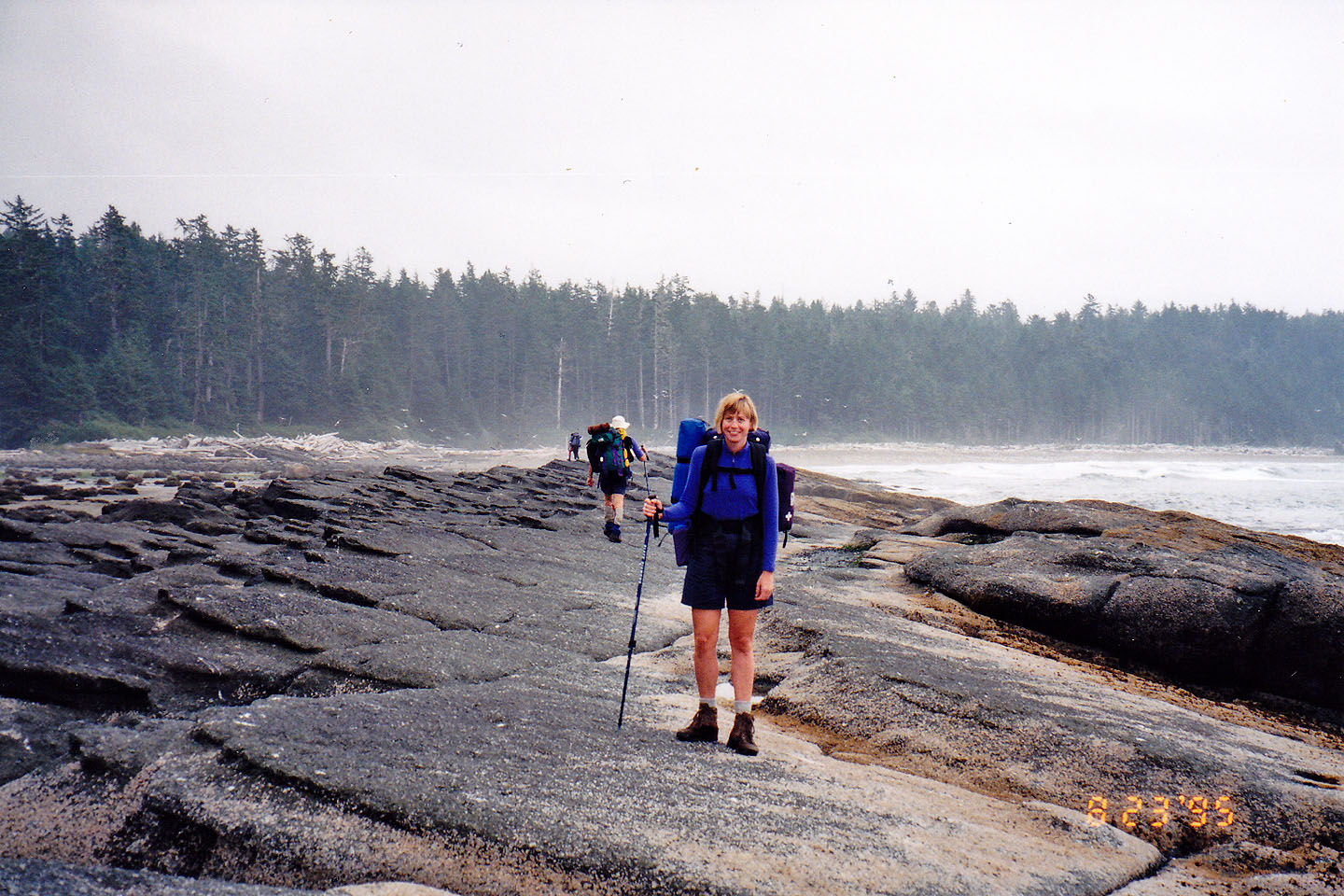 Hiking on the coast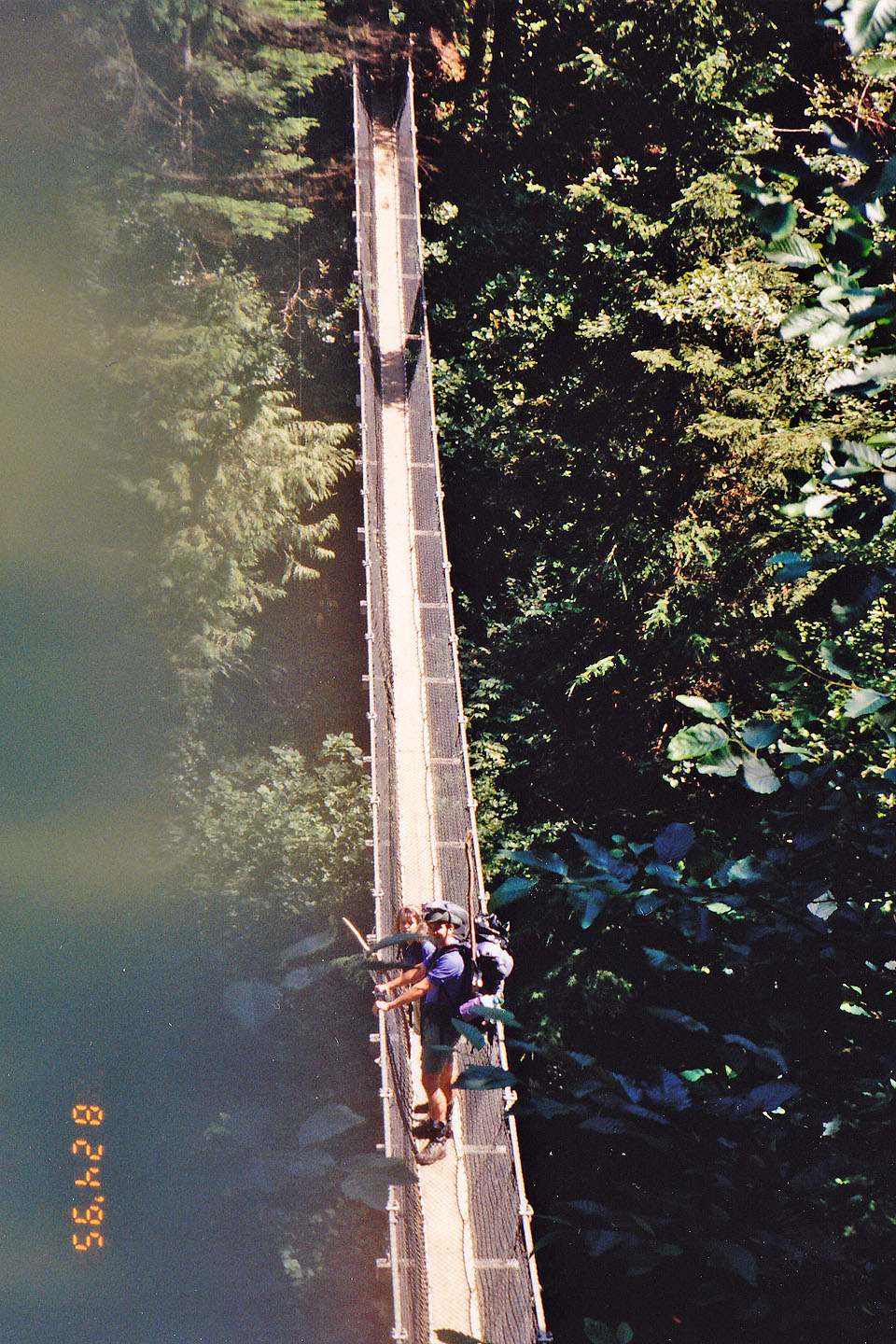 DAY 5: Logan Creek suspension bridge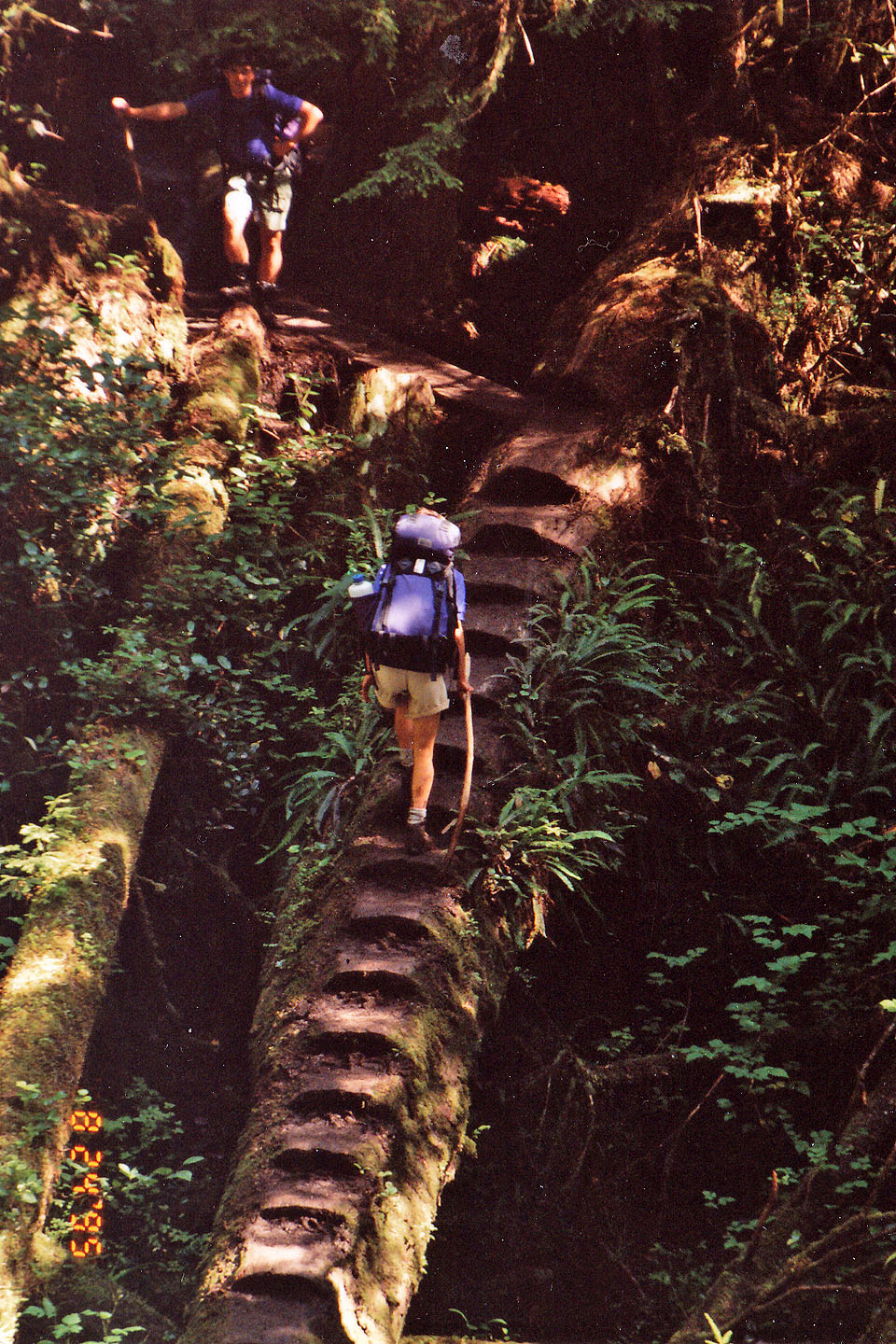 Log bridges and steps were plentiful along the trail.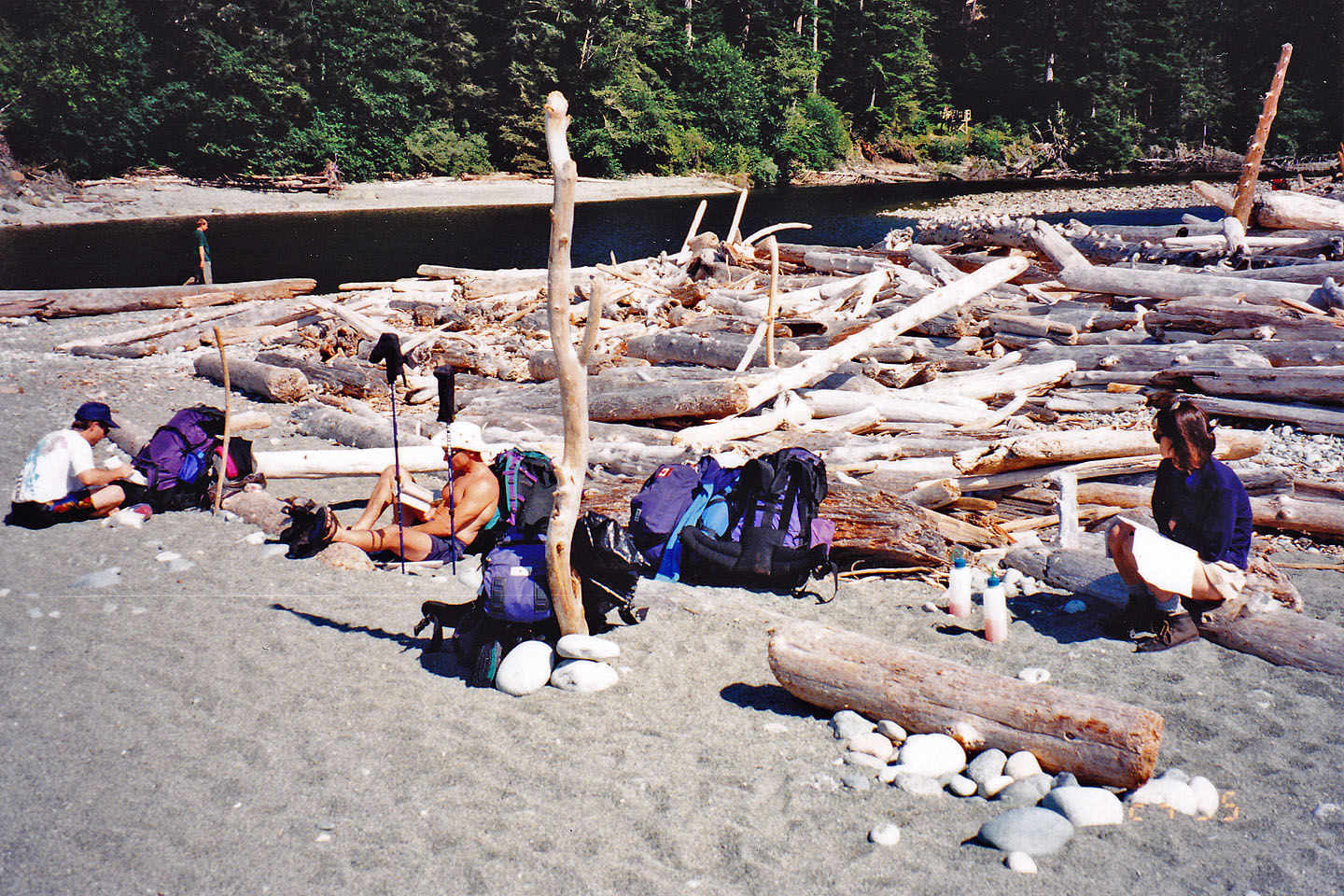 Cullite Cove campsite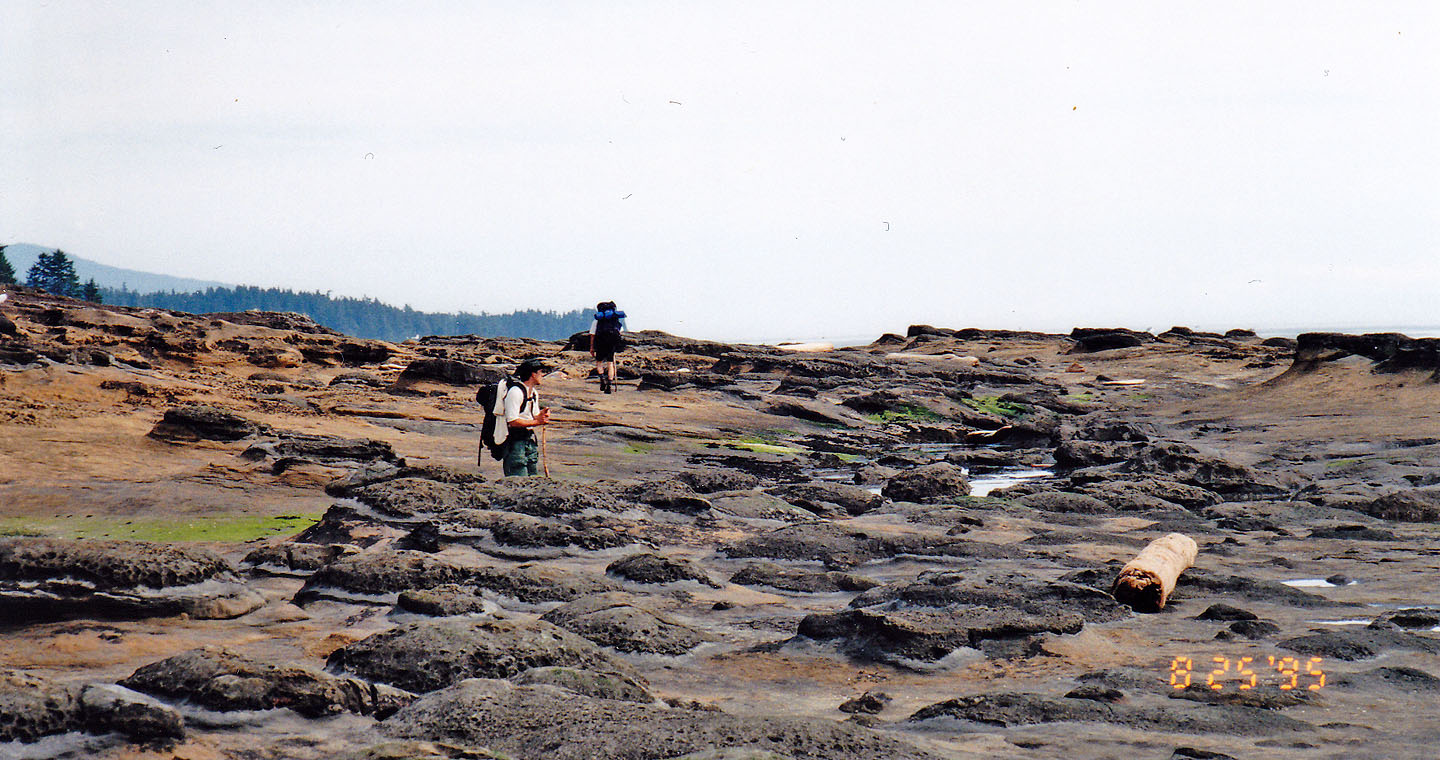 Hiking among the tidal pools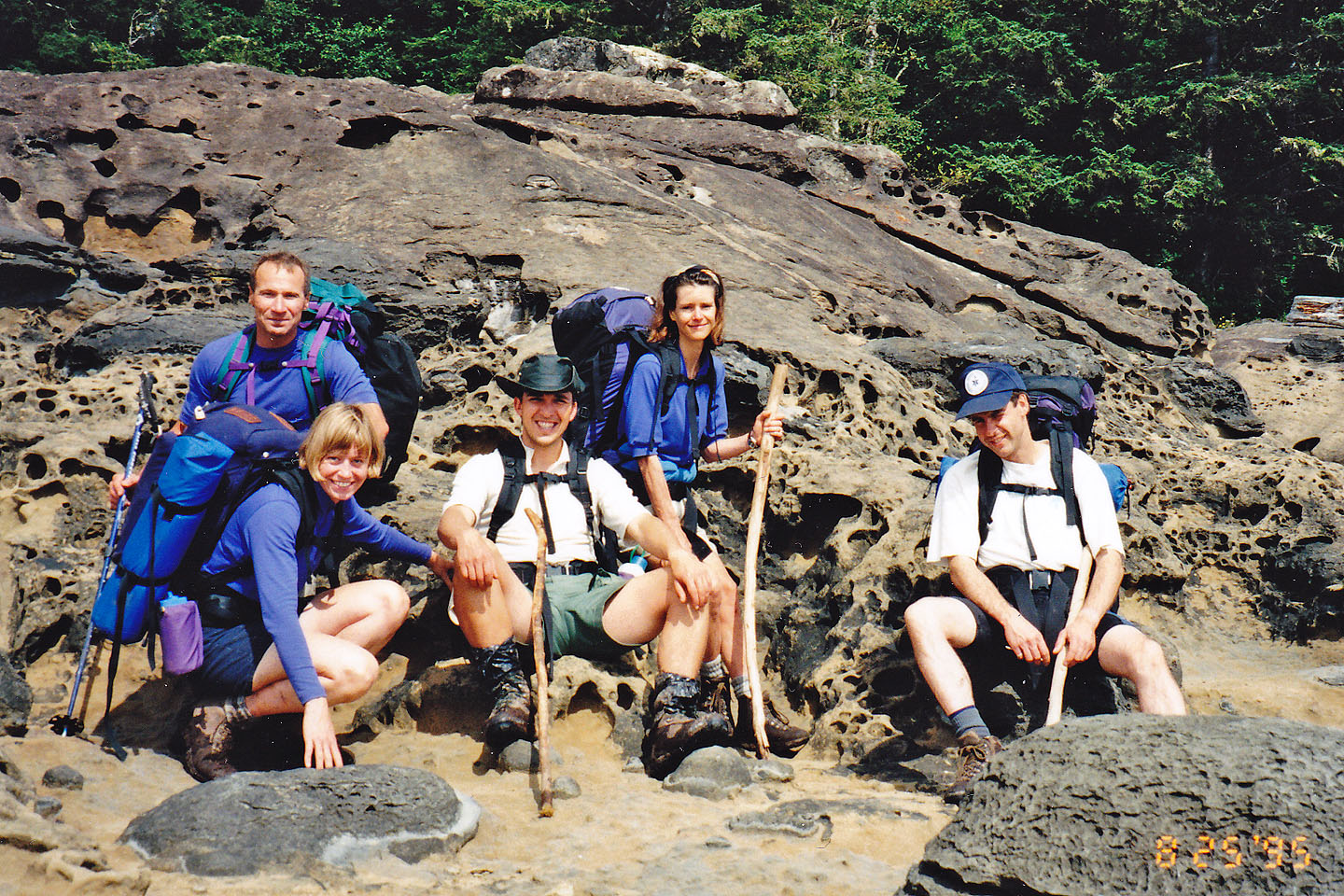 Stopping for a group shot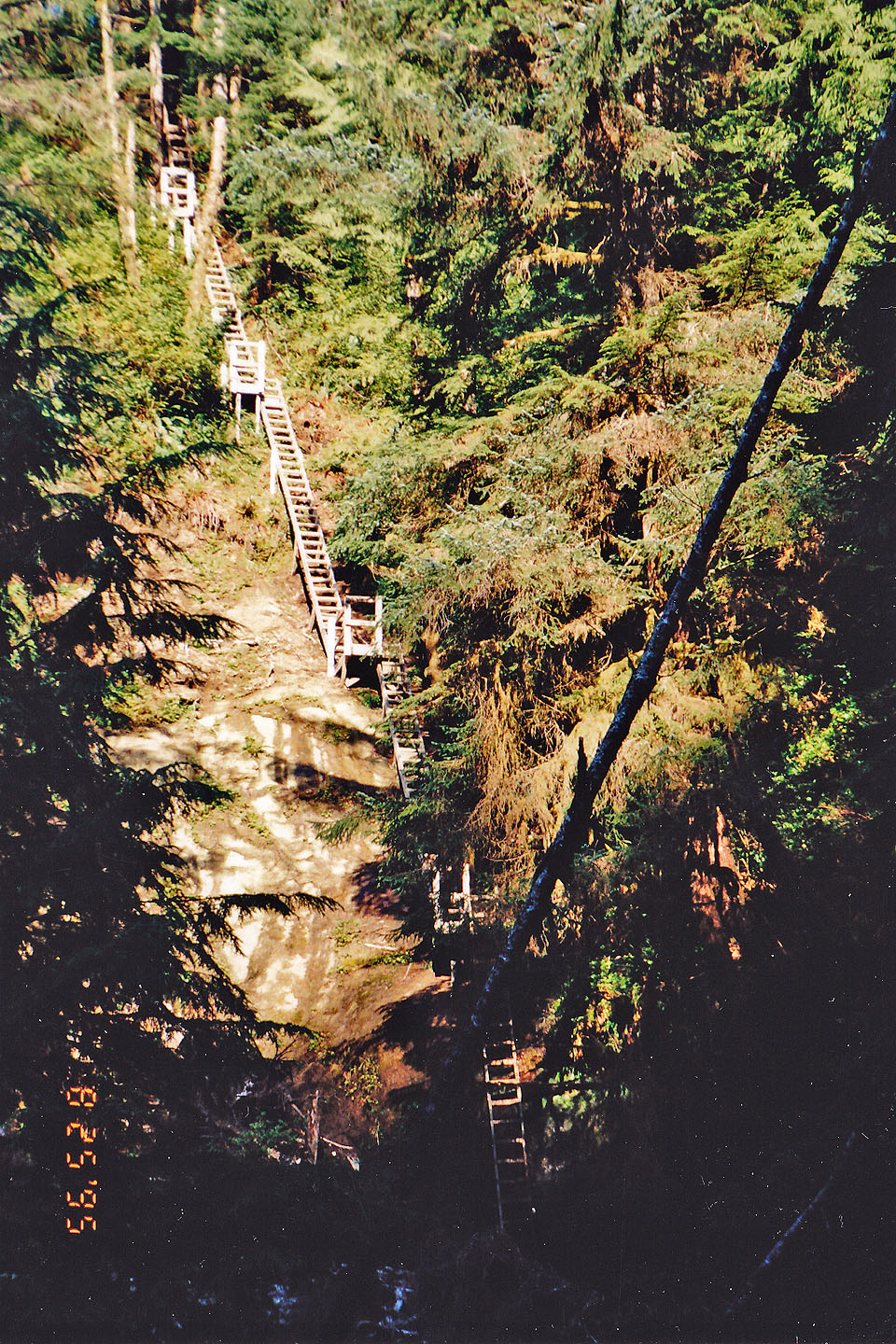 More stairs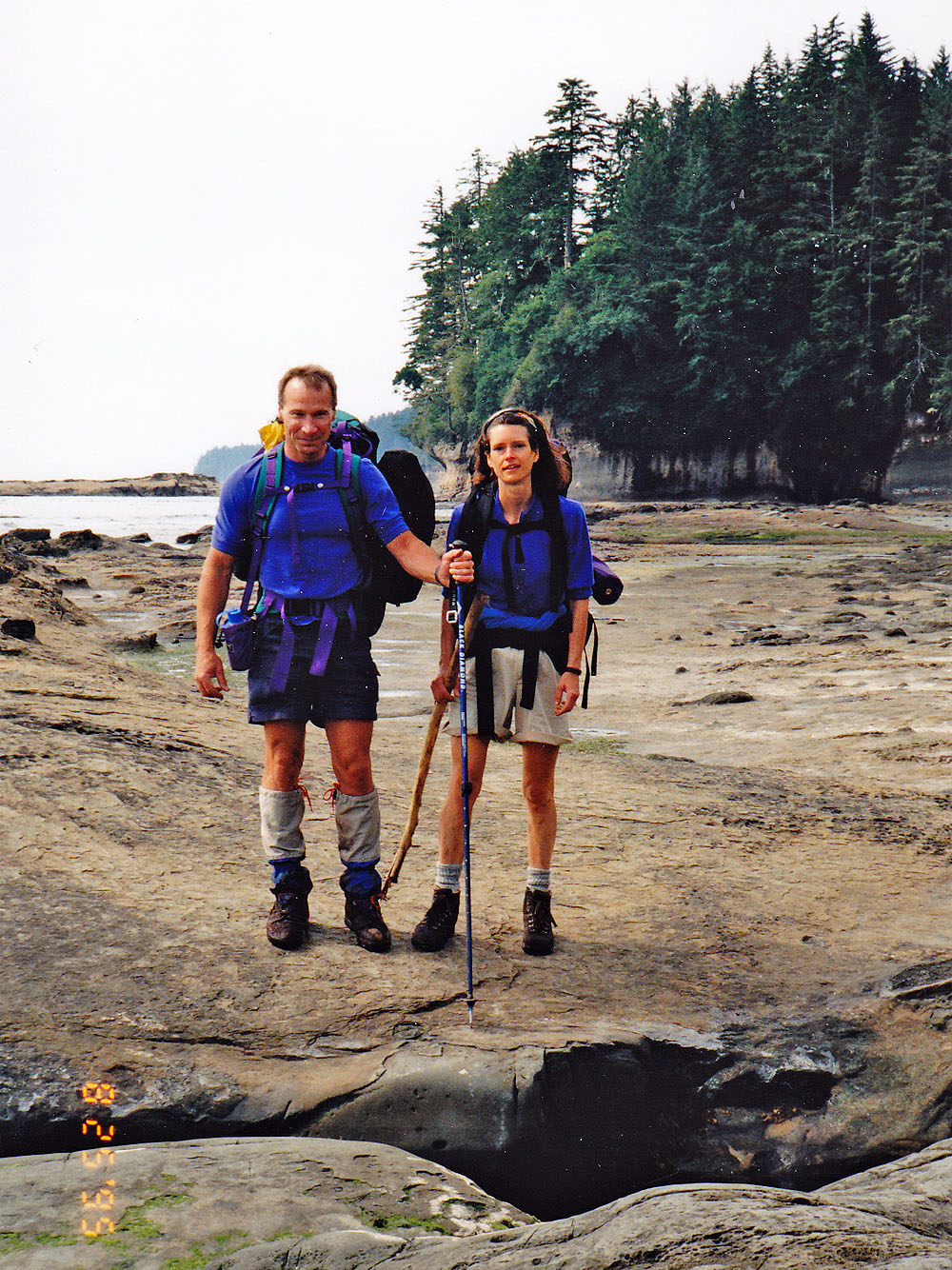 Hiking on the shore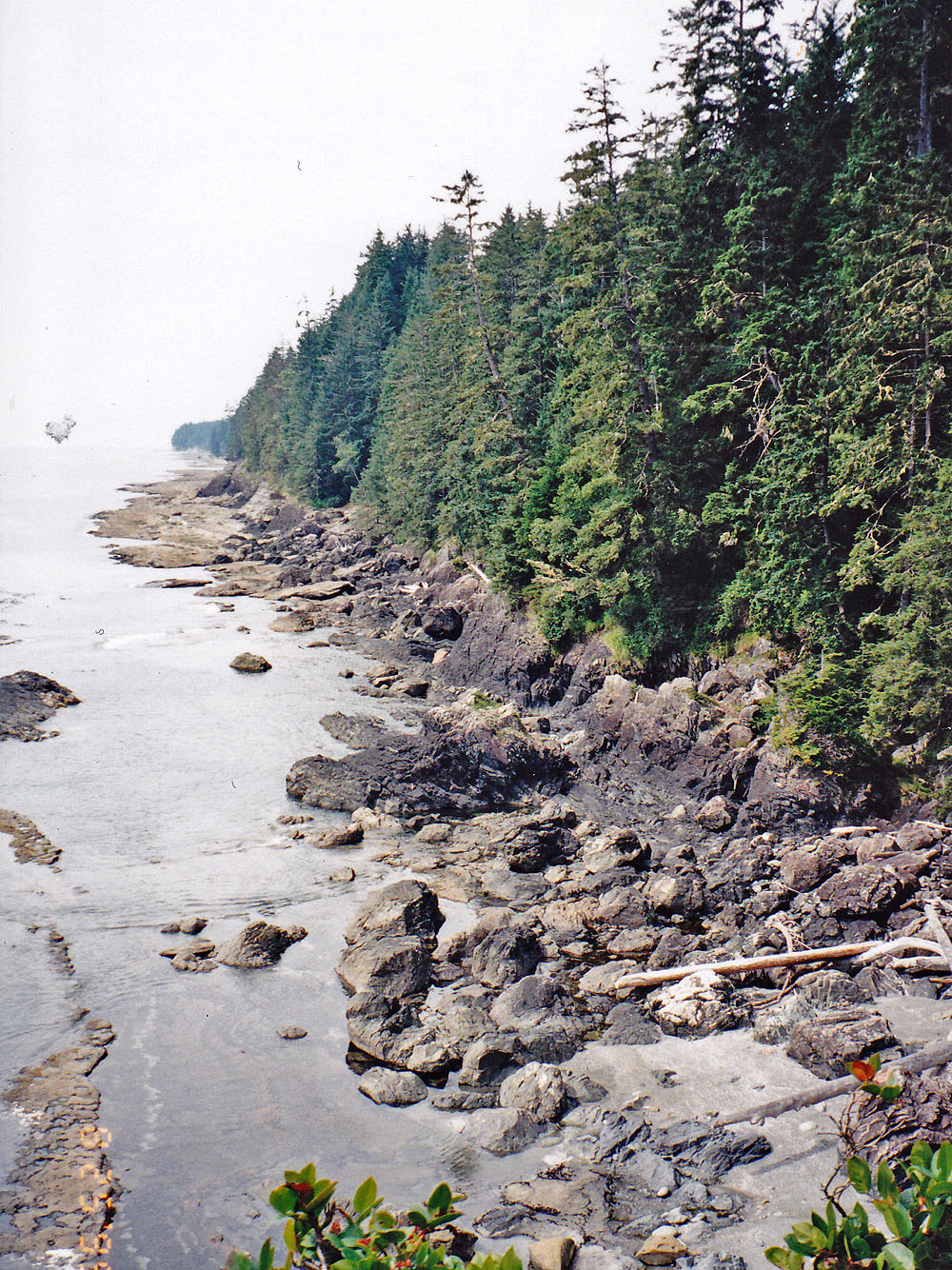 Viewpoint from the highest point on the trail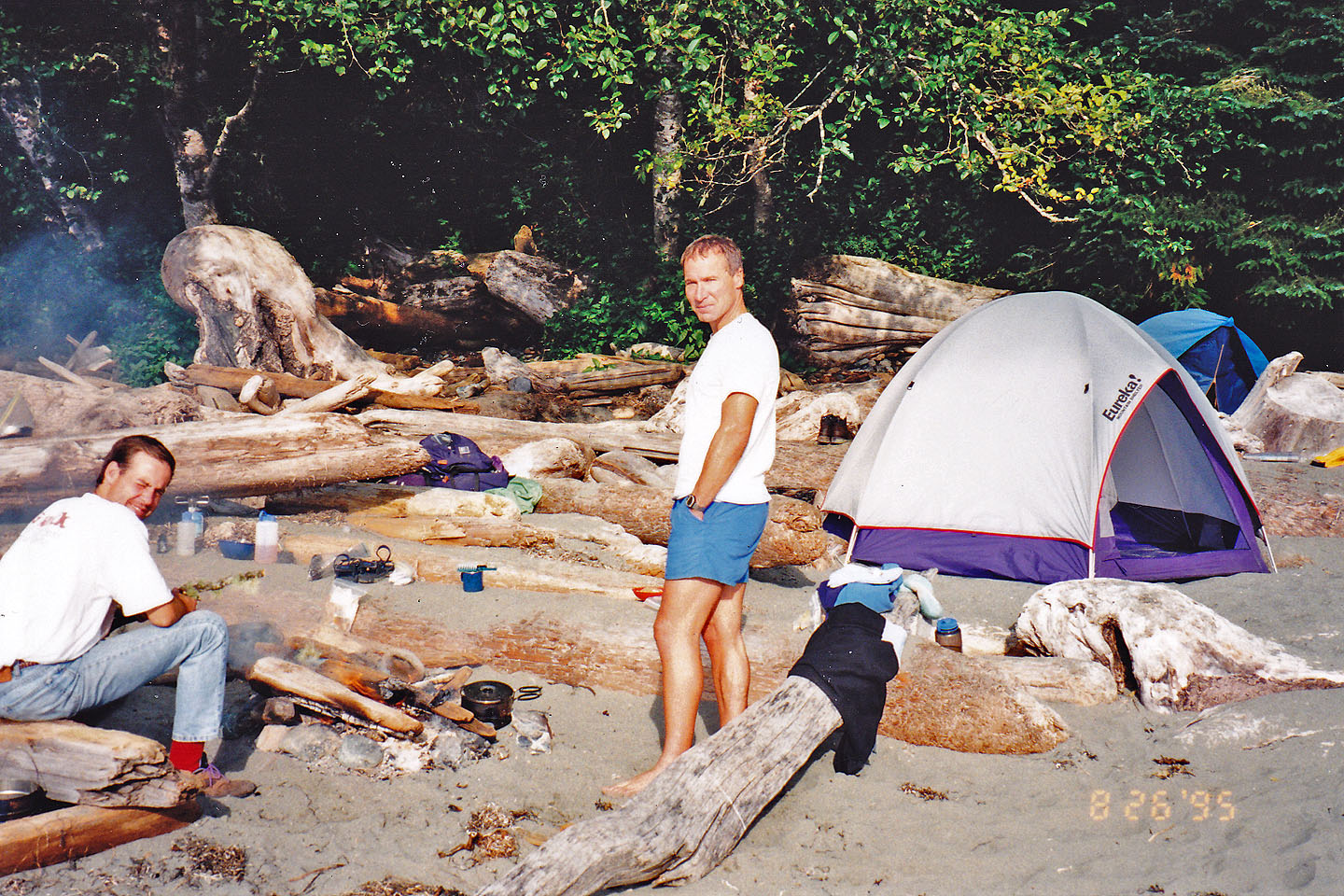 Thrasher Cove campsite