bobspirko.ca | Home | Canada Trips | US Trips | Hiking | Snowshoeing | MAP | About
The Fortress and Gusty Peak
Kananaskis, Alberta
October 9, 2004
Distance: 19.8 km
Cumulative Elevation Gain: 1816 m
Dinah and I decided to climb The Fortress and Gusty Peak in one shot. The ascent up The Fortress was worthwhile and straightforward, and we had no problems. But Gusty Peak was a 540 m slog up miserable scree, made worse by a blinding snowstorm.
Following the directions in Scrambles in the Canadian Rockies, we hiked to Chester Lake. After skirting the left shoreline of the lake, we continued northeast into the valley separating the two peaks. From the basin at the end of the valley, we started up a talus slope on our right and headed to the Chester-Fortress col.
I had heard of parties that turned back because they were unable to find their way up Gusty Peak even in good weather. So as we climbed above the valley on our way to The Fortress, I carefully noted Gusty's route where it starts from the basin. That study was especially helpful after we summited The Fortress. At that point, visibility was reduced to a few dozen metres. From the top of Fortress, we retraced our steps back down to the valley. Then we ascended Gusty in a whiteout. It took nearly two hours to climb from the basin to the summit of Gusty Peak; snow-covered rocks and blowing snow slowed our progress. We spent but a moment on Gusty, before heading back down.
Views on both summits were obscured, so I was unable to take panoramas.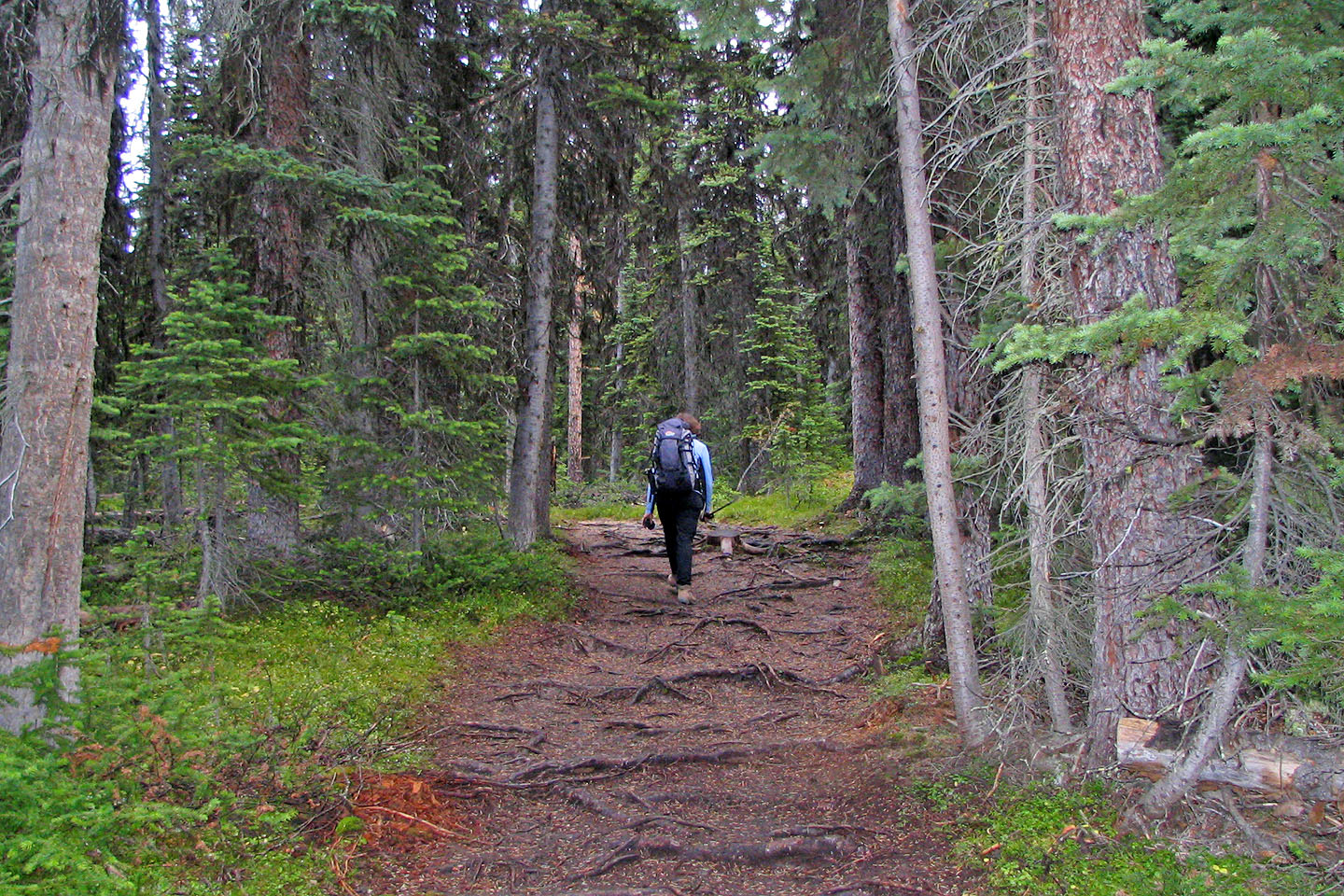 Hiking to Chester Lake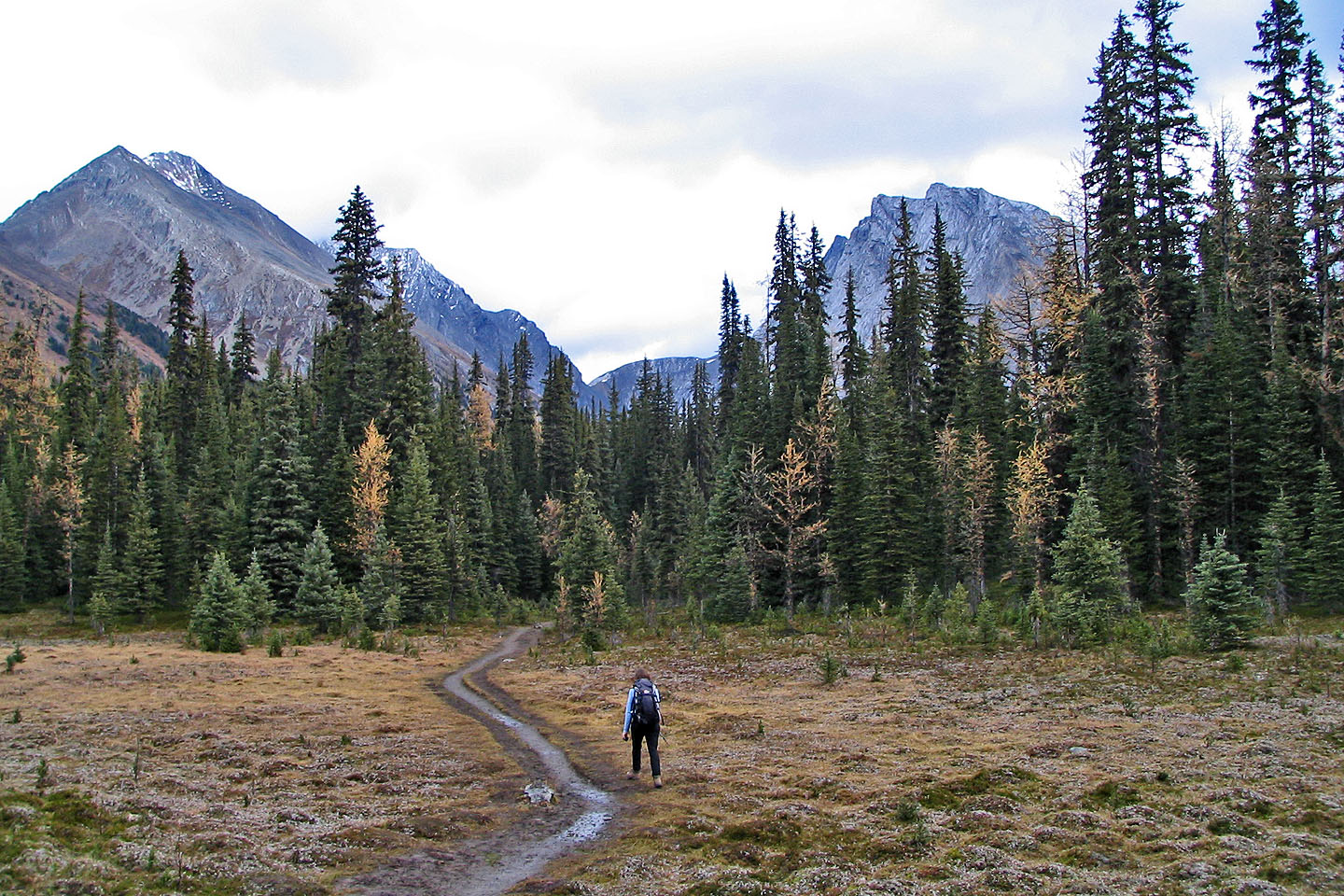 Gusty Peak and The Fortress ahead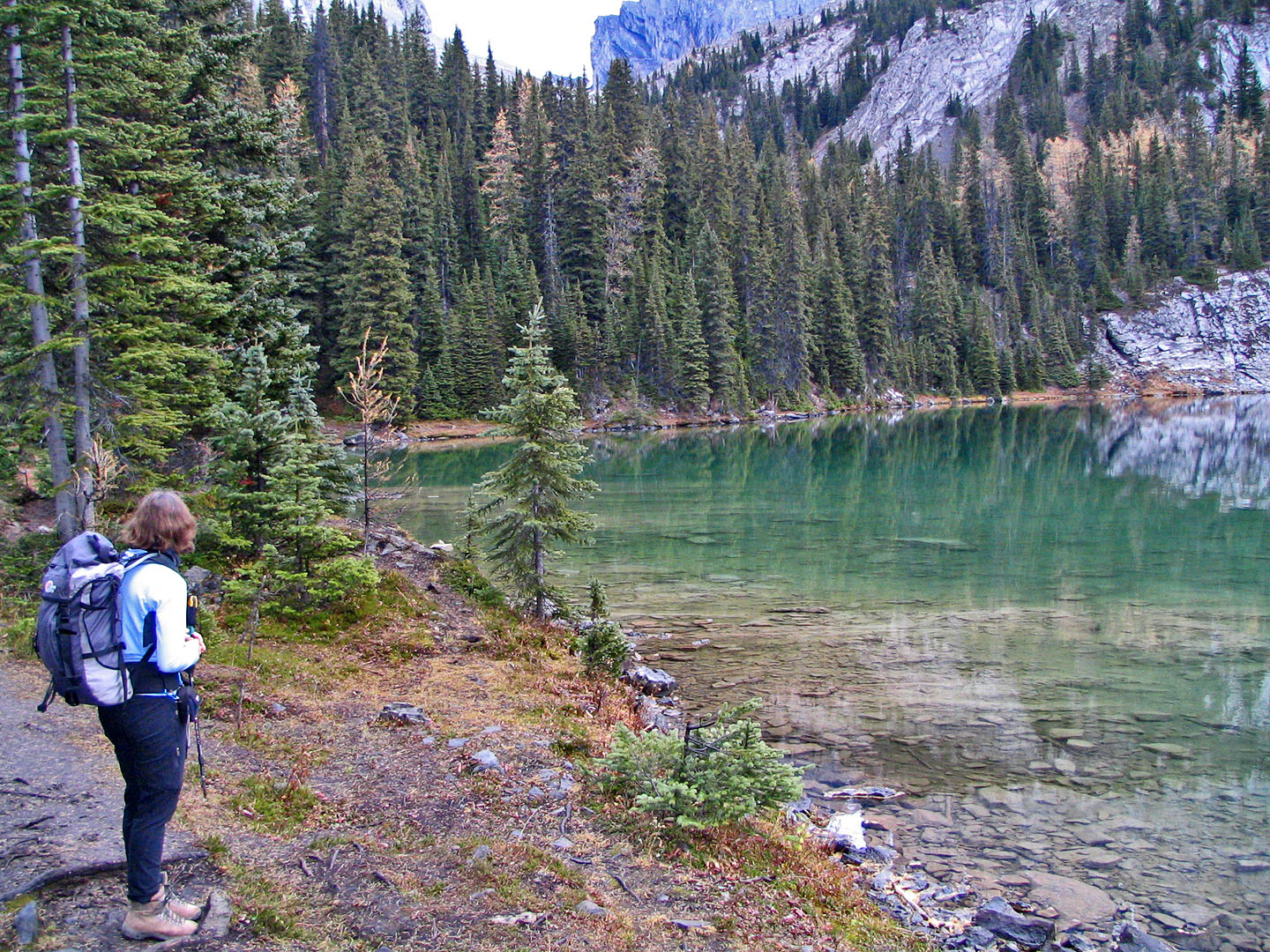 Pausing at Chester Lake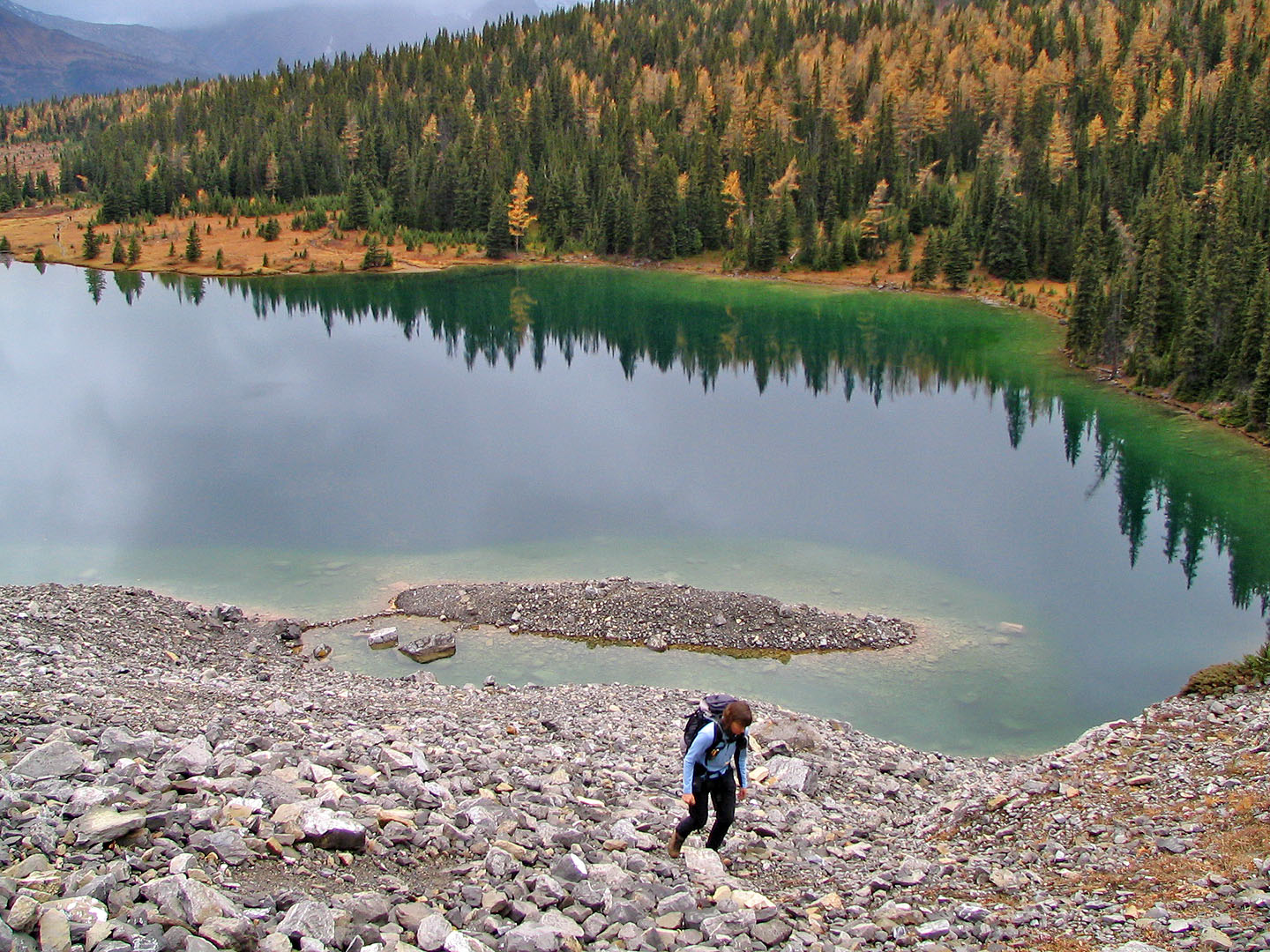 Leaving lake behind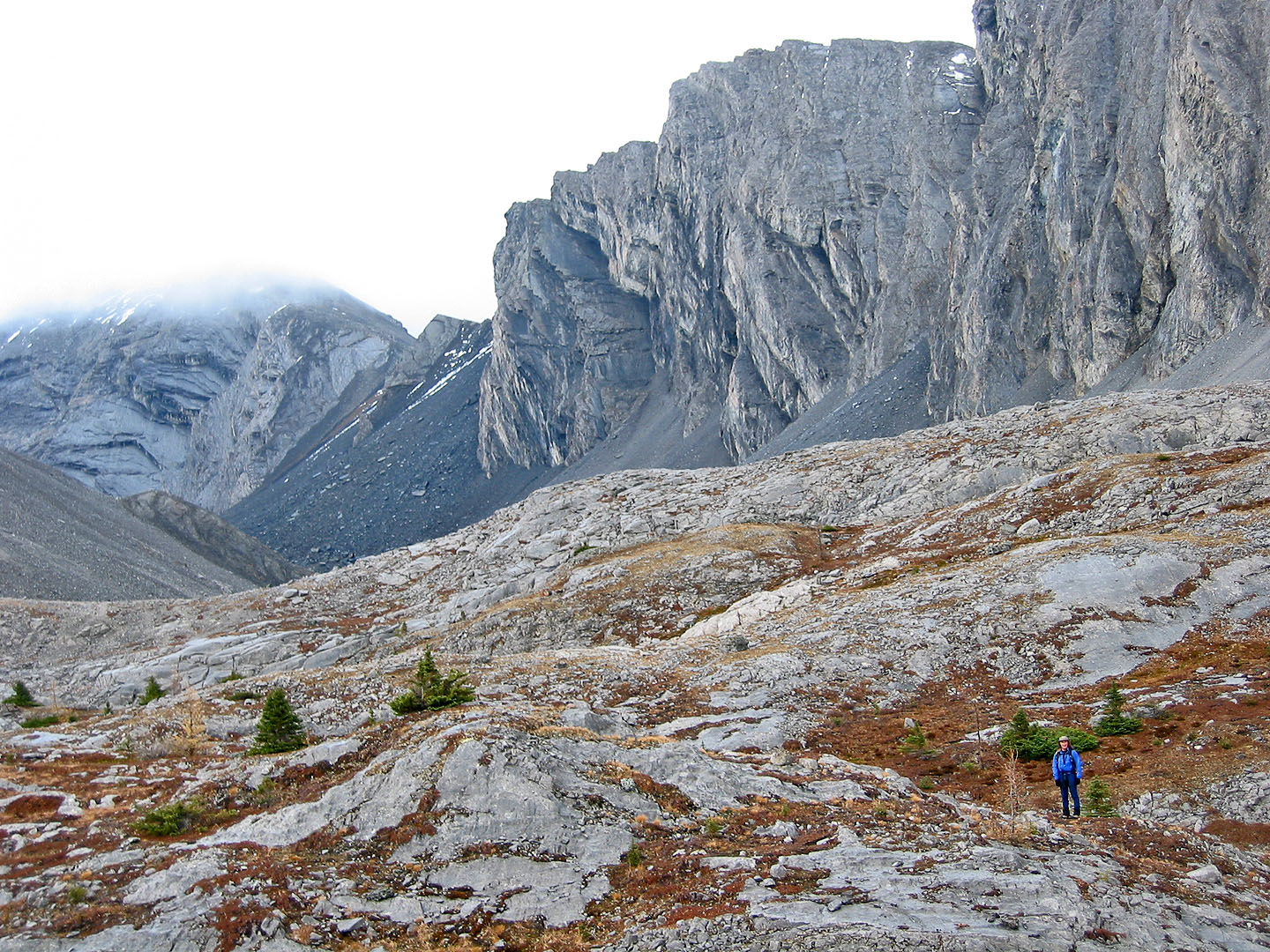 The Fortress is hidden in clouds. On our way back, the valley would be blanketed under snow.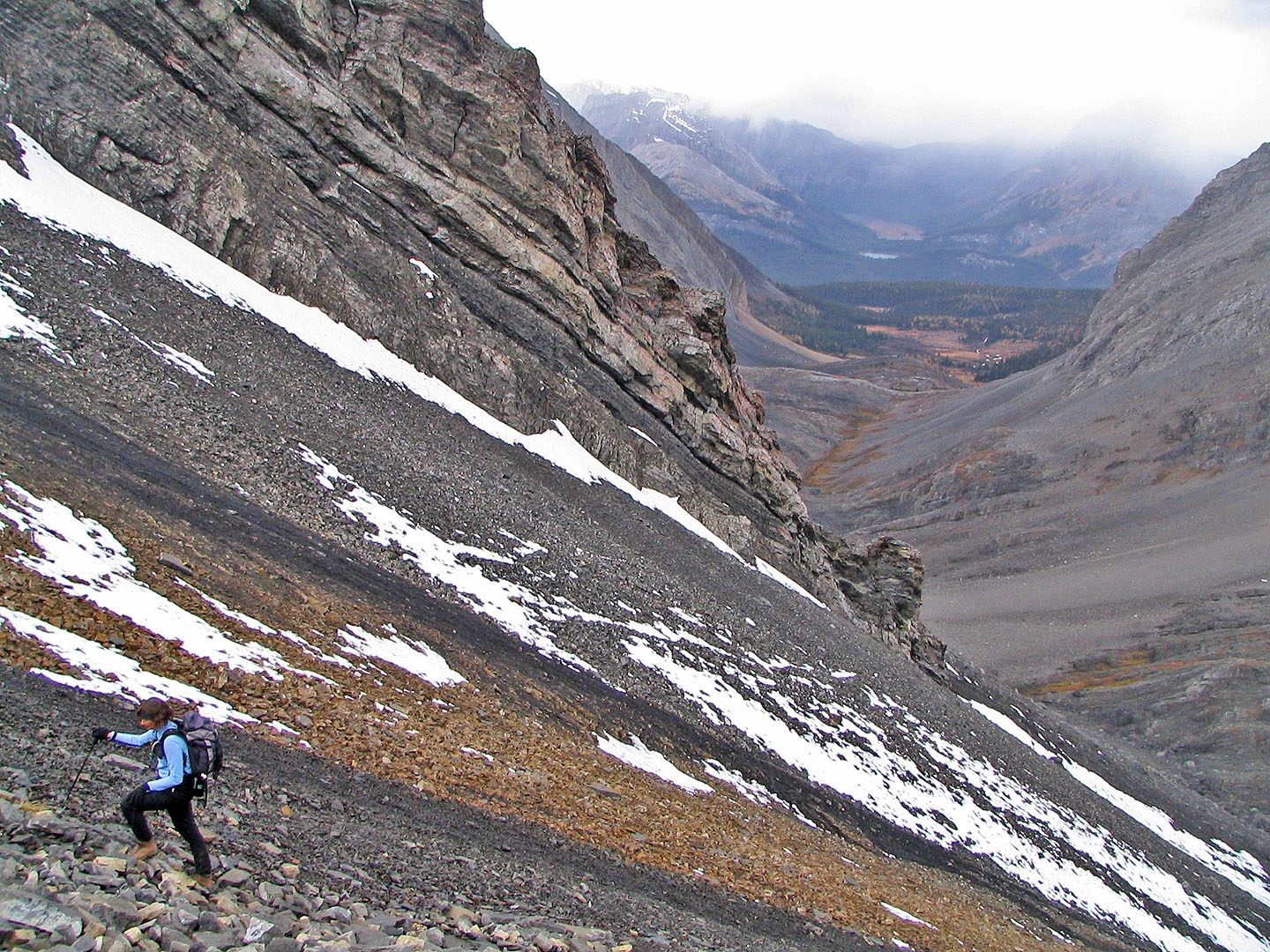 Ascending the Chester-Fortress col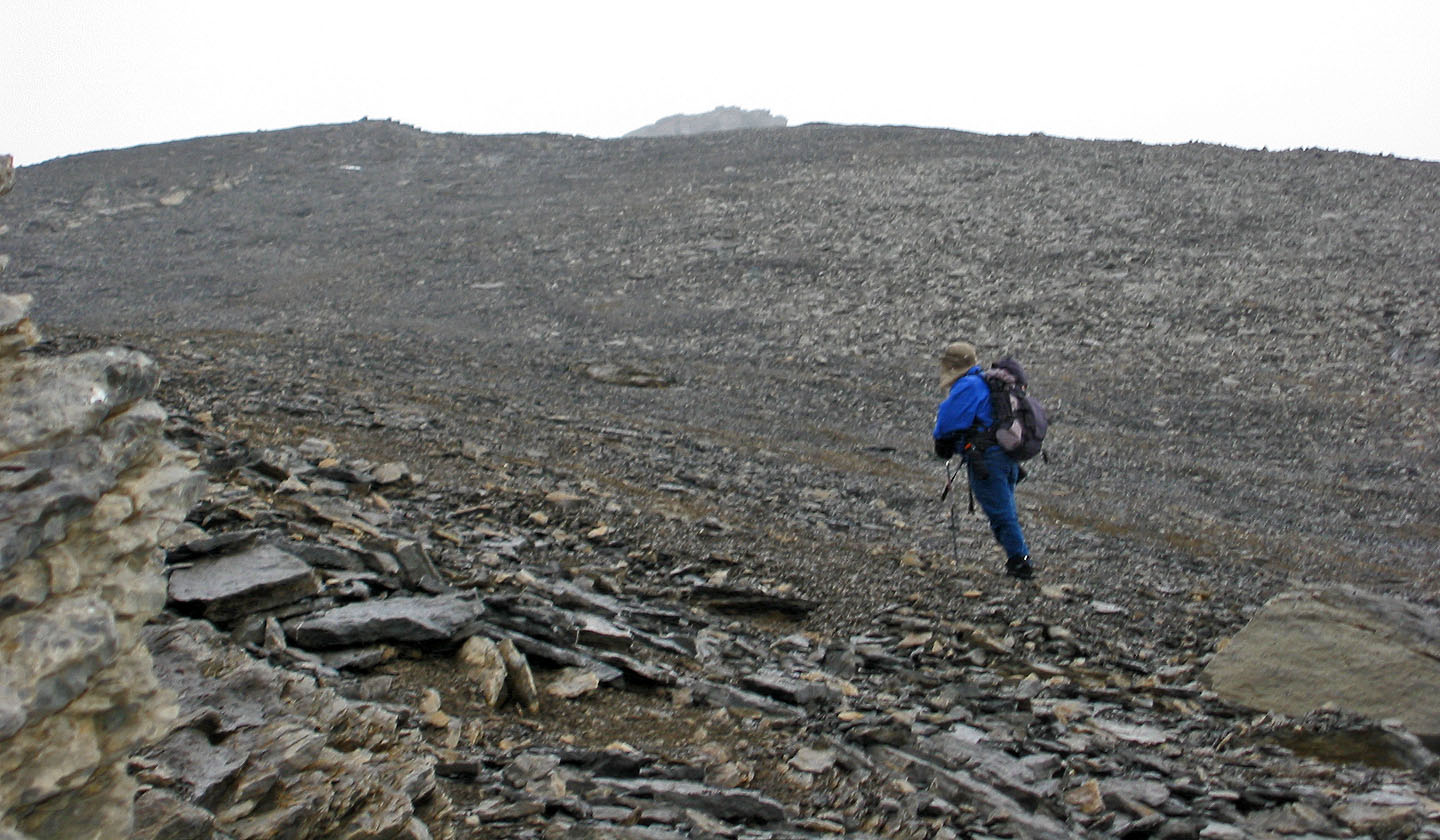 Looking up after reaching the col

The weather turned ugly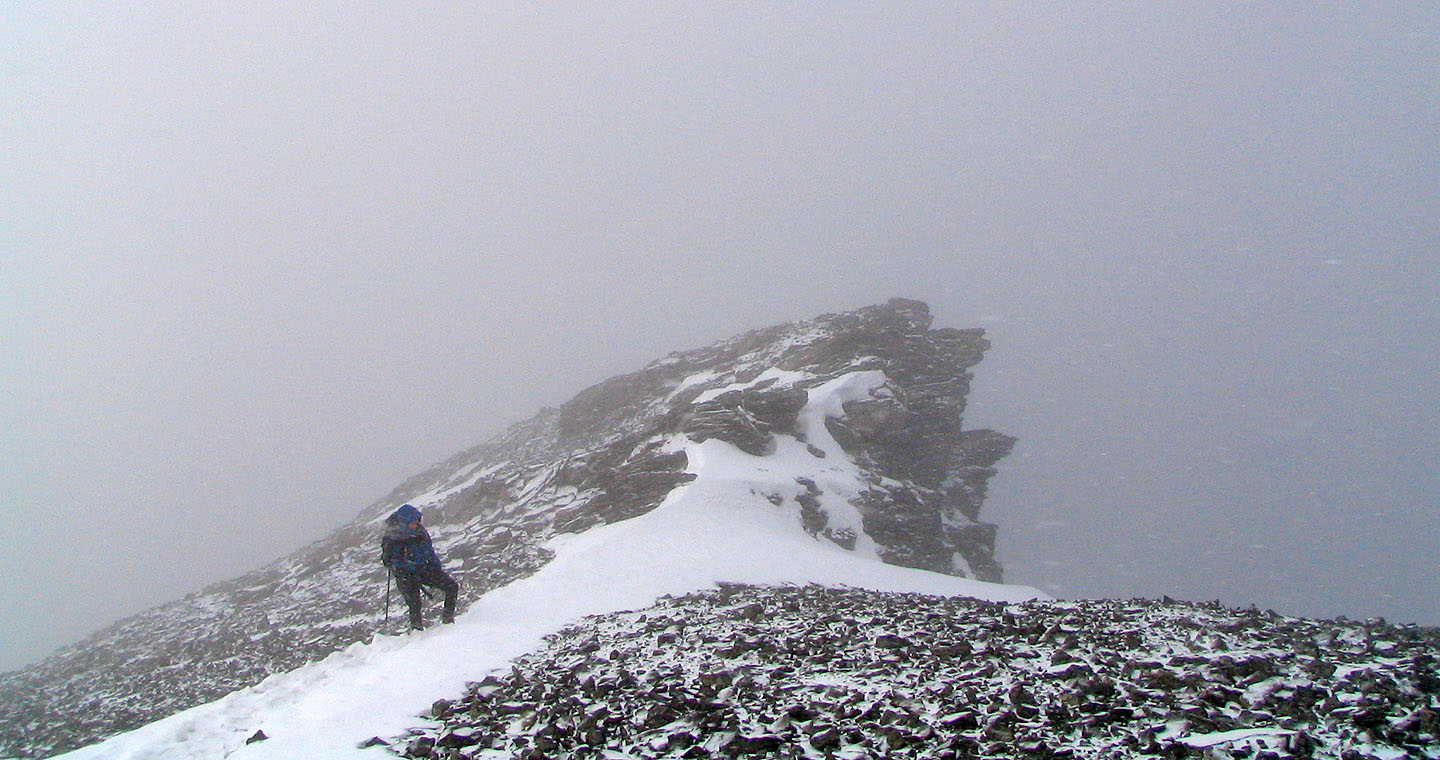 It's just a hike from the col to The Fortress summit block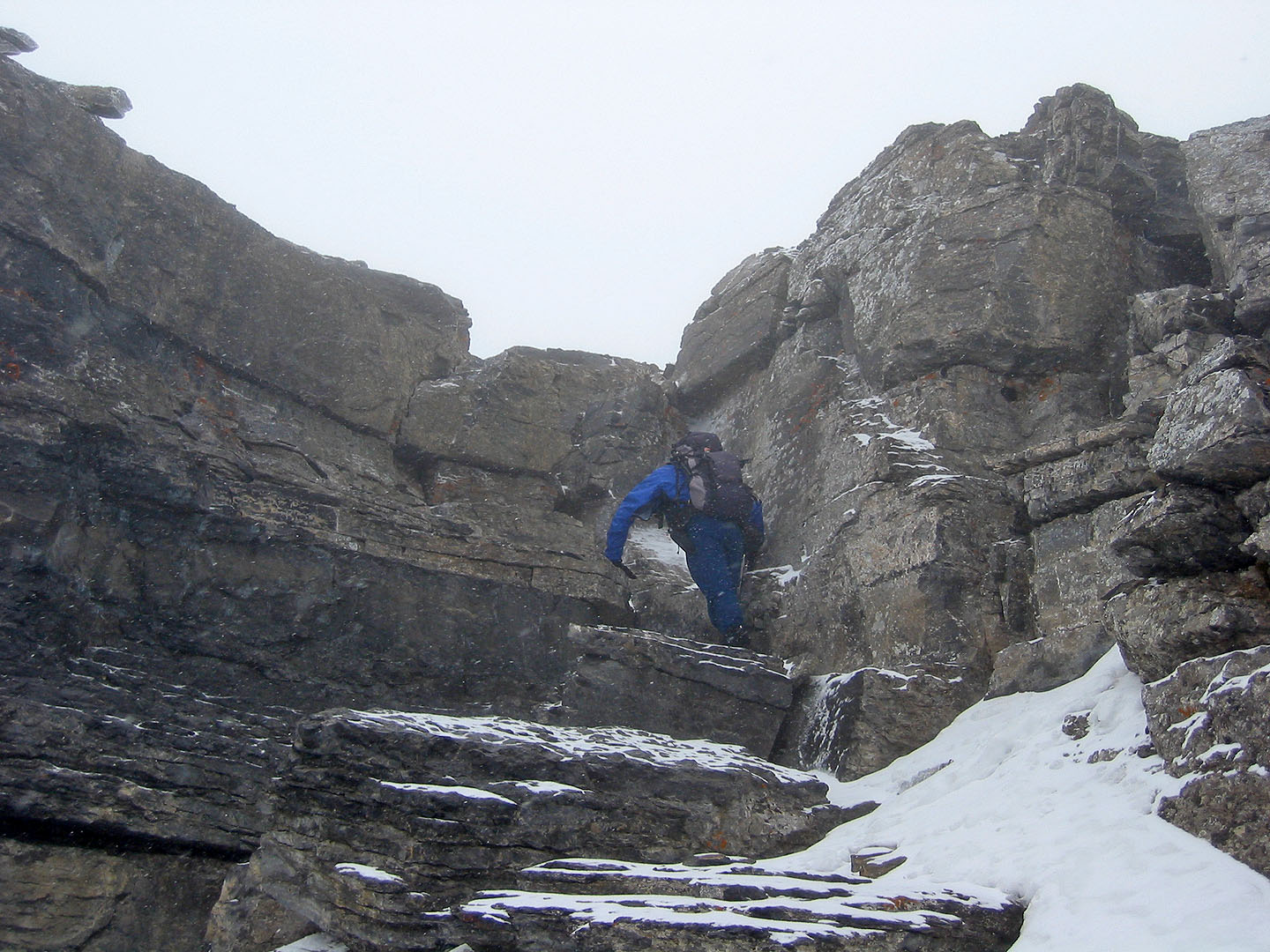 Some scrambling just before the summit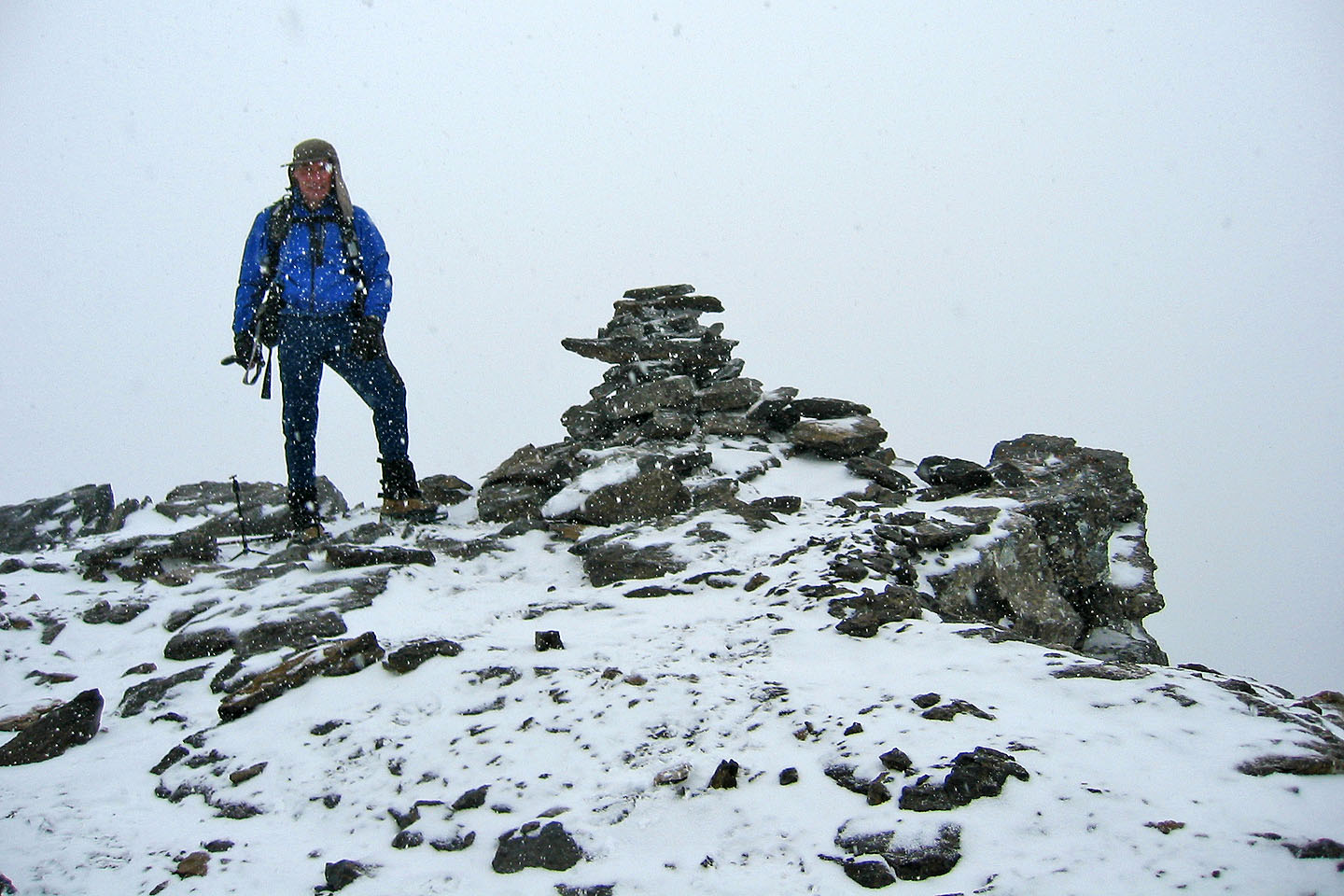 On the summit of The Fortress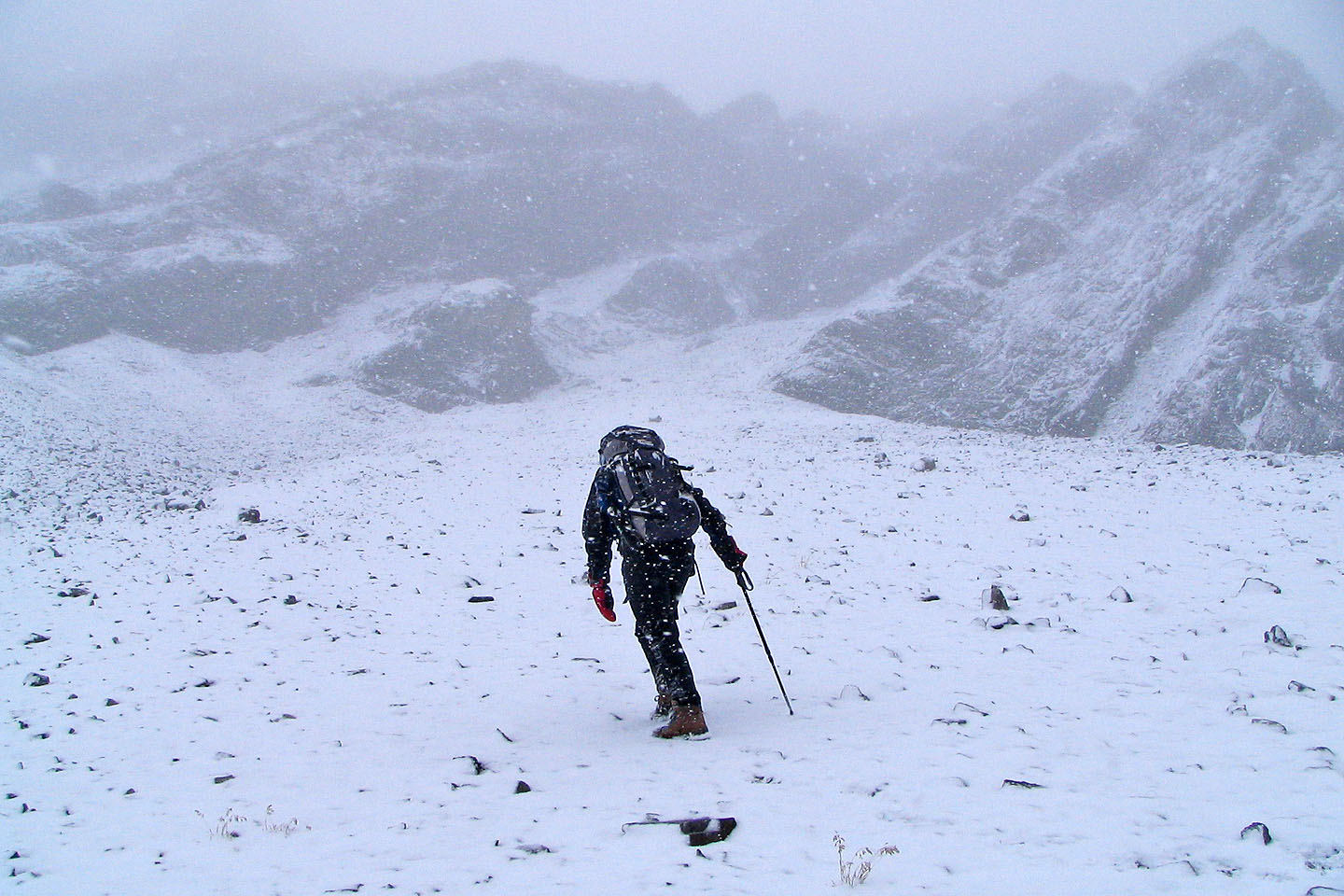 Visibility was extremely poor when we started up Gusty, so I was counting on my earlier observation of the ascent route on our way up The Fortress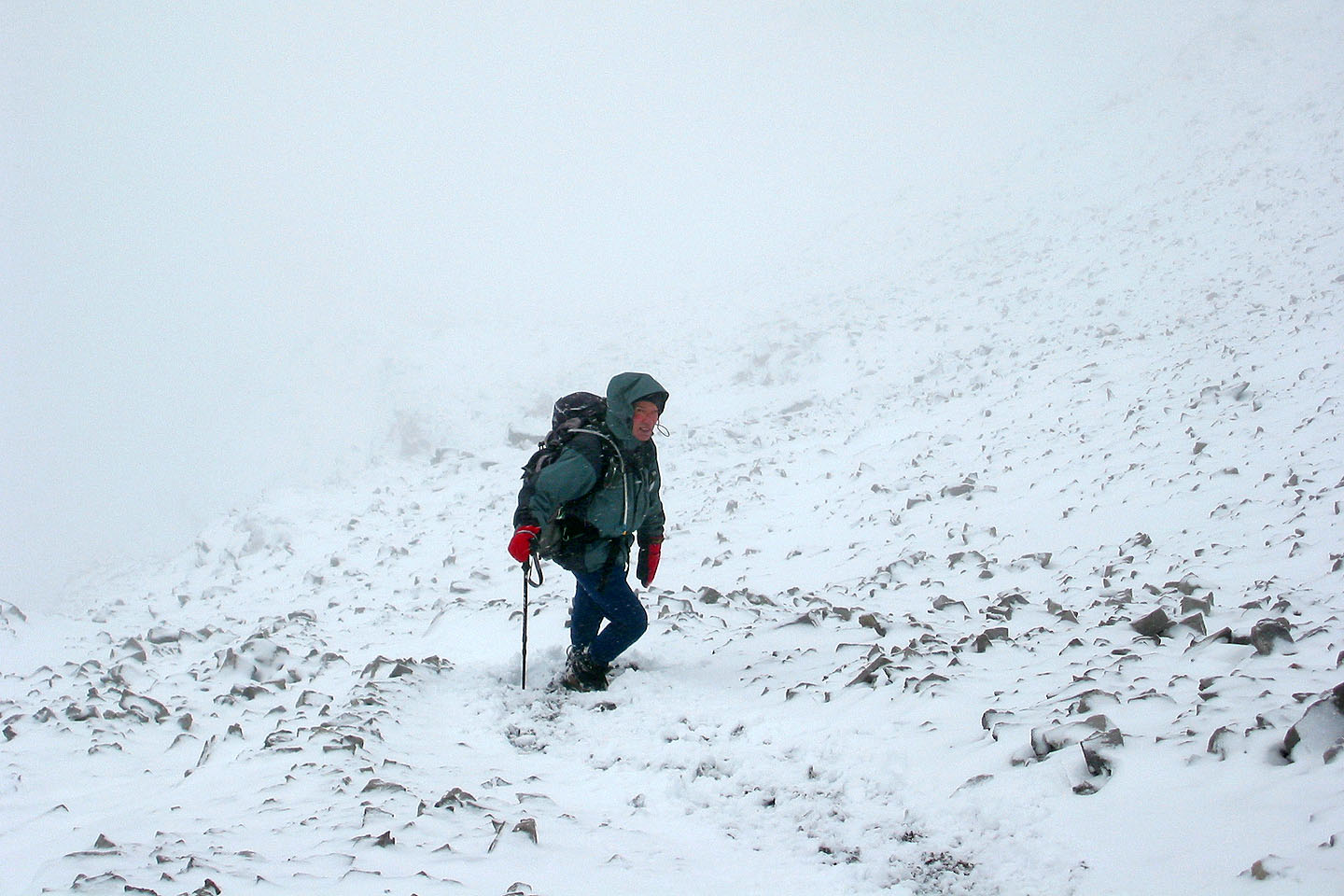 We couldn't see much so we hoped we were on track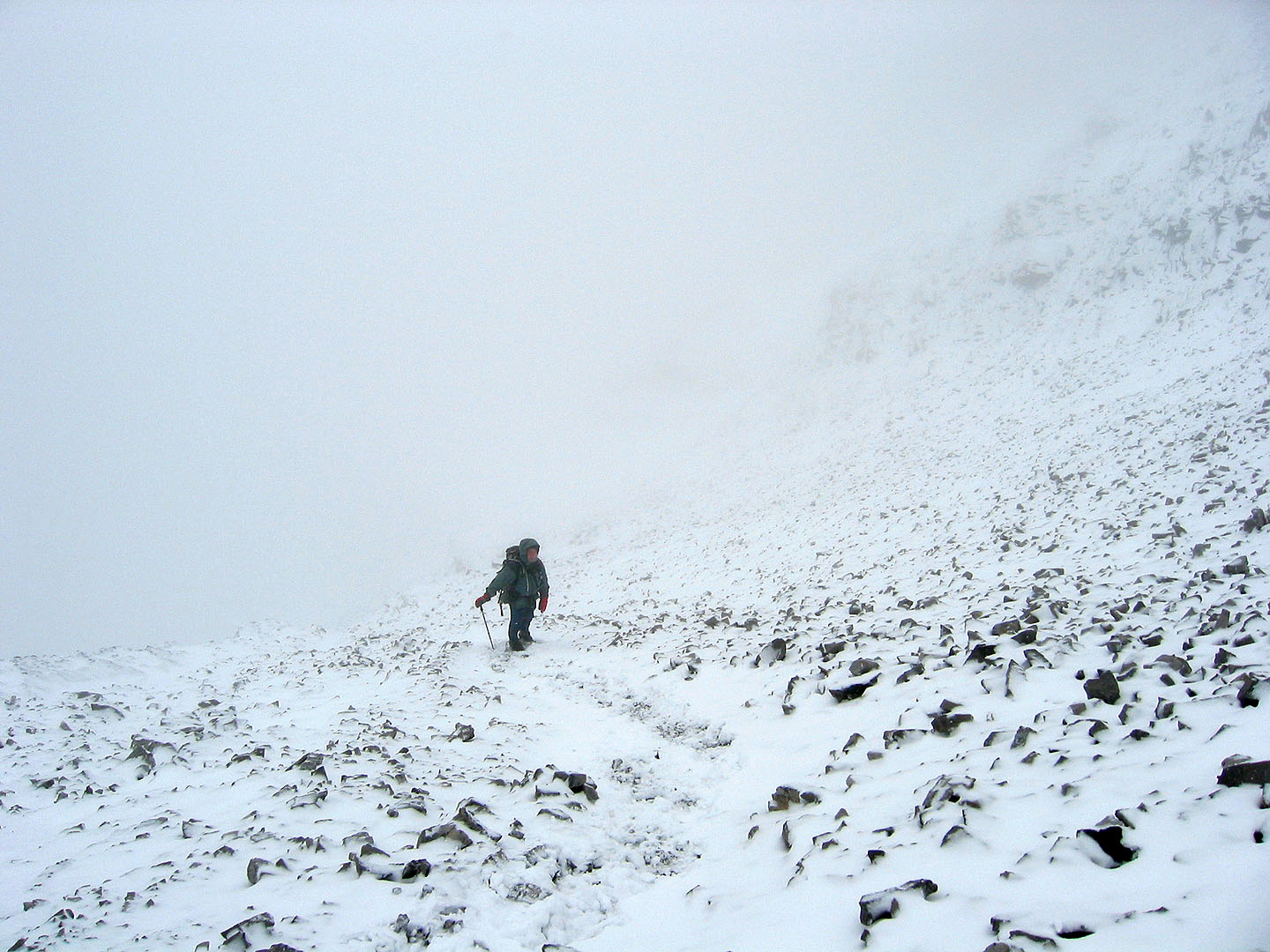 Slogging up the endless scree on Gusty Peak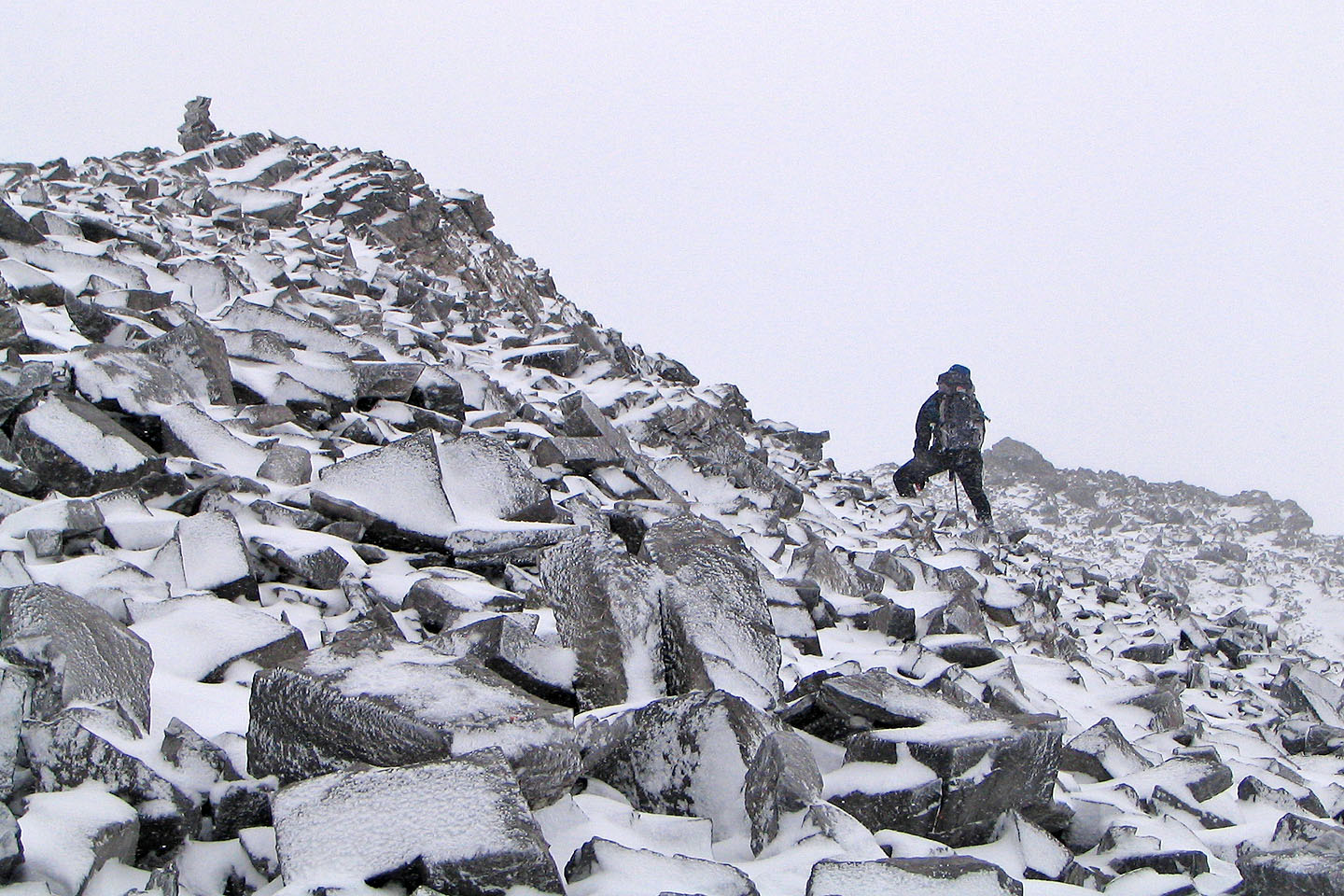 Almost on the summit of Gusty Peak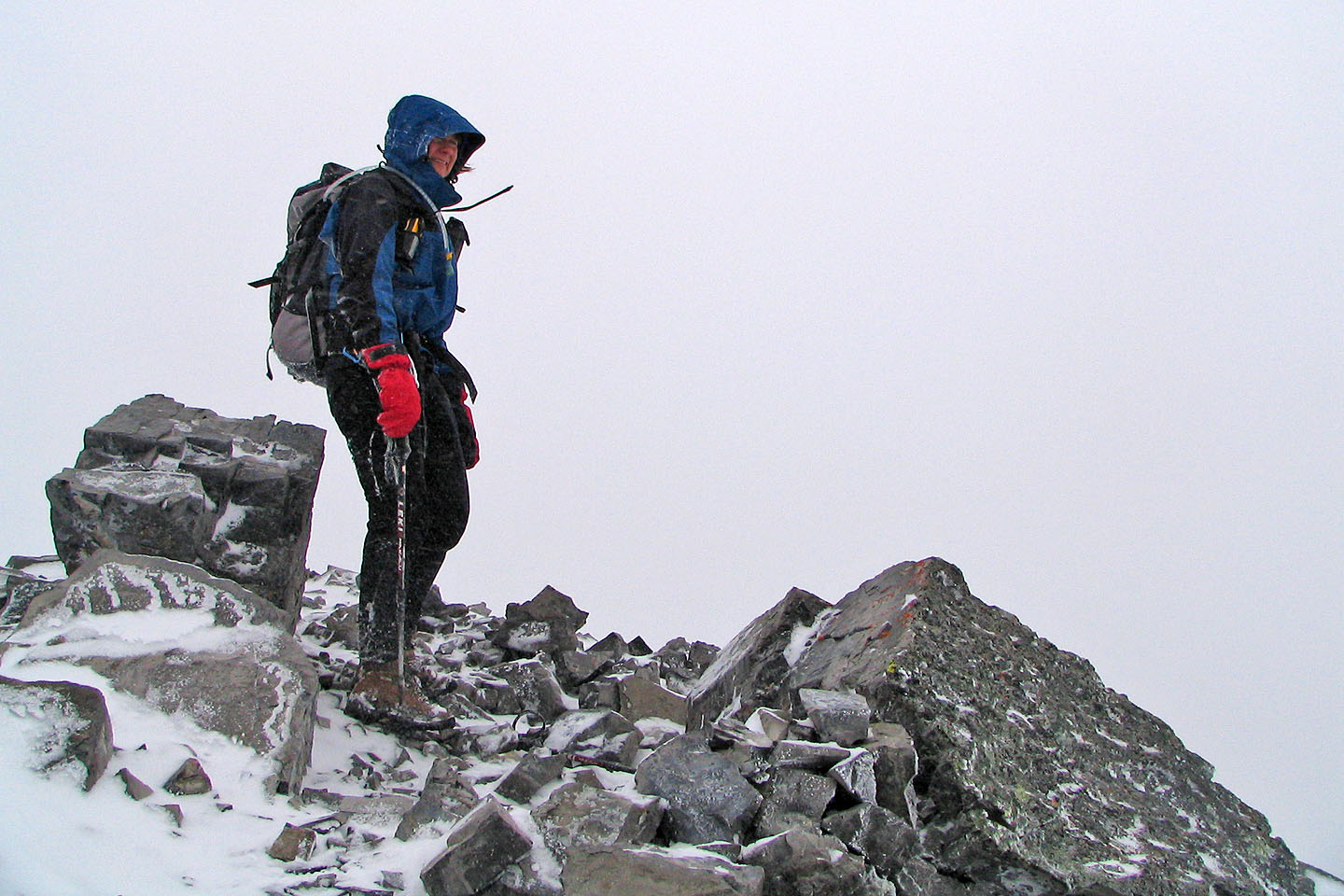 Dinah stands on the summit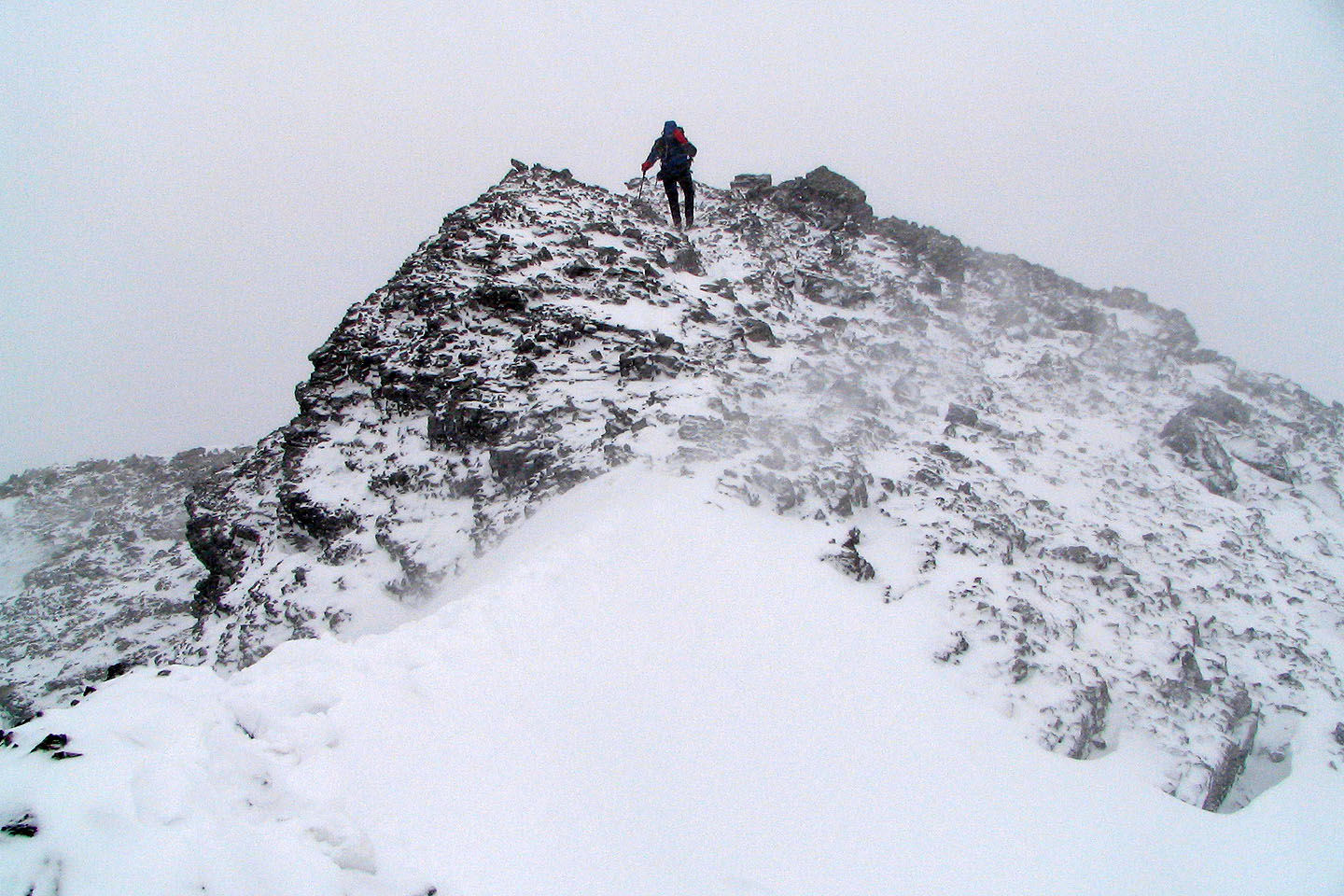 Starting down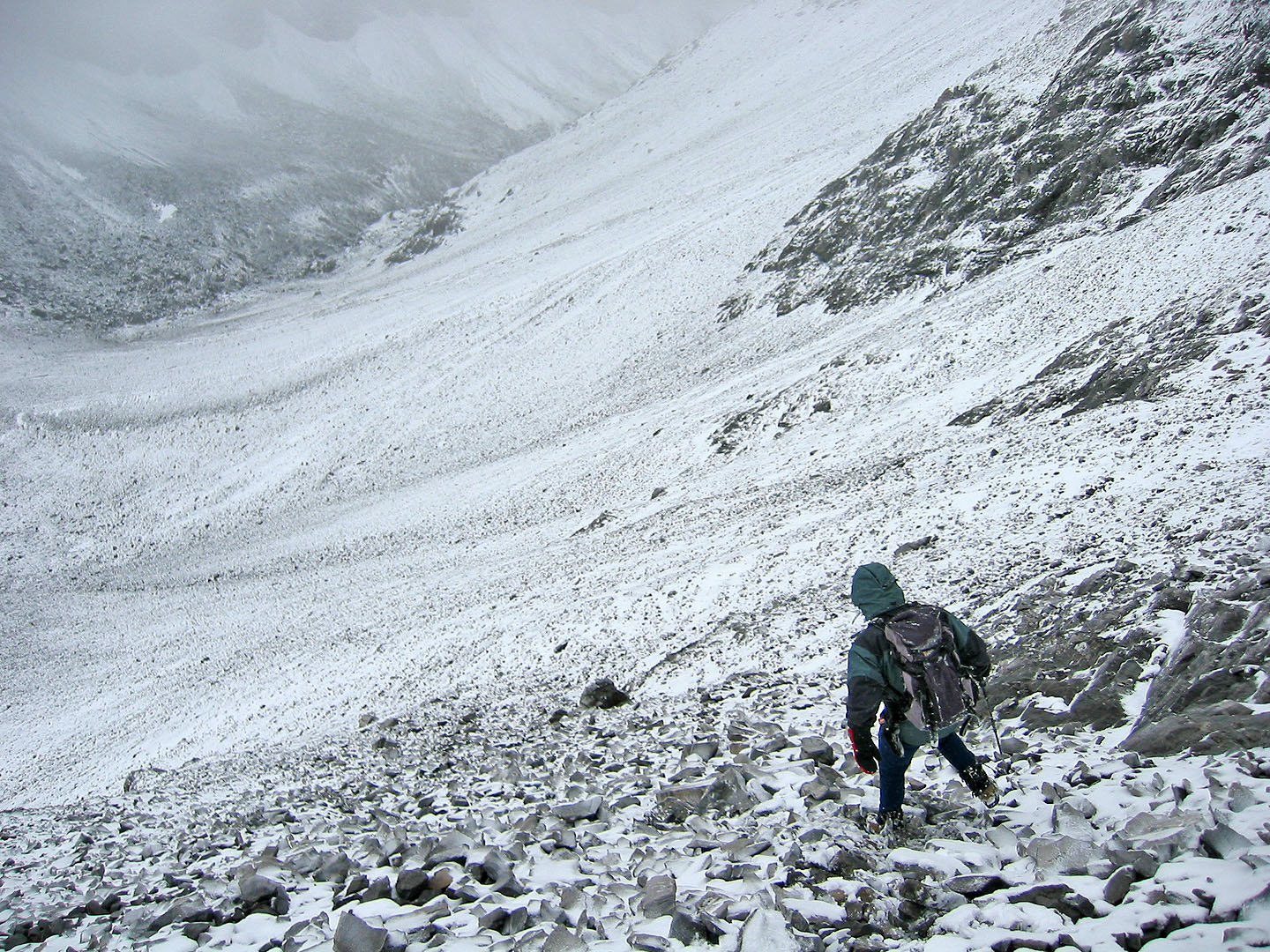 Heading down the scree slope from Gusty Peak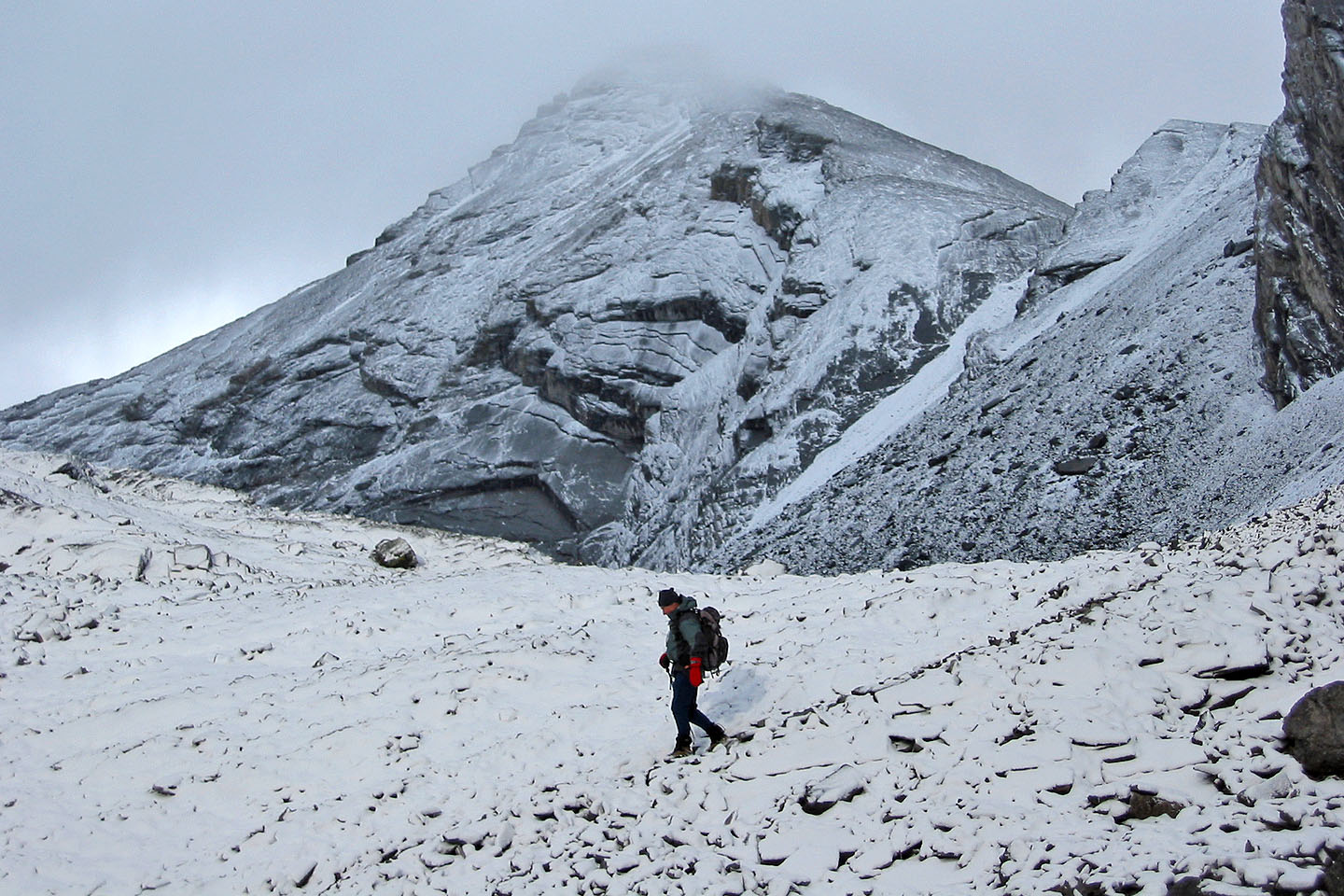 Back in the valley below The Fortress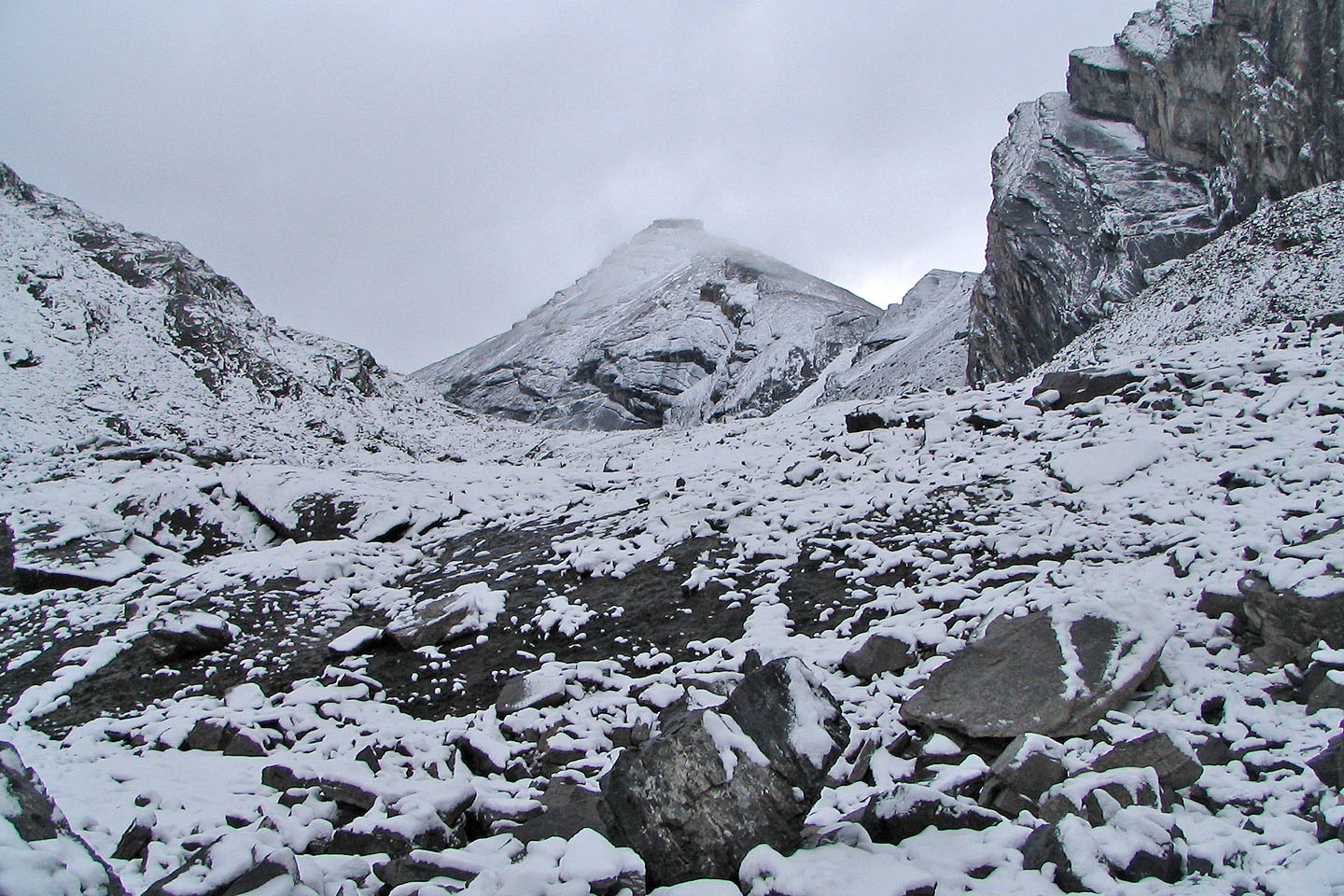 Looking back at The Fortress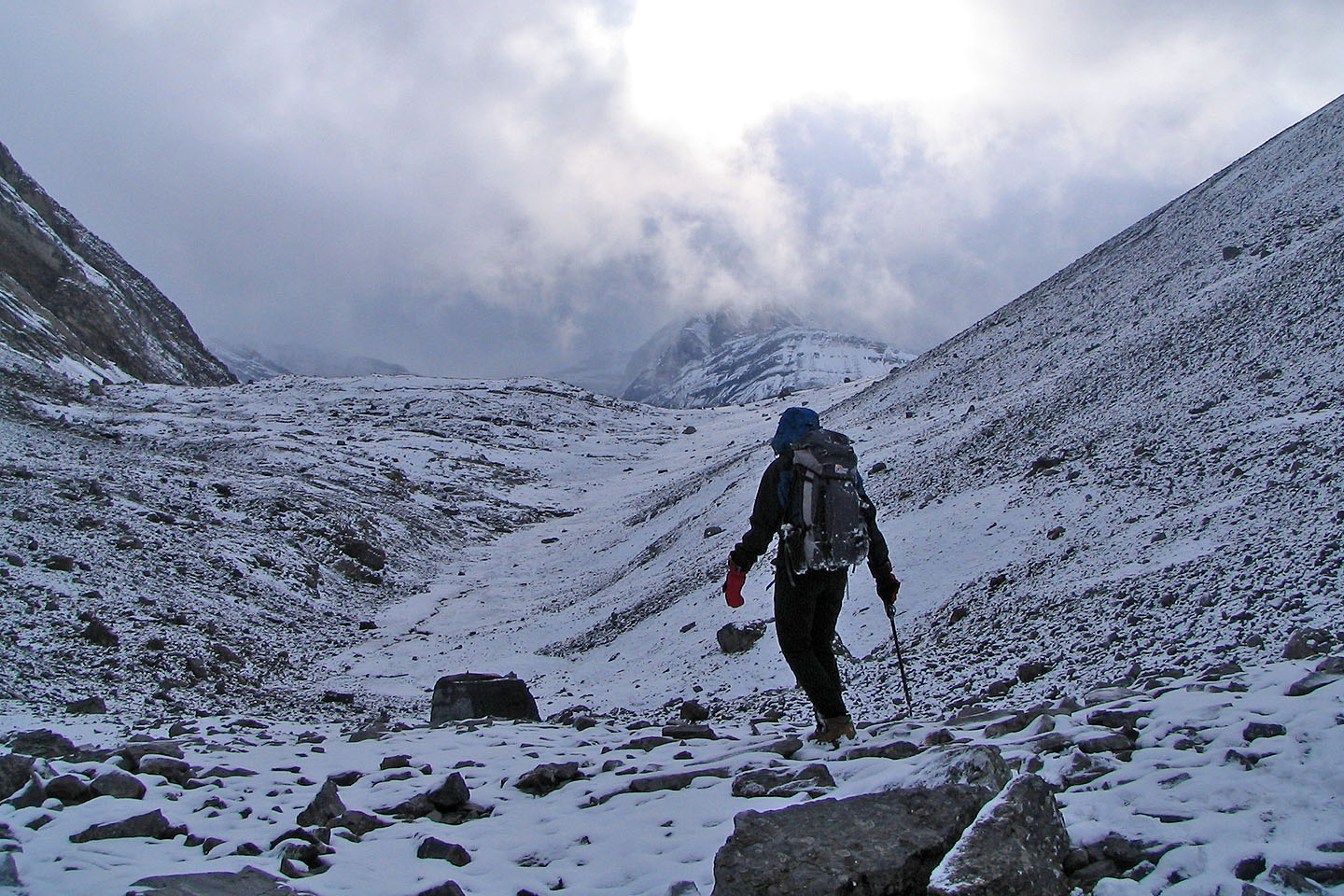 Hiking back down the valley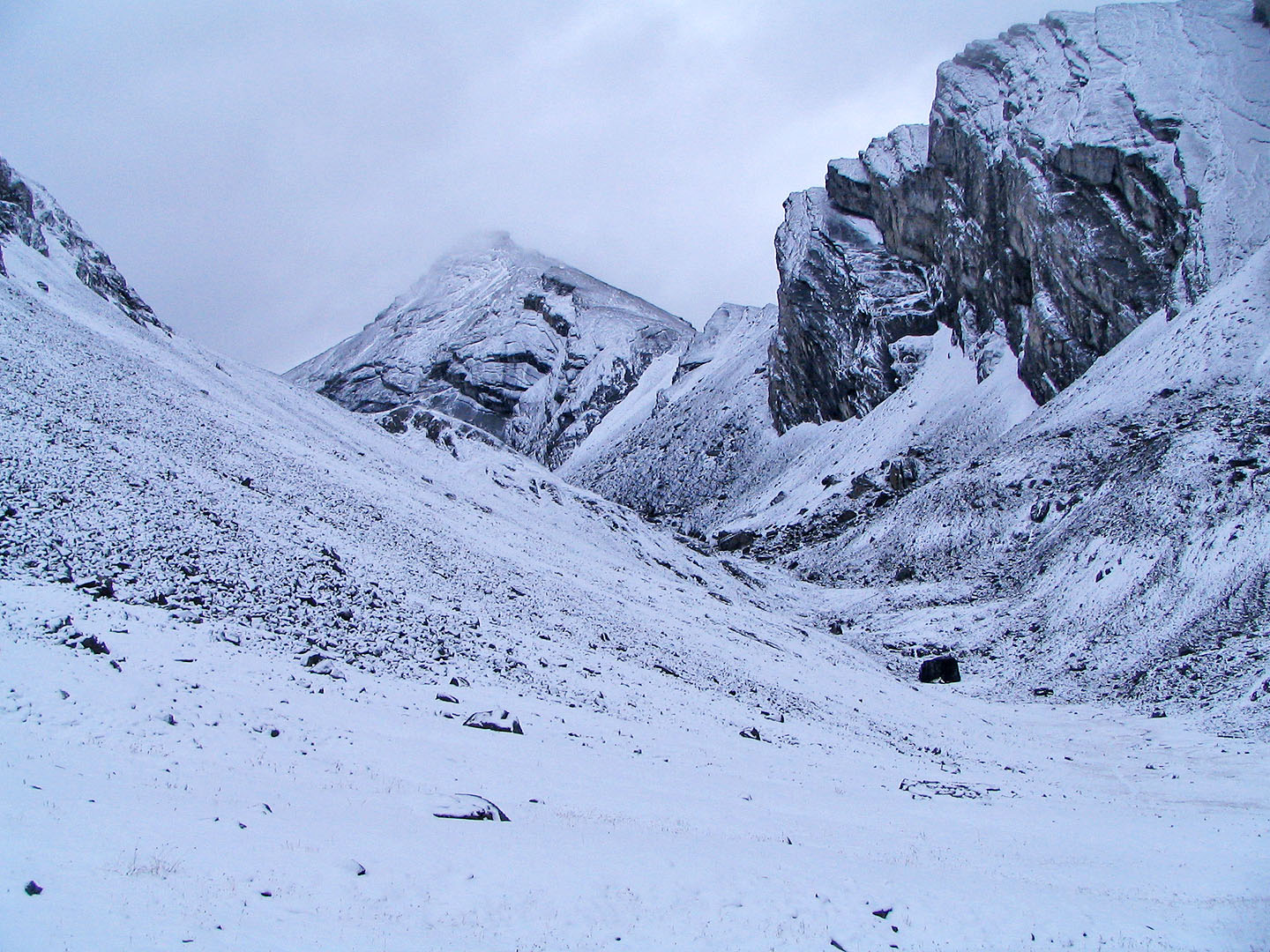 Last look at The Fortress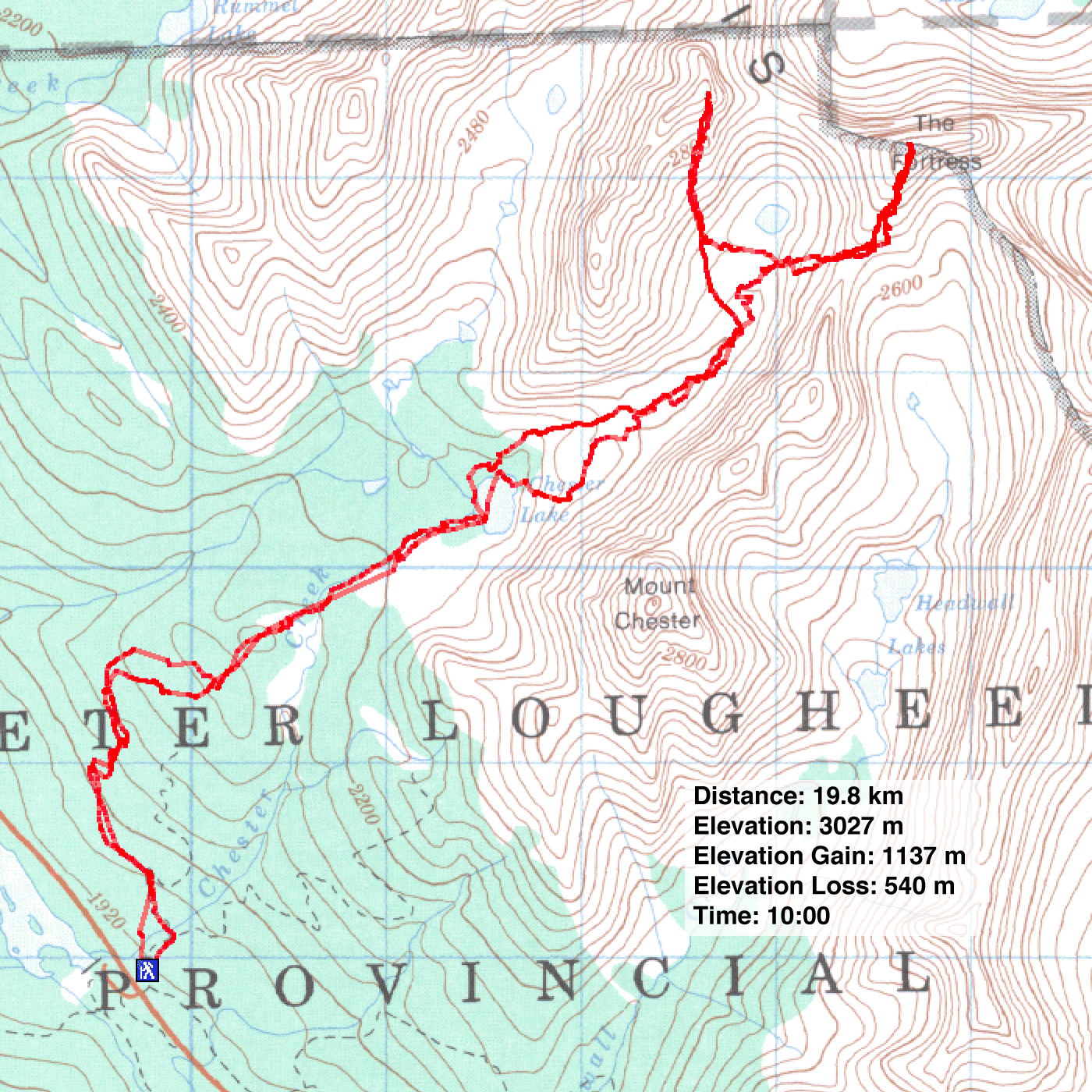 82 J/14 Spray Lakes